Our oldest sons were 11 months old when we bought our pop up camper, so campgrounds have been an important part of our family experience. We've spent hundreds of nights camping with our kids and can't imagine life without the RV trips to look forward to on a regular basis.
So why do we crave these campground stays so much? What helps us have one wonderful camping trip after another? How do we step away from the frantic pace of everyday life and enjoy some serious quality time together? That's what we are talking about in this first episode of the 2019 RVFTA podcast season.
Camping has inspired us and changed our family life in so many ways. We hear the same from our listeners on a regular basis. To kick off The RV Atlas podcast season, we decided to really focus on the things that we know bring us happiness and contentment at the campground. What are the individual pieces of our family camping puzzle? We try to sort it out and share with our listeners.
Stephanie's Best Life at the Campground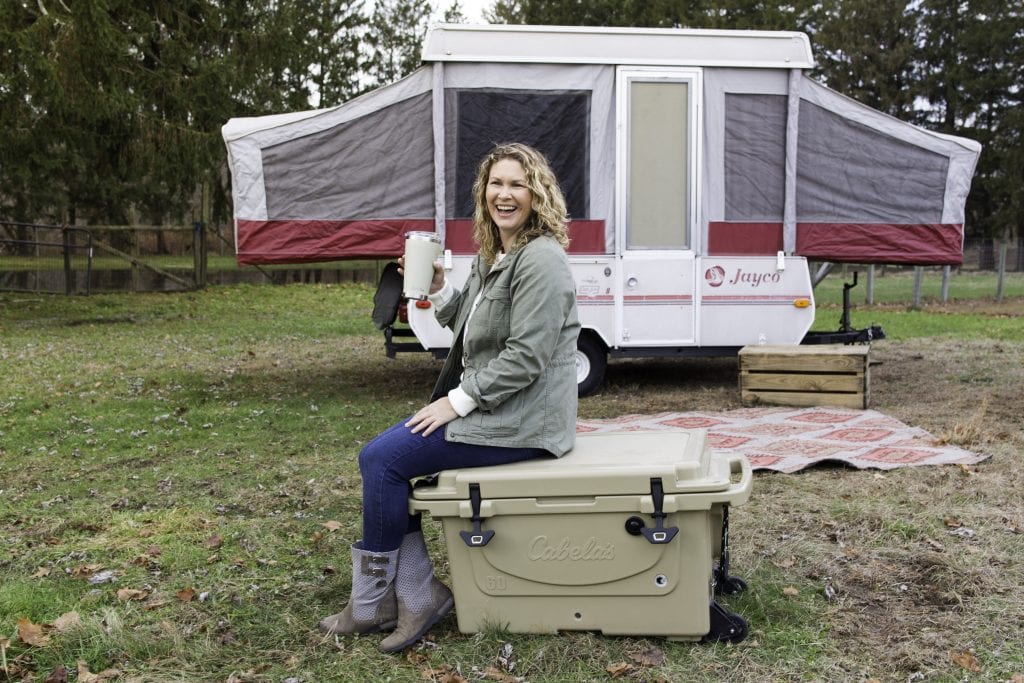 I've had amazing camping trips with my family, and I've had stressful ones. Over the last ten years, I've tried to figure out what elements contribute to me feeling relaxed and rejuvenated instead of drained after a trip in the RV. Here are the things that I know work best for me, and maybe they'll help you out a bit as well.
Don't blow your budget on camper. Save your money for the camping.
Jeremy and I are exposed to ALL the latest and greatest RV models on a regular basis. It's easy to get sucked into thinking a bigger, fancier camper will make us happier. I know in my heart of hearts that we don't have any more fun in our toy hauler than we had in the White Hawk travel trailer. Sure, we're more comfy and love the digs. But I try to keep it all in perspective. Spending too much money on the rig would take away from my enjoyment of the experience, and I never want that to happen.
Don't make things too complicated, but embrace the luxuries you enjoy.
We are also constantly exposed to all the latest gear and gadgets in the camping industry, and it's easy to get a bad case of the 'gimmies'. I've actually learned over the course of the last few years that more gear can actually lead to less fun for me personally. Managing a house and three kids is hard enough. I don't need to pile on a bunch of stuff to take care of at the campground as well. However, I don't feel a bit guilty about some of the luxuries that truly make me more comfortable every day that I'm in the RV. Some examples of my favorite luxuries include a great mattress, the AquaGo endless hot water system, and solar power for dry camping.
Never judge yourself according to what strangers on the internet say.
Social media can lend to us listening to a lot of voices that shouldn't really have a say in our family decision making. I've heard some folks on the internet tell other people what 'real camping' is. Years ago, this might have affected me. Now I just laugh. We camp and RV and travel exactly how we want to as a family. The goal of a family camping trip should be adventure or relaxation or exploration…not satisfying some random stranger commenting on Instagram.
Focus on your camping goals instead of Pinterest.
Pinterest can be another culprit to stealing my joy on camping trips with my family. Sometimes I find really fun cooking, packing, or organizing ideas on Pinterest. But sometimes I feel like I'm not 'doing' enough on our camping trips, just because I get sucked into all those pretty campfire cooking pictures. The bottom line is that I'm not in a competition with anyone, and pretty foil packets won't make our family happier campers.
Embrace the season you are in at the moment.
We talked a bit about this on an episode last month. It's easy to be overwhelmed by traveling with little kids, or to miss the good old days of your school aged family travels. I have the best time on our trips when I fully embrace the season we are in as a family right at that moment. I figure out how we are going to make it work for that moment only. No worrying about the future…no yearning for the past. Trying to love the day I'm given makes all the difference for me personally.
Teach your kids how to do the things that you really enjoy.
Many of us give up our favorite hobbies or past times when we have kids. Sometimes we wake up years later and realize we never make time for the activities we love the most. I've been determined since the boys were young to share with them the things I truly enjoy in life. That means we spend a lot of time outside together. It also means they come along with me on my foodie adventures when traveling. Oh, and roller coasters.
Jeremy's Best Life at the Campground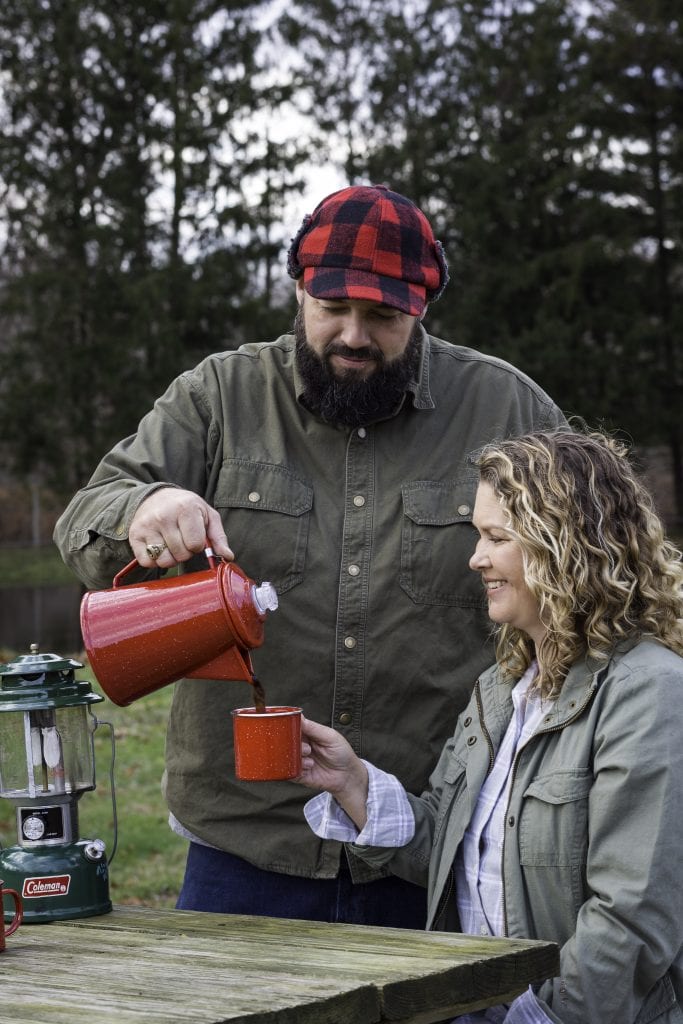 I have the habit of alway thinking about the next trip, or what other amazing place we could be at any given time. So for me to be happy and content at the campground, it's mostly about learning to enjoy the moment and focus on the now.
Embrace the small pleasures of camping no matter where you are.
It took me awhile to realize that I enjoyed playing catch with the boys, making pancakes on the Blackstone, or hanging out around the campfire as much as exploring a new destination. I try to build more time in for those small pleasures instead of just rushing off to the next activity.
Don't wish to be somewhere else.
I'm an epic destination junkie. There are so many amazing places to visit and I want to go to all the spots right now. I enjoy myself most when I stop thinking about the next bucket list trip, and really focus on enjoying the one we are at right then.
Turn off the digital devices for some of the time.
Like most people I can lose so much time buried in my phone screen even while at the campground. Sometimes I make the effort to turn it off and spend large chunks of time away from my devices. I'm always shocked at how much happier I am. Recently I was off my phone for most of the days we were at Disney, and I enjoyed every minute of those self-imposed limits.
Camp with friends.
Yes, I love going to epic national parks and other amazing RV destinations. But my cup really runneth over when we spend time at the campground with our friends. We have met such great families that we camp with, and there is nothing better than just hanging out with them around the camp fire. The kids play together, we talk and cook. It really is what camping is all about.
Don't let life get too busy to camp.
Yes, our spring and fall calendars are bonkers with three kids that play sports. But I'm happiest when I don't let those kind of commitments completely take over our lives. I accept the challenge, bust out the calendar, and make sure we squeeze a couple of weekend trips in somewhere, somehow.
Discover the joys of campground cooking. 
I never understood the lure of campground cooking until I ventured into it a couple of years ago. Now I get it. Whether it's experimenting over the open fire with the Lodge Cook-it-All, or mastering the smashburger on our Blackstone, I have embraced the challenge of cooking outside. Of course I go my own way with this stuff, which you can see if you check out my own personal French toast recipe.
Spend time with your kids in a focused way.
We can spend a lot of time with our kids and not actually have any of it be quality time. I've definitely realized that over the last ten years. I enjoy our family camping trips so much more when I focus on making the time we spend together mean something. I play a game of Uno with Wes, or a game of catch with Max and Theo. Those are the moments that matter.
Living Your Best Life at the Campground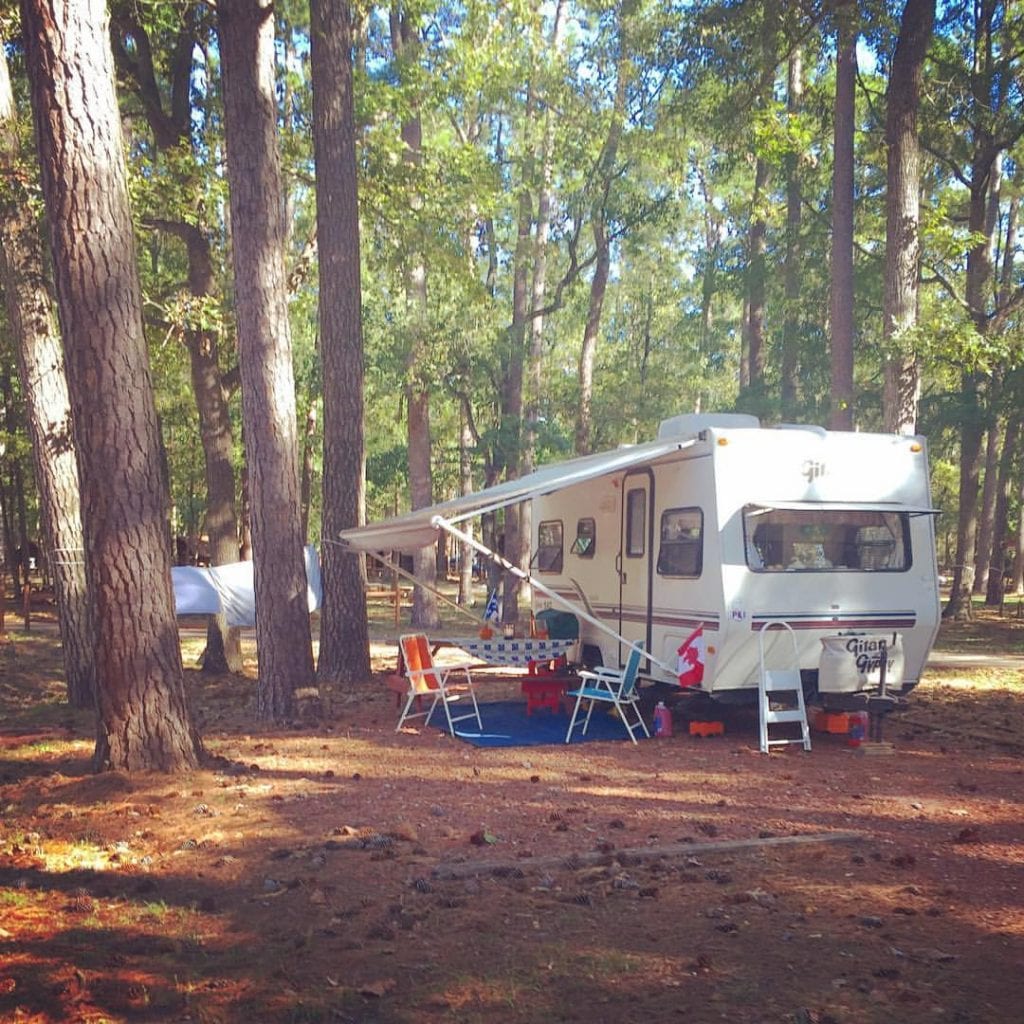 We hope that this conversation sparked your thinking a bit. Maybe some of these things resonate with you, or maybe you have other things that will bring you the most joy during your camping trips. The key is to really focus on the things that matter for you, and let all the other noise fade into the background.
Here's to another inspiring year of camping!
And if you are looking for some gear to live your best life at the campground, check out our Amazon Store with tons of tried and true favorites from our family to yours…
We'll see you at the campground,
Stephanie + Jeremy
Podcast: Play in new window | Download