There's just something about RVing that encourages families to pull out the games. Whether we are building a giant Jenga tower on a sunny patch of grass or gathering around a classic game of checkers in our cozy toy hauler, games draw us together for a good time. Check out our list of recommended indoor and outdoor games you might enjoy at the campground with your family.
Great Outdoor Camping Games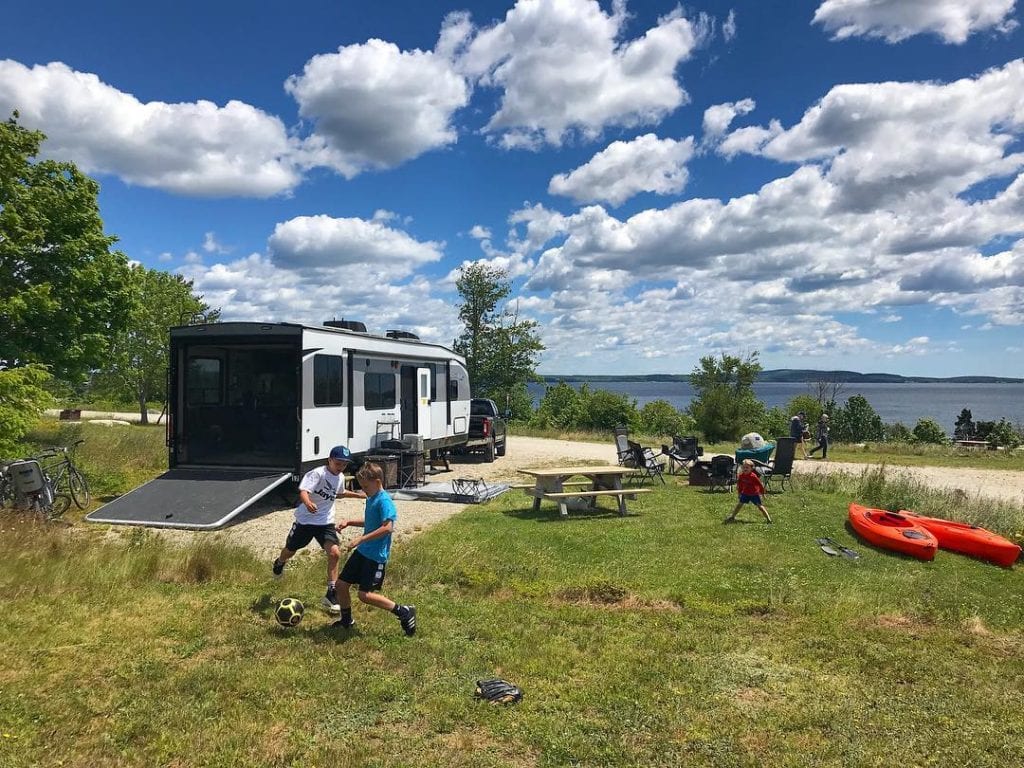 Corn Hole
Of course, Corn Hole is an absolute camp classic. It's great for a family or for playing with other kids at a campground due to its social nature. It doesn't take a ton of time to play, which is part of the appeal.
Ladder Ball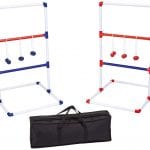 Yet another camp classic! Like Corn Hole, Ladder Ball is fun for all ages, quick to play, and encourages socialization.
Spike Ball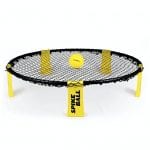 If you haven't seen Spike Ball yet, it's like a handball or volleyball game played with a small trampoline. Since it folds into a small bag, it is easy to bring along on camping trips. Plus, the kids will burn tons of energy chasing the ball.
Giant Jenga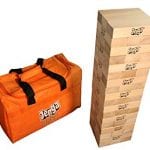 The Giant Jenga game is great for a crowd or for someone going solo. Whenever our kids see one at a campground, they are immediately drawn in, ready for a challenge.
Velcro Toss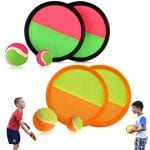 Remember the small paddles and balls covered with velcro you played with in the 70s or 80s? The kids of 2019 aren't too cool for this classic.
Lawn Bocce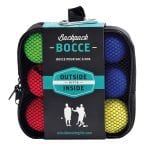 While traditional bocce ball sets include heavy, hard balls, Lawn Bocce is sold in a campground-friendly version that includes softer bean bags.
Slack Line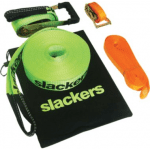 This newer entry into the outdoor game market offers all the fun of tightrope walking in a convenient package. Tie your line between any two trees and get the kids busy practicing their balance. Of course, you can keep it close to the ground, so it's both safe and fun.
Sidewalk Chalk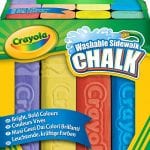 Sidewalk Chalk is a perennial favorite that brings kids together at the campground! If you have a campsite with concrete, turn the kids loose to decorate it.
Skip Ball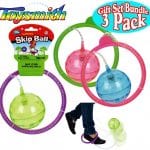 Yet another game you might remember if you grew up in the 80s. As an elementary school teacher for 10 years, Stephanie realized that these never went out of fashion with the kids. Our boys hopped over that circling ball for hours when we had a Skip Ball at our seasonal site.
Flickin' Chicken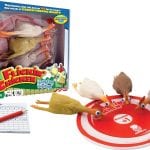 We hadn't heard of Flickin' Chicken until listeners recommended it again and again in our RVFTA Facebook Group. Looks like so much fun and it's on our wish list for the spring.
Laser Tag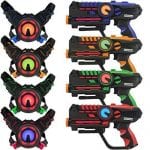 This Laser Tag set is another recommendation from our Facebook group! While a bit pricier than some other options in this category, this set received rave reviews for how engaging it is, especially when your kids have room to run.
Aerobie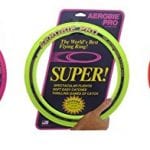 The Aerobie is a modern take on the traditional Frisbee. It's super easy to pack and offers hours of fun.
Great Indoor Camping Games
(or picnic table games!)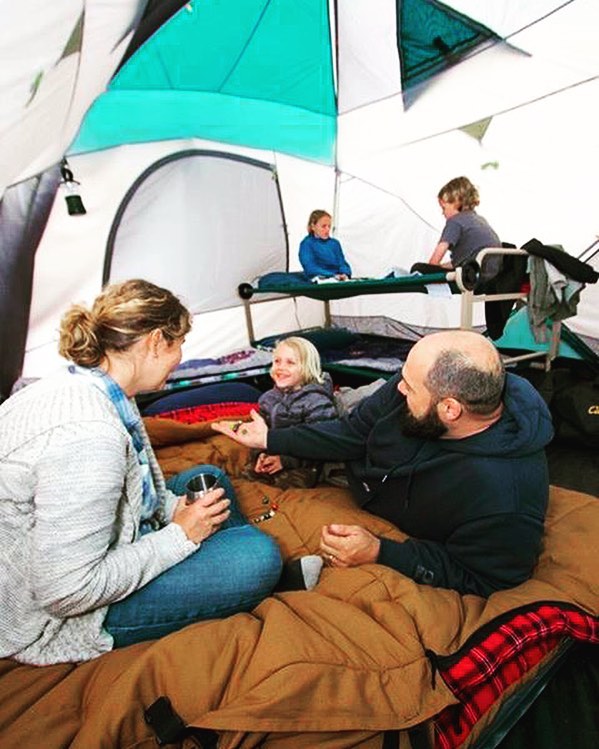 Spot It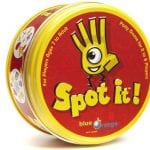 We've recommended Spot It! again and again over the years since it's truly fun for all ages. It's simple enough that preschoolers can join in, and it's way more fun for adults than something like Candy Land.
Skip Bo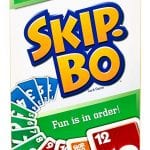 Skip Bo is a multigenerational classic that's been a family favorite for years now.
UNO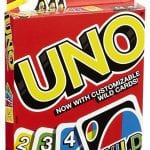 Every child deserved to have an UNO phase of life. Our boys recently went through theirs. They were obsessed. UNO has been popular for decades for good reason.
Spit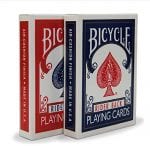 Once you learn the rules, Spit is a fun and fast-paced game to play with any traditional card deck. Some card games are too complicated for younger kids, but if they know how to count,they will enjoy Spit.
Yahtzee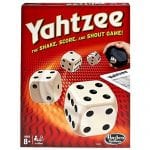 This tiny dice game takes up very little space, which makes it easy to toss in the RV.
Checkers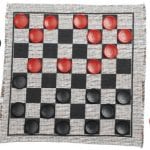 The big checkers set with the carpeted pad is a great modern take on this classic game. According to Amazon, we bought this one in 2015 and it's still in regular use during the camping season.
Five-Second Rule and Five-Second Rule, Jr.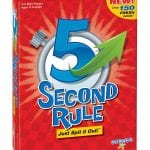 If you want a great game for the car ride or something you can play with the kids that involves little effort on your part, give these a try.
Heads Up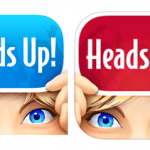 This digital version of charades is something fun for those upper elementary kids and early tweens who will like the novelty of an app and will giggle at the instant replay videos.
Sushi Go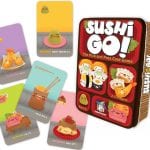 Our RVFTA Facebook group gave this game several shout outs, so it's been on our wish list. Then we actually saw a family playing it as we walked through the airport last week. Serious Sushi Go FOMO happening over here.
The Oregon Trail Card Game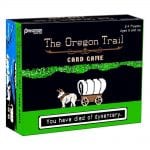 Warning: You just might die of dysentery playing this updated take on the 80s computer game.
Farkle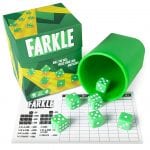 Yet another game that get rave reviews from the RVFTA Facebook Group crew. It's a classic family dice game that's super compact for camping and RV travel.
Trekking the National Parks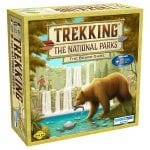 Okay, we admit Trekking isn't a great game for playing IN the RV since it takes up a lot of space and has a lot of small pieces. However, we would feel remiss leaving it out of this list, since it's our family's new favorite camping-related game. We recommended it on our recent holiday gift guide, and we're still loving it!
We hope our recommendations help you stock up on some new (and old!) fun family favorites for your future camping trips.
See you at the campground,
Stephanie + Jeremy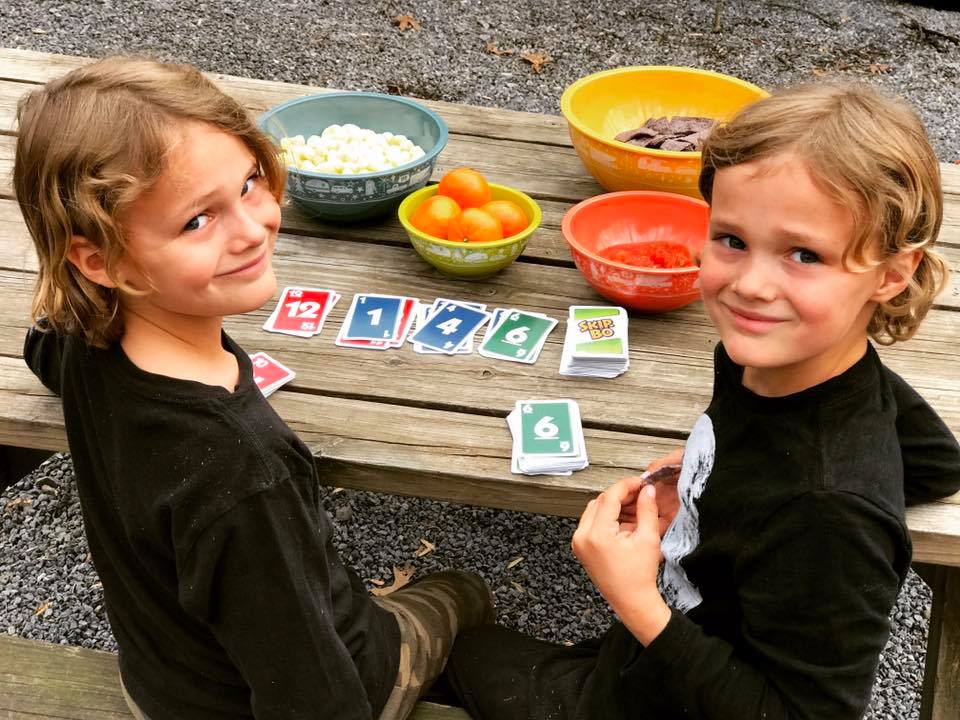 Podcast: Play in new window | Download