This blog post and the accompanying podcast are sponsored by Lodge Cast Iron. Our opinions are always our own.
Stephanie and I have always loved cooking over a fire at the campground. The crackle of the campfire and the smell of good food cooking is intoxicating. Particularly when the air is crisp, and we can hear our children laughing and having fun nearby.  Every step of the process is relaxing–from preparing the fire and the charcoal, to listening to the sizzle of steaks hitting the grill.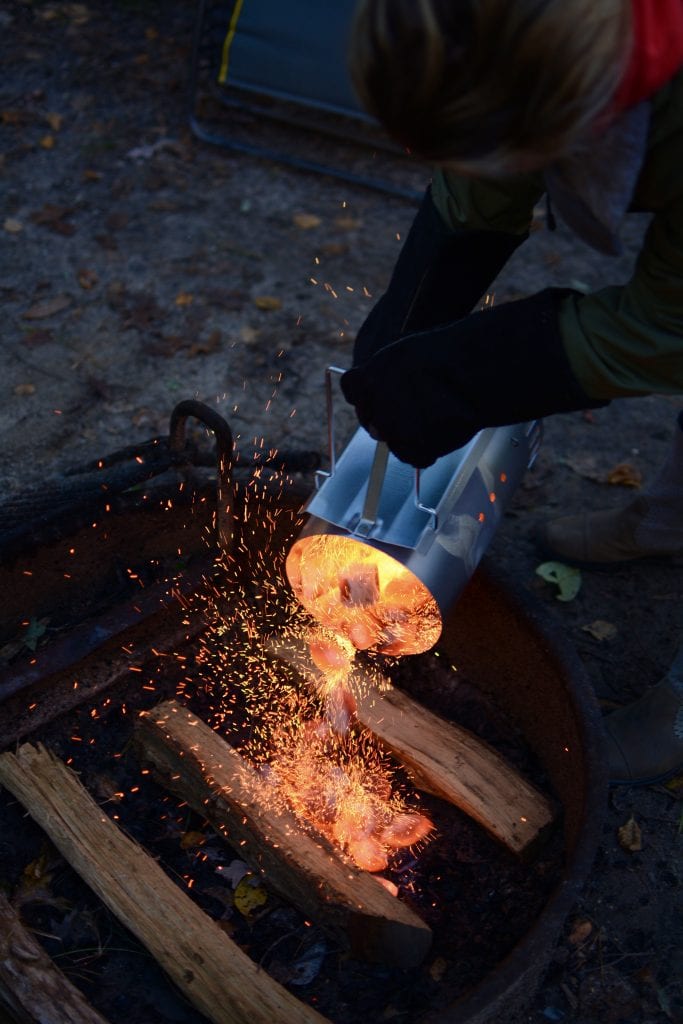 So when we heard that Lodge Cast Iron was launching a new all-in-one outdoor cooking device called the Cook-It-All, we knew we had to get our hands on one. We wanted to take it to one of our favorite campgrounds for testing–and TASTING! So that's just what we did!
We also wanted to invite Kelly Peterson, a product manager at Lodge Cast Iron, onto our podcast to give us some behind the scenes details about the creation of the Cook-It-All, and explain its five different cooking functions. We were looking forward to hearing a few awesome recipes and getting inspired for some over-the-fire cooking of our own.
Kelly, who describes her work for Lodge Cast Iron as a "dream job," is the perfect guide to introduce us to this incredibly multifunctional new piece of camping gear.  In essence, the Cook-It-All is only two pieces of cast iron, which is pretty incredible considering it can be used as a Dutch Oven, a griddle, a grill, a pizza oven, and a skillet/wok.
Stop the madness!  This thing must be huge and clunky and cumbersome, right? Nope. Not at all. The Cook-It-All is an elegant and incredibly simple piece of cooking equipment–and that's the magic of the thing. It's design is simple, it's easy and intuitive, but it can be used to cook just about anything.
For an overview of the Cook-It-All watch the video below. And to discover some yummy recipes to try, keep on reading!
COOK-IT-ALL: DUTCH OVEN
The Dutch Oven is an iconic piece of camping gear that should be in every camp chef's permanent kit. When you combine the Cook-It-All's 14″ dome shaped (skillet/wok) bottom with the reversible grill/griddle top you get a 6.8 quart Dutch Oven that is perfect for the campground. In our interview Kelly points out the Dutch Oven component of the Cook-It-All is a bit shallower than a traditional Dutch Oven, making it perfect for quick cooking and even heating over a campfire. Then she blows our minds with a simple "Mixed Berry Cobbler Recipe" that could turn any cook into a campground legend. Just save me a bite before feeding the entire campground, okay?
MIXED BERRY COBBLER RECIPE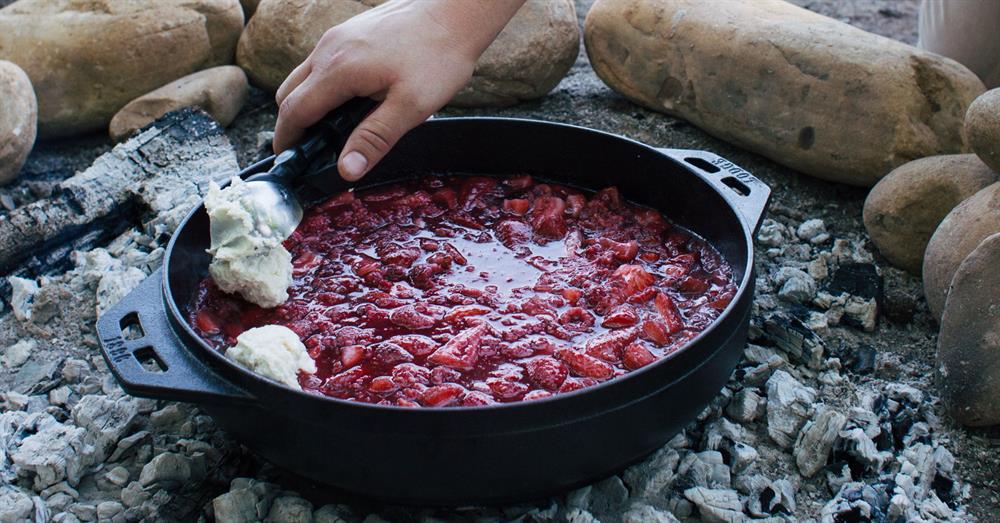 INGREDIENTS
For fruit base:
12 cups mixed berries
2 tablespoons lemon juice
1/2 teaspoon cinnamon
1-2 cups granulated sugar
2-3 tablespoons cornstarch
2 tablespoons butter, for coating skillet/wok
For sweet biscuit topping:
2 cups all-purpose flour
6 tablespoons granulated sugar
3 1/2 teaspoons baking powder
3/4 teaspoon kosher salt
2 cups heavy cream
PREPARATION
Set the Cook-It-All's skillet/wok in a bed of coals. Preheat to medium-high heat.
For fruit base: Mix berries with lemon, cinnamon and sugar. Add cornstarch as needed to thicken.
Add butter to skillet/wok, then pour in berries. Cover with the flat piece of the Cook-It-All and cook until berries are bubbling (approximately 10-15 min).
For sweet biscuit topping: Mix dry ingredients in a large bowl. Pour cream into dry mixture and combine.
When berries are bubbling, remove dome and scoop the cobbler mixture onto the berries. Place flat piece back onto the cobbler and cover evenly with coals for medium-high heat.
Bake until the topping is golden brown and berries are bubbling (approximately 45 min).
COOK-IT-ALL: GRIDDLE
The 14-inch griddle is perfect for making big breakfasts at the campground. Think eggs, bacon, pancakes, French Toast. Then give the griddle a quick rinse and dry it off so its ready for lunch or dinner. Keep it classic with grilled cheese for the kids at lunch, or be a bit more adventurous and cook up your daily catch with Lodge's "Fire Roasted Trout Recipe."  No matter what you use it for there will be room to feed the whole family, and maybe a couple of friends.
FIRE ROASTED TROUT RECIPE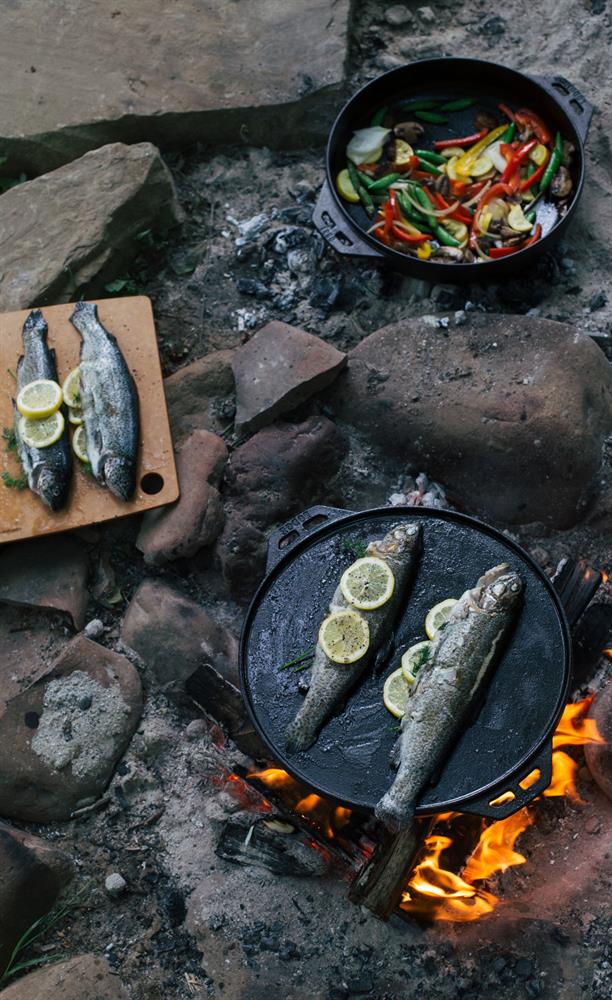 INGREDIENTS
2 tablespoons lemon juice
2 tablespoons olive oil
1 bunch of dill, chopped
2 lemons, sliced
2 whole trout, butterflied
salt & pepper
PREPARATION
Set the Cook-It-All's griddle in a bed of coals, smooth side up. Preheat to medium-high heat.
Combine lemon juice, olive oil and 2 tsp. chopped dill. Whisk until well incorporated.
Place remaining dill and lemon slices inside the butterflied trout, brush all over with lemon juice mixture.
Season with salt and pepper.
Place fish on preheated griddle and cook each side for 7-10 min. or until the flesh flakes easily. Brush with lemon juice mixture as needed.
Remove trout from the griddle and serve immediately.
3. COOK-IT-ALL (GRILL)
Kelly and her compadres at Lodge spent a whole lot of time perfecting the grill lines on the other side of the grill/griddle combo. The team at Lodge promises perfect grill marks without sticking. After our initial test of the Cook-It-All (which we will report back on in an upcoming mini-podcast!) we can confirm that the grill marks on our sausages were PERFECT! Check out the featured image at the beginning of this post. Also check out the grill marks (and the scrumptious recipe) for the "Bacon Wrapped Peaches" made by the fine folks at Lodge.
BACON WRAPPED PEACHES RECIPE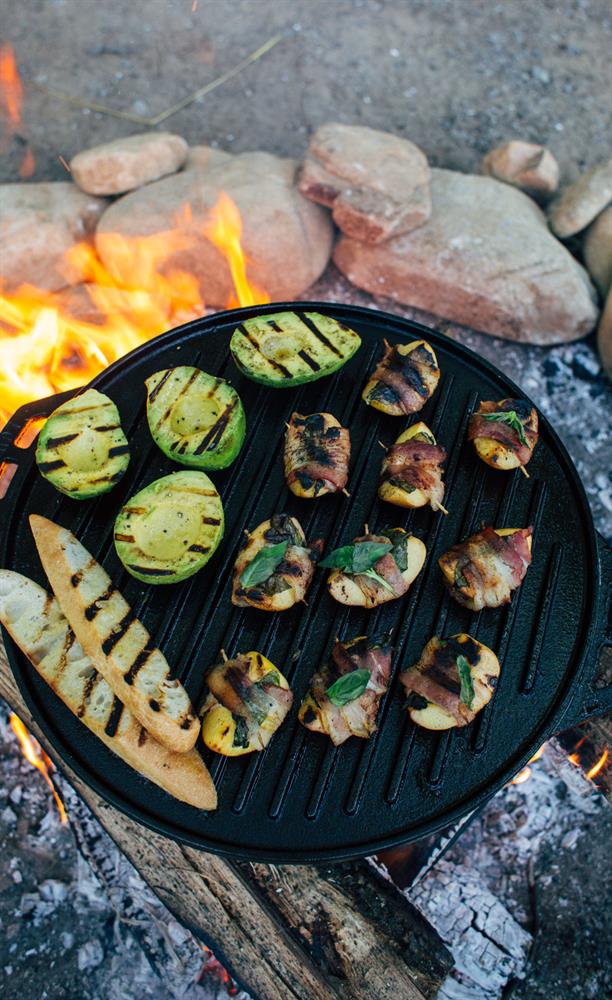 INGREDIENTS
1 bunch of fresh basil
4 peaches, quartered and pitted
8-10 strips of bacon, halved
balsamic glaze, garnish
toothpicks
PREPARATION
Set the flat piece of the Cook-It-All in a bed of coals, grill side up. Preheat to medium heat.
Place 2 leaves of basil on the cut side of the peaches.
Wrap peaches and basil with 1⁄2 strip of bacon.
Skewer peaches with a toothpick to hold bacon in place.
Cook peaches, turning occasionally until bacon is crispy (approx. 20 min).
Drizzle with balsamic glaze and garnish with fresh basil.
4. COOK-IT-ALL: PIZZA OVEN
We haven't used the Cook-It-All as a pizza oven yet, but we can't wait to try. Pizza might not be as iconic of a campground food as burgers and dogs, but the Cook-It-All's pizza oven function may just give those old staples a run for their money. And why not? Pizza makes everyone happy, right? Enjoying a pizza cooked under the stars at the campground sounds like near wild heaven to us. Try Lodge's "Campfire Pizza Recipe" for a quick and delicious way to get started. Your kids will thank you if you do.
CAMPFIRE PIZZA RECIPE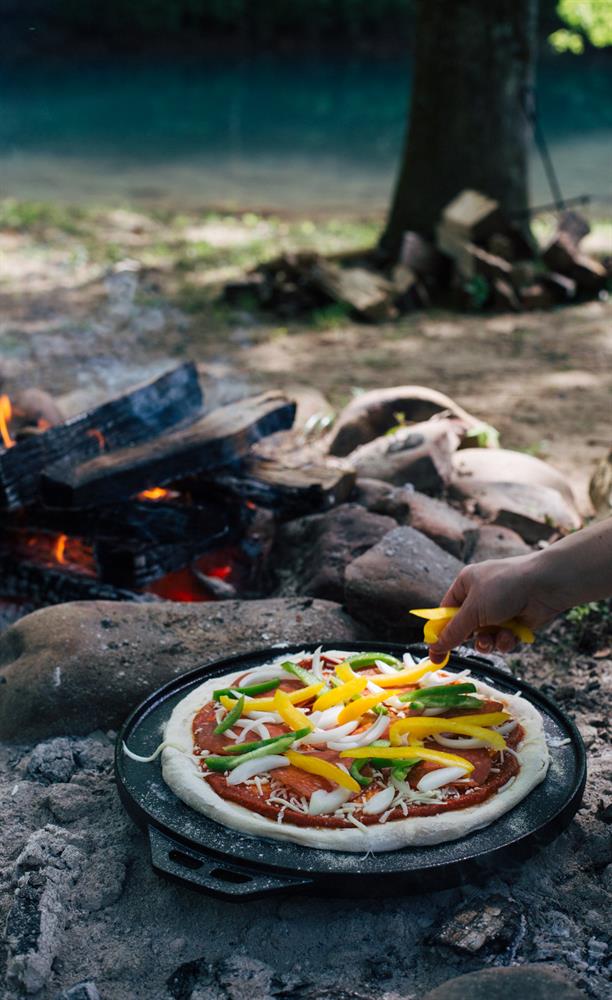 INGREDIENTS
prepared pizza dough
1/4 cups pizza sauce
2 cups mozzarella, shredded
6 ounces pepperoni, sliced
1/2 cups yellow onion, sliced
1/2 cups mushrooms, sliced
1/2 cups green bell pepper, sliced
oil, for coating griddle
PREPARATION
Prepare 2 beds of coals. Set the Cook-It-All's domed skillet/wok in one of the beds of coals.
Preheat to high heat (Tip: you can use this time to sauté veggie toppings, if desired).
Oil the griddle side of the Cook-It-All. Roll out pizza dough and place on griddle, leaving an inch around the edge for the domed piece to lay.
Place the griddle with pizza dough over medium coals. Spread sauce around pizza dough.
Quickly add toppings and cover with cheese.
Cover with preheated dome. Fill dome with hot coals and cook until cheese has melted and crust begins to brown (5-10 min).
5. COOK-IT-ALL: SKILLET/WOK
The 6.8 quart skillet/wok part of the Cook-It-All heats up fast and can easily make enough food for your little army of campers. We used it to sauté peppers and onions to perfection, which we will talk about on an upcoming show. But we can't wait to try out Lodge's "Mountain Man Potato Bacon Hash" recipe, and then go take a nap in a nearby hammock. There is nothing like a morning campfire on a cool fall day at the campground. Particularly with good food and friends and family nearby.
MOUNTAIN MAN POTATO BACON HASH RECIPE
INGREDIENTS
1 pound bacon, diced
4-6 potatoes, half inch cubes
2 tablespoons olive oil
1 yellow onion, diced
1 red bell pepper, diced
1 green bell pepper, diced
2 tablespoons garlic, minced
4 eggs
1 jalapeño, sliced salt & pepper
PREPARATION
Set the Cook-It-All's skillet/wok in a bed of coals. Preheat to medium-high heat.
Cook bacon 3⁄4 of the way through (3-5 min).
Remove to a paper towel lined plate.
Add cubed potatoes to bacon grease along with 2 tbsp. of olive oil. Cook, stirring occasionally, until starting to brown (12-15 min).
Add onion, peppers and garlic. Mix well, cook until softened (10 min).
Sprinkle bacon into skillet and stir.
Crack eggs evenly over the hash.
Place the Cook-It-All griddle on top of skillet/wok and cook until yolks are at desired temperature.
Cleaning up the Cook-It-All is just as easy as cleaning up your cast iron at home. Just make sure to keep it nice and dry after you rinse it off. For more information about cleaning up cast iron, see below. To hear more information about using the Cook-It-All take a listen to our podcast interview with Kelly Peterson. She talks about great accessories to add to your kit and even more tips for getting the most out of this incredible piece of camp cooking gear.
To purchase a Cook-It-All click here!
See you at the campground,
Stephanie + Jeremy
Podcast: Play in new window | Download