We always LOVE talking about "egg" campers. These small fiberglass trailers have a cult following. What makes them so egg-tra special? Their size, their durability, and most importantly, their cute factor. Add in some super fun egg camper rallies, and you are ready for a good time. Our egg camper expert, "Casita" Dean May, is here to share five fantastic egg camper rallies to put on your RV travel calendar.
"Casita" Dean earned that nickname because of his own egg camper, a 2005 Casita 17' Freedom Deluxe, which he takes along for travels with his wife, Laura, and his Mississippi Maltese named Gibbs. As empty nesters, the small size of an egg camper is perfect for them, and they've been hauling theirs around for four years.
Egg camper rallies have become a family favorite for Dean and Laura. But, before we talk about those, let's review some details about the campers themselves.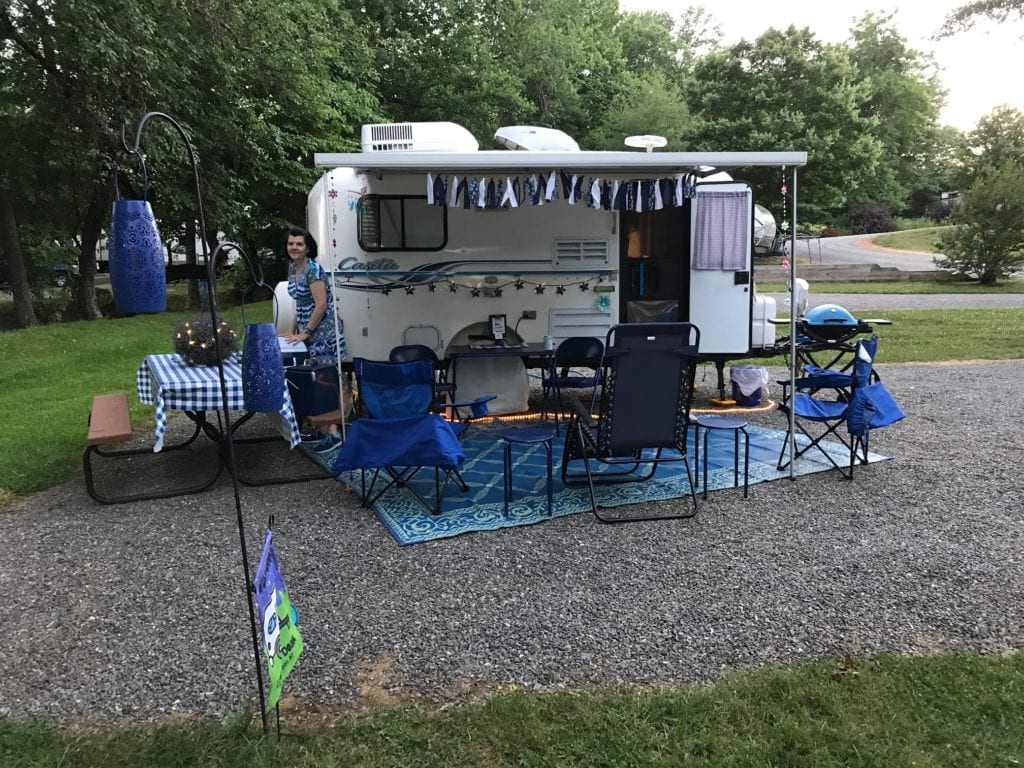 What are Egg Campers?
Egg camper RVs are typically towables made from "molded" fiberglass. Usually, they are white and have rounded-off edges, which gives them a very egg-like appearance, hence the name. Modern egg campers come in a variety of fun colors or dual tones.
Due to the cost of the fiberglass molds, there are limited sizes of egg campers. Unlike most RV manufacturers, which produce trailers in a wide range of shapes and sizes, each egg camper manufacturer usually makes a handful of models, usually ranging from 13′ to 25′.
The experience of shopping for an egg camper is also untraditional. Almost all are made by small manufacturers and sold directly by the manufacturer with no dealer network. This means, you likely won't be able to browse them at your local RV dealership. However, as Casita Dean found out in his purchase, the resale market is strong for used egg campers.
Click on the media player above to hear Casita Dean share all of his egg camper wisdom or look for The RV Atlas wherever you find your favorite podcasts.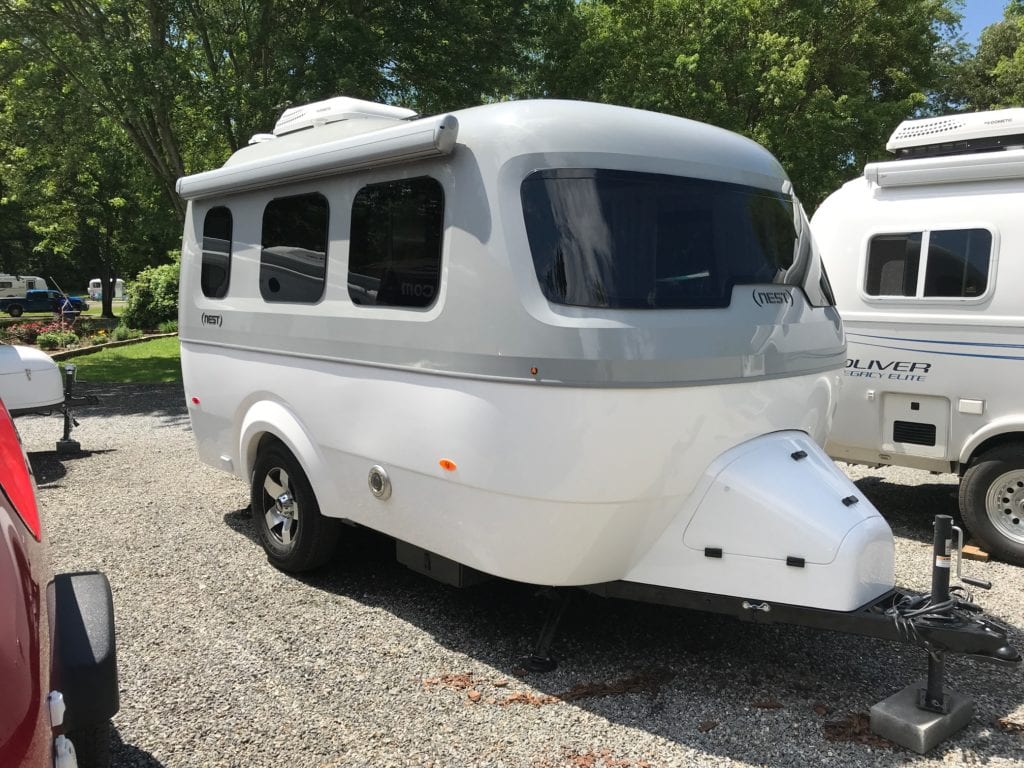 Who Manufacturers Egg Campers?
Here are five of the larger, most well-known manufacturers of egg campers:
These are five of the smaller, more "boutique" manufacturers of egg campers:
Though these egg campers are no longer manufactured, you can find vintage units:
Boler
Burro
Perris-Pacer
U Haul
Ventura
Here are a few more models that have caught our eye:
Lil Snoozy – Currently out of business
Parkliner – Not currently being manufactured
Surf-Side (Triple E connection to Leisure Travel Vans) – vintage
Check out our episode Casita Dean and the Invasion of the Egg People to hear tons more about the egg camper market and lifestyle, and don't miss our Trailer Life article Smooth Moves: New Fiberglass-Built Trailers.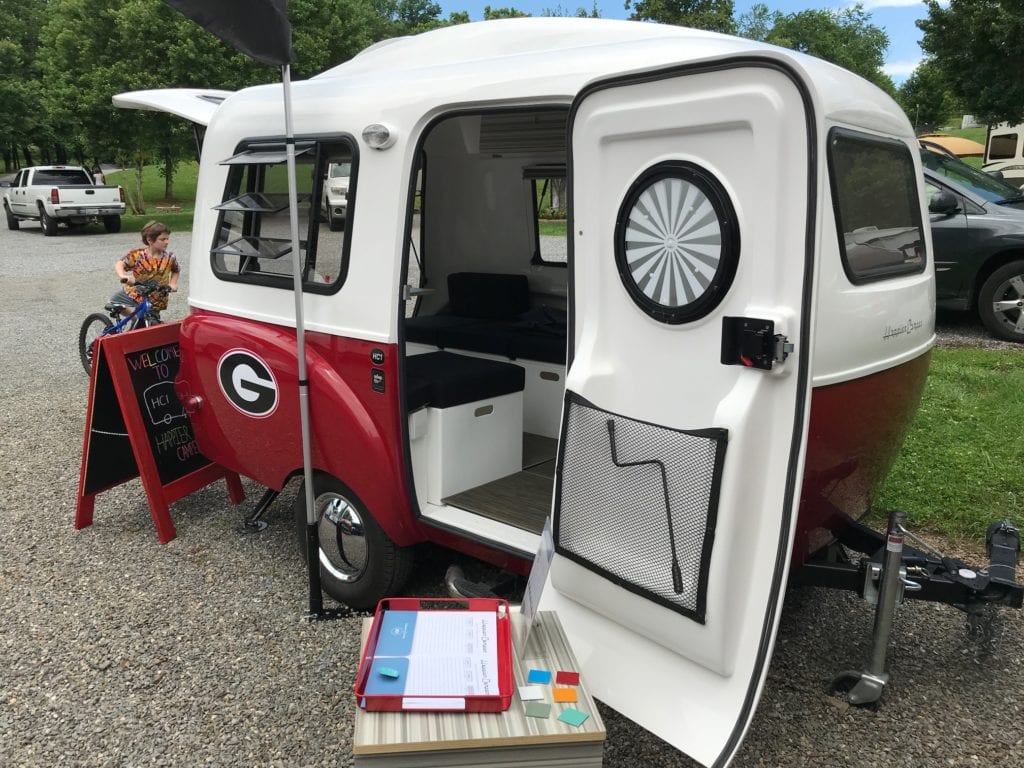 What is an Egg Camper Rally?
Casita Dean and Laura enjoy the thriving rally culture of the egg people. On average, they attend 6-7 egg camper rallies per year, and they enjoy the newsletters, websites, and community whenever they aren't at a rally.
Disclaimer: Never confuse an egg camper "rally" with an egg camper "gathering."
Rally: According to Dean, a rally is more structured, more advertised, usually larger than a mere "egg gathering." Often, these will have official hosts and, perhaps, even sponsors.
Gathering: While still tons of fun, an egg gathering is a lot more unstructured than a rally. You'll find few or no structured activities, less advertising, and possibly no host(s). These are basically just egg devotees getting together to camp and enjoy each other's company.
Official egg camper rallies often share these characteristics:
Most rallies will start on a Thursday and end on a Sunday; however, many egg campers will show up a few days in advance and may stay a few days after the formal rally ends.
You'll find anywhere from 25 egg campers to more than 100 at a rally.
Rallies will often include one afternoon for an egg camper "showing." Part of the fun in attending is checking out each other's rigs.
Rallies will typically include at least one potluck as part of the official events. Plus, they may include morning coffees, as well as evening campfires with wine/beer.
Attendees participate in considerable socialization throughout the day and evening, with some semi-structured activities at local restaurants and/or pubs.
Five Fantastic Egg Camper Rallies
Before Casita Dean even became "Casita" Dean, he attended his first egg camper rally, and immediately, he was hooked. A month later, he bought his own! Since doing so, he's attended tons of rallies and recommends you putting these egg camper rallies on your list, counting down to his favorite:
#5: Florida Egg Rally & S'more
Held each January at the Spirit of the Suwannee Music Park in Live Oak, FL, the Florida Egg Rally and S'more is one that officially welcomes non-egg campers (that's the "s'mores" part of the name). Perhaps you've outgrown your egg camper or maybe you are considering switching over, you'll be welcome here, no matter what type of trailer you have in tow.
This rally often draws 80 to 100 egg camper and features a unique campground, as well as a wonderful host. Attendees enjoy music and festivals, a bat house, two huge treehouses, and the nearby Suwannee River. Plus, who doesn't want to escape to Florida in the middle of winter? Check out Dean's full review here: Campground Review #122 Spirit of the Suwannee Music Park and Campground.
#4: Falling for Fiberglass Rally
In October, Dean recommends heading to the Happy Holiday Campground in Cherokee, NC for the Falling for Fiberglass Rally. Though this is a smaller rally, with 30 to 40 egg campers, the best feature is the location. This campground is located just outside of the eastern side of the Great Smoky Mountain National Park and close to tourist attractions in Maggie Valley and Cherokee. Imagine the Smoky Mountains as the leaves start to turn!
#3: Eggs A La Bourbon Rally
Since Casita Dean is from Kentucky, the Eggs a la Bourbon Rally is practically in his backyard, so he's attended it three times already. This one is held each June in the My Old Kentucky Home State Park campground near Bardstown, KY (find Dean's full review of the campground here). It's another small rally, with around 20 to 25 egg campers, but again, it's in a fabulous location near Kentucky's famed Bourbon Trail. Check out Six Days on the Kentucky Bourbon Trail with Kate Dunbar to hear more.
#2: Green Eggs and Ham Rally
One of Dean's favorite rallies is the Green Eggs and Ham Rally, held in March at the Gunter Hill Campground near Montgomery, AL. (Dean told us all about this campground here.)  This large rally usually attracts 100+ egg campers! It's fun to see all of the different campers. Plus, you can check out nearby Prattville and Montgomery, if you have some downtime.
#1: Eggs on the Hiawassee Rally
Do we need a drum roll for Dean's top pick?! It's the Eggs on the Hiawassee Rally, held at Riverbend Campground in Hiawassee, GA, in late May/early June. What makes this a great rally? First, there is the size. It attracts over 100 egg campers. Then, there are the terrific hosts, a young couple who put together a great lineup of events. Plus, the manufacturers often come and bring display modes, which are fun to check out.
While in the area for the rally, Dean recommends visiting the charming nearby towns of Hiawassee, Helen, Blairsville, and Blue Ridge. Then, head out into gorgeous northeast Georgia, which has a surprising views of mountains and waterfalls. Don't miss Brasstown Bald!
Honorable Mention: Townsend Eggscursion Gathering
Dean just couldn't get away without giving us one more recommendation. Check out the Townsend Eggscursion Gathering, held in April in the utterly wonderful Townsend KOA. The Townsend KOA is located on the western edge of the Great Smoky Mountain National Park in Townsend, TN. Since this is a smaller gathering of 20-35 egg campers, you'll have plenty of time to explore the Smokies. We also LOVED this campground (check out our experiences here and here).
Note: None of these rallies have dedicated websites. If you'd like to attend, considering joining an online forum like FiberglassRV, the Casita Club, or a user's group for any egg manufacturer. Or, sign up for one or many of the egg newsletters to stay in the know.
Some Egg Rallies Dean Would Like to Attend:
Kansas Eggstravaganza – September in Milford, KS
Niagara Wine Escape – September in Niagara Falls, Ontario
Algonac Glassic Egg Scramble – September in Marine City, MI
Eggshells in the Outer Banks – October in Cape Hatteras, NC
Bluebonnet Rally – April in Bandera, TX
What Makes Egg Camper Rallies so Popular and Fun?
Dean and Laura, and many others, just love attending egg camper rallies. Part of it is the fun of exploring rally locations. They get to socialize by seeing old friends and making new ones. Then, there's the learning aspect. You leave a rally loaded with new ideas for modifications and decor. Plus, you might attend demonstrations and presentations or meet with manufacturers. Finally, there's the egg camper culture, which just can't be beat! (egg pun not intended)
Wow! While we have no plans to buy an egg camper of our own, we definitely would love to attend an egg camper rally with people like Dean and Laura. We hope you are inspired to add a rally or two to your travel calendar, whether you have an egg camper or not!
See you at the campground,
Jeremy + Stephanie
Podcast: Play in new window | Download