The Volcanic Legacy Scenic Byway is a 500 mile route that takes you through this fascinating and beautiful region of the country, from Chemult, Oregon to Lassen Volcanic National Park in California. You can take a couple of days to drive the road and soak in the mountain scenery. Or, better yet, spend a full week to allow ample time for stops at the many sites along the way. This "scenic byway" runs north-south along the Pacific Northwest' stunningly beautiful Cascade Range.
To listen to Jeremy and Stephanie interview Boxy Colonial On The Road's Gretchen Holcombe about her epic road trip on the Volcanic Legacy Scenic Byway–click on the media player above.
The Pacific Northwest's Cascade Range showcases a landscape both ancient and modern. It is a landscape that's been shaped by volcanic eruptions for millions of years and continues to change today. The caves at Lava Tubes National Monument were formed by lava flow 30-40,000 years ago. The eruption that created impossibly blue and clear Crater Lake over 7000 years ago is still remembered in the oral history of the area's Klamath Indians. Mount Lassen was already a National Monument when it erupted in 1914 and 1915. This eruption forever altered the surrounding area that now makes up Lassen Volcanic National Park.
Make Time for Bend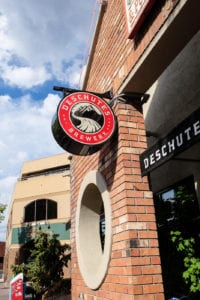 Bend, Oregon is about an hour north of the official start of the Byway, but this charming city is a great place to kick off the trip. The High Desert Museum introduces the natural and human history of the area. We recommend you pay a visit to the resident porcupines and otters or watch a demonstration of the authentic 1904 sawmill. Stop in at the Newberry National Volcanic Monument just south of town to see the Newberry Caldera. Here you can learn about the still active geothermal forces that have shaped the area.
Bend is known for its craft beer scene. So make sure to check out a brewery or two while you're in town. Deschutes Brewery has been around since 1988; their downtown location offers beer and a full food menu.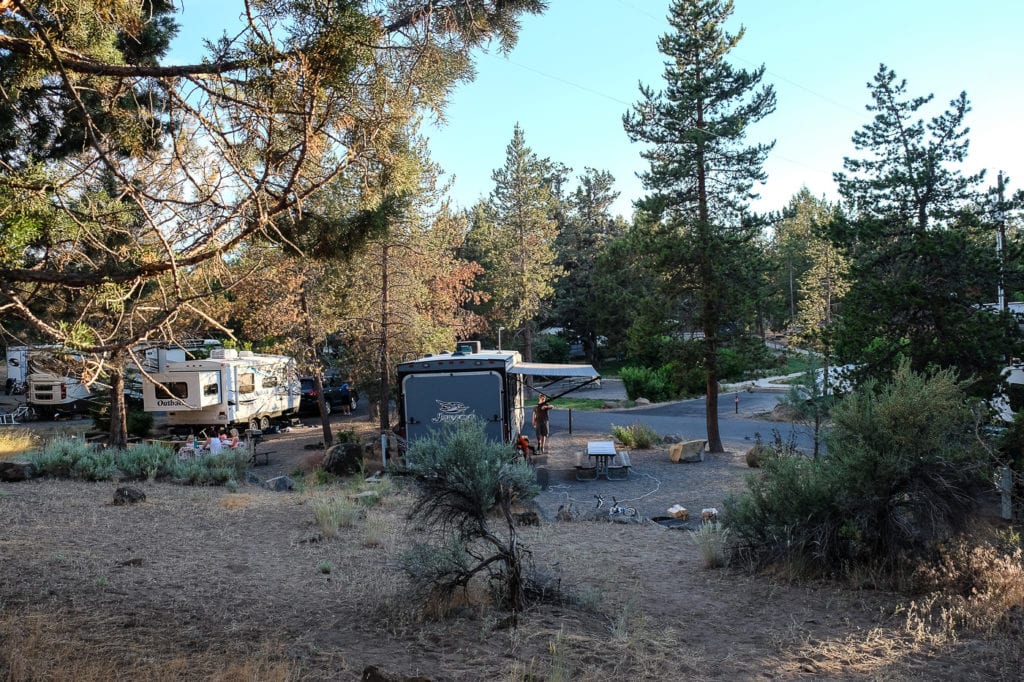 Tumalo State Park is just fifteen minutes from downtown Bend. It has full hook up RV sites for the bargain price of $36/night; they also offer tent sites and yurts for non-RVers. The park is right on the Deschutes River, so campers can head over to the day use area for fishing or tubing.
The Volcanic Legacy Scenic Byway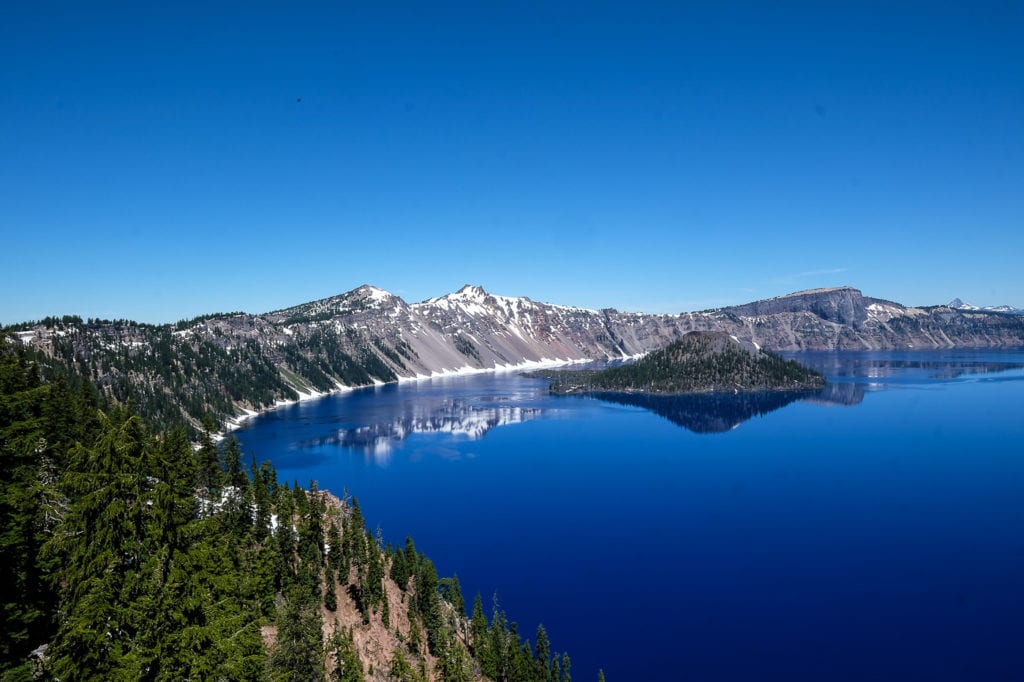 From Bend, head south and pick up the Volcanic Legacy Scenic Byway on US Route 97, South of Chemult. From here it's not far to Crater Lake National Park. This is where a volcanic eruption 7700 years ago triggered the collapse of Mount Mazema and formed the caldera that's now the deepest lake in the United States. Crater lake is internationally famous for its astonishingly clear, blue water. The area around the Rim Visitor Center offers fabulous views of the lake. You can also take a boat ride out to Wizard Island in the middle of the lake (named for its resemblance to a wizard's hat) for a different perspective.
Mazama Campground inside the park has RV sites, including a few with electric hookups, but reservations can be tough to come by. Collier Memorial State Park is about half an hour away and a great alternative. There are full hook up and primitive sites tucked back into the forest here; full hook up sites are only $29/night (as Oregon continues to impress with its very affordable state park camping!) The park also maintains a fascinating outdoor museum on the history of logging, a short, pleasant walk from the campground.
Lava Bed's National Monument
South of Crater Lake, the byway crosses the border into California and a spur on State Route 161 takes travelers east to Tulelake and Lava Beds National Monument. Here you'll find a collection of caves to explore, all of which were created by lava flow from eruptions 30-40,000 years ago. Most of the caves are unlit, and they range greatly in difficulty: the easiest have high ceilings and smooth floors and are suitable for all ages and skill levels; others require crawling on hands and knees. The rangers at the visitor center can offer guidance on which caves are best for your group and loan out flashlights to aid in your explorations.
Lava Bed's location is remote and lodging choices are few, but Hawk's Nest Tionesta offers RV and tent camping as well as historic railroad camp cabins for rent, fifteen minutes from the National Monument.
Lassen Volcanic National Park
After leaving Tulelake, the Byway heads back to US 97 and winds around the side of Mount Shasta before a final stretch toward Lassen Volcanic National Park. Lassen Volcanic is an under appreciated gem of the National Parks System where visitors can enjoy spectacular scenery and fascinating geothermal features without fighting crowds.
You can find examples of all four types of volcanoes (cinder cone, composite, shield, and lava dome) at Lassen. Which makes it the perfect place to wrap up your volcano-intensive road trip. The interestingly named Bumpass Hell trail showcases the park's geothermal features like fumaroles, mud pots, and hot springs. Ambitious hikers can make the steep 2.5 mile trek up to the top of Lassen Peak. Those looking for something more relaxing might try the easy stroll around Lake Manzanita for views of Lassen Peak from below; on calm days you can see the mountain reflected in the lake's clear water.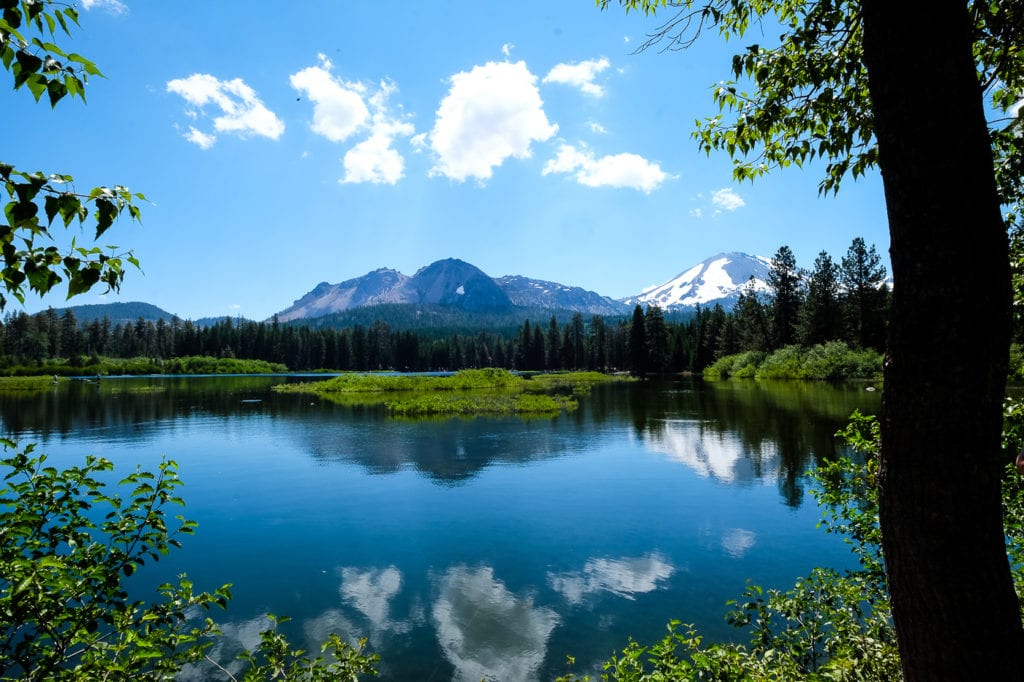 Lassen Volcanic has several campgrounds with RV sites, but none have hookups. If you're not up for dry camping, the Mt. Lassen/Shingletown KOA is less than 20 minutes from the park. This excellent KOA has RV sites, tent camping, cabin rentals, and tons of activities and amenities. After a day of exploring the national park, come back to the campground to enjoy the heated pool or the Friday night movie (with free popcorn!)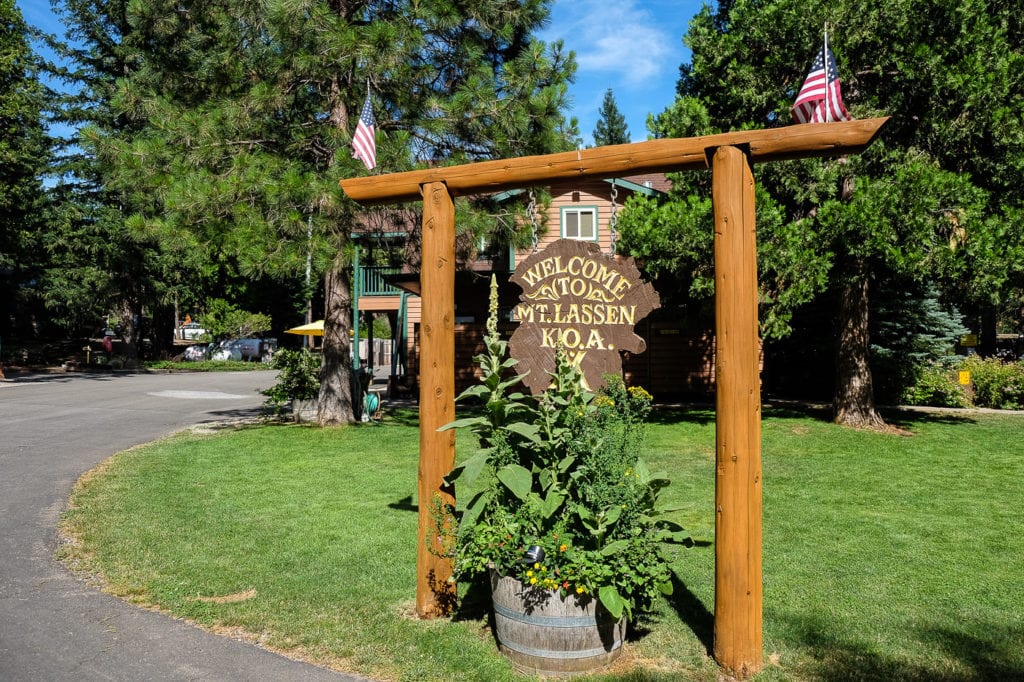 A road trip on the Volcanic Legacy Scenic Byway should be at the top of your bucket list. Gretchen certainly convinced us to move it to the top of ours!
Podcast: Play in new window | Download