Planning a trip to Glacier National Park? The first thing you'll find out is that folks love to argue over whether the east side or the west side is better.
Our opinion? No one should have to choose. It's a mere two hour drive from the west gate to the east gate, and we highly recommend choosing a base camp on both sides. We stayed at the St. Mary / East Glacier KOA and loved the location and amenities. You can read a complete review of the campground here. You can also read or listen to our tips for planning your trip here and packing for Glacier here.
Here's a list of our favorite things to do on the East side of Glacier National Park…
For all hikes, we highly recommend using the AllTrails: Hike, Bike, and Run app, Pro Version to research trail information.
9 Amazing Things to Do on the East Side of Glacier National Park
Take the Eastern Alpine Red Bus Tour.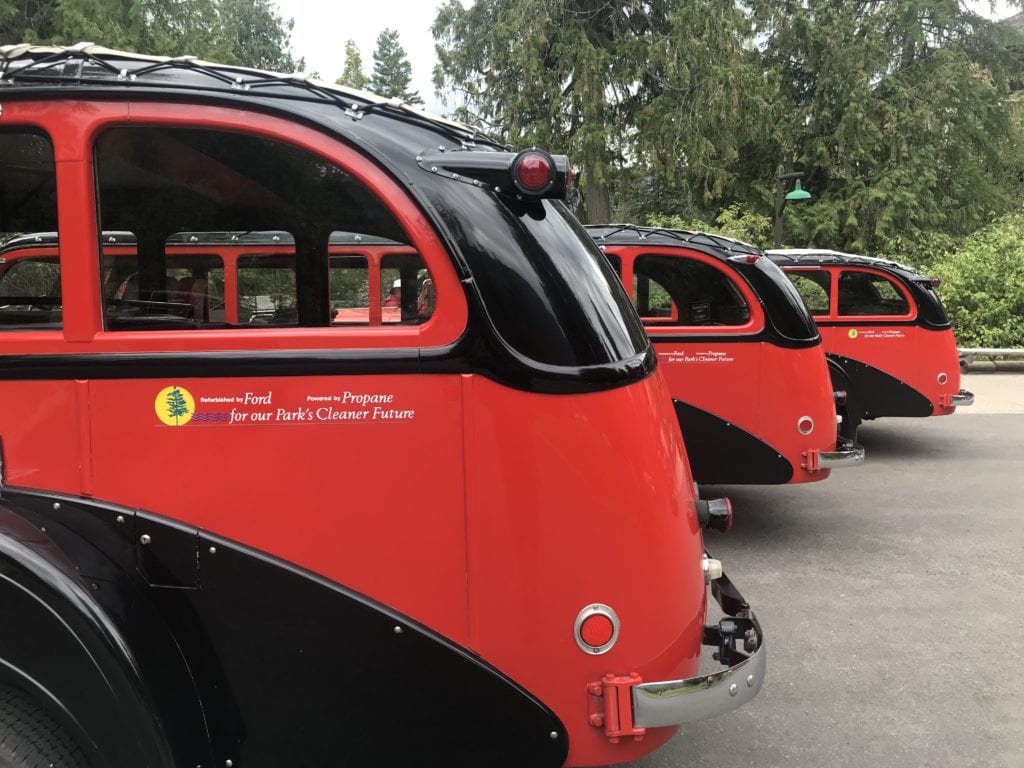 We started our Glacier National Park experience with this three-hour tour that picked us up right from the St. Mary / East Glacier KOA. It was the perfect introduction to the park. The Red Buses were built back in 1936 and were recently restored by Ford Motor Company. The canvas tops roll back giving passengers panoramic views of one of the most beautiful places in America.
Hike the Sunrift Gorge to St. Mary Falls trail.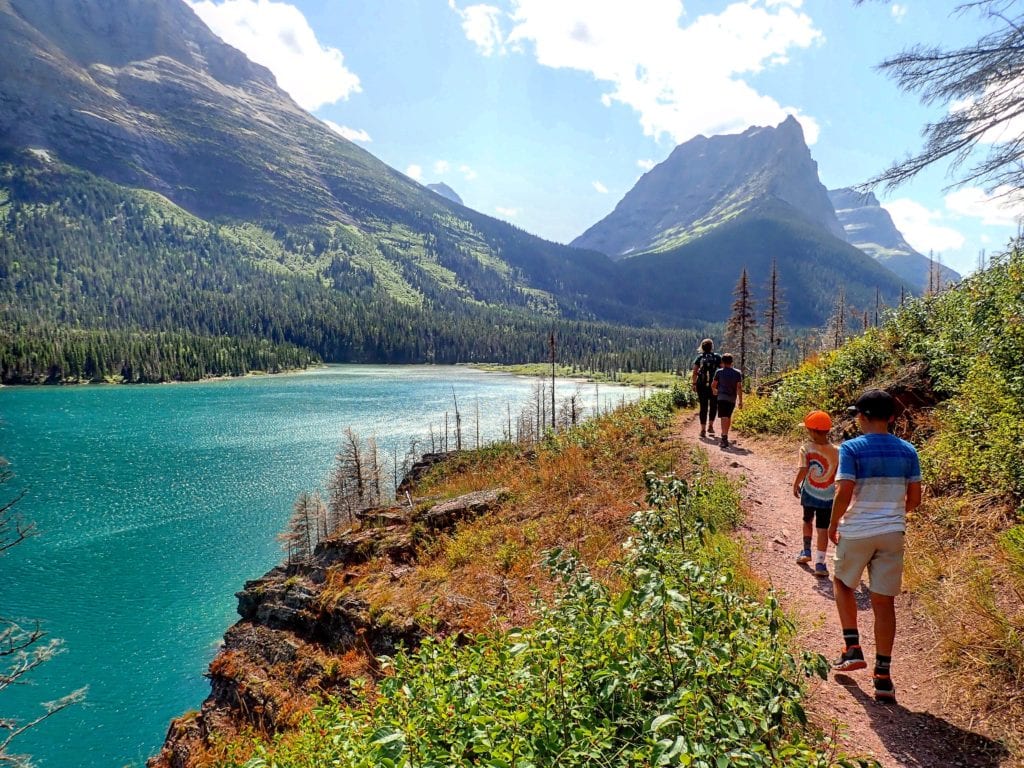 The St. Mary Falls trail is a popular easy 3-mile hike, but by a happy accident we did a longer version that started at the Sunrift Gorge parking lot. We are so glad we ended up experiencing this 5.5-mile roundtrip hike instead. The first mile runs along a ridge that gives hikers stunning views of St. Mary Lake. We enjoyed watching three moose through our binoculars. Some people do swim at the base of St. Mary Falls, so bring a suit if you'd like to take a dip.
Hike to Grinnell Glacier.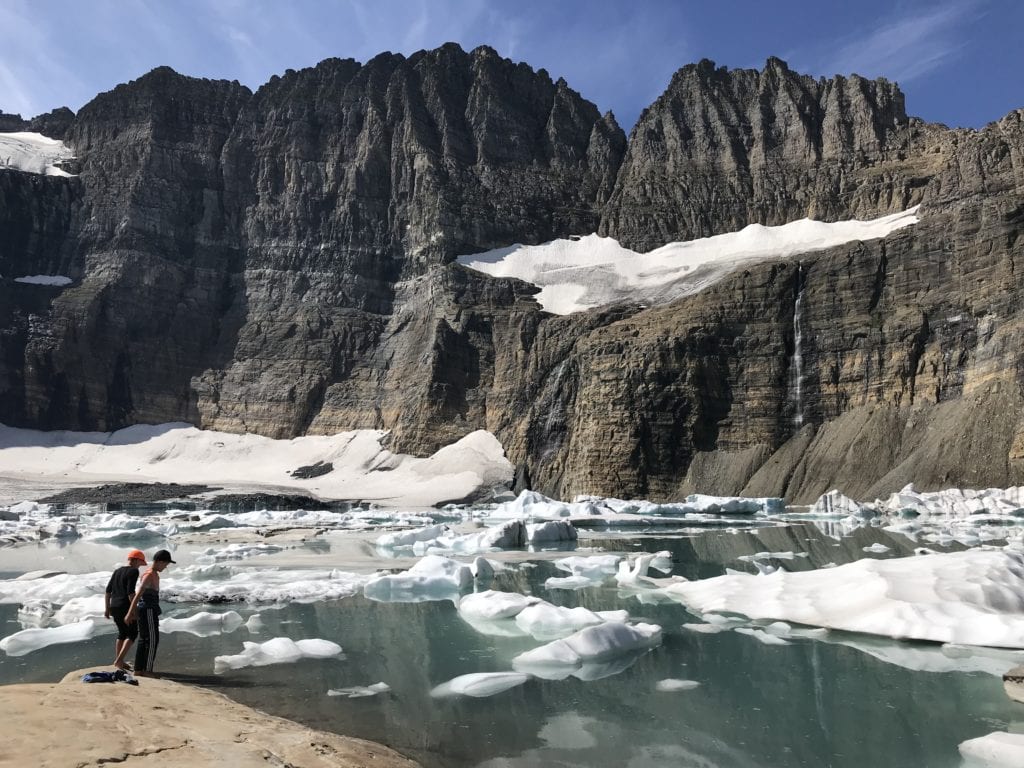 There are only 25 active glaciers left in Glacier National Park, and this is one of the easiest to get to. But it's still going to take a 12-mile roundtrip hike over very difficult terrain. We did it. We were exhausted. And it was worth every step for that amazing payoff experience. You will need to be at the Many Glacier Hotel before 8 am to snag a parking spot. Some folks take the boatrides over Swiftcurrent Lake and Lake Josephine to shorten the hike by a couple of miles. It's not a cheap ticket, though, so we chose to hoof it. If you want to hear more of our thoughts on the boat debate, listen to this episode of The RV Atlas podcast.
Have dinner (or drinks!) at the Swiss Lounge at Many Glacier Hotel.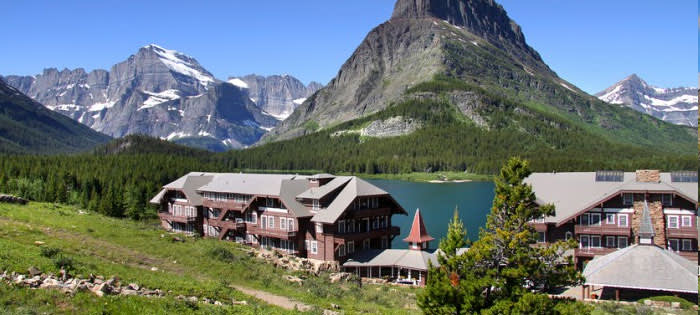 After we burned some calories on that Grinnell Glacier hike, we splurged on a delicious dinner in the Swiss Lounge. The menu was surprisingly creative and hearty, offering Redneck Sausage, a surf and turf burger, wild mushroom pasta and many other yummy options. The entrees ranged from $13-$20, a bargain in this remote neck of the woods. There is also a more formal dining room at the Hotel. Or you can just order a drink from the bar and sip on it while gazing out the windows across Swiftcurrent Lake. We highly recommend the Sperry Spritzer.
Stop in at the St. Mary Visitor Center.
This visitor center is a great place to get some park history and current intel. Rangers will help you plan out your hikes. There's a 15-minute movie about the park that plays on the hour and half hour. There is also an interpretative exhibit focusing on Native American tribes and their ties the land. Shuttle service to many of the popular destinations and trailheads in the park depart from the St. Mary Visitor Center.
Attend a Ranger Program at the St. Mary Campground.
Of all the things to do on the east side of Glacier, don't miss enjoying an evening program in the campground amphitheater. We've been to a lot of ranger talks, but this is the prettiest location we've ever seen. Check the schedule for ranger program topics at the St. Mary Visitor Center.
Hike the Hidden Lake Trail at Logan Pass.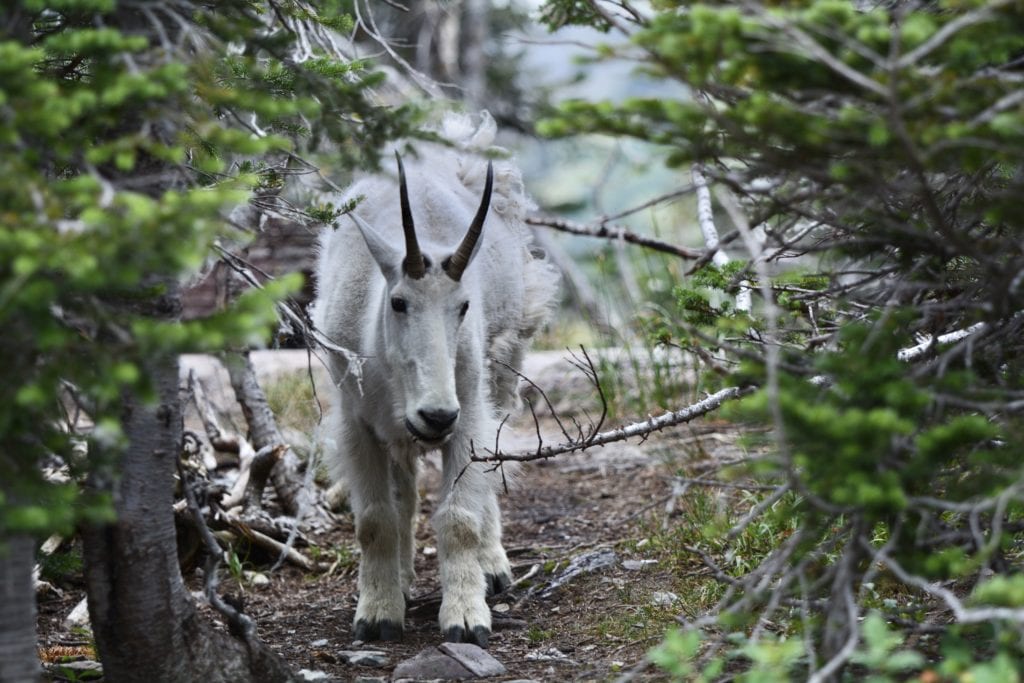 Logan Pass is definitely one of the most crowded places in the park, and this is probably the most crowded trail. Hike it anyway. You won't care about all the people when you see the mountain streams bordered by brilliant wildflowers. The wildlife viewing is phenomenal. We watched families of mountain goats wander alongside the trail and a half a dozen hoary marmots play in a field. A note about Logan Pass…this is the single most difficult place to park in all of Glacier. Get there early or take the shuttle.
Hike to Iceberg Lake.
If you aren't up for the Grinnell Glacier hike, this might be a great alternative. It's a bit shorter at just nine miles, and the hike is not as strenuous. The payoff is just as good, though. Many people swear this is their favorite hike in the entire park.
Take a boat ride on St. Mary Lake.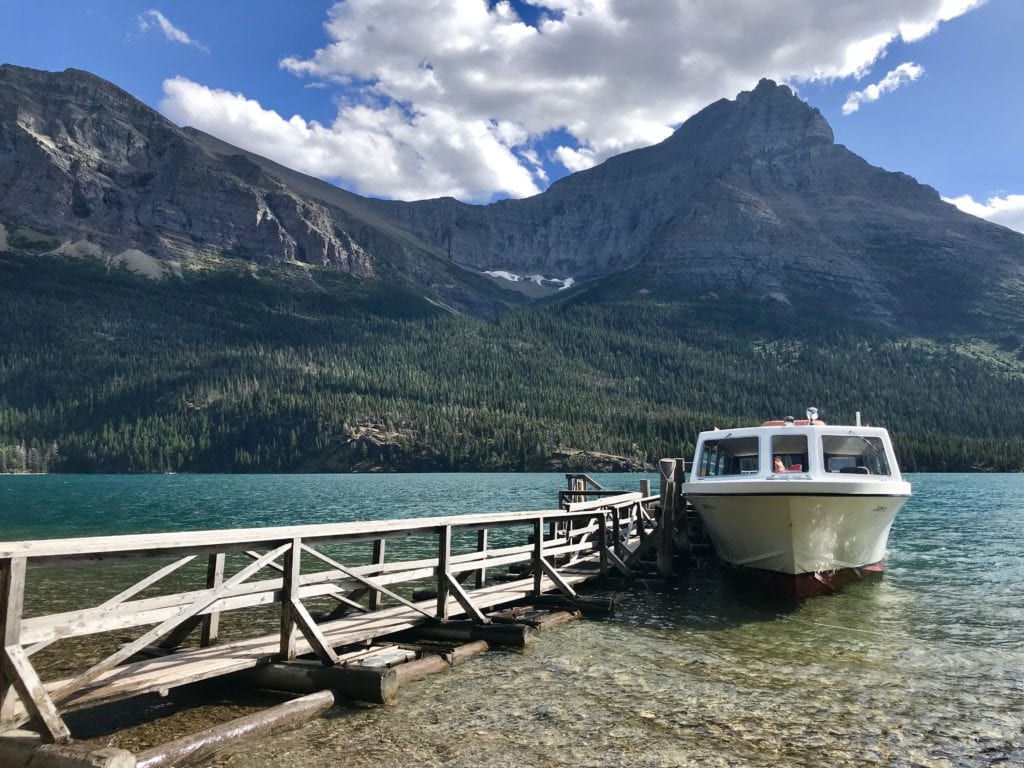 The Glacier Park Boat Company has been in operation since 1938 and is now being run by the third generation of the Burch family. Little Chief, the boat that tours St. Mary, was built in 1926 and was extensively restored in 1990. These boat rides allow visitors to enjoy amazing scenery and remarkable American history at the same time.
That's our list of amazing things to do on the east side of Glacier National Park. Make sure you check out all our other Glacier National Park content, including our west side campgrounds and recommended activities!
See you at the campground,
Stephanie + Jeremy
Podcast: Play in new window | Download