The phrase "bucket-list trip" is pretty overused, but it most definitely applies to Glacier National Park. This is simply one of the most awe-inspiring destinations in North America, if not the world. But if you are planning trip to Glacier National Park, you may feel a bit overwhelmed by the process.
A small portion of the US population is within a day's drive from this majestic park. The majority of us, however, are quite a ways from Northern Montana. Should you road trip? Should you fly? Is it better to RV, camp, or stay in a NPS lodge? We've got a ton of tips for figuring out when you visit, where you stay, and what you should do!
This article and podcast episode is the first in a series of six episodes devoted to planning a trip to Glacier National Park. Here's the order that we recommend reading or listening:
Planning a Trip to Glacier National Park
Packing for Glacier National Park: Gear Recommendations
St. Mary / East Glacier KOA Holiday: Campground Review
Things to Do on the East Side of Glacier National Park
West Glacier KOA Resort: Campground Review
Things to Do on the West Side of Glacier National Park
When Should I Visit?
Many seasoned travelers will recommend visiting the most popular national parks in what are called the "shoulder seasons." Shoulder seasons are the months right before and right after the most popular times of the year. This way you get many of the benefits of peak season travel without the crowds.
Shoulder season travel is usually a great idea…but not when it comes to Glacier National Park. Why? Well, there's not really a shoulder season. While the weather can be lovely in June and September, Going-to-the-Sun Road is often not open until early July, and sometimes closed by mid September. Yes, Glacier is huge and there is much more to see than Going to the Sun Road. But this is the star of the show and so many of the best hikes and destinations are located off this famous road.
We would never recommend that anyone visit during these shoulder seasons if this is a once (or twice!) in a lifetime trip.
Should I Stay on the East or the West Side of Glacier National Park?
You should stay on BOTH!
When planning a trip to Glacier National Park, most people fall into the trap of feeling that they have to choose between the East or West Side. We believe this is a false conundrum. If you choose just one side of the park for your whole stay, you will seriously miss out the stunning variety of landscape in this national park. Or you'll spend hours driving to locations far from your base camp.
It takes under two hours to drive from the West side of Glacier to the East side. We had eight days in the park and split them four and four. Even if we only had a week, we would still aim to stay on both sides.
Should I bring my personal RV?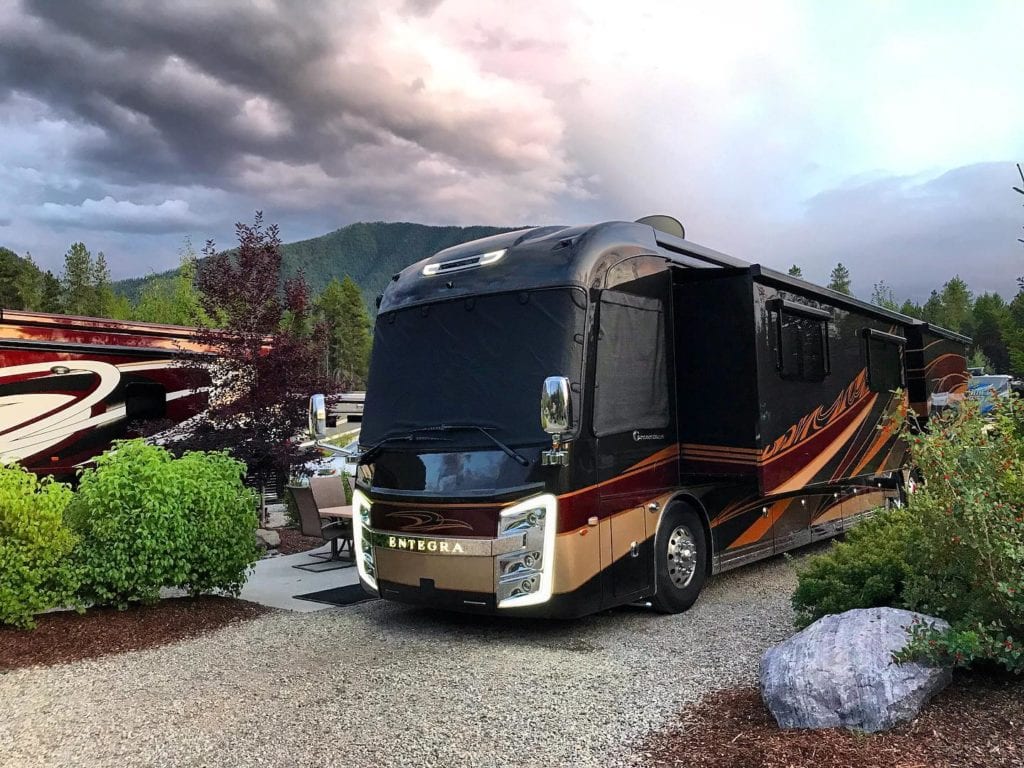 For us this was out of the question. We live in New Jersey and it would have taken us DAYS to drive to Glacier National Park. It also would have cost much more, when we calculated gas prices and overnight campground fees along the way.
But you might have more time than we did or live closer to northern Montana. In that case, you'll still want to understand some things about the park before hopping in your own rig and heading to Glacier.
Going to the Sun Road has significant size restrictions for vehicles. Nothing more than 21 feet in length TOTAL is allowed on the road. There are also restrictions on vehicles wider than eight feet and taller than 10 feet. Now, you can stay at campground on either side of the park in your personal RV and use your tow vehicle, toad, or park shuttle to get around. Just make sure you think through your personal transportation situation before you arrive.
Should I Fly and Rent an RV?
Flying into this area was remarkable simple and surprisingly inexpensive. We flew into Glacier Park International Airport in Kalispell which was just about 40 minutes away from the West entrance of the park. Ticket prices from Newark were under $500 round trip, and we had enough airline miles to cover the cost of a couple tickets.
There are so many options for renting RVs in this area. We saw an RV rental waiting in the airport parking lot for some arriving visitors. We also spoke to at least half a dozen families throughout our trip that had rented RVs for their vacation. Of course, most rentals will be motorhomes, so you'll want to think about transportation logistics within the park. Do you want to rely entirely on the park shuttle service to get around or will you also rent a car? Does the campground provide any transportation options on site?
What are my Campground Options?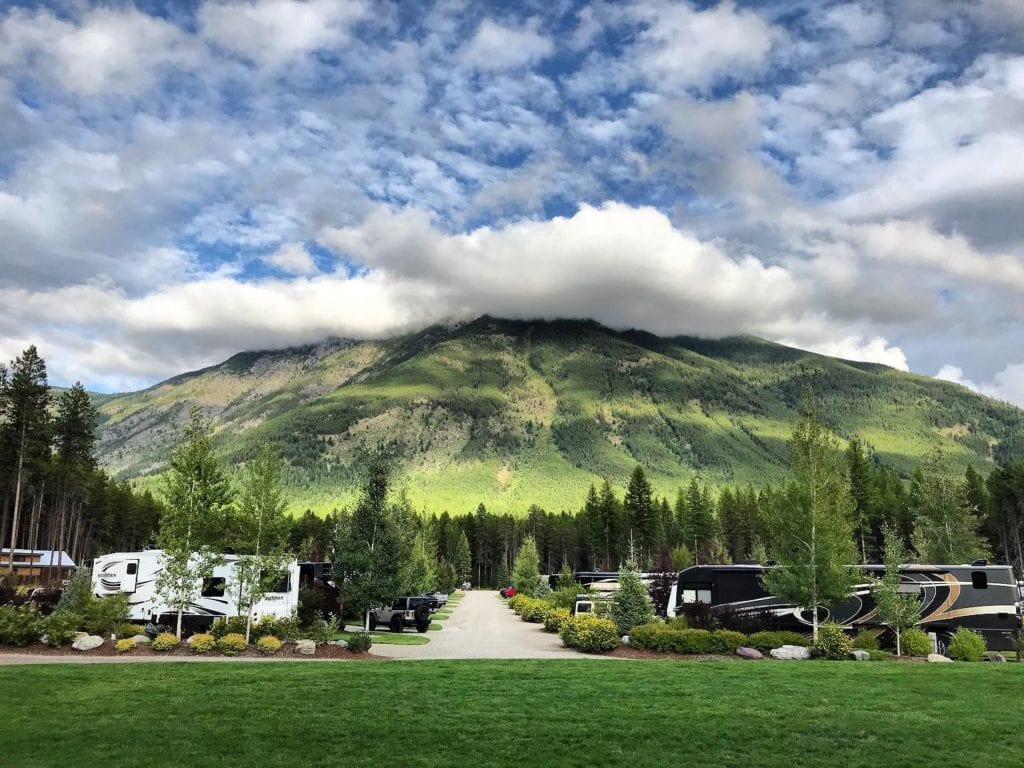 If you are bringing your personal RV or renting one, here are our recommendations for reservable campgrounds:
St. Mary / East Glacier KOA: A private, full hook up campground with pool, hot tub, and on-site restaurant. Located just minutes from the East Glacier entrance.
St. Mary Campground: Dry camping with potable water and restrooms available on site. Gorgeous views surround the campground and there is an onsite amphitheater with evening ranger programs.
Many Glacier Campground: Dry camping with potable water and restrooms available on site, with cold water only. Sites do not accommodate slide outs on RVs. This remote campground is 22 miles from the St. Mary entrance and near the SwiftCurrent Motor Inn, which offers access to famous hikes like Grinnell Glacier and Iceberg Lake.
West Glacier KOA Resort: A private, full hook up campground with resort amenities including pools, hot tubs, playgrounds, and cafe. Located just about 10 minutes from the West Glacier entrance.
Fish Creek Campground: A large campground with views of Lake McDonald. No hook ups are available but there is potable water and restrooms with flush toilets. The campground is heavily wooded and sites are fairly large.
Should I Fly and Stay in Cabins?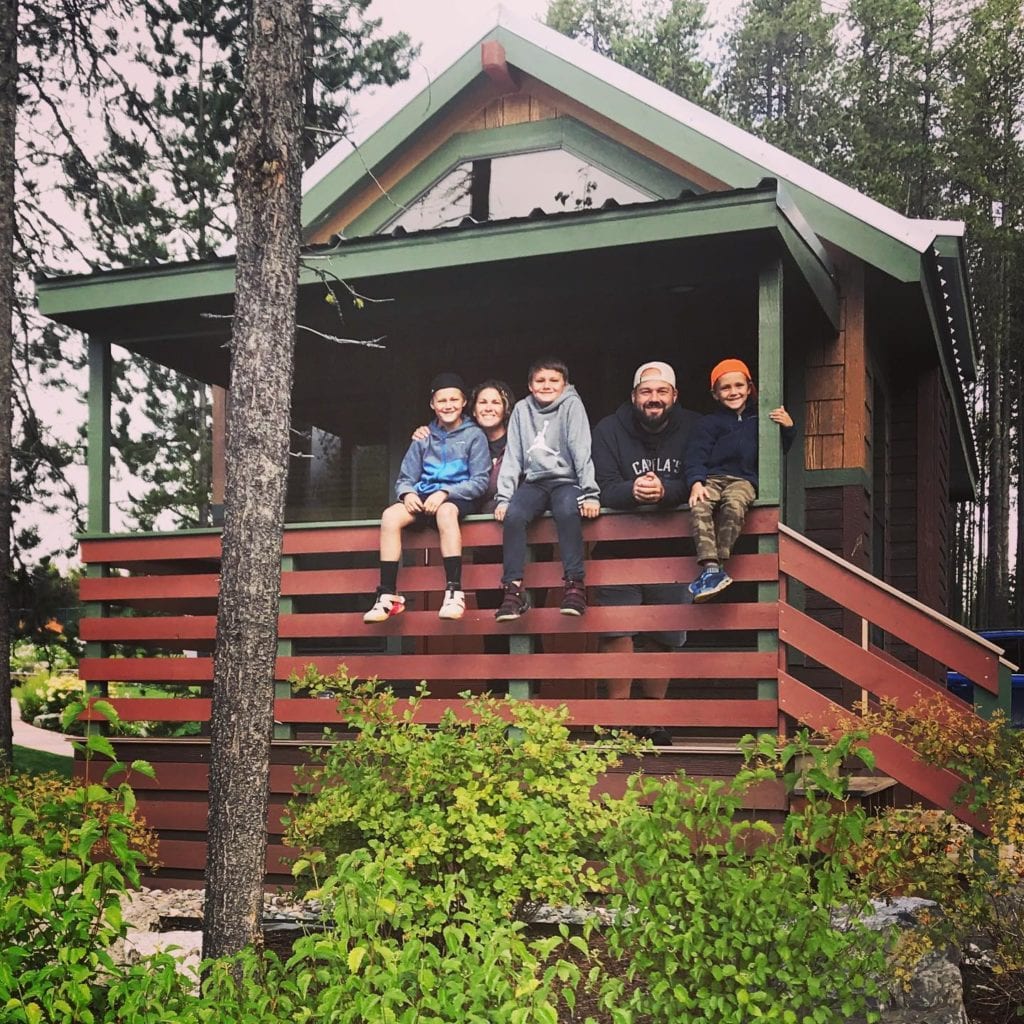 After researching all our options, this was the one that we personally chose. Both the St. Mary / East Glacier KOA and West Glacier KOA had deluxe cabins with linens and fully stocked kitchens. We felt renting a car and staying in cabins was a simpler option than renting an RV, even though the costs were quite similar. We knew we wanted a small rental car that could let us move around with more flexibility than the park shuttle system. In the end, we were thrilled with our choice.
Should I Fly and Stay in National Park Lodges?
The price of many NPS lodges in the park is quite similar to the cost of renting an RV or staying in cabins. There are some more budget options, but since the rooms are smaller we would have had to book two rooms for our family of five, increasing the cost dramatically.
The lodge options are amazing, since they are historical, beautiful, and place you in the heart of Glacier National Park. But they book up fast! We called to reserve just under a year in advance and there were very few options still available. If you are planning a trip to Glacier National Park, make sure you book 12 months in advance to get your pick of lodging. If we go back to Glacier National Park, we would love to do a 'lodge hop' and stay in a few oner the course of our trip.
Here's a quick overview of the NPS lodge options in Glacier National Park…
West Side Lodges
Lake McDonald (Lodge, cabins, and suites): Price ranges from $115 for a dorm room to $371 for a two room suite. Amazing location on the west side. Stunning views of Lake McDonald but very crowded.
Village Inn at Apgar: Prices range from $179 to $300. This inn overlooks the western edge of Lake McDonald. Simple accommodations in a great location. We would have been very happy to stay here as a family.
East Side Lodges
Many Glacier Hotel: Prices range from $211 to $486. This is a grand and historic park lodge, but the location is very remote. Lodge offers a few great dining options, boat rentals and rides, and direct access to the Grinnell Glacier trailhead. 
Swiftcurrent Motor Inn: Prices range from $115 to $187. This is located right near the Many Glacier Hotel and perfect as a budget option for staying in this area. 
Rising Sun Motor Inn: Prices range from $173 to $187. This is located near the St. Mary Visitor Center on the East side of the park. Wonderful location for access to all the top hikes and views on the east side of Going-to-the-Sun Road. 
The most important part of planning a trip to Glacier National Park is just putting it on your calendar! Words cannot describe the majestic beauty that visitors encounter in every corner of this natural treasure. Scientists predict that all the glaciers will be gone by 2030, so we highly recommend you go sooner rather than later. Whether you stay in an RV, tent, cabin, or lodge, whether you fly or drive, this will be the trip of a lifetime.
See you at the campground,
Stephanie + Jeremy
Podcast: Play in new window | Download