Planning a trip to Glacier National Park? The first thing you'll find out is that folks love to argue over whether the east side or the west side is better.
Our opinion? No one should have to choose! It's a mere two hour drive from the west gate to the east gate, and we highly recommend choosing a base camp on both sides. We stayed at the West Glacier KOA during our time on the west side, and loved the location and amenities. You can read a complete review of the campground here. You can also read or listen to our tips for planning your trip here and packing for Glacier here.
Here's a list of our favorite things to do on the west side of Glacier National Park…
For all hikes, we highly recommend using the AllTrails: Hike, Bike, and Run app, Pro Version to research trail information.
10 Amazing Things to Do on the West Side of Glacier National Park
Take the Western Alpine Red Bus Tour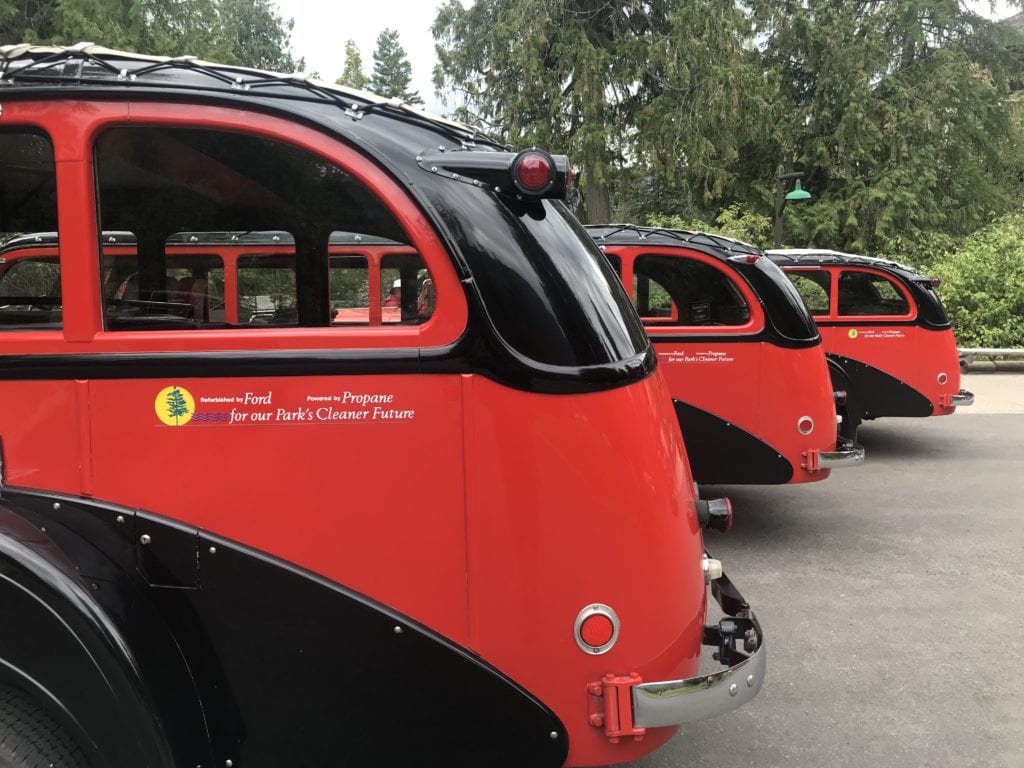 This is a 3-hour Red Bus Tour that covers Going-to-the-Sun Road from the West entrance to Logan Pass. We took the corresponding 3-hour Alpine tour on the East side of the park, and to be honest, we liked that one better. So if you will be on both sides of the park, save the Red Bus tour for the East side. However, if you are only staying on the West side, you do not want to miss this experience. Driving in these historical vehicles, with the canvas roof rolled back, is simply a divine experience.
Hike to Avalanche Lake via the Trail of Cedars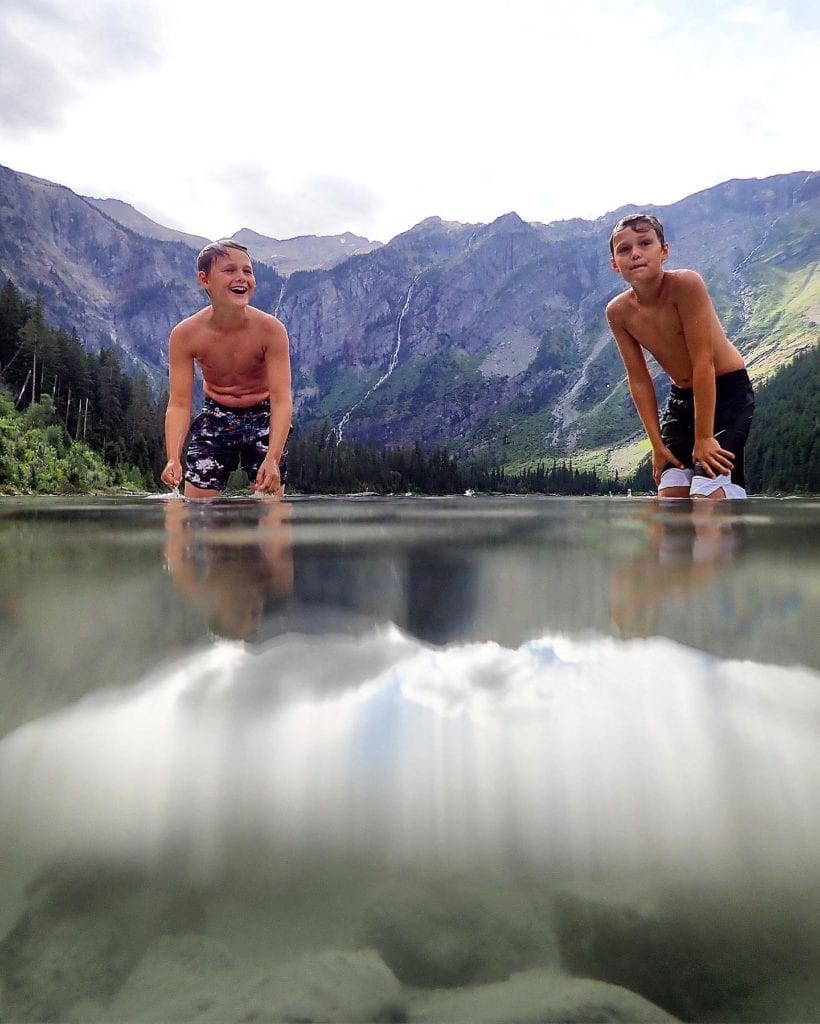 This is one of the easier hikes in all of Glacier, yet the payoff views at Avalanche Lake are as stunning as anything in the park. It's a 5-mile round trip hike without a lot of elevation gain. The boys jumped into Avalanche Lake (BRRRR!!!) and we spotted a black bear across the lake.The first part of the hike is the Trail of Cedars, an accessible boardwalk hike. Get there early to park at the crowded trailhead, or take a shuttle from the visitor center.
Visit Lake McDonald Lodge
This is definitely a hub for visitors on the west side with gift shops, restaurants, boat rentals, and horseback riding stables. So many of the things to do on the west side of Glacier can be found here. The lodge has a gorgeous lobby, and you'll want to relax and play a game of chess by the fire. You can also get a cocktail and enjoy it in Lucke's Lounge or on a patio rocking chair. Russell's Fireside Dining room is a more formal atmosphere with both buffet and ala carte menu items. Kids will want to dip their feet in the cold water, or jump in if they are crazy like ours.
Eat Lunch at Jammer Joe's Grill and Pizzeria
We did not have high hopes for this place, but after a hike to Avalanche Lake, we were famished. Well, it turned out to be our kids' favorite food stop in all of Glacier National Park. The all you can eat pizza and salad bar was better than it sounds. The kids loved the dessert options and soda fountain as well. There was also some local beer options on tap. Best of all, our family of five ate for about $50 which was spectacular for Glacier food prices.
Visit Apgar Village
Located just up the road from the Apgar Visitor Center on the shores of Lake McDonald, Apgar Village has affordable kayak and SUP rentals. We think these might be some of the prettiest views on the entire lake.
Eat at Eddie's Cafe and Mercantile
Eddie's Cafe had friendly service, delicious food, and a charming atmosphere. It was the perfect way to fuel up after a paddle.
Go Horseback Riding at Apgar Stables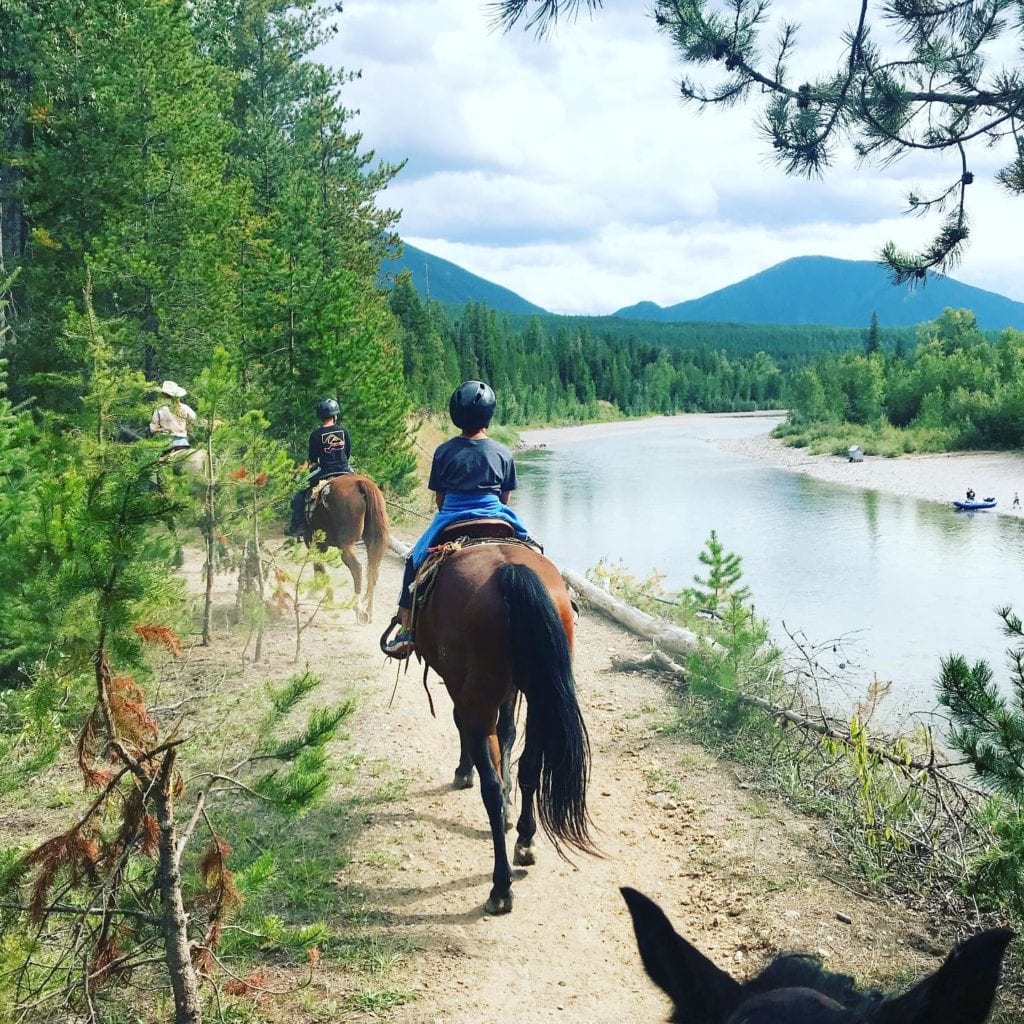 Swan Mountain Outfitters is the concessionaire that runs all the stables in Glacier National Park. I convinced my older two boys to go horseback riding for the first time, and Swan Mountain Outfitters did such a great job of getting them acclimated to the horses. They have many different options including full day rides, but I loved that they offered one hour tours. Our guide admitted that her favorite trail ride was the all-day excursion to the Sperry Chalet that leaves from Lake McDonald.
Lake McDonald Boat Ride
The Glacier Park Boat Company has been operating Glacier National Park since 1938. The classic boats are a wonderful part of this national park's history. Boat tours are $18 for adults and $9.25 for kids. A few boat rides a day include an onboard park ranger talk. The other tours will host an onboard naturalist who will interpret the land around Lake McDonald.
Drive into Whitefish
The famous ski resort town is just about 30 minutes from the West Glacier KOA, and it was a fun break from all of the physical activity in the park. There are great gift shops, book stores, and coffee shops in town. We ate dinner at the Great Northern Brewery, and the food was better than we expected. We had to order a second round of nachos and hot pretzels. The Huckleberry Beer was a special local treat.
Head out to the Polebridge Bakery
We had to take the 45 minute drive out to the Polebridge Bakery just to find out what all the fuss was about. We took advantage of a rainy morning, and the Bear Claw pastries did not disappoint. Someone might have also grabbed a dozen cookies to go. This is a great place to find some local artisan souvenirs if you have any money left over from the NPS gift shops.
Make sure you also check out our recommendations for things to do on the east side of Glacier National Park! And if you are just getting started planning your trip, read our Tips for Planning a Trip to Glacier National Park and our Packing Tips for Glacier National Park.
See you at the campground,
Stephanie
Podcast: Play in new window | Download