Towing an RV with a van is an option most folks don't even consider. But we think it's an outside of the box tow vehicle that deserves a bit more air time.
For many people, deciding on a tow vehicle to pull a travel trailer just means choosing which truck to buy. People who need more seating for kids or who want a more traditional "family car" for everyday use might want to avoid the truck their search to include SUVs.
Few people stop to consider the third option: the sturdy and dependable, but decidedly utilitarian, full-size van.
This often overlooked workhorse can offer awesome towing and payload capacity and plenty of seating for big families, all at a bargain price, and is worthy of the same consideration its flashier cousins enjoy. As with any tow vehicle, though, it's not the right choice for everyone or for every situation; here's an overview of the some of the big pros and cons to consider when deciding whether a full-size van might work for you.
To listen to our whole discussion about towing an RV with a van, listen to The RV Atlas podcast episode with Gretchen from Boxy Colonial on the Road. She travels around the country with her husband, four kids, and three dogs towing an RV with their van. In other words, she has a bit of experience on this topic. 
Pros of Towing an RV with a Van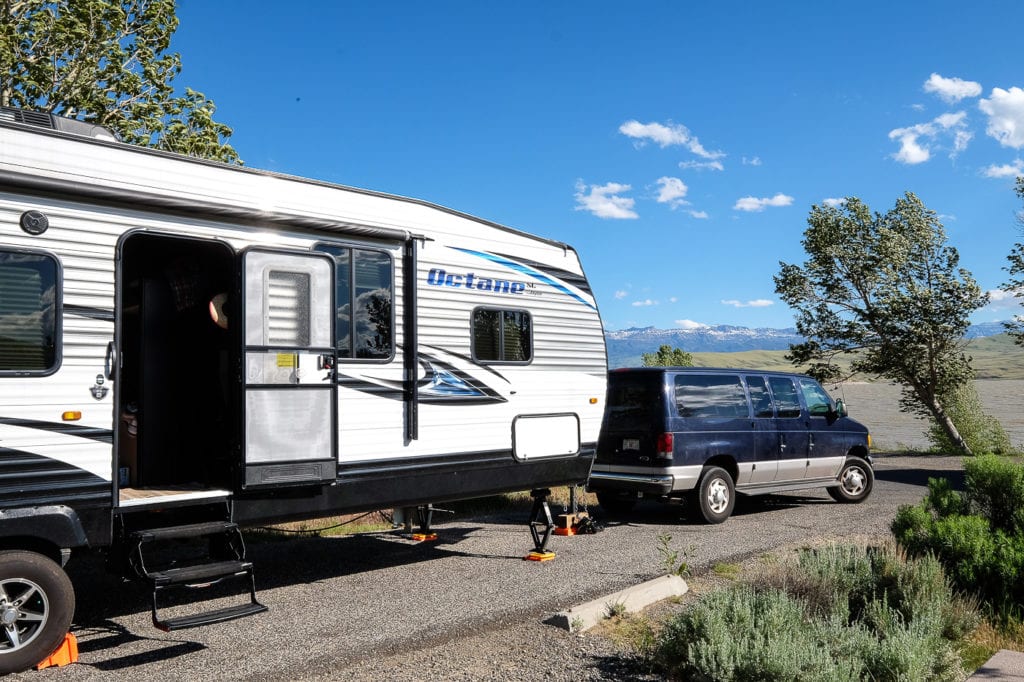 Lots of seating
No other kind of vehicle can compete with a full size van for seating, and if you're considering a van it's probably largely for this reason. You can find a 7, 9, 12, or 15 passenger van, sometimes with the flexibility to switch back and forth between more seating and more cargo space depending on your needs.
Towing and payload capacity
Full size vans compare favorably with even the most heavy duty SUVs when it comes to towing capacity (up to 10,000 pounds for the current best-towing vans on the market) and can hold their own against most half ton trucks as well. And, arguably even more importantly, they usually come out way ahead of SUVs when it comes to payload capacity. Big families in particular will often max out their payload capacity before they hit the upper limit of their vehicle's overall towing capacity, so this can be a hugely useful feature. Numbers vary with different vans, but generally speaking vans are built to haul a lot of stuff around and their payload numbers reflect this.
Price
This will vary a great deal among different makes and models, of course, but a well-equipped full-size van with the maximum tow package will usually be thousands of dollars cheaper new than an SUV or pickup truck with similar towing capability. And there are some excellent deals to be found on used ones!
Flexibility
At its heart, a full-size van is really just a big empty box with an engine in it. It's a blank slate ready for you to write your camping story on. Big family that needs seats for all the kids? Small family that needs space for bikes or other gear in the back? Couple with a pack of dogs who needs a place to pile up crates? Want a tow vehicle that can also BE your camper part time? The van has you covered.
Cons of Towing an RV with a Van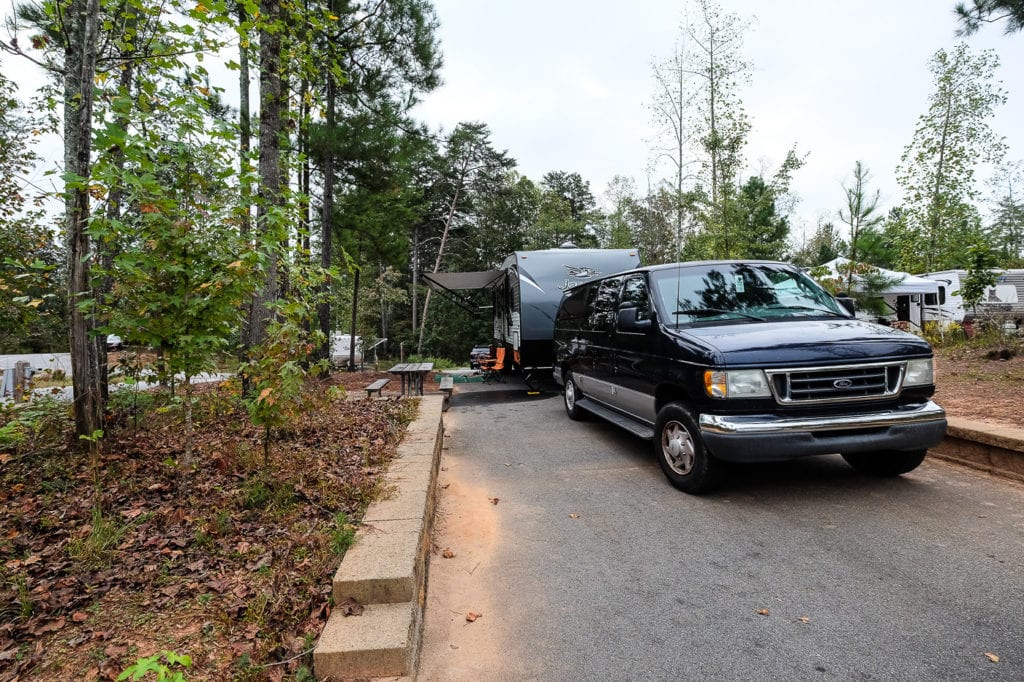 Style
Vans don't win many points for flashiness. The typical full-size van has looked pretty much the same for decades now, and people tend to associate it with shuttling preschool kids around, or with the guy who comes to repair your internet, or with the terrorists from Back to the Future. This might not matter much to you if you're a function over form type or if you're in the market for something just for towing, and it's going to sit in your driveway most of the time. But if you want a tow vehicle to double as a daily driver, you might not want to roll up to work in a big old cargo van.
Gas mileage
Big, tall boxes are not very aerodynamic, and, especially when combined with a giant engine built for towing, that makes for some pretty abysmal gas mileage.
Parking garages
Speaking of big, tall boxes….full-size vans often don't fit in parking garages and decks, so that's something to keep in mind. This can be an issue with larger trucks and SUVs as well, but full-size vans tend to be a few inches taller, and that's often the difference between squeaking by when trying to park underground and not. Be ready to spend a lot of time searching in advance for surface lots when you travel in cities.
Lack of 4 Wheel Drive
It's possible to find a full-size van with all wheel drive, but it's generally an aftermarket addition, and it's definitely not common. Most vans have rear wheel drive, which might take them out of the running if you tow in snowy areas or like to head off the beaten path to explore.
A Few Vans to Consider…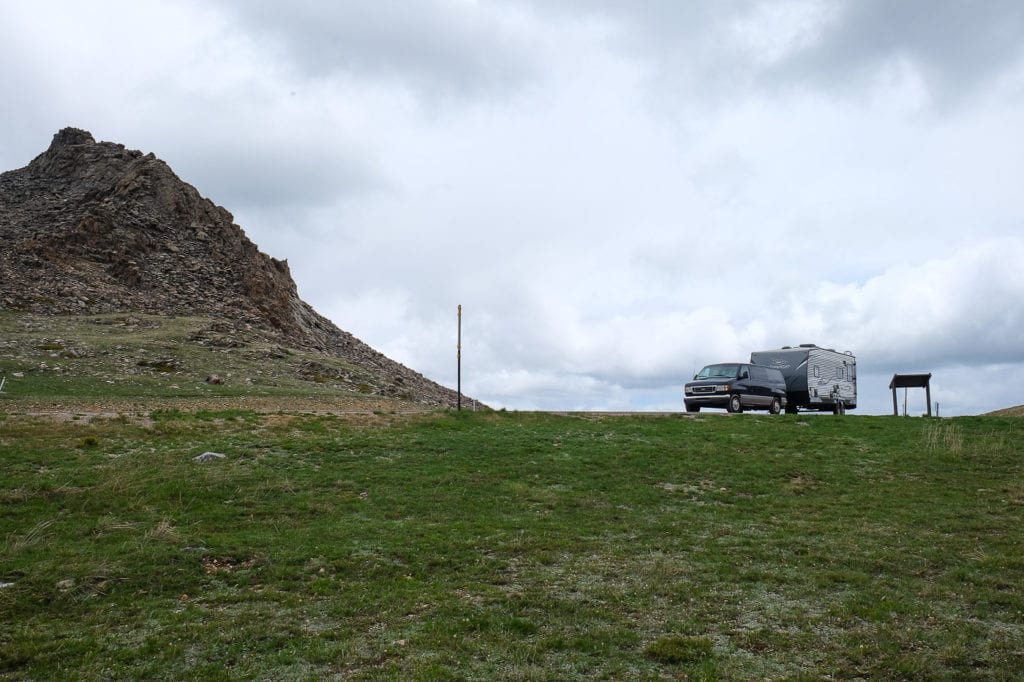 GMC Savana/Chevrolet Express
These two mechanically identical vans made by General Motors are what you picture when you think of a full-size van, and they're your best options among new vehicles if you want maximum towing capacity. The passenger versions max out at around 9600 pounds of towing capacity when properly equipped.
Nissan NV
The NV passenger van comes with a towing capacity of up to 8700 pounds, properly equipped. It can carry as many as 12 passengers, and the seats can be removed or rearranged in nearly endless variations to suit your needs. While it's still undeniably boxy, the NV has a sleeker, more modern design than most full-size vans, helping it to blend in a little better in a sea of minivans at your kids' soccer games.
Ford Econoline
Ford discontinued their Econoline series in 2014, but there are still plenty to be found on the used market. E-series vans tow up to 10,000 pounds and are serious workhorses; a used one can have a lot of life left in it and be an excellent budget pick.
If you are thinking about towing an RV with a van, head over to our private Facebook group and ask any questions you might have! We've got lots of friendly folks there who can give you helpful feedback.
And you can read more of our episodes on tow vehicles here:
See you at the campground,
Stephanie + Jeremy
Podcast: Play in new window | Download