History, culture, colleges, athletics… and campgrounds? While Boston has long been known as a fascinating travel destination, you might not realize that one of the nation's top-rated family campgrounds is located on the outskirts of Beantown. Enjoy a stay at Normandy Farms, and then head into town to explore all that Boston offers.
Kerri Cox, from Travels with Birdy, is joining us to share all the details of her family's short stay in Boston. Since their visit consisted mostly of college tours, they didn't get more than a small taste of the city. But, what they did experience left them wanting for more! Staying at Normandy Farms was an easy choice due to our earlier review (which you can check out here).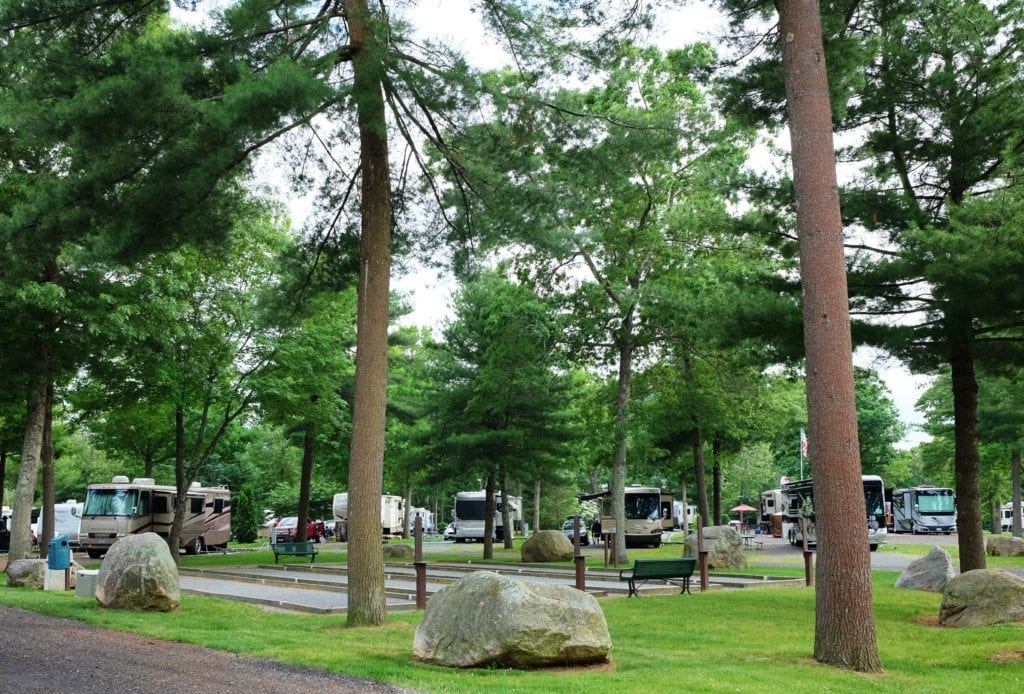 Where to Camp Near Boston
Normandy Farms sets the bar high for what a family campground could be. It offers a beautiful setting, large sites, and boundless amenities. Every aspect of Normandy Farms is meticulously cared for. While the campground is located near Boston, it feels worlds away due to peace and tranquility of the surrounding area.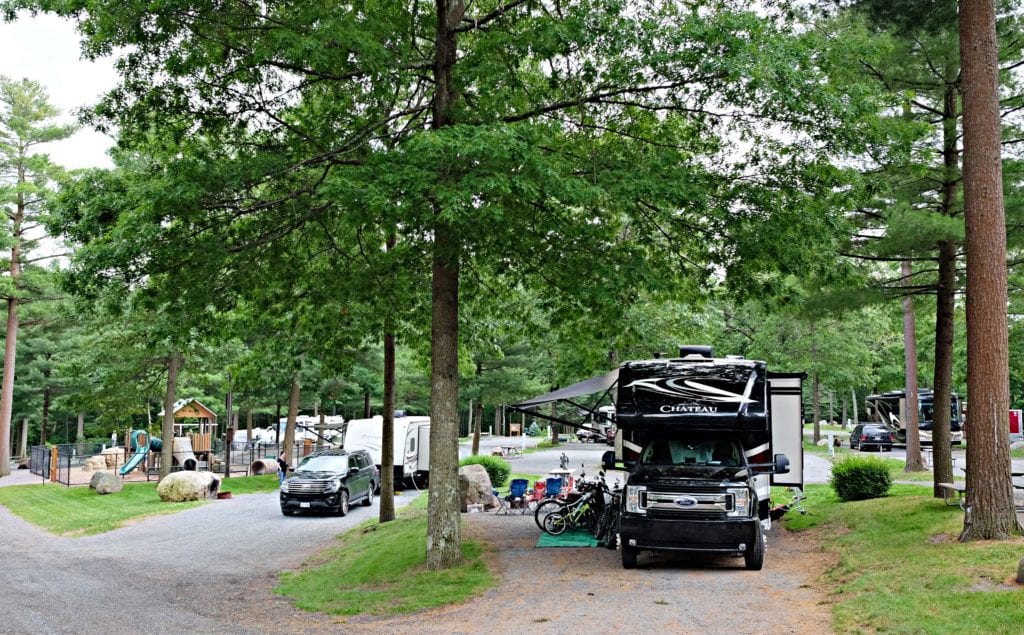 A family could stay a week at Normandy Farms and never have any desire to leave. Check out the full list of recreational facilities here. The campground offers four (really!) pools, including one that is adults only. The indoor pool is greatly appreciated on days when the weather isn't nice. Even though it was 65 degrees and drizzly, Kerri's sons swam a lap in the massive outdoor pool before returning to the heated one inside.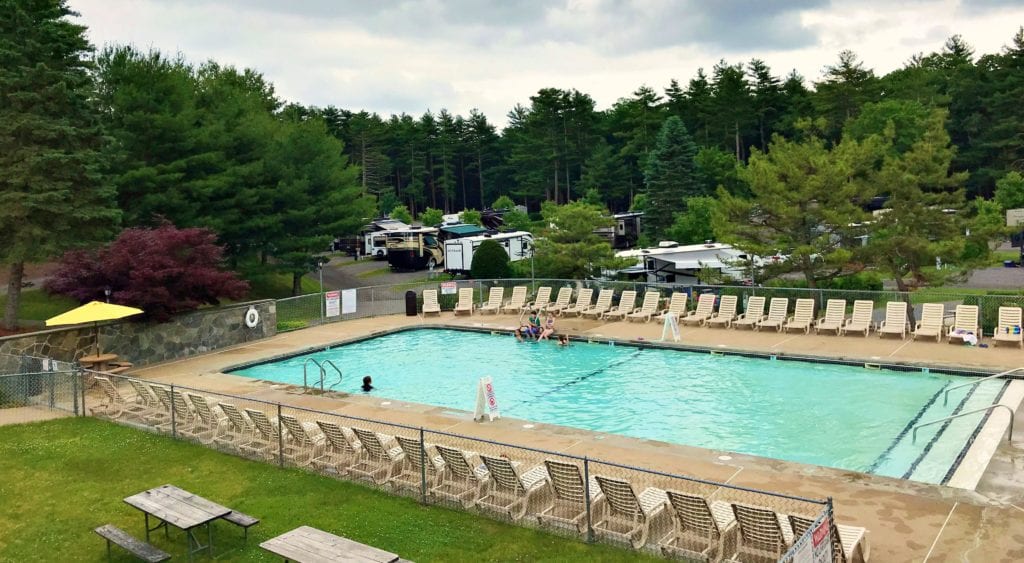 Disc golf, bocce ball, fishing pond, nature trails, shuffle board, basketball–if you can think of it, Normandy Farms probably has it. And, you won't fit a weedy, barely-usable space. Instead, every element of Normandy Farms is well-maintained and thoughtfully set up.
Aside from the facilities, you'll also find a full recreation calendar during the summer season. Again, it is over the top! From morning to night, there's an activity on the calendar for every member of the family. You'll find games, crafts, exercise, and more.
Finally, we would be remiss if we didn't mention the exceptional customer service. Kerri thought it was remarkable how many caretakers and work staff she saw in the park. Everyone contributed to the clean, cheerful atmosphere.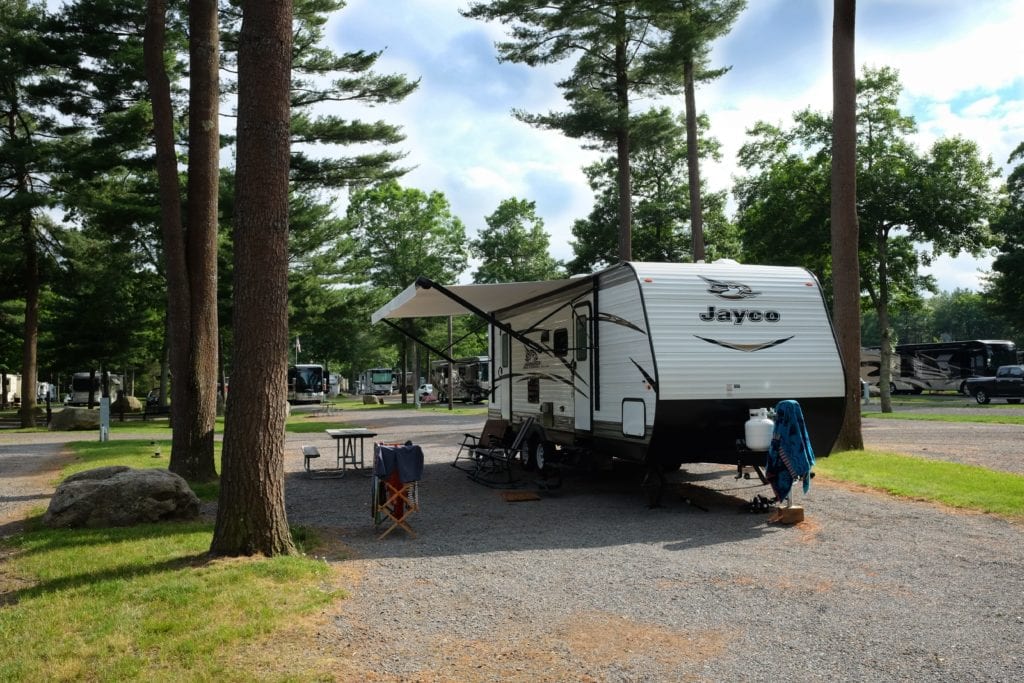 Northwest of town, the Boston Minuteman Campground is another great option. It offers fewer activities and amenities than Normandy Farms. However, the rustic, wooded setting has that classic campground appeal.
Transportation from Normandy Farms to Boston
Truth be told, getting from Normandy Farms into Boston can be a bit of a hassle since it's located out in Foxboro (also home of the New England Patriots team's Gillette Stadium). Driving into the city takes 40 minutes during non-peak times. Heading in during rush hours would take substantially longer.
Since they had heard horror stories about driving and parking downtown, Kerri and her family opted not to drive to the city. Instead, they took the MBTA train. The Red Line's Quincy Adams and Braintree Stations are each a 25-minute drive from Normandy Farms. Both offer parking and a straight commute into the city. Note that there is also a Quincy Center Station, which does not have on-site parking.
The Red Line's Downtown Crossing Station is located just across from the Boston Common, which is the perfect spot for starting your tour of the city.
Things to See and Do in Boston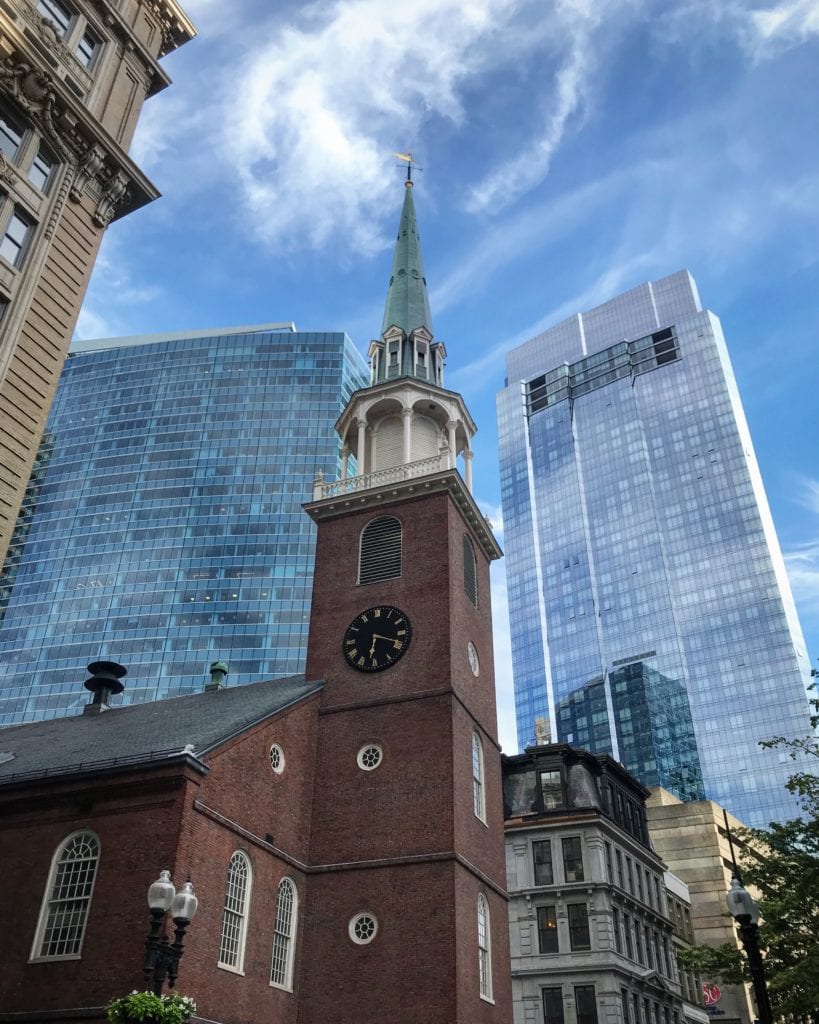 Boston is one of those amazing big cities that manages to somehow feel quaint and charming. Perhaps it is the historic buildings that fill the heart of downtown; perhaps it is the unmistakable Boston accent. Whatever it is, it makes Boston one of those places you should put on your bucket list. If you're heading to Beantown, check out these attractions:
Freedom Trail: This 2.5 mile trail connects 16 of downtown Boston's historic sites, many of which date to the 1700s. See where Paul Revere lived, visit Alexander Hamilton's grave, and walk in the steps of the American Revolution
Boston Common: Visit the nation's oldest city park, founded in 1634. Today, it's a popular gathering spot for the city.
Faneuil Hall Marketplace and Quincy Market: This popular area has been a Beantown gathering point since the 1700s. Today, it's the place to go for shopping, food, entertainment, and more.
Boston Harbor Waterfront: A number of public parks line the waterfront, making it another scenic spot.
South End:  Go hungry, and enjoy a meal in one of the many open-air restaurants. Don't miss the Italian bakeries for a classic dessert.
Fenway Park: Catch the Boston Red Sox baseball team in action or tour this historic stadium
Walden Pond: See the spot that inspired Henry David Thoreau's Walden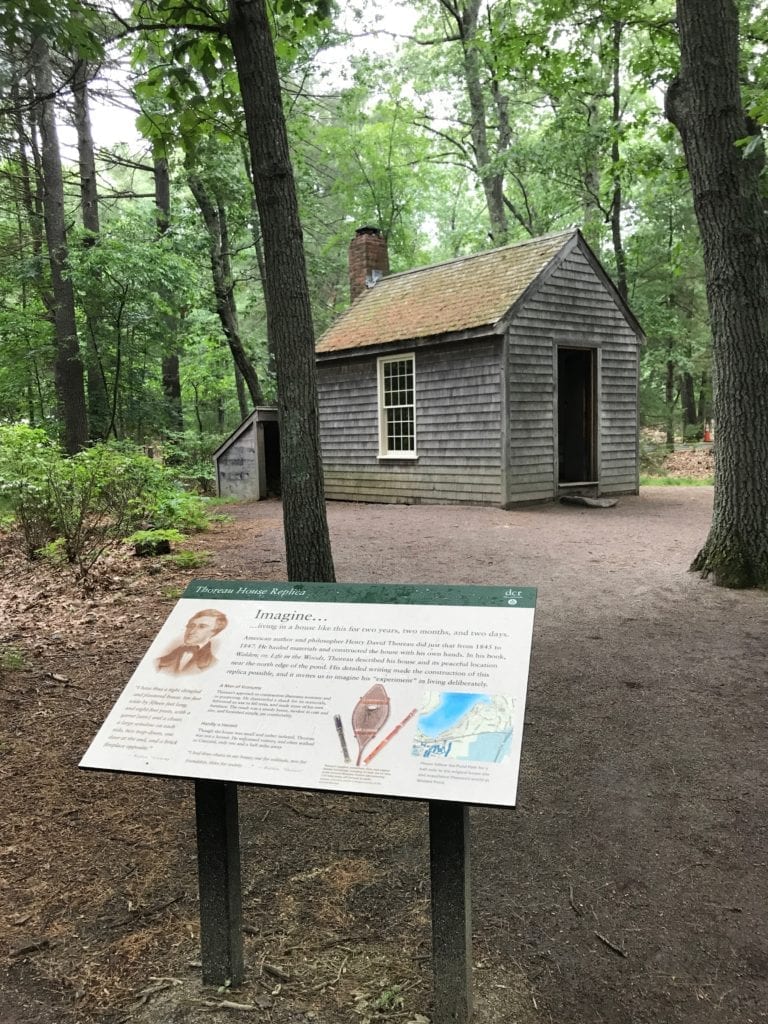 Combining a trip to Boston with a stay at Normandy Farms is truly an awesome package deal.
See you at the campground,
Jeremy + Stephanie
Podcast: Play in new window | Download