Camping and NYC?! Yes, really! While NYC doesn't sound like a camping destination, it is possible to camp in your RV just outside of the Big Apple. Liberty Harbor RV Park is ridiculously close to Manhattan in nearby Jersey City, NJ. This park might not offer the prime camping experience, but its prime location seriously can't be beat for travelers who want to explore all that the city offers. 
Liberty Harbor RV Park is one that certainly attracts a lot of attention since it is the closest campground to New York City. Unfortunately, it also has generated some scathing online reviews. When our correspondent Kerri Cox, of Travels with Birdy, headed out for her big East Coast trip, she almost let those reviews scare her away.
After much debate, her family decided to stay at Liberty Harbor, and they were pleasantly surprised. If you go in with adjusted expectations, you might be pleasantly surprised, too! We've talked before about urban camping. You have to find the right compromise of accessibility and amenities for your family. For Kerri, Liberty Harbor's location made it well worth the price and scarce amenities.
To hear Kerri tell you more about Liberty Harbor RV Park, click the play button in the media player above or look for the RV Atlas wherever you find your favorite podcasts.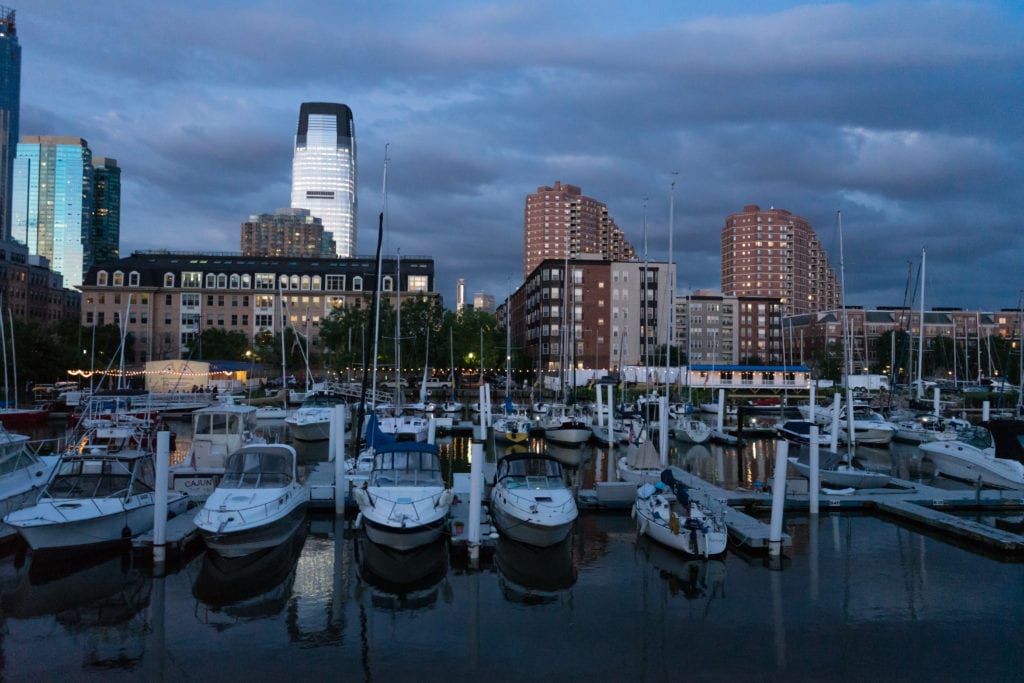 Campground Details for Liberty Harbor RV Park
Liberty Harbor RV Park is quite possibly unlike any other campground you'll visit. It is literally a parking lot. There's paid commuter parking onsite and boat parking for the nearby marina. Plus, it looks like a parking lot. You'll find mostly concrete instead of grass and towering buildings instead of trees. 
That being said, you can see the Statue of Liberty and Manhattan in the distance. What other campground offers those views? None. And, here's the thing, chances are, you aren't going to really spend any time in the campground itself. If you're like Kerri, you'll get up and get ready in your RV and then hit the town all day, only returning to the campground to sleep at night.
Liberty Harbor offers 50 campsites with water and electric only. Most campsites are 45' long, and you have to pay to park your car in a separate spot if it won't fit (at a cost of $35 per night). You can take a video walking tour with Kerri here.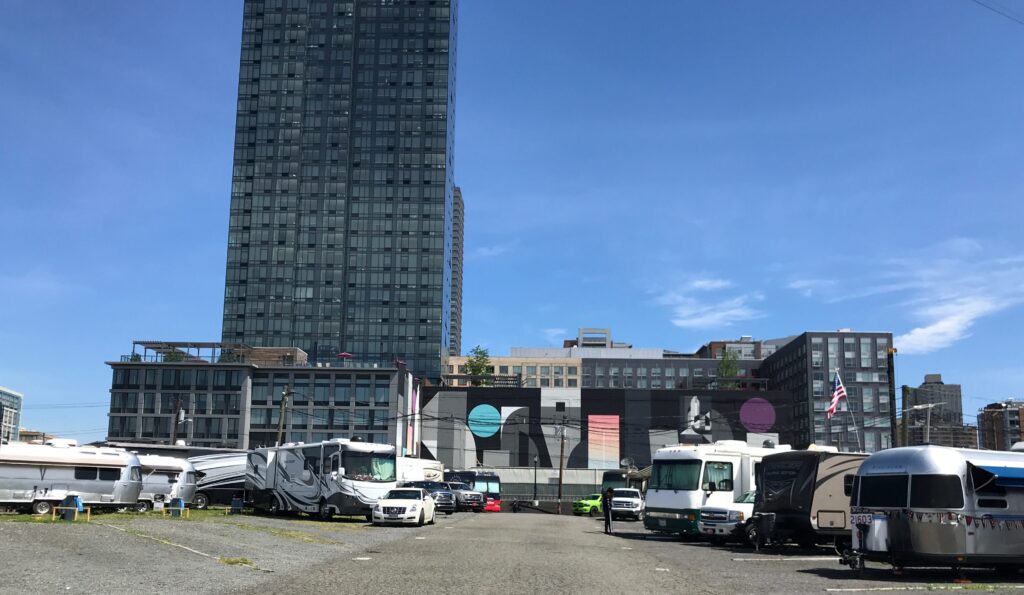 Expect to pay around $110 a night plus taxes at Liberty Harbor. This price is on par with Fort Wilderness and other plush resorts around the nation. Unfortunately, you are not getting any of the plush resort amenities here. You are paying for the location. You cannot hardly touch a hotel room in NYC for anywhere near $110. Kerri and her family debated storing their RV somewhere and splurging on a hotel in the city, but decided they just couldn't justify spending $300+ a night for a Hampton Inn. 
Surprisingly, there are tent sites available at Liberty Harbor, but they are on astroturf and surrounded by the bathrooms and other buildings and offer no privacy. Kerri said these looked very, very sad. They cost $65 a night. If you are an adventurous young adult who wants a thrifty trip to NYC, this is an option.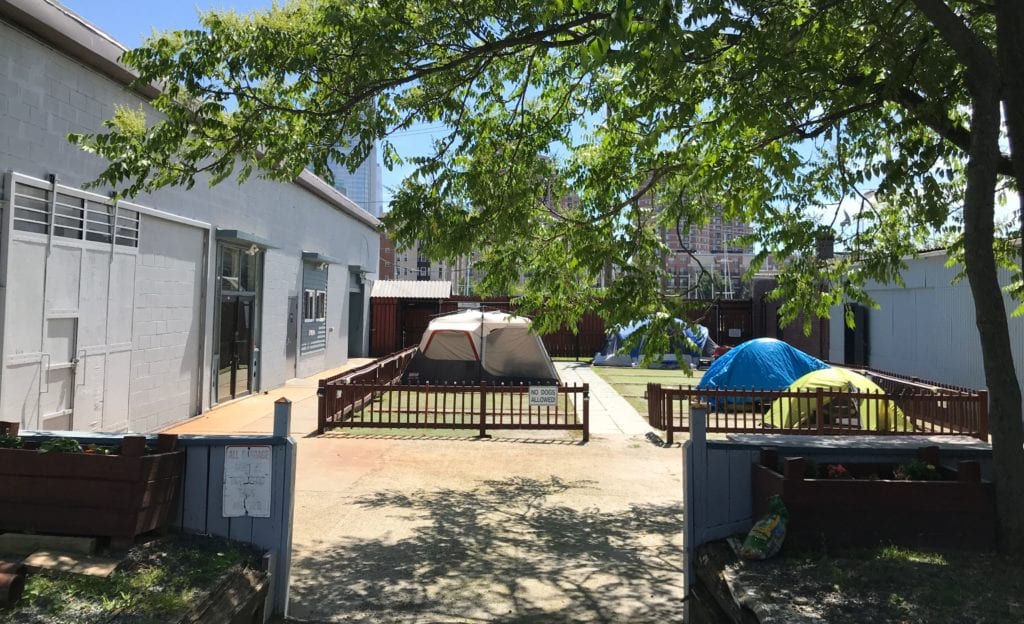 Campground Amenities
Liberty Harbor RV Park only offers the essentials. Don't expect a pool or a playground.
Though Kerri had read horrible reviews of the bathrooms, she thought they were okay. They are in need of a little maintenance since they are older. The showers were heavily trafficked during the day, so some are left cleaner than others. The laundry facilities were also functional.
Since you won't have sewer at your site, you'll likely make use of the dump station. Kerri pointed out that it is awkwardly placed in a corner, but otherwise, it was fine.
Since Kerri and her family were visiting the city for the first time, they were unsure about how safe they would feel at Liberty Harbor. They report having no worries, even on their walks home from the train station at night. This area of Jersey City is being developed with high-end condos, restaurants, and shops, and you'll see plenty of people out walking. At night, there is a security guard and gate for the entrance to Liberty Harbor, but this doesn't seem to be to protect the campground. Instead, it is there for the heavily trafficked parking lot at the marina.
Liberty Harbor's website says WiFi is available, but Kerri's family had little success using it, except during non-peak times. This wouldn't have been a concern, but their Verizon phones didn't have good data coverage in the park, making them hard to use, as well. Kerri was surprised to have this trouble in such a developed area.
Transportation Into Liberty Harbor RV Park
Before heading to Liberty Harbor, Kerri was super nervous about this leg of the trip because she knew her family would be navigating the narrow streets of Jersey City with her new, longer trailer. She purposefully made sure to arrive midday to avoid busy interstates. The check-in is at 12:00, which is great.
Jersey City does have some narrow roads and traffic, but it is manageable. If you have a super long rig or are nervous about your route, Kerri recommends calling ahead and asking for the best routing. Kerri used the CoPilot app since it lets her navigate roads that are appropriate for her RV size.
How to Get to NYC from Liberty Harbor RV Park
Transportation to NYC from the campground is SUPER easy. Kerri says the best option is the NY Waterway Ferry commuter ferry that departs right from the marina. You can be in Manhattan in fewer than 15 minutes! Plus, you get to take in views of the iconic city skyline.
The NY Waterway Ferry only runs Monday to Friday in the morning and in the evening, so you really have to watch the schedule. It does not operate on holidays, either. You get deposited at Pier 11 at the foot of Wall Street. Expect to pay around $7 each way per rider.
Since Kerri's stay included a weekend when the ferry wasn't running, they also explored other transportation options. Jersey City has a PATH (Port Authority of NY & NJ) station just 5 blocks away from Liberty Harbor. This walk takes 10-15 minutes, but it is doable. You can then hop on a train that will take you to 33rd & 6th Streets or to the World Trade Center area. Kerri said both are great landing spots for exploring the city on foot.
The PATH train gets you into NYC, but you do need to pay attention to the weekend schedule since they differ. It's around $4 per person per ride.
When in doubt, just ask the people inside the office at Liberty Harbor RV Park. They have a brochure that describes your options. Kerri and her family are Midwesterners with very, very limited experience using public transportation, but even they managed to get into and out of the city!
If you go to the Exchange Place Station in Jersey City near sunset, you'll find a perfect spot to get a photo of the city skyline: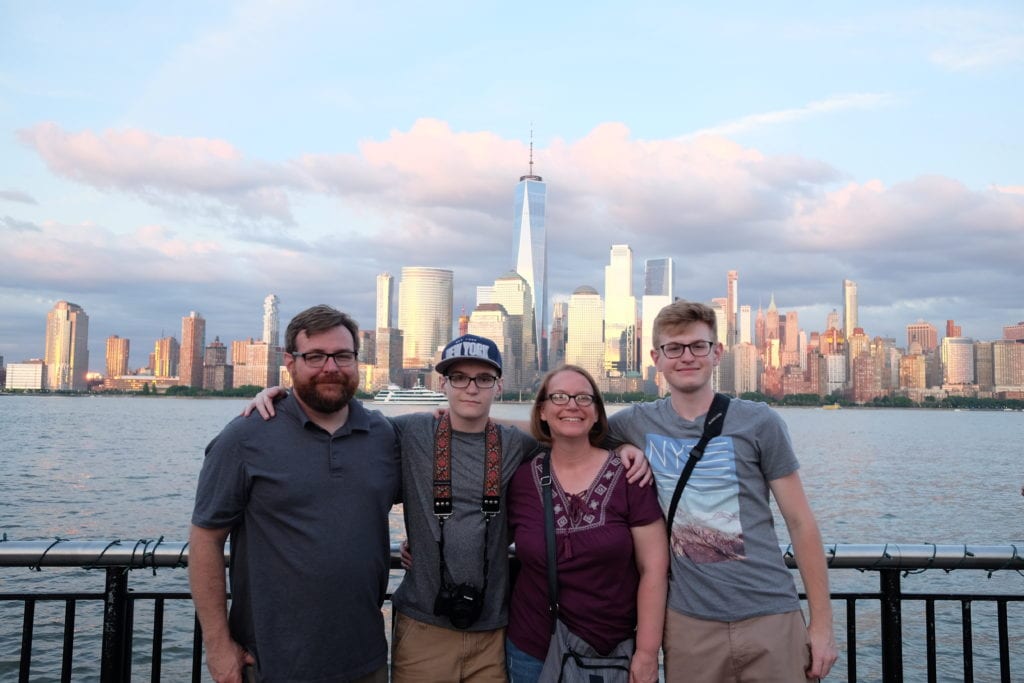 Local Area near Liberty Harbor RV Park
Jersey City offers all you'll need for your stay. Cute shops and restaurants are within walking distance of Liberty Harbor. Driving further in to the city, you'll find more grocery stores and chain restaurants.
The campground is located near Liberty State Park, which in one of the places where you can catch the ferry to Ellis Island and the Statue of Liberty.
Nobody's Perfect
Kerri points out that you will be charged $40 if you don't sign out at checkout, which she has never encountered elsewhere. She read a lot of complaints about this online and even took a picture after signing, just in case. 
Another thing to note is that Liberty Harbor requires a 50% non-refundable, non-transferable deposit, and they mean it. Online reviewers complained about this fact.
Other Parks
If you are looking for an RV park or campground near NYC, you might want to check out these options in addition to Liberty Harbor. Though they are further away, they offer a more traditional campground experience:
Black Bear Campground: Located 60 miles from Times Square, Black Bear is a highly-rated park. Guided city tours of NYC from an independent tour company are offered twice a week during peak season. Public transportation options are accessible 17 miles away in Harriman, NY.
NYC North/Newburgh KOA: If you plan to stay in the park and enjoy the amenities, rather than spending a lot of time in the city, this is another good choice. There's a lot to explore in the scenic, historic Hudson Valley area. Guided tours into NYC are offered seasonably.
Croton Point County Park:  Croton Point earned a good review from our friend Gretchen. Check out her review here. It's a ways out of the city, but it has the advantage of having a train station just outside of the park, with a route that takes around 50 minutes to reach Grand Central Station.
All in all, Kerri's family was super glad they didn't let the online reviews of Liberty Harbor scare them away. They loved having the city at their fingertips, and they weren't in the campground enough to care much about it.
Most importantly, after a day in the hustle and bustle and grit of the city, it was so nice to come back to home sweet home!
See you at the campground,
Stephanie + Jeremy
Podcast: Play in new window | Download