Spring is in the air and that means that it is time for our annual RV Atlas spring gear guide! This year we have so much new gear to review that we are splitting it up into two RV Atlas podcast episodes, and two blog posts here on the website. On this "Spring Gear Guide Part 1" we will be talking about our new Rad Power Bikes and "7 Fun RV Gadgets" that will make your RV experience easier and more enjoyable.
To listen to Jeremy and Stephanie talk about their new Rad Power Bikes and a bunch of cool, new RV accessories, click on the media player above. Or just keep reading! 
RadRover 6 Plus Electric Fat Tire Bikes (High-Step and Step-Thru) $1,999 Each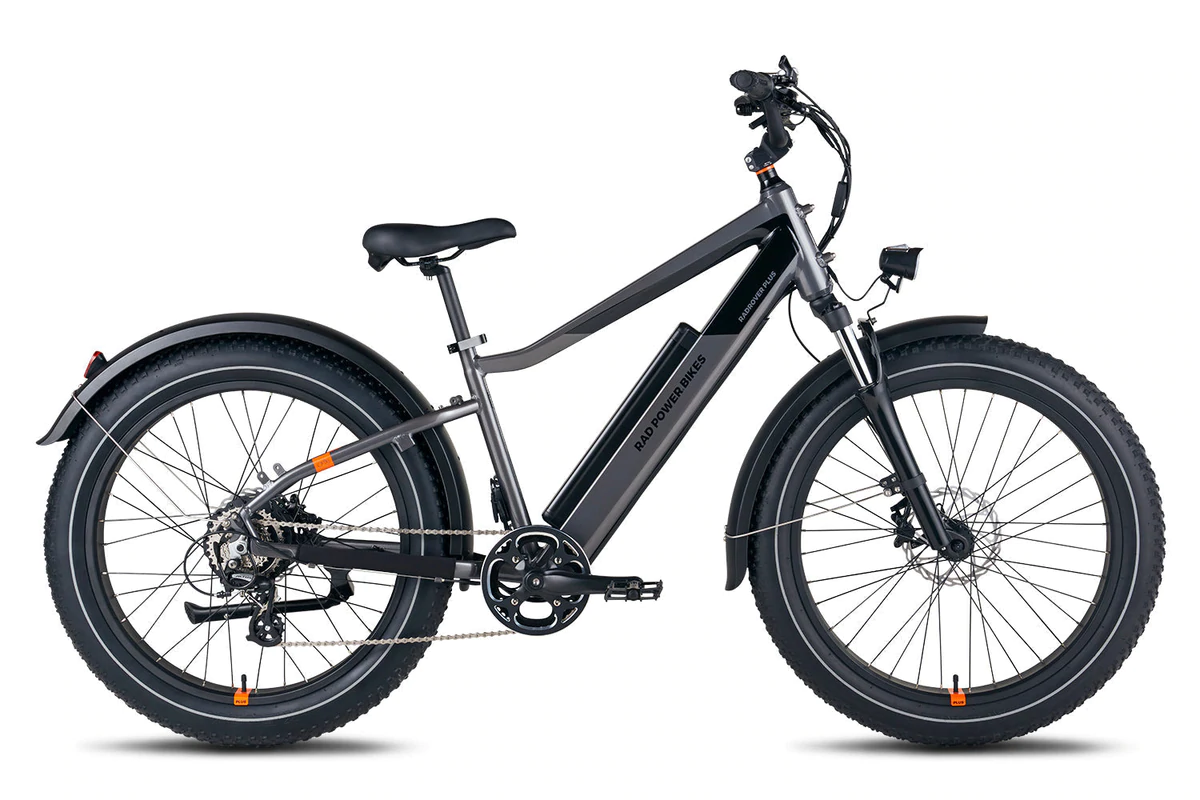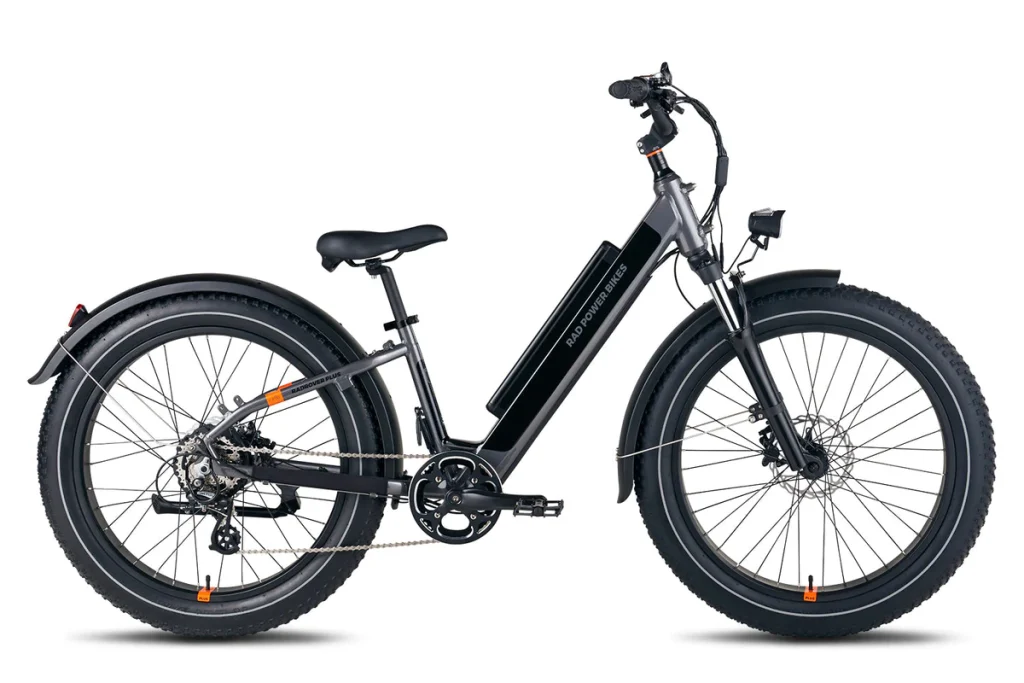 When Rad Power Bikes contacted Jeremy through Linked In and asked him if he and Stephanie would like to test out two new Rad Power Bikes (with accessories) and share our experiences with them, the answer was an instant and enthusiastic yes! Ironically, Jeremy had recently listened to an episode of the "The How I Built This" podcast where Guy Raz interviewed Rad Power Bikes founder and CEO Mike Radenbaugh. After listening to that episode Jeremy had decided that he wanted a Rad Power Bike. He never thought for a second that the company would reach out and ask for him (and Stephanie) to test them.
We received 2 RadRover 6 Plus Fat Tire Bikes from Rad this past winter. Jeremy chose the "High-Step" model and Stephanie chose the "Step-Thru" model. These both work incredibly well for our different heights. In a general sense we recommend the "High-Step" for taller riders and the "Step-Thru" for shorter riders.
Rad Power bikes are surprisingly easy to use and riding them is a joyful experience. The folks at Rad like to talk about how riding their bikes gives you "the Rad grin" and this is absolutely true for us. They definitely make us smile from ear to ear and feel like little kids again every time we use them. Both of our Rad Power Bikes have a battery powered "Pedal Assist " and a throttle. you can use either one, or both, or neither–giving you a lot of control over your riding experience.  Jeremy likes to call riding with pedal assist 3 or higher "Superman" mode, because it makes you feel like you have extraordinary strength. Rad's pedal assist ranges from 1-5 depending on how much human energy you want to put into riding your bike. The throttle tops out at 20mph and powers the bike completely without the rider having to pedal at all if they don't want to.
We have been riding them almost every single day since we received them and pretty much love everything about them. The battery is easy to remove and recharge and we haven't come close to exhausting its range yet. Jeremy has also been using his bike to run errands around town instead of taking his pickup truck, which has been saving fuel and making life easier when it comes to parking in crowded spots like our local 7-11. We both use our Bern Helmets every time we ride the bikes, and we have locks that Rad sent us that integrate directly into the bike frames. The bikes also come with a headlight that works well for riding after dark.
The fat tires on these Rad Power Bikes makes them incredibly stable and gives them off-road capability for riding trails. We have tested them in some light off-road conditions and they worked great. To get a better idea of the RadRover 6 Plus's trail riding ability, check out this video.
We have a referral code for $50 dollars off if you are interested in getting your own Rad Power Bikes. If you use it, we get a $50 dollar gift card. We will give these gift cards to our son Theo who has been working hard and saving money for his own Rad Power Bike!
No bike purchase is complete without choosing some accessories that fit your particular wants and needs–and riding style. Here are a few of our favorites from Rad. We purchased a few of these, and a few of them were sent to us with the bikes.
Accessories for our RadRover 6 Plus Bikes
Large Basket $79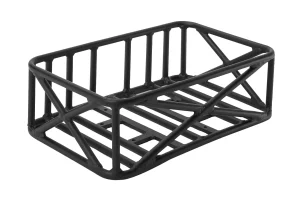 Large Basket Roll Top Liner $109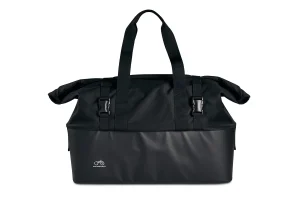 These two accessories are Jeremy's favorites because they allow him to run errands around town on his bike. They will also be clutch to use at the campground for getting firewood or some basic food items at the camp store. The large basket roll top liner is removable and would work great for riding to the beach, locking up your bike, and then carrying it down to the beach with all of your stuff in it.
Battery Travel Case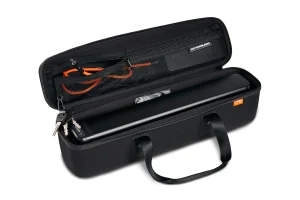 The battery travel case is a must in our opinion–it protects the battery when the bikes are not in use, or when the bikes are racked up on the back of your car or truck. It has a little storage space for the battery charger as well.
USB Charger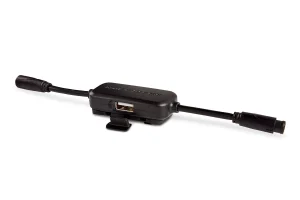 We bought USB chargers to go with the bikes but have not used them yet in our shorter rides around our neighborhood. I think they will be useful for longer rides to the beach or for day trips to the park or dinner dates when we really need to keep our phones charged.
Overall, we are beyond thrilled to have these Rad Power Bikes in our lives. Now that we have them, it is difficult to imagine our lives without them. We think they will make our RV adventures more enjoyable and help us cut down on local driving around our neighborhood. We are so excited for warmer weather and summer camping trips with our new bikes. Viva La Rad!
Water and Tank Management
Camco EvoFlex Super Flexible Drinking Water Hose (25, 35, 50, 75ft) Price Varies Based on Length
I have always despised my RV drinking water hoses. They are always impossible to roll up, and they get rock hard on cold mornings.  We also love when a company takes an unlovable item and finds a way to make it lovable (like those surge guards with the dogs on them).  So when we saw an ad online for Camco's EvoFlex drinking water hose that claimed it was "extra flexible" we knew we had to test it out. Our one word review? AMAZING. This thing is sooooo flexy and it rolls up easily for storage! We ended up buying a second one so that we each have one in our RVs. They come in a wide variety of sizes, but we recommend the 50 footer for $38.20 because it handles most campground situations and is still easily stored.
Stromberg Carlson Hose and Cord Caddy ($19.99)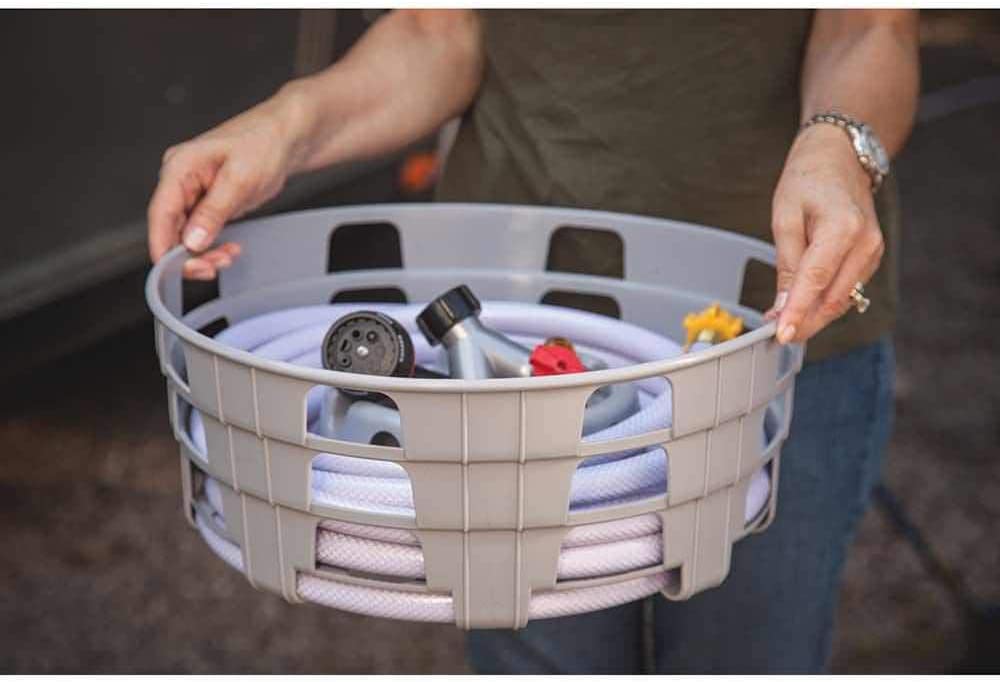 This nifty hose and cord caddy works like a charm and holds up to 75ft of hose. It is the perfect storage companion for a new 50ft. EvoFlex hose. It also works for 30 and 50 amp cables.  These caddy's are perfect for storage in between camping trips, and for gathering up extra hose at the campground and rolling it up so it is not an eyesore and a tripping hazard. And for the record, the caddy really can hold 75ft worth of hose–I put a 50 footer and a 25 footer (both EvoFlex) in here together and it held them in place without bursting out.
Titan Tote (21,27,35 Gallon) Price Varies Based on Size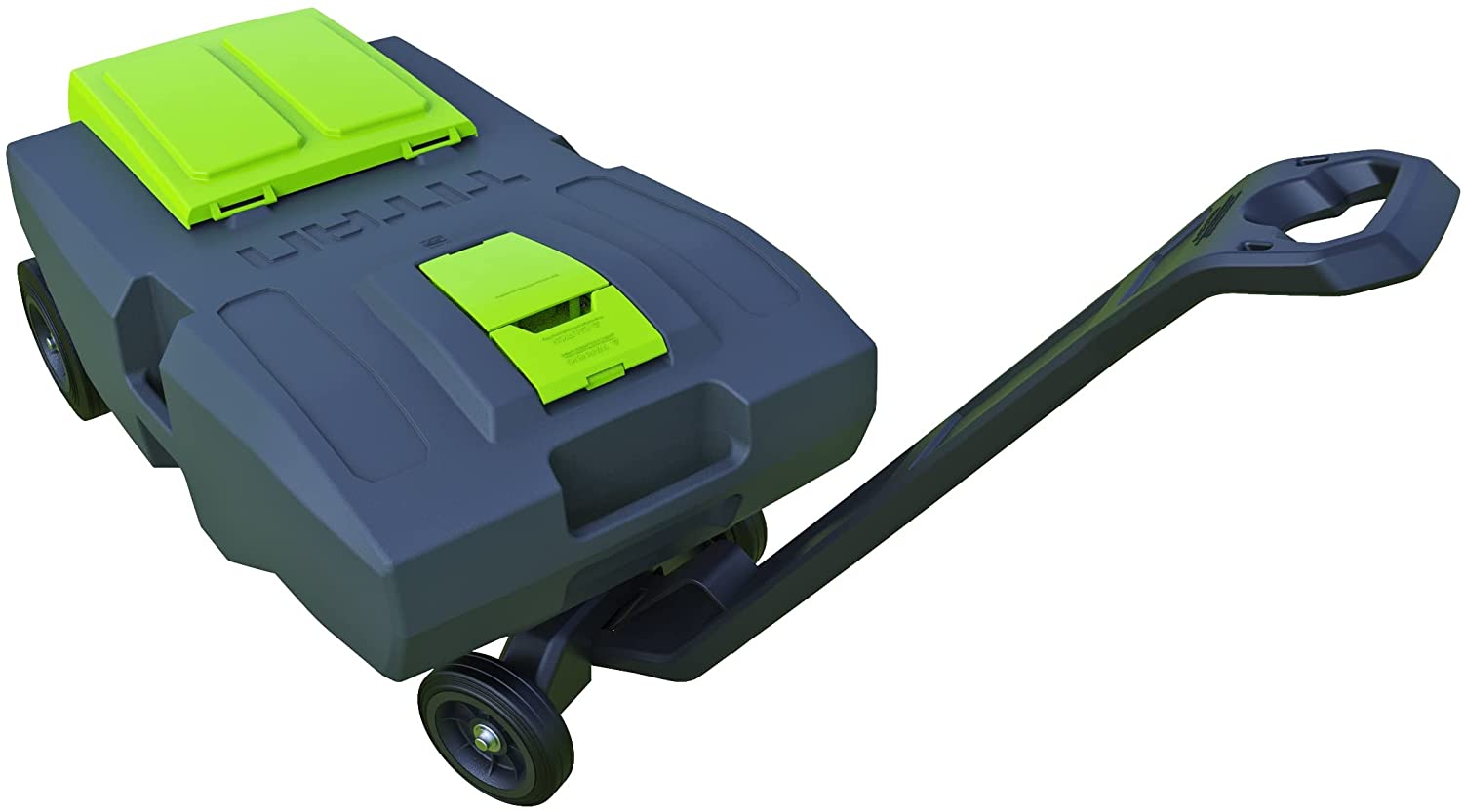 For us, owning a portable waste tank like the Titan Tote is an absolute must because of how we camp and where we camp. But do you need own one for your own camping kit? That depends on where you camp. A portable waste tank is absolutely clutch when you are camping at state, national, or county parks that do not have sewer hookups at your site, but have a dump station within the campground. In this type of situation, if your tanks fill up, you can empty them using the Titan Tote and then tow the tote over to the dump station, as opposed to towing your entire RV there mid trip–which is incredibly inconvenient. Thetford's Titan Tote is a new and improved version of their last generation Smart Tote 2 that we used for years. It is incredibly easy and intuitive to use and its redesign makes using it virtually mess free. We recommend the 27 gallon version for $261.00. The 35 Gallon model gets very heavy when it is full. We use our Titan Tote for grey water, but we don't judge if you want to use it for both black and grey.
Gear for Hitching Up and Locking Up
Fastway Flash E Series HD Adjustable Aluminum Ball Mount with 6 Inch Drop, 2.5 Inch Shank, and Chrome Plated Balls $240.38

This adjustable hitch by Fastway has been an absolute game changer for Stephanie and Jeremy this year. Now that they both have separate smaller trailers to tow (Stephanie's Airstream Basecamp, and Jeremy's Ember 191MDB) this beautifully designed aircraft-grade aluminum ball mount has become a beloved piece of kit. Why? Because neither of our trailers are heavy enough to require special weight distribution and anti-sway hitches, especially because we are towing with an F-250. This adjustable drop 6 ball mount works for Stephanie's low riding Airstream  on the lowest setting, and it works for Jeremy's higher riding Ember Overland Series on the second to highest setting. Fastway also makes a drop 8 and a drop 10 for even greater range. So if you are someone who tows multiple trailers or has a rental fleet–then this might be a top notch piece of gear for you too! Airstream dealers often sell these because they look so darn good matched up to their shiny aluminum trailers.
They are also lockable and have reversible balls that are  2′ and 2′ 5/16. Our model has an 1800 lb max tongue and 18k trailer weight but they have other sizes and options for lighter trailers that are less expensive than this HD model.
Fastway Fortress Hitch Lock ($50.50)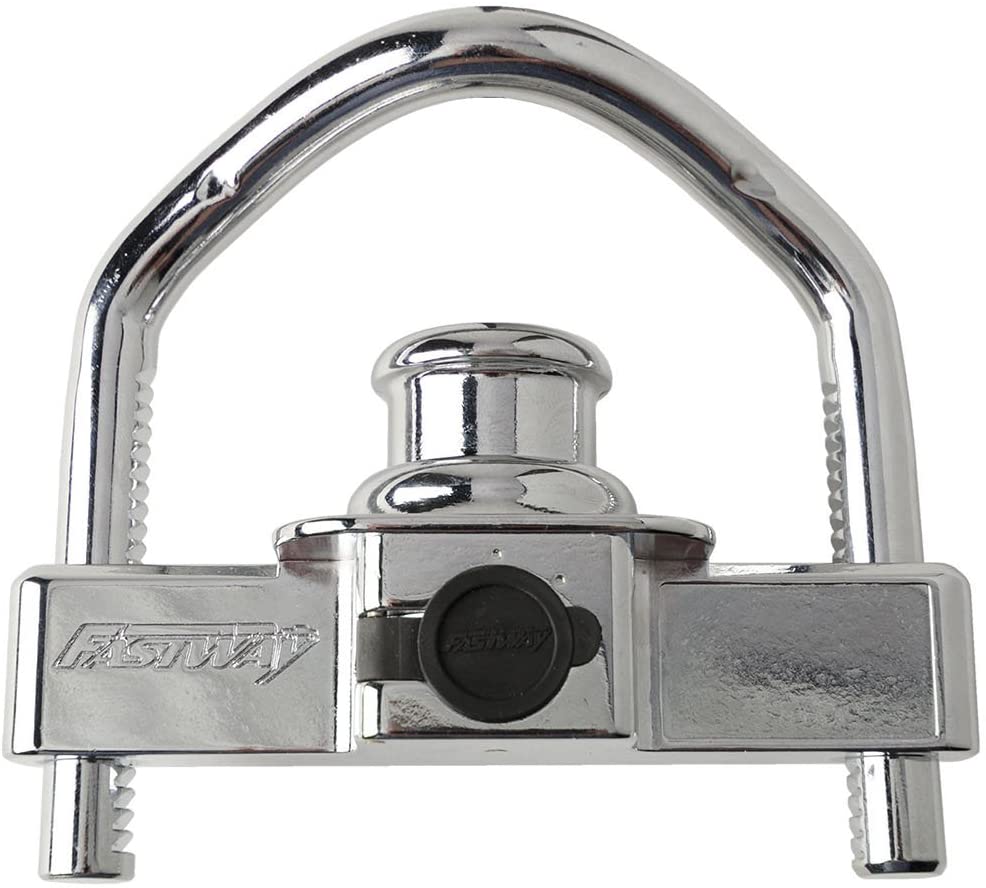 Now that Stephanie and Jeremy have two smoking hot RV's in the driveway they both need to worry about them getting stolen. This Fastway Fortress Hitch Lock is affordable and super easy to use and store. The engineers at Fastway are proud to say that it fits on the tongue of every single RV they have ever tested. It works perfectly for both of our rigs and we plan on using it on every trip this year.
Gear for Comfort and Convenience
Oxygenics Fury RV Handheld Shower – Brushed Nickel $42.97

We have reviewed Oxygenics products on the podcast before and we install them in every new RV that we purchase. Stephanie says that they are the first mod that she installs in each new rig. She has also purchased Oxygenics products for our home as well! We recently installed the Oxygenics Fury RV on Stephanie's Airstream Basecamp and once again, she loves it. On the packaging for the Fury RV Oxyegenics claims that "the FURY RV has the power and versatility to take your RV shower from Lackluster to loving it!" We completely agree. The Fury RV model has a flow control lover for quick adjustment and a non slip rubber grip. Oxygenics products are also easy to install and they give you much better water pressure than the el cheapos that come with most RV's.
Truma LevelCheck ($79.99)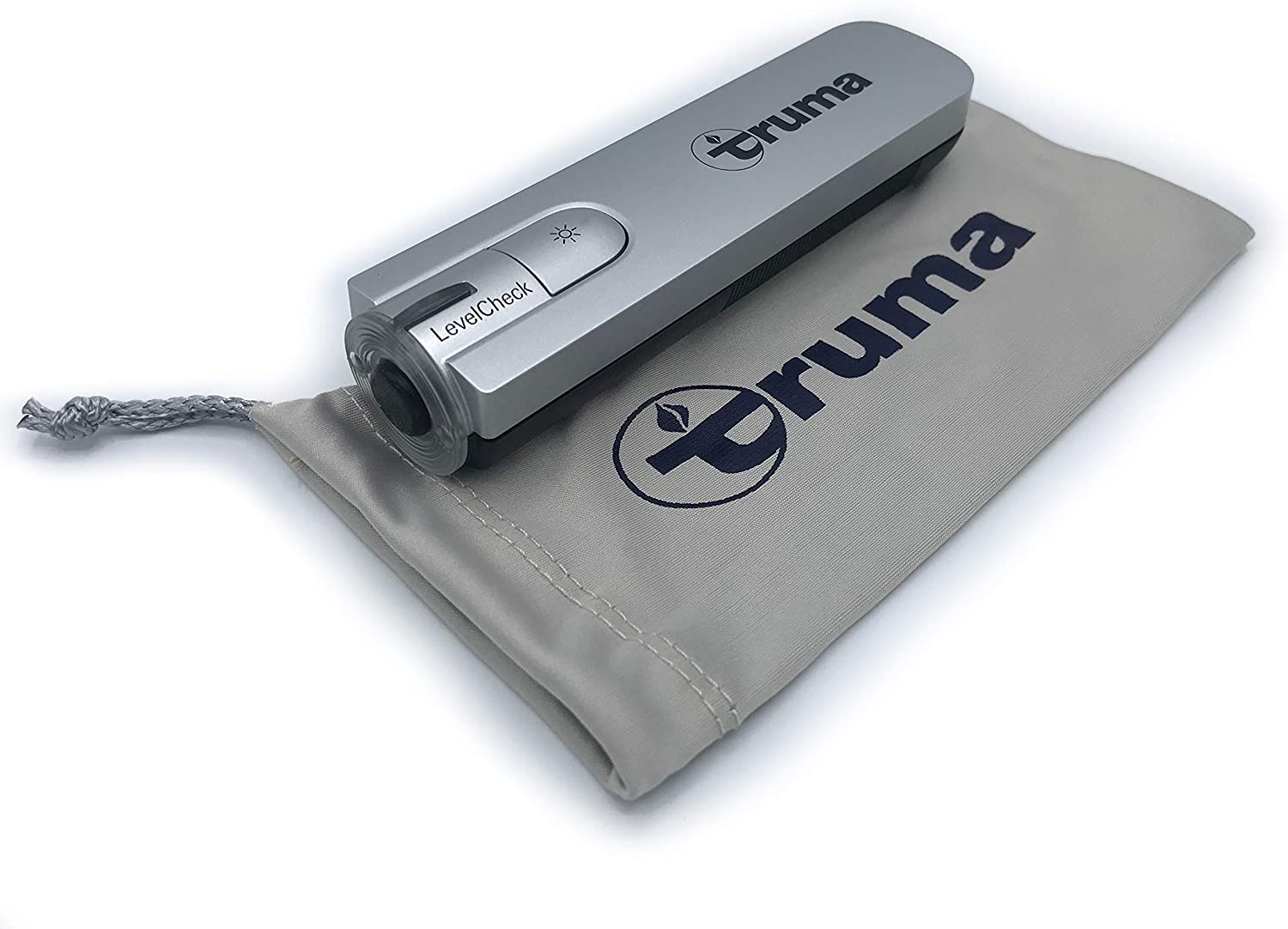 The Truma LevelCheck is absolutely clutch for managing and monitoring the levels in your propane tanks without having to remove them and shake them to find out if they are empty. The Levelcheck also comes with a flashlight and carry bag. Sadly, we lost our first LevelCheck after almost 8 years of use! We ordered a new one as soon as we realized the old one was lost. The LevelCheck is easy to use–just press it against the side of the tank and it will flash red if the tank is empty at that level, and it will flash green if it is filled to that point. The battery on our first LevelCheck lasted for the entire 8 years that we had it too! Very impressive!
Podcast: Play in new window | Download