On the first two episodes of the 2022 season of the RV Atlas podcast, we talked about Stephanie's "new-to-her" 2018 Basecamp. Now it is Jeremy's turn to step up to the mike and answer questions about his new 2022 Ember 191MDB.
Jeremy signed on as the company's brand ambassador last summer. He was thrilled to pick up his own unit (an Ember 191MDB) a few weeks back, and then quickly head out on his first trip. This blog post and the corresponding podcast are about Jeremy's new role as Ember's brand ambassador, and his first impressions of the new rig.
To listen to The RV Atlas podcast episode about the Ember 191MDB, click on the media player above. Or continue reading to find out more about this new company and Jeremy's first impressions of his new rig.
Say Hello To Ember Recreational Vehicles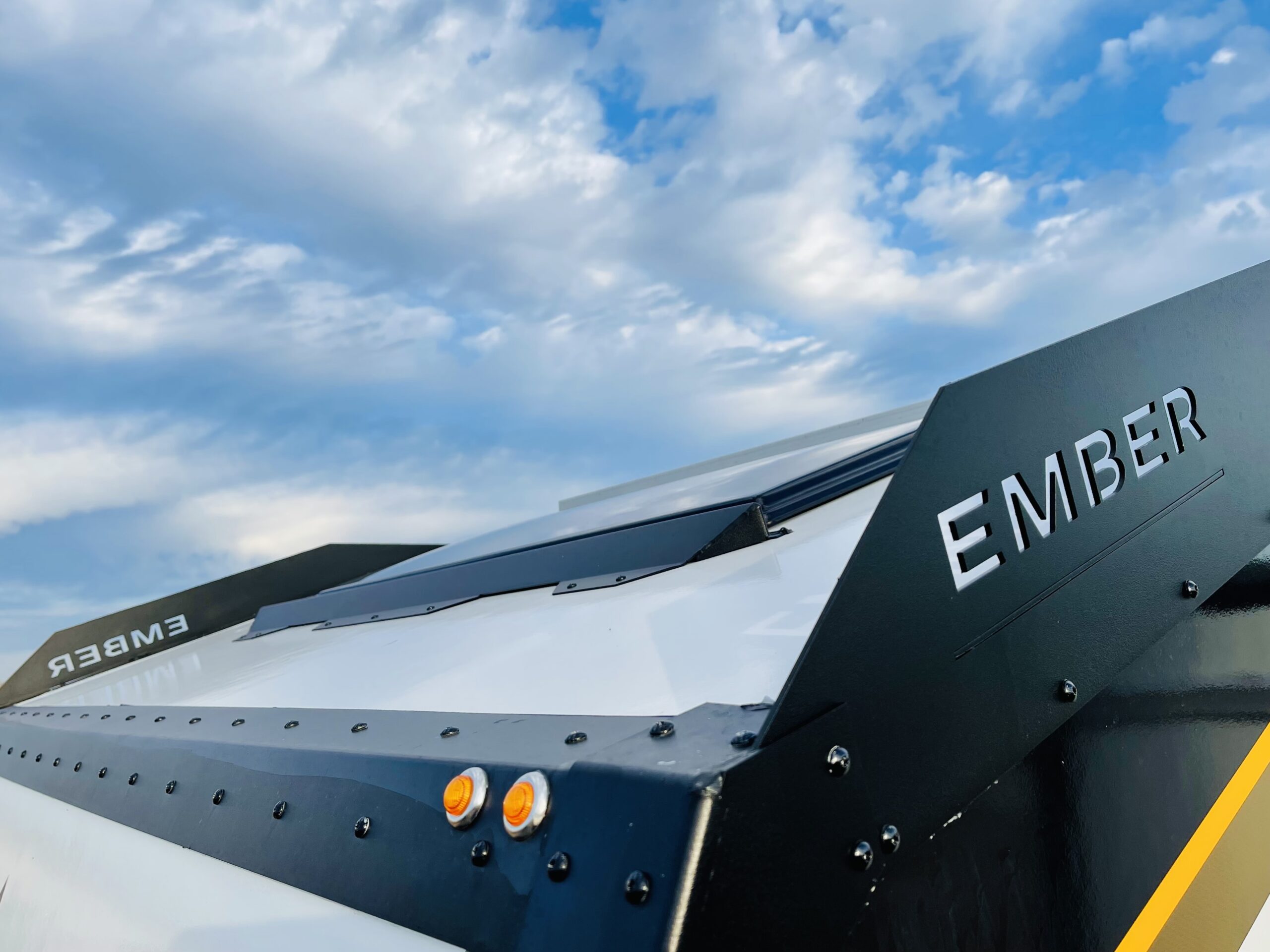 Ember Recreational Vehicles is a new player in the game. They are an independently owned company that is also female owned and operated. But while the company is new, the owner, co-founders, and production team all have extensive experience in the RV Industry. So the Ember name may be new to consumers, but the executives behind the scenes are well known in industry circles. Because of that experience, the company has been able to launch a buzz-worthy product lineup during challenging times. The last few years have been filled with manufacturing shortages and logistical challenges that may have crippled a less experienced team.
Jeremy's Role as Brand Ambassador and Owner Advocate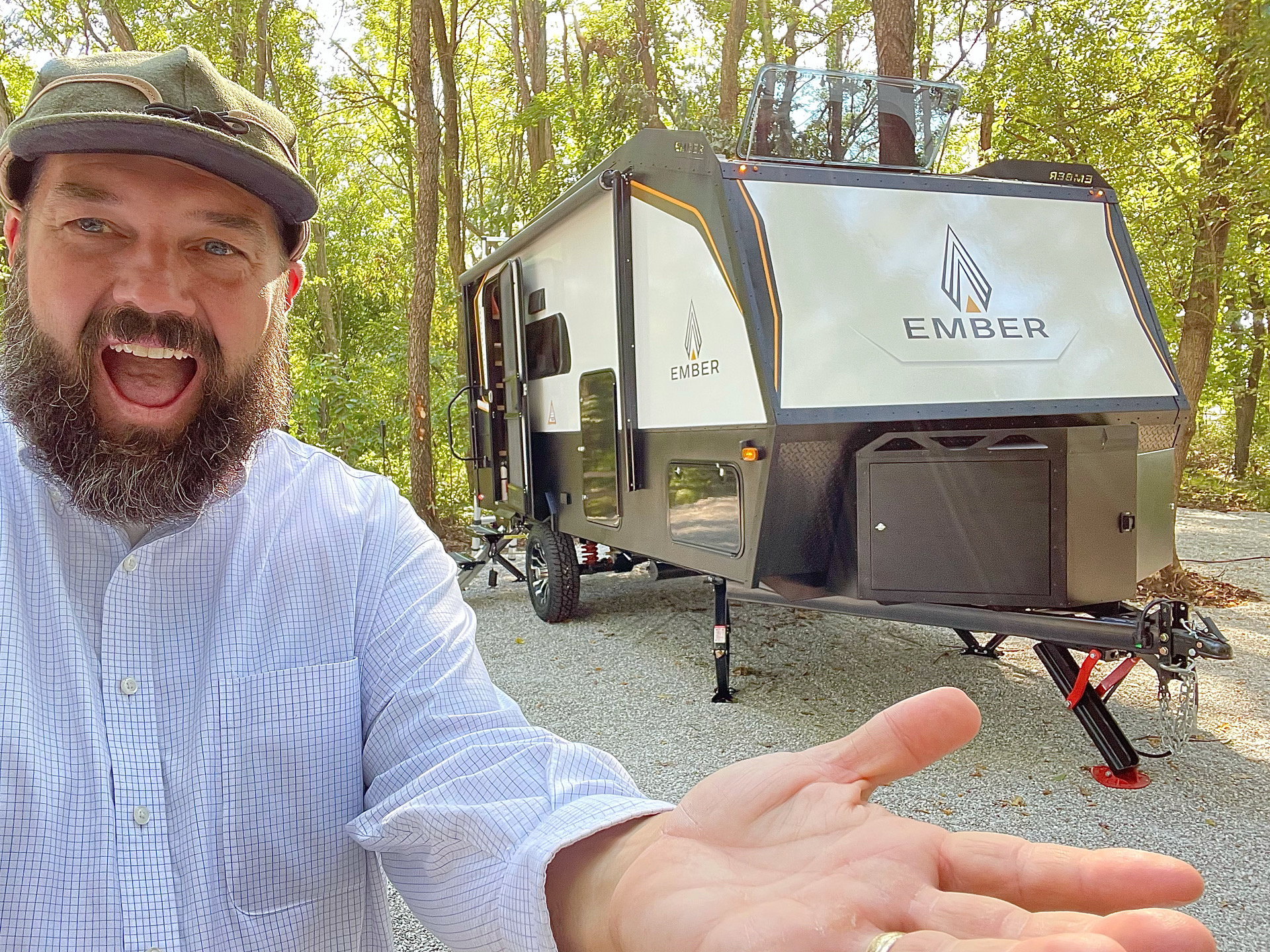 So how did Jeremy end up working with Ember as their Brand Ambassador and Owner Advocate? He knew two of the co-founders from his work at a different company. When they founded this company he knew that he wanted to be involved. Before even seeing a product from them, he knew they would build something great.
Last summer and fall Jeremy went out to Bristol, Indiana a few times to meet the other founders and the rest of the team. He was impressed with their dedication and the product they were building. He also attended the company's first dealer open house and it was exciting for him to see their passionate and enthusiastic response. Later in the fall he drove out to Indiana and towed one of the units to Indiana Dunes National Park for a big national photo shoot.  The towing experience was impressive and Jeremy fell in love with the rig's independent suspension. But more on that in a minute.
So what will he be doing for Ember? Lots of content creation–photography, short video work, social media support, Instagram takeovers, blog posts, offering design suggestions, RV show support–that kind of stuff. He went to the Florida RV SuperShow with the team and really enjoyed meeting RV Atlas fans and talking to the big crowds of consumers that showed up to check out Ember.
First Impressions of the Ember Overland Series 191MDB
One of the most striking features in the Ember 191MDB (a Murphy bed model) that Jeremy truly loves is the Stargazer Skylight. This stunning window opens up to let fresh air into the coach and has a day shade and a night shade. Whether you are sitting and reading on the couch, or relaxing in bed at night–you can actually look up and see the stars. Jeremy kept the window opened during much of his recent Assateague Island trip and let the cool ocean air circulate through the coach. The Stargazer Skylight also allows a lot of natural light to fill the coach during daytime hours. This actually helps conserve battery power when you are camping without hookups, because you don't need to turn lights on inside the coach until night fall. Other RV's with similar floorpans are considerably darker inside when the house lights are off. The Stargazer Skylight looks really cool when you are outside of the coach, and it adds style and functionality to the inside of the coach.
The Murphy Bed system below the Stargazer Skylight is also incredibly well executed. It looks sharp and both the bed and the couch are comfortable and attractive. Jeremy has been a big fan of Murphy beds for a long time because they save space and offer owners flexibility. So he was excited to try this one. He slept like a baby on his first trip and was surprised by the comfort of the mattress. It takes seconds to set up and break down the Murphy bed, but Jeremy is still working through where he will store blankets and pillows when the bed is not in use. Probably under the bunk beds in a storage bin–if Maggie does not spend every single day napping there!
The Challenges and Rewards of Downsizing from a 33 Foot Rig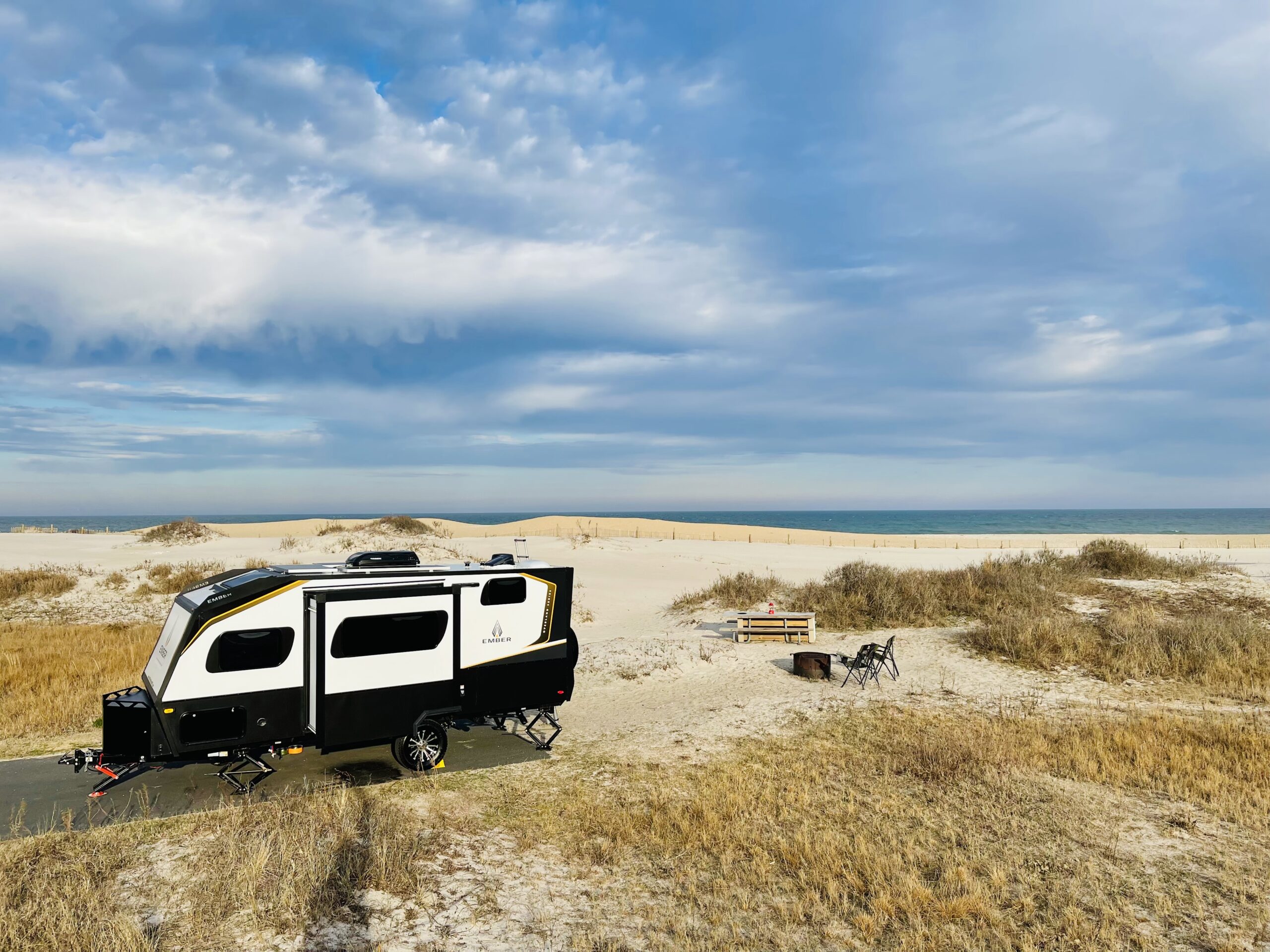 One of the major topics of discussion between Jeremy and Stephanie on this week's podcast is about downsizing their family rig. Longtime RV Atlas fans know that their last three rigs were all about 33-34 feet in length. So camping in the Ember 191MDB will pose some interesting challenges when it comes to packing–but it will also offer great opportunities. The campsite pictured above would not have accommodated their last three RV's, so being in a rig that is about 10 feet shorter opens up many more options when it comes to booking campsites at state and national parks. Camping in a rig that is thousands of pounds lighter also transforms the towing experience. Towing the Ember 191MDB is an absolute pleasure.
On the podcast Jeremy confesses that he may pose the biggest problem when it comes to downsizing because he likes to bring a lot of stuff camping with him. But he is excited to tap into his inner Marie Kondo and only bring things that spark joy.
Ember has ambitious plans for future floorpans and they have already made it publicly known that larger rigs are coming soon. So the Ember 191MDB is certainly not Jeremy's forever rig. But he plans on loving the heck out of it while he has it, and enjoying the simple pleasures of traveling in a smaller rig.
Rugged Equipment on the Ember 191MDB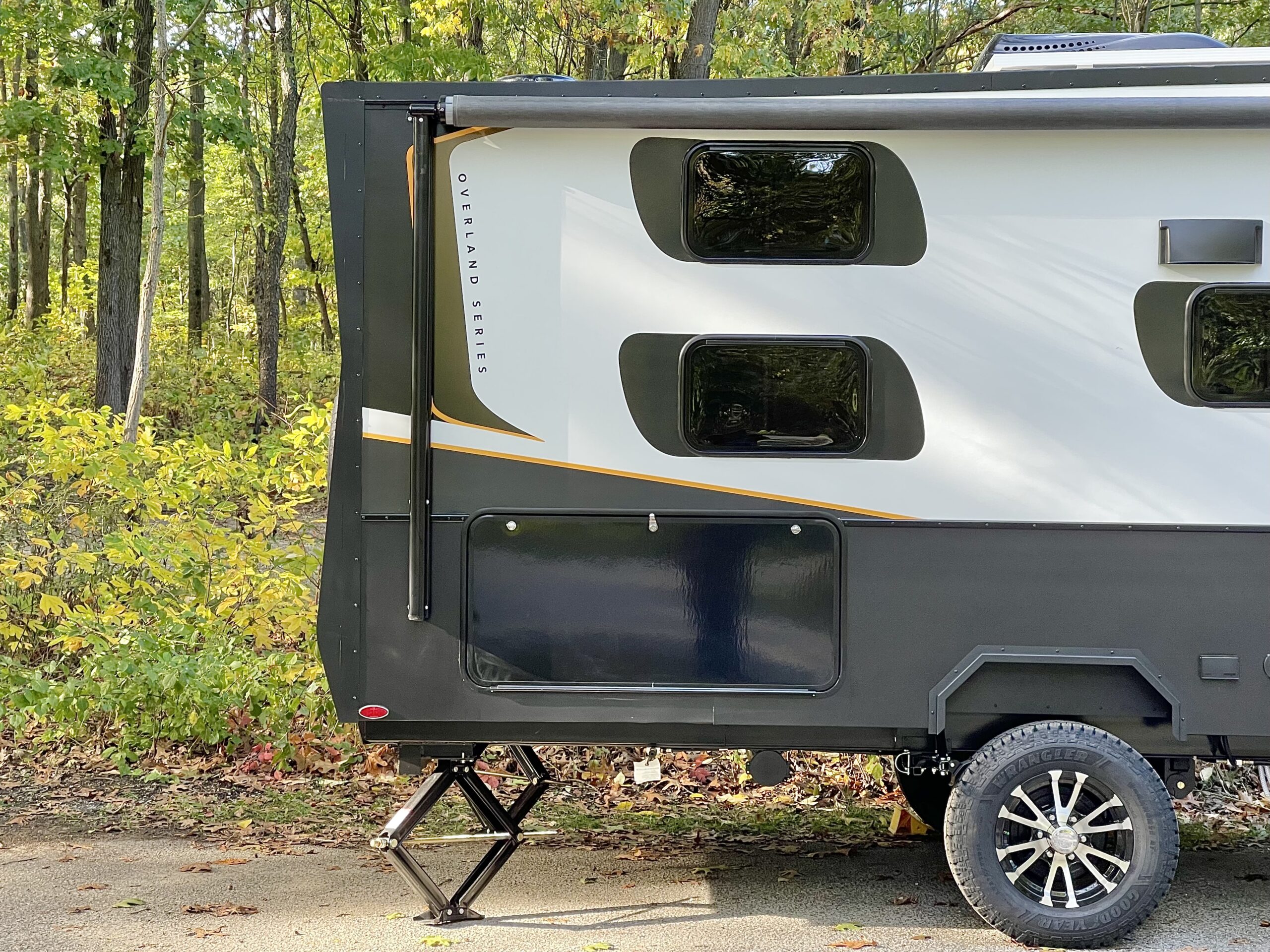 The rugged equipment on the Ember 191MDB is pretty remarkable. The Overland Series and Overland Micro Series are both built with boondocking and off-road, off-grid camping in mind. This rig has all of the right features for BLM camping, Harvest Hosts camping, state and national park camping, or camping pretty much anywhere you want to take it. It will also look good next to an expensive motorhome at an upscale RV resort.
There is a massive spec list for the Overland Series—but in the corresponding RV Atlas podcast episode Jeremy stayed focused on talking about the equipment that he has used and loved so far. Every experienced RV owner knows that getting used to the equipment on a new rig takes time. Jeremy did not have a second to hook up the (optional but prewired for) Furrion backup camera, or the Lippert TPMS system, for instance, but looks forward to testing them on a future trip.
Curt Independent Suspension
Another feature that is getting lots of buzz and attention is the Curt Independent Suspension—and for good reason. It tows like a dream. People mistakenly will call this a single axle trailer–but there is no axle here. This independent suspension is beefy and rugged, and allows for greater ground clearance than an RV with a traditional axle. The Curt IS seems to suppress sway, and completely reduce the bounciness often associated with single axle trailers. It also looks really cool. It is paired with a robust set of Goodyear Wrangler Tires and a "Trailblazer Chassis" that is built with tube steel construction.
Five Sided Aluminum Construction and Composite Flooring
Jeremy also loves the fact that the Ember 191MDB has five-sided aluminum construction. On the podcast he talks about being blown away by the fact that there is almost no wood in the entire coach, except for the cabinetry. This means the coach will last longer and be far less susceptible to water damage–which often serves a death blow to other RV's that rely on wood construction.  The quality of this construction really hit home for him when he first climbed up on the roof during his recent trip. This is the type of roof that he is used to seeing on expensive motorhomes, but not on any other competing travel trailer in he market today. The composite flooring is also impressive. Ember is using Transcore, which is similar to the flooring used in an Airstream.
Max Solar on the Ember 191MDB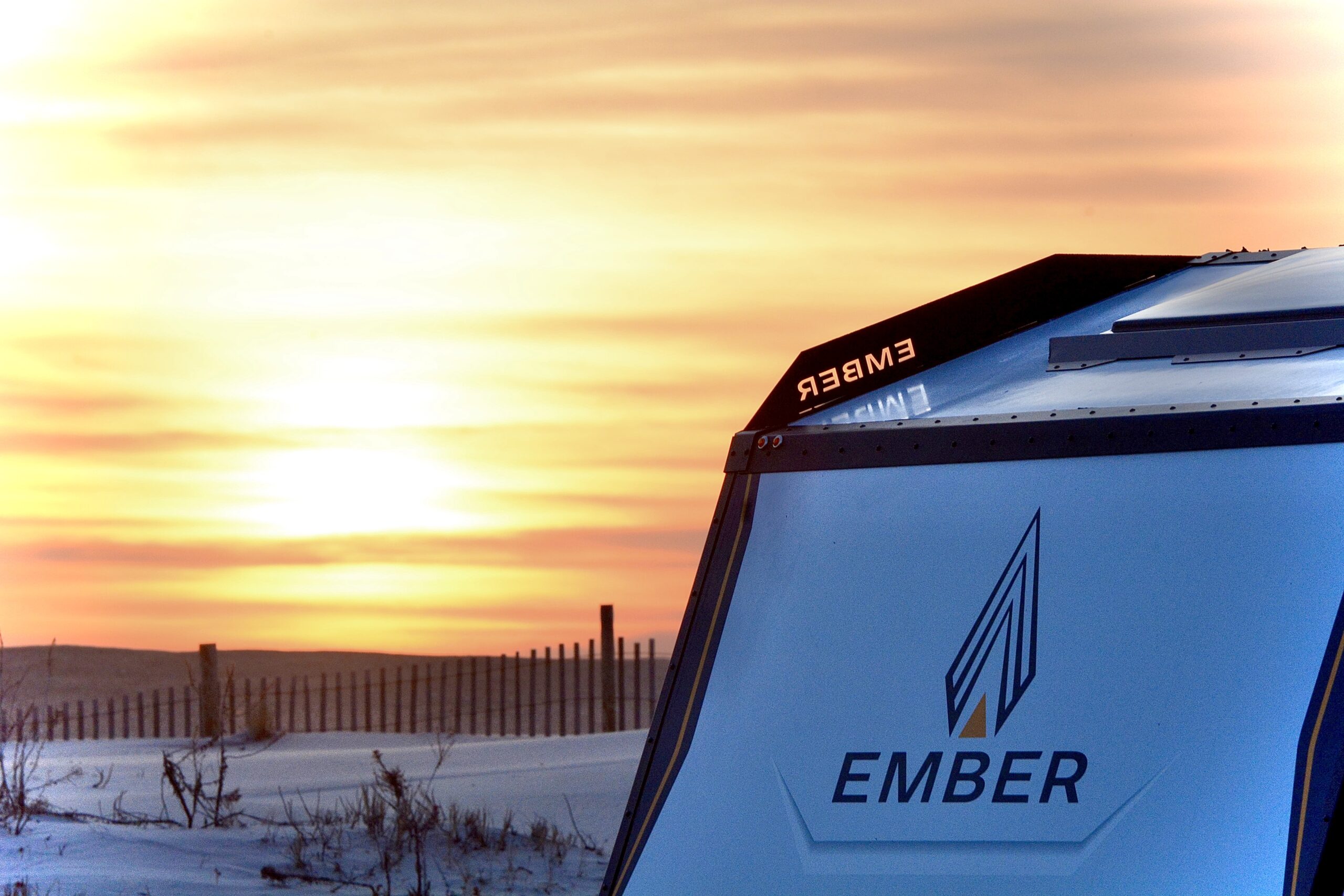 My Ember 191MDB came equipped with the optional "Max Solar Package" which includes three 190 Watt Go Power Panels, two Battleborn Lithium Ion Batteries, and a 3,000 Watt Inverter. This package allowed Jeremy to camp comfortably without electric hookups at Assateague Island National Seashore for several days. The two coolest things about this package? All of the outlets in the rig are inverted, and the air conditioner and the microwave can run off of the solar system. Jeremy is still getting the hang of this system's capabilities, and cannot wait to go dry camping again.
We talk about a bunch of other features in the RV Atlas podcast episode about the Ember 191MDB, including the Truma Combi, the tank heaters, the Showermiser, and a slew of other features, so click on the media player above if you want to hear more about each of those things, and more.
A Mad Dash of Style 
We will end here by mentioning what is perhaps Jeremy's favorite thing about the Ember 191MDB–and that is its stylish and modern exterior and interior look. The laser cut logo on the Exoskeleton that can be seen on the picture above seems to represent the heart and soul of the company. The Exoskeleton bonds the walls and roof together and helps create exceptional structural integrity in the coach's exterior build. The laser cut logo (with tail fin look) provides a mad dash of style that is missing from so many contemporary RVs.
RV culture and the culture of the American road trip is stylish and timeless. RV design, with a few major exceptions, has been bland for too many years. Isn't it time that more manufacturers tapped into the romance, freedom, and iconography of RV travel? Ember's exterior design and bright modern interiors capture the spirit of the American road trip with a sense of purpose and style. Form and function and fun are all on display here.
In other words, we think it's fair to say that Jeremy really loves his new coach.
Coming up next on The RV Atlas podcast–Jeremy talks about his first trip in the Ember 191MDB. Stay tuned.
And as always.
See You at the Campground.
Podcast: Play in new window | Download