Jellystone Park Camp-Resorts always set the bar high for family-friendly activities, and they aren't going to let a pandemic stop them from fulfilling this mission. The new roster of social distancing activities at Jellystone Parks aims to offer the same amount of family fun, with an eye on safety.
Marley Behnke, Director of Franchisee Education (and co-owner of the awesome Caledonia Jellystone), is here to tell us more about how the franchise is responding to the COVID-19 pandemic, while maintaining the things everyone knows and loves about Jellystone Parks. Being a campground owner and franchisee leader has been a wild ride for Marley, but she is proud of the work Jellystone has done to reinvent their line-up during these unprecedented times.
While Jellystone initially resorting to using virtual/online activities in the face of COVID-19, they've now been able to create new activities (and reimagine old ones) that still bring people outside, while giving them plenty of space. Let's take a look at this great line-up, which you may enjoy at a Jellystone Park near you.
To hear more about these social distancing activities at Jellystone Parks, click play on the media player above or search for The RV Atlas wherever you find your favorite podcasts.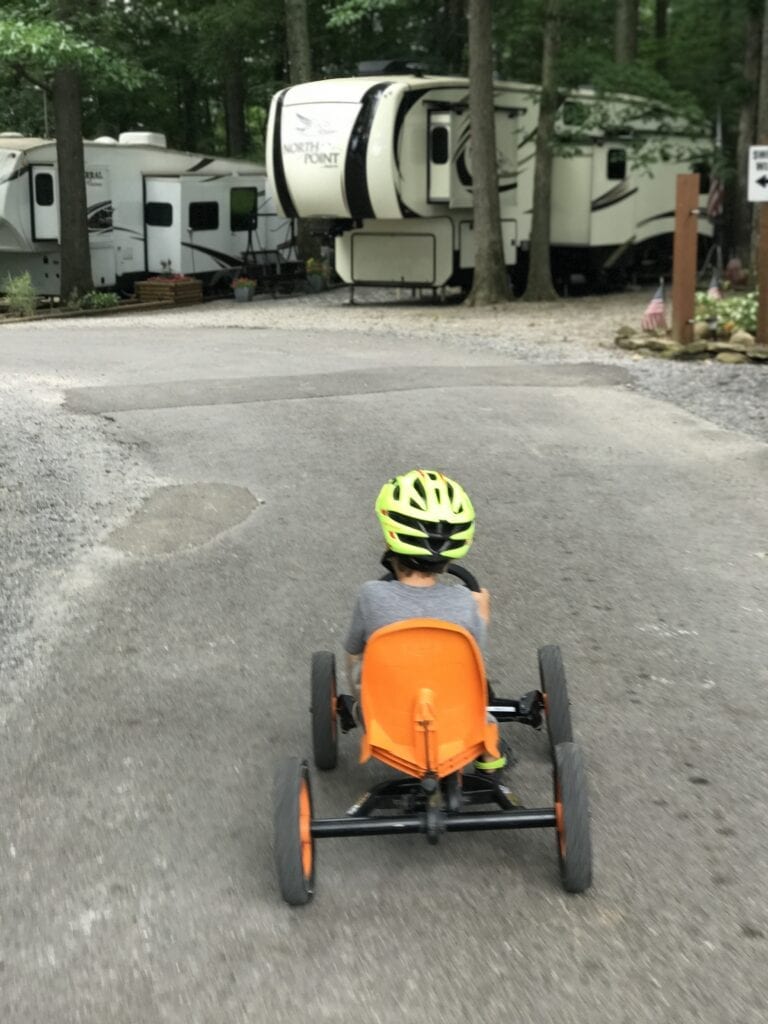 New Ways to Play Traditional Games at Jellystone Parks
Bingo, trivia nights, and other popular games are a classic part of the Jellystone experience. Those haven't ended just because of the pandemic. Instead, Jellystone has looked for new ways to play.
Technology is one way to keep families together while they have to stay apart. Jellystone has organized virtual bingo games and trivia nights (utilizing Zoom or Facebook Live). They are organizing QR code scavenger hunts. Luckily, we are in the age where so many people have this kind of access!
Instead of having guests gather in a room or a pavilion to play, the campground might host a "Blanket Bingo" activity, where guests are spread out across a larger field. All you need is a microphone! It's fun to see these creative ideas.
New Activities at Jellystone Parks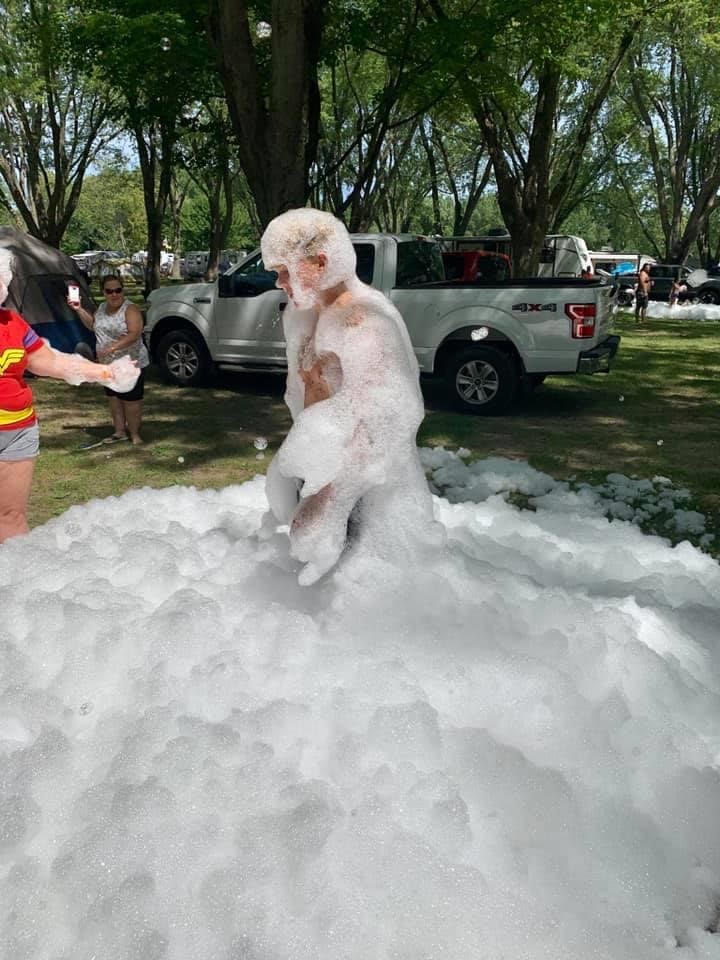 While Jellystone Parks has just adapted some games to make them safer, they also are coming up with totally new activities. Instead of hosting a group foam party, they are bringing the fun to your campsite for a drive-by foaming! Kids just love this!
For example, the new Poker Run activity is a card game that's spread out all over the campgrounds. Campers will travel around, collecting envelopes full of cards that are stationed around the park. Then, they return to a central location. The person with best poker hand wins!
This is a great example of a game that can be very fun for families, while keeping everyone spread out.
The Jellystone Park Guest Experience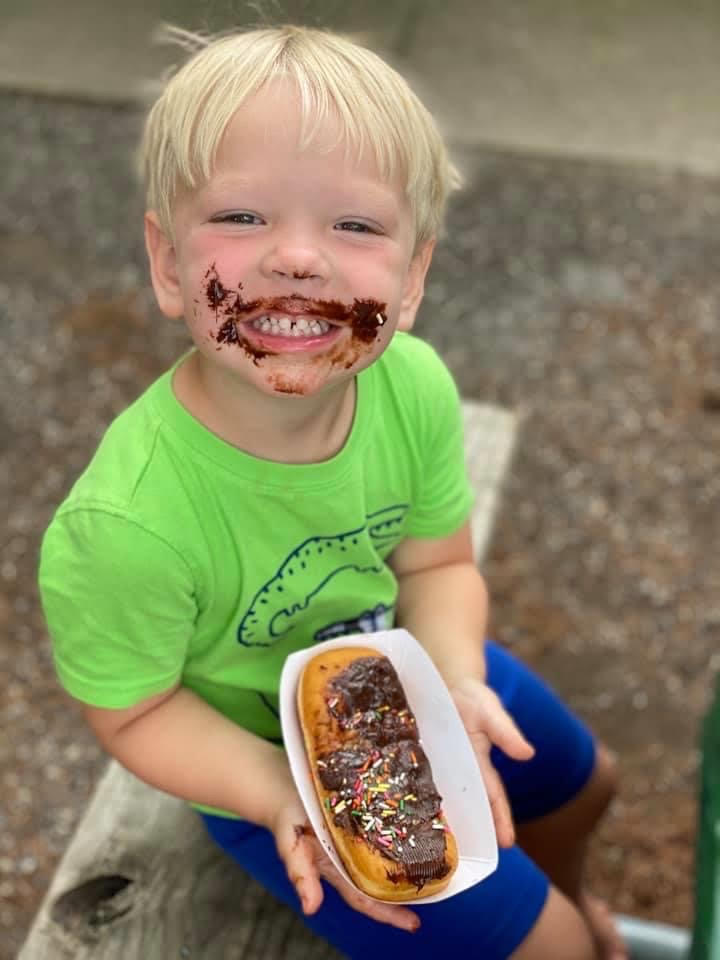 While some families are coming to Jellystone Parks to do the types of activities they would have enjoyed previously, Marley says they have noted that other families are sticking more to their campsites, and that's completely okay! They understand that each guest has their own comfort level.
In addition to adding more social distancing activities at Jellystone Parks, the parks are working to continually update their safety protocols and to communicate these to guests. First and foremost, they want to maintain an environment that is safe for their employees and to everyone who visits the campground. They are staying up to date on the best practices.
Next, Jellystone Parks are working to communicate these protocols to guests to show their commitment to safety. This helps to build trust between the campground and the families who visit. Families who know what safety measures are in place will feel more comfortable joining in activities at the campground.
Arts and Crafts at Jellystone Parks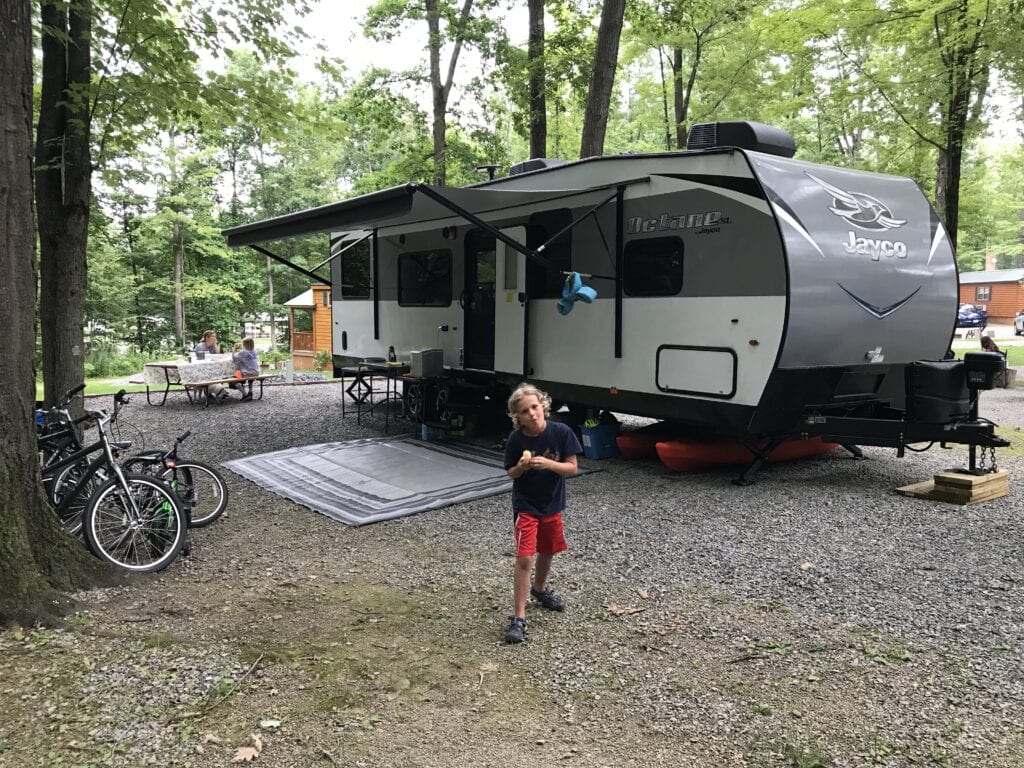 Arts and crafts look different at Jellystone Parks this year. Some of the activities that would be attended in person are now being done as a "grab and go" kind of thing. The parks are putting together little kits that families can take back to their campsites and enjoy at their own picnic tables. Or, the campgrounds are rearranging the gathering spaces to provide more social distancing.
You'll still find Yogi ceramics and Spin-Art tee-shirts and all of your favorites!
The Future of Social Distancing Activities at Jellystone Parks
While  these social distancing activities were developed as a response to COVID-19, there are some that may stay on the roster well after the pandemic is over. Marley said there are some new ideas that have been very popular. For example, the bike or golf cart parades are a new offering that have been well received.
Where's Yogi?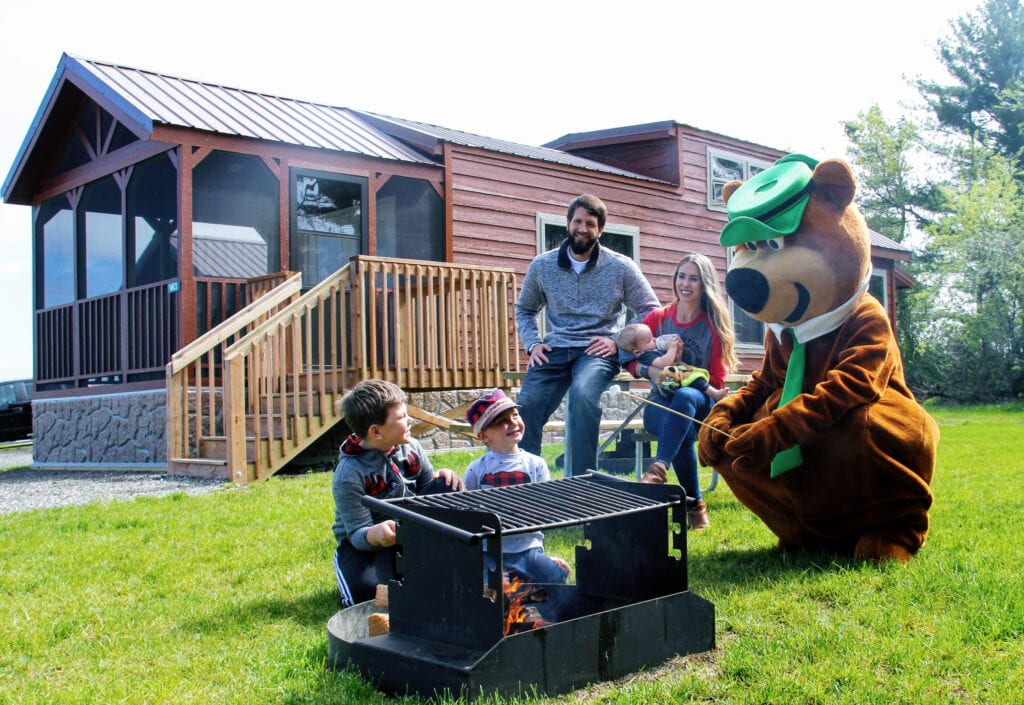 While guests can't touch Yogi Bear and friends right now, Jellystone Parks have looked to keep the characters front and center. You'll spot Yogi and Cindy Bear participating in activities. They may play follow-the-leader and lead a parade through the park, with music playing. Or, if you can't take a close-up photo with Yogi, perhaps he'll photo bomb your family selfie. It's always good to have your camera ready at Jellystone Park!
Making Family Memories at Jellystone Parks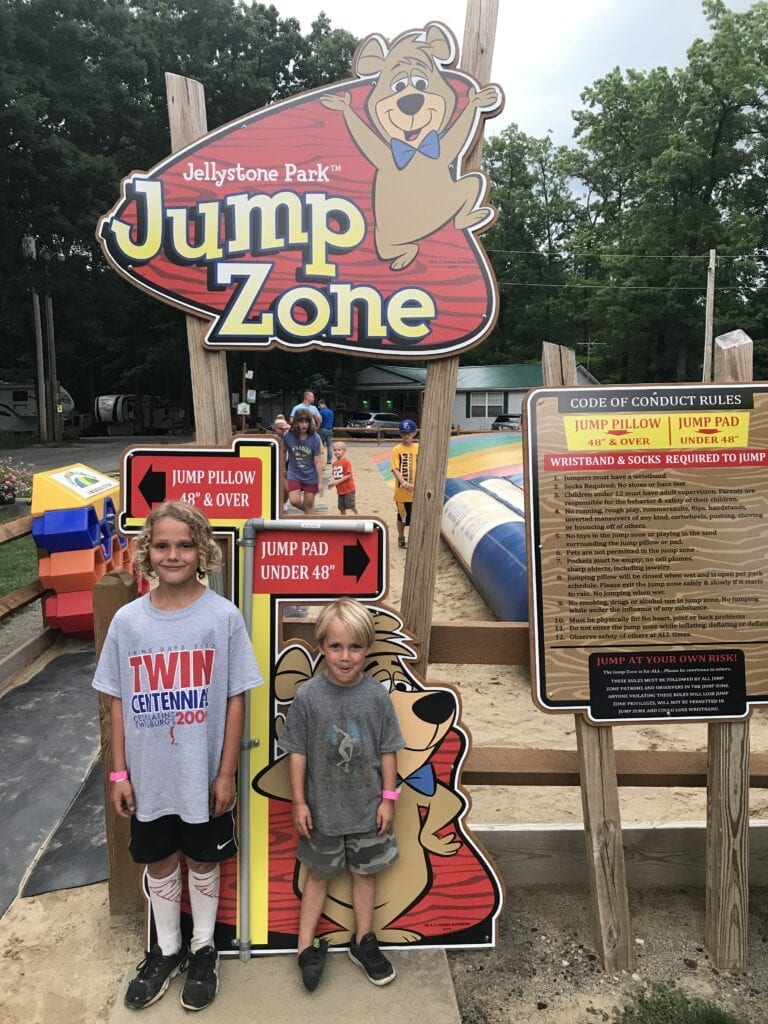 Marley's favorite thing about her role at Jellystone Parks is seeing families onsite making memories. She loved driving around and seeing the various interactions. She said there's nothing like seeing families genuinely enjoying their time together.
We just want to say that it's okay to acknowledge that these are challenging times. All of us would all like things to be completely back to normal. But, we are also so excited to see Jellystone Parks and so many others dig in and come up with these creative new ways for families to make memories. That's what it is all about!
Like many of us, Marley has experienced a whirlwind of emotions while dealing with the COVID-19 pandemic. She is thrilled to see that business is booming at the parks. No one knew what to expect a month or two ago. Many parks were shut down entirely. This disrupted the hiring process, so they are still working to get the parks fully staffed.
We want to thank Marley for sharing all of this great information–and inspiration–with us! Be sure to take a look at her park, the Jellystone Park Camp-Resort in Caledonia, Wisconsin. We know she will always remember 2020, as will we all!
As conditions change with COVID-19, you can expect your Jellystone Parks to continue to evolve. Whether it's a totally virtual experience, a modified in-person experience, or a whole new game to play, the parks will be keeping family fun at the center of the Jellystone Park mission.
See you at the campground,
Stephanie + Jeremy
Podcast: Play in new window | Download