Family fun is practically guaranteed at Jellystone's network of campgrounds. With a reputation as one of the best RV parks in Wisconsin, the Jellystone Park Camp-Resort in Caledonia brings that big dose of family fun to the Milwaukee region.
Our Midwest correspondents, Matthew and Melissa Kellas, travel with four kids ranging in ages from 11-17. They bring a wealth of experience to finding campgrounds that kids–and parents–will love. On this week's podcast, they tell us all about the amenities that attracted them to the Jellystone Park Caledonia.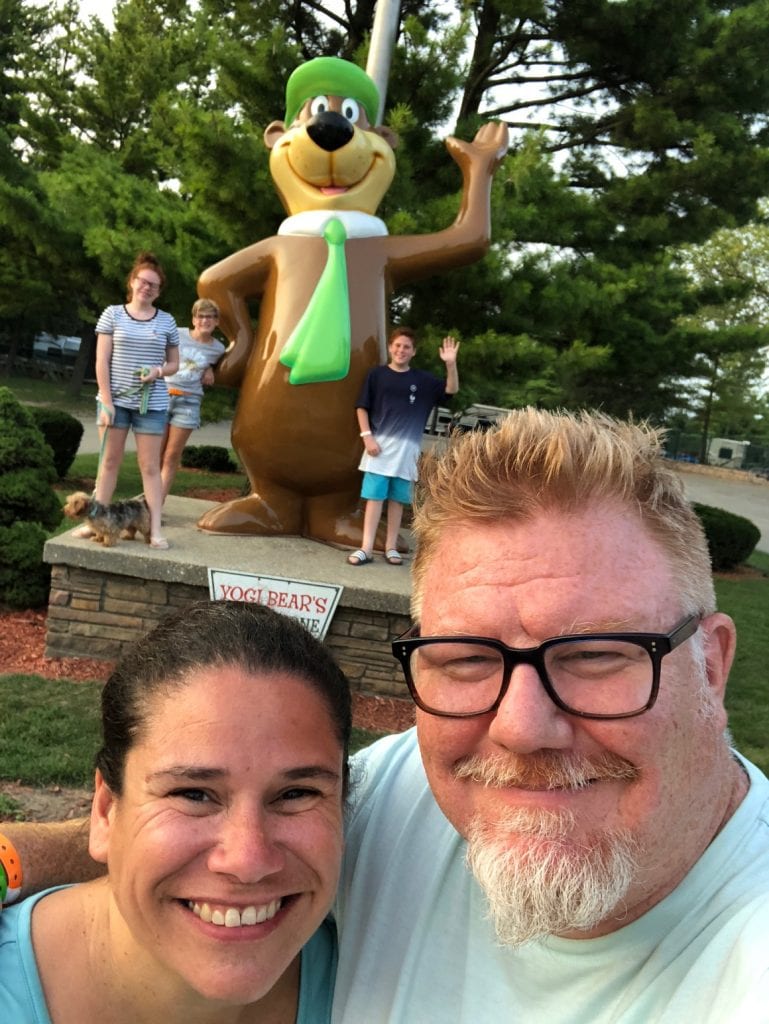 The Jellystone Park Caledonia recently underwent a major transformation, almost doubling its size. In 2019, the campground added almost 150 campsites and many cabins after purchasing land beside the existing park. Melissa and Matthew are excited to return and see the upgrades, especially the plush, modern cabins.
Campground Details: Jellystone Park Caledonia
This park is located in just off Interstate 94 in southern Wisconsin, near Lake Michigan. It is 30 minutes south of Milwaukee and two hours north of Chicago. While families can find plenty to enjoy within the park, it is also a great base camp for exploring Milwaukee.
Matthew and Melissa recommend booking early since this park is a getaway spot for families from the nearby cities, as well as for travelers visiting the region. The themed weekends are especially popular, especially the Christmas-in-July and the Halloween weekends.
Expect to pay up to $100 for a premium site (which include full hookups and most of the park's amenities). Small sites with partial hookups may be closer to $50 per night. Reservations can be made online. Melissa was especially impressed with the interactive map, which details which sites are open and which are not. One unique feature is that you can pay an extra $7 to lock in a specific site.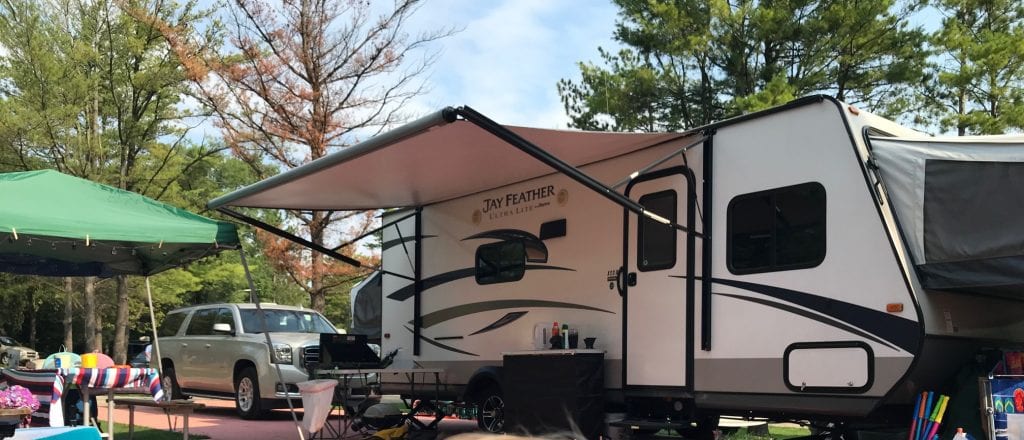 The Jellystone Park Caledonia offers a mix of landscapes, with both open spots and wooded ones. While some sites are a little tight, others offer plenty of room. Both back-in and pull-thru sites are available, as are a variety of hook-up options. The Kellas family selected a premium site, which was larger and had extra amenities. Seasonal sites are an option for travelers who live nearby.
WiFi is offered and worked well throughout the park, and cell signals were terrific. Melissa points out that Jellystone offers Club Yogi points, which accumulate with every stay. Learn more about this program here.
Amenities: Jellystone Park Caledonia
With four teens and tweens in tow, the Kellas family loves amenities and activities that appeal to kids of all ages. The Jellystone Park Caledonia did not disappoint. From playgrounds to the jumping pillow to the inflatable obstacle courses, kids will never run out of things to do at the Jellystone Park Caledonia. The "b" word is officially banned here!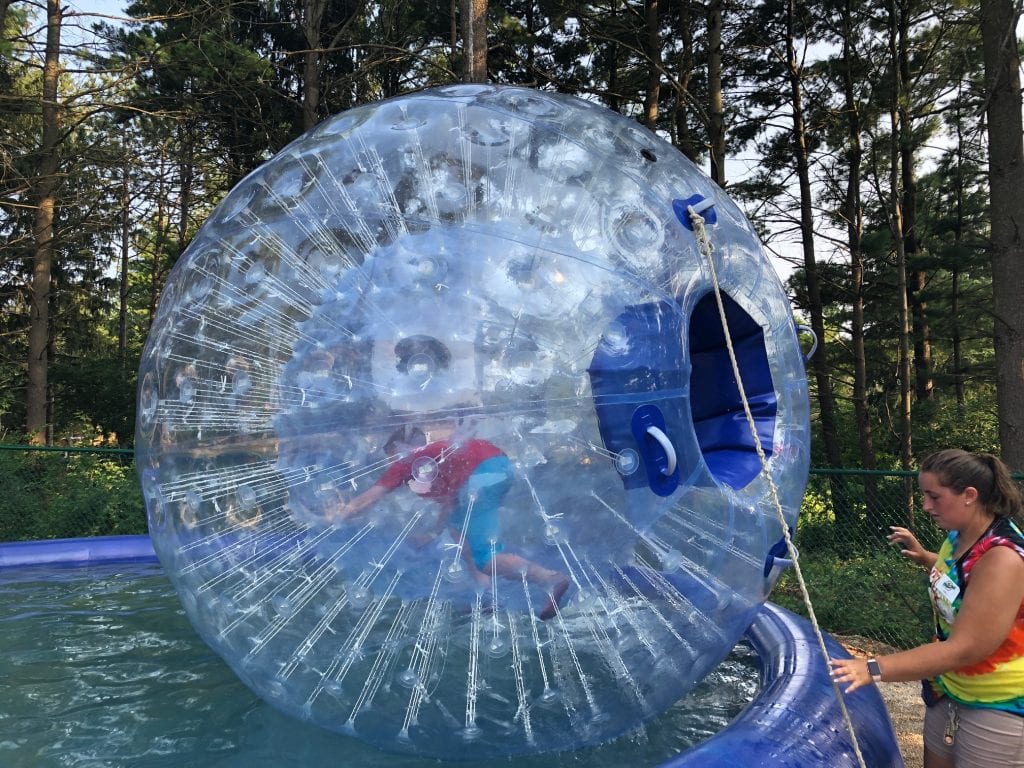 The Jellystone Park Caledonia is a great place to cool off in the summer, offering pools, a "sprayground," and water slides as part of Yogi's Water Zone. If you want your water with a side of competition (as the Kellas family does), join in the Water Wars, where water balloons zoom through the air. A massive water obstacle course is supposed to open in 2019 in the newly-acquired lake.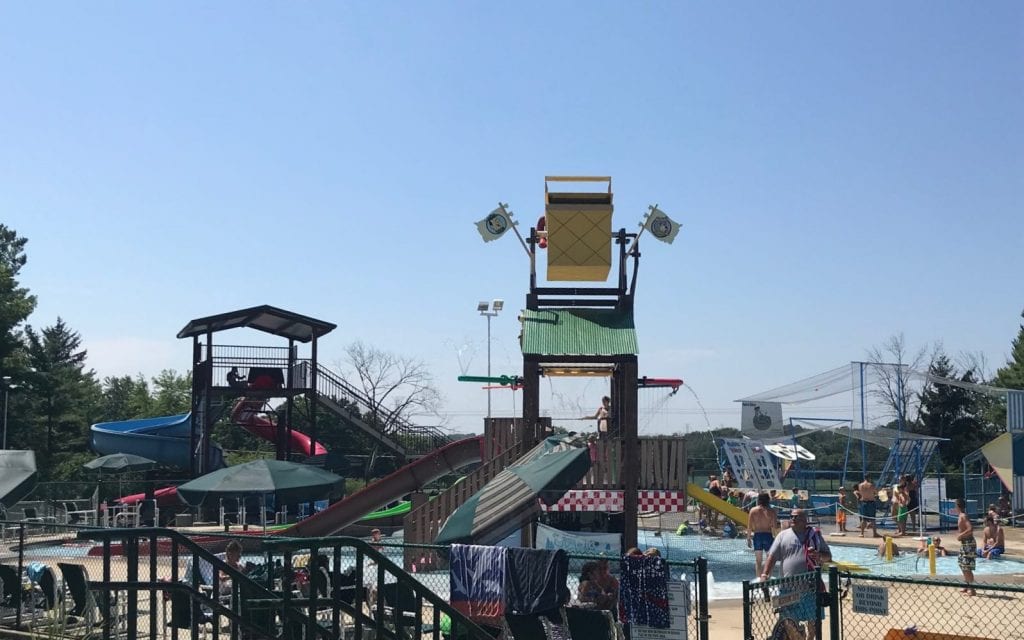 One of the Kellas family's favorite activities was laser tag, which took place out in the woods. There's also a 18-hole mini-golf course included with your stay. Check out the daily recreation calendar to see what organized activities the park is hosting. Expect to find options like movie nights, human fuze ball, candy car bingo, and more. A couple of activities do have an additional fee, but not many. Little ones will especially love having Cindy Bear deliver milk and cookies at bedtime.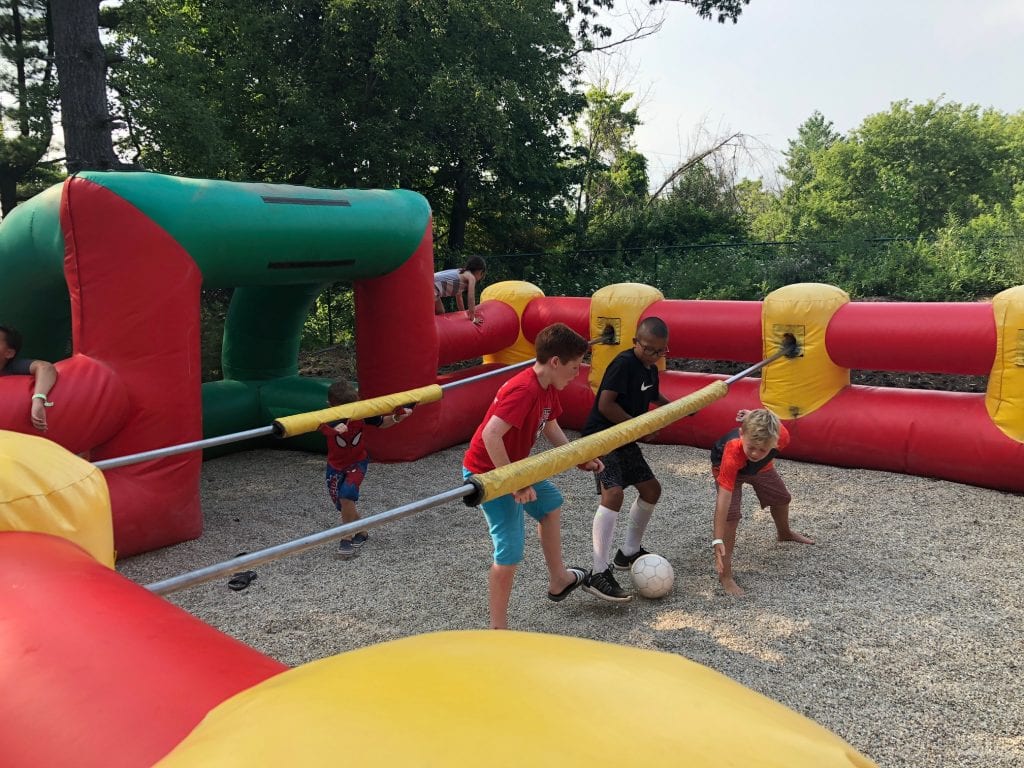 Extra fun can be had during the Christmas Carnival holiday season, as the park fills with light displays. While camping isn't available, you can take a sleigh ride and sing Christmas carols as you tour the park.
Local Area: Jellystone Park Caledonia
The Jellystone Park Caledonia is a great base camp for visiting Milwaukee. Matthew and Melissa recommend hitting up a Milwaukee Brewers MLB or Bucks NBA game. Head to AJ Bombers for the burgers, brews, and more. The "bombers" part of the name comes from the fact that the bartender sends bombs of peanuts to each table. You have to see it in person to even begin to comprehend the fun! Adults also won't want to miss the Foundation Bar, a groovy tiki bar.
We want to thank our Upper Midwest correspondents, Matthew and Melissa Kellas, for coming on the show to share this awesome park with us.
See you at the campground,
Stephanie + Jeremy
Podcast: Play in new window | Download