Does the Jeep Gladiator pickup deserve a space in the hearts of America's RVers? Check out our two-part series to find out. Today, we are exploring the specs and features, and tomorrow, we are taking it for a test drive! 
When we told our friend Johann Schnell that we wanted him to test drive the new Jeep Gladiator for the RV Atlas, we didn't expect him to go out and buy one. But, that's just how the story ended. He really went above and beyond. Of course, who can blame him? The heart wants what the heart wants, and Johann's heart wanted a Gladiator.
Johann previously told us about great SUVs for towing and checked out the Subaru Ascent for us. If you're looking for great campgrounds in Florida, he's also your guy. Johann enjoys checking out the nitty gritty details for vehicles. The Gladiator sparked his imagination from the moment he saw it.
The Gladiator is getting massive media coverage. As Johann explains, it's something that will appeal to long-term Jeep fans, especially those who are looking for something that can tow. The Jeep Wrangler is an iconic vehicle, but it certainly has its limitations. The Jeep Gladiator also appeals to truck fans who want something with a pickup bed but who don't need a larger truck.
The Gladiator has all of the functionality of a truck…with all the fun of Jeep! It's a head turner.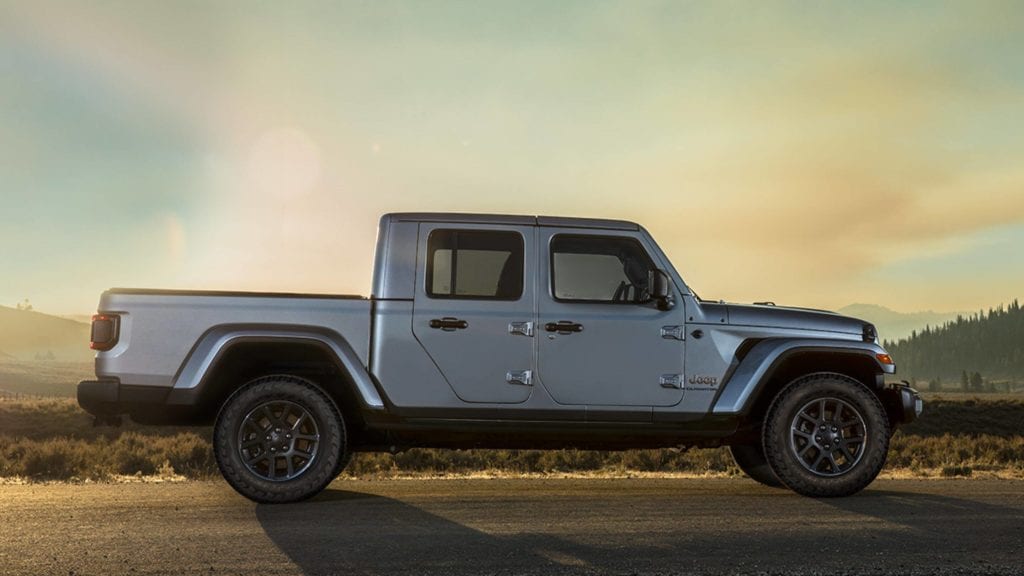 To listen to Jeremy and Stephanie chat with Johann Schnell about the Jeep Gladiator's specs and tow capacities, please press play on the media player above. Or, look for this episode wherever you find your favorite podcasts.
Jeep Gladiator: Basic Specs
The Gladiator comes in four trim levels:
Sport (MSRP $33,545): Entry-level with bare essentials. You'll be hand cranking the windows in this one!
Sport S (MSRP $36,745): Features some upgrades from the Sport, including creature comforts like power windows, keyless entry, heated power side mirrors, tinted windows, and more.
Overland (MSRP $40,395): Geared for the city person, with 4WD functionality. Think "luxury meets off-roading." You'll find street tires, leather interior, and fenders painted to match the body. Despite its plushness, it's still Trail Rated and ready for a little off-road fun.
Rubicon (MSRP $43,545): Made for the all-out off roader. This has tons of options that make it ready to conquer some boulders.
Each trim has lots of upgrades and options that can drive up the price and functionality. Jeep owners really like to customize these items, either through Jeep or through after-market vendors. Part of the fun of a Jeep is making it your own.
The Gladiator's drivetrain features a 3.6L V6 engine producing 285 horsepower and 265 lb. ft. of torque. They are equipped with either a 6-speed manual transmission (4,000 lb. trailer max) or 8-speed automatic transmission (7,650 lb. trailer max). There is a 3.0L eco diesel in the works, but this is rumored to offer slightly less payload and towing.
How's the gas mileage? It's estimated to be 17/22/19. In the real world, Johann is getting around 19.7 mpg in town and around 11 mpg towing his 5,500-pound Rockwood Roo hybrid. Johann says the automatic transmission is nicely geared for great gas mileage.
What's the Competition?
The Gladiator is a strong competitor in the midsize truck category. It's comparable to Tacomas, Colorados, Rangers, and Ridgelines, for example. As we've said, none compare to the distinctive looks of the Gladiator. The Gladiator is also catching the eye of those with larger half-ton pickups who don't mind to downsize some of the tech specs to get the mileage and distinct styling.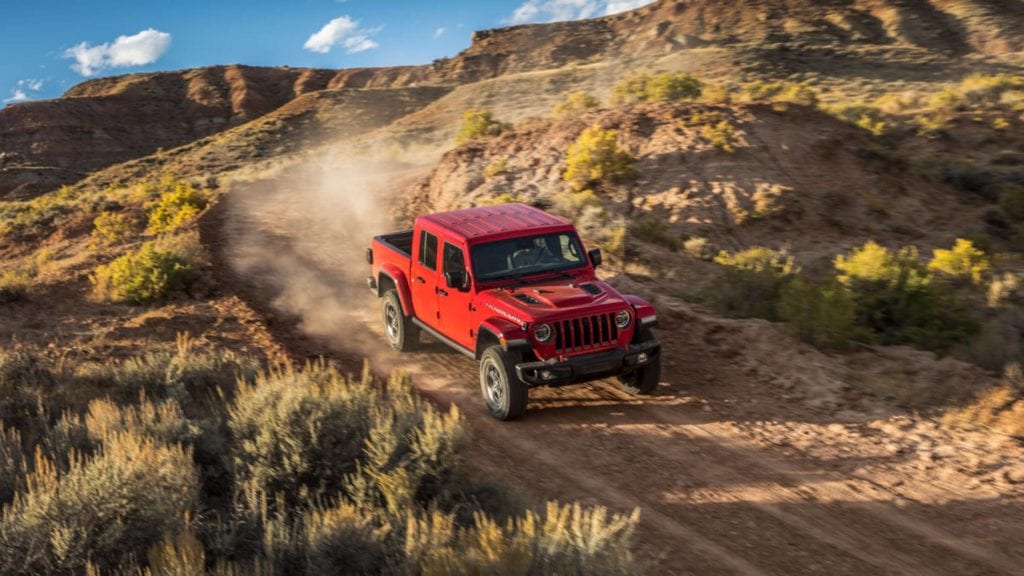 Jeep Gladiator: Towing Specs
Let's check out the towing specs for the Jeep Gladiator:
Sport S with Max Tow – 1560 payload, 7,650 tow capacity and 12,800 GCW

Rubicon – 1,150 payload, 7,000 tow capacity and 12,450 GCW

Overland – 1,000 payload, 4,500 tow capacity and 9,650 GCW
Notice that the tow capacity varies greatly by trim. These numbers are for the automatic transmissions. The manuals tow much less, more like the Overland. Also, if you plan to add aftermarket mods, you really have to pay attention to the payload of each trim level. Things like heavy-duty bumpers, bed racks, winches, and bulkier wheels and tires can eat away at your payload.
Johann recommends the Sport S with Max Tow due to the stronger springs, the 4.10 rear differential gearing, Dana 44 axles, external transmission cooler, larger rear brakes, and a higher-amperage alternator. Towing affects so many components of a vehicle, and the Gladiator Max Tow package ensures you are ready for the road ahead.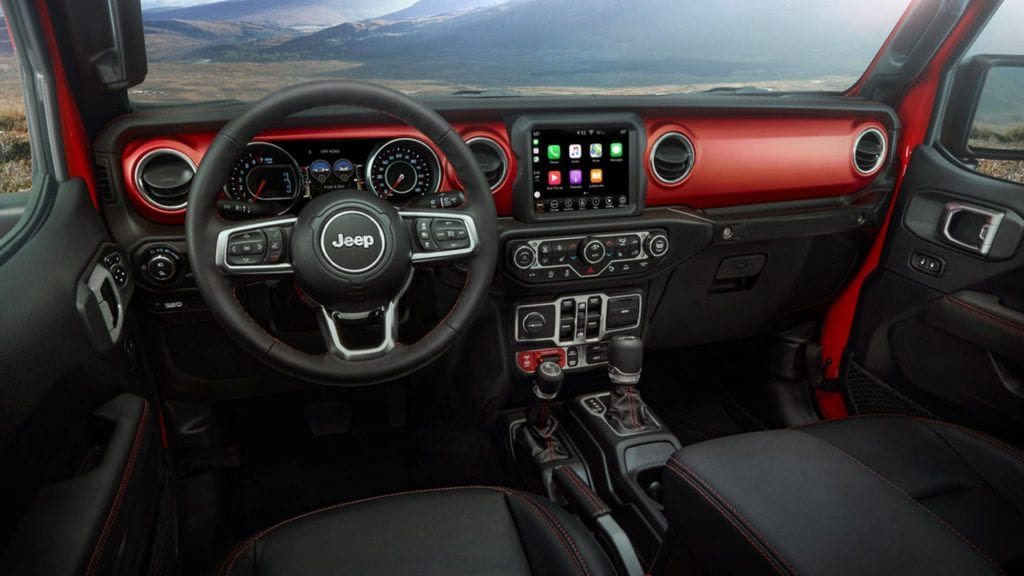 Hear more from Johann Schnell about the Jeep Gladiator by pressing press play on the media player above. 
Drawbacks to the Jeep Gladiator
Johann loves his Gladiator. Despite this, there are a few drawbacks that he's noticed:
No OEM brake controller yet (though, the wiring is there for aftermarket items)

Small side mirror make it hard for towing

Smaller back seat room versus competition

Door must be closed when trying to hitch up to the camper, a lot of travel when hooking up a heavy camper (plan accordingly)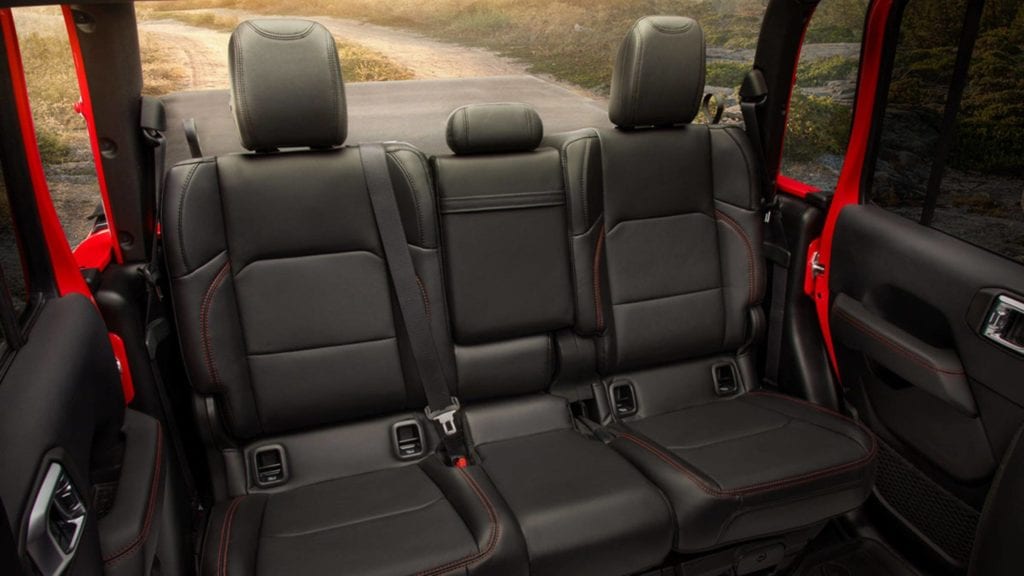 Positives of the Jeep Gladiator
These are just a few of the things that Johann has found to be impressive in the Gladiator:
Extra gauges (such as the TPMS, transmission, oil, coolant. backup camera with zoom, which can be used during driving)

Rear AC vents for passengers

Standard rear bed lights

Options such as 110V in bed

Integrated aux switches that can be programmed with the stereo system.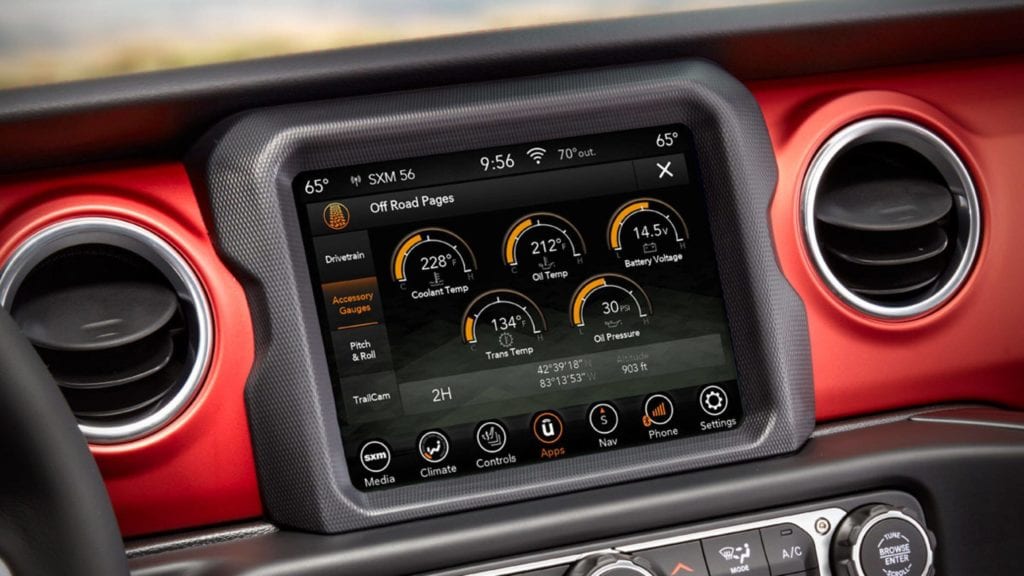 Check out our next post to take a test drive of the Jeep Gladiator. Johann will tell us all about his experiences towing. He'll also share the things he loves, as well as where he sees room for improvement.
We really appreciate Johann sharing his experiences and expertise with us.
See you at the campground,
Stephanie + Jeremy
Podcast: Play in new window | Download