In a previous article and podcast, we gave an overview of the 2019 Ford Ranger pickup trucks. This is an interesting option for folks stuck between purchasing a half ton and an SUV. With the help of our longtime correspondent Casita Dean May we also did a deep dive into its towing capacities and payload. To listen to that podcast or read that post click here.
On today's episode of The RV Atlas, and right here on the blog, we are reporting back on our test drive of a 2019 Ford Ranger XLT. To listen to us discuss driving the Ranger pickup click on the media player above. Or just READ ON!
Exterior Look of the Ford Ranger Pickup
When we first pulled into the parking lot of our local Ford dealership (where we bought our F-150 and F-250) we were immediately impressed by the exterior look of the new Ranger. I loved the look of the chrome package and Stephanie loved the look of the darker sport package with magnetic-painted aluminum wheels and magnetic-painted grill.
The Ford Ranger SuperCrew comes with a five foot bed. The SuperCab comes with a six foot bed. Our dealer had most of them fitted with Ford branded retractable Tonneau Covers that looked attractive and sturdy. There was really nothing not to love about the exterior of the Ranger pickup. So far so good.
Color Choices for the Ford Ranger Pickup
The variety of colors was also on point. Ford is offering the Ranger pickup in the standard black, white, silver, magnetic color choices. But if you want to make more of a splash you can also choose Saber, Hot Pepper, or Lightening Blue. I really liked all of these colors and would have a hard time choosing one.
We selected a Black XLT with chrome appearance package for a test drive. There were no Lariats on the lot for a test drive. We purchased our F-150 and F-250 in the XLT trim, so we both felt right at home. Owning a Lariat with leather seats and all of the other goodies is on the old bucket list but has not fit in our budget in recent years. Damn kids!
Interior Look and Feel of the Ford Ranger Pickup
Stephanie slipped into the driver's seat first and she was instantly impressed. She does not LOVE driving our F-250 (or any truck with a larger cabin) because she feels like they are not designed for her petite size. She thought that my larger frame would not be comfortable simply because she was so comfortable. I initially agreed but am pleased to report that with the seat pulled all of the way back I was completely comfortable. The Ford Ranger pickup is one of the only trucks or SUV's that fits us both perfectly. We both thought this was a major win.
We also love the interface of the SYNC 3. It is easy to navigate and intuitive to use. The speakers are also quite good for the music fans out there. Stephanie does not love the SYNC three's navigation. Jeremy has a higher opinion of it and uses it when he is driving solo.
The 2019 Ford Ranger's Drive Quality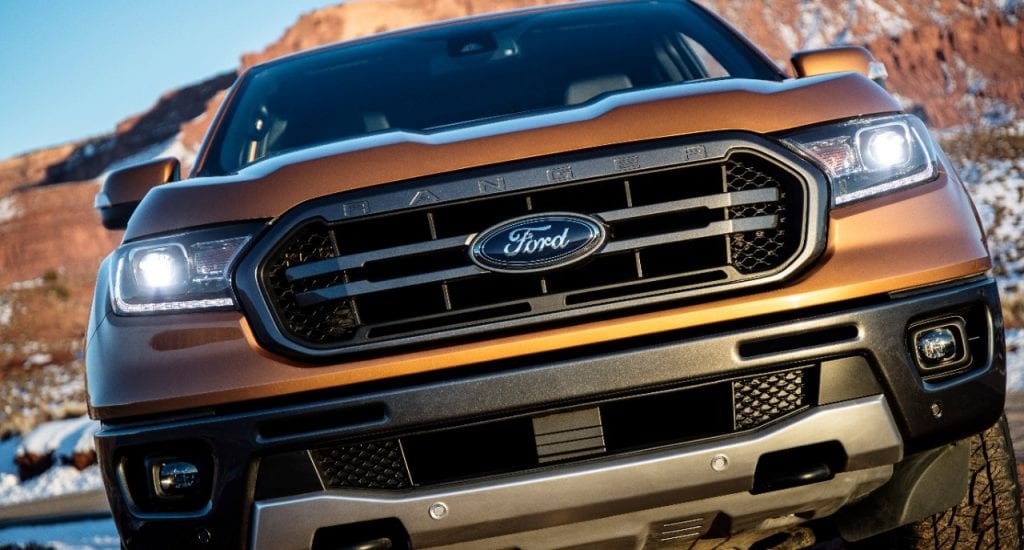 Unfortunately that is where the major wins stopped for us. We both found the "around town" drive quality of the Ranger to be surprisingly rough. The engine felt noisy and somewhat unrefined. Particularly when considering the Ranger's starting price points (XLT's start at 28K). Turning quality also felt a bit mushy and undefined. The truck did perform better once we hit the highway. But for us, part of the appeal of the mid-sized segment is that you can park the thing at the grocery store and get through the Starbucks drive thru without hopping curbs and taking out signs.  Our F-250 is a beast to park in tight spaces, and I don't even bother taking it to our local coffee shop. If we ever get a mid-sized truck we want drive quality to be excellent in all conditions.
We didn't find that to be the case with 2019 Ford Ranger Pickup. But we loved everything else.
Really.
Everything.
Podcast: Play in new window | Download