We are excited to bring you this list of 10 "must see" spots in Great Smoky Mountains National Park–and the beautiful photos to accompany them. DJ Odom is quite a photographer, and we have long admired his gorgeous pictures of GSMNP. He put together a great list of places you can't miss in the park!
DJ has visited GSMNP many times since childhood and even got married in the park. His many trips actually inspired him to take up photography as a way to capture this beloved spot. We are excited to hear all about his favorite places.
To hear DJ Odom describe these 10 "must-see" spots in Great Smoky Mountains National Park, click on the media player above. Or subscribe to The RV Atlas wherever you get your podcasts!
All photos in this post by DJ Odom.
1) Cades Cove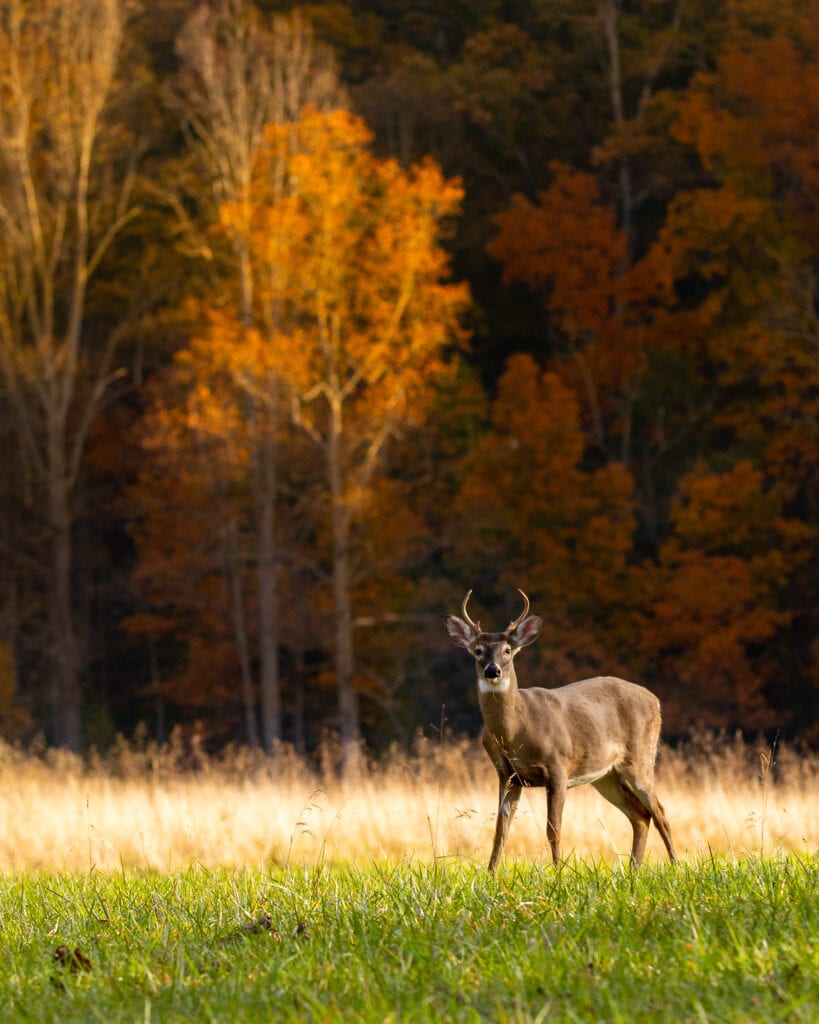 DJ considers this beautiful part of GSMNP a "crown jewel" of the park. Not only is it packed with wildlife and scenery, it also is packed with history. You can tour cabins, churches, a mill, and more, much of which was built by settlers in the 1800s. A drive on the Cades Code Loop is a great way to experience all of the sites. Try to go early, so you can beat the crowds. You'll truly feel the presence of the generations of people who lived on these lands.
2) Oconaluftee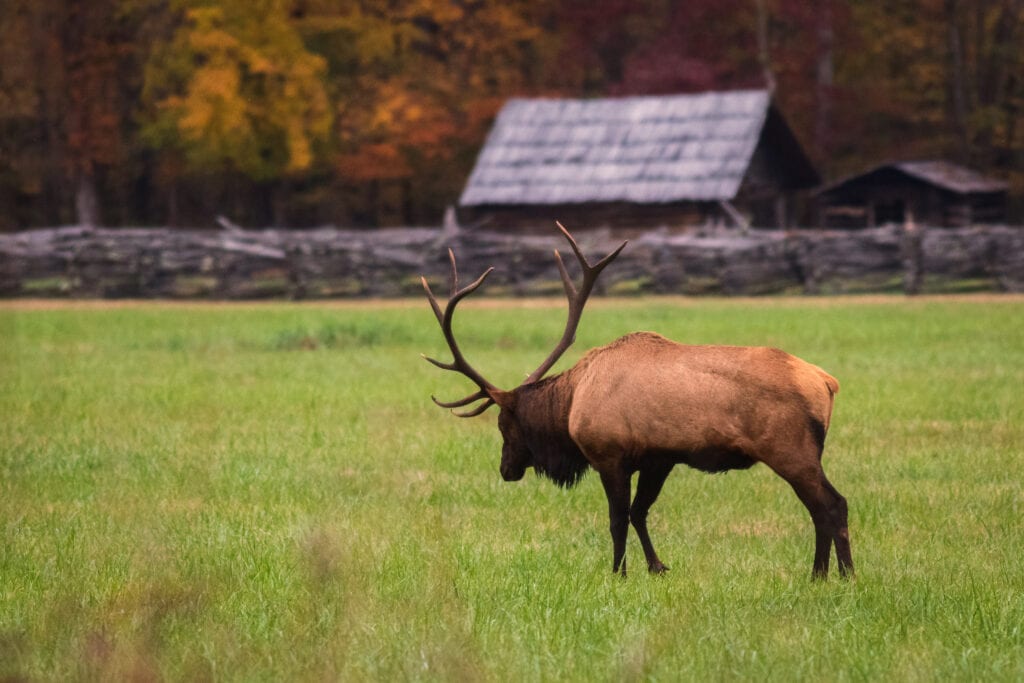 The Oconaluftee area is on the North Carolina side of the park. There's a great visitor center there that acts as a living example of a mountain farm. You can really see, learn, and do so much here, but DJ's favorite part is the elk. Elk were reintroduced to the park in 2001, and now they have a healthy population. They hang out in the Oconaluftee area, so it's a great place for wildlife photography.
You'll also find the Kephart Prong Trail nearby. That is one of our family's all-time favorite hikes (read all about it here)!
3) Clingman's Dome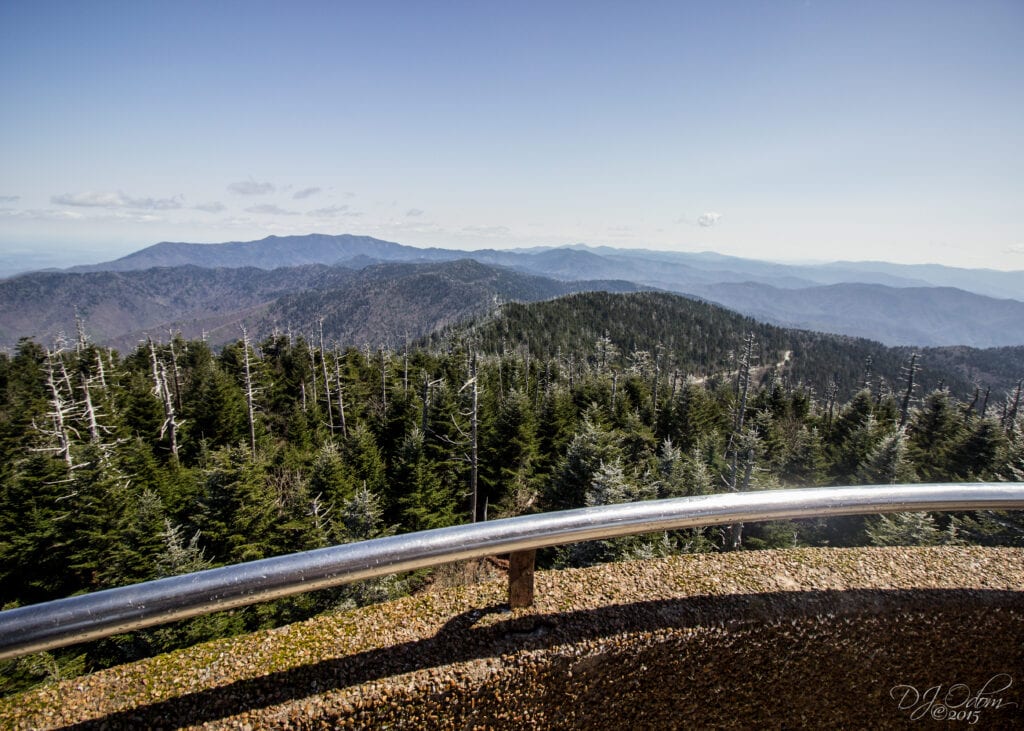 This is the highest point in Tennessee (and the 3rd-highest point east of the Mississippi). There's a trail that takes you up to unique observation tower. You will have amazing panoramic views–or you might not see anything at all if the peak is fogged in. DJ said not to let the fog keep you off the hike, as it is a cool experience in and of itself. If you can go at sunset, you'll find many points to snap some photos.
4) Mingus Mill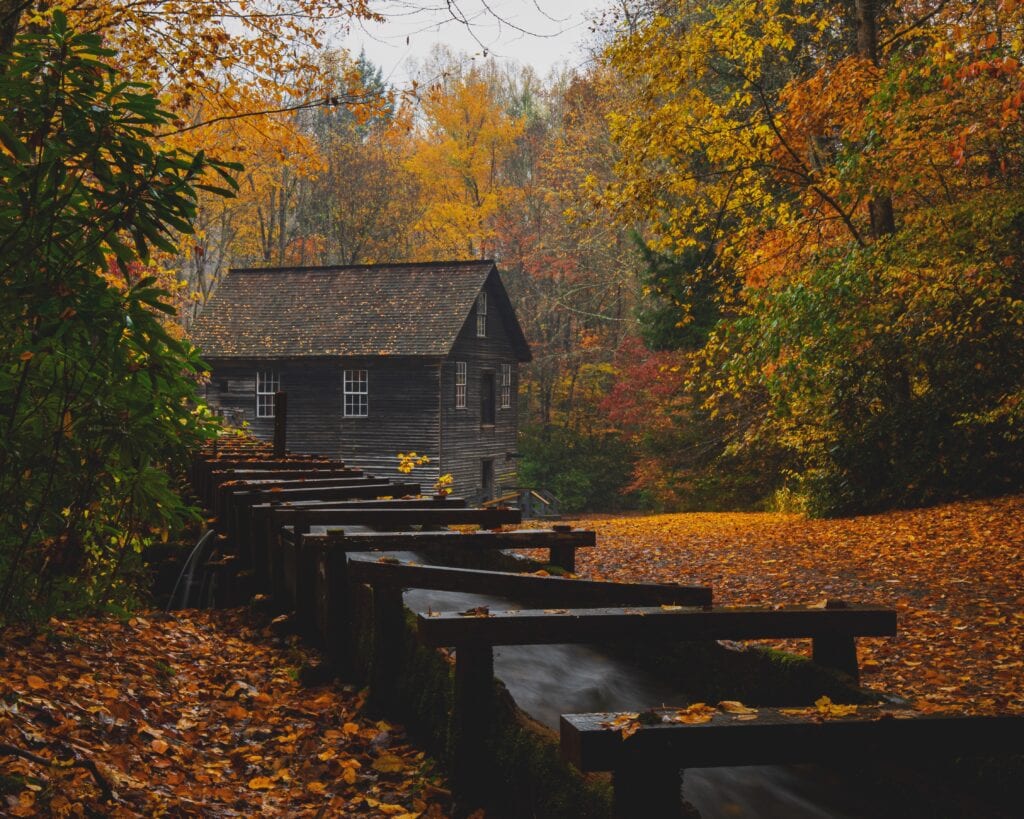 This picturesque mill just lends itself to being photographed, especially in the fall. There's no way to take a bad photo of it! This is another spot where you feel like you can touch history, especially if the park interpreters are there to tell you all about it.
5) Roaring Fork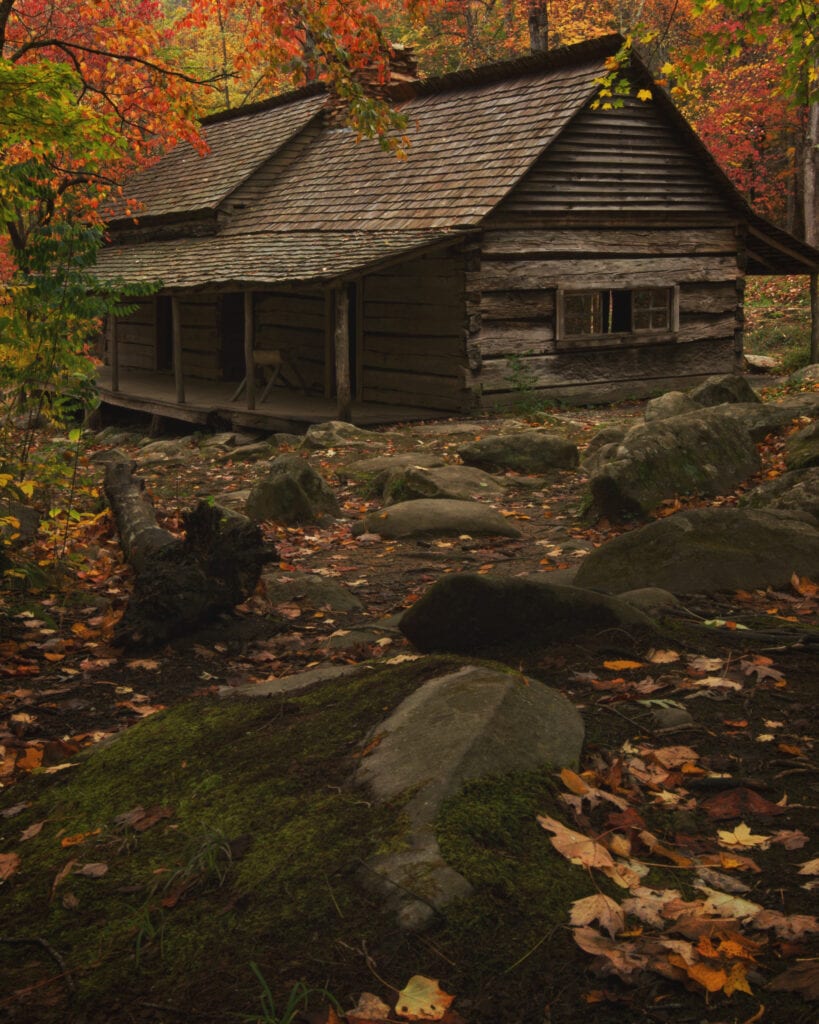 This motor nature trail is drivable, and you can see a lot from your car, making it accessible to almost everyone. You'll also find trailheads nearby for tons of great trails, including Grotto Falls, Rainbow Falls, and Mt. Leconte).  This is another great area for spotting wildlife.
6) Newfound Gap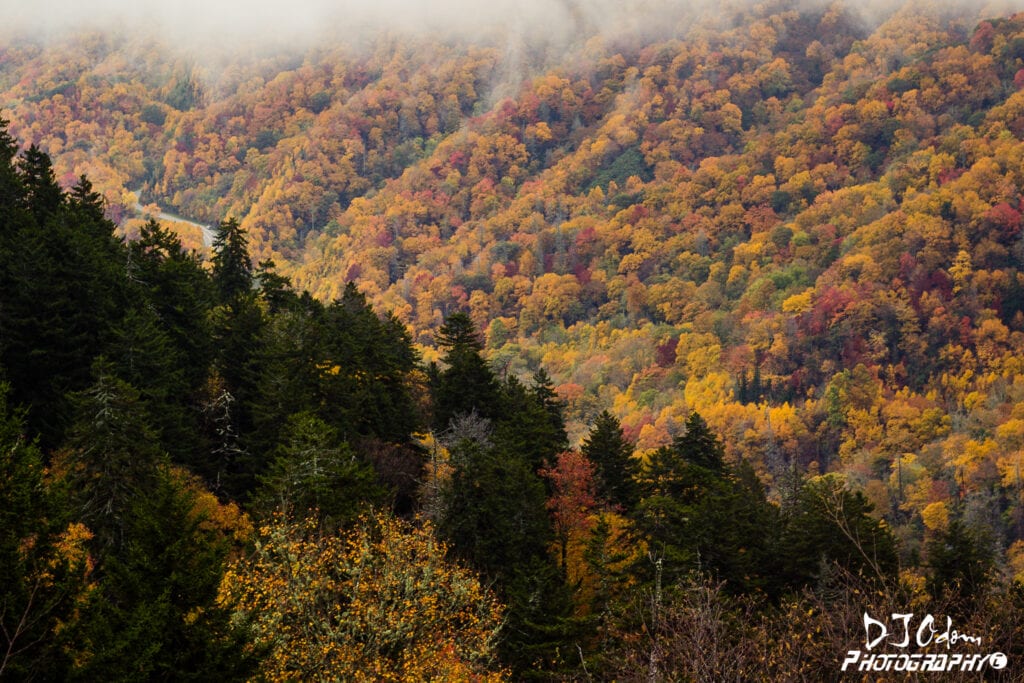 Newfound Gap is the name of a road and of an actual geographical feature, which is the spot where you cross the height of the mountain ridges, located right on the North Carolina/Tennessee border. You'll find sweeping vistas here, unless you are socked in my fog. It's notable as both a place where FDR gave the speech officially dedicating Great Smoky Mountains National Park and where the Appalachian Trail crosses the park. You can spot some thru-hikers, which is pretty cool!
7) Elkmont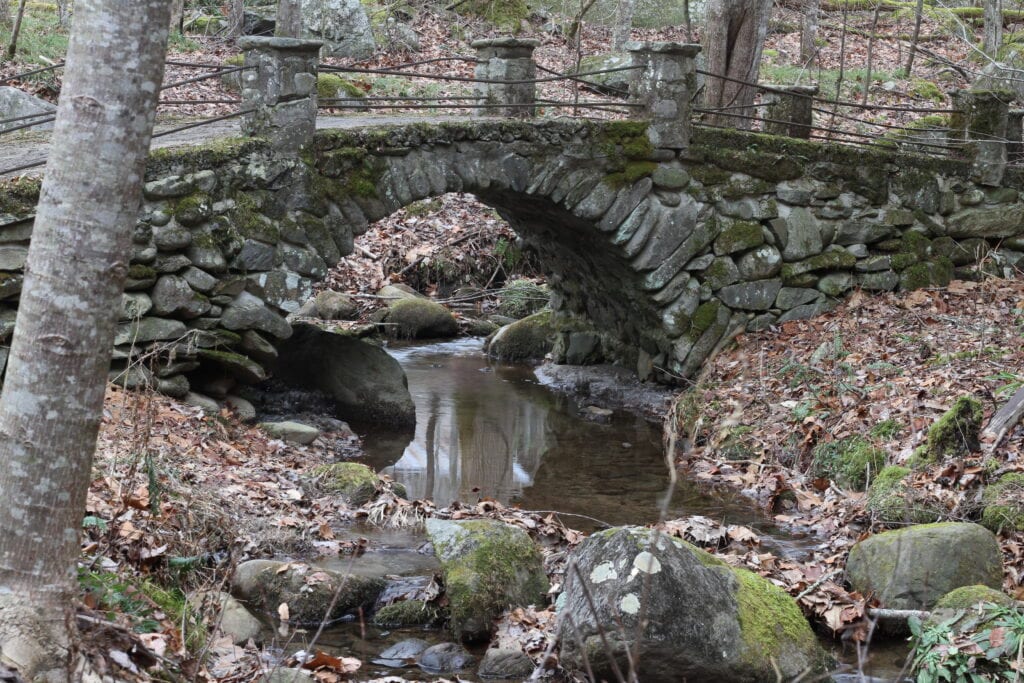 The Elkmont area is near the Sugarlands Visitor Center, which is a popular entrance for those staying in Pigeon Forge and Gatlinburg. It's a great place to find fishing and hiking opportunities. The Little River and Jake's Creek trails are found here.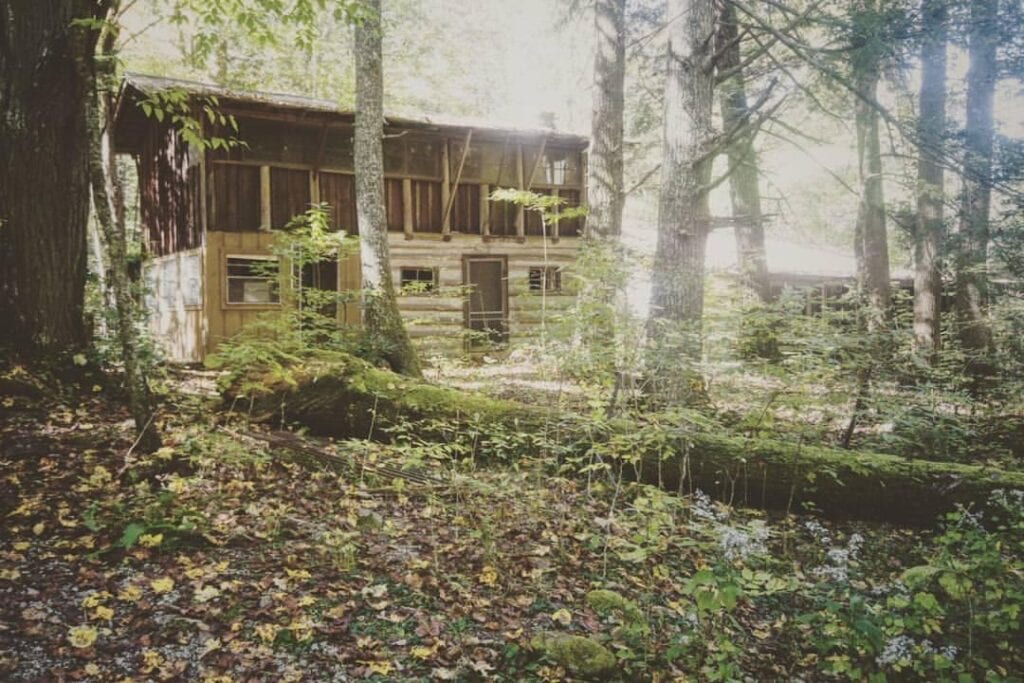 This area was once a classic summer vacation town, and today, you can still spot some of the old homes. You will be hiking through the woods and suddenly come upon a dilapidated house.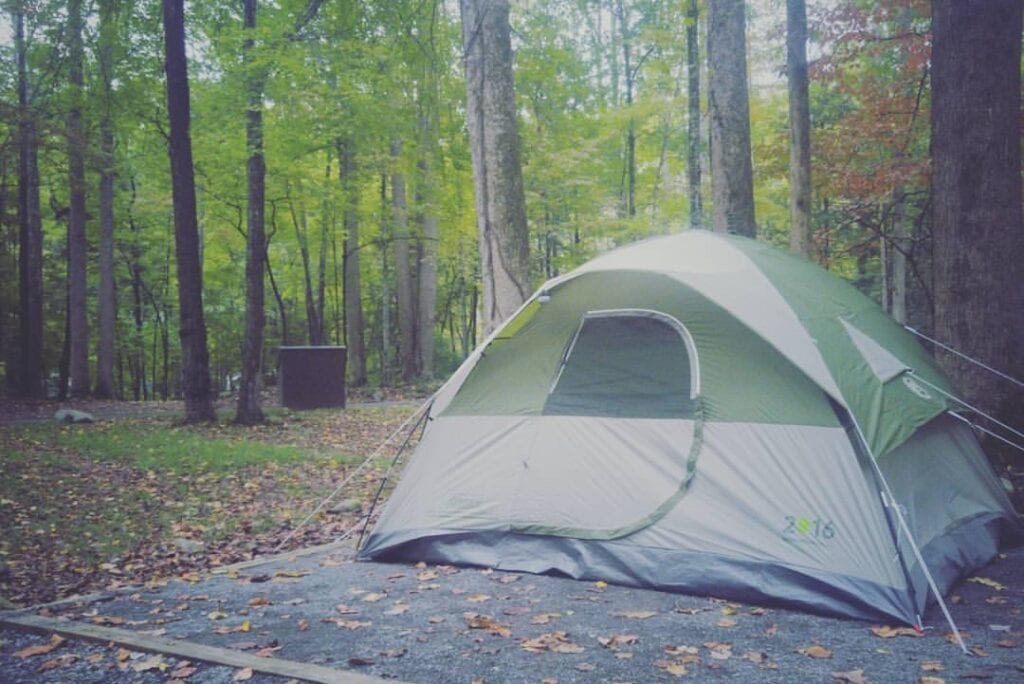 Elkmont Campground is great for tent camping or for small RVs. You won't have hookups, but you can hear the sounds of the nearby creeks, which is a very cool amenity.
8) Cataloochee Valley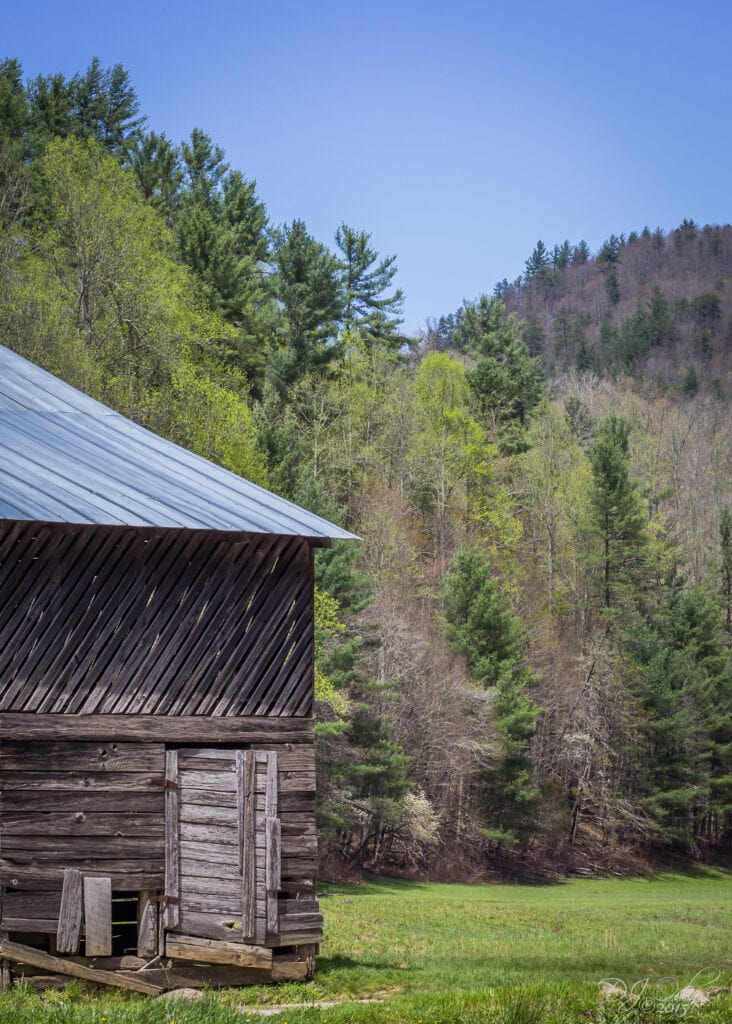 This is one of the most remote areas of the park. You won't find any improved roads to take you there! You'll be on small mountainside two-way roads, and it is a long trip. Of course, this means it is extra scenic and a lot less crowded than the rest of the park. You'll have a chance to spot more elk here.
9) Greenbrier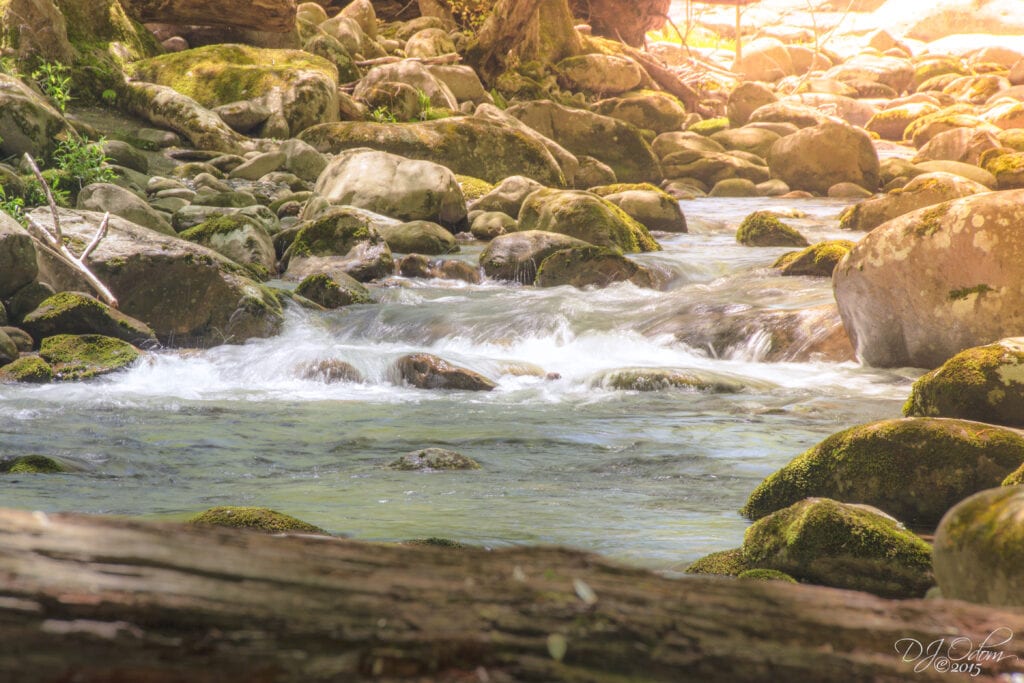 This is another beautiful area to take a hike. You will find the trail to Ramsey Cascades, which is the tallest waterfall in the park. Along the way, you'll gain a lot in elevation and pass through an old-growth forest. The Porters Creek Trail is known for its wildflowers, especially in spring. The picnic area is especially scenic!
10) Tremont
This area is close to Cades Cove. You'll find the Spruce Flats Falls trail. There's also an institute there that has tons of great activities for kids. The drive into Tremont is especially scenic during the fall or when the dogwoods bloom in spring.
We are just thrilled we were to get this list of 10 "must-see" spots in Great Smoky Mountains National Park from DJ Odom. Be sure to give DJ a follow on Instagram (@odom.photo) or on Facebook (DJ Odom Photography) to see more of his amazing photography and to follow his adventures.
Podcast: Play in new window | Download