Hocking Hills State Park in Ohio will have you wondering if you are still in the Midwest. With its waterfalls and unique geological features, it feels more like an exotic location in New Zealand. Yet, it's only 50 miles from Columbus, Ohio, and only 30 miles from Athens, home of Ohio University.
The Hocking Hills
People have been coming to the Hocking Hills for generations to hike through the cliffs, gorges, and rock shelters. It's surrounded by rolling hills, cornfields, and the small towns of Logan and Lancaster.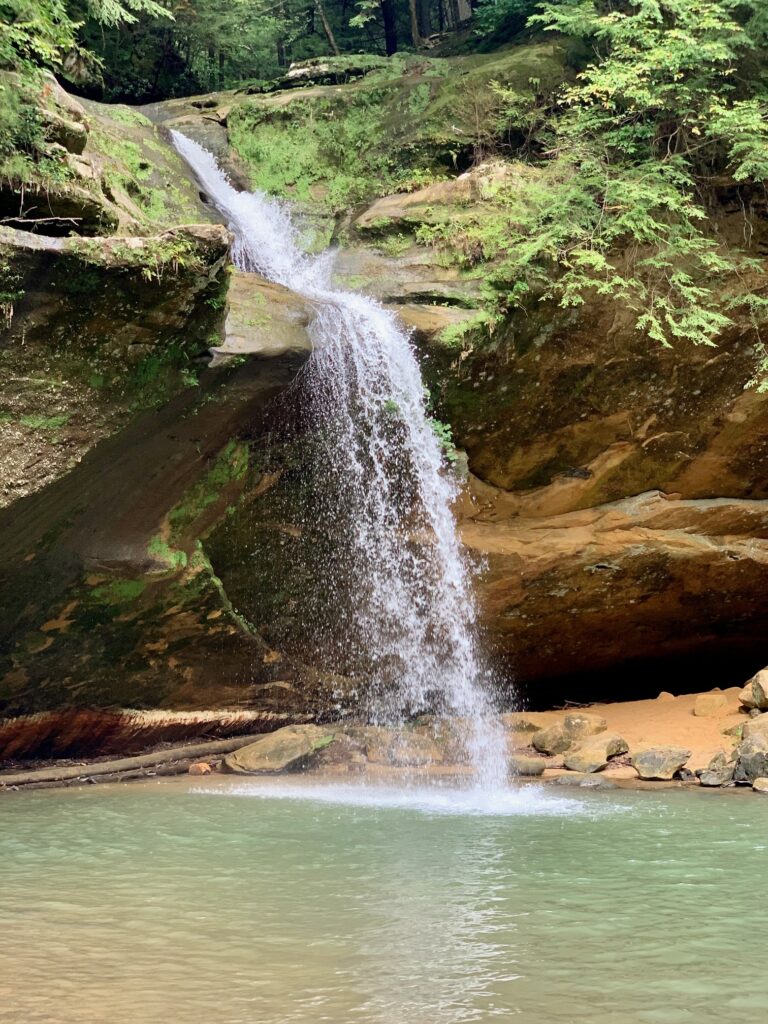 The Hocking Hills are made up of the state park by that name, plus a state forest, and a state preserve. Most of it is in Hocking County.  All in all, there are 2,300 acres of protected land to explore. You can walk from some places to others, but you will need to drive if you want to explore all of the areas.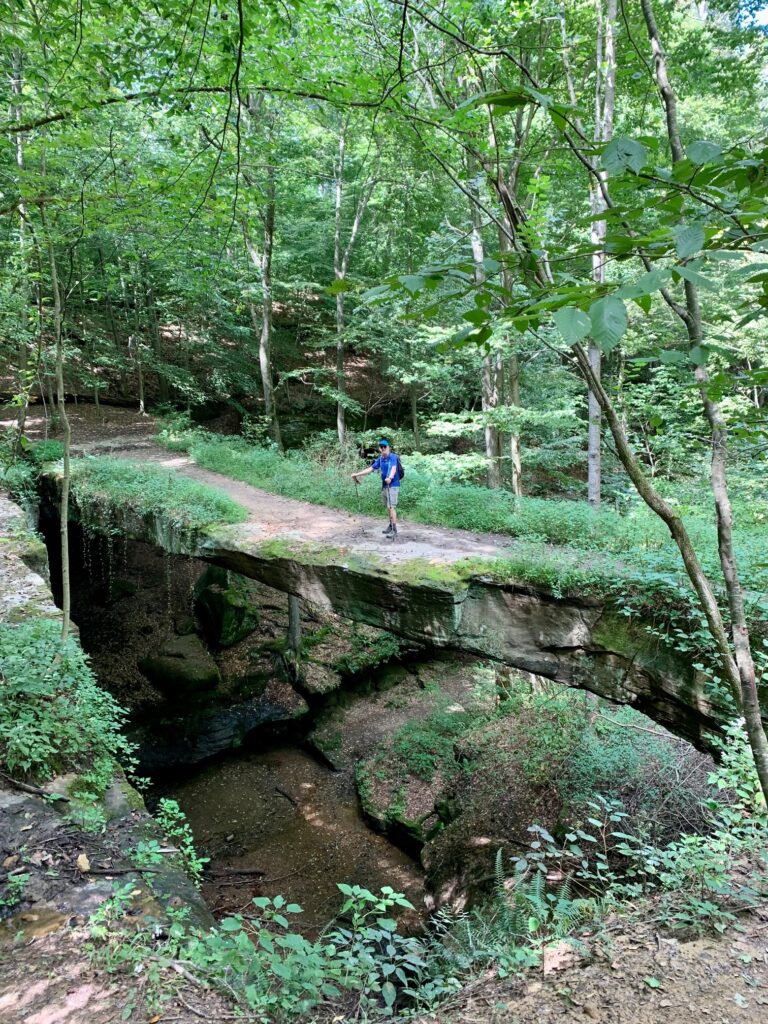 The hiking isn't mountain top hiking. You won't be climbing to the summit of a mountain and looking at a vast vista. Instead, it's all about geological features in a lush setting, where you hike into and out of gorges that were carved out by streams that left behind wonders of geology that look like modern sculptures.
During the hikes, there are moments of incline and decline but nothing anyone in moderately good shape can't handle with some huffing and puffing. A few boulders need to be maneuvered and some roots and ruts must be navigated, but there are no vertical scrambles.
We asked Ellen Dominus Broude to come on The RV Atlas podcast to share her adventures in Hocking Hills. She has a gorgeous Airstream named Frida. To listen to our interview with Ellen, click on the media player above or subscribe to The RV Atlas wherever you find your favorite podcasts. And huge thanks to Ellen for providing the pictures for this post!
Places to Stay in the Hocking Hills Region
The Hocking Hills area, during the high season, has enough to do and see to make most people want to explore for a week or more, and there are plenty of accommodations for your stay. You'll find the state park, a KOA, and many private campgrounds. There are also cabins, villas, inns, spas, and lodges. There are over 800 cabins available for rent in the area.
Hocking Hills State Park Campground
Built in the 50s, Hocking Hills State Park doesn't offer a lot of frills other than the pool. The cell service is middling, although with a booster you will probably be able to get enough connectivity to text and make calls. The parking pads are concrete next to grassy areas. Many pads are level side to side but not front to back so don't forget the levelers.
The camping area has 165 camping sites that range from full hookup to non-electric. There are also three very clean cabins that have a/c, heat, and front porches with Adirondack chairs. (Another section of the park has all cabins.) The park provides vault toilets, showers houses with flush toilets, a pool, and a laundry. An amphitheater hosts excellent ranger talks. A dump station at the entrance and another in the campground provide convenience.
From the campground entrance you drive up a long windy hill to one of 2 main branches, one to the left, the other to the right.  The left branch (sites 94 and higher) are older with a bit more privacy but some sites felt quite crowded. The right branch (sites 1-93) is more open, but there are some nice more private sites tucked away in the mid 50s thru 62. Sites 28 – 33 are near the water treatment plant. The smell is not bad, but there's a constant noise 24/7.
Major Geological Features and Trails of Hocking Hills
Old Man's Cave is just one of many fascinating geological features that make Hocking Hills special. A 1.5 mile loop thru Old Man's Cave and Lower Falls is a moderate hike, due to worn stone stairs and ducking under cliffs. It has super cool features like Devil's Bathtub, Sphinx Head, and some tunnels.
This is where you will find the visitors center. The super helpful rangers can give advice on hikes and other things to do in the area. There's an immersive exhibit on the various features of the park itself that gives an overview of the geology and history of the area.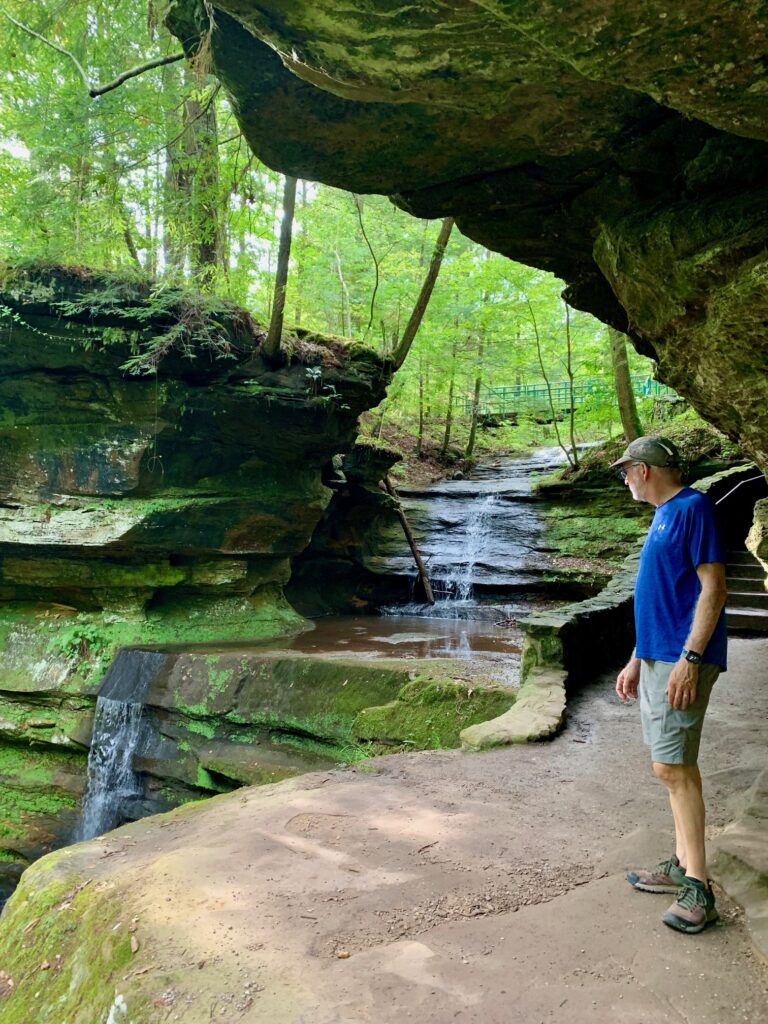 If walking and hiking is difficult, Spur Trail to Broken Rock Falls has a mobility-accessible ½ mile trail that runs from the park office past the visitor center along Lodge Road and it gets you to an observation deck above Upper Falls.
The Cedar Falls trail will take you thru a chasm lined by steep rock walls, with grottos and waterfalls. Cedar Falls is also the way to hike into the Whispering Cave. The waterfall and grotto on this section of the hike are lovely!
Ash Cave is 90 feet tall and the rear wall is 100 feet deep. It's truly amazing. Also, the path here is only a quarter of a mile long and easy to walk. If you have kids, spend a few hours here so they can play and explore.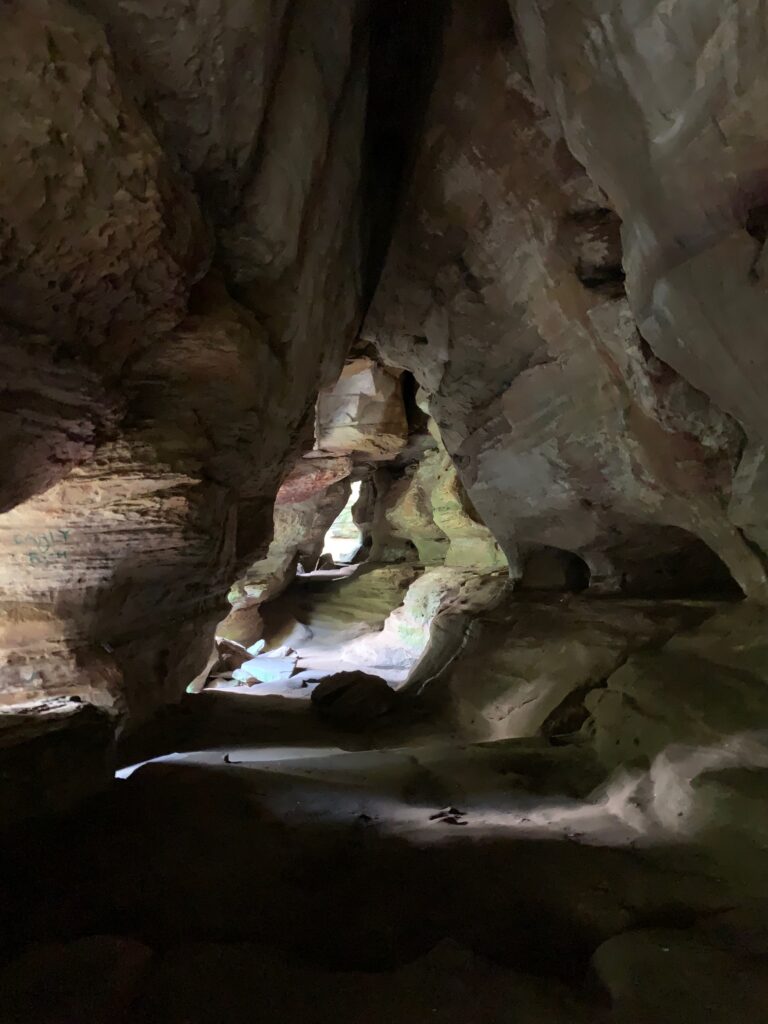 More Geological Features in Hocking Hills
Conkles Hollow is worth noting if you want take your dog for a walk. It's the only place in the park where you can bring a dog.
Gorge Trail is easy and mobility accessible along the first mile but the very end bit to the waterfall isn't accessible.
The Rim Trail is only 2.5 miles long and moderate and the State Forest Rappelling Area is across the road.
Rock House has an extraordinary cave that's halfway up a 150 foot cliff. It has a 25 foot ceiling, 200 foot corridor, and arches at each end.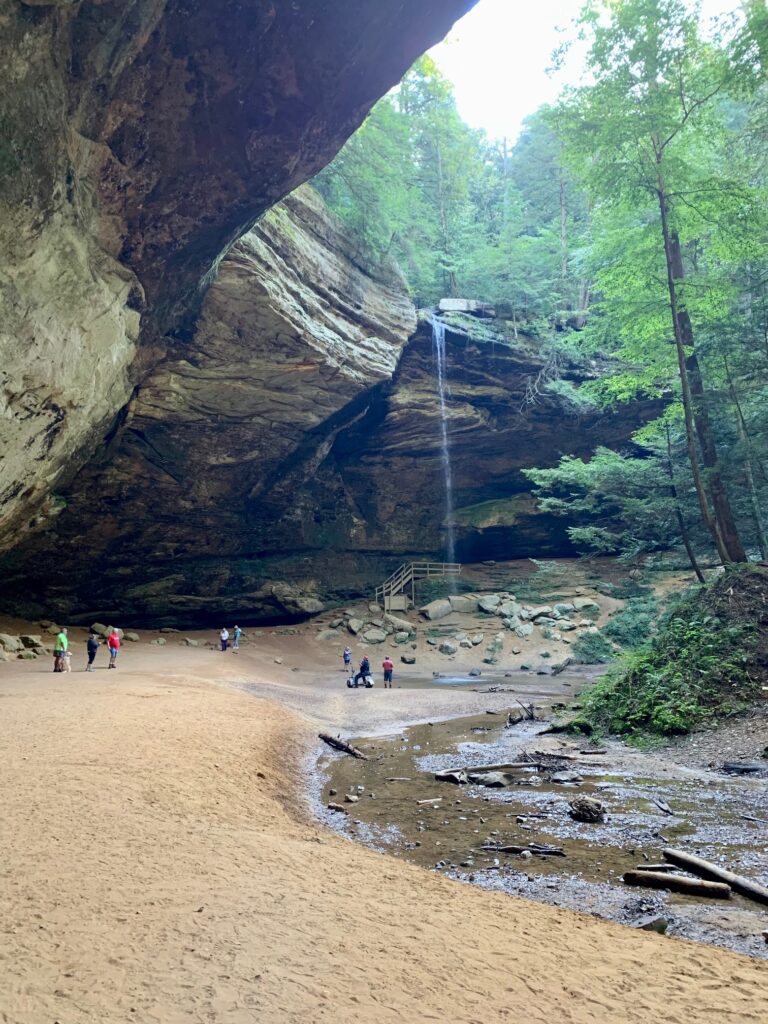 The Cantwell Cliffs can be reached by two routes, either the Rim Trail or the Gorge Trail or a combination of both. It's a two mile hike to the cliffs. This is not a great one for young children due to the steep, worn stairs, and the cliffs at the end.
John Glenn Astronomy Park
Just five minutes from the campground entrance is a great place for stargazing. This area is intentionally recognized for having dark skies, thanks to the circular wall around it to block out ambient light from the parking area. Guided astronomy tours are held on clear Friday and Saturday nights from March through November. On other clear nights people set up telescopes.
Other Things to Do in the Hocking Hills Area
When you aren't hiking the trails, there are plenty of other forms of entertainment in the area. If you want to go for a scenic drive in your car or motorcycle, the Hocking Hills Scenic Byway offers 26 miles of rolling hills and ridges. If you want to have fun on two wheels, another option is the Hocking Adena Bikeway.
During the peak tourist season, there are many activities available for families. Of course they have zip lines and mini golf like most places that attract tourists, but there is also a petting zoo and a butterfly sanctuary for kids who like critters.
There are also many ways to relax nearby. Spas, breweries, art galleries, wineries, and boutiques provide less strenuous activities. To stay more active, you could visit a local golf course, go on a guided rappelling and rock climbing excursion, do some horse back riding, or turn it up a notch by doing an ATV trip. If a day on the water is how you relax, visit Lake Logan. It has a beach, marina, fishing, and low speed boats for rent.
Definitely check out explorehockinghills.com for tons of information about the area!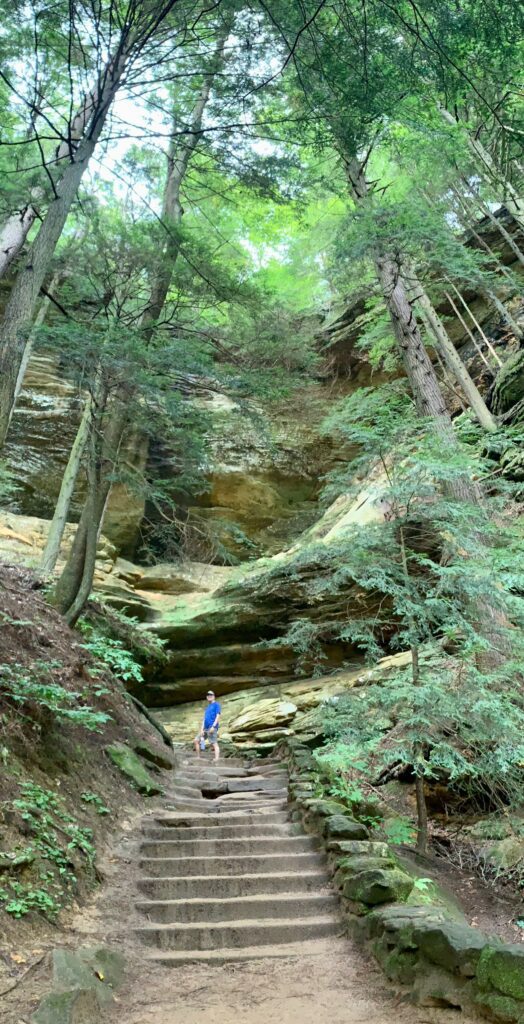 We truly want to thank Ellen for sharing this detailed profile of the Hocking Hills region with us! It sounds incredible. Remember to click play on the media player if you want to hear all about it! You won't be disappointed. Make sure to follow all of Ellen's adventures @fridatheairstream on Instagram.
Podcast: Play in new window | Download