The Hersey RV Show is not the best show in the country for spotting RV trends. The big three (Thor, Forest River, and Winnebago) dominate the landscape here. The show is packed with a sea of similar looking travel trailers and fifth wheels. Many of the smaller independent manufacturers are not even present–either by choice, or because they can't get a coveted display spot. We find that the Florida RV SuperShow, which is held in Tampa every January, is a far better place for spotting RV trends.
This is because more of the independent manufacturers are present, and many RV trends start with those indies. But Tampa is also a better show for seeing what is bright and shiny and new because the brand new model year units are there each year.  January is a good time to see the latest RVs. The Hershey Show happens in September, and many of the upcoming model year units are just not ready yet. So sometimes the show can feel like it leans towards leftovers. But that can be great for consumers looking for deals.
The Florida RV Show also has more of a carnival-like atmosphere. Tons of RV influencers and YouTubers show up, and there are rallies and events happening at the fairgrounds, with hundreds of people camping right next door to the show.
But don't get us wrong for one second! We love the Hershey RV Show. It is a terrific place for most shoppers to see lots of options and comparison shop. There are also plenty of quirky and creative new rigs to look at, and a handful of exciting 2023 debuts. Here are 8 RVs that really grabbed our attention this year at Hershey. We loved each of these rigs, and found that they fit into some of the major trends happening in the RV industry today.
To listen to Jeremy and Stephanie discuss these eight rigs, and the RV trends that they represent, click on the media player above to listen to The RV Atlas podcast. Or subscribe to The RV Atlas wherever you get your favorite shows!
Baby Fivers are Back: Grand Design Reflection 150 Series 226RK Fifth Wheel (show price $55,995)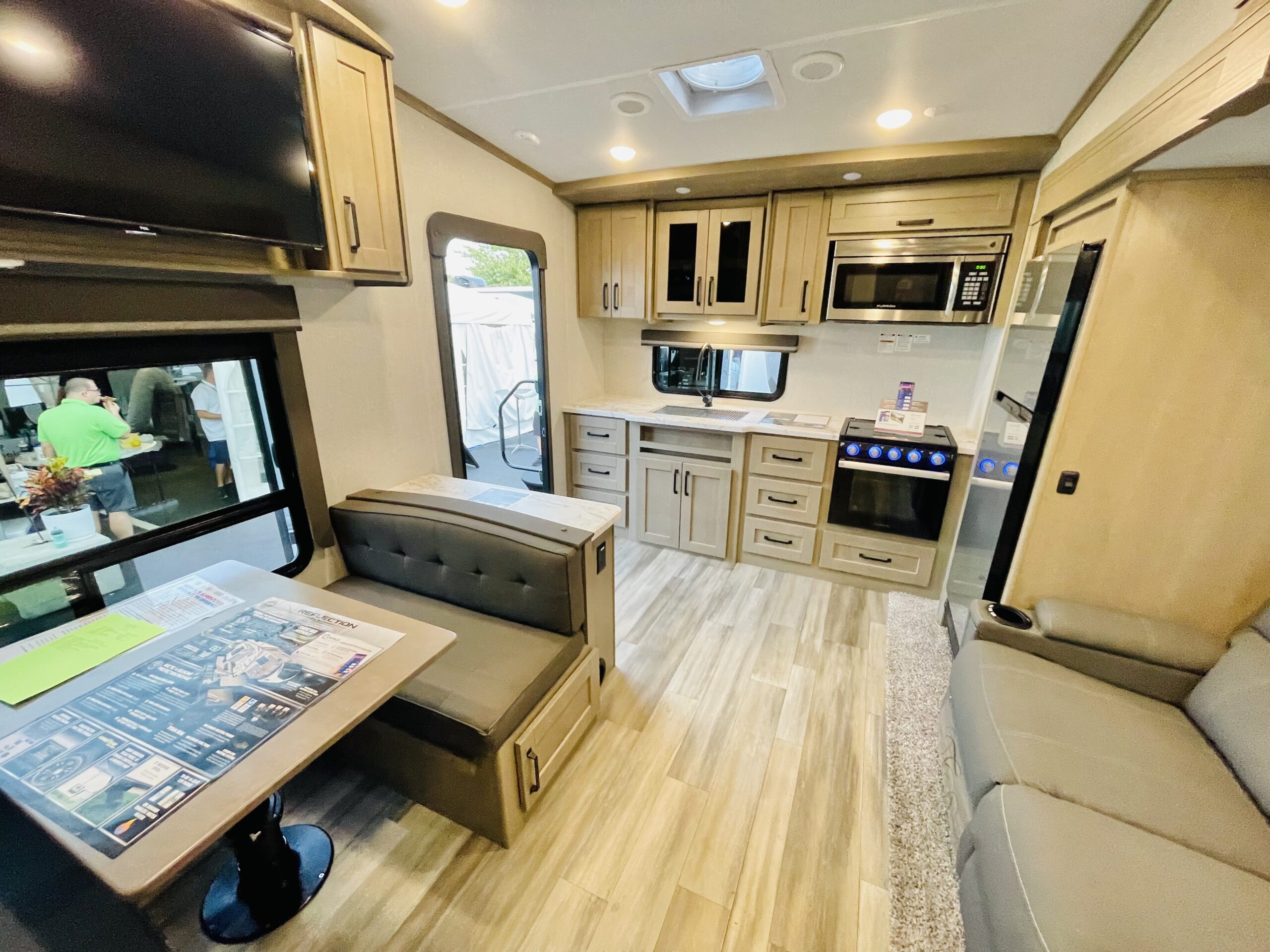 Key Specs:
UVW (7,241 lbs)   /   GVWR ( 9,995 )   /    Hitch Weight (1,214 lbs)   /   Exterior Length (26'11")   /   Fresh, Grey, Black (56,78,39)
When we first started RVing, over a decade ago, it seemed that most manufacturers of fifth wheels had a baby or two in their lineups. By that we mean a baby fifth wheel that clocks in at under 30 feet. We even moved into a baby fiver made by Winnebago (for five days) and reviewed it for a cover story in Trailer Life magazine a few years back. We loved that fifth wheel and gave it a glowing review. Unfortunately, it was discontinued a year or so later. Over the past five years or so, it seems that most manufactures have fallen in love with making MEGA fifth wheels and that the babies had fallen by the wayside. But Grand Design does have a few awesome baby fivers and we loved the Reflection 226RK that we toured at Hershey. It is a comfortable and spacious couple's coach that would work for weekend adventures, or full time travel.
Indy Manufacturers Gain a Foothold: Alliance Paradigm 395DS Fifth Wheel (show price $102,999)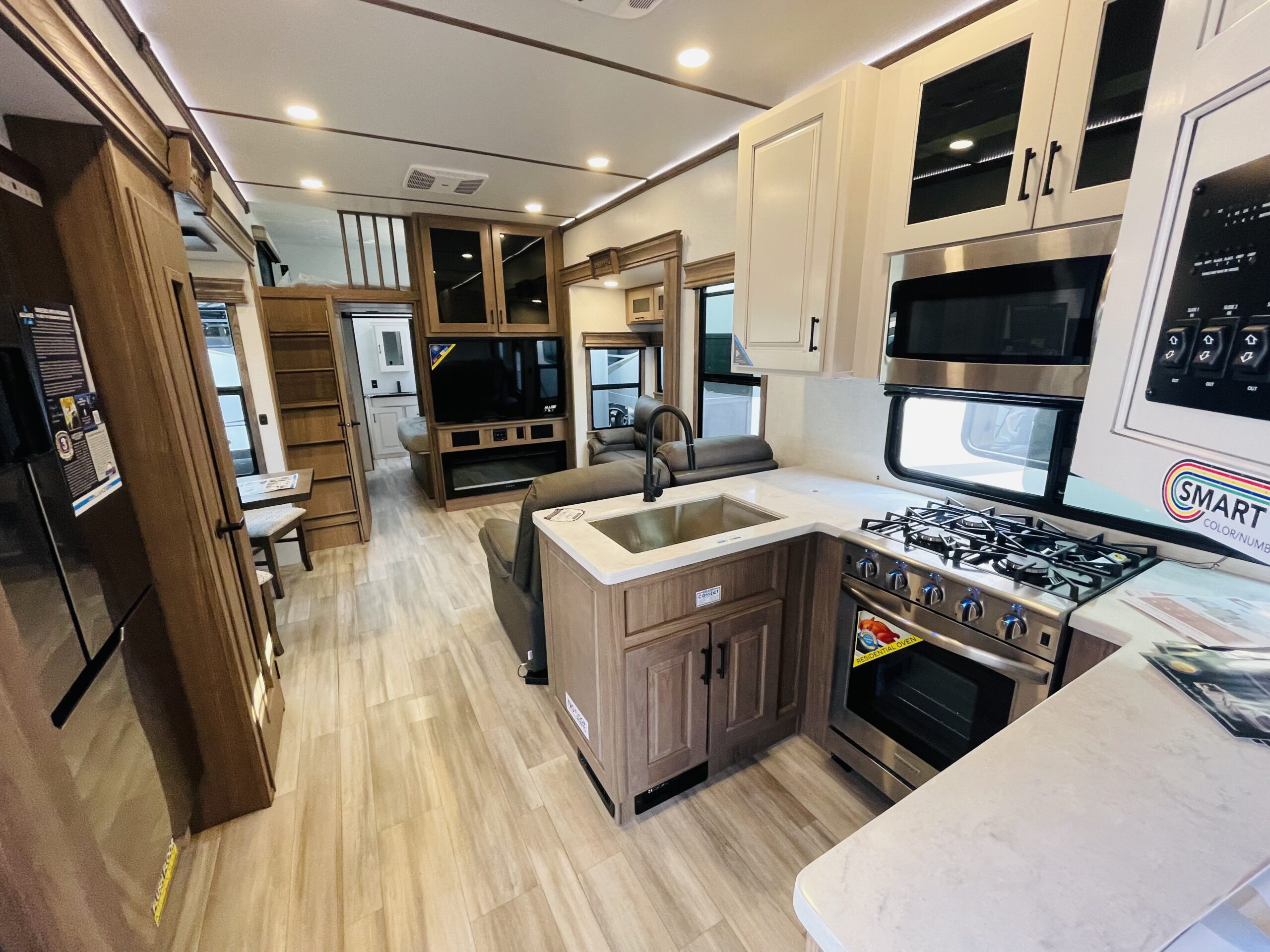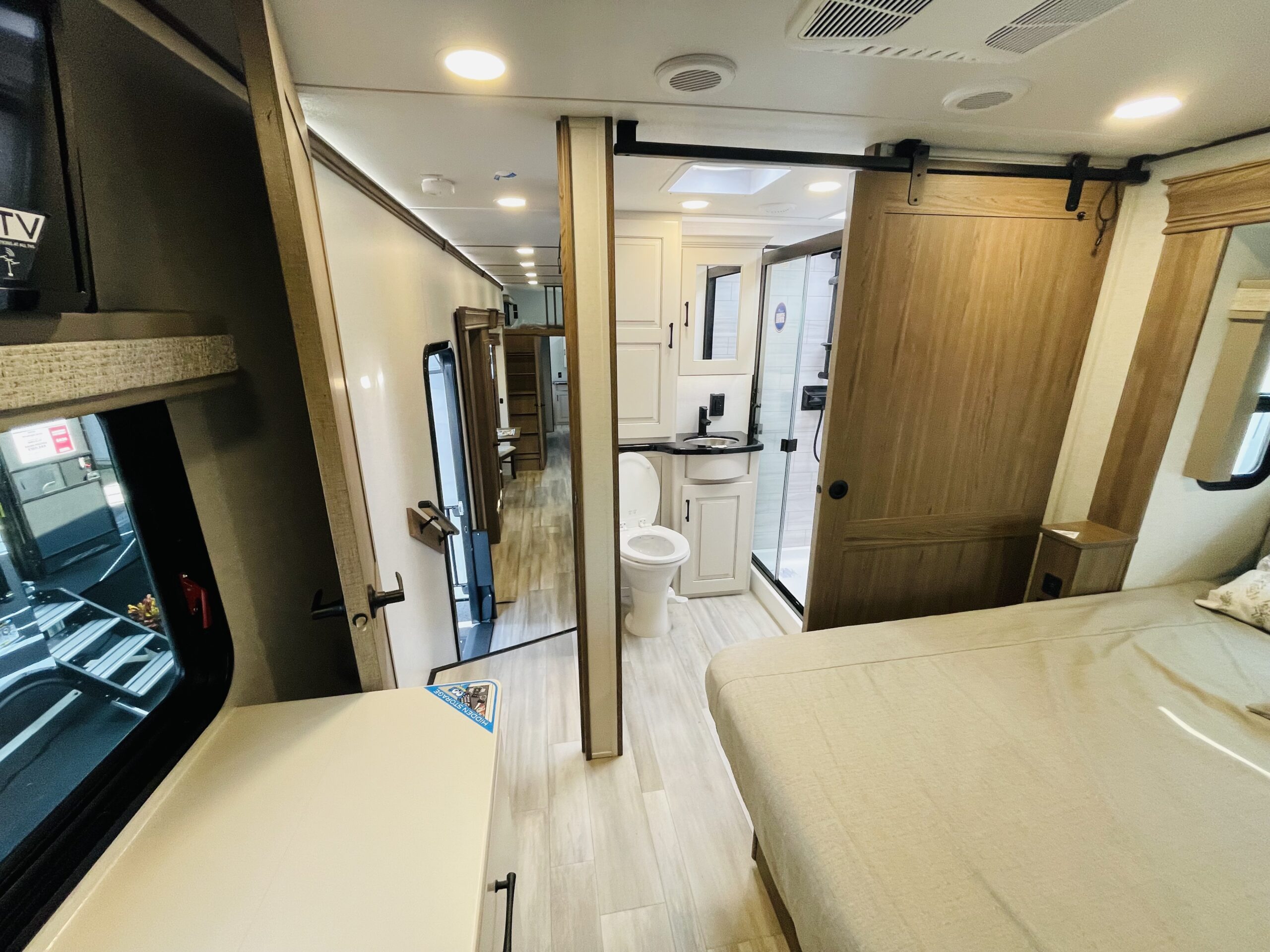 Key Specs:
UVW: (13,920 lbs.)   /   GVWR: ( 16,800)   /   Hitch Weight (2,904 lbs.)   /   Exterior Length (42'6″)   /   Fresh, Grey, Black (98, 106, 106)
In recent years a handful of independent RV manufacturers have stormed the scene. And clearly, a few of them are gaining a foothold in the RV industry. Alliance RV had a healthy display at Hershey and certainly did not look like the new kid on the block–not anymore. They looked like an established player. So seeing an independent like Alliance gaining ground is one of the RV trends that is most appealing to us. We think that the success of independent manufacturers is good for the entire industry. We all know that competition breeds innovation, right?
What impressed us most about the Alliance fiver lineup is the quirkiness and creativity of many of the floorpans. We really fell for the Alliance Paradigm 395DS Fifth Wheel. This is a very cool double-bedroom floorpan (with loft!) that could be appealing to friends traveling together, a mother/daughter combo, or grandparents who want space for the kids and grandkids to come visit. At over 42 feet, this one is a beast. It may appeal most to seasonal campers that stick to one spot.
Off-Road Ready with Flexible Space: Ember Overland Series 191 MSL (Show Price $57,995)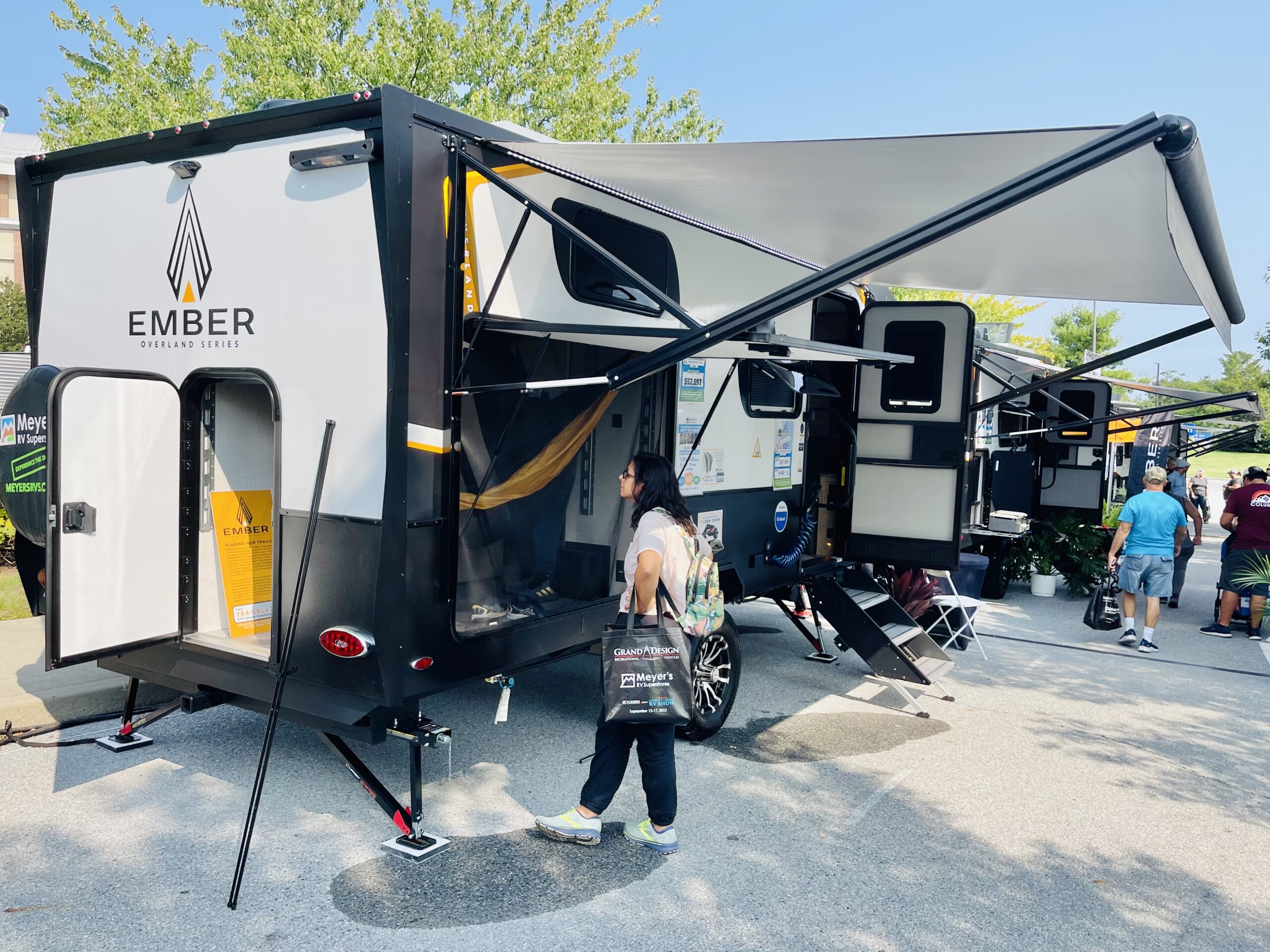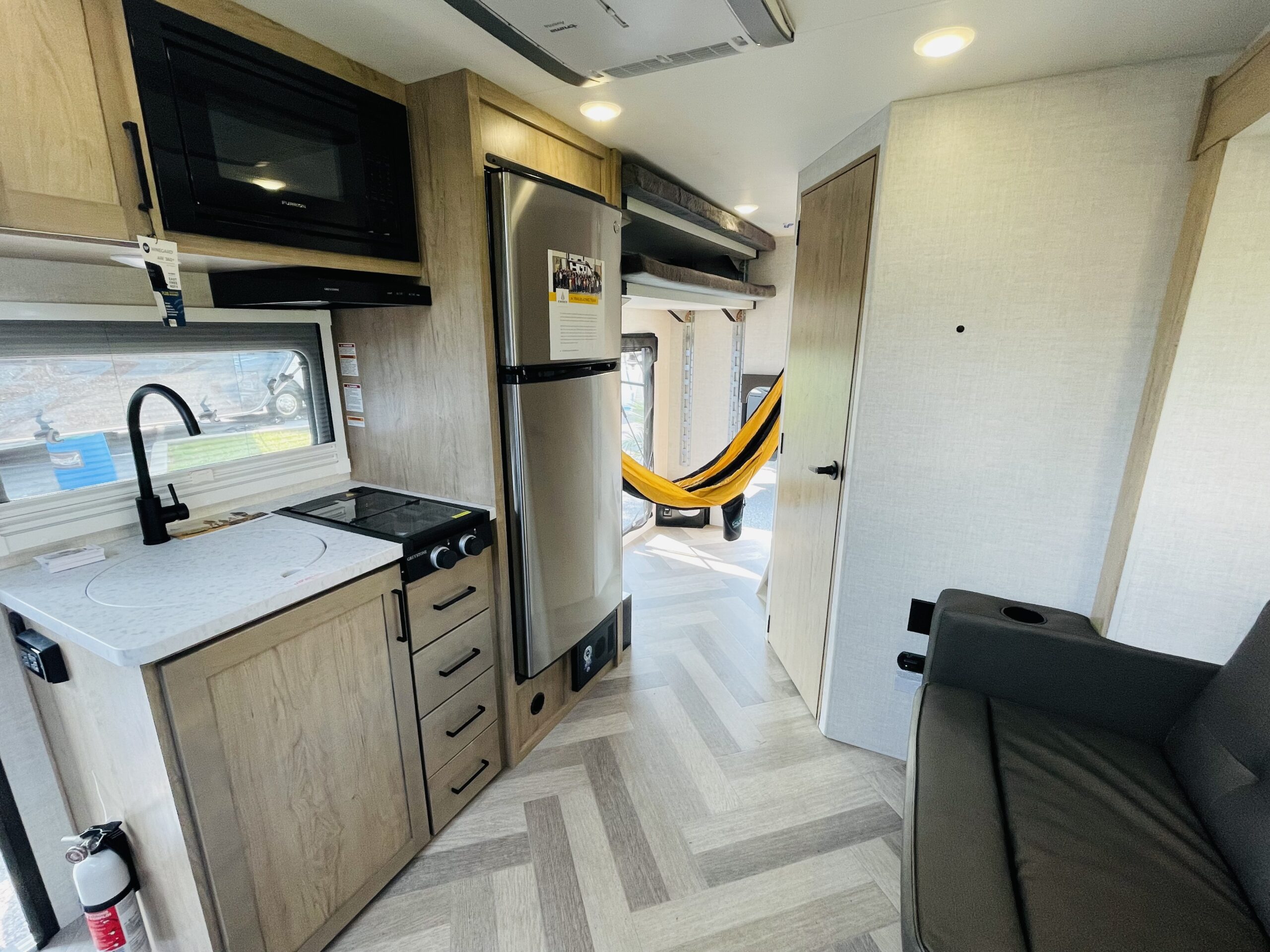 Key Specs:
UVW: ( 4,505 lbs.)   /   GVWR: (5,550)   /.  Hitch Weight (605 lbs.)   /   Exterior Length ( 22'6″)   /   Fresh,Grey, Black (55, 35, 35)
The Ember Overland Series 191 MSL (AKA "The Missile") has to be one of the most creative floorpans in the entire RV industry today. One of our favorite RV trends is the creative and flexible use of space within an RV. We like spaces that can serve multiple purposes and be used differently by different people. This off-road ready rig is appealing for couples that work from the road, or for a family with two kids that likes to boondock on public lands.
"The Missile" is, in a certain sense, an alternative version of Ember's popular 191MDB model. But instead of the double over double bunkhouse in the back left corner of the 191MDB the design team at Ember has created a quirky and creative storage locker that can still be used as a bunkhouse–or as an office, a yoga studio, a puppy palace, or a perfect place to store your favorite gear. We would personally use this space to haul e-bikes and surfboards while in transit, and as a bunkhouse when we arrive at the campground. The 191MSL also swaps out the dinette in the 191MDB for a comfortable jack-knife sofa. This travel trailer is packed with equipment that makes it a legitimate off roader. The trailing arm independent suspension by Curt tows like a dream and the tank sizes are robust for days and days of boondocking.
To learn more about the Ember Overland Series 191MSL check out the detailed walk through by Josh the RV Nerd posted right above.
Boondocker's Delight: InTech O-V-R Expedition (starting at $58,380)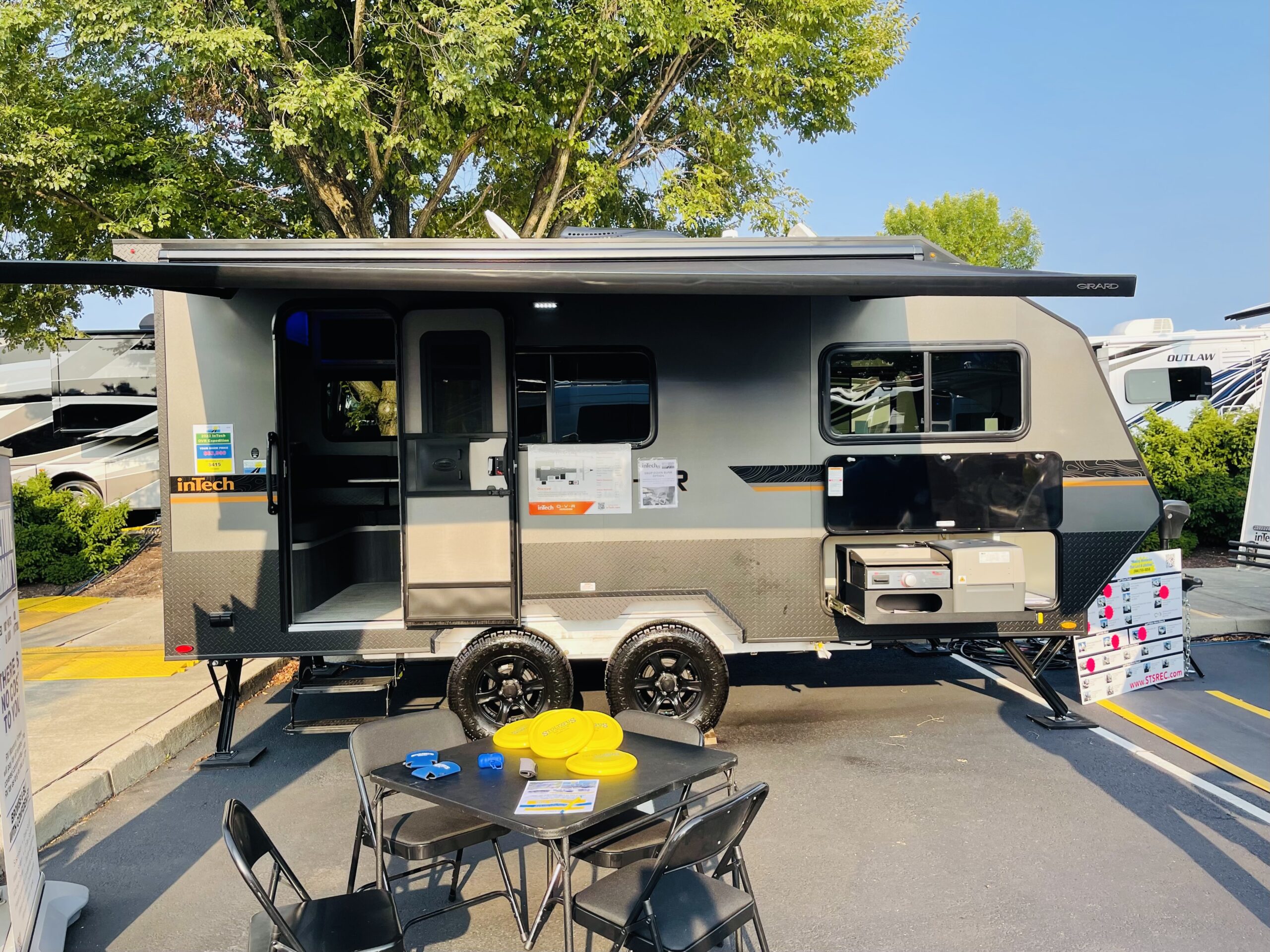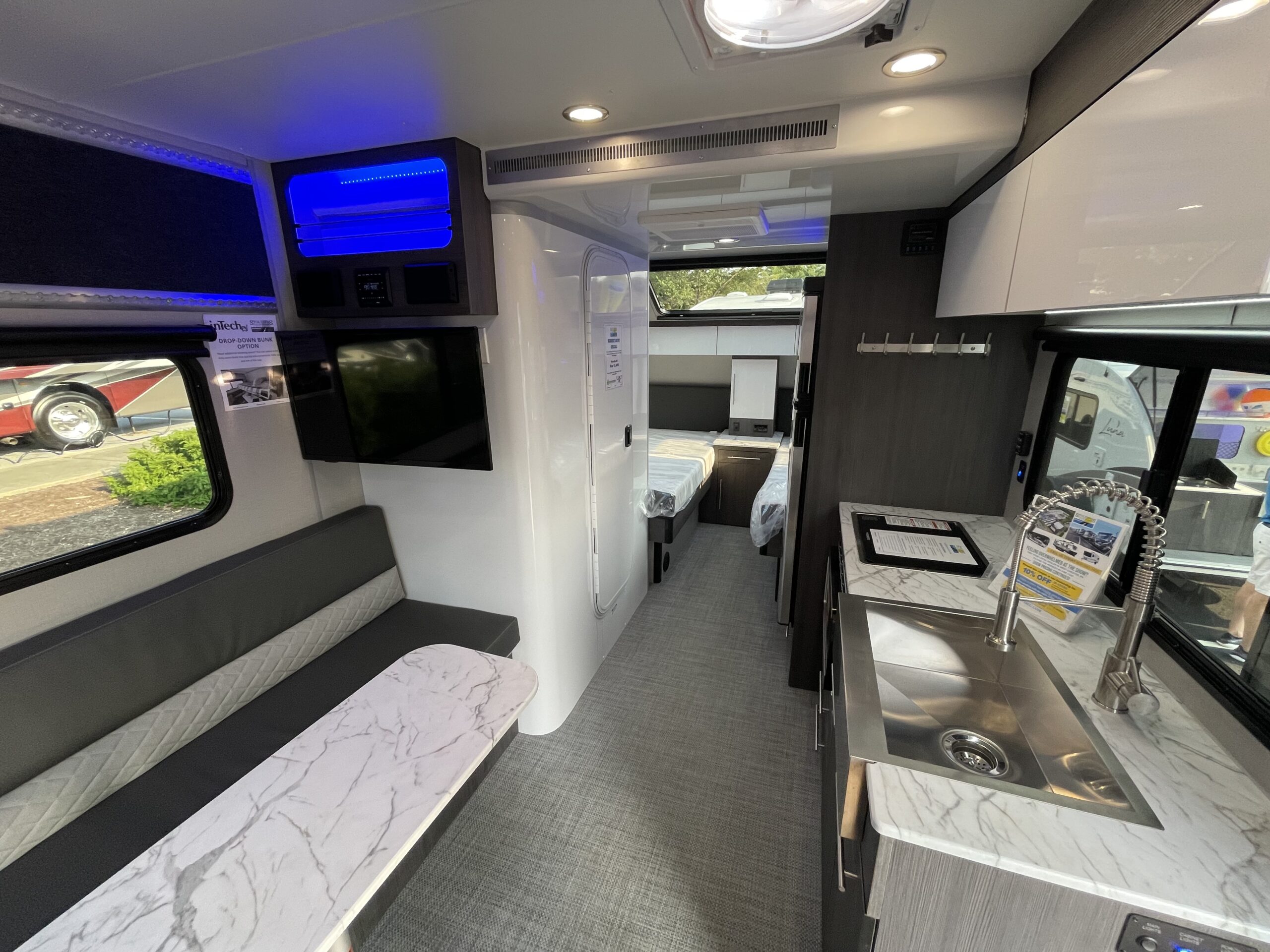 UVW  (5,200 lbs  )   /   GVWR  ( 7,500 lbs )   /  Hitch Weight (600 lbs)   /   Exterior Length (22'4″)   /  Fresh,Grey, Black ( 44,30,26)
Ember isn't the only independent RV manufacturer that is building rigs that are well equipped for boon-docking. One of the biggest RV trends right now is the proliferation of rigs that can get off the beaten path and camp for days without hookups. InTech's entry into this category is the O-V-R lineup, which includes the Expedition, the Navigate, and the Adventure. These are rugged looking rigs with nicely refined interiors. If you are intrigued by the looks of Black Series Campers, but want to spend quite a bit less, then take a look at the O-V-R series. It was getting a lot of attention at Hersey and should continue to make a splash at Tampa in January. A drop down bunk bed is also available for those traveling with kids.
Airstream Always Innovates and Evolves
Airstream Rangeline (Show Price $134, 582) Airstream Basecamp 16X REI Edition (Show Price $63,550)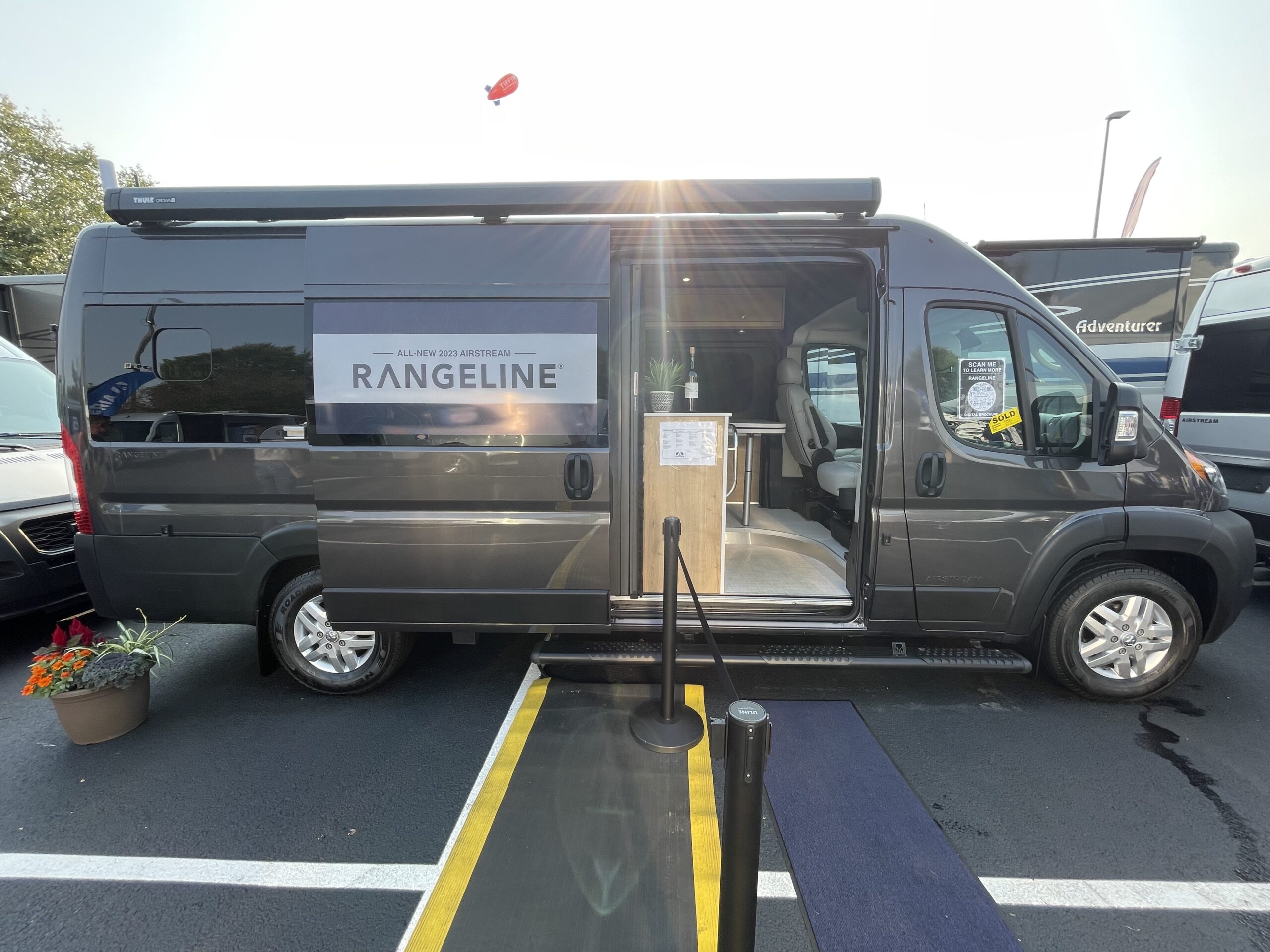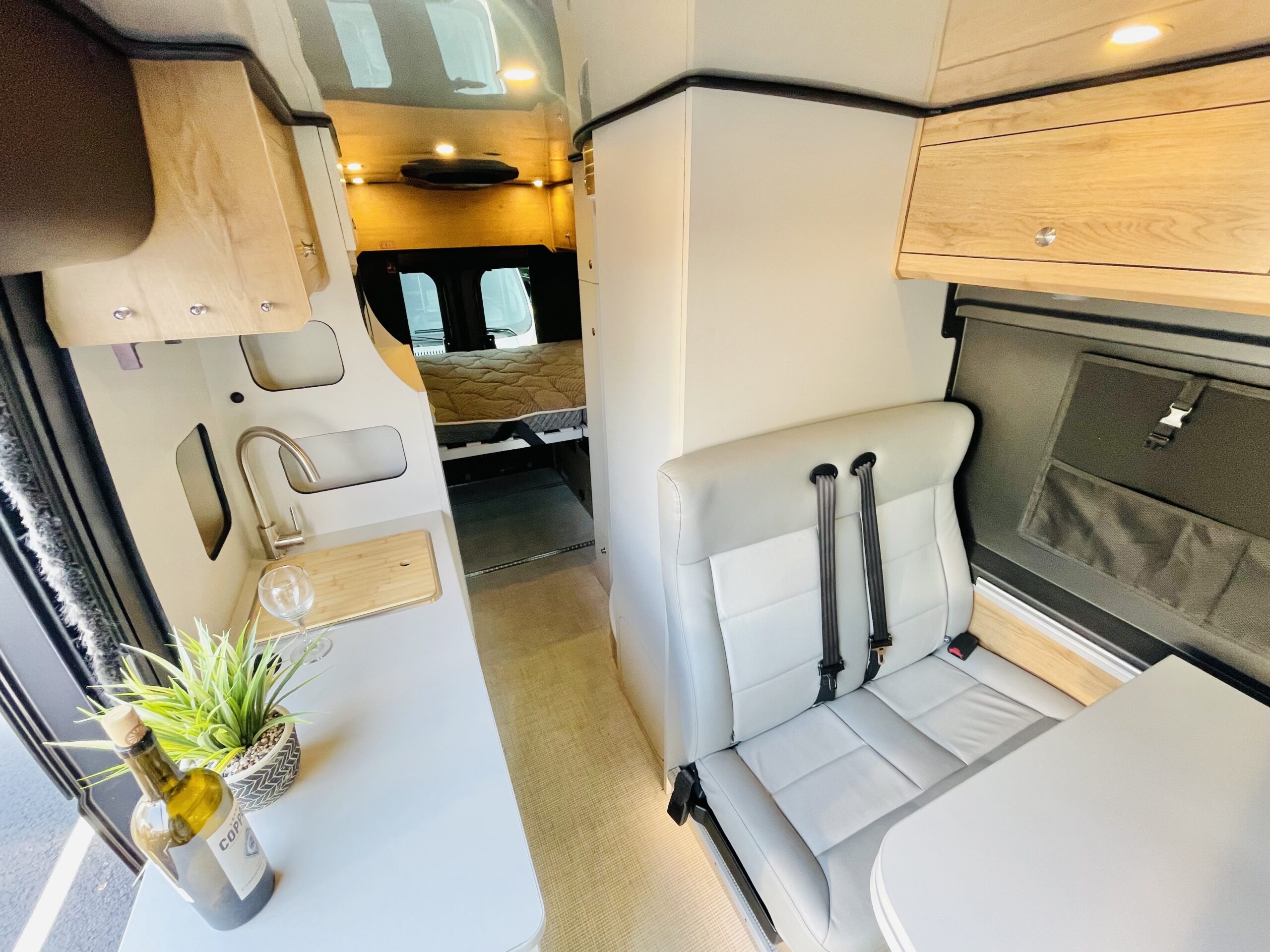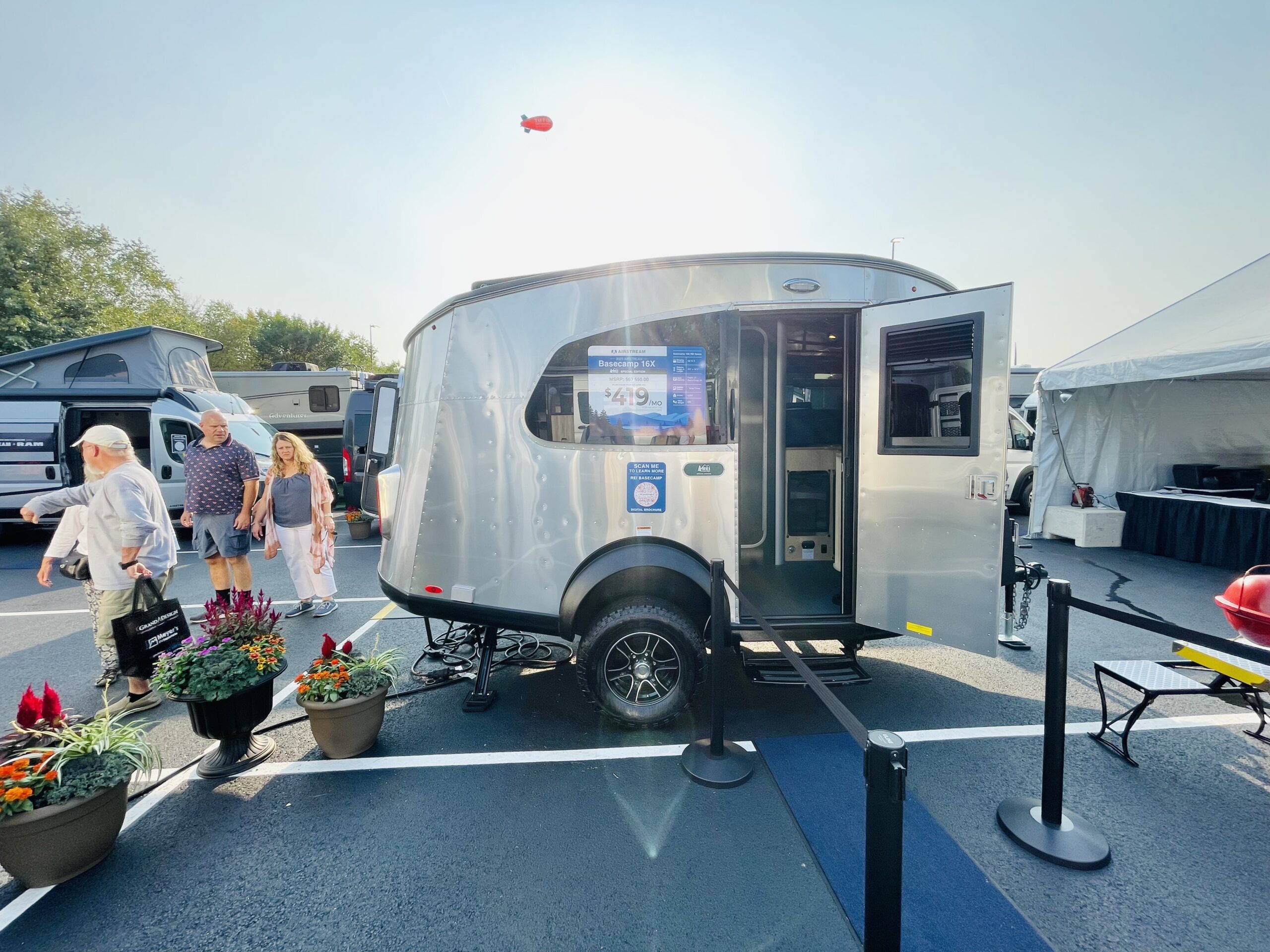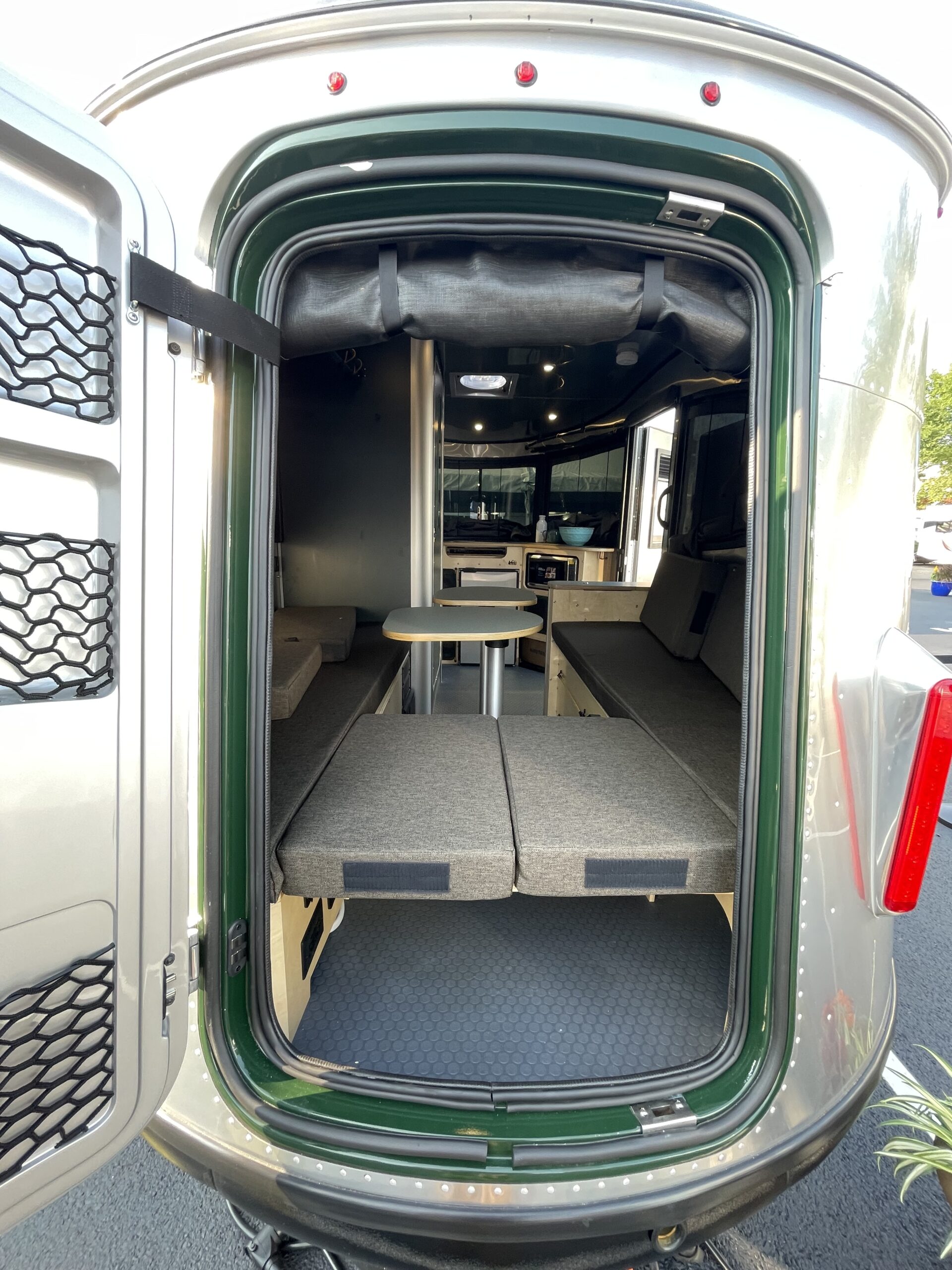 Key Specs for Rangeline
UVW: (7,661 lbs)   /  GVWR: (9,350 lbs)   /  Exterior Length (20'11")   /  Chassis (RAM ProMaster 3500 V6 Gas) Fresh, Grey, Black (28,19,12)
Is the Airstream Rangeline (which is built on the Ram ProMaster chassis) watering down the Airstream Class B product lineup? Some might say that an Airstream Class B that is not built on the Sprinter chassis is not an Airstream at all. But we would disagree. The Airstream Rangeline looks and feels like an Airstream, but by building on the ProMaster chassis, it is more affordable and more accessible to a younger buyer–or someone without 200K plus to spend on another model. Will the Rangeline be a Travato killer? We don't think so. But Winnebago might want to double down on their popular Class B lineup. Because Airstream just took a step onto their well-established turf.
Key Specs for Airstream Basecamp 16X REI Edition
UVW: (2,700 lbs  )  /  GVWR: (  3,500 lbs )  /. Hitch Weight (450 lbs )  /  Exterior Length ( 16′ 2″   )  /  Grey and Black combo (  24 )  Fresh (21)
What makes an Airstream Basecamp an Airstream Basecamp REI Edition? We must admit, at first we were a little skeptical.  At first glance it just looks like a Basecamp with REI badging. But upon further investigation, this seems like a legitimate upgrade to us. The Basecamp's X Package, which is an option on a regular Basecamp, becomes standard equipment here. We think that package is a must because it comes with a lift kit and the Basecamp has very limited ground clearance. The REI edition also comes with a composting toilet, a water filtration system, an OXO Kitchen Utensil Set, and yes—some pretty cool REI badging.
Airstream seems to debut something cool at Hershey, year after year. This year was no different. Both the Rangeline and the Airstream Basecamp REI edition were clearly turning heads at the show.
Crafty Flexible Space in Smaller Trailers: 2023 Nücamp Tab 400 Teardrop Trailer (Show Price $49,981)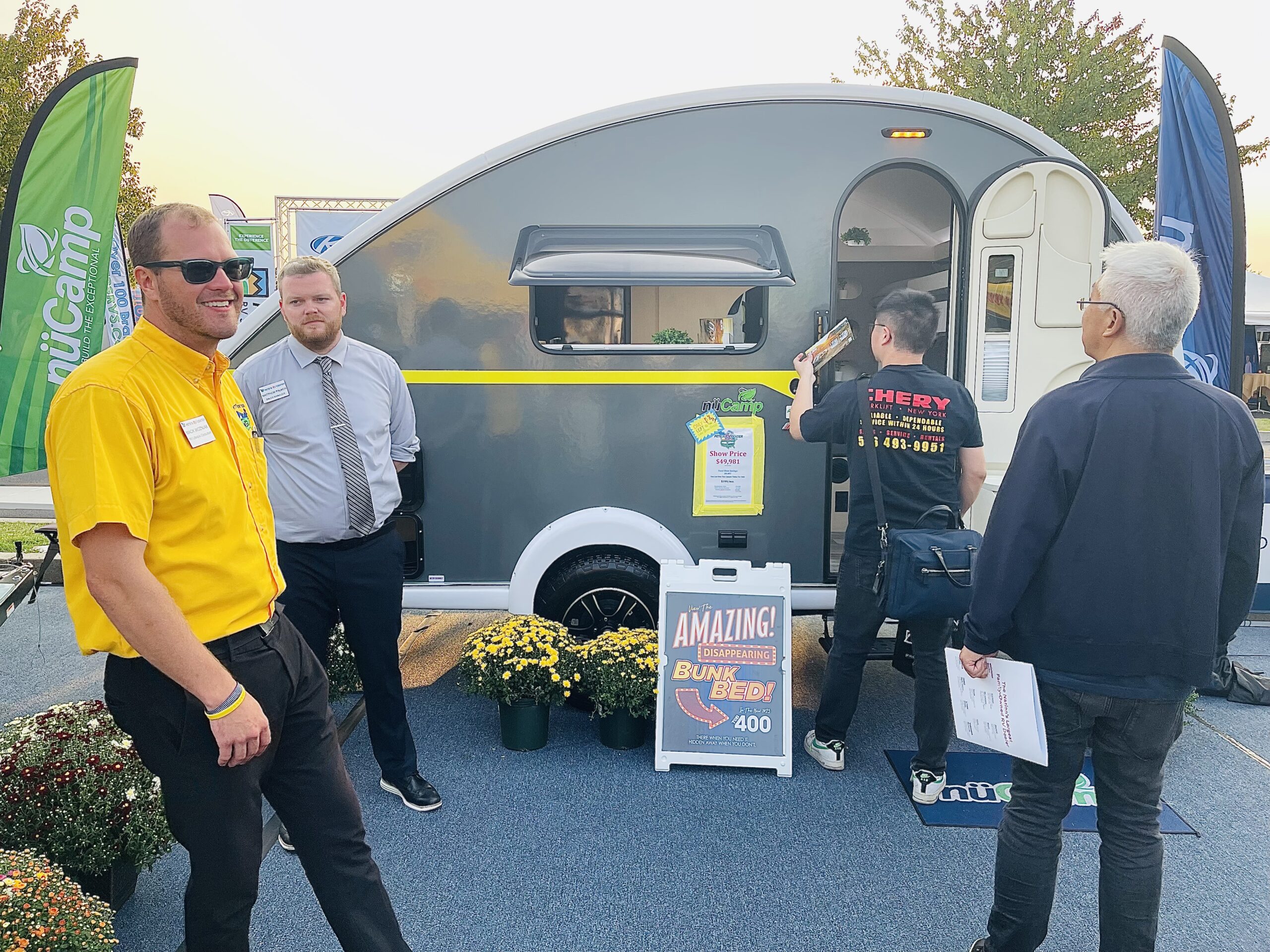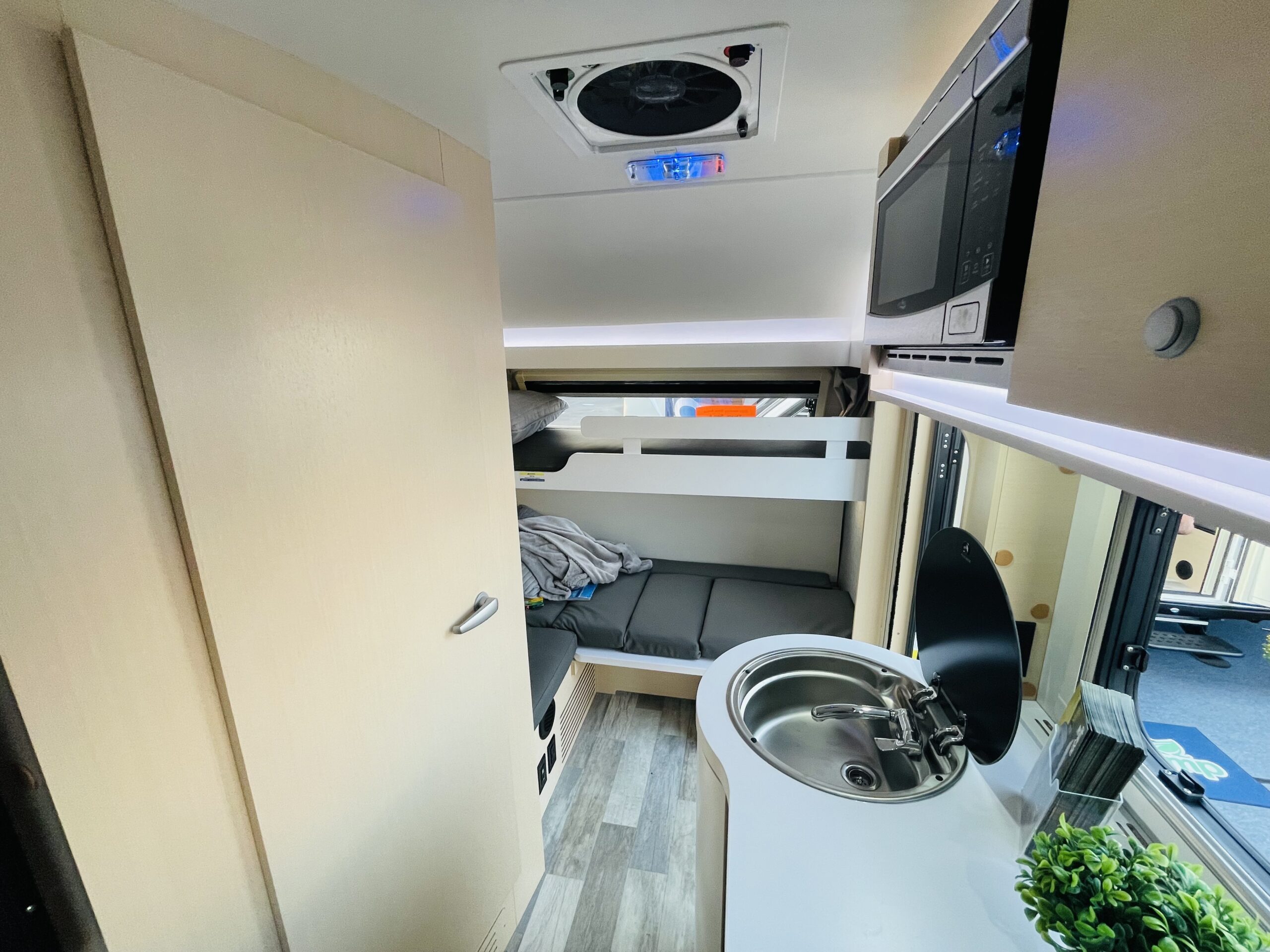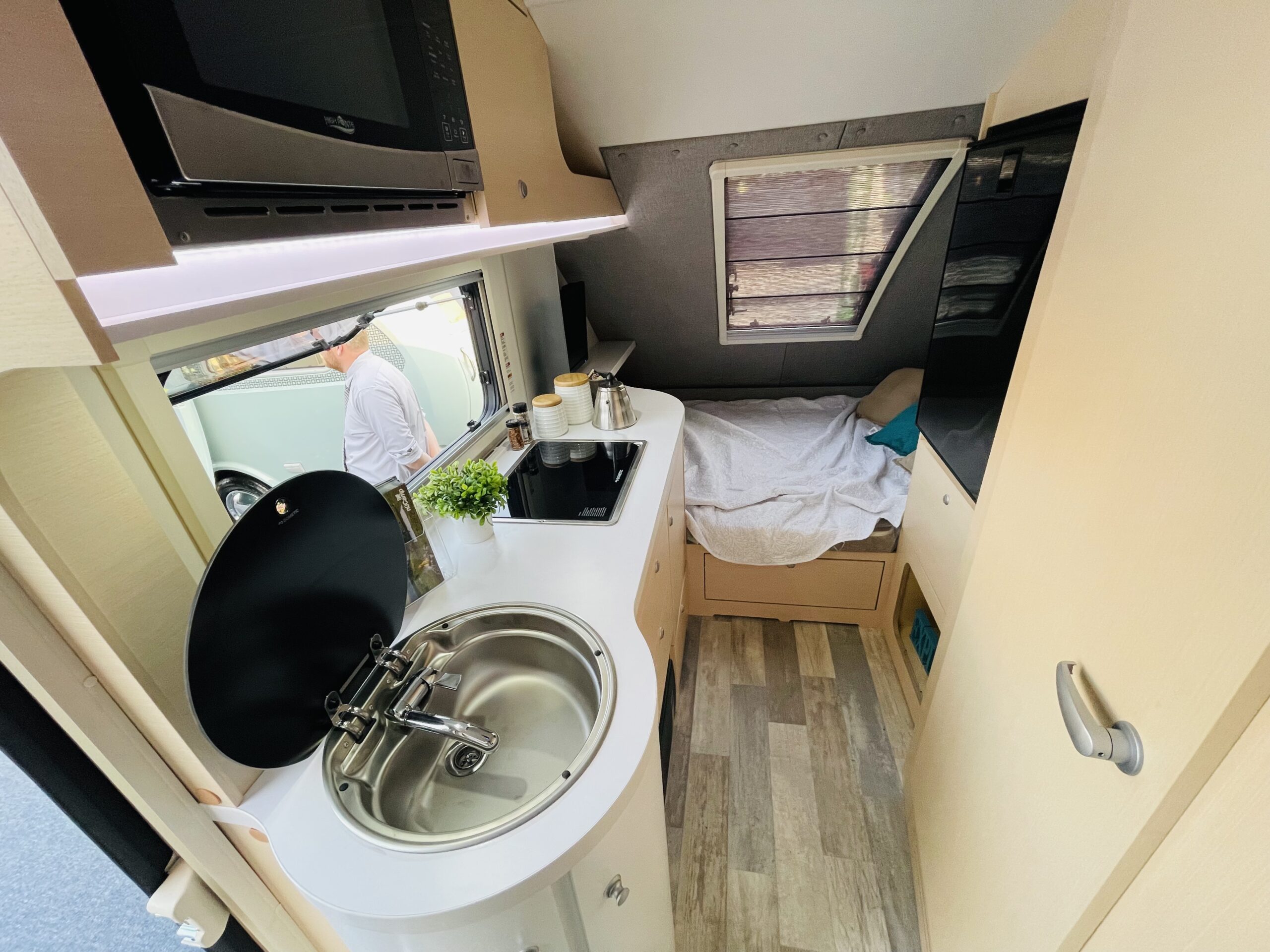 Key Specs
UVW: ( 2,840)   /  Hitch Weight: (318)   /  Length: (18'3″ )   /  Fresh, Grey, Black (22, 18, 12)
We have always admired the quality and craftsmanship of Nücamp products. We also find them to be quite stylish both inside and out. The 2023 Tab 400 was getting a lot of attention at Hershey, and for good reason. The 2023 version has a new standard hidden bunk feature that is quite crafty. The bunks can sleep two kids, or they can be removed, stored, and transformed into a seating area.
For this reason, the new Tab 400 is appealing to solo travelers, couples, or families with small kids. The flexible use of space for different types of trips and different types of travelers is one of our favorite RV trends right now. We think that Nücamp really nailed this new feature. Check out the video above to learn more about the new 2023 Tab 400. Mandy Lea and Kendrick are brand ambassadors for Nücamp and they do a great job showing of this new hidden bunk feature.
The Bling is the Thing: Newmar London Aire 4569 (Show Price $829, 995)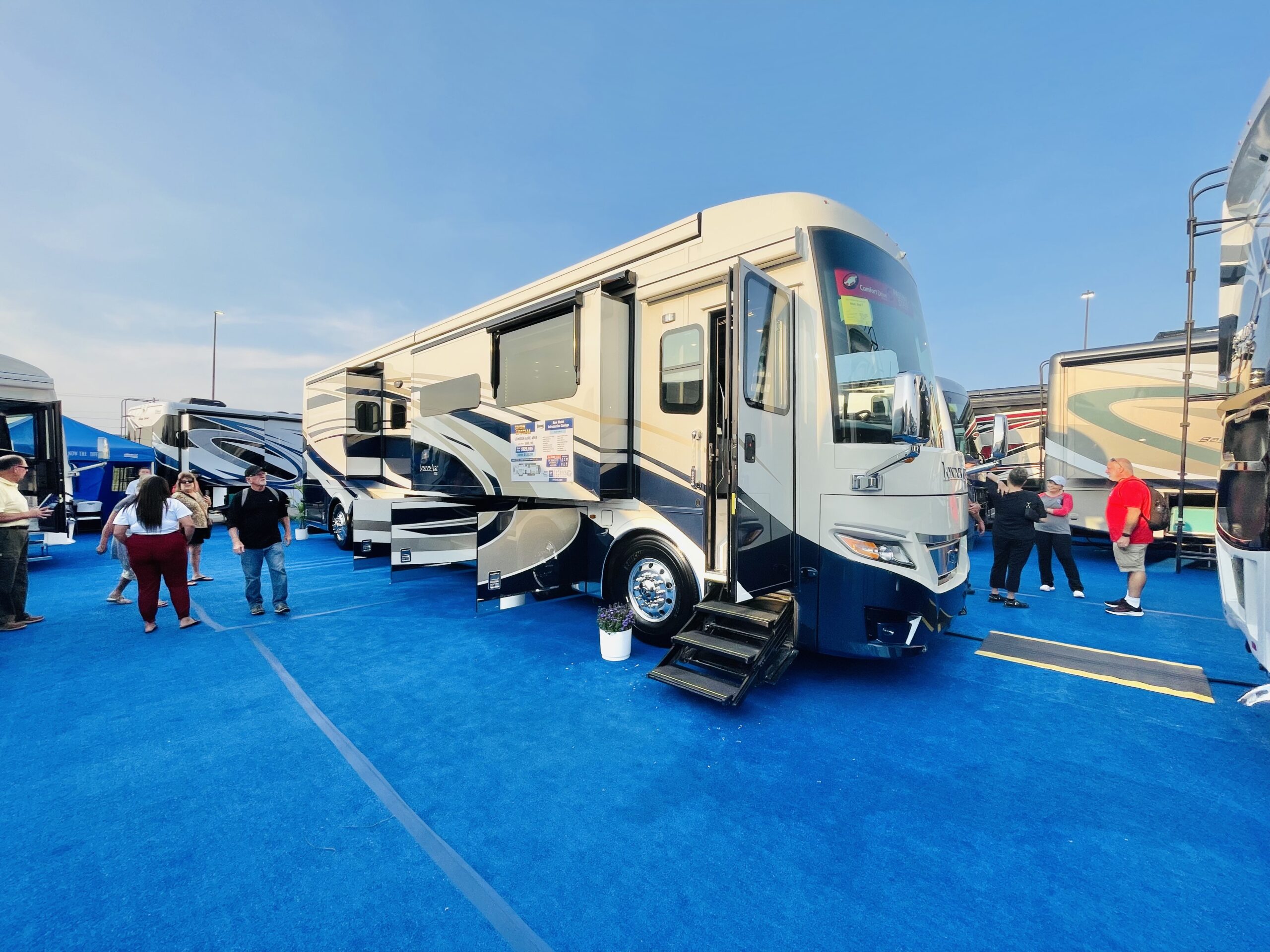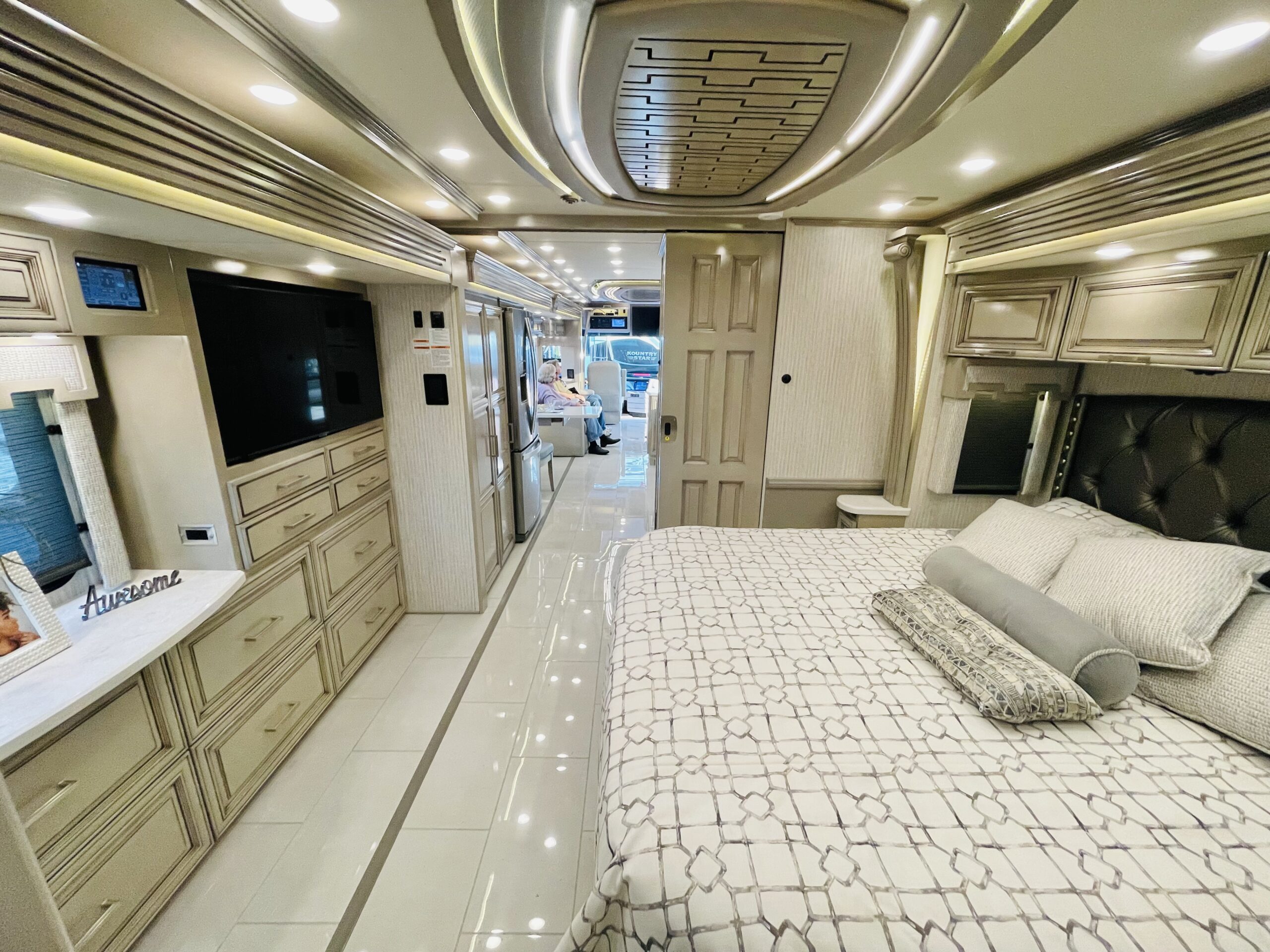 Key Specs:
Exterior Length (44'10")   /  605HP Cummins X15 Diesel Engine  /  Spartan K3 Chassis  /  Tow Capacity 20K   /  Blind Spot Monitoring
Would you rather buy a lake house, or a Newmar London Aire 4569? As far as we could tell, this was the most expensive rig at the Hershey show this year. Walking into this coach was like walking into a 44′ 10″ inch work of art. The bling factor was very much present. In fact, it felt a little bit like a fancy discothèque on wheels. We loved the hearted tile floors, and the Oasis Hydronic Heating system. The 360 degree camera feature is certainly a clutch feature–because this rig is really huge! Backing up an almost 45 foot motorhome is not for the faint of heart, or for those who don't fully trust their spouses to guide them into tight spots.
Podcast: Play in new window | Download