Happy National Park Week! Since we can't be out there exploring our national parks right now, it's a great time for reflection. We are looking back on our favorite national park hikes. We have been lucky enough to have hiked some of the nation's best national park trails. You'll want to put these five on your family's bucket list.
While we both agree that these are our favorite hikes, we must say that Jeremy decided on the order himself. Did he get it right?
To hear more about our favorite national park hikes, click play on the media player above or look for The RV Atlas wherever you find your favorite podcasts.
#5: Badlands National Park: The Notch Trail (1.5 miles)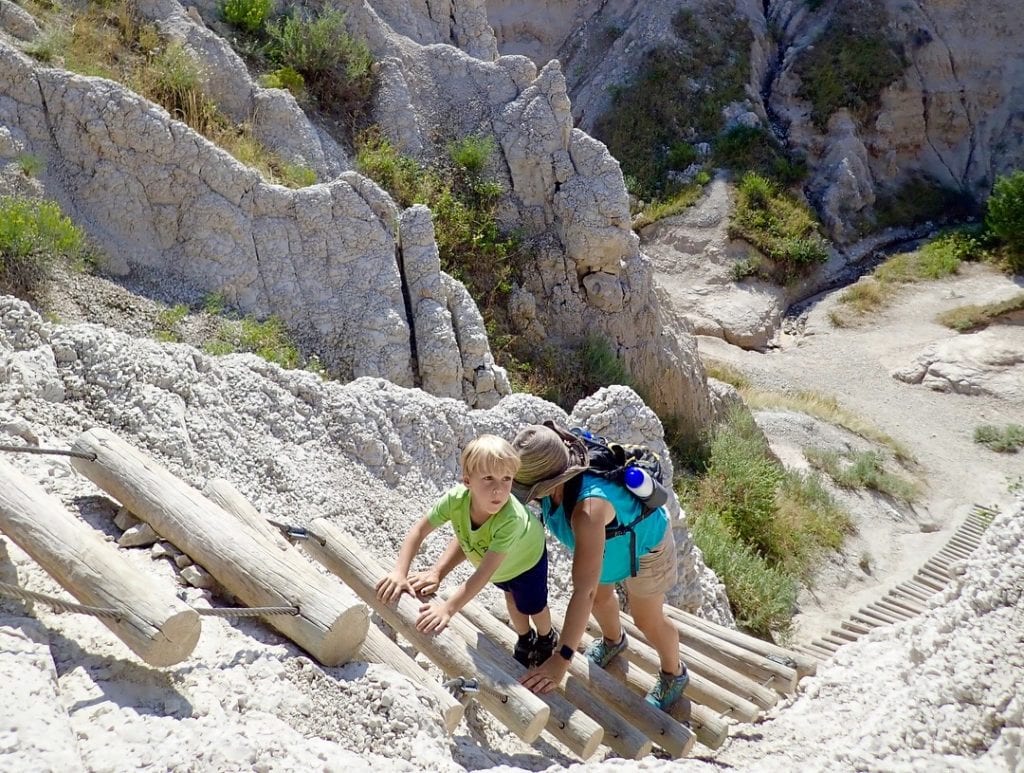 There are a variety of options when it comes to hiking in the Badlands. The Door Trail (.75 miles), Window Trail (.25), and Notch Trail (1.5) are all clustered together near the Northeast Entrance. This is a great place to start your Badlands hiking adventure. While the views weren't necessarily better than on other trails, the Notch Trail holds a special place in our hearts. It is adventurous!
The Notch Trail is challenging, but it was a family highlight for all of us. There's a fairly steep ladder that you'll have to climb to complete the hike (shown above). Folks with fears of heights might struggle a bit coming down the ladder, as well. If you are physically and mentally able, do not miss this amazing hiking experience! While it did require care, we didn't feel this trail was particularly dangerous. 
Prepare yourself for hiking safely. During the summer, temperatures can soar to over 100 degrees midday. We did all our hiking in the early morning or late afternoon, opting to fill the middle of the day with ranger programs and other indoor activities. You'll want to carry plenty of water, and wear hats and sunglasses. Lastly, wear sturdy shoes that can get very, very dirty. The clay soil just won't come off.
#4: Great Smoky Mountains National Park: Kephart Prong Trail (4.2 miles)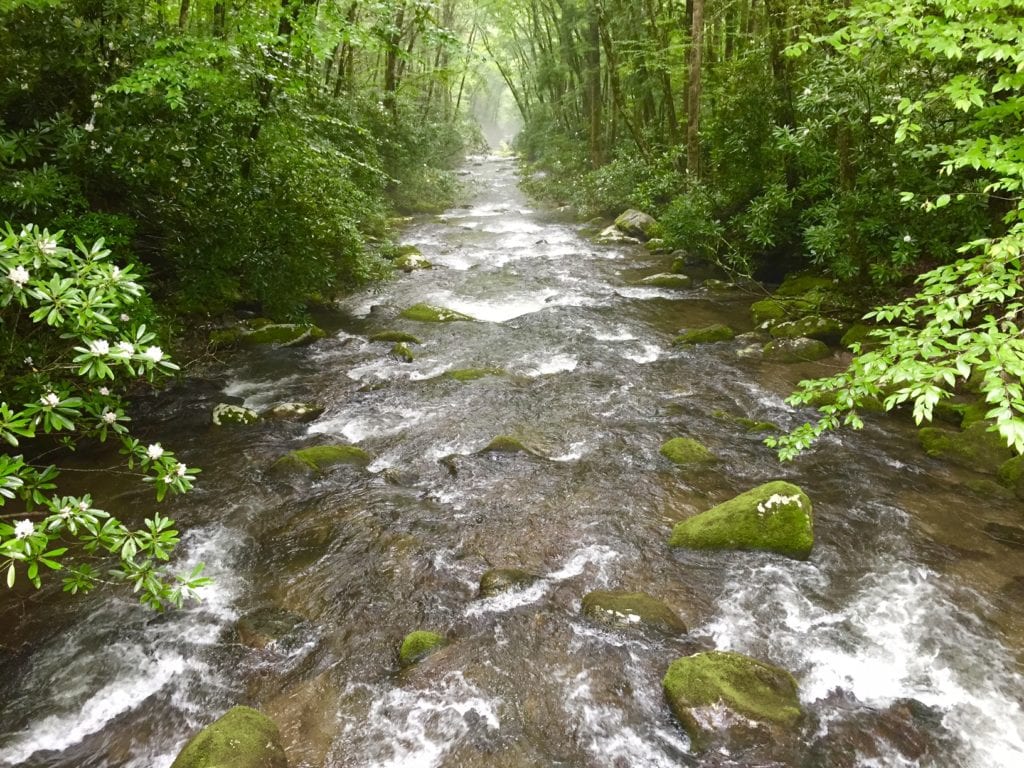 The Kephart Prong Trail is super easy to access from Newfound Gap Road, just about 7 miles from the Oconaluftee Visitor Center near Cherokee. Once you hit the trail, you'll immediately cross a footbridge over the river.
What we loved about this trail is that you spend much of the next four miles crossing back and forth over the waters, which is just really fun. The mist rising into the forest from the rivers really makes it feel like you're in a fairy tale forest, miles away from civilization (even though the road is right there).
Like the Notch Trail, the Kephart Prong Trail offers a little more adventure than a traditional hike. This is thanks to the four footbridges that only have a handrail on one side. Our kids felt like Indian Jones as they carefully crossed ever so carefully. Despite these extra challenges, the trail was still navigable for us while our youngest was still in a backpack carrier.
Adding to the adventure is the fact that you can cool off in the river along the way. You may want to pack along extra clothes or shoes. Another good tip: Watch for the stone buildings you can spy from the trail. These were part of a CCC (Civilian Conservation Corps) camp dating to the 1930s-40s.
#3: Acadia National Park: Gorham Mountain Trail (2 miles roundtrip)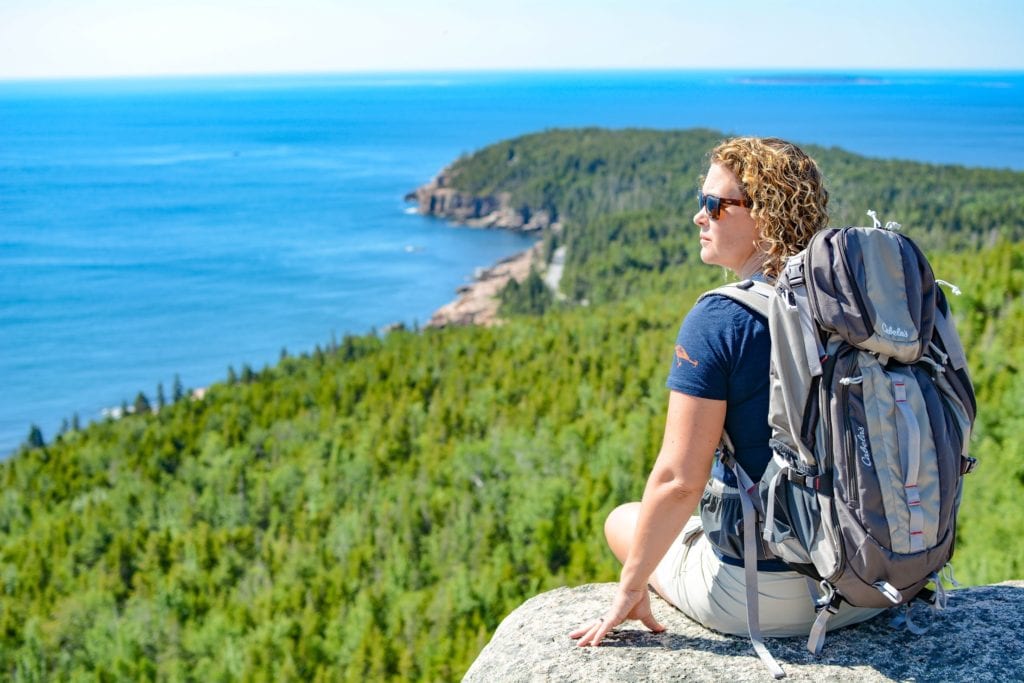 One of the more famous family-friendly hikes within the Park Loop of Acadia National Park, the Gorham Mountain Trail rewards hikers with stunning views of Sand Beach, Otter Cliffs, and Cadillac Mountain. In a relatively short distance, you will be rewarded with spectacular water views. 
In addition to the views, it also offers a fun adventure. We enjoyed this trail with another family, and all of the kids had a blast navigating the rocky terrain. If you are feeling more adventurous, take the Cadillac Cliffs trail spur. We avoided this on account of young Wesley.
As you approach the summit, you'll start to see people stopping to take in the views, but keep going, as there is another true peak. At the top, you will be treated to an incredible ocean panorama, as well as a safe space for snacking and enjoying the view.
#2: Olympic National Park: Hurricane Hill Trail (3.1 mile trail)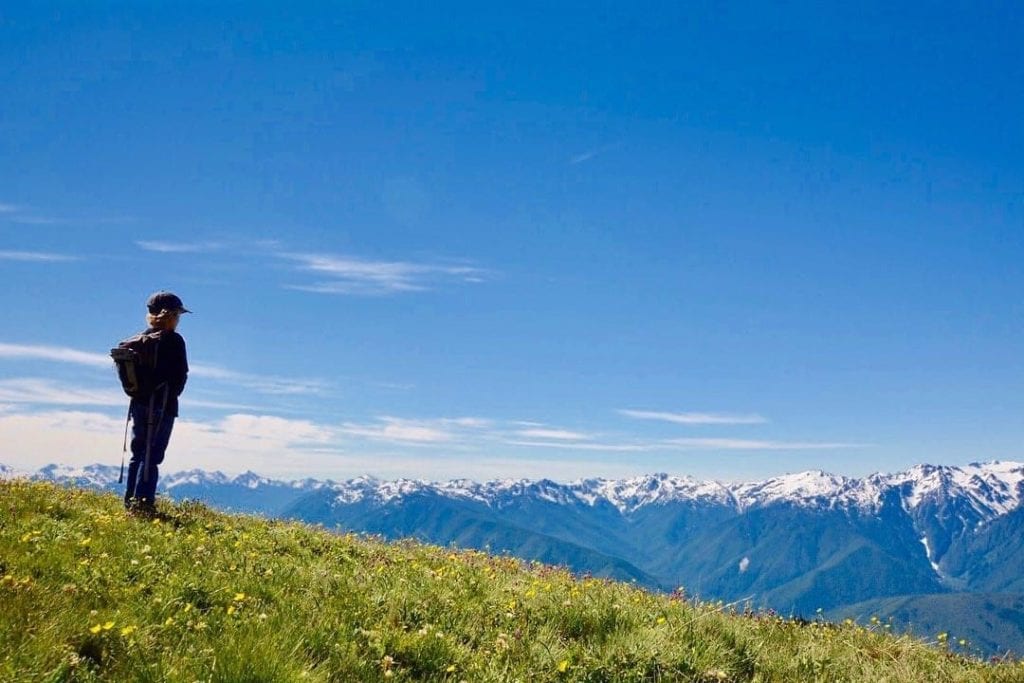 The Hurricane Hill trail ended up being our favorite hike of our entire Pacific Northwest trip, which is saying a lot since we saw and did a lot of amazing things! About three miles round trip, this ridge hike offers magnificent views for the entire length of the trail. In our opinion, this is a must-do when visiting Olympic National Park.
You'll be looking DOWN at mountains in the distance, which is really cool. And yet, this is not a dangerous hike, at all. It doesn't have steep drops. We like that good ridge trail because they run along the side of a mountain. Sometimes, they offer all of the views without the elevation gains of a summit trail. You will drive part of the way up the mountain to reach this trailhead, which makes gives you a lot of payoff, without a lot of effort.
When considering our favorite national park hikes, it was really hard to decide whether #2 or #1 was our true favorite. They are really so different and on totally different challenge levels. Without further adieu, here is our #1:
#1: Glacier National Park: Grinnell Glacier (12 miles roundtrip)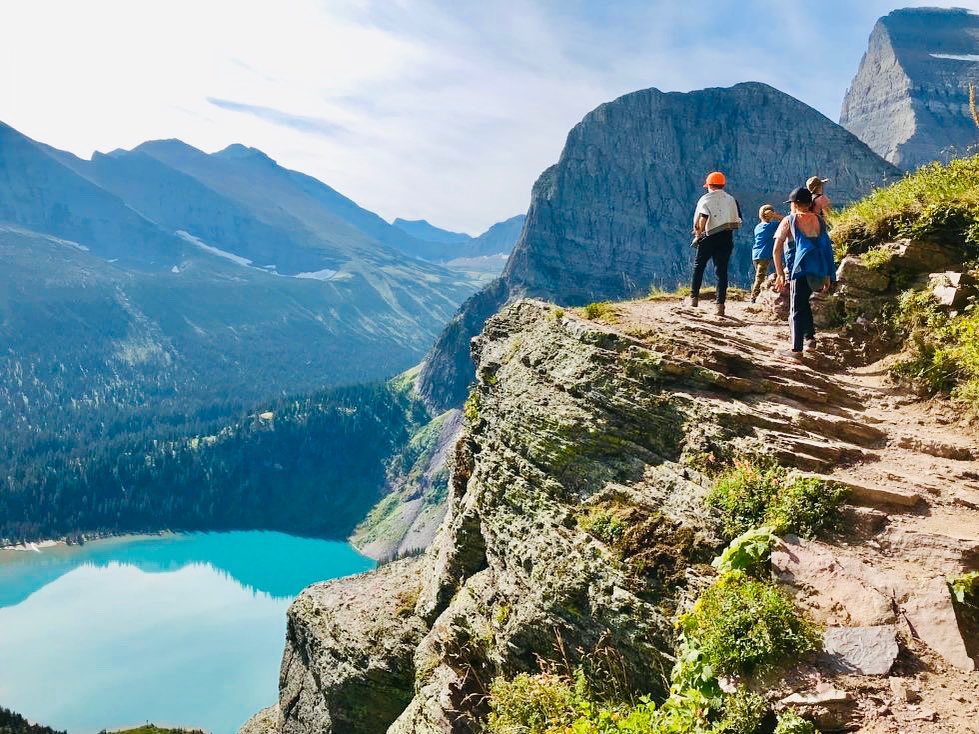 Our boys have been hiking with us since they were a year old, so they are truly experienced, very active hikers. But, even for them the Grinnel Glacier Trail was definitely a challenge. It was worth every step for the amazing payoff experience of seeing one of the few remaining active glaciers left in Glacier National Park.
There are only 25 active glaciers left in Glacier National Park, and the Grinnel Glacier is one of the easiest to get to. However, it's still going to take a 12-mile roundtrip hike over very difficult terrain. We did it! However, we were exhausted!
There was a point where our youngest hit a wall, and we had to take a break and help him summon the capacity to finish. We were really proud of the boys for ultimately doing this trail with little to no complaining. The views were truly entrancing!
You will need to be at the Many Glacier Hotel before 8 am to snag a parking spot. Some folks take the boat rides over Swiftcurrent Lake and Lake Josephine to shorten the hike by a couple of miles. If you want to hear more of our thoughts on the boat debate, listen to this episode of The RV Atlas podcast. 
Also, be sure to take a TON of water…and then take more! Even though we thought we had plenty, we really didn't.
Final Thoughts on our Favorite National Park Hikes
What did our favorite national park hikes have in common? Some point of interest for the kids. Whether it was a rock scramble, a ladder to climb, an adventurous footbridge, these fun elements made each into a real adventure for our kids.
If you take your kids on boring hikes, they will think hiking is boring. So, our greatest tip is to select hikes carefully. Look for a "hook" for the kids–something they can tell their friends about when school returns in the fall.
We hope you get to hit the trail with your family soon!
See you at the campground,
Stephanie + Jeremy
Podcast: Play in new window | Download