After spending ten days testing one of them, we think it is fair to say that the new Generac GB1000 is perfect portable power station for camping, day tripping, and emergency use. Our family used the GB1000 for a variety of different purposes over that 10-day time period. We hauled It to the beach so that we could make coffee in the back of our truck after a morning of surfing in cooler water.  We brought it to a full day soccer tournament to help keep all of our devices charged–and we also kept it topped off during a hurricane, but thankfully didn't lose power.
It performed like a champ in every single instance, and it was easy and intuitive to use.
The Generac GB1000 features three 120V outlets, one 12V outlet, two USB-A outlets, and two USB-C outlets. It also has a wireless charging pad. The digital display is also bright and easy to see, and there is an adjustable light for nighttime use. It provides clean, emission free power–so you can use it safely inside or outside.
Generac provided us with a complimentary GB1000 Power Station to test and review for this blog post. We were under no obligation to give the product a good review. Our opinions are entirely our own.
The Generac GB1000 Portable Power Station was a win-win-win for us. We are totally pumped to add it to our collection of outdoor gear. Here are 8 reasons why we love the GB1000 and will keep it charged up during storms and in the back of our truck for day trips and camping trips of all kinds.
1. Additional Power for Boondocking and Dry Camping Trips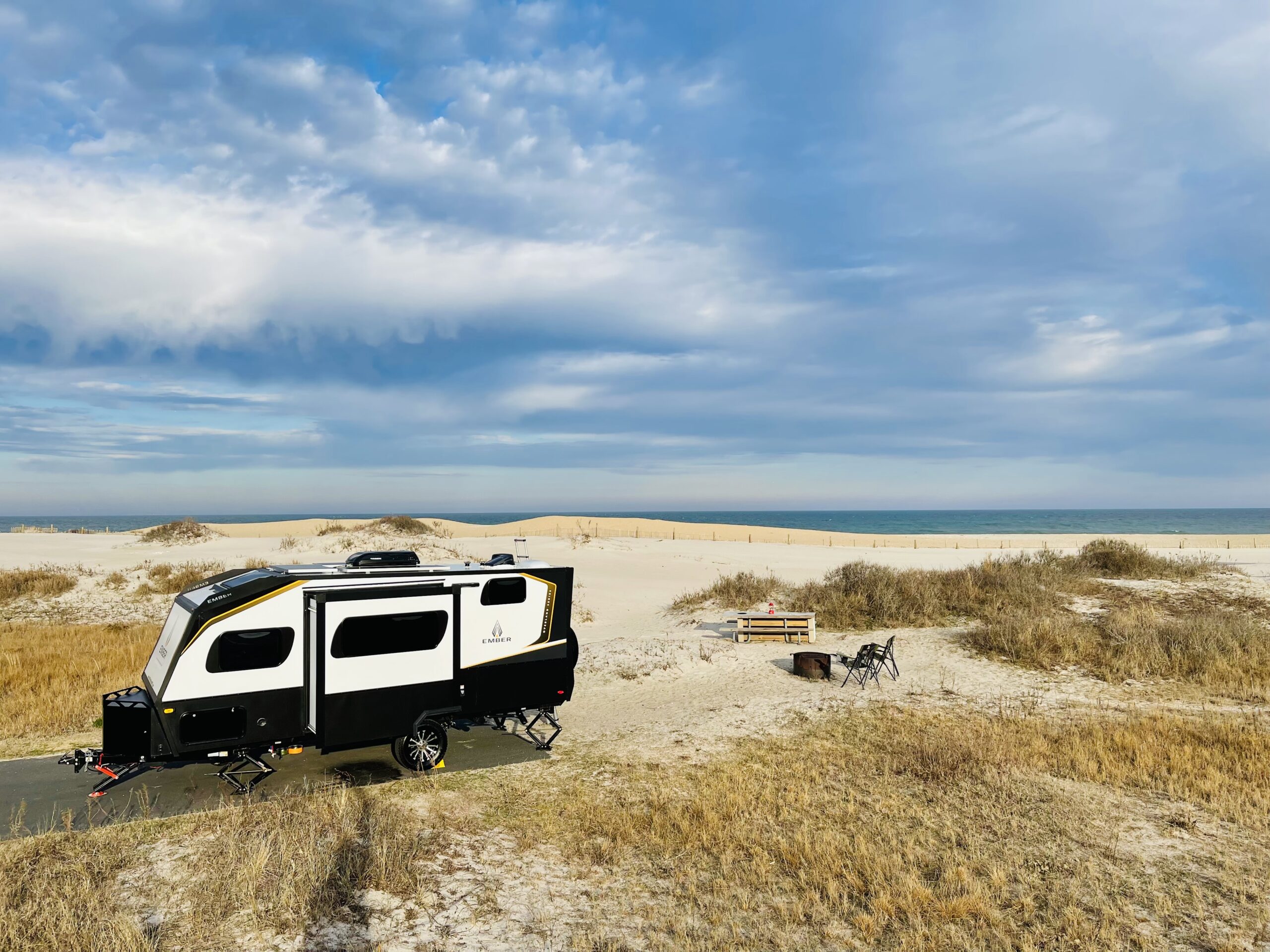 We love to take our RV on boondocking and dry camping trips to places where we have no hookups like Assateague Island. The Generac GB1000 is great for extra power on trips like this. We can use the GB1000 to keep our phones topped off, or heat up a kettle of water without tapping into our RV's house batteries.  This allows us to conserve battery power in the rig and stay out camping longer.
 2. Fast Charging (Home, Truck, Solar)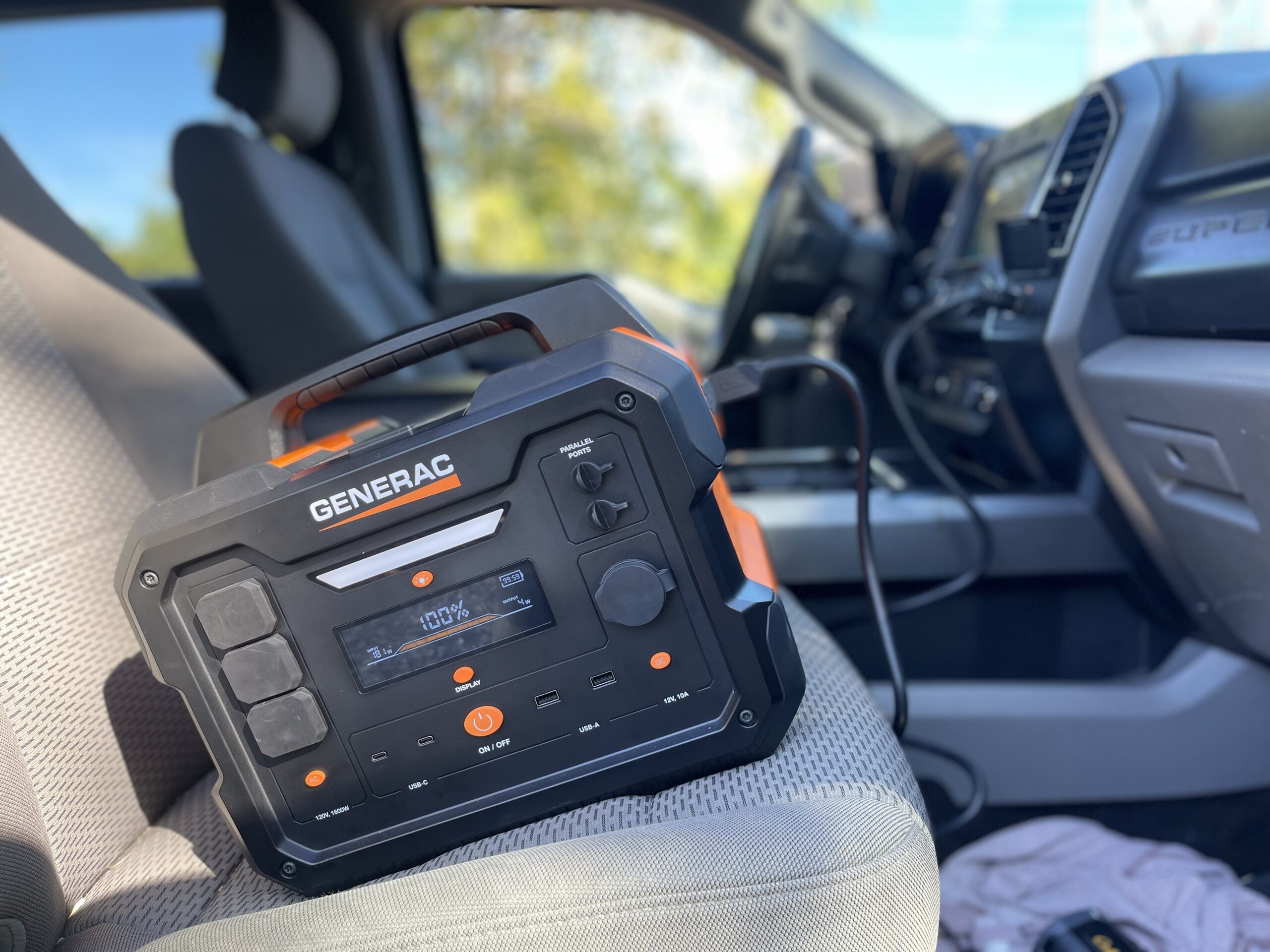 Generac Portable Power Stations charge very quickly. We love that we don't have to charge them overnight to get them totally juiced up. Generac claims that the GB1000 recharges from 0-80% in 2.1 hours from a wall outlet. We did not recreate this test because we did not drain the battery down to 0% at any point. However, we did find that it recharged from 85% to 100% very quickly.  Generac Power Stations can also be charged three different ways–from a 120 volt outlet, from a 12 volt outlet, and from a solar panel which is sold separately. We loved being able to charge it up right inside of our truck on the way home from the beach so that it was ready to go for our next adventure.
3. Making Coffee on the Road Is Our Jam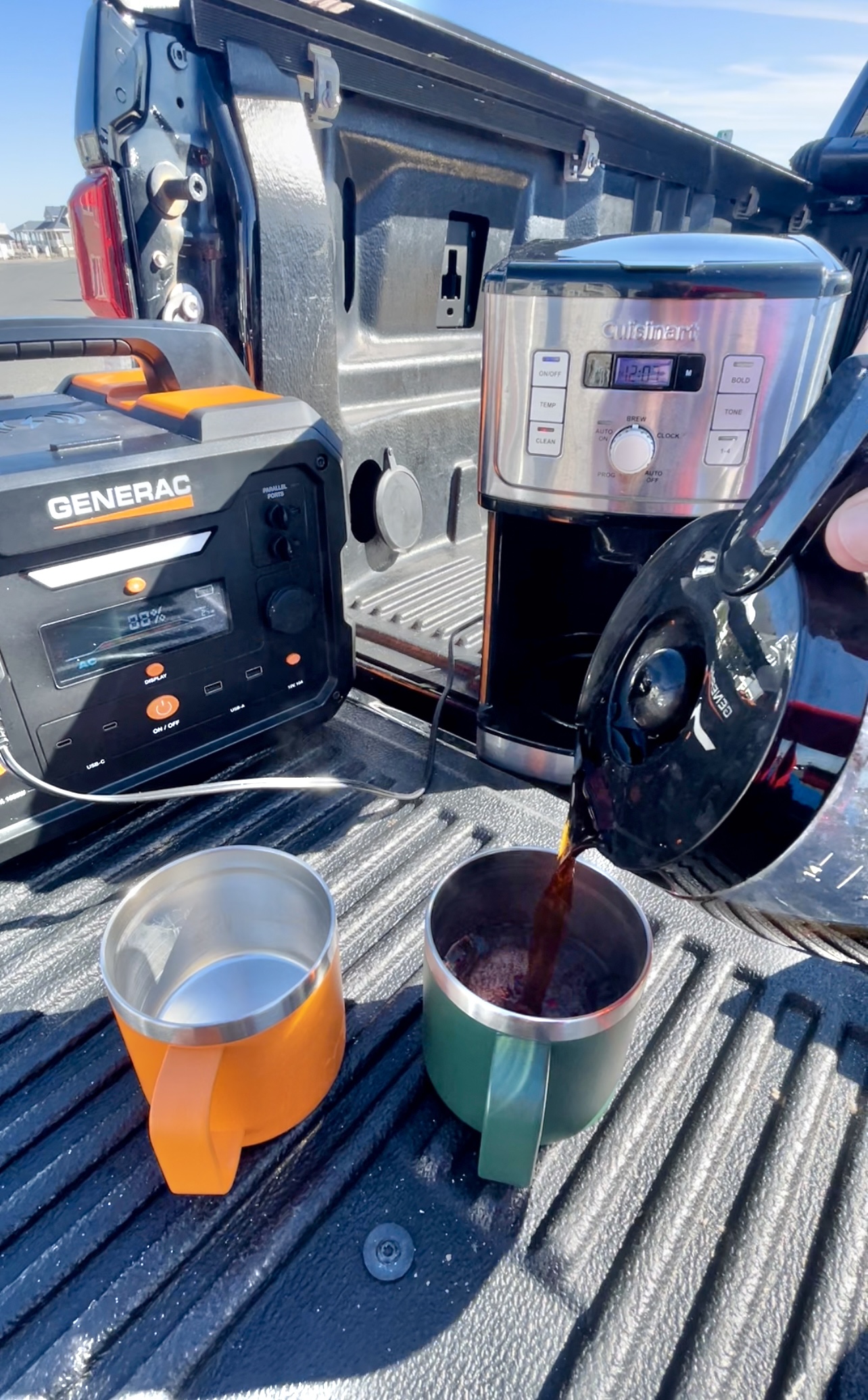 Our favorite part about testing the GB1000 was being able to use 120 volt devices while on the road. The ability to make coffee in the back of our truck no matter where we are is very cool. We surfed for two hours in cooler temperatures at the Jersey Shore and we made a fresh pot of coffee right after the session. So instead of rushing out of the parking lot and grabbing coffee while soaking wet, we were able to hang out and take our time and warm up. Having extra power with us allowed us to stay out longer and spend more time in the great outdoors. The coffee was really, really good too. Everything tastes better outside, right?
4. Room to Charge All of our Devices
We also took the GB1000 to a soccer tournament and the kids loved having it in the backseat to charge all of their devices on our way to the game. Our truck does not have enough outlets to charge all of our family devices. The GB1000 has more than enough outlets to get the job done. So our boys love the GB1000 just as much as we do–no surprise there.
5. Compact and Easy to Carry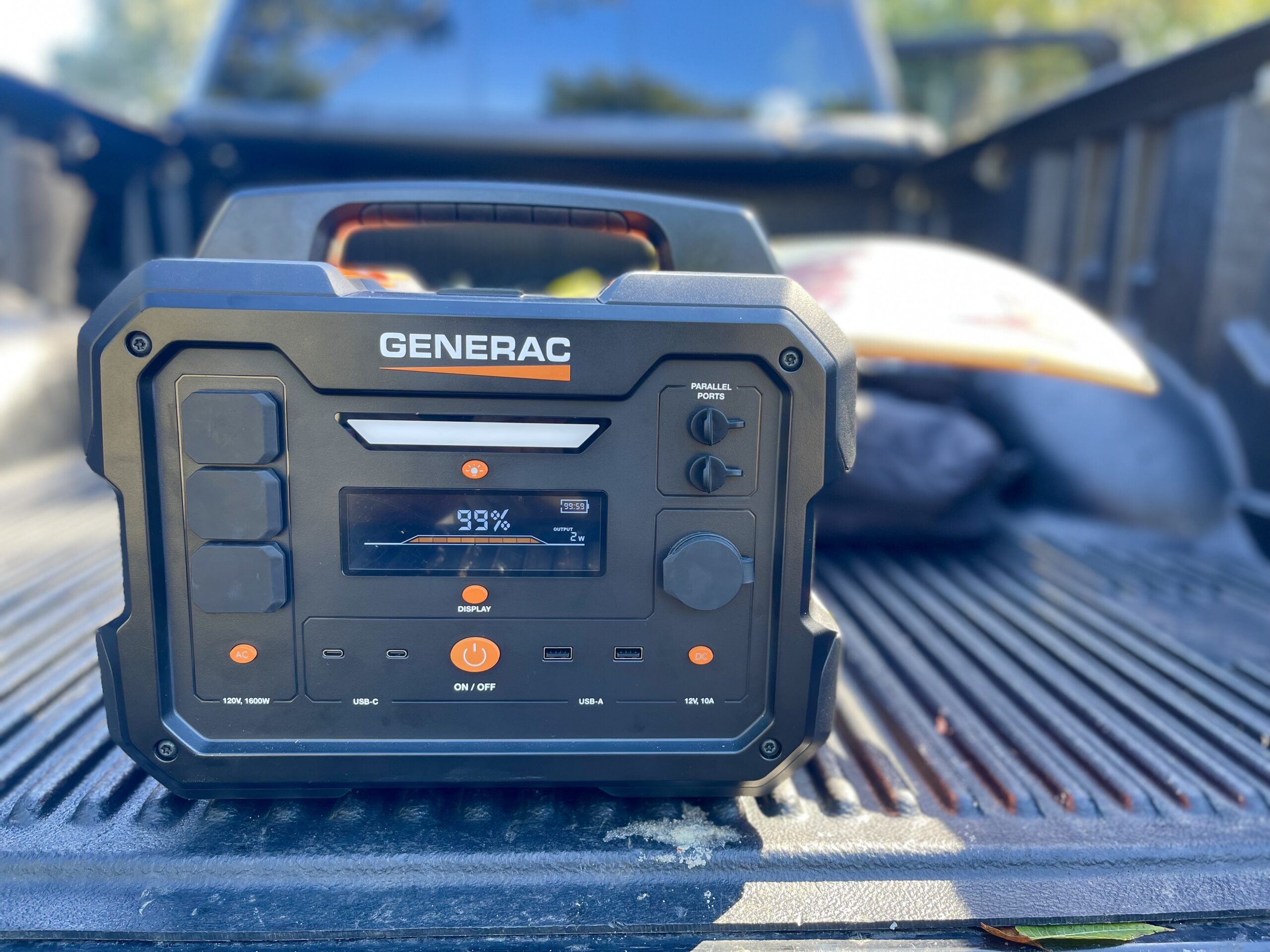 Generac Portable Power Stations are also relatively compact and easy to carry. The grab handle on the GB1000 is comfortable and it is small enough to sit on the floor in the back seat of our truck.  We also found the exterior enclosure to be rugged, good looking, and made of quality materials. The GB1000 should last for years to come. We will be surprised if it doesn't.
6. Carry Pouch for Power Cords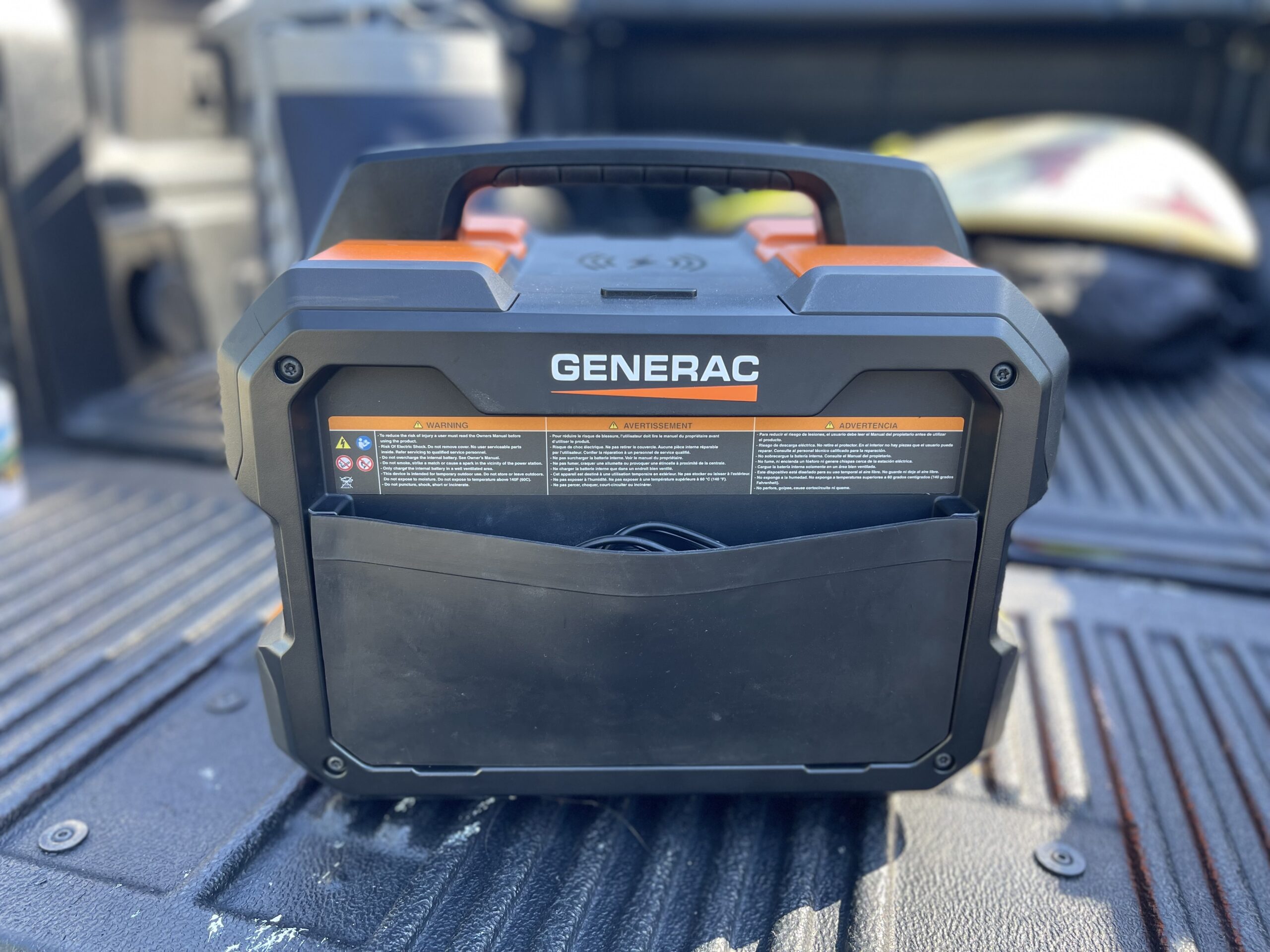 One of our favorite features on the new Generac Power Stations are the on-board storage pouches on the back of the units. They are perfect for carrying whatever cords you will be using for the day–and getting them out of the way and keeping them untangled. The power cords will also be much harder to lose if you tuck them in here before heading out for an adventure.
7. Wireless Charging Pad
The wireless charging pad on the GB1000 is also pretty clutch. If you forget the power cord for your phone you can still charge it–if your phone has a wireless charging feature. We are constantly looking for power cords for our phones–so we think this may become our favorite feature over time.
8. USB-A and USB-C for Newer Devices
The GB1000 has two USB-A outlets and two USB-C outlets. Which makes it very much "of the moment" as so many newer devices rely on USB-C. We have several USB-C rechargeable flashlights–so these outlets will be perfect for keeping them charged up on camping trips.
These are our 8 favorite features of the GB1000 after testing it for 10 days. Over time, our favorite features may change. We really love the onboard light for nighttime use, but haven't had a chance to use it yet. So maybe its time for a little overnight fishing trip?
We can make coffee if it's chilly out–or even if its not.