If you are intrigued by the idea of purchasing foldable eBikes for your RV adventures, then take a good look at the Aventon Sinch Step-Through. The brand new Sinch is an incredibly good looking eBIke that also boasts a fine-tuned fit and finish that will please the pickiest camper. It is easy to fold and store in your RV or truck, and it will perform on sand, grass, gravel, snow, and pavement. We recently tested two Aventon Sinch Step-Through models in Cape May, New Jersey for four days–and had an absolute blast doing so. The four inch fat tires allowed us to ride on the beach at the edge of the water and on some light off road trails around Cape May's bay beaches. The Sinches 500W motor was quick and responsive and everything about the bike was easy and fun to use.
Choosing a folding eBike can be confusing for consumers that are not familiar with the market. We think that Aventon is a reliable brand. They have been in business for more than a decade and receive consistently good reviews from consumers and vloggers. The Aventon Sinch Step-Through is also moderately priced in relation to other eBike brands in the foldable category.  At $1,799.00 it is neither the cheapest or the most expensive eBike on the market.
We will be bringing our Aventon Sinch Step-Through eBikes on every trip we take next year. Here are 9 reasons why you might want to purchase one (or two) of your own and do the same.
Aventon provided us with two free eBikes in exchange for an honest review of our experience using them. Our opinions and thoughts about the Aventon Sinch are entirely our own. 
Easy to Fold and Store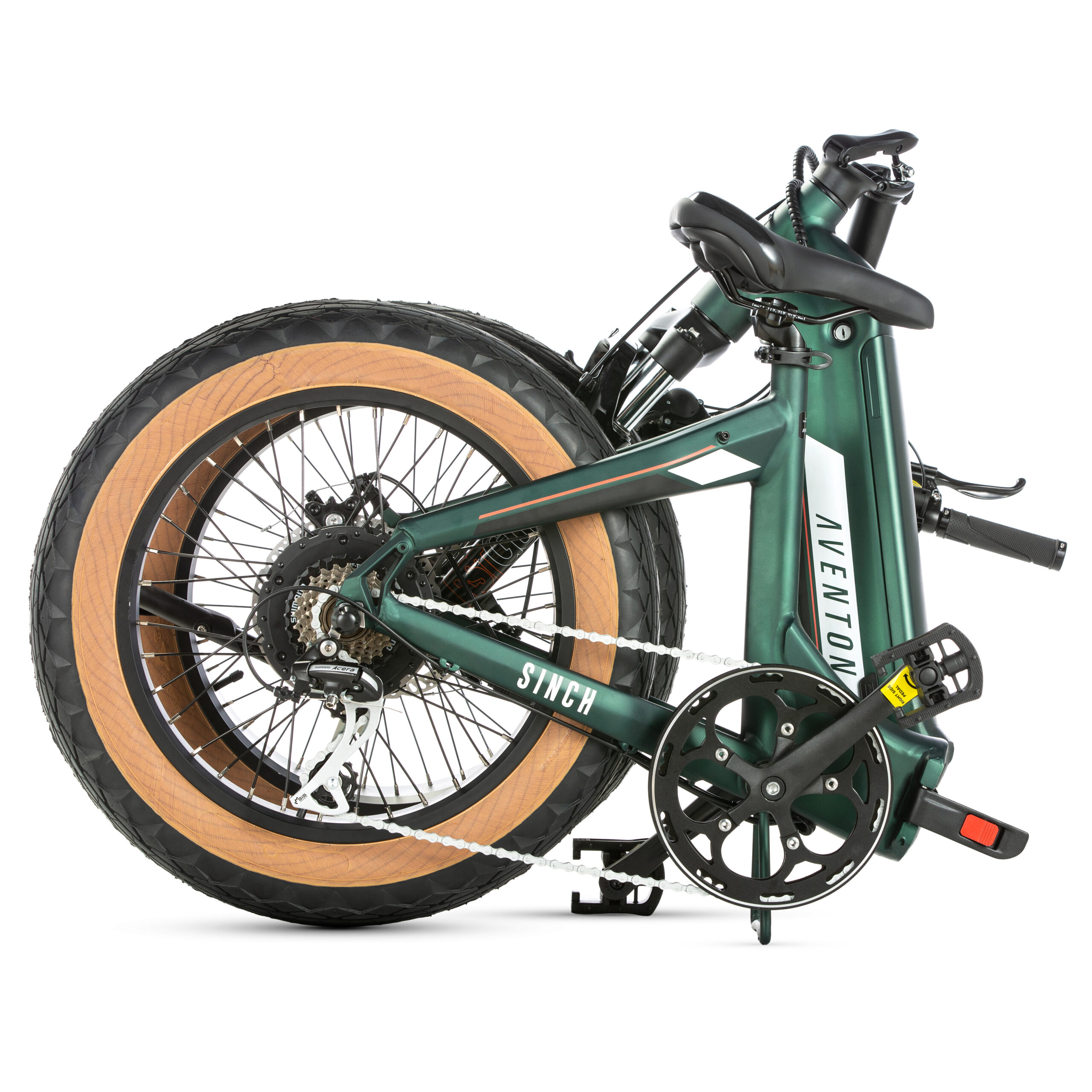 The Aventon Sinch takes less than a minute to fold up and it was relatively easy to pick up and move into the back of our truck. The Sinch is significantly easier to move than our non folding electric bikes. We also loved that the Sinch could still be rolled around when folded up. Once we lifted them into the back of our pickup truck they were able to be maneuvered without further lifting. We would never bring our non folding ebikes on an RV trip. They are just too big and bulky. But we will be bringing both of our Sinches on every RV trip that we take in 2023–and beyond.
Easy to Unfold, Lock, and Ride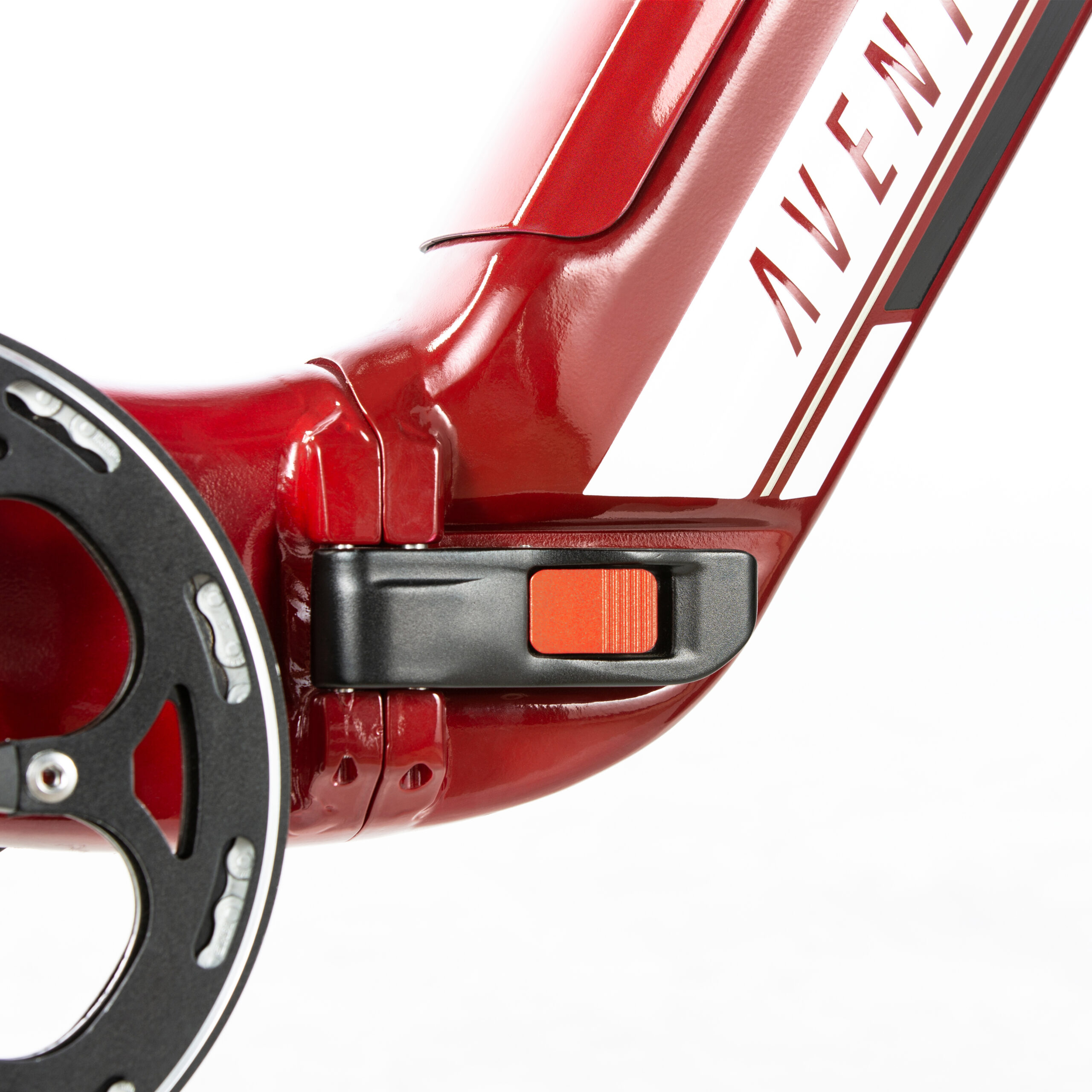 Unlocking and unfolding the bikes is just as quick and easy as folding them–it really is a Sinch (sorry, had to do it!). We really can't imagine a simpler and more efficient folding and locking mechanism. As many of the reviews on YouTube also point out–the bike does not shake or rattle when locked–it feels just like a one piece eBike when you are riding it. When it comes to the Sinch–the ease of use is near perfect. We cannot wait to get them back to the campground.
Comfortable for a Wide Variety of Riders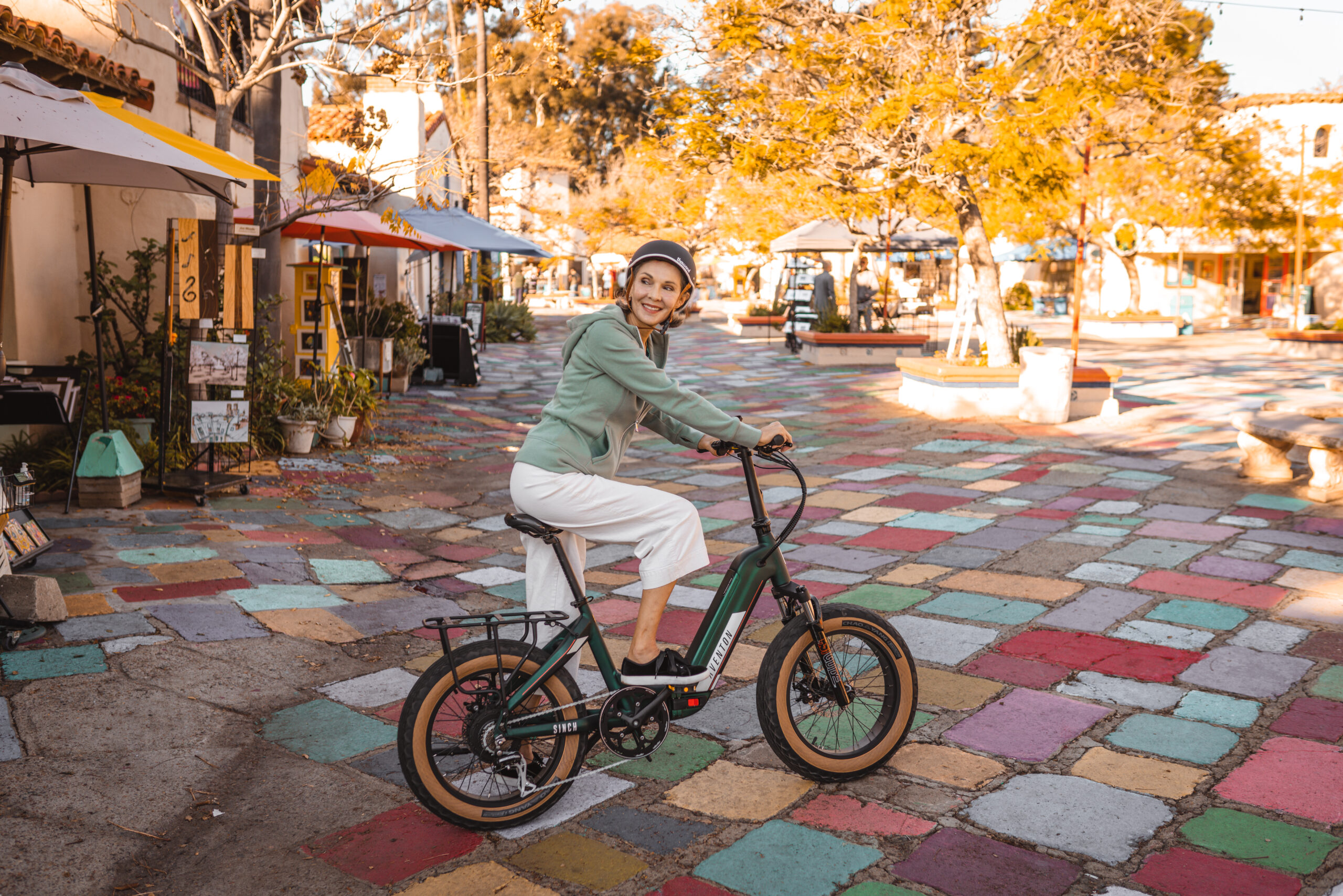 Aventon claims that the Sinch fits most adults from 4'11" to 6'3″. They also suggest a max payload of 300 pounds. During our long weekend in Cape May, NJ we had eight different people test the bikes out. They ranged in height from 4'10" to 6′ and in weight from about 95 pounds to 275 pounds. All eight riders were incredibly comfortable on the bikes once the handlebars and seats were adjusted to their desired specifications. So the Sinch would make a great "shared" eBike for a family with different sized riders.
Super Fun To Ride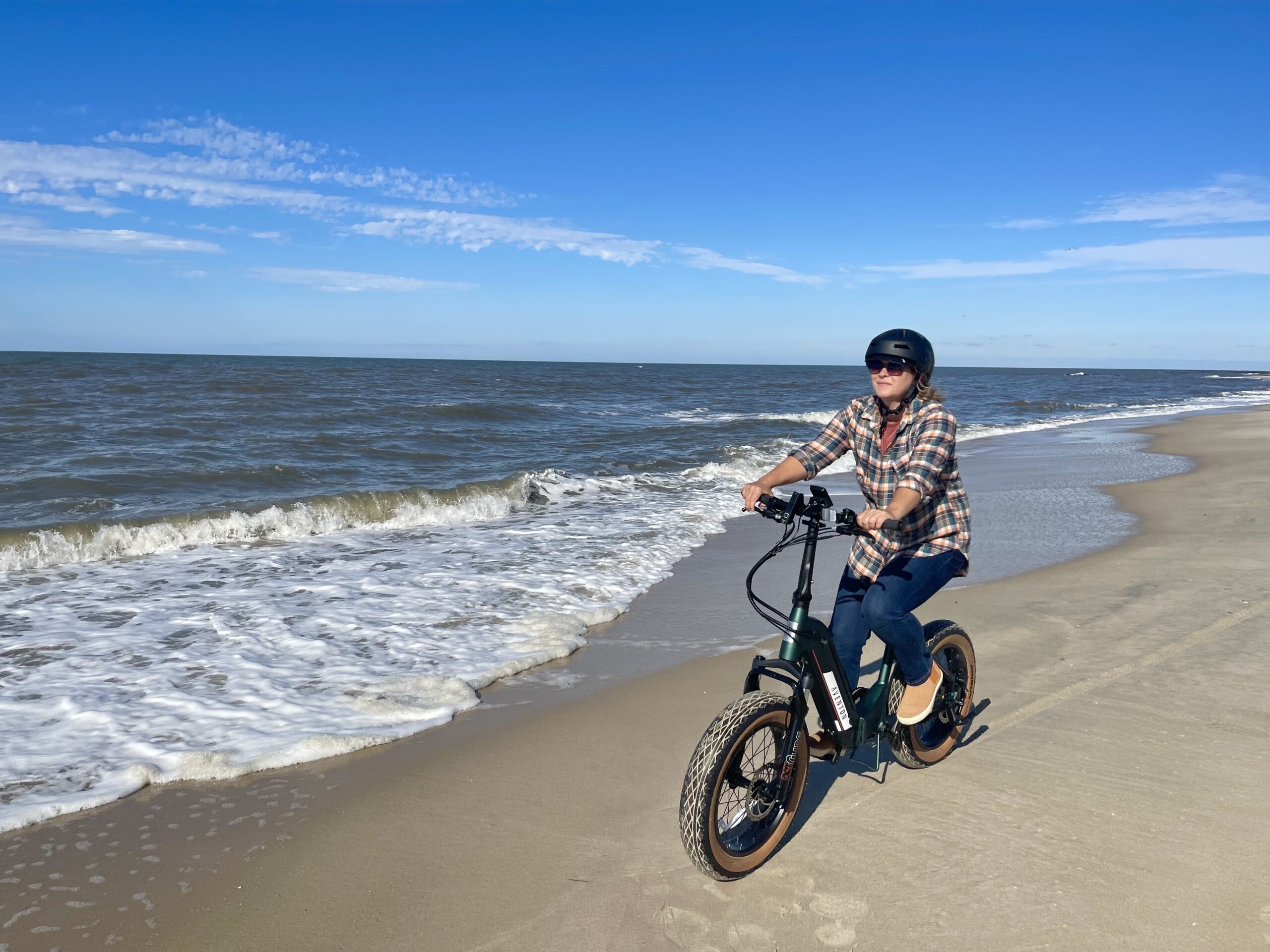 We have tested a variety of eBikes at this point, and the Aventon Sinch wins very high marks for overall ride quality. These bikes are just super fun to ride on the road, on the trail, and even on the beach. They don't feel big and bulky on the road, and they don't feel small and wimpy on the trail.  We don't intend on using the Sinch in one type of riding situation. We want to use these bikes in a variety of different conditions based on where we are traveling–and we are certain that they are up to the task.
4 Inch Fat Tires for Trails and Beaches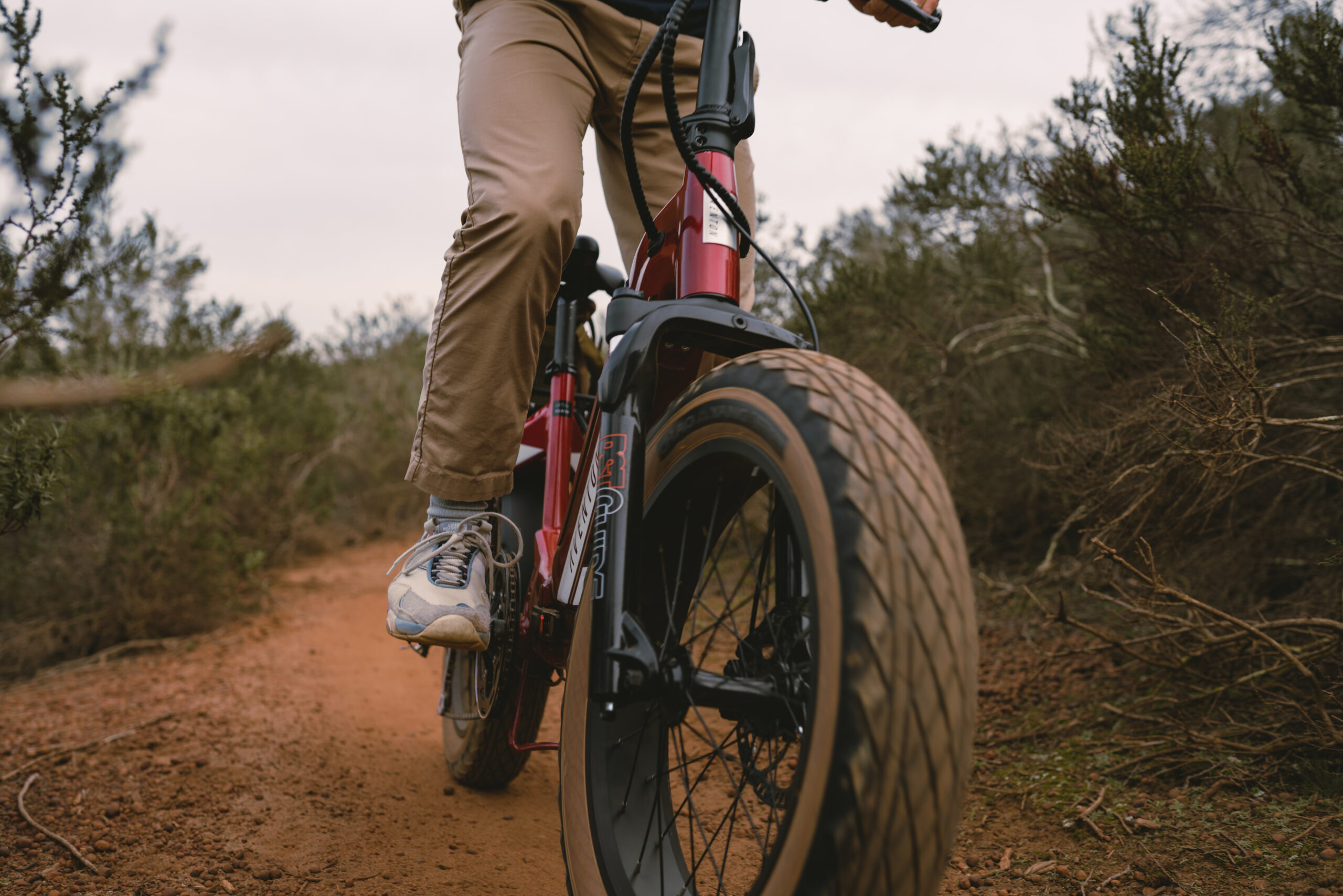 The Sinch's 4 inch fat tires are one of our favorite features on the bike. They provide great stability on the road and provide the opportunity for riders to get off-road as well. We were impressed with how well the Sinch performed on the beach. We had to walk the bikes down to the harder packed sand near the water–but then we were able to ride for miles. Sand is, of course, terribly invasive. So if you do take an ebike like the Sinch down on the beach makes sure to clean it up good when you are done.
Digital Display and Controls are Easy to Use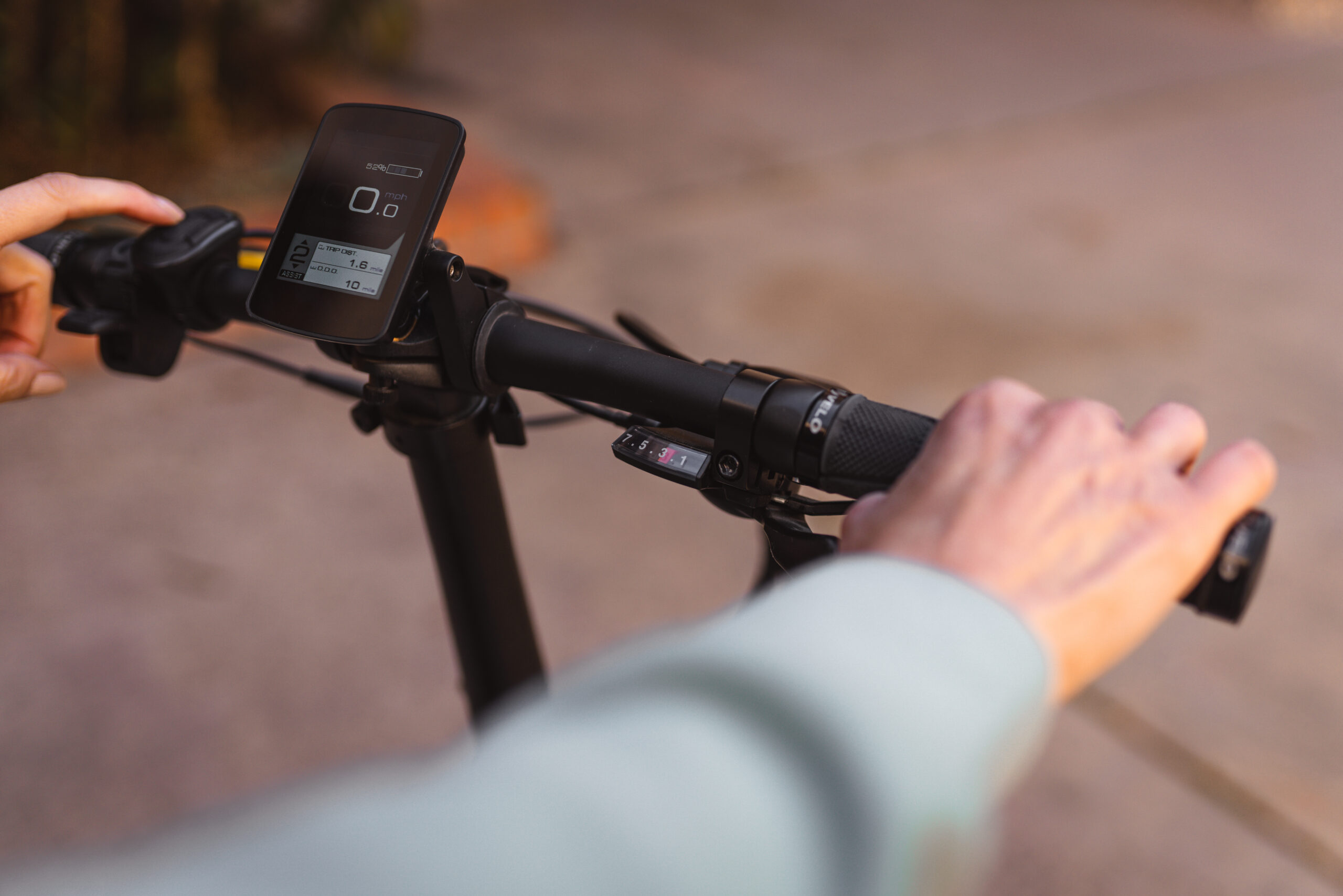 The Sinch's digital display has a backlight and it is easy to read. The display will show your speed, pedal assist number, and more. Overall, we liked the display but thought it could be just a tiny bit brighter. It can also be linked to an App that allows you to set goals, keep track of rides, and connect with the Aventon community.
The throttle and controller are comfortably placed and were easy and intuitive to use. The throttle is on the left side on this eBike, as opposed to our other eBikes, where it is on the right. Initially we thought this might feel weird, but that was not the case at all. You don't really think about its left side positioning at all when in use. The Sinch is a class 2 eBike–which means it can be electrically powered by its pedal assist, or the aforementioned throttle, or a combination of both. It can also be pedaled without using its motor. But we did not try doing so for any significant amount of time. The magic is in the motor.
Attractive and Outdoorsy Look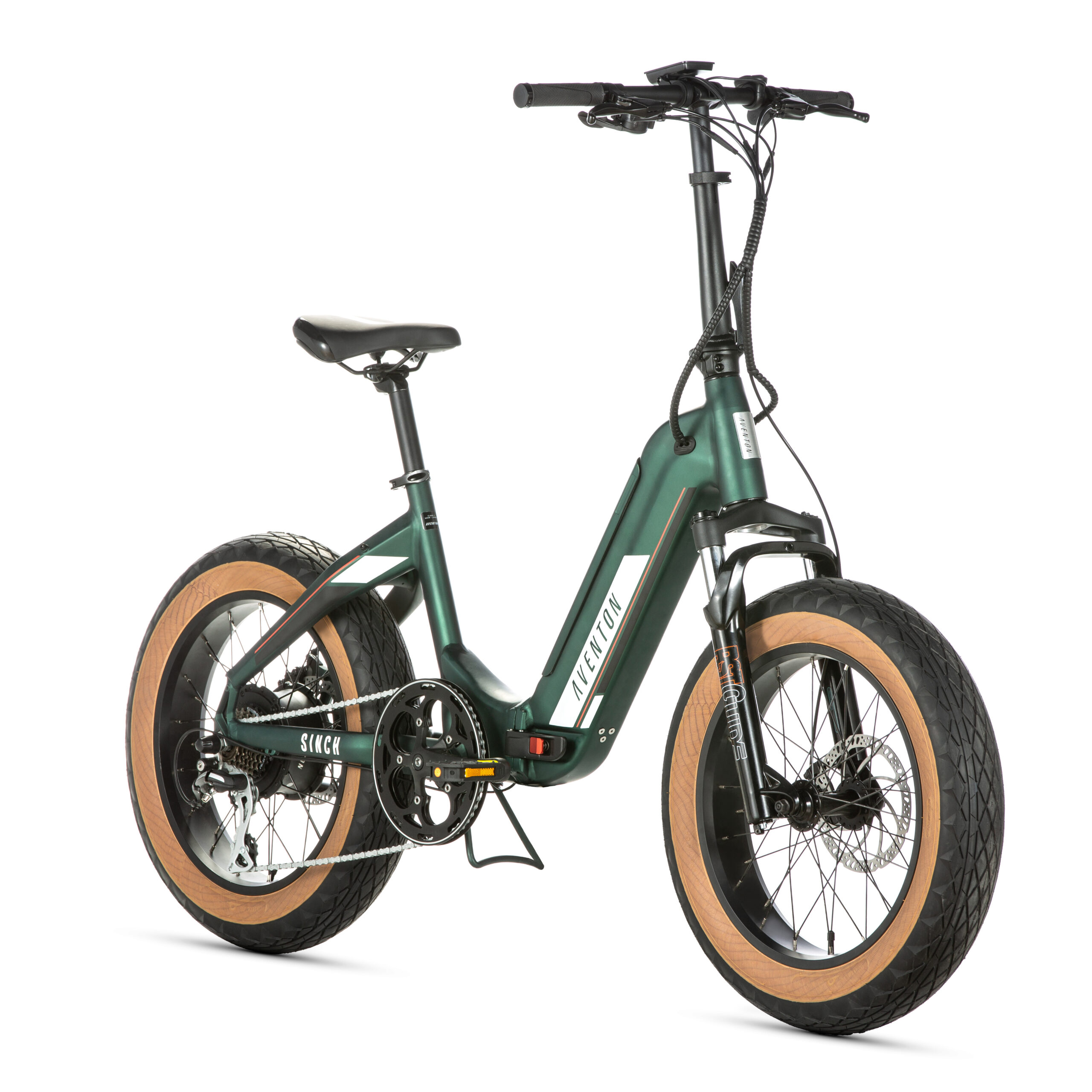 The Aventon Sinch Step-Through should also win a prize for its good looks. We love the Moss Green and Bonfire Red color options. They both manage to be attractive and rugged looking at the same time. Too many other foldable eBikes come in boring color options, if they have color options at all. We struggled to pick between the Moss Green and the Bonfire Red–but ended up requesting two of them in Moss Green.  We love this color so much–and it looks great with the gum sidewalls on the 4 inch fat tires.
Room for Racks and Storage
One thing we love about our full-sized, non-folding ebikes is that their rear racks can hold a large storage basket. This allows us to bring towels and gear up to the beach. Thankfully, a reasonably sized rack also comes with the Aventon Sinch (at the time of this writing). Riders can easily attach a bag to this rack for snacks, a towel, a rain coat etc… We are currently shopping for baskets or bags to attach to the racks. These are must-have accessories for us. We think they will be for you too.
40 Mile Average Range for Big Adventures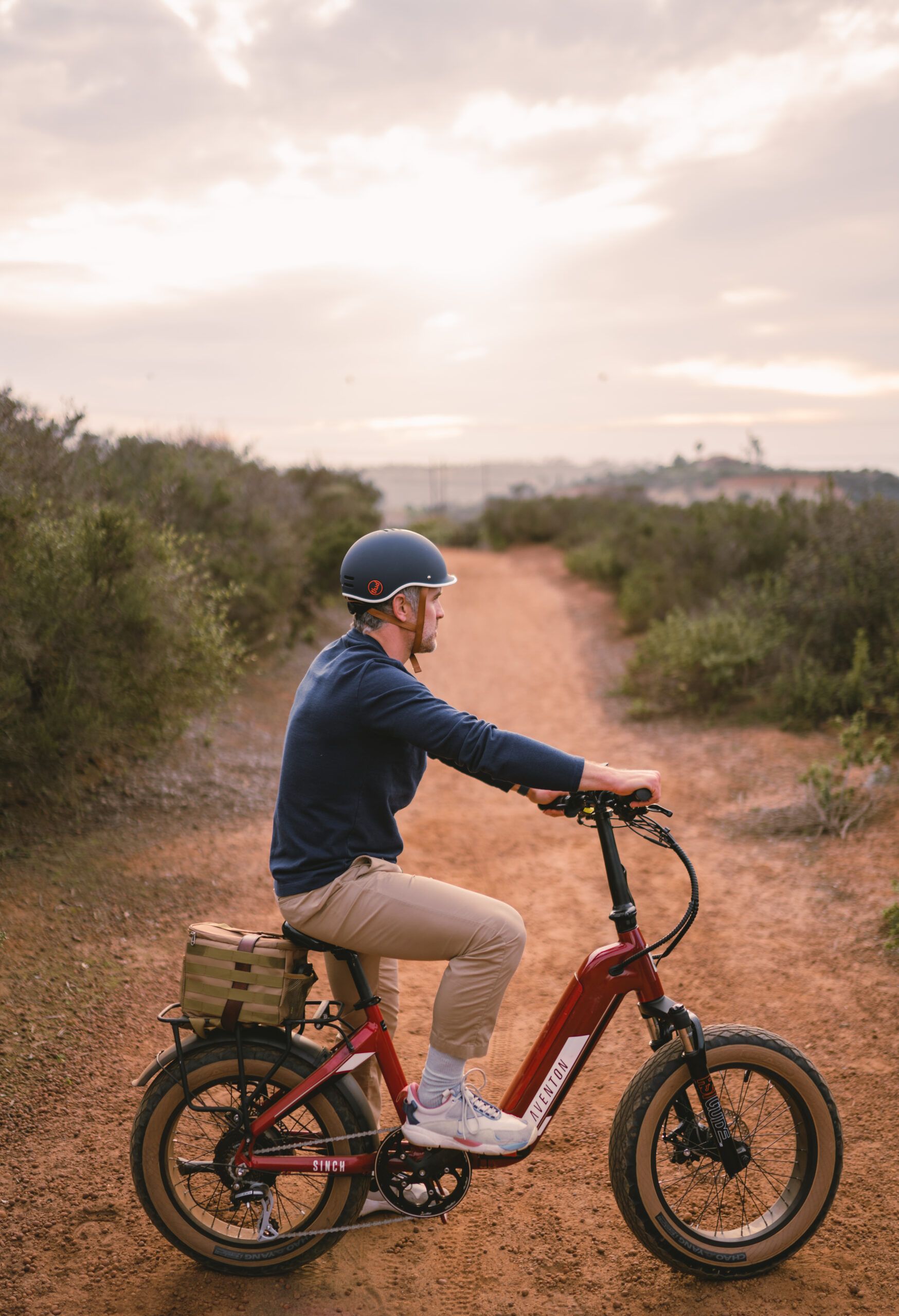 If you are an RV owner that would love to park your rig at a campground and then take off for an adventure on an eBike, then take a good look at the Aventon Sinch Step-Through. Everything about the Sinch is easy and fun. It's 40 mile average range will let you leave your truck or motorhome behind for all kinds of adventures around the campground. One of the great advantages of an eBike is that it allows you to get to popular trailheads or downtown areas without worrying about parking, and without spending money on gas. Now that we have taken a trip with two Sinches in tow, it is hard for us to imagine traveling without them. We are looking at them as essential gear for our RV adventures in 2023.