The Search…
After stalking the aisles of my local Wal-Mart for three weeks I finally found a Blackstone E-Series 17″ Inch griddle. It was tucked away on a shelf and partially hidden by a pallet full of garden stuff. There was only one of them. I grabbed it and secured it in my cart and ran to the checkout counter like a football player running into the end zone for a touchdown. Was I worried about getting tackled from behind by another Blackstone fan? You are darn right I was. There were two other guys looking at The Blackstone stuff just around the corner. And the E-Series has some major buzz right now among Blackstone aficionados. It was possible that they were also looking for an E-Series. But clearly I outmaneuvered them.
I love going camping with my Blackstone 17″ and 22″ tabletop LP griddles, and I was in NO WAY trying to replace them with the new 17″ E-Series. I wanted Blackstone's new electric griddle for a very specific reason. We just spent some money to make our garage nice and I had been dreaming of setting up a cook station in there for weekend breakfasts when the weather was cold or rainy outside. I wanted something less smokey and messy than an LP griddle. I didn't want to open the garage door or crack a window to cook either. So The Blackstone E-Series seemed perfect for my new project. I was not really thinking of its appeal for my RV or RV owners in general when I bought it.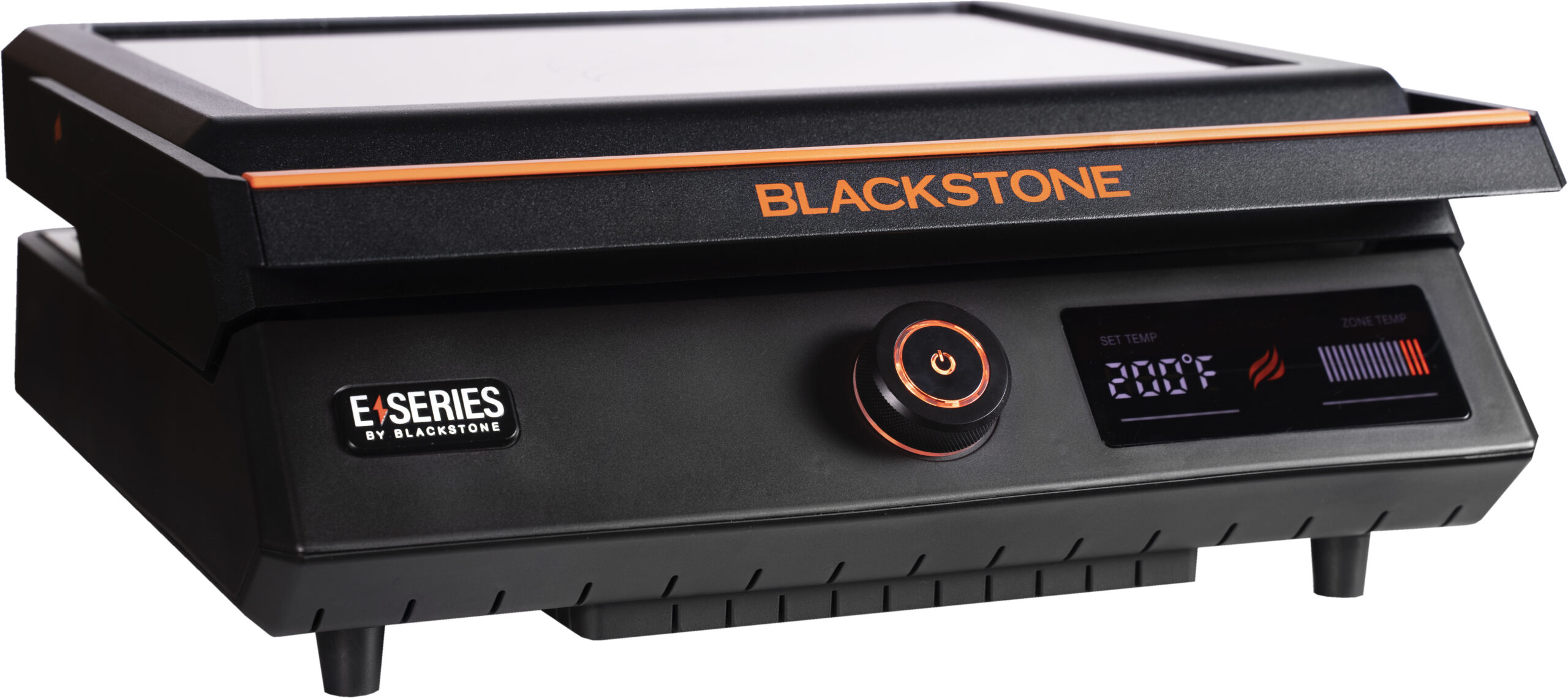 RV Owners Are Interested
But when I posted a picture of my new Blackstone E-Series griddle in the RV Atlas group on facebook, the comments exploded. Many of our group members wanted these FOR THEIR RV's. I was fascinated to see the reasons why, and I started to think of other reasons why the E-Series might be great for RV owners.
I don't think I will be bringing mine to the campground because my LP 22″ is my ride or die forever. But I think that PLENTY of RV owners will be getting an E-Series for their rigs. If they can outmaneuver the competition like I did.
Here are 8 reasons why.
      1. Propane Costs Money, Electricity is "Free"
The single biggest reason why SOME RV owners will choose to purchase The Blackstone E-Series will simply be a financial one. If you spend a lot of time at campgrounds with electric hookups then you can save a lot of money by not buying propane for cooking purposes. The vast majority of private campgrounds do not charge extra for electric, unless you are on a long-term or seasonal site. Personally, I'm sure I spend about $117 bucks a year on propane for cooking at the campground. If I tapped into campground electricity with an E-Series then it would basically pay for itself. In our facebook group several RV owners that travel full time, or for months at a time, expressed that they were interested in The Blackstone E-Series for this very reason. If you are a boondocker or like to camp at state or national parks without hookups, then the Blackstone E-Series is probably not for you. Unless you want it for home use.
      2. The Blackstone E-Series Does Not Need to Be Seasoned
The Blackstone E-Series is also appealing to many RV owners who do not want to spend time seasoning their griddle, and keeping it properly seasoned over time. I personally enjoy the process of seasoning a griddle, and don't mind the basic upkeep. But some folks want their camp cooking experience to be as simple as possible. The E-Series is ready for cooking almost immediately out of the box. Just give it a quick wipe down with soapy water to remove any residue from production and packaging and you are ready to cook!
      3. Ridiculously Non-Stick Surface
The Blackstone E-Series has a ceramic titanium coated griddle surface that is almost completely NON-STICK. In fact, it takes a little getting used to because certain foods can slide around a bit. It's not like I poured scrambled eggs onto the surface and watched them race down into the rear grease trap before I could grab my (Non-Metal) spatula and regain control of the situation. But I can imagine that very thing happening to a less experienced griddler than myself. Just be ready for things to slide around a bit more than on your LP griddle and you will be fine.
      4.  MUCH Easier to Clean Up
The non-stick surface makes this griddle ridiculously easy to clean up. When combined with Blackstone's perfectly designed rear grease system, this thing practically cleans itself. The rear grease trap on the E-Series is similar to the LP models–and it might even be better. It seems a bit more steady and locked into place than the LP models. After cooking I put a little water on the surface and wipe it down with a paper towel. Clean up is easy peasy on the E-series, that's for sure.
      5. Blackstone E-Series 17″ is Lighter and More Compact than 17″ LP Model
At no point in this post am I trying to convince you that the Blackstone E-Series is better than a comparable LP griddle. As I mentioned, I didn't buy my E-Series to replace my LP griddle. I am just hoping to point out some key differences that might be appealing to some RV owners. Another of these differences that might be appealing to some folks is that the E-series is over 20 percent lighter than Blackstone's 17 inch LP griddle. And it is more compact and easy to store.
However, I would be incredibly careful placing anything on top of its attractive and appealing glass hood. Some RV owners do find the LP tabletop griddles bulky and hard to move around and store, especially if they are equipped with hoods. The lighter weight and somewhat smaller dimensions of the E-Series could be appealing to those people. The hood on the E-Series is also easily removable. The hoods on the propane models can be removed, but it takes more time and effort.
      6. You Can Cook Inside Your RV
The Blackstone E-Series is designed for indoor and outdoor use. So obviously it is safe to use inside an RV. That's not even a question. The real question is, how messy and smoky would it be to use inside an RV. I have only used mine in my garage, but it gives off little to no smoke depending on the food you are cooking. Scrambled eggs don't seem to smoke at all. Bacon smokes a little but the smoke seems to dissipate about 6-8 inches above the griddle top. If I were to use one inside my RV I would position it under a celling vent or on top of my range top for easy ventilation.
      7. Easier For Young Cooks to Use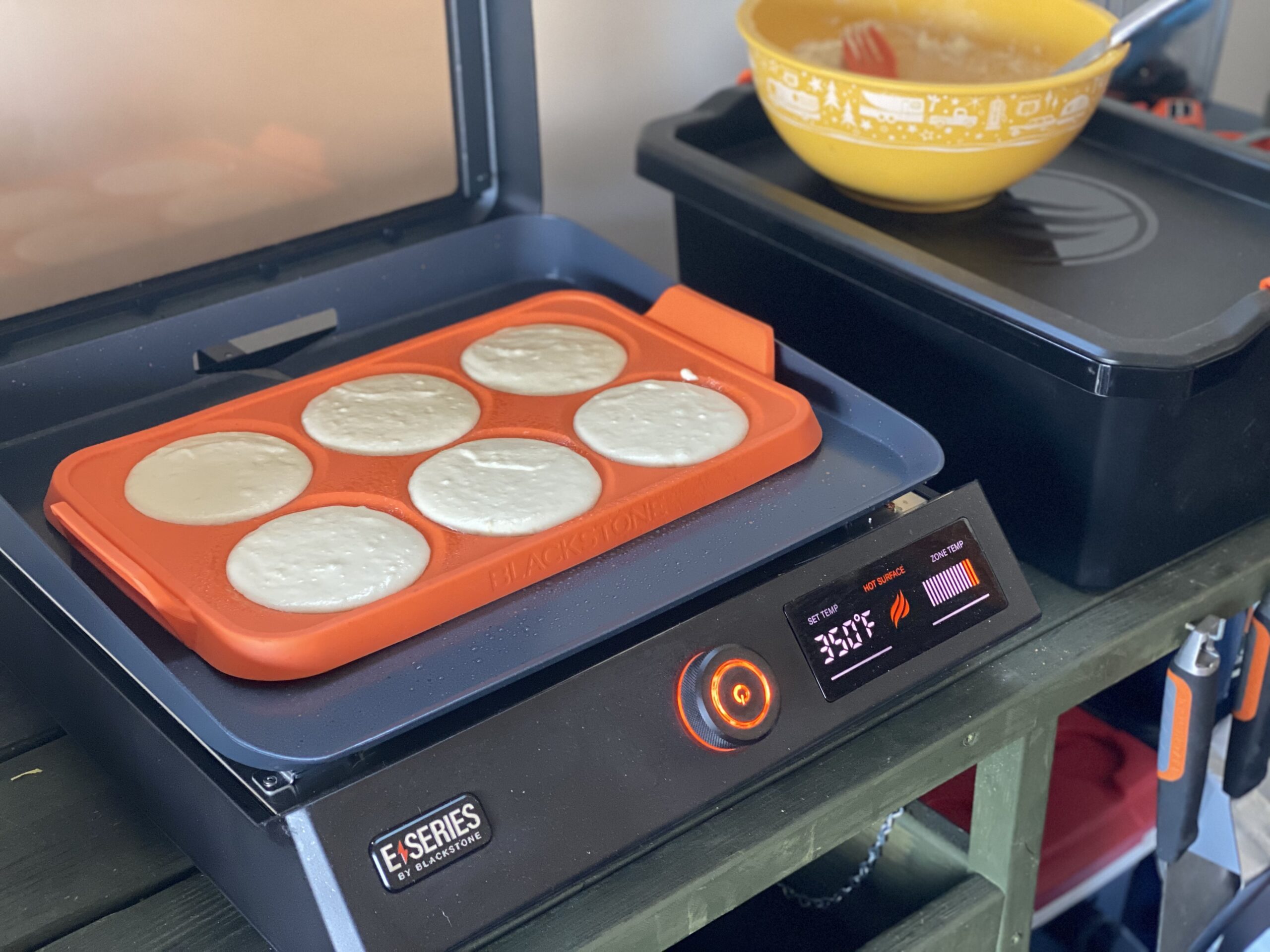 I never would have thought of this reason, but a member of the RV Atlas group on facebook pointed out that he would feel more comfortable letting his children use the E-Series to make breakfast. He does not let his children use the LP griddle without supervision. But he might let the young chefs get to work on the E-Series. I feel the same way now that he mentioned it. I would let my 11 year-old boys use the E-Series without a watchful eye hanging over them. My boys do not cook with propane unless I am there with them. If you let your youngsters cook with propane and feel comfortable with that–good on you. This is a no judgement zone! All of our kids are different.
       8. Superior Temperature Control
Several members of the RV Atlas group, including one who is a chef, pointed out the digital temperature control on the E-series allows you to get much more dialed in than the low, medium, high settings on a propane model. I have to agree. I love setting it to a precise temperature and worrying less about burning my food–which I definitely do from time to time on my LP model.
So is the Blackstone E-Series the right choice for your RV this summer? That really depends on you and what you think about the considerations laid out in this post. Based on the feedback from members of our group, I certainly think a lot of RV owners will buy them for their rigs. If they can find them. They are a hot item right now. Many Wal-Mart stores do not have them in stock at the moment. If you are on the fence, my best advice would be to grab one and head directly to the checkout counter like I did.
I think you will love it just as much as I do. Maybe for your RV, or maybe for your man-cave or she-shed.
Griddle on griddlers and happy camping!
-Jeremy