Last spring I bought my first Blackstone Griddle. The 22″ Tabletop Griddle to be exact. I am an amateur cook trying to make up for years of letting my hard-working wife take care of all of the food prep and cooking…both at home and at the campground.  Learning to cook has been incredibly exciting, but overwhelming at the same time. I love gear and equipment that makes cooking easier for me, and from what I had read and watched online, the Blackstone Griddles could "make a mediocre cook great." I was just hoping that it could make this bad cook mediocre.
Score one for me.
The Blackstone Griddle instantly improved my ability to make a great breakfast. Why, might you ask? Is there black magic involved? Nope. Not at all.
Why Using a Blackstone Griddle Will Make You a Better Cook
The Blackstone upped my breakfast game for three simple reasons:
1. The heat (created by two burners on the 22″) distributed so evenly that I was no longer serving pancakes that were burnt on one half, and undercooked on the other.
2. The large cooking surface on the 22″ allowed me to make just about everything at once. No more making one or two cast iron pancakes at a time and flipping them into a bowl, only to serve them cold 10-15 minutes later. I know there are work arounds for all of the issues I was having, but the Blackstone solved a few of my major cooking flaws lickety-split.
3. Most importantly, cooking on the Blackstone is really fun. Like BIG DUMB STUPID FUN. I think that's the real secret why they are flying off shelves right now. Guys like me can whip up awesome meals like an ace short order diner cook from the 1950's and 60's.
The pancakes even look and smell like those diner pancakes you loved when you were a kid. But making pancakes was just the beginning of my Blackstone Adventure.
RVFTA and Blackstone
After falling in love with my 22″ tabletop Blackstone Griddle I reached out to the company and asked them to jump on board as a sponsor of the RVFTA Podcast Network. We only work with companies that we love and trust, and Blackstone fit the bill in a major way. This griddle was fast becoming like my fourth child, needing constant love and attention.
Thankfully, Blackstone signed on as a sponsor of the Campground of the Week podcast this summer and they succumbed to my demands for more griddles for testing.  Below are my brief reviews of the 17″, 22″, 28″, and 36″ Blackstone Griddles. Each one is awesome in its own way, but which one will be the most awesome for you?  My goal is to help you decide which one you should buy. Or rather, which one you should buy first…
Be forewarned, many Blackstone Griddle owners do end up with two of them. Read on to find out why…
To watch a complete overview of each Blackstone Griddle discussed in this blog post click play below. If you are very judgmental about things like griddle seasoning, please skip and go watch another video. I am a self professed amateur griddler! However, I have learned from my seasoning mistakes and they are all looking better now. No griddles were harmed during these tests!
We are LIVE discussing ALL the size options available for the Blackstone Griddle. How do you pick the right one for your griddlin' needs???**remember you can use code RVFTA at Blackstoneproducts.com for 10% off everything in the store!!!**

Posted by The RV Atlas on Tuesday, July 31, 2018
Blackstone Griddle (17″ Tabletop Griddle)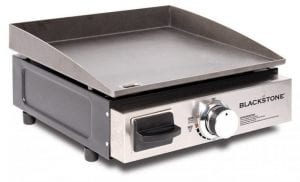 The 17″ tabletop Blackstone Griddle is like a gateway griddle for many outdoor cooking enthusiasts. They buy this one because it is widely available and affordably priced at around 75 bucks. Then they go and buy a bigger Blackstone in a few months. Or even a few weeks. Why? Because they don't like the 17″? No way. Because they love it! They just want more cooking space, and perhaps more importantly, they want additional burners for greater cooking control. This model has a single burner. Personally, I think the 17″ inch is an incredible bargain for a single camper, or a couple, or maybe a small family with one kid. You might also consider this griddle if you have limited storage space in your RV.  If your camping crew is four or more, you need to take a good, hard look at buying the 22″ tabletop Blackstone Griddle. And not just because it is my personal favorite…
Blackstone Griddle (22″ Tabletop Griddle)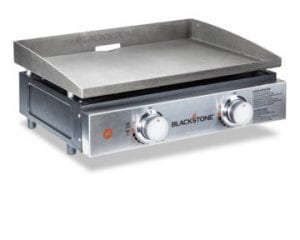 For me, the 22″ tabletop Blackstone Griddle is a perfect piece of camping equipment. It is portable and powerful. Easy to use and elegantly designed. Plus, it is a breakfast BEAST. I can easily make a simple breakfast for Stephanie and my three boys in one round of cooking. Or I can make a massive breakfast for five or more in two rounds. Cleanup on all of the Blackstones reviewed here is a cinch. Personally, I prefer the rear grease management, which is available for all of them but the 17″. I just like pushing the grease away from me–as opposed to towards my (hopefully) clean shirt. This griddle is also great because it is big enough for cooking at home and at the campground–and some people do carry them back and forth to both places. But, ideally you will end up with a 17″ or 22″ just for the RV and a 28″ or 36″ for home. Keep reading folks. We are about to go BIG!
                              Blackstone Griddle (28″ Griddle Cooking Station)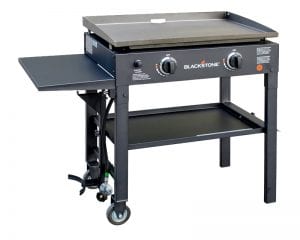 Many of the passionate griddleheads in the Blackstone Facebook groups (yes, there are several) advise novice griddlers to skip the 28″ Blackstone Griddle and head immediately to the 36″. They advise newbies with cliches like "go big or go home." We here at RVFTA disagree. The 28″ is an attractive option for many people. If you are mainly just cooking for your family of four or five, and not for large gatherings, the 28″ offers ample space. I also think that the 28″ could be great for those who don't want two griddles, but instead want one to use at home and the campground. If you keep the propane tank holder off of this griddle it is relatively easy to fold down the legs and transport it back and forth between the backyard and the campground. Where the 36″ is just too monstrous (in my book at least) for carting around anywhere. I think of my 36″ as a permanent fixture on my back deck. I don't even like carrying the griddle into the garage in between cooks. It is almost a two man job!
PRO TIP: If the Blackstone Facebook Groups are a little bit too intense for you, please join our super friendly RVFTA: The Group on Facebook. We have lots of nice Blackstone Owners in the group who are happy to share recipes or answer questions. Plus, there is no better place for advice about RV's and camping.
Blackstone Griddle (36″ Griddle Cooking Station)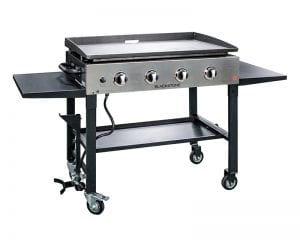 The 36″ Blackstone (pictured here with stainless steel front plate) is my backyard buddy. But as much as I love it, I must confess that a 28″ would have worked just fine for me and my family. But this is truly THE griddle for YOU if you want to be the boss of the backyard, and the governor of the griddle. If you love to cook for friends and neighbors (and even complete strangers that wonder into your backyard) then this is your griddle. Over time, this monster will become your favorite pet. Blackstone says you can cook 28 burgers or 72 hot dogs on this bad boy. I haven't tried to hit those numbers yet personally, but I believe them. The cooking space is massive, but still super easy to clean. I have graduated far past just making pancakes at the campground–and the 36″ has been my steady companion. Delicious Fajita nights are happening on my 36″ every week. And surprising enough, I love a good steak on my Blackstone just as much as one cooked over an open flame on the grill. And now I know how to cook one. To perfection.
Hibachi anyone?
The Tailgater Combo (Griddle and Grill)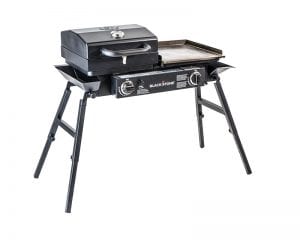 We have not personally tested the Blackstone Tailgater Combo, but RVFTA's chief food correspondent Kate Dunbar (from Kate's Curious Kitchen) has. I trust Kate's opinions about camp cooking WAY more than I trust my own opinions. Kate has been testing the Tailgater for months at home and at the campground and she loves it. Watch this great video to find out why and see her using the Tailgater in front of her Airstream!
Hi it's Kate of Kate's Curious Kitchen, I wanted to show you how much food actually fits on the Blackstone Products griddles.

Posted by The RV Atlas on Tuesday, July 31, 2018
I really hope this little guide to the world of Blackstone Griddles helps you make a perfect choice for your home or RV. Happy camping everyone! And happy cooking! Drop us a comment below with any questions and let us know which is right for you!