These are the show notes for the third of three guest appearances by Lauren Eber, from @afamwithavan about spring desert camping in the great American west. In this three part trilogy Jeremy interviews Lauren about Joshua Tree National Park, Death Valley National Park, and Valley of Fire State Park in Nevada.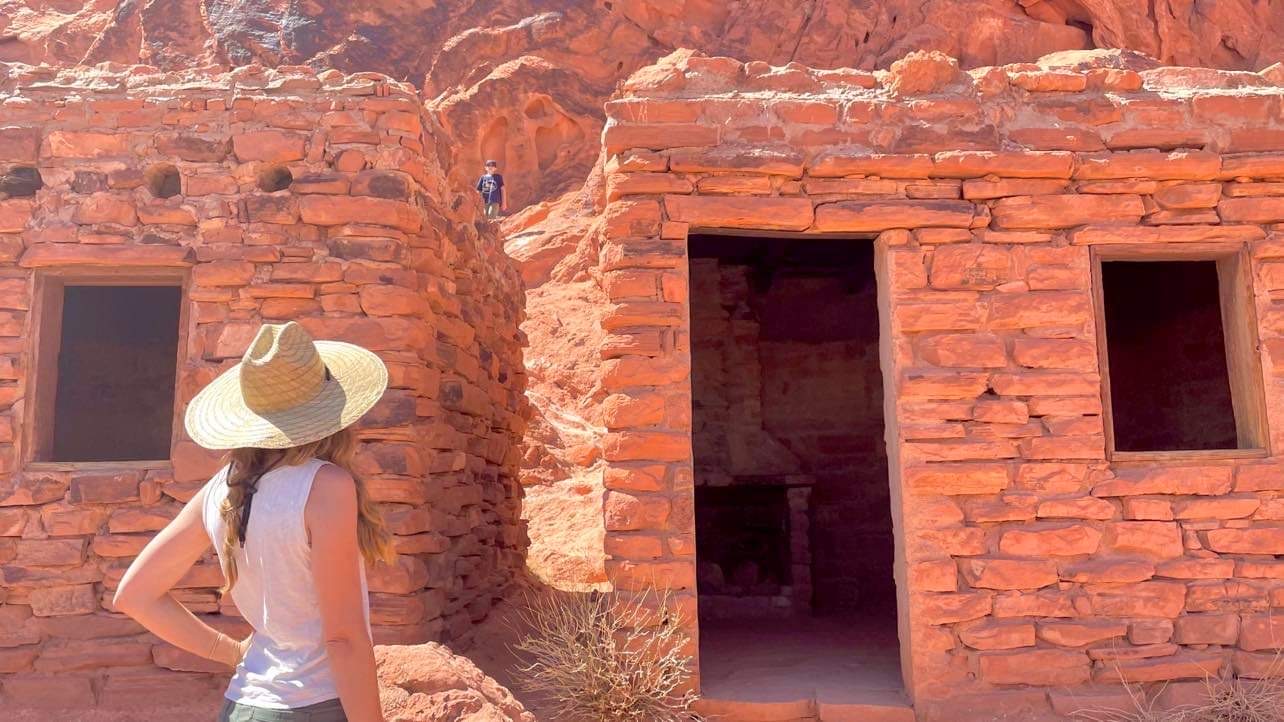 To listen to Lauren give an overview of Valley of Fire State Park and recommend campgrounds inside and outside of the park, click here.
Lauren loves all three of these locations dearly and she has extensive dry camping experience in all three locations with her family and their beloved van. To listen to Jeremy interview Lauren about Valley of Fire State Park, click on the media player above. Or subscribe to The RV Atlas wherever you get your podcasts. Or just read on for Lauren's extensive show notes about Valley of Fire State Park–in them she includes recommendations for camping inside and outside of the park. She also includes great recommendations for activities and a few options for great food. Thanks to Lauren for contributing such amazing content to The RV Atlas podcast!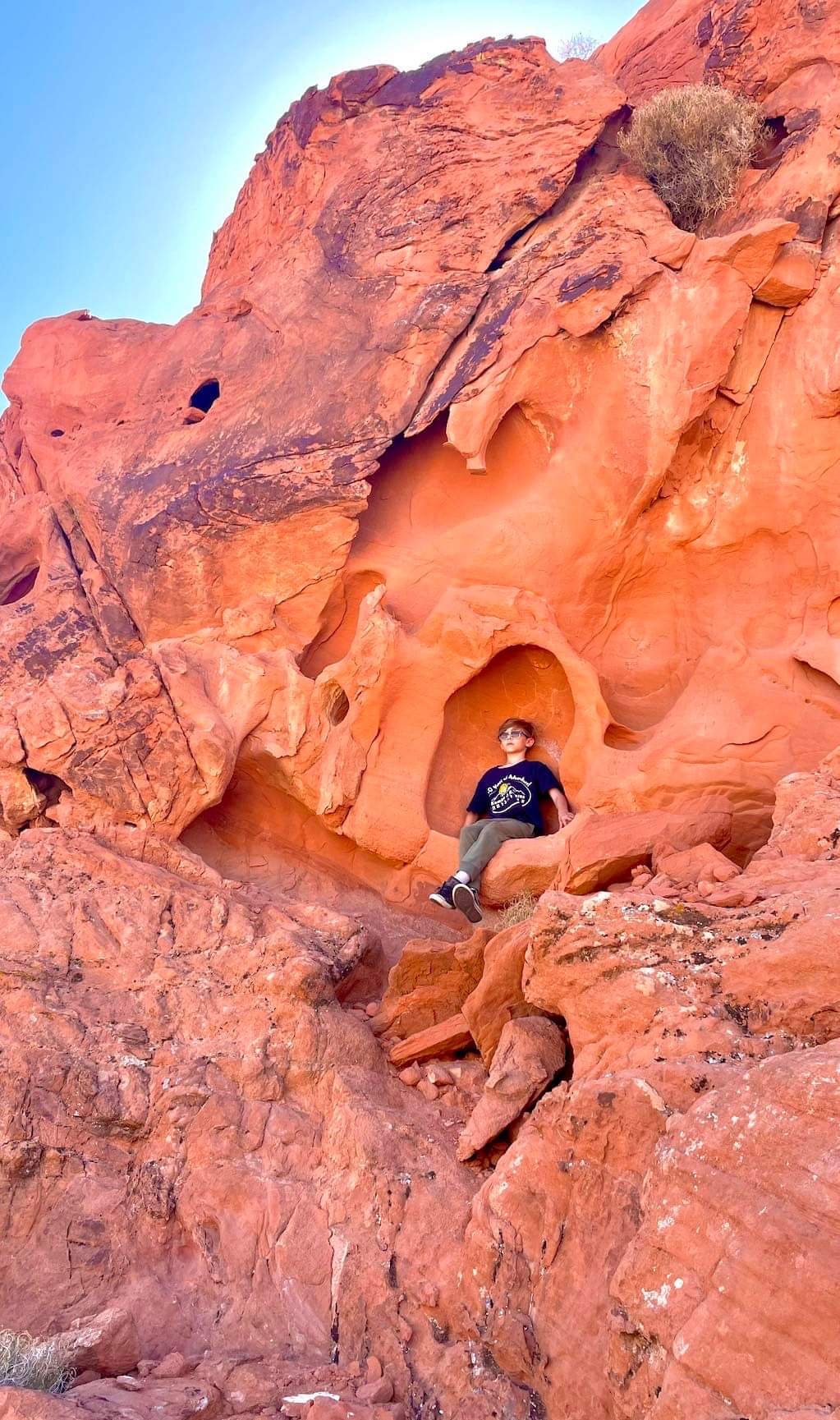 Guest Show Notes by Lauren Eber
Valley of Fire State Park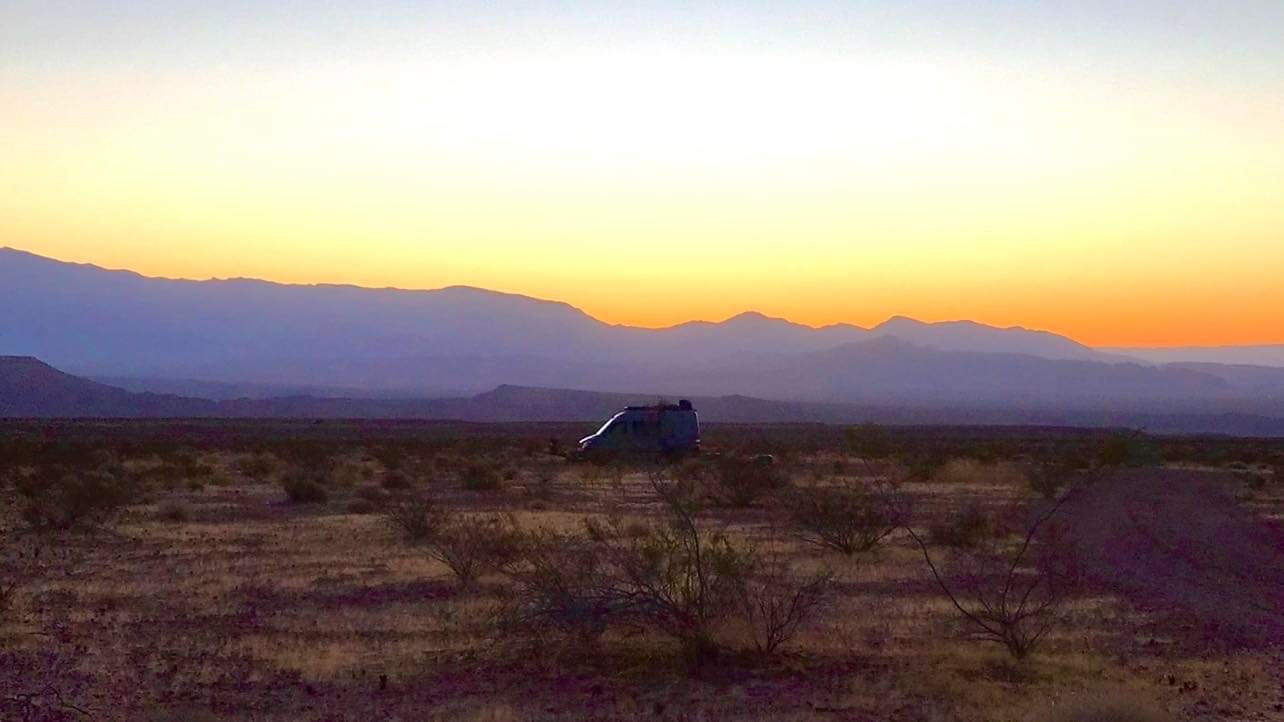 Getting There: Only a 1 hour drive from Las Vegas, and 2 hours from Zion. Very easy stop either en route to other Western National Parks and sights or as a side trip from Vegas. From Vegas, take Highway 15 for about 50 miles and then turn right onto Valley of Fire Highway, or continue towards the town of Overton and turn right on Highway 169. The park can be accessed from either side, and there is dispersed camping outside both entrances. No park shuttle, so bring your own transportation. The park has spotty cell service, but wi-fi is available for a fee.
Overview: Valley of Fire is a small but dramatic Nevada State Park. It is very popular, especially in spring, but totally manageable even without reservations, especially if you are open to boondocking. It features deep red sandstone rock formations, ancient petroglyphs, and petrified trees, and is definitely worthy of the trip. It makes a very convenient stopping point on the way to better known parks, but it is a star in its own right. Summer temperatures regularly exceed 100F and stay high even at night, so stick to the shoulder seasons.

 
Camping In and Around Valley of Fire State Park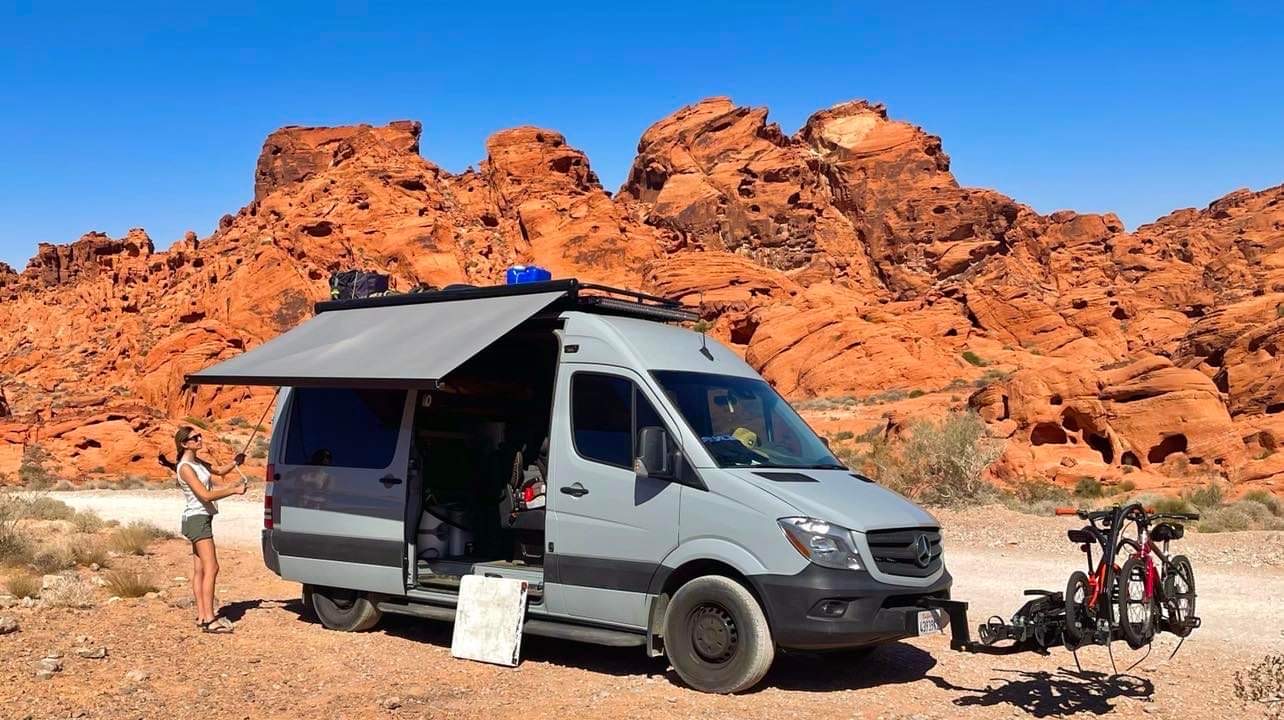 State Park Campgrounds in the Park: The park has 2 official campgrounds, Atlatl Rock and Arch Rock. Atlatl Rock is the main campground, has flush toilets and showers, shade structures, fire pits, flat tent pads, and even has about 20 sites with water and electric hookups and a dump station, a few pull-throughs, can fit RVs up to 35 feet. Arch rock is smaller, with pit toilets and no showers, and geared toward tent camping. Both campgrounds are first-come, first-served and fill up quickly, especially on weekends in fall and spring. And both are surrounded by beautiful red rock formations.
Dispersed Camping / Boondocking Outside the Park: One of the best things about Valley of Fire State Park is the ample availability of easy boondocking on public lands outside the park. When dispersed camping, it is important to leave no trace. Camp on previously impacted areas, preferably with stone fire rings that other campers have left there before, and pack out all of your trash and waste. There are zero facilities, so bring your own food, water, and bathroom (or a good shovel). There are three possible areas to conveniently dispersed camp near Valley of Fire.

 

The first, and our top recommendation, is the Snowbird Mesa, aka Poverty Flats, area off of Highway 169, near Overton. This is a very popular and easily accessible boondocking area, with many people who come here over and over and stay a while. If you've never tried dispersed camping before, this is a great first spot to try. To access the camping location, exit Valley of Fire through the East gate and continue until you reach Highway 169. Turn left onto Highway 169, and proceed about 3.4 miles until you see a large area of dirt roads to the right. If coming from Highway 15, take Exit 93 toward Overton and merge onto Highway 169. Continue for about 10.2 miles and look out for dirt roads on both sides of the highway, but mainly to the East. There will most likely be other RVs there. Explore the network of dirt roads until you find a spot you like. There is plenty of space here, even in the busiest time of year, and there should not be any problem finding a space, but be sure to go with plenty of light left. There are some steep drop-offs, and you don't want to be looking for a spot in the dark.
A second option is dispersed camping off of the network of dirt roads west of the West entrance to Valley of Fire, leading off of the Valley of Fire Highway.
A third option is the Stewart's Point Dispersed Area in the Lake Mead National Recreation Area. There are a few miles of dirt road with lots of space for dispersed camping near the lake. From Valley of Fire, exit through the East gate and proceed along Valley of Fire Highway until you reach the T. Turn right onto Northshore Road / Highway 167, toward Lake Mead (the opposite direction of Snowbird Mesa). Continue about 4.3 miles, then turn left onto Stewarts Point road. In another 2 miles, it turns right and becomes Beach Road. Continue until you find a spot you like. Make sure the road is firm enough and not too sandy for your vehicle.

Echo Bay RV Park and Campground on the Overton Arm of Lake Mead, about 20 minutes away.
Lake Mead RV Village at Boulder Beach, about an hour away, near Hoover Dam.
Activities In and Around Valley of Fire State Park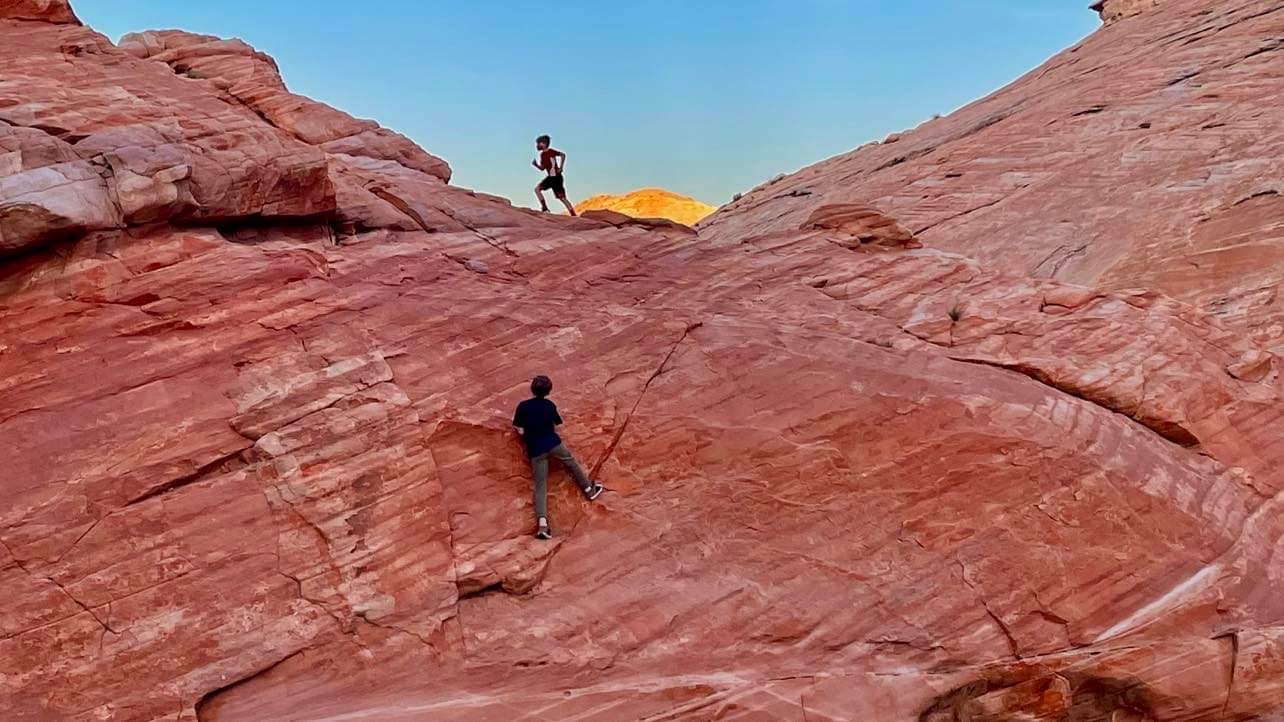 Activities – The park is oriented more or less like a T, with Valley of Fire Highway running east-west for 7 miles, with White Domes Road intersecting about halfway through, heading north from the Visitor Center. The main attractions are all located along one of these two routes, both of which you can easily drive in half a day, with time to get out and see some of the major sites. With more time, you can add in some of the wonderful hikes and take your time exploring.

Visitor Center – Start at the small Visitor Center to pick up a map and get oriented. There is a small gift shop and some very basic drinks and snacks, but not a restaurant or full general store, so come prepared.
Scenic Drive – if you do nothing else, drive the full length of Valley of Fire Highway and White Domes Road in the park. Valley of Fire Road is 7 miles between the East and West entrance gates, and White Domes Road is an out-and-back, 5.5 miles each way. The free park map you get at the visitor center shows you the main stopping points and attractions. Some of our favorite stops are highlighted below.
Mouse's Tank – Easy .75 mile out-and-back trail lined with petroglyphs. Great for kids.
Atlatl Rock – If you aren't bothered by stairs, take the steep set of stairs to some interesting and impressive petroglyphs.
CCC Cabins – In 1935, the Civilian Conservation Corps built several small cabins here that are still standing and are fun to walk through, especially for kids.
Fire Canyon / Silica Dome Overlook – Beautiful overlook featuring impressive rock formations. Turn right onto Fire Canyon Road, about 2 miles into White Domes Road, and take it the short distance until it ends.
Hikes: All of the short hikes in the park are great and totally worth doing. If you only do one, I recommend the 1.1 mile White Domes Loop through a very cool slot canyon and past an old movie set, or the 1.8 mile Fire Wave /Seven Wonders Loop, to a beautiful, striated, wave-shaped rock formation. The 1 mile Rainbow Vista trail is also great.

 

Lake Mead / Hoover Dam – From the East exit of the park, if you proceed to Highway 169 and turn right, you will arrive at the Overton Beach Marina on Lake Mead in under 10 minutes. Or you can continue on for just over an hour and arrive at Hoover Dam.
Las Vegas – It's Vegas. Do your thing.

Dining – There are no dining facilities inside the park, so bring your own food. The closest facilities are in the gateway town of Overton, only about 15 minutes away. New to the Overton scene is a restaurant owned by Criss Angel (of "Mindfreak" fame) called Cablp (that's Criss Angel Breakfast, Lunch, and Pizza). It wasn't open yet last time we were there, but it's getting good reviews and is open for breakfast, lunch, and early pizza dinner. Another Overton favorite is a Mexican spot called La Fonda, and there's a little ice cream and sandwich shop called Inside Scoop.

 
Podcast: Play in new window | Download