These are the show notes for the second of three guest appearances by Lauren Eber, from @afamwithavan about spring desert camping in the great American west. In this three part trilogy Jeremy interviews Lauren about Joshua Tree National Park, Death Valley National Park, and Valley of Fire State Park in Nevada.
To listen to Lauren give an overview of Joshua Tree National Park and recommend campgrounds inside and outside of the park, click here.
Lauren loves all three of these locations dearly and she has extensive dry camping experience in all three locations with her family and their beloved van. To listen to Jeremy interview Lauren about Death Valley National Park, click on the media player above. Or subscribe to the The RV Atlas wherever you get your podcasts. Or just read on for Lauren's extensive show notes about Death Valley National Park–in them she includes recommendations for camping inside and outside of the park. She also includes great recommendations for activities and a few options for great food. She will be back again with an overview of Valley of Fire this week! Stay tuned for the last episode in the trilogy!
Guest Show Notes by Lauren Eber
Death Valley National Park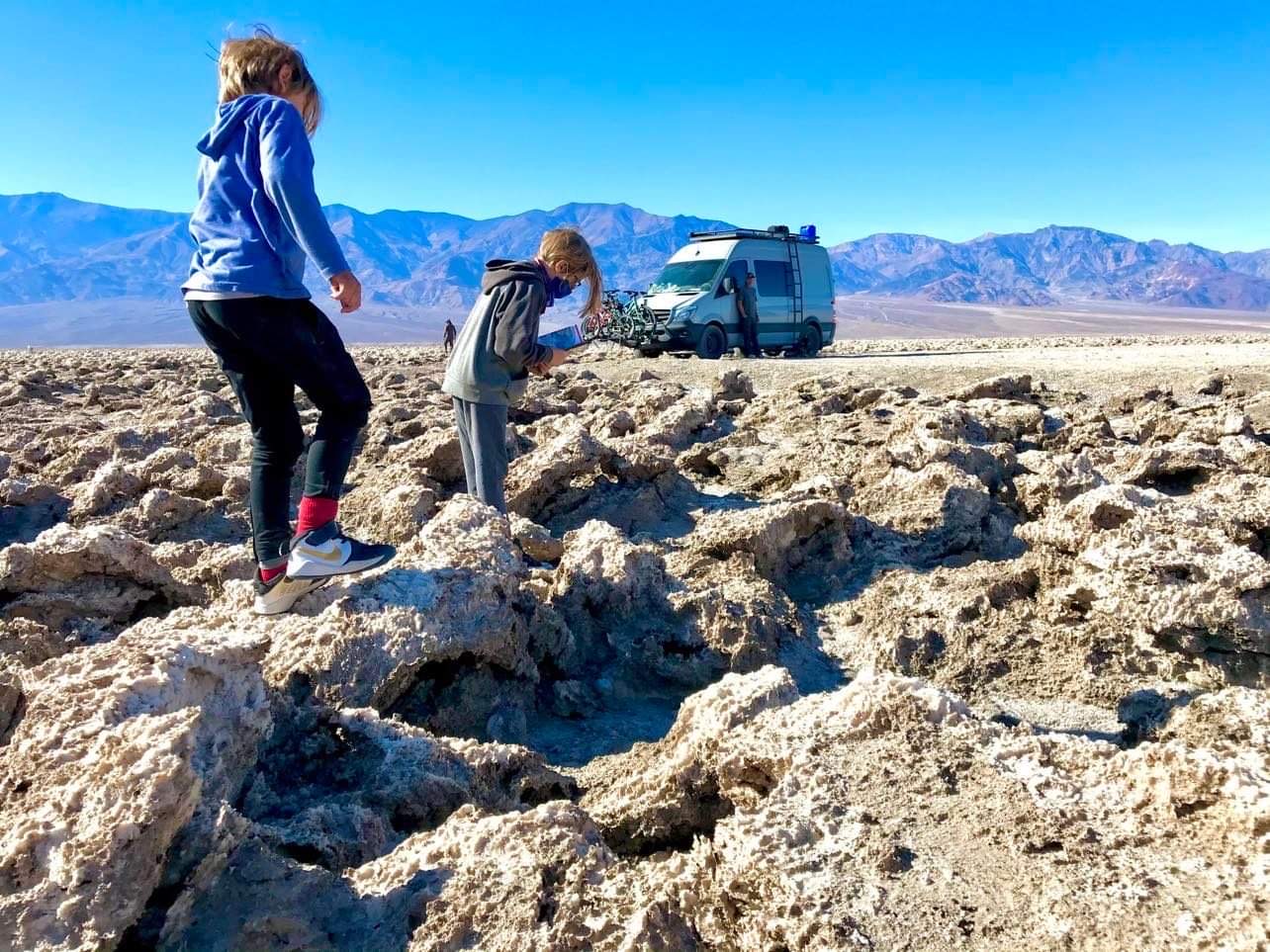 Getting There: About a 2 hour drive from Las Vegas and a 4.5 hour drive from Los Angeles. The central area in the park is the Furnace Creek Visitor's Center. Start here with a pass through the visitor's center to get your bearings and pick up a map before heading out to the park's top sites.
Overview: Death Valley is literally one of the hottest places on earth, and drier than the Sahara desert, with almost zero humidity. It hit a record high of 130 degrees in 2020. It contains the lowest point in North America, Badwater Basin, at -282 feet. It's only a couple hours drive from Badwater to the highest point in the Continental U.S., Mt. Whitney, at 14,505 feet. Death Valley is the largest National Park outside of Alaska, with many different regions. It is beautiful and other-worldly. It definitely deserves a spot on your bucket list.
Campgrounds

Furnace Creek Campground is the largest and most centrally located campground in the park, reservable from October 15-April 15 (so that's when you should go), and it has 18 full-hookup sites, but they book up almost instantaneously, 6 months in advance. Some spots have some vegetation for a little privacy, but the landscape doesn't really lend itself to privacy, so expect to see your neighbors, even with relatively spacious sites. (150 sites; water; flush toilets; some full-hookup sites)
Texas Springs is also located at Furnace Creek and is a good place to stay.

 

If all of the other campgrounds in the park are full, there is overflow at Sunset Campground in Furnace Creek. It is just a big parking lot, not at all scenic, but it is centrally located for sightseeing. Try to avoid this option, but it's better than nothing as a base for seeing the park.
NPS campgrounds outside of Furnace Creek – some of these are at higher elevations and may have cooler temps (distances from Furnace Creek in parentheses): Stovepipe Wells (30 mins, very basic campground, in the Stovepipe Wells area), Mesquite Spring (1 hr 15 min, Northern part of the park, near Scotty's Castle, which is closed until further notice), Emigrant (tent only, 40 min), Wildrose (1 hr 15 min, vehicles under 25 feet, in Emigrant Canyon, at 4,100 feet elevation), Thorndike (1 hr 30 min, high clearance vehicles under 25 feet, in Emigrant Canyon, 7,400 feet elevation), Mahogany Flat (1 hr 45 min, in Emigrant Canyon, high clearance vehicles under 25 feet, 8,400 feet elevation, shady)
Stovepipe Wells RV Park is a small, privately owned option inside the park with hookups, restaurant, saloon, and a swimming pool. About 30 minutes from Furnace Creek.
Panamint Springs Resort Campground – has 10 full-hookup sites, 26 dry sites, tent cabins, restaurant, bar, gas station, and general store, 1 hour from Furnace Creek.

 

Lodges – There are also some lodges inside the park if that's more your speed. Gateway towns are a ways away, so lodging inside the park is recommended.

The Oasis at Death Valley (most centrally located for sightseeing, at Furnace Creek) – has two hotels, the Inn at Death Valley and the Ranch at Death Valley, with pools, golf course, and restaurants.

 

Stovepipe Wells Village (about 30 mins from Furnace Creek). Has pool, restaurant, saloon.
Panamint Springs Resort (about 1 hour from Furnace Creek)


Activities Inside Death Valley National Park

Furnace Creek Visitors Center – get oriented at this centrally located visitors center.
Scenic drive to see the must-see sites: Badwater Basin, Devil's Golf Course, Zabriske Point, and the Mesquite Dunes shouldn't be missed! You can see them all in a full day. Add on Artist Palette Drive and Dante's View if you have the time.

 

Some other major sites to take in with more time are the Rhyolite Ghost Town, Ubehebe Crater, and Harmony Borax Works. They are all spread out in different directions, so figure out what sounds most interesting to you and take your pick.
Make the 2 hour scenic drive from the lowest spot to the highest spot in the continental U.S. and drive to the starting point for the Mt. Whitney summit hike, Whitney Portal. You can camp at Whitney Portal, but be prepared, it will be much, much colder than Death Valley! Tuttle Creek is a lower elevation campground close to Whitney Portal and the nearby town of Lone Pine that is a good spot for exploring the area.
Manzanar – Also about a 2 hour drive from Death Valley is the Japanese Internment Camp, Manzanar, which is well worth a visit, especially if you've never seen a Japanese Internment Camp. The site has excellent interpretive signs and exhibits that are very educational and enlightening as to what life was like for the Japanese Americans imprisoned there.


Top Attractions by Region

Furnace Creek: Badwater, Devil's Golf Course, Zabriske Point, Artist's Drive, Salt Creek, Dante's view (if you are short on time in Death Valley, prioritize these Furnace Creek sights in the order listed).
Stovepipe Wells: Mesquite Flat Sand Dunes, Mosaic Canyon
Panamint Springs: Darwin Falls (one mile walk to a very pretty waterfall, with some rock scrambling and stream crossing), Father Crowley Vista, Wildrose Charcoal Kilns
Scotty's Castle: Ubehebe Crater, Titus Canyon, Rhyolite ghost town, Scotty's Castle (closed until further notice)
Lone Pine: Alabama Hills and Movie Flats, Mt. Whitney Trails, Museum of Lone Pine Film, Manzanar


Dining

Dining and grocery options are thin, so this is a good place to plan to prep your own meals. But there are a few options. In Furnace Creek, the Inn and Ranch in the Oasis at Death Valley have several restaurants, cafes, and a saloon. They are all mediocre concessionaire fare, but they get the job done.The resorts in Stovepipe Wells and Panamint Springs also offer basic restaurants.If you make the drive to Mt. Whitney, there are some cute eateries in the small, blink and you'll miss it, town of Lone Pine. Try the Alabama Hills Café or Bonanza Mexican Restaurant. 
Podcast: Play in new window | Download