These are the show notes for the first of three guest appearances by Lauren Eber, from @afamwithavan about spring desert camping in the great American west. In this three part trilogy Jeremy interviews Lauren about Joshua Tree National Park. Then Death Valley National Park. Then Valley of Fire State Park in Nevada. Lauren loves all three of these locations dearly and she has extensive dry camping experience in all three locations with her family and their beloved van. To listen Jeremy interview Lauren about Joshua Tree National Park, click on the media player above. Or subscribe to the The RV Atlas wherever you get your podcasts. Or just read on for Lauren's extensive show notes about Joshua Tree–in them she includes recommendations for camping inside and outside of the park. She also includes great recommendations for activities and a few options for great food. She will be back again in our next two posts with overviews of Death Valley and Valley of Fire! Stay tuned for the complete trilogy!
Springtime Desert Camping: Joshua Tree, Death Valley, and Valley of Fire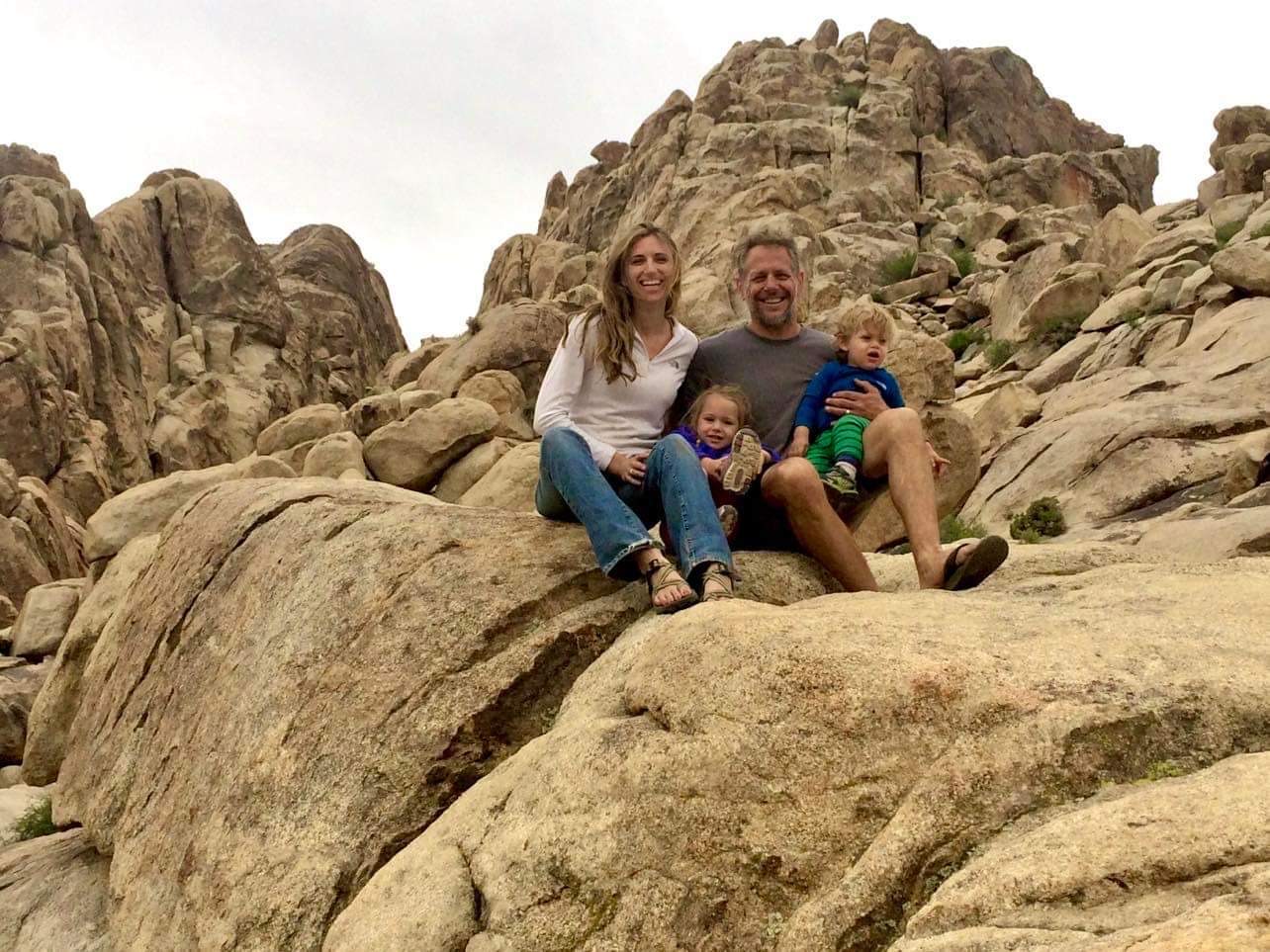 To me, spring camping means deserts! The shoulder seasons, spring and fall, are the best time to go to the desert, because the weather is most comfortable. In winter, deserts can have huge temperature swings and get very cold (even snowy) at night. In summer, temperatures can be dangerously hot and dry, and many parks even close. That leaves spring and fall as the best times, but spring has the added benefit of "desert bloom," or the blossoming of wildflowers. Bloom times vary based on elevation, when and how much it rained that year, etc., so if you are trying to catch a big bloom, follow the park's social media sites, or call the ranger station for updates. 
There are tons of great desert parks to hit during springtime. For example, I always recommend spring as my favorite time to catch Utah's Big 5 parks. Last year we had a great trip in Zion, Bryce, Lake Powell, and Grand Staircase Escalante National Monument. It's also a great time to visit the South Rim of the Grand Canyon (North Rim can still be snowed in) and other destinations in Arizona, like Sedona.
But today, I'm going to talk about three specific spring desert camping options I love, all of which are in striking distance of travel hubs and could easily be combined with other activities for a really fun spring break getaway: 1. Joshua Tree National Park; 2. Death Valley National Park; and 3. Valley of Fire State Park.
Joshua Tree National Park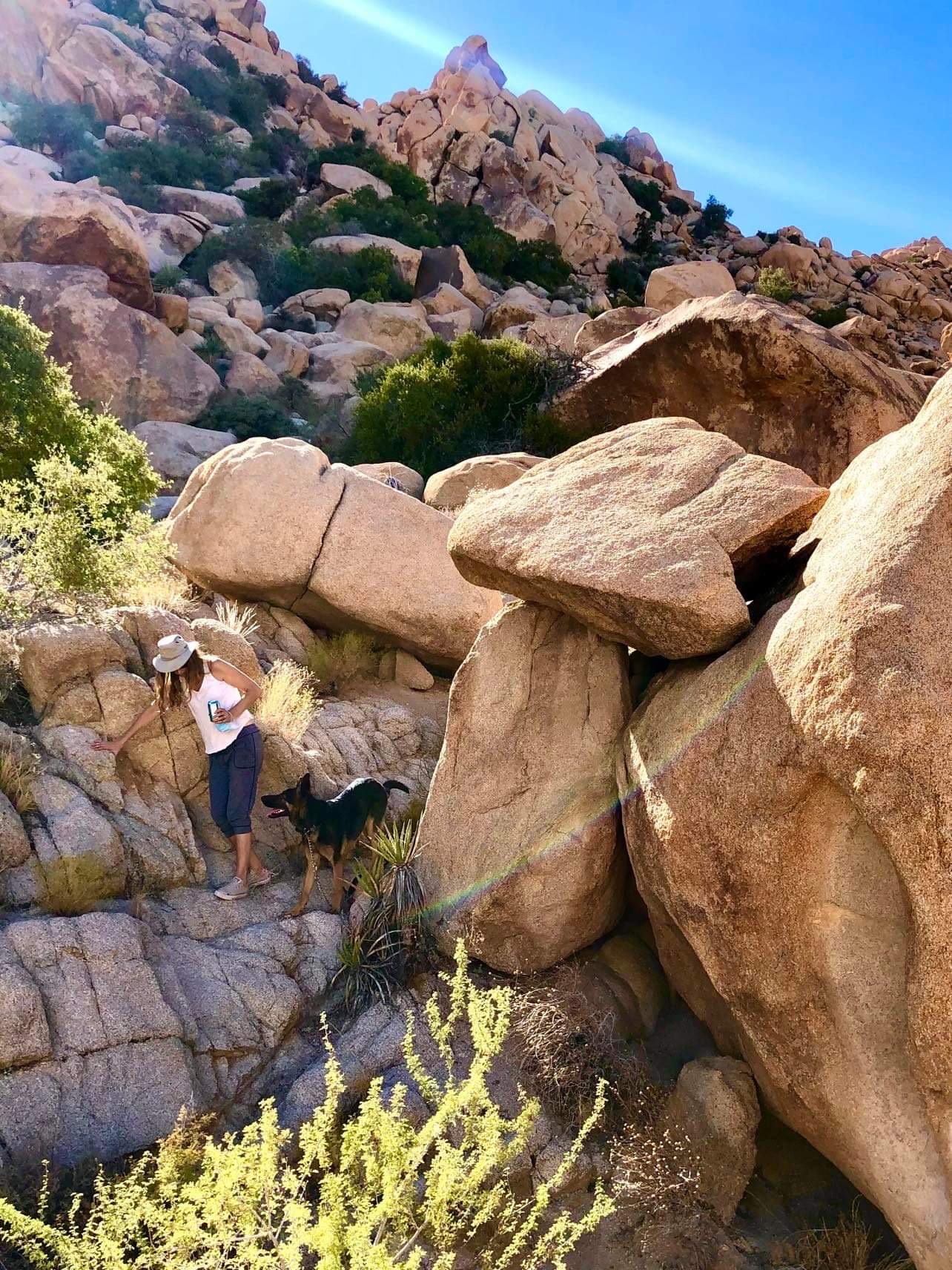 Getting There: About a 2.5 hour drive from Los Angeles or a 3 hour drive from Las Vegas. The main areas of the park are accessed along Park Blvd., which runs from the West Entrance in the town of Joshua Tree to the East Entrance in Twenty-Nine Palms, creating a big horseshoe to the south of Highway 62. Note that there is no park shuttle, so plan to have your own transportation.
Overview: Joshua Tree is an iconic National Park. It's not for nothing that it's the title of U2's most popular album. It is a special place with a magical energy, an other-worldly combination of granite boulders, tufted Joshua Trees, and scrappy desert wildlife. It's hard to spend time there without it leaving at least a little bit of an imprint on you. Slow down and let yourself be taken in by the giant rock formations, starry sky, and unique flora and fauna.
What's a Joshua Tree? Joshua Trees are tufted, spikey plants from the Agave family that look like they came out of a Dr. Seuss book. They were named by Mormon immigrants who named them after the biblical figure, Joshua. They can grow as high as 40 feet and may live as long as 500 years, though 150 years is typical. The crazy branching occurs as a result of flowers being nibbled by moths and rodents, causing new branches to shoot off in other directions.
Campgrounds In and Around Joshua Tree National Park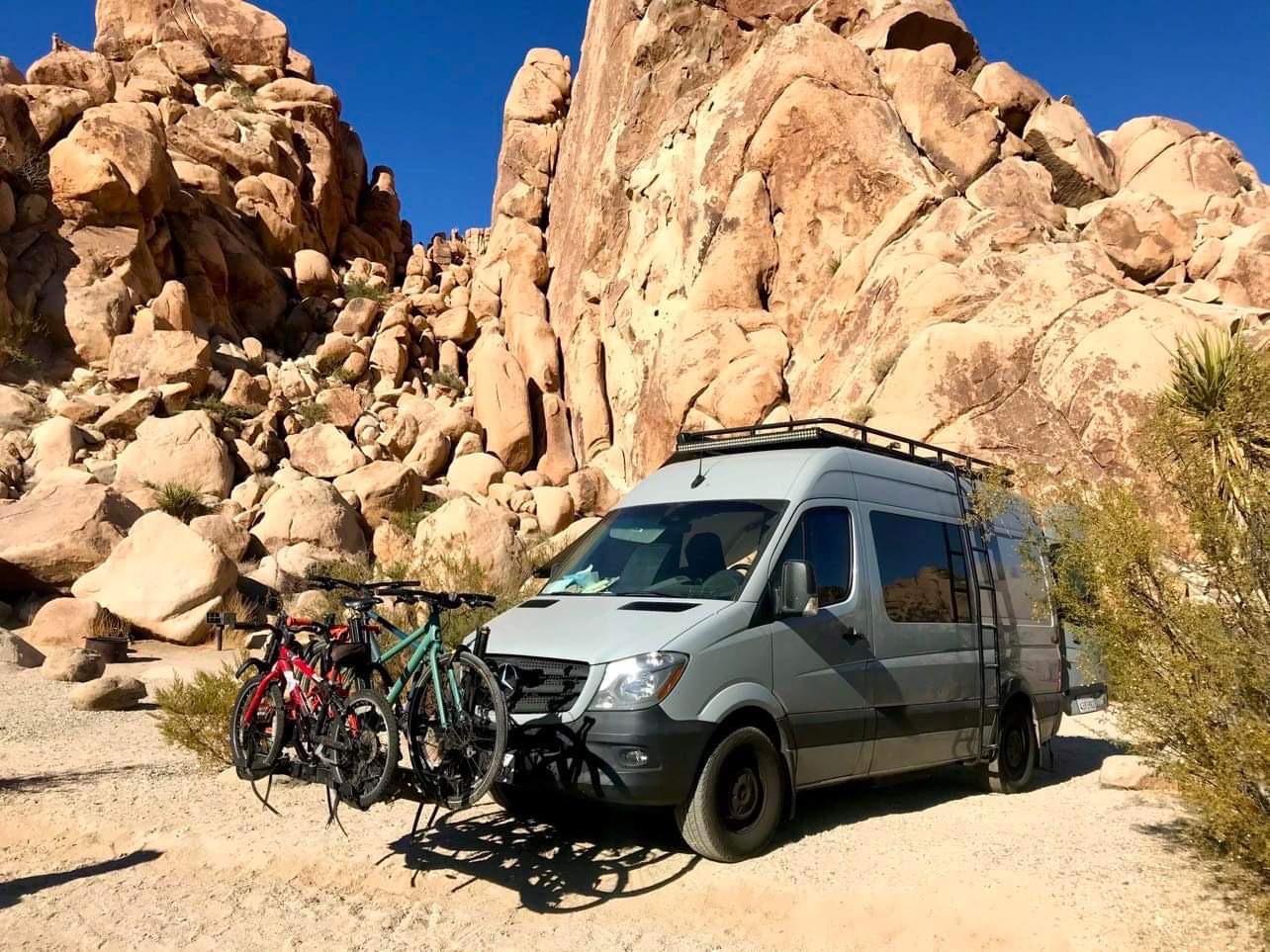 Note that the NPS campgrounds have no RV hookups, some walk-in, some tent-only, only a few allow generators and for very limited hours, most sites don't have water or cell service. Check campground details carefully to make sure you're prepared.

Reservable NPS Campgrounds:

 

Jumbo Rocks – highly recommended (124 sites; centrally located on Park Blvd.; pit toilets; no water)
Indian Cove – highly recommended (101 sites; some generators allowed; pit toilets; no water; outside the park entrance gates, but a short drive to Park Blvd. and most sites have great boulder formations that are to climb)
Ryan – highly recommended (31 sites; centrally located on Park Blvd.; pit toilets; no water)
Black Rock (99 sites; dump station; cell service; water; flush toilets; less centrally located than other campgrounds)
Cottonwood (62 sites; dump station; water; flush toilets)

First Come First Serve (non-reservable) NPS Campgrounds, all highly recommended if you can snag a spot:

Hidden Valley (44 sites; pit toilets)
White Tank (15 sides; pit toilets)
Belle (18 sites; pit toilets)

Private/RV Campgrounds:

Palm Springs / Joshua Tree KOA
Joshua Tree Lake RV & Campground
Auto Camp Joshua Tree – airstream trailers set up as hotel suites – it's a splurge, but it looks pretty swanky, if you love the idea of staying in an airstream.
Note: if you are staying in a private campground outside of the park, make sure you have a plan for how to get inside the park. The main attractions are inside the park itself, and there isn't much in the way of public transportation, so be prepared to have a way to get into the park every day.
Activities in Joshua Tree National Park
Hiking – I highly recommend stopping in at a ranger station, getting a map, and getting recommendations for the best hike for your desired length and difficulty, based on current conditions. Stay on trail, bring plenty of water, and listen to rangers!

Hidden Valley Nature Trail – must-do one-mile loop, perfect with kids. Lots of Joshua Trees, Yuccas, and boulders to climb. Can do this around lunch time and stop at Hidden Valley picnic area for lunch before or after the nature trail.
Cholla Cactus Garden – must-do ¼ mile loop trail, best when sun is lower, early morning or later in the day
Skull Rock and the Discovery Trail – On Park Blvd. between Jumbo Rocks and Live Oak, this is a very popular 1.7 mile loop that can be started from trailheads on either side of the road. Skull rock is probably the most famous rock formation in the park, and the Discovery Trail is a short trail with lots of interpretive signage and a quick way to see what Joshua Tree has to offer in under a mile.
Arch Rock – walk out to Arch Rock, near the White Tank Campground, and explore the boulders in the area.
Ryan Mountain Trail – Strenuous 3 mile trail with 1,000 feet elevation gain in 1.5 miles, with the payoff of sweeping, panoramic views. It's centrally located in the main area of the park.

Rock Climbing – this is the quintessential Joshua Tree activity. If you are even remotely interested in rock climbing, this is the place to do it. World class climbing, with lots of options for climbers of all levels. Look for climbing guide companies that have permits to guide climbing in Joshua Tree through organizations like PCGI or AMGA.

Cliffhanger Guides
California Climbing School
Stone Adventures

Ranger Programs – The bigger campgrounds have recurring evening programs; check out the Keys Ranch Tour for an interesting tour of a preserved, historic ranch; there's a great Junior Ranger program.
Stargazing – Joshua Tree is a Dark Sky park with great stargazing. Try to go during a new moon for the best skies, or enjoy amazing moonrises if you are there with a fuller moon. Cottonwood Campground has the darkest skies if that's your priority.
Sound Bath – for a very groovy, new age, authentically Joshua Tree healing experience, visit The Integration for a sound bath. Times are limited, so research availability and book in advance. A sound bath at The Integration is described as "an unforgettable sound experience for those who seek deep relaxation, rejuvenation, and introspection," in which, "You will be resting comfortably in the deeply resonant, multi-wave sound chamber while a sequence of quartz crystal singing bowls are played."

 

Dining

Hidden Valley Picnic Area is a good spot to enjoy a packed lunch
Pappy and Harriet's – Iconic, funky restaurant and bar with tons of personality in Pioneertown, an Old West movie set built in the 1940s. Tasty barbecue and live music. Reservations recommended, especially on weekends. Worth 40 minute drive from the park.
Pie for the People – New York style thin-crust pizza, with lots of creative menu options. Take-out available if you want to order a pie to bring back to your campsite.
Crossroads Café – Old school café/diner.
Natural Sisters – Great spot for breakfast if you can get a table. Lots of vegetarian and vegan options.
Joshua Tree Saloon – Restaurant and bar in Joshua Tree proper, frequented by locals and

 
Podcast: Play in new window | Download