Utah is one of the most beautiful states for RV travel in our entire country. It's not just "The Mighty Five" that make this state great. Every inch of it seems to be photographable and otherworldly. Our guests on this episode of The RV Atlas podcast are Tyler and Kendra from oneyone.com and Campspot. Tyler and Kendra are digital nomads who have toured the American west extensively in their Airstream with their two cats Luna and Sunny. On this episode Jeremy interviews them both about six of their favorite campgrounds in Utah. Each one is unique and well-worth adding to your Utah bucket list.
To listen to Jeremy interview Tyler and Kendra, click on the media player above, or subscribe to The RV Atlas podcast wherever you get your favorite shows!
Tyler and Kendra's six picks for an amazing Utah Road Trip cover a wide variety of locations and campground types. Here is their list and their traveler's notes for these 7 campgrounds!  We also thank them for sharing these incredible pictures with us! 
7 Amazing Campgrounds in Utah
Goblin Valley State Park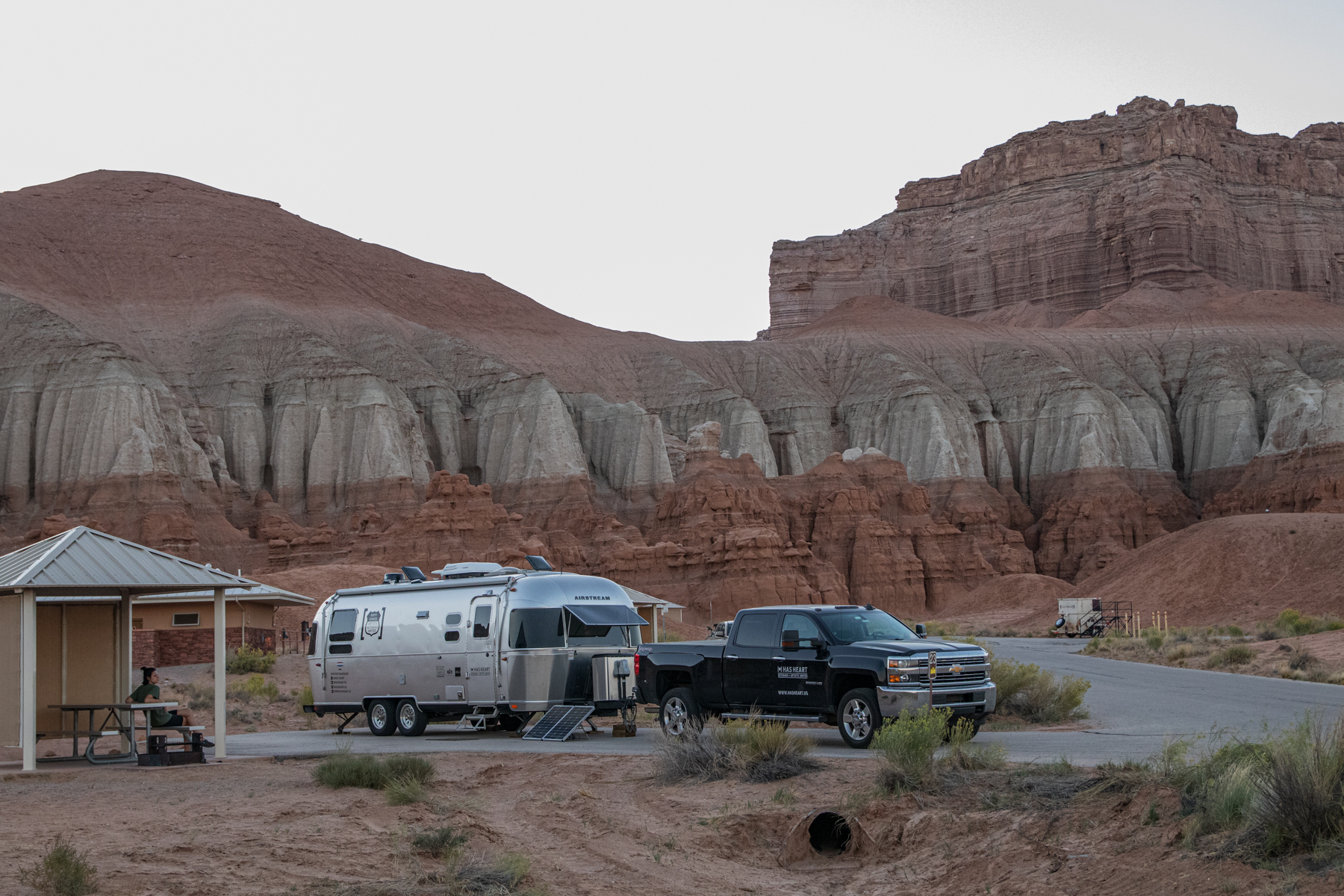 The state park is famous for its mushroom-shaped hoodoos referred to locally as goblins

Shapes come from an erosion-resistant layer of rock on top of softer sandstone

Campground Overview & Amenities:

12 RV sites, 11 tent sites, group site, 2 yurts, restroom, shower facilitates

Drinking water

Dump station

Hot showers

Vault toilets

Shaded picnic tables

Fees:

$35 per site, yurt $100 per site, group site is $125

Sandstone rock formations called goblins

open year-round

Spring and fall are the best times to visit, summer temperatures can soar

Things to do in the park: visitors are welcome to wander off-trail and explore the goblins, there are also miles of trails, 

About 3.5 hours from Salt Lake City
Dark Sky Campground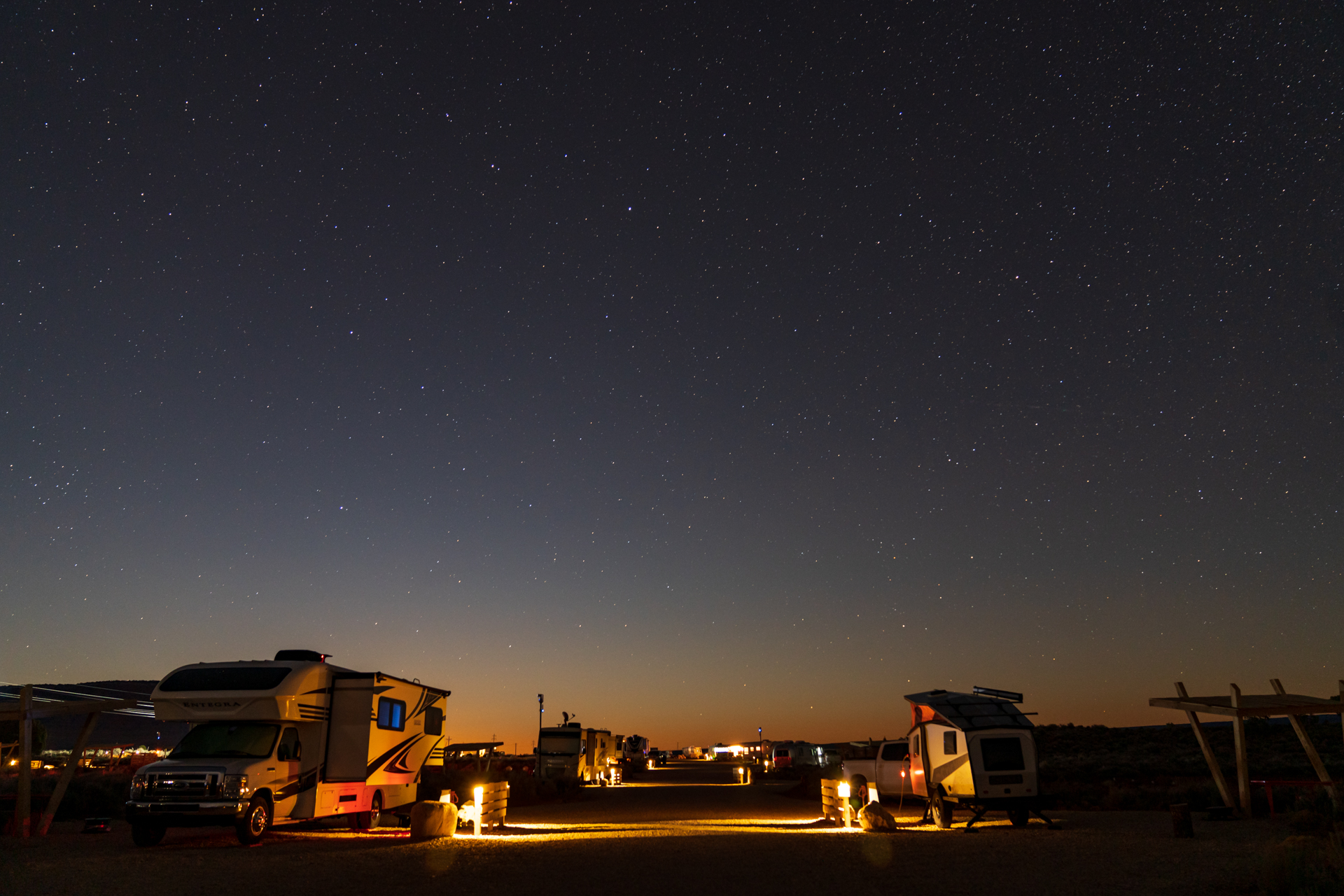 Just 3 miles outside of Kanab, Utah

Campground Overview & Amenities:

18 large, pull-through RV sites on 40 acres of land

Fiber internet

FHU

Outdoor furniture

Shaded picnic table

Spa-like bathrooms

Community area

$55/night

Views of the Red Cliffs, Vermillion Cliffs, and the Kalibab Plateau

Owners Britt, Jeff, Rick, and Meryl

Roxor (Jeep) or bike rentals

Propane fire pit rentals

More info available and bookable on Campspot.com
Fruita Campground at Capitol Reef National Park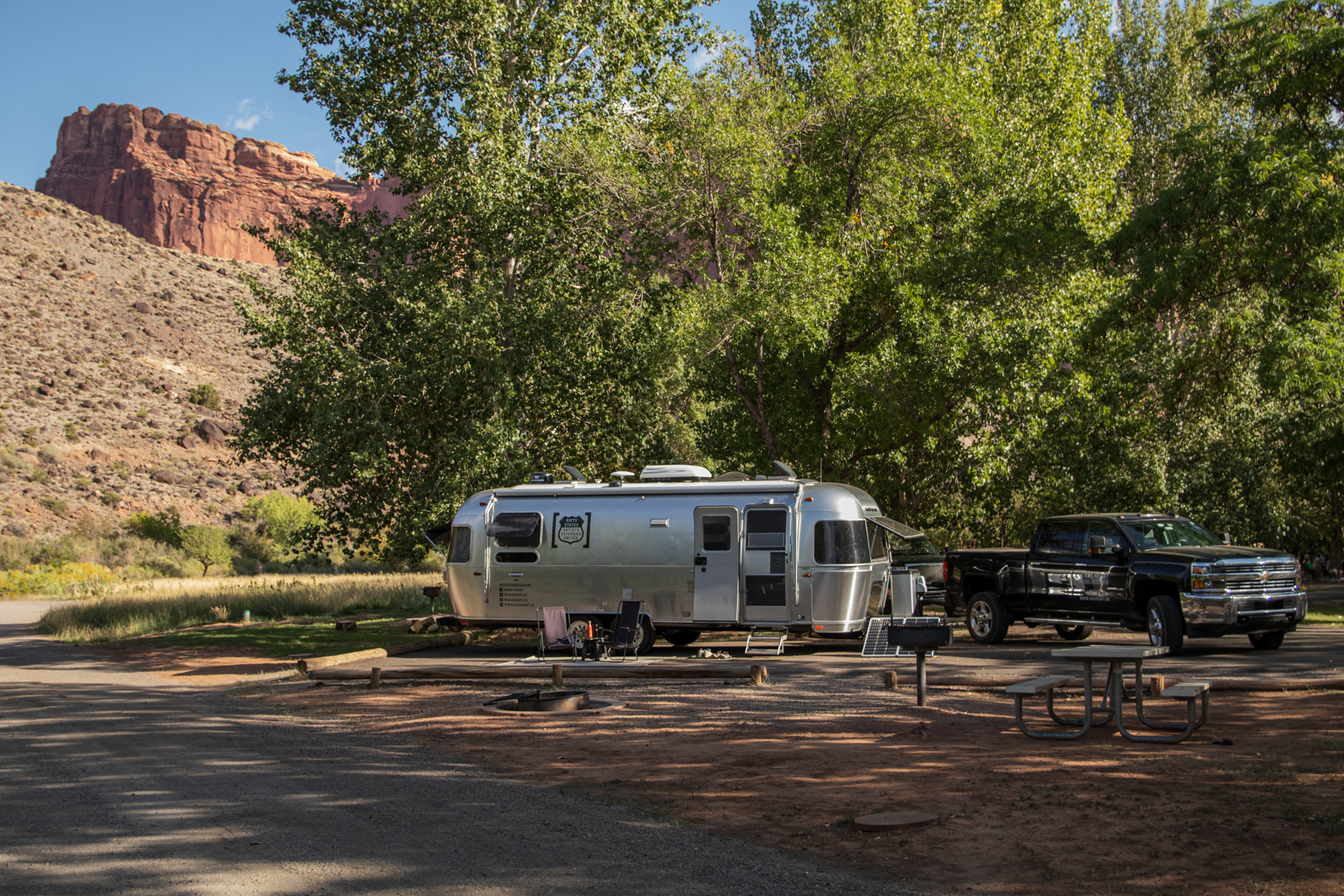 Surrounded by historic orchards (peaches, apples, etc.) of the national park (from pioneers settling in the area in the 1880s),

When the fruit is ripe, staff puts out U-pick signs and you then can pay to pick

Campground Overview & Amenities:

71 sites

Picnic table

Firepits

RV dump and drinking water station

Restrooms with running water and flush toilets, no showers tho

$25 per night

Open year-round

Reservable online for March to October camping, otherwise, from November through February, it's first come first served

Near some incredible hikes, we did an epic canyon hike

Unbeatable dark skies- one of the darkest places in the US

International Dark Sky Park
Sun Outdoors Arches Gateway in Moab, Utah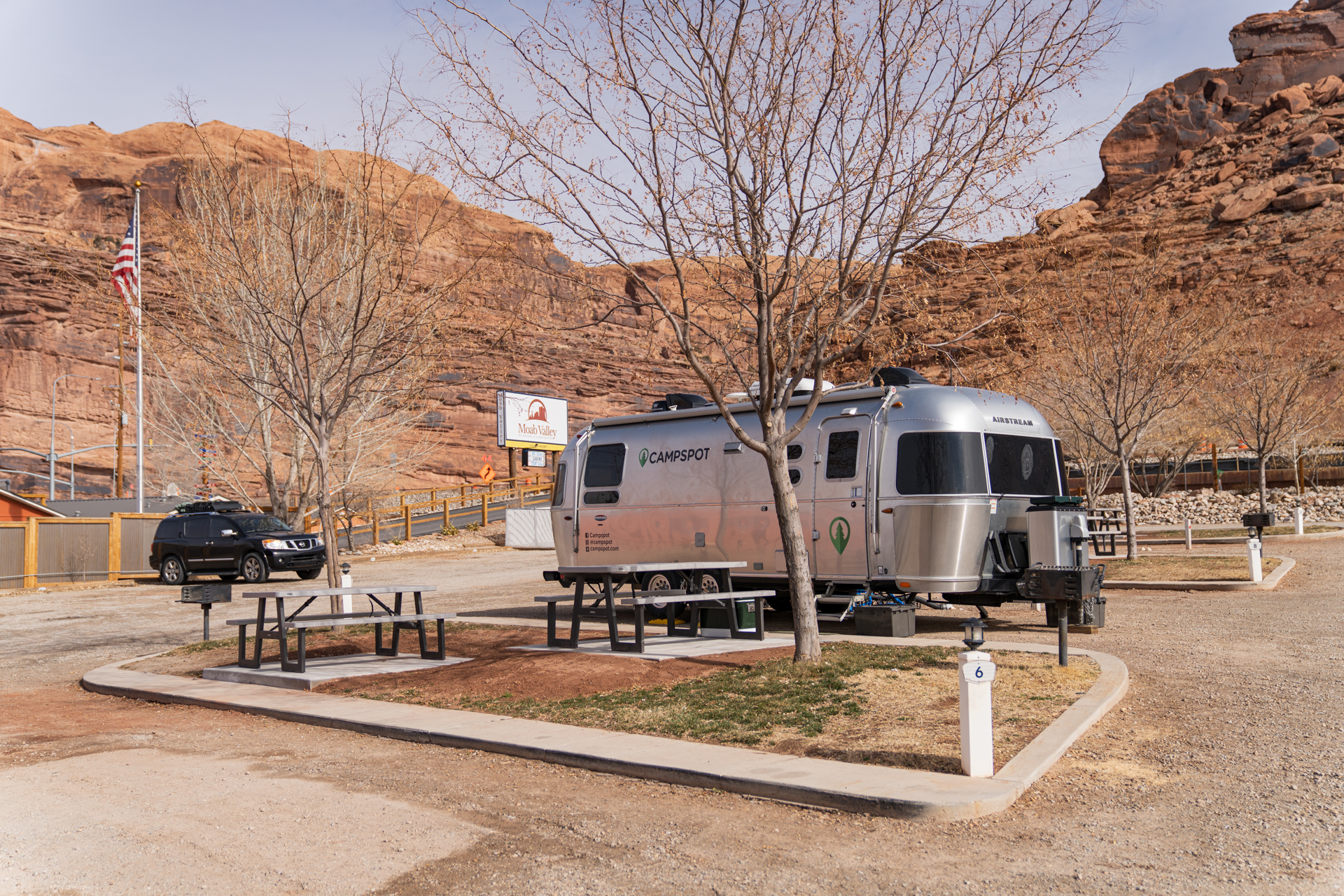 Sun Outdoors Arches Gateway:
Location, location, location – less than 3 miles from the entrance to Arches National Park

Plenty of camping options: 

Cottage rentals

Airstream rentals

Cabin rentals

Pull through RV sites, FHU

RV sites start at $54/night

Tent sites

Covered tent sites

Across the street from Lions Park and Bike Path, that's a beautiful path along the Colorado River

More info available and bookable on Campspot.com
Sun Outdoors Moab Downtown
Moab Downtown:

Won a campspot award for most popular in the USA 

A little bit less in terms of camping options compared to Arches Gateway but it has:

Cabin rentals

FHU

WE sites

Tent sites

RV sites start at $52/night

Right on the main street of Moab, so super fun being able to walk around on town in addition to its proximity to Canyonlands and Arches Nationa Park and more

Near some jeep rentals to go off-roading

More info available and bookable on Campspot.com

Read this book before you go/while you're there:

Desert Solitaire,

by Edward Abbey

Based on Abbey's experiences as a Park Ranger in the 1950s at Arches National Monument (before it was designated a National Park in 1971)
Zion Canyon Campground in Springdale, Utah
This is an RV and tent campground right in the heart of small town of Springdale, UT

Shuttle for Zion national park is within walking distance as it's a little over a half-mile from the entrance to the national park so you can leave your car behind.

It's a tight campground in terms of spacing so for the larger class A motorhomes, this might not be the best for you. But what it lacks in size it makes up for in culture and community

We met people from all over the world, ALL transient campers, shared experience in that you're all there to experience Zion

At the end of June 2021, they did experience insane flooding, not sure if you remember the videos, but they are open but you might experience some construction here and there

Overview:

131 RV sites ranging from FHU, prices starting at $79 going up to $119 so def on the higher end in terms of RV site prices

Campers do have access to a pool on site as well which is a great way to cool off from your daytime adventures in the park

Surrounded by the Redrock and the trees help with shade
Goulding's Monument Valley RV Campground in Monument Valley, UT
History of how the original owner, Harry Goulding, in the 1930s, met the famous director John Ford and showed him photos of Monument Valley, and so he filmed his next movie there: Stagecoach starring John Wayne.

Monument Valley Navajo Tribal Park

Respectful of tribal lands 

17-mile scenic loop dirt road

The area has hosted all sorts of movie and photography crews, artists, and of course, that famous scene of Forest Gump running

30 miles from Valley of the Gods, which is also an off-road loop road (managed by the BLM) with similar redrock buttes and mesas as Monument Valley [be sure to Leave No Trace]

Campground:

Nestled in the Rock Door Canyon

Surrounded by Redrock

Can see Monument Valley in the distance through the canyon opening

RV, tent, and cabin sites

RV sites:

FHU

Cable

Wifi

Picnic tables

Bathrooms

Guests have access to Goulding's property amenities including the Stagecoach restaurant, museum, store, laundromat, and theater

We totally did our laundry there and commented on how surreal it was to do laundry in such a picturesque place.

RV sites start at $48/night
Podcast: Play in new window | Download