You've heard of house flipping, but have you heard of RV flipping? Whether you are interested in renovating used pop-up campers for profit or for personal use, we have some tips for you. Imagine buying the oldest, ugliest, cheapest RV out there and turning it into a beautiful retreat, updated with modern style and amenities.
Lisa and Wes Rice of Rice Camp know this story well. For over seven years, the couple has been buying and flipping used pop-up campers. They share the journey online, giving followers tons of information and inspiration on Instagram, YouTube, and more. While decor design is central to the process, there's a lot more to know about renovating used pop-ups.
To hear Lisa and Wes give tips for renovating used pop-up campers, click play on the media player above or look for The RV Atlas wherever you find your favorite podcasts.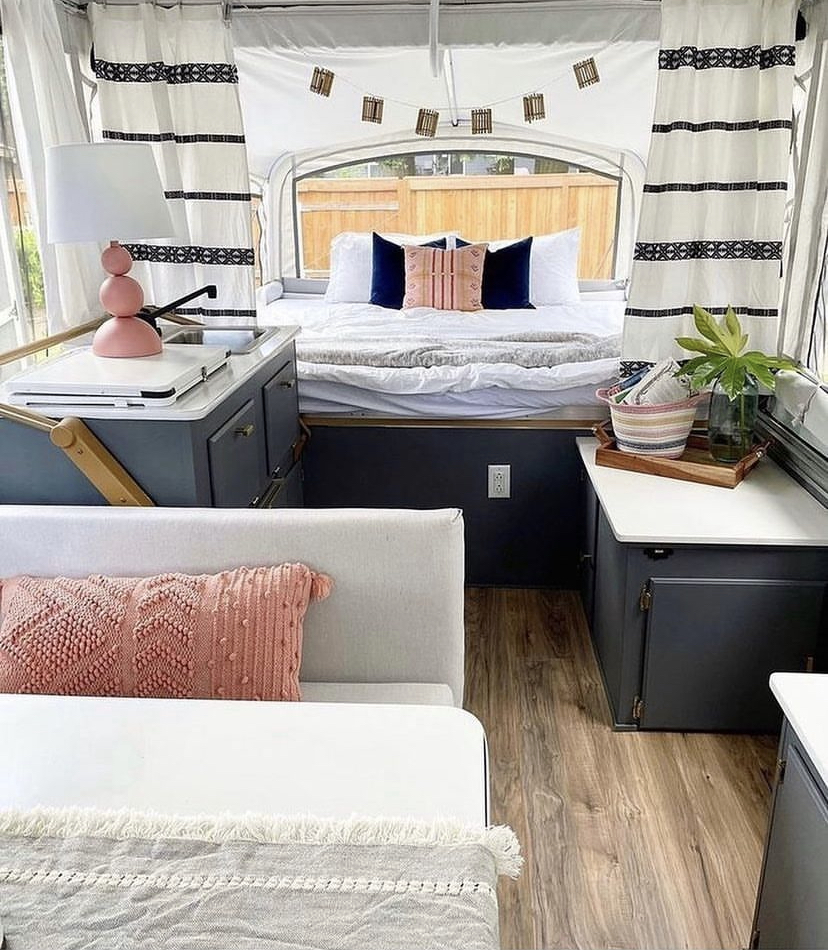 Why Flip Pop-Ups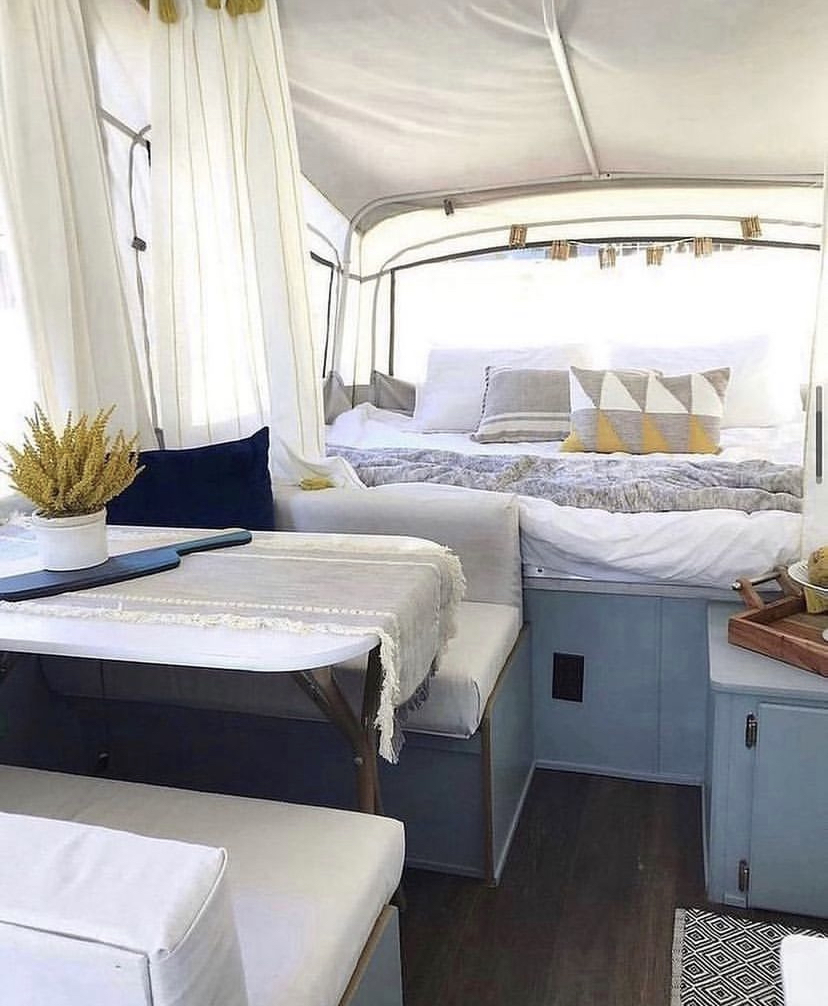 With so many types of RVs on the market, what draws the Rices to pop-ups? First, pop-ups are open and airy. showcasing the connection to nature. Second, pop-ups are easy to tow and store. They don't take up too much space in the yard or garage during the renovation process. Plus, this towability appeals to a larger audience of buyers, as most pop-ups don't require a large tow vehicle. Practically anyone can pull a pop-up.
Pop-up camper renovations are also popular because there aren't as many new pop-ups on the market. Many manufacturers have discontinued their pop-up lines, instead moving toward the larger travel trailers and fifth wheels. Despite the lack of new pop-ups (or because of it), there is a flourishing market in used pop-ups. A simple search on Facebook Marketplace and similar sites with turn up dozens of used pop-ups for sale.
Plenty of availability in the used market also makes it easy to find a good deal on a used pop-up. Prices are generally reasonable, meaning you won't have to break the bank to purchase one. Then, if you do flip it, there's a market of buyers. If you sell at the right time of year (usually spring or early summer), you'll have plenty of interest and are likely to have a quick sale.
Finally, there's the fun factor! Pop-up buyers are often pretty excited to get what might be their first camper. Or, they might have fallen in love with the beautiful renovation. At the end of the day, you just want the renovated camper to go to a home where it will be loved.
Considerations When Buying a Used Pop-Up Camper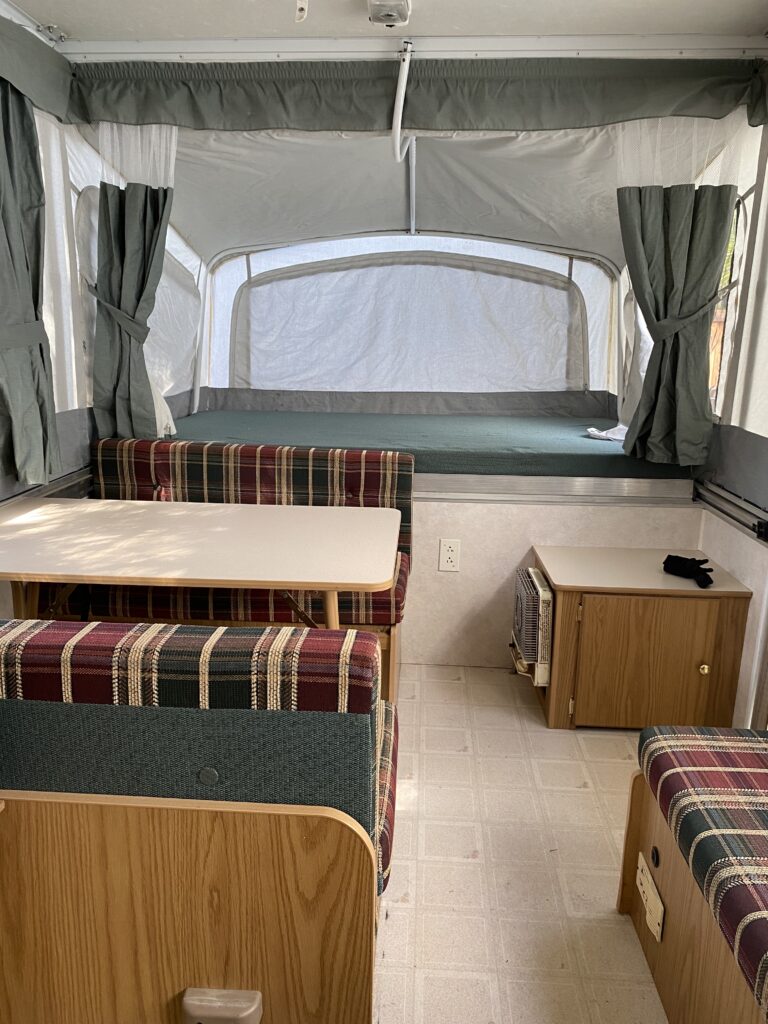 When selecting a pop-up camper for renovation, Lisa and Wes recommend keeping these tips in mind:
Make sure the canvas and screens are in good shape. Unless you want an extensive renovation process, find a pop-up with good canvas and good screens. Structural changes may be harder to tackle (and more expensive!) than cosmetic ones.
Inspect for water damage. Water damage is a dealbreaker. Feel the ceiling to check for bubbling. Look closely under the bunk ends and anywhere else you can see wood to check for watermarks or mold. Do a sniff test. If you can find a garage-kept pop-up, that's golden!
Check the electrical. Make sure everything works so you can avoid expensive repairs.
Find out the camper's story. Talk to the owners to see how long they've had it, how they've used it, and how they've cared for it. Wes suggests asking open-ended questions like, "What can you tell me about the wheels?" This can get the sellers talking and help you to know what you are getting yourself into. If the sellers can talk about the maintenance history, this is a good sign the rig has been cared for!
Double check the dry weight, trailer brakes, etc. Even though pop-ups are lightweight, don't assume that just any vehicle can tow one. It's still important to check the weights and make sure the trailer brakes are working, especially on an older rig.
Always open and close the pop-up before making a deal. If the seller is unwilling to open up the camper for you, it's a major red flag.
How to Paint a Pop-Up Camper Interior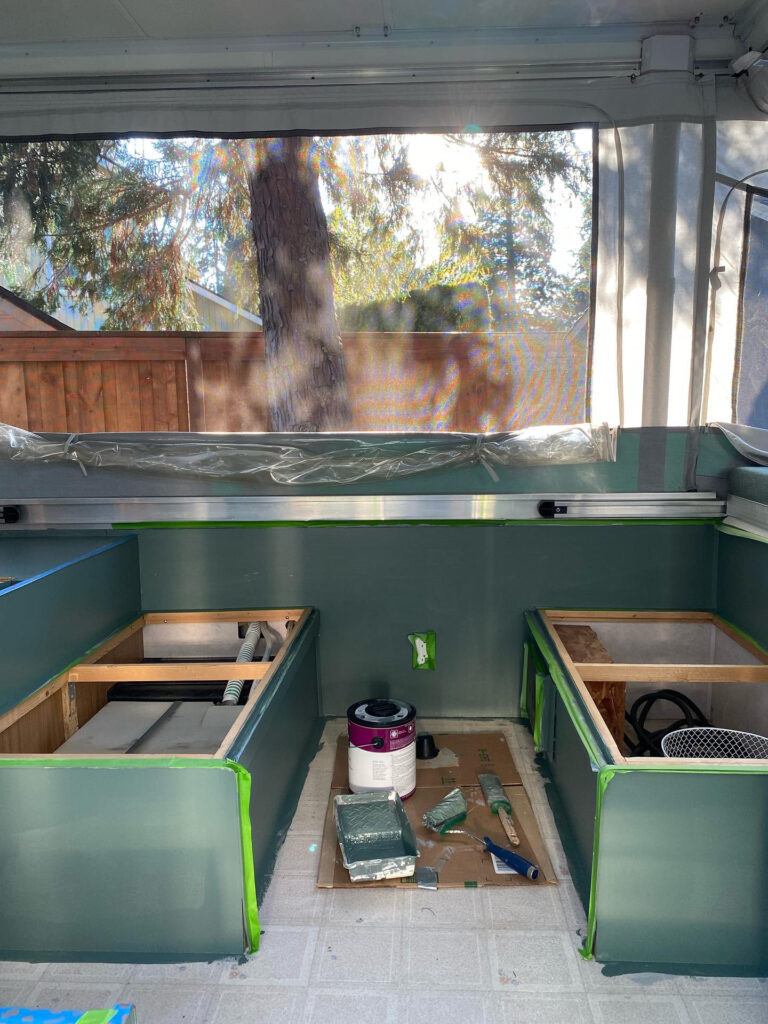 After giving your pop-up purchase a deep cleaning, it's time to tackle the renovations. Lisa likes to start with the paint. Paint immediately makes a huge difference. Here are some tips for painting a pop-up:
Remove the hardware, outlet covers, and hinges. This makes it easier to get a better finish on your paint.
Sand the cabinets. Even if it's not real wood and even if your paint says sanding is not required, the painting will adhere better with a good sanding.
Use warm water and vinegar to wipe everything down.
Do a coat of primer. Lisa recommends using Zinsser primer. Just one layer is fine.
Paint. Add 2-3 coats of paint. Lisa recommends Benjamin Moore, Sherwin Williams, and Behr paints. Take your time to paint precisely and carefully. Use a good quality paint brush (maybe $8-9) and a 4-inch roller. Wes and Lisa use FrogTape to mask off the areas they don't want painted. Allow the paint to fully dry between coats, leaving a day or more between coats. Check the weather to watch for rain.
Click play on the media player above to find out Lisa's favorite colors for painting pop-ups and more tips for renovating used pop-up campers!
Tips for Flooring Renovations in a Used Pop-Up Camper

Since pop-up campers are so small, one easy way to renovate the flooring is to buy remnants. Check your local hardware and flooring stores, as well as Facebook Marketplace and Craigslist, and you'll find lots of leftovers from larger jobs. Since the floors are so small, you don't need a lot of flooring. Generally, you'll need just 1-2 boxes.
Also, use LVT flooring. It is lightweight, thin, and water resistance. The Rices recommend avoiding peel-and-stick tiles. Even though these seem appealing, they won't stick well due to temperature and humidity fluctuations.
When selecting the flooring color, consider having a nice balance between dark and light tones on the floors and cabinets. If your paint color is darker, go for lighter flooring and vice versa. While it's nice to get a good deal on flooring, it's better to get the right match than to get a good deal. Don't hesitate to pay for new materials if that's what will work for your design.
You'll be working in a small space and need to do a lot of custom cuts. Make sure to leave room for an expansion gap. You can use paintable PVC trim to cover these. Also, think about the layout so you don't end up with a very thin strip of flooring in a highly visible spot. And, you may find that the flooring is higher than the threshold at the door. A small bit of trim can help smooth out this transition.
One very important tip: Before installing the flooring, set a piece up against the doors to make sure they can open properly. If your flooring is too thick, you may have trouble opening the fridge and cabinets. And, that's a big problem!
How to Update the Cushions When Renovating Pop-Up Campers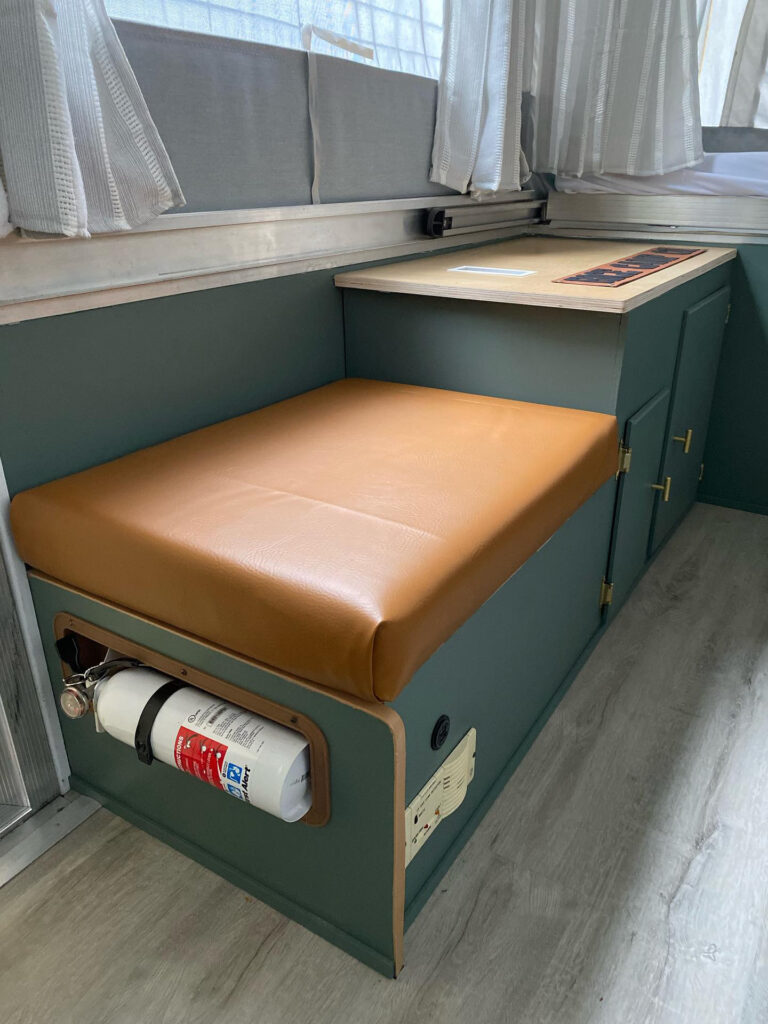 Your vintage camper is likely to have some vintage cushions! Whether these are tacky or trendy, you may want to replace or modify them to help freshen the space. The Rices' motto is: If you can fold a present, you can recover a cushion!
If you're good a sewing, you may want to sew new cushions–however, this does take some skill. Instead, Lisa likes to use the fold-and-staple technique, and Wes recommends using a nail gun with staples to get a firm hold. Check out the Rice Camp YouTube page to learn more of their secrets and to see demos!
Consider vinyl or faux leathers for easy cleaning. Also, again, keep the cushions neutral if you've used a bolder paint color. Plus, this keeps the focus on the nature instead of the decor. Complement the outdoors instead of competing with them.
Click play on the media player above to hear the Rices describe their cushion-replacement techniques and more tips for renovating used pop-up campers!
How to Update the Curtains When Renovating Pop-Up Campers

In some pop-up campers, the curtain fringe runs around the whole top of the camper, making this an important part of any renovation. After trying many methods of securing replacement curtains, the Rices developed their own clips, which are available for purchase in the RiceCampShop on Etsy. They have more to come!
There are plenty of cheap ways to get materials for curtains. Lisa has used pre-made curtains, tablecloths, shower curtains, and more. Just add a simple hem, and you are good to go!
Another great tip: Before tossing the old curtains, use them as a template for cutting the new ones.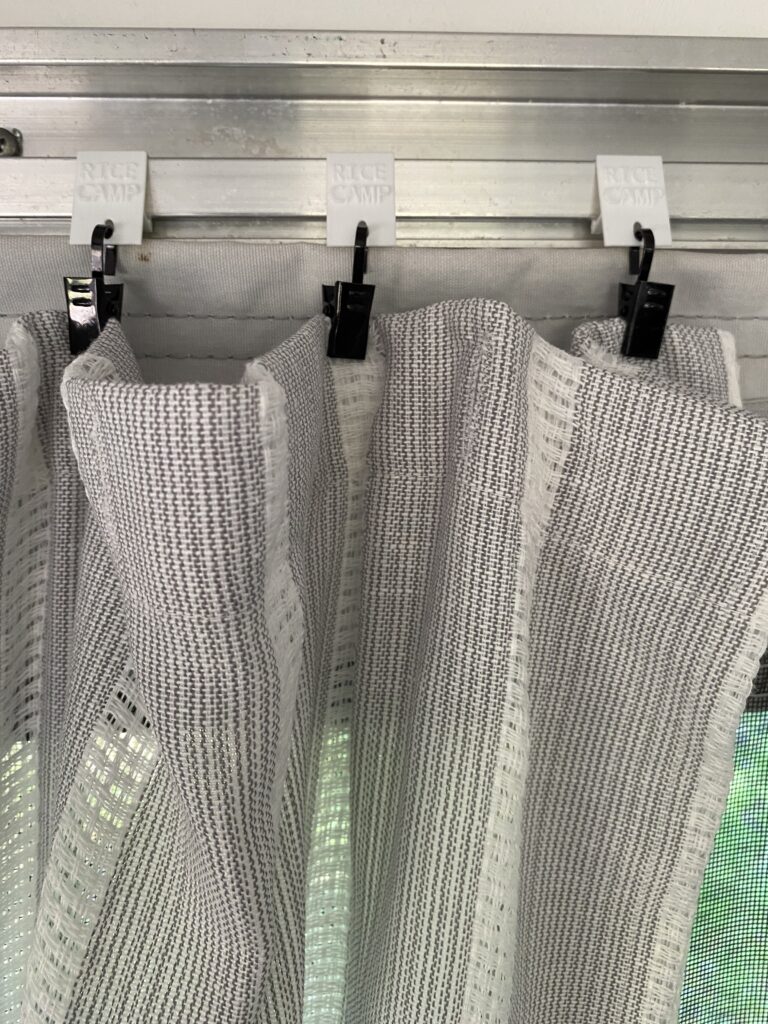 The Rices want you to know that if they can renovate used pop-up campers, you can, too! It just takes a little practice and a lot of patience. Give Rice Camp a follow on Instagram, YouTube, and Etsy to keep the information and inspiration coming. You can also find them on TikTok, Pinterest, and more! In addition to giving their own tips, they interview other renovators who share their tips and tricks.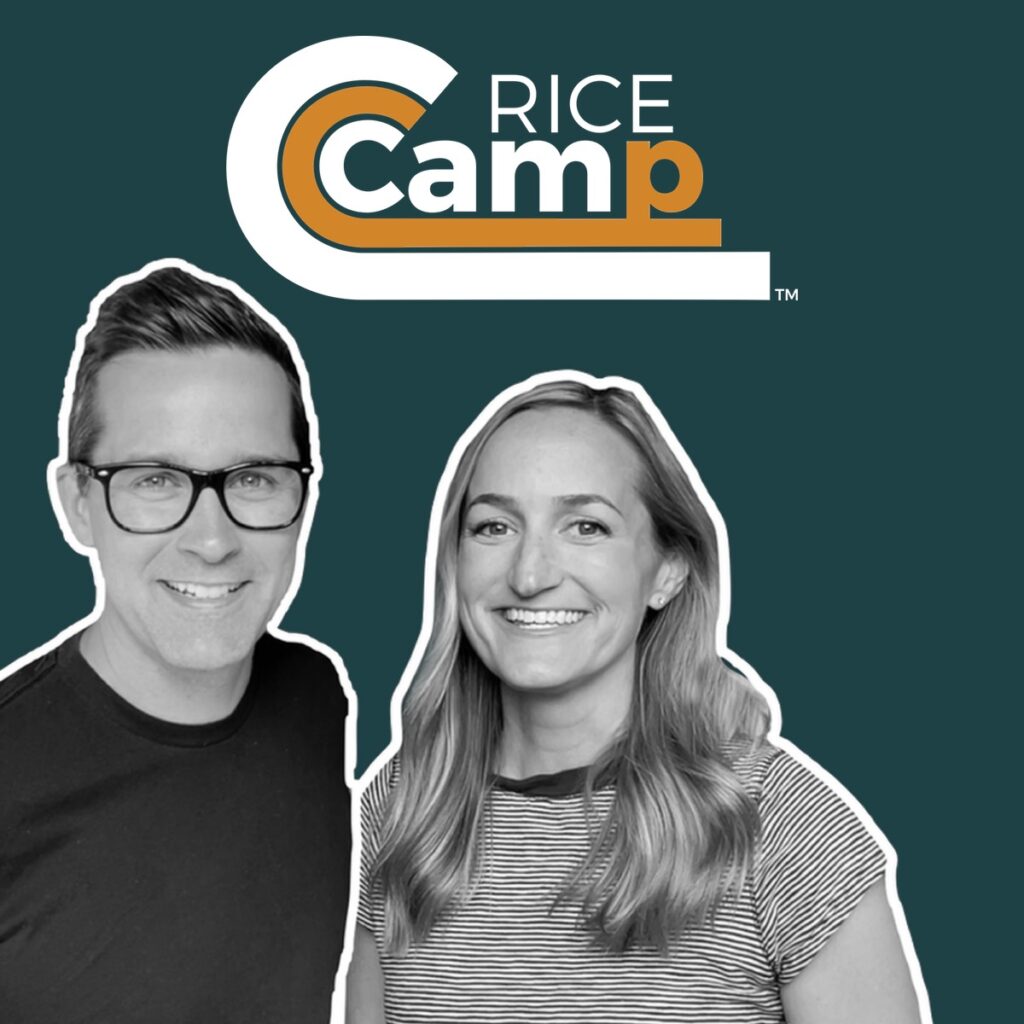 If you enjoyed this post, make sure to check out the Silver Moose Restoration and our very own Penny the Pop-Up Renovation.
Thank you to Wes and Lisa for sharing these amazing tips!
Podcast: Play in new window | Download