Are you looking to become a snowbird and spend the winter months enjoying the gorgeous white sugar sand beaches and sparkling waters of Florida's Emerald Coast? Or are you just looking for a great place to spend spring break in your RV, or in a cabin or glamping tent? Either way, you should consider Camping on the Gulf (formerly known as Camp Gulf.)  It is an excellent choice that is beloved by RVers of all ages. The waterfront location of Camping on the Gulf in Miramar Beach is excellent. Downtown Destin and Henderson Beach State Park are a short drive to the west, and Topsail Hill Preserve State Park is a short drive to the east. Whether you want to stroll along quiet beaches, or eat terrific seafood in Destin's bustling downtown, the location of Camping on the Gulf has much to offer.
Let's zoom in and take a closer look at this popular resort-style campground, just minutes from Destin. We think it makes a great choice for most RVer's who want to visit the area. However, those camping on a strict budget should take a look at the state park campgrounds nearby. They cost significantly less.
To listen to our interview with Erik and Jeanne Anderson about their four month stay at Camping on the Gulf, click on the media player above. Or subscribe to The RV Atlas wherever you get your favorite podcasts. Thanks to Erik and Jeanne for providing the photos for this post and for their extensive notes about Camping on the Gulf!
RV Sites at Camping on the Gulf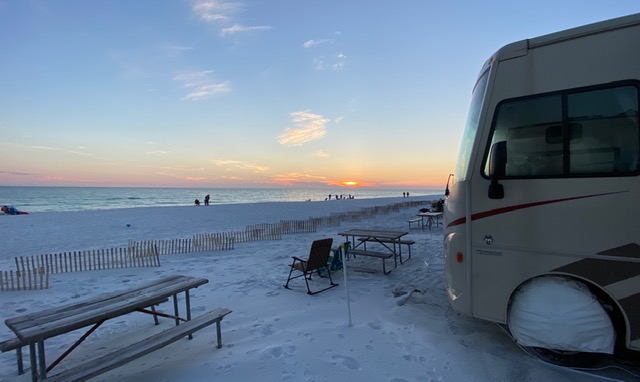 Camping on the Gulf has 217 sites, 16 of which are directly on the beach. These beachfront sites are a bit narrow, but they are still popular because of the spectacular views of the Gulf of Mexico. Water and electric sites are available at these sites, but they do not have sewer hookups. It is also important to note that pets are not allowed on these sites, and they are not allowed on the beach in Walton County without a permit. So If you are camping with a pup, you will need to look for another site at Camping on the Gulf. Thankfully, the other sites are also very nice, and the rest of them have full hook ups.
Some of the sites here have shade, and others get direct sunlight. So depending on the time of year that you visit, you should choose wisely between shade and sun. Most sites are level and paved, with nice picnic tables. Also please note–you will need to bring your own above-ground fire pit if you would like to have a campfire at night.
Cabins and glamping tents are also available for those without RV's. Always check and see what is included with a cabin or glamping tent rental so you don't show up without essential items for your trip.
Amenities at Camping on the Gulf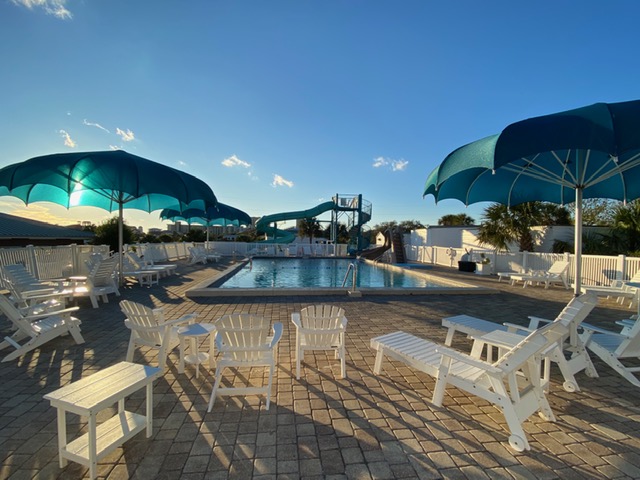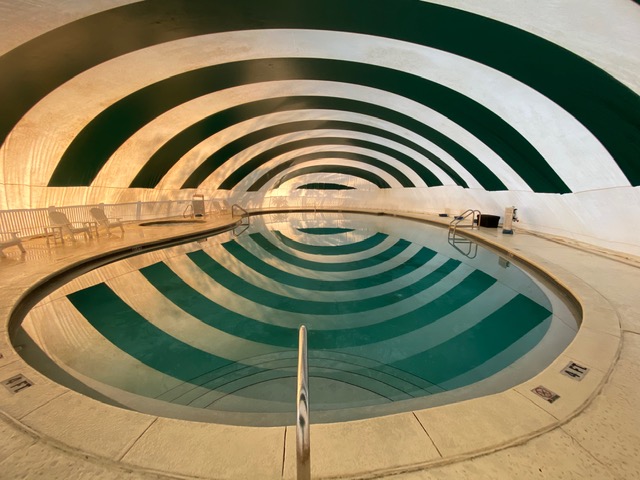 The amenities at Camping on the Gulf are excellent.  Guests love the outdoor pool, and their kids love the large waterslide. During the winter months the domed indoor pool is also very popular–especially on chillier days. The indoor activity center is also a hub of activity when the weather does not cooperate. It has pool tables, foosball, board games, and plenty of room to spread out and relax. If you are are feeling cooped up in your RV, then this is a great place to get some work done or read a book.
Other Facilities at Camping on the Gulf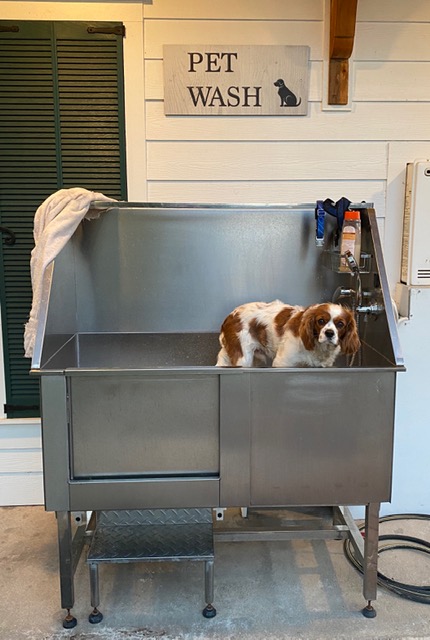 Camping on the Gulf has many other more practical amenities. Many of them are much appreciated by the snowbirding residents in the park. The bathhouses and laundry room are clean and well maintained, and they even have a nice dog washing station. Erik and Jeanne Anderson travel with their beloved Hershey Pup and he definitely loved getting a nice bath during their stay last winter (see above). You can also have your mail delivered right to the campground during your stay–which saves snowbirds like Erik and Jeanne from having to go to the post office over and over again.
Is Camping on the Gulf Good for Snowbirds?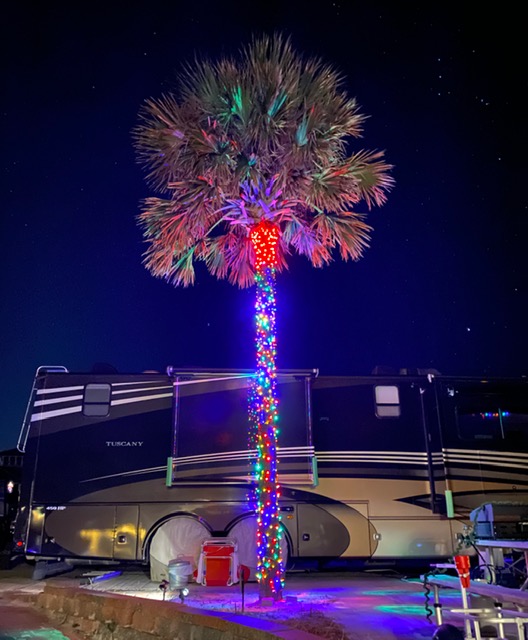 The residential amenities and the great location near Destin make Camping on the Gulf an incredibly popular spot with snowbirds like Erik and Jeanne. But the park is loved equally by those that stay for months, and those that just come for the weekend. One major thing to consider before snowboarding in an area like Destin is that it can get chilly in the winter. Temps can drop into the 40's and even into the upper 30's. So if you want to still have a sense of the seasons, then this area might be for you.  But if you want warmth, warmth, warmth, then you may want to head further south.
This winter Erik and Jeanne or spending some time at Camping on the Gulf again. But they are also heading further south for part of the winter. When you are snowbirds, you really can have it all!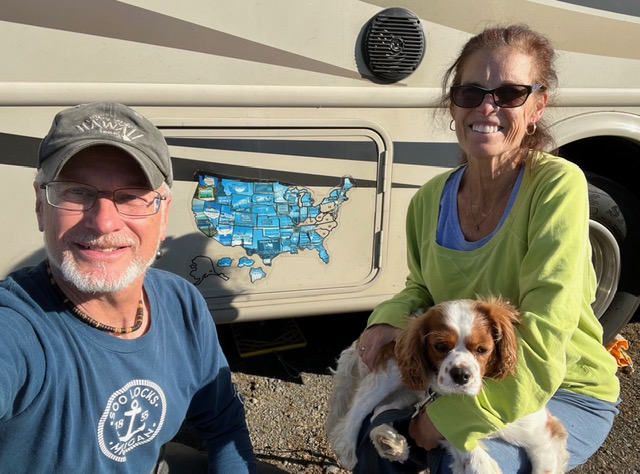 Thanks so much to Erik and Jeanne Anderson for reviewing Camping on the Gulf on the RV Atlas podcast. And many thanks to them for sharing their awesome pictures as well!
Podcast: Play in new window | Download