Topsail Hill Preserve State Park is one of the most popular camping and RV destinations in Florida. It's located just in Santa Rosa Beach, 10 miles east of Destin and has over three miles of pristine sandy beaches that visitors just adore.
Campground Details: Topsail Hill Preserve State Park
    
Florida State Parks are known for their fabulous campgrounds, but Topsail Hill Preserve State Park takes it to another level. The campground is large with 156 RV sites. Every single RV site has full hook ups and concrete pads. Seriously. A state park with full hook ups. On the beach. See why everyone loves this place?
There are also tent sites with water and electric, plus 32 cabins and bungalows. It's important to note that the RV sites, tent sites, and cabins are all in designated areas, so you won't be able to park your RV next to friends in a cabin.
The campground is beautifully maintained with paved roads throughout. Topsail Hill Preserve State Park delivers on the tropical scenery with plenty of Florida vegetation and palm trees. Campsites will cost you between $24 and $42 dollars, which is a steal. The only catch is that you actually have to find an open campsite to book. The reservation window is 11 months, and the park sells out during the most popular times of the year.
Melissa and Matthew couldn't get a reservation over their spring break initially. However, they kept checking back for cancellations and ended up getting a site just 10 days before their scheduled Florida trip. So if you can't find a spot at first, don't give up hope.
Activities and Recreation: Topsail Hill Preserve State Park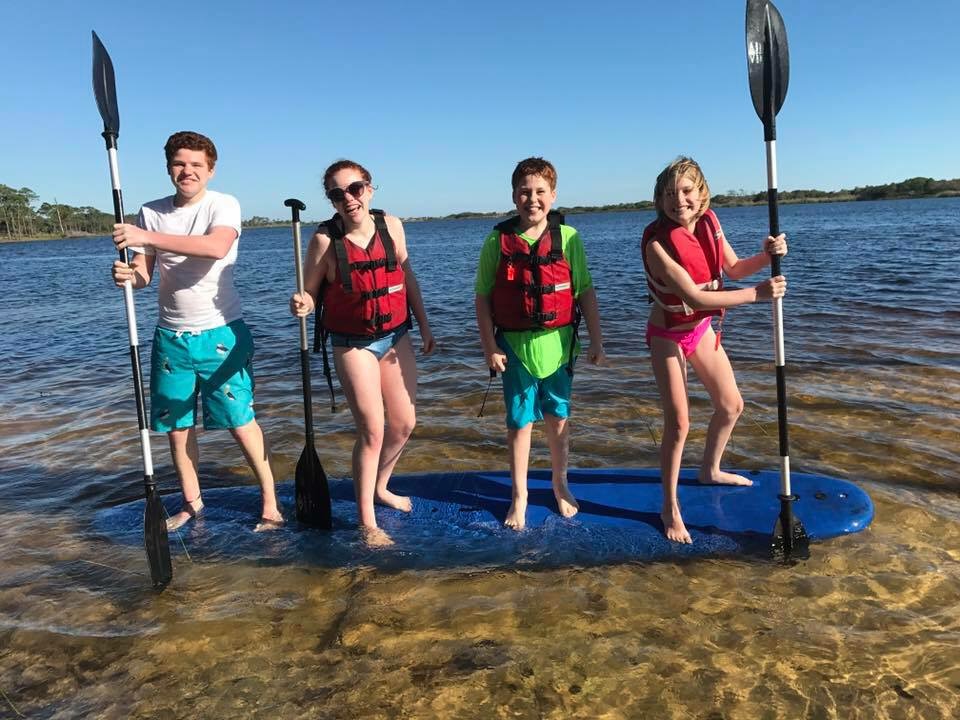 First things first. There is a pool at this state park. There's also shuffleboard and decent-sized camp store with basic supplies, food, and gift items. You can rent bikes, kayaks, canoes, and paddle boards right on site as well.
There are also scheduled Ranger events and guided tours throughout the year. You can find the weekly schedules online, or you can sign up for an email with events, programs, and park news.
The beach is, of course, one of the main attractions here. The three miles of white sand coastline is a decent 10-20 minute walk from the campground, but there is a free trolley service available.
Regional Highlights near Topsail Hill Preserve State Park

You'll probably be content to hang around at the state park for the majority of your stay. But if you want to venture out, there is plenty to do right outside the state park gates. Just be prepared for some congestion and traffic during peak travel season, aka Spring Break.
The Kellas family enjoyed delicious Key Lime and Red Velvet donuts at the Donut Hole. This place is very popular and a line can form out the door. They offer take out or dine in for the donuts, scones, muffins, and all day breakfast.
They also had a lovely dinner at The Surf Hut where, again, the wait was a bit long. No one minded, however, because the restaurant sits right on the water and offers stunning sunset views.
You might also want to take a ride to the city of Seaside, where the Truman Show was filmed back in the 90s. The area is famous for urban design that was apparently quite forward looking in the 1980s.
Topsail Hill Preserve State Park definitely lived up to all the hype for Melissa, Matthew and their four kids.
Bottom line? You need to put this on your campground bucket list. Now just get to work on those reservations.
See you at the campground,
Stephanie + Jeremy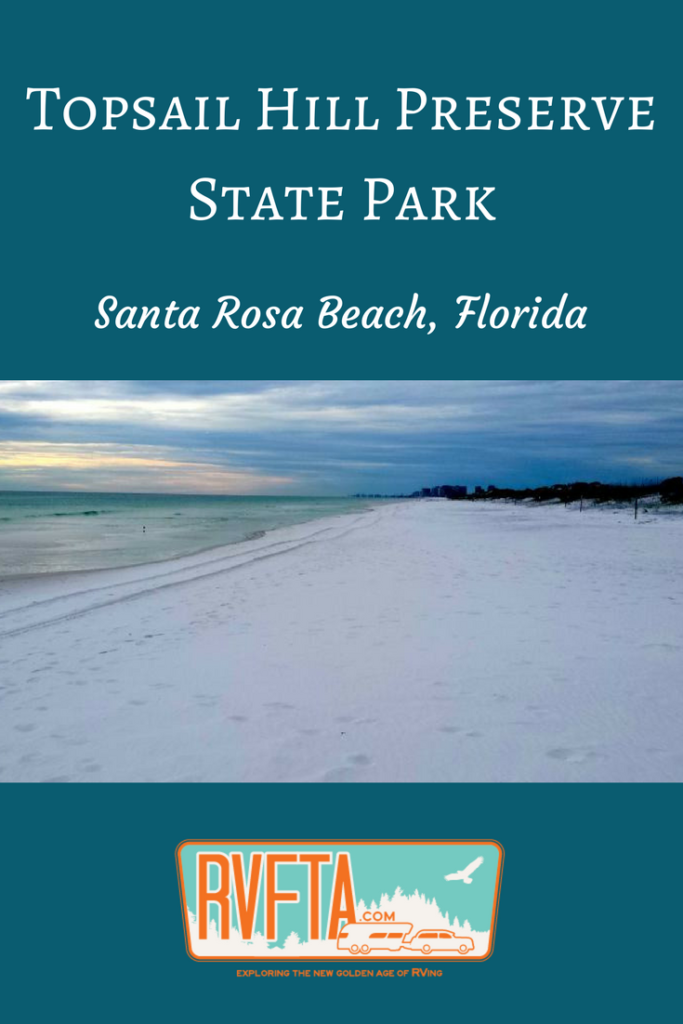 Podcast: Play in new window | Download