September brings cooler temperatures, back to school routines, and the official start of RV show shopping season which kicks off with the Hershey RV Show in Pennsylvania every year. RV shows can bring amazing educational experiences and fantastic buying deals for consumers, but they can also leave some folks feeling overwhelmed and exhausted.
We've compiled all our RV Show Shopping tips into one single episode to help you make the most of your RV show visits this year. Listen to hear our advice that will be applicable no matter where you are on your shopping journey.
RV Show Shopping: General RV Show Tips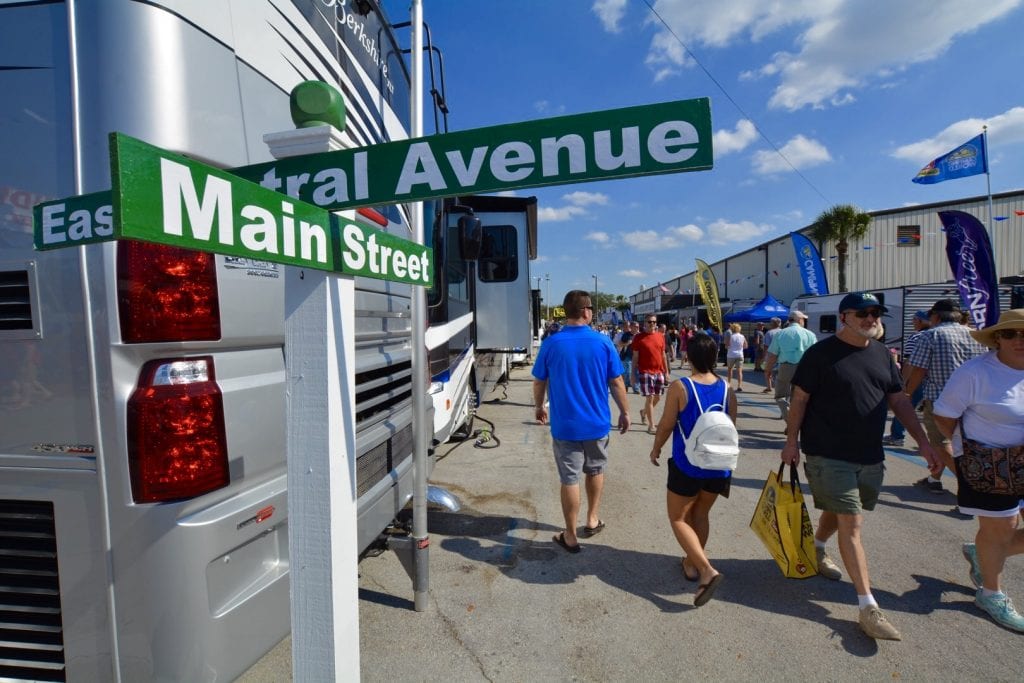 Go online beforehand
Download a map of the show to your phone and print out any available coupons. Check for parking and cash policies. Look at the vendors and food options. RV shows have such a wild variety of policies, so make sure you check out the details in advance. We've seen a surprising amount of shows that are cash only for admittance.
Go on the quietest day possible.
Many shows start midweek. So if you are seriously shopping or easily overwhelmed, this is the time to go. Other quiet times can be early on Fridays and later on Sundays. Saturdays are usually bonkers. Period.
Bring lots of water.
And snacks, and possibly even lunch. The quality of food and refreshments varies from show to show. Some have great local options like BBQ and crab cake sandwiches. Others are glorified snack shacks with frozen pretzels and chicken fingers. No matter what, water is surprisingly expensive, so bring your own water bottle. You'll save money for your RV purchase.
Agree to a shopping plan.
Talk about goals and expectations in advance with anyone you will be shopping with. It can be aggravating to be in bunk house shopping mode while your partner is checking out the teardrop campers.
Have a strategy for recording information, research, and impressions.
We promise you one thing. You will be utterly confused and overwhelmed by the end of the day if you don't have some plan for recording information. RVs, floor plans, and prices start to blend together. You'll completely forget which manufacturer made your favorite model. And you'll drive yourself crazy trying to figure it online. Use your camera phone to take details pictures (exterior, price sheet, specs sheet, and interior). Plus take ALL. THE. BROCHURES. 
Find the manufacturer's reps.
Listeners repeatedly tell us this is our most helpful tip ever. Salespeople at large RV shows often don't know much about the rigs and many times are temporarily hired to work just for the show. They are looking to make a sale, not educate you about a product. Manufacturer's reps, however, usually know the rigs inside and out. They fly into the shows to support the dealers and answer customer questions. How do you know the difference between a salesperson and a rep? Look for the folks wearing a shirt that has the name of the manufacturer, not the name of the dealer.
Attend the seminars.
Some people think they are too cool to sit in the seminars at an RV show. Other folks think they know everything from researching online. We know that RV seminars can be a wealth of information, sometimes presented by the biggest experts in the business, like our friends from RVSEF.
Don't get rushed into a big purchase.
If you are ready to buy, an RV show shopping is a great place to start. However, it can also be a place where people make impulsive decisions with a big-ticket item. If you hadn't even researched the difference between a travel trailer and a fifth wheel, you may not want to make an impulse decision.
Show prices can often be honored after the show.
There are definitely exceptions to this rule, so don't blame us if you can't get show pricing a month later. Sometimes the manufacturer is offering show incentives or the dealer is unloading last year's inventory. However, for the most part, if you go back to that dealer later on and ask for the pricing you saw at the show, it's possible they can make that happen.
Take a listen to the podcast episode to hear us discuss each piece of advice in greater detail!
RV Show Shopping: Different Types of RV Shoppers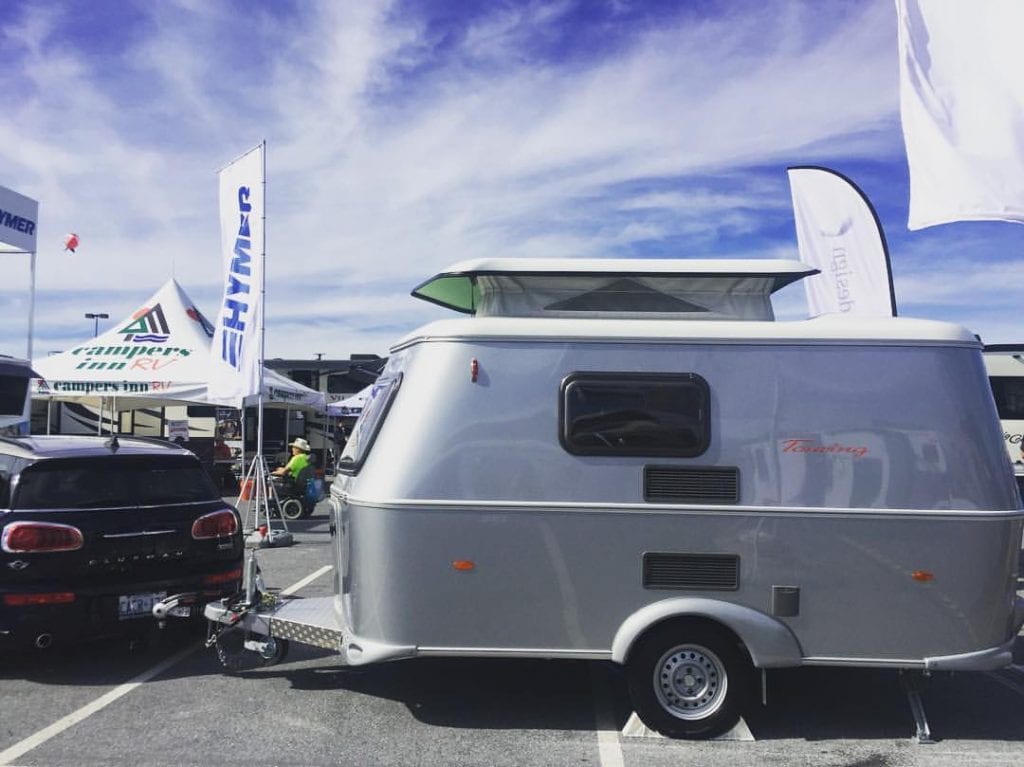 It's also important to know the type of shopper you are at the RV show. We have great tips for making the most out of your visit no matter where you are in your RV journey. We break it down into three main categories.
Dreamers and Newbies
RV shows are a fantastic way to get a feel for the variety of RV types, sizes and floorplans available. Make sure you visit the bigger shows to get a broader view of options. GS Media and Go RVing have lists of rv shows. Compile your goals in advance and list questions you hope to answer:
Do we want a towable or motorized?

What size trailer is going to be comfortable for our family?

Our tow vehicle can pull 5,000 lbs. What are our options in this range?

Our budget is $30,000; what can this buy us?
Most importantly don't be a statistic. So many buyers trade in a new rig within a year because they didn't buy the right model. Listen to experienced RVers share their experiences with pop ups, hybrids, etc.
Reminder: Think long and hard about buying if you did not come planning on buying!!!
Ready for the upgrade
Stay grounded if you are in upgrade mode. It's easy to get shiny, new object syndrome. Make a list of pros/cons of your old or current RV. Be honest about what works for your family and what doesn't. For example, if you really like camping in state and national parks, stay smaller. If you get nervous towing your 32 foot travel trailer, don't go and buy a 38 foot travel trailer because it seemed so spacious. 
Arrive at the show with a list of non-negotiables made from prior experience. For us, we know dedicated beds and a master bedroom door are must haves…even when we start drooling over the cute, little campers.
Also know your numbers ahead of time, including budget, tow ratings, and GVWR goals. The worst thing is to upgrade your rig and then have to upgrade vehicle if you didn't budget for that. Know whether your car can be towed by a motorhome (that catches some folks by surprise). If you will have to store the upgraded RV, research what will that cost.
Ready to buy
If you are ready to buy your first (or next!) rig, you should still do some advance planning. Research the dealers that will be at the show. Look at online and Facebook reviews. Check out their inventory and look at the numbers. Getting a great deal at a show isn't worth winding up with a crummy dealer with terrible service reviews.
You should also be fully aware of the realities of service and warranty work when buying from a non-local dealer. Whether you like it or not, the service end of the RV industry is woefully understaffed. This means that many dealers will refuse to service units that they did not sell. Or you will just be put at the end of the line and wait a looooong time to get warranty work done.
It's important not to become obsessed with a certain percentage off MSRP. Every single deal is different based on location, RV model and year, and dealer stock. Don't expect to get an RV in New York for the same price as in Indiana. The question is whether it is a good value for YOUR family. Some people on social media will claim that you can always get 30% off MSRP. That's just bad advice.
RV shows are great whether you are just window shopping or ready to write a check. We've got a RV pep talk for everyone. If you want to hear us discuss this topic in more detail, take a listen to The RV Atlas podcast, available in the Apple Podcast Store or anywhere you listen. You can also join the conversation in our private, friendly Facebook group.
Visiting the Hershey RV Show? Here are some of our best tips for conquering America's Largest RV Show.
Checking out the Florida RV SuperShow? Learn more here. 
See you at the RV Show!
Podcast: Play in new window | Download