The St. Augustine Beach KOA Holiday is a solid basecamp option for exploring the east coast of northern Florida.  We truly love this campground's location. This region of Florida can often get overlooked by points further south. But the beaches here are beautiful. The area is also rich with history and culture. So plan on spending a week here if you can. A single weekend just won't suffice to really soak in all that the area has to offer. The KOA is located on St. Augustine Beach at the intersection of the A1A and Pope Road. It is on the southern edge of St. Augustine, and is only about ¾ of a mile from the beach. So make sure you bring your sandals and beach towels!
Understanding KOA's Journey, Holiday, and Resort Designations
KOA's are all designated as Journeys, Holidays, or Resorts. Journeys are intended to service as a comfortable spot for a quick overnight stay on your way to other destinations. "Holidays" are meant to service as basecamps for a region. Resorts are supposed to offer an all-in-one camping experience and be a destination in their own right. The St. Augustine Beach KOA Holiday is appropriately designated as a KOA Holiday. Our correspondent Casita Dean May and his wife Laura stayed here last winter and used it as a basecamp to explore the area. They found the Holiday designation to be fitting.
To listen to our interview with Casita Dean May about the St. Augustine Beach KOA Holiday and things to do and see in the surrounding area, click on the media player above. Or subscribe to The RV Atlas wherever you get your favorite podcasts.
The St. Augustine Beach KOA Holiday is a medium sized campground. It has approximately 90 RV sites, 20 tent sites, and 25 cabins. The campground is in a convenient location for exploring St. Augustine, but the area around it is not very scenic. It is bordered by roads on three sides with the A1A side of the campground backing up to stores that face the A1A. However, the KOA  property itself is attractive. Particularly along Turtle Lake. So you shouldn't choose the St. Augustine Beach KOA Holiday if you want to be surrounded by natural beauty, but you should choose it if you want a safe and comfortable basecamp for exploring the region.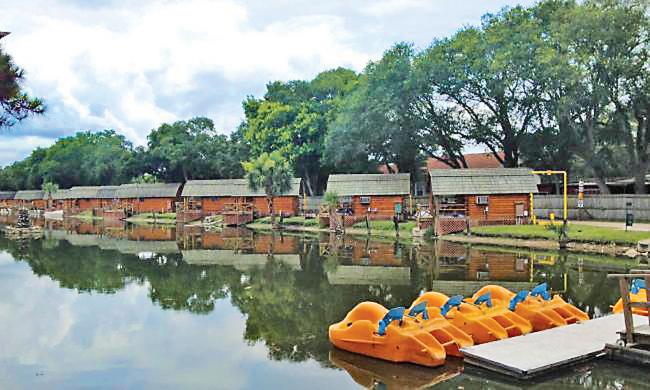 Pricing at the St. Augustine Beach KOA Holiday
Florida's gorgeous state park campgrounds are notoriously difficult to book. But getting reservations at this KOA should be doable if you call in advance. Prices for RV sites range from about $70-$100 dollars a night depending on the type of site, and the time of year. We always recommend getting a KOA Rewards Card so you get 10% discount on your site fees. Basic cabins with no bathrooms can be reserved for as little as $100 to $115 per night depending on the time of the year. Deluxe cabins with all amenities can be booked for $165 to $250 per night. Again, this depends on when you book. Tent sites are also available at a reasonable price.
We highly recommend the premium pull through sties along Turtle Lake. They are the nicest sites in the entire campground. If you are camping with friends who do not own an RV then have them check out the deluxe cabins. We have found that KOA's deluxe cabins are (more often than not) comfortable, well-stocked, and reasonably priced. If you rent a cabin just check to see what is included, and what you are expected to bring with you. Showing up without linens or coffee filters is heartbreaking if the cabin does not provide them.
Amenities at The St. Augustine Beach KOA Holiday
The St. Augustine Beach KOA Holiday has many of the amenities that you will find at KOA's across the country. They have a nice pool, a Kamp K9 dog park, a playground, paddle boats, banana bikes, a clean laundry room, private full bathrooms, and a camp store that is stocked with all of the basics and souvenirs and gifts. If you are traveling with kids, they will have plenty to do here in the afternoon when you come back from the beach or downtown St. Augustine. The pool will be a welcome treat if you are visiting in the summer heat. It's also really nice to come back from the beach and take another swim to cool off at the end of the day.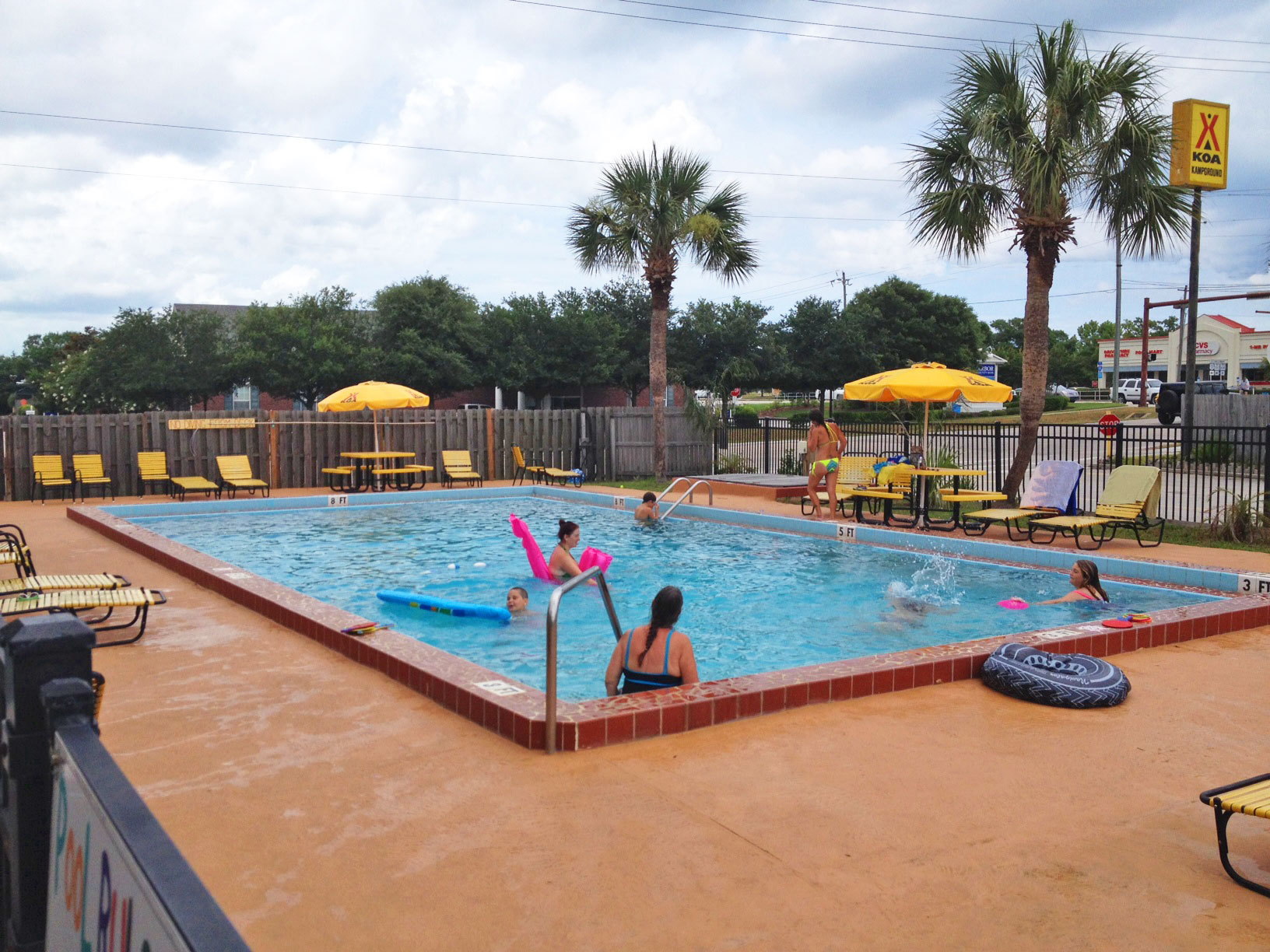 Overall, we find this campground to be an excellent choice for exploring all that the area has to offer. And this area offers quite a lot. From beautiful beaches to National Monuments like Fort Matanzas and Castillo De San Marcos, there is so much to do and see. Downtown St. Augustine is also packed with great food and great shopping. We think this area has something for everyone. We also think that St. Augustine KOA Beach Holiday will please most RV owners that are traveling through the area.
Make sure to listen to our interview with Casita Dean May on The RV Atlas podcast to find out even more about this KOA, and about the surrounding area!
Podcast: Play in new window | Download