What's the newest and most exciting thing on the camping scene?
In our opinion, it's RV resorts!
Of course a lot of RVers love nothing more than escaping into the middle of nowhere and disconnecting in the woods. But a new type of camping has exploded in popularity over the last five years. Brand new campgrounds are opening with waterparks, on-site restaurants, and concierge services. Older campgrounds are investing millions into upgrading to resort-level facilities.
While some folks like to grumble about how this isn't really camping, the proof is in the pudding. These resort campgrounds are charging more than ever before, and they're booking out more than a year in advance. It's clear that RVers love resort camping.
And we think this trend is here to stay.
So here's a list of some of the hottest resort campgrounds in the country…
A couple of quick qualifications. There are some off-the-hook RV resorts out there that are only open to Class A Motorhomes. Since that is such a small slice of the RV crowd, we decided not to include any of those. There are also a ton of resorts for the 55 and over crowd. However, we decided to feature only resorts that are open to the average vacationing RVer.
Did we miss your favorite resort campground? Leave a comment below, so we can check it out!
RV Resort #1: Flying Flags RV Resort & Campground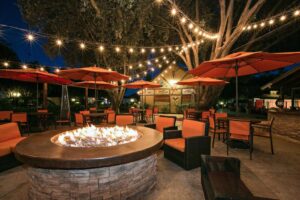 Located in Buellton, along Central California's coastline.

Resort Amenities: Campfire Cafe, multiple pools and splash pad, community fire pit, general store including a beer and wine bar, bocce ball, horseshoes, hot tubs, fitness center, pool tables, foos ball, dog park, and legendary rest rooms

Nearby attractions include wineries and the charming town of Solvang.

For more information, check out our Campground of the Week episode featuring this resort!
RV Resort #2: Campland on the Bay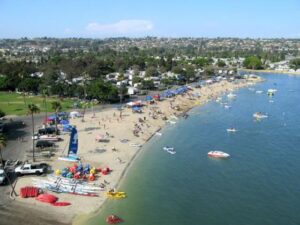 Located in San Diego, California

Resort Amenities: Beach with a swimming platform in the bay, boat launch and marina, pools, hot tubs, skate park, volleyball, basketball, horseshoes, multiple stages and amphitheaters for live entertainment, boat, bike and quad rentals (Jet skis, sail boats, peddle boats), lots of arts, crafts, and activities. This place is geared towards keeping kids busy so parents can relax.

Nearby Attractions include Balboa Park, Coronado Beach, and the Gaslamp Quarter.

For more information, check out our Idiot's Guide: RV Vacations to plan a trip to San Diego!
RV Resort #3: Zion River Resort in Utah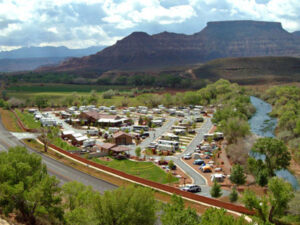 Near Zion National Park in Virgin, Utah

Resort Amenities: Dog Park, Game room with pool, television, and complimentary coffee; concierge service with reservations and trip planning support; gift shop and convenience store; business center with computer, internet, printer, and fax machine; mining sluice; playground; food grill with pizza, tacos, and ice cream; sites with large concrete pads that run along the river, shuttle bus, social hall, pool and spa

Nearby Attractions: Zion National Park, Pipe Springs National Monument, Snow Canyon State Park, Fishing, and Tubing. 

For more information, check out our complete review on Campground of the Week!
RV Resort #4: McCall RV Resort

Located in McCall, Idaho near Salmon and Snake River

Resort Amenities: The resort unicorn in that it offers scenic, natural setting along with resort amenities; visitors talk about the wildlife on site and hills for sledding. Sites down along the river. Paved roads and concrete patios. Playground, horseshoes. Central Lodge houses amazing amenities including indoor pool and spa and steam room; fitness center; free popcorn and coffee; walking distance to a brewery with live music

Nearby Attractions: Skiing in the winter, fishing, tubing, and rafting in the summer.

For more information, check out Monica Bennett's review over at GoRVing.com!
RV Resort #5: Guadalupe River Jellystone Park Camp Resort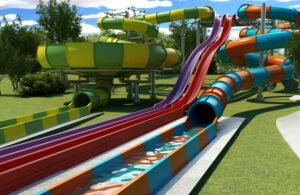 Located in Kerrville, Texas southwest of Fredericksburg, Texas

Resort Amenities: just implemented a mulit-million dollar investment in onsite amenities, including a water park, water slides, splash pad, and pools; indoor heated pool and hot tub; miniture golf, laser tag, gem mining, jump pillow and jump pad, playgrounds, River Rock pub and pizzeria; volleyball, basketball, gaga ball; dog park; outdoor theater; full schedule of organized activities and theme weekends and weeks.

Nearby attractions: Texas Hill Country! Make sure you listen to RVFTA's complete podcast episode on the Fredericksburg region of Hill Country.
RV Resort #6: Anchor Down RV Resort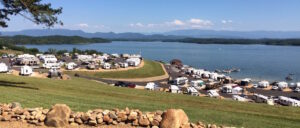 Located in Dandridge, Tennessee near Great Smoky Mountains National Park

Resort Amenities: People are wowed by the campsites and views at Anchor Down. Signature sites have large stone fireplaces on concrete patios that overlook Douglas Lake. Additional resort amenities include: beach area with lake swimming and inflatables, pool with waterslide, salt water kiddie pool, dock area with boat rentals (jet skis pontoons, paddle boards), fishing, pickleball court, fishing, paved walking trail along lake.

Nearby Attractions: Great Smoky Mountains National Park. Make sure you check out our Smokies recommendations here!
RV Resort #7: Ocean Lakes Family Campground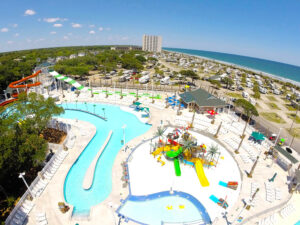 Located in Myrtle Beach, South Carolina

Resort Amenities: One mile of oceanfront campsites and beach access. Up at the beach you'll find playgrounds, volleyball courts, basketball courts, shuffleboard, bike rentals, and recreation equipment. Sandy Harbor Family Fun Center is a 2-acre recreation complex with pools and waterslides, game center, mini golf course, lazy river, kiddie pool, and splash pad. Camptown Center has dining options and large supply and camp store. There is a full schedule of organized activities.

Nearby Attractions: Myrtle Beach State Park, Huntington Beach State Park, and all of our favorite Myrtle Beach attractions. Read more of our Myrtle Beach recommendations here!
RV Resort #8: The Resort at Massey's Landing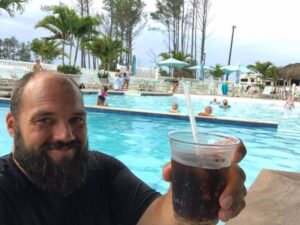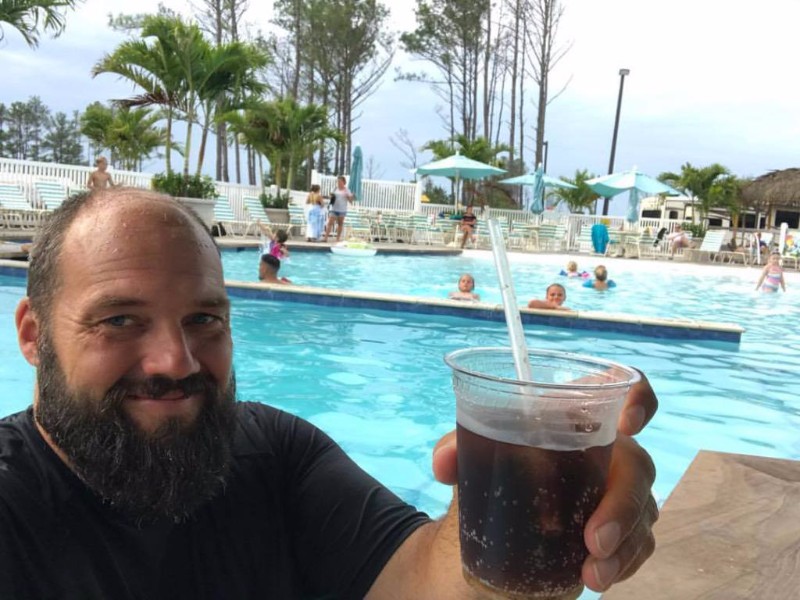 Located in Millsboro Delware

Resort Amenities: Sand Beach with bay swimming, pool with swim up pool bar, boat tours, boat rentals (kayaks and paddle boards), shuttle bus to nearby attractions, concierge service for planning local excursions, water front tikki bar and restaurant, ice cream shop, organized recreation, dog beach

Nearby Attractions: Rehoboth Beach, historic Lewis, and the craft beer trail. You can listen to our complete review of the Resort at Massey's Landing here.
RV Resort #9: Sandy Pines Campground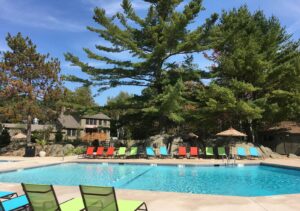 Located in Kennebunkport, Maine

Resort Amenities: The campground concierge service connects you to the community with bike rentals, kayak rentals, SUP rentals, and lobster dinners delivered from a nearby lobster shack. The pool is lovely, and we loved the activity area with lawn games. There's also dining and a camp store with local wine and beer selection.

Nearby Attractions: Goose Rocks Beach, downtown Kennebunkport, and nearby Portland. Click here to see our complete review of this campground!
RV Resort #10: Blue Water Key RV Resort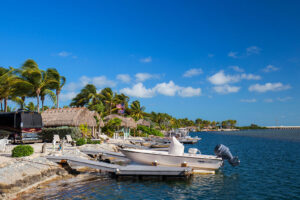 Located in Key West, Florida

Resort Amenities: All the sites are individually owned and then rented out to visitors through the resort office. The sites are all uniquely designed and decorated and you can 'shop' each rental site on the website. All sites are at least 35' wide and 80' deep. There are canal side and bay side lots with water access and private docks. The tropical sites have a shared boat dock. Visitors will also find a pool, dog park, and clubhouse.

Nearby Attractions: Dry Tortagus National Park, Bahia Honda State Park, and the Hemmingway House.
RV Resort #11: Normandy Farms Campground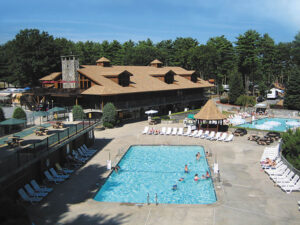 Located in Foxborough, Massachusetts
Resort Amenities: Outdoor and indoor pools, hot tubs, spa, playgrounds, fitness center, bike park, disc golf, pickleball courts, tennis courts, bocce ball courts, soccer fields, shuffleboard, horseshoes, fishing pond, recreation lodge, dog park, yoga classes, massage center.
Nearby Attractions: 5 miles from Patriot Place and Gillette Stadium, Foxboro State Forest, and Boston (of course!). To check out our complete review of this campground, click here.
Sometimes you want to get away from it all, and sometimes you want to order a fruity cocktail from the pool bar. If you are looking for campground with ALL the amenities, this list of 11 RV resorts will fit the bill.
We'll see you at the resort campground!
Stephanie + Jeremy
Podcast: Play in new window | Download