The RVIA estimates that over 60% of RVers travel with their pets. We get questions about RVing with dogs all the time. So we are diving in to tips, safety talk, and gear recommendations for traveling with your furry friends.
Some of you may already have dogs, but are new to RVing. Others may be experienced RVers that are considering getting a dog. Either way, we want to start out by making it clear that we think RVing with a dog is simply a wonderful experience. Maggie the Camping Dog joined our family over two years ago, and every single trip has been better with her along. We all love her to pieces and she brings so much joy into our lives.
However.
We still think it's helpful to go into the experience with eyes wide open, though. So we talk a lot about the planning, research, and adjustments that might be necessary when you start RVing with a dog. We were lucky enough to camp with friends that had dogs long before we rescued Maggie. Those trips helped us understand the process and avoid little hiccups of our own.
Segment One: Pros and Cons of RVing with Dogs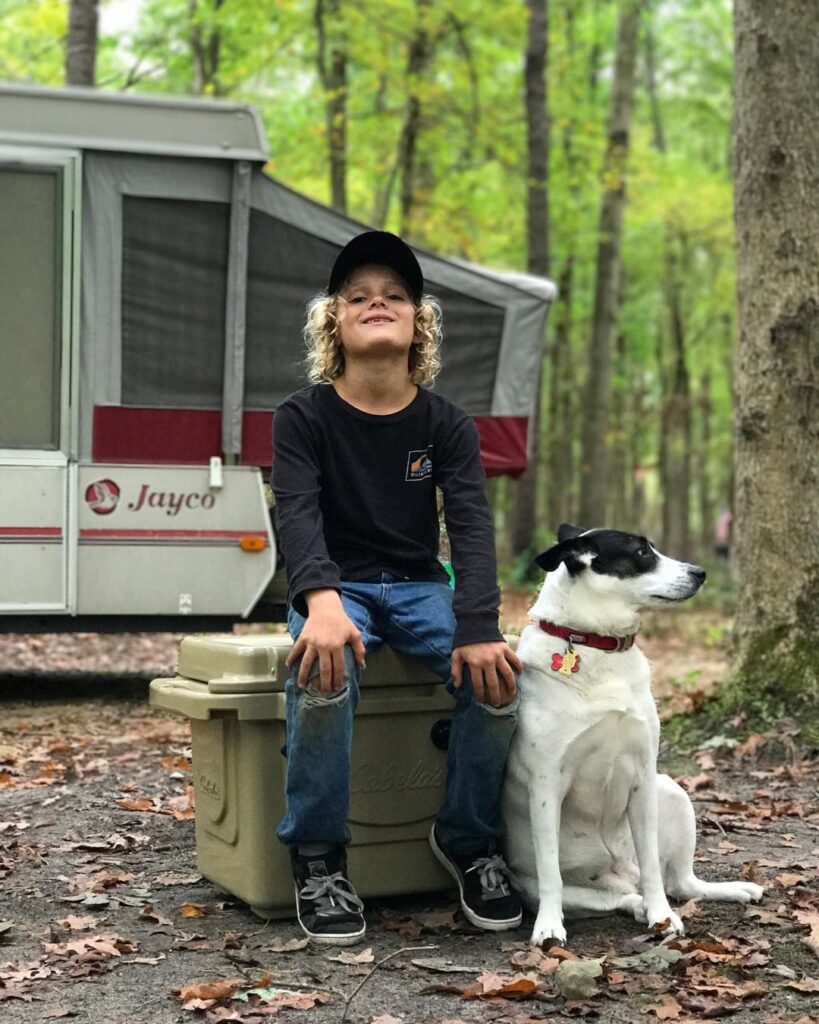 Even though dogs are often incredibly well suited for RV travel, it's important to talk about the additional concerns and situations that may occur when you bring a dog along on your adventures. But first, let's start with the pros…
Pros:
You get to travel with the WHOLE family. Our boys have more fun when Maggie is along. Period.
Most campgrounds and RV parks are dog friendly.
Consistency of the environment allows dogs to adapt to the RV as a second home.
Dogs often keep us more active.
According to experts, dogs are the best crime deterrent out there.
Cons:
New environments to adapt to on a regular basis
Other dogs (and sometimes irresponsible owners) are often present at campgrounds.
Increased possibility of wildlife encounters
Some campgrounds and RV parks are NOT dog friendly (we had to give up a bucket list site at a New Hampshire State Park because dogs are not allowed)
Opportunities for dogs to get loose or lost.
You may have to adapt plans depending on your dog's needs.
The bottom line is that if you bring a dog along on an RV adventure, their safety and health has to be a priority for your family. For us, Maggie is more than worth the minor inconveniences of changing plans because of dog policies. But every RVer has to make that decision for themselves.
Segment Two: Tips for RVing with Dogs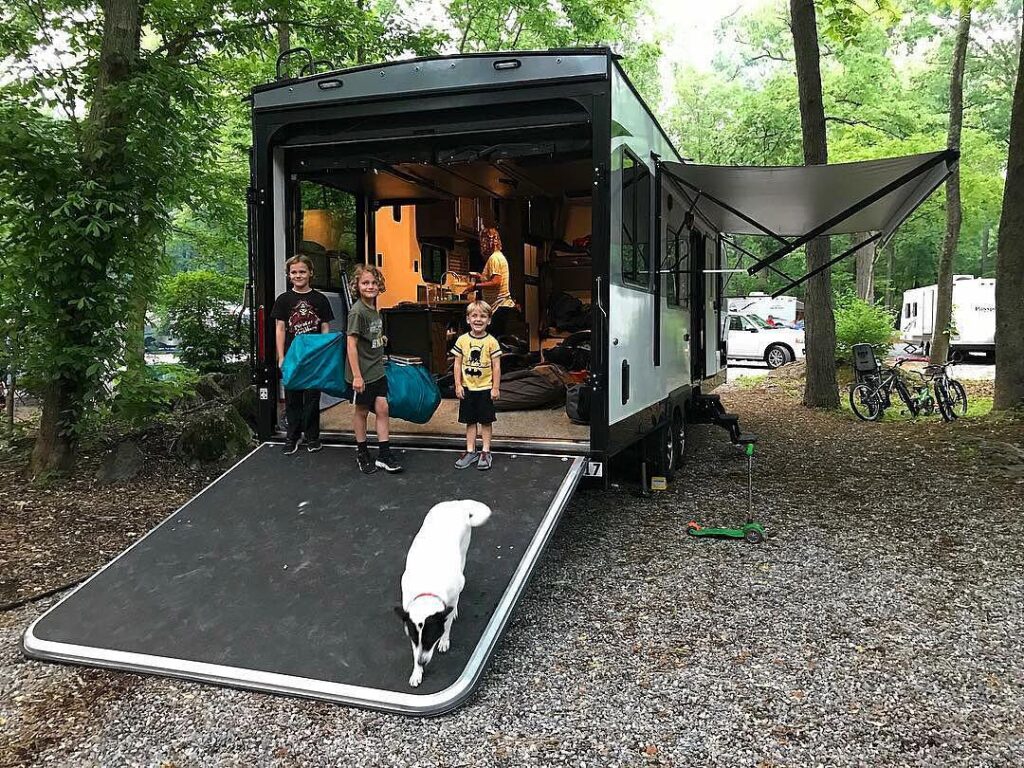 We've learned a lot over the last couple of years since we adopted a dog who had never been camping before and turned her into an RV pro. If you do not yet have a dog and are thinking about bringing one into your family, we strongly urge you to be mindful of finding a dog that will be happy with many of the element of RV travel.
When we were applying to rescue organizations, we had a three-paragraph essay that described in detail our regular family life, including long car rides and stays at campgrounds. I emphasized that we needed a dog who was not a chronic barker and was at ease with other dogs. We were also looking for a dog that would be physically capable of hiking and participating in other outdoor activities. I know for a fact my detailed application made it take a whole heck of a lot longer to find a family dog. However, the wait was worth it. Maggie is never happier than when she knows we are about to go camping.
That's our biggest piece of advice if you are searching for a dog to welcome into the family. Already have your furry friend?
Here are our 10 most important tips for RVing with dogs.
Always research pet policies in advance of travel. Whether it be campgrounds, national and state parks, or beaches, go online and check before you head out.
Create a pet information packet to keep in the RV with vaccination info, pictures, and licensing information.
Introduce your dog to the RV before going on an RV vacation. Get them used to going up and down the stairs. Show them their bed. Let them settle into their second home.
Create a space in the RV for your dog. Whether it's a bed, crate, bunk, or seat, most dogs need a space to which they can retreat.
Make a supplies checklist so you don't wind up without food, bowls, leashes, or waste bags.
Figure out a safe traveling place for your dog. Placing them in a towable is NOT recommended. Whether or not you use a harness, make sure they are secured when you open vehicle doors at rest stops and gas stations.
Have a plan and routine for leaving your dog alone in the RV for brief periods of time.
Research pet-friendly activities and restaurants in advance, so your dog can participate in as many experiences as possible.
Socialize your dog before exposing them to people at the campground.
Be considerate. Chronic barking ruins the campground atmosphere for all your neighbors. If your dog cannot stop barking, the campground just isn't a good fit.
Segment Three: Brett Neilson's Mini Gear Guide for RVing with Dogs
The most common question we get asked about RVing with dogs is how to make sure they are safe when you leave them in the RV. There are many temperature monitoring options out there, but most require a Wifi signal. We all know that campground wifi is about the most unreliable thing out there. So when Brett began to test a product that used a cellular signal to monitor temperature, we were excited to hear the results.
We are even more excited to report that Brett LOVES the iSocket 3G, which allows you to remotely monitor the interior RV temperature via text message. It will alert you if the electricity goes out in the rig, which we all know is critical when traveling with dogs in the summer months. Listen to the episode to hear all the details about how this device works! You can also check out his detailed blog post here.
Having trouble with Fido getting wrapped around your camp chairs and picnic table? Bret also has a great DIY zip line project that you can pull together pretty easily. Plus, he tells us about his favorite spill proof bowls!
Other resources mentioned in this podcast…
Need some checklists? We have a complete RV stock up list available when you sign up for our newsletter here! You might also want to download Kate Dunbars Camp Kitchen PDF and Mark Polk's RV Toolkit list. Let the experts tell you what to bring along for the RV adventure!
And we will see you, and your doggies, at the campground!
Stephanie + Jeremy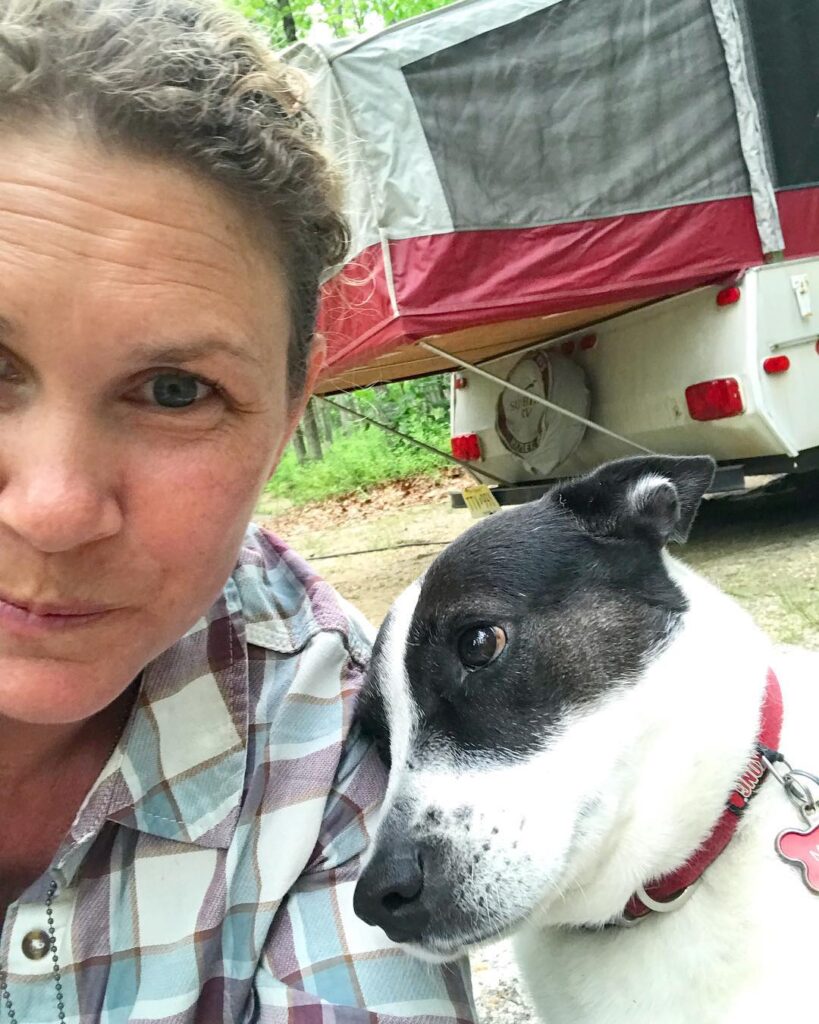 Podcast: Play in new window | Download