Sun Outdoors Rocky Mountains is a brand-new campground that brings a true resort-level experience to the Rocky Mountain National Park region. Whether you are looking for a base camp for touring RMNP or a great place for a family vacation, Sun Outdoors Rocky Mountains should be on your list.
Note: This park was known as River Run RV Resort at the time of this post/podcast.
Sun Outdoors Rocky Mountains is one of the newest additions to the Sun Outdoors network of parks. It definitely brings the resort vibe! From the moment we checked in, we could tell customer service and the campground experience were important at River Run. The park was built from the ground up with entertainment in mind.
Kerri Cox from Travels with Birdy is back on The RV Atlas podcast this week, and she is our guest blogger here as well! Hear about her awesome stay at River Run RV Resort by clicking on the media player above, or read her guest post below!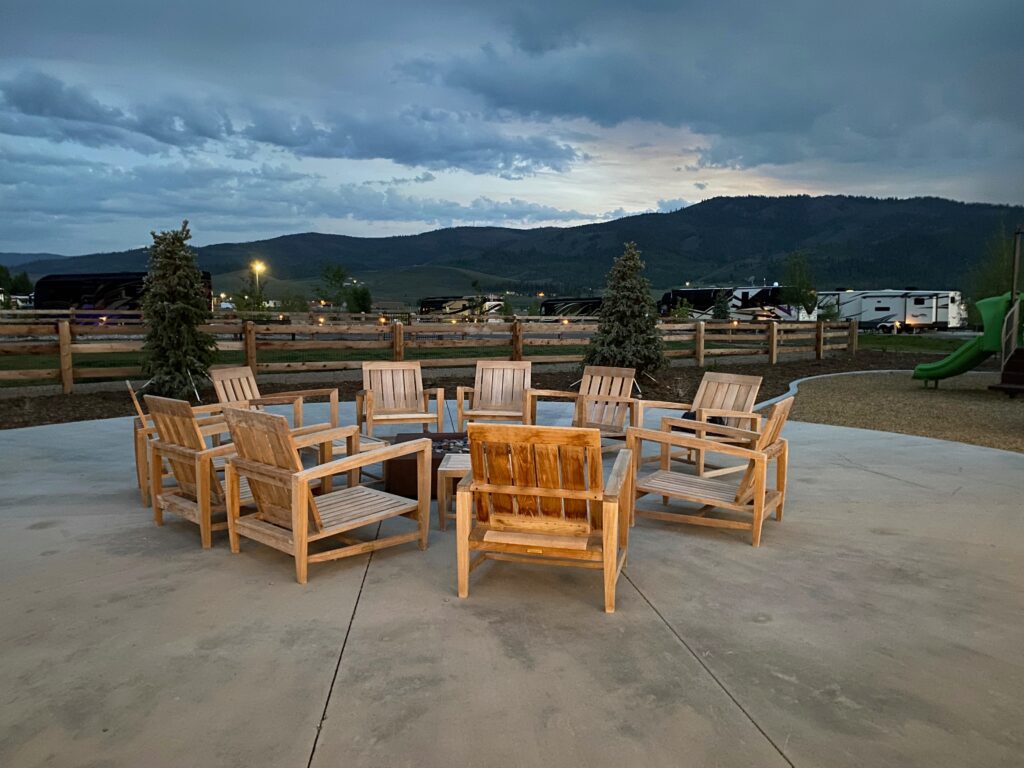 Sun Outdoors Rocky Mountains Location
Sun Outdoors Rocky Mountainsis located west of RMNP. While Grand Lake is the gateway town closest to the western entrance, River Run is actually located 20 minutes away in the small town of Granby. If you plan to go in and out of RMNP each day, this campground won't be as convenient as options in Grand Lake (or on the eastern side of the park in Estes Park). Deciding which side of the park to stay on is an important park of planning a trip to RMNP! However, the drive isn't bad if you do spend a lot of time in RMNP. We made the trek several times and didn't mind at all. We found good stores and restaurants in Granby and in Grand Lake.
Sun Outdoors Rocky Mountains Campground Amenities
Sun Outdoors Rocky Mountains has a ton of amenities. We seriously could have spent the week here and never been bored. Our family enjoyed the pool, hot tubs, and outdoor gaming stations (corn hole, bocce ball), as well as the indoor offerings (mini bowling, a game room, fitness facilities).
There are several ponds onsite at Sun Outdoors Rocky Mountains, which provide good recreation in addition to the views. You can rent SUPs and kayaks onsite to paddle the big pond. One of the small ponds is stocked with trout. We enjoyed watching the sun set one evening while fishing.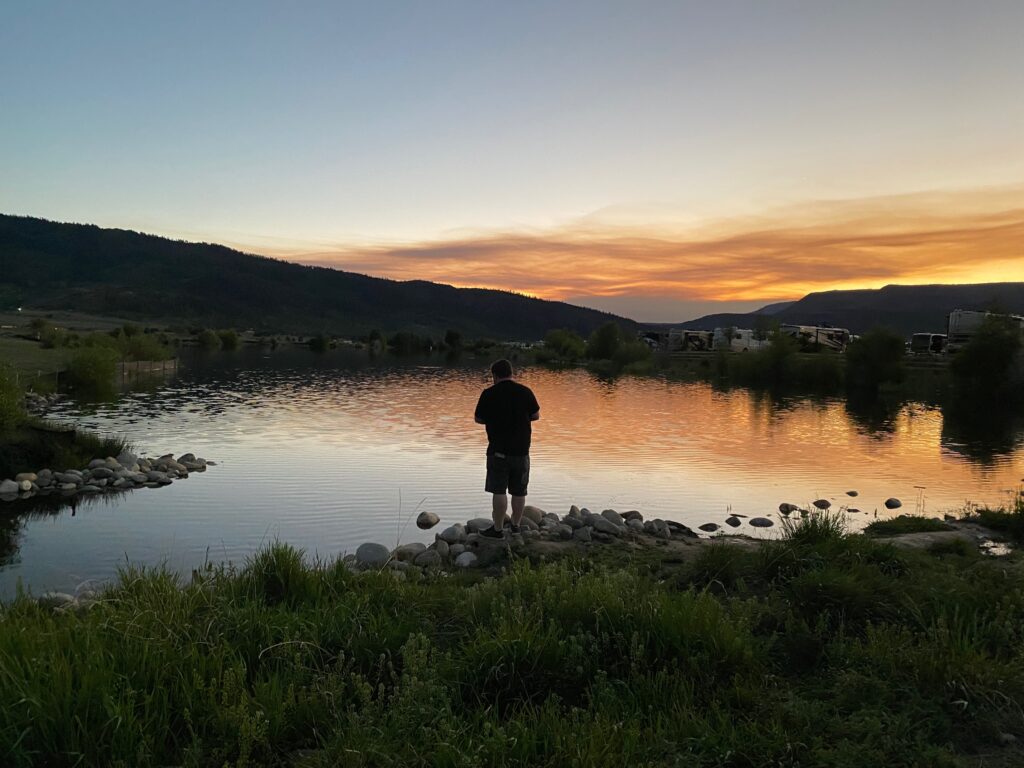 The park also hosts onsite activities. During our stay, they had live music, an evening social with free treats, and several family-friendly crafts.
Finally, all of the facilities are extremely well outfitted and maintained. The comfort stations offered huge, private shower stalls, and the laundry facilities were well kept. The park also has two onsite restaurants, including a tavern and a bar and grill, and a well-stocked camp store.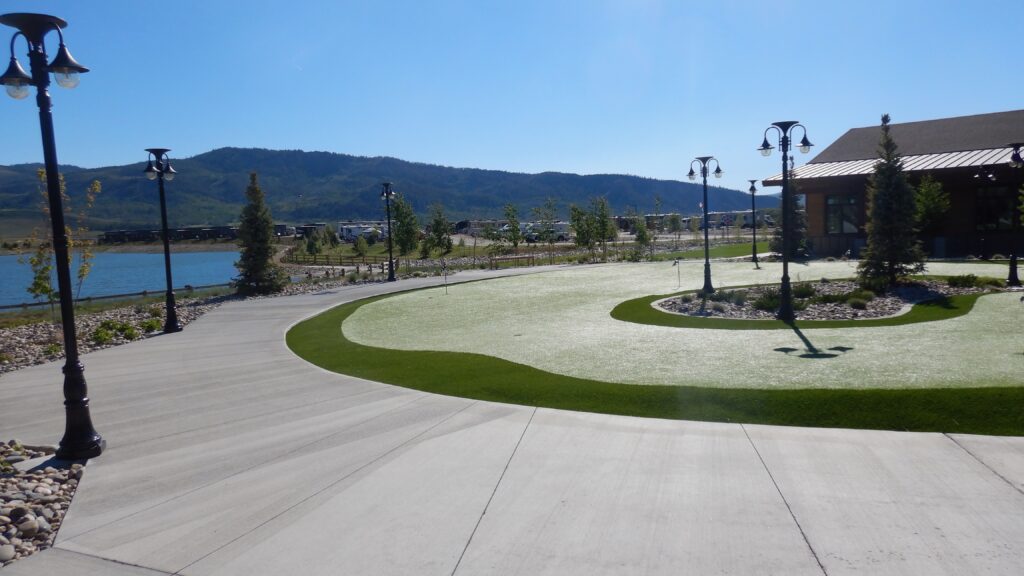 Basically, Sun Outdoors Rocky Mountains was developed to offer a full vacation experience onsite. You can eat, play, and relax all day–for several days–without needing anything outside of the resort. Check out the park map to see a partial list of amenities and the location of the various accommodations.
To hear a full review of River Run RV Resort/Sun Outdoors Rocky Mountains, click play on the media player above or search for this episode of The RV Atlas wherever you find your favorite podcasts.
Sun Outdoors Rocky Mountains Campsites
You'll find a variety of pull-thru and back-in sites at Sun Outdoors Rocky Mountains. All have full hookups, and many have concrete pads. Sites are nicely distanced, though there is no privacy between them. Since the park is new, there aren't a lot of trees yet, but they have been planted them throughout the park, so eventually, there will be more shade and privacy.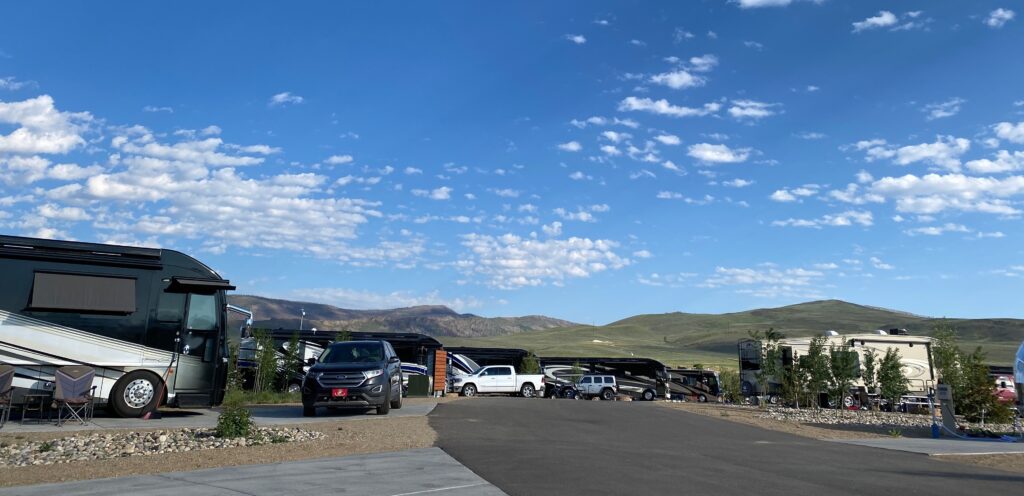 On the plus side, all of the sites have good view of the surrounding peaks. To me, it seemed like the fire pits were perfectly placed so that campers looked at the open views instead of their neighbor's trailer. In addition to the traditional sites, you'll find some deluxe lakeside sites, which have patio furniture and a barbecue grill: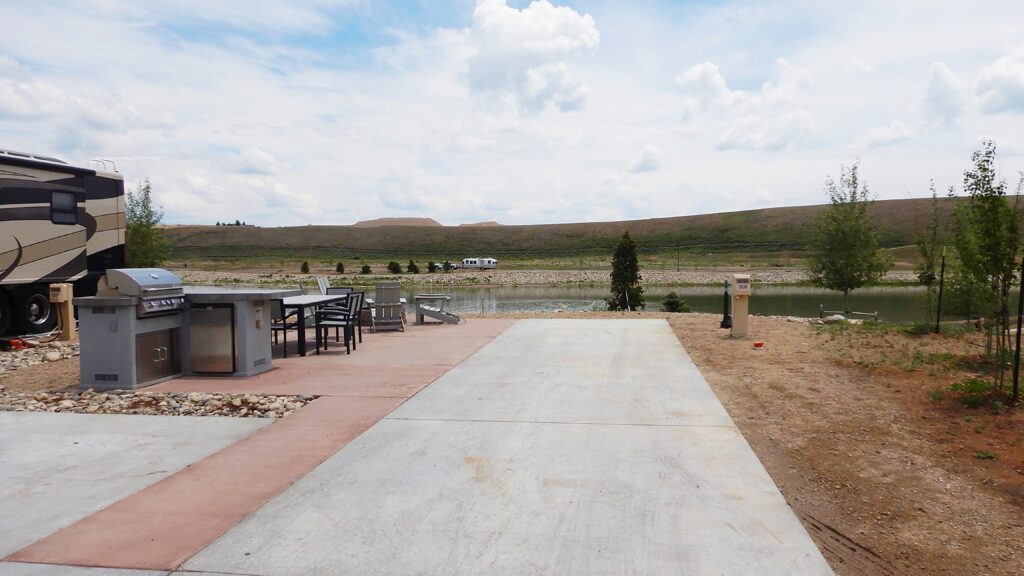 In addition to the RV and tent sites, Sun Outdoors Rocky Mountains also has two really unique offerings: Conestoga wagons and Airstreams. Both of these come with full hookups, ready for camping. The Conestoga wagons look especially fun for kids. The Airstreams look super cool, too! If you want cabins, they also have a variety of sizes of those.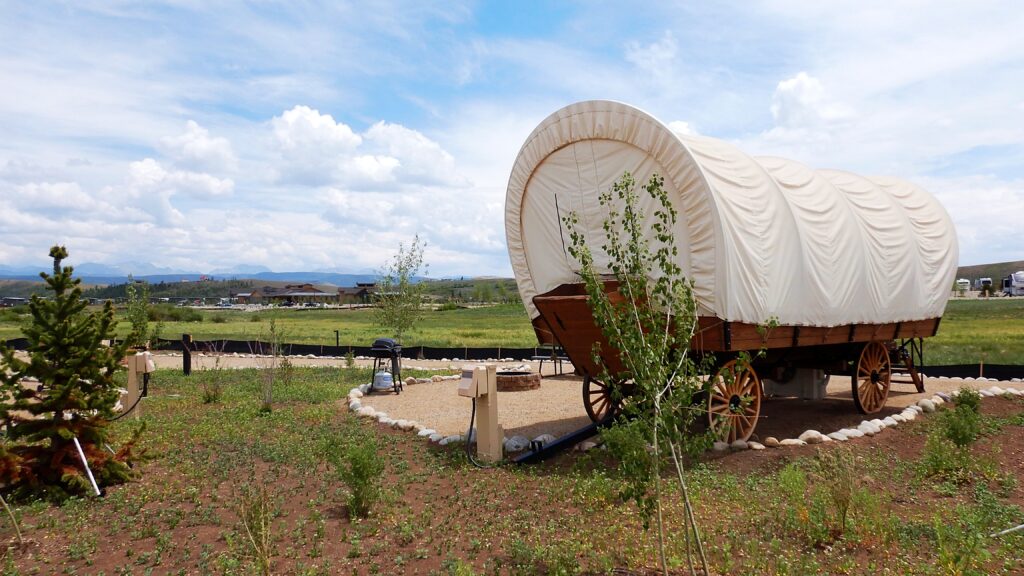 Expect to pay $85-110 a night during peak season, though rates vary by type and by season. The campground is open year-round, which is interesting considering the amount of snow Granby gets.
Local Area Near Sun Outdoors Rocky Mountains
While you technically could spend all of your time at Sun Outdoors Rocky Mountains, there's plenty to do outside of the park. The closest town in Granby, so we ventured there to check out the restaurants, market, and outdoor shops.
Grand Lake is the well-known western entrance to Rocky Mountain National Park. The lake here is gorgeous, and the town is quite charming. It has great local restaurants and shops downtown. There are also hiking trails outside of the park gate, so if you don't have entry passes to RMNP, you might check these out. We didn't have passes, but we went into the park after reservations weren't required for the day (3 pm) and found that we had plenty of time to explore a little bit of the park. We had an especially memorable experience here because I got to see my first moose! They are known to frequent the Kawuneeche Valley, which is on the western side of the park.
The ski town of Winter Park is 30 minutes away. Between Granby and there, you'll find several places to fish and a long hiking/biking trail (the Fraser to Granby Trail). Though Winter Park is associated with skiing, there are summer activities (like a ropes course and alpine sled).
Our Day Trips from Sun Outdoors Rocky Mountains
My boys were looking for bigger adventures on this trip, so we did two epic day trips. The first took us over an hour away to Idaho Springs, where we did the beginner rafting trip on Clear Creek through Rocky Mountain Whitewater Rafting Co. Though there were locations closer to the campground, this looked like the right level of adventure we were seeking. I was terrified, but my boys had a GREAT time! I felt great once we stepped foot on land again.
On our second day trip, we headed to Top of the Rockies Zip Line near Leadville. This drive was over 90 minutes, but we didn't mind because there was exceptional scenery along the way. I sought out this experience because I wanted to find a truly thrilling zip line for my teenage sons that wasn't like a zip line they could do just anywhere. This company took them up the side of a mountain where they then zip lined down 6-7 tracks, over a creek, with major mountain views around them.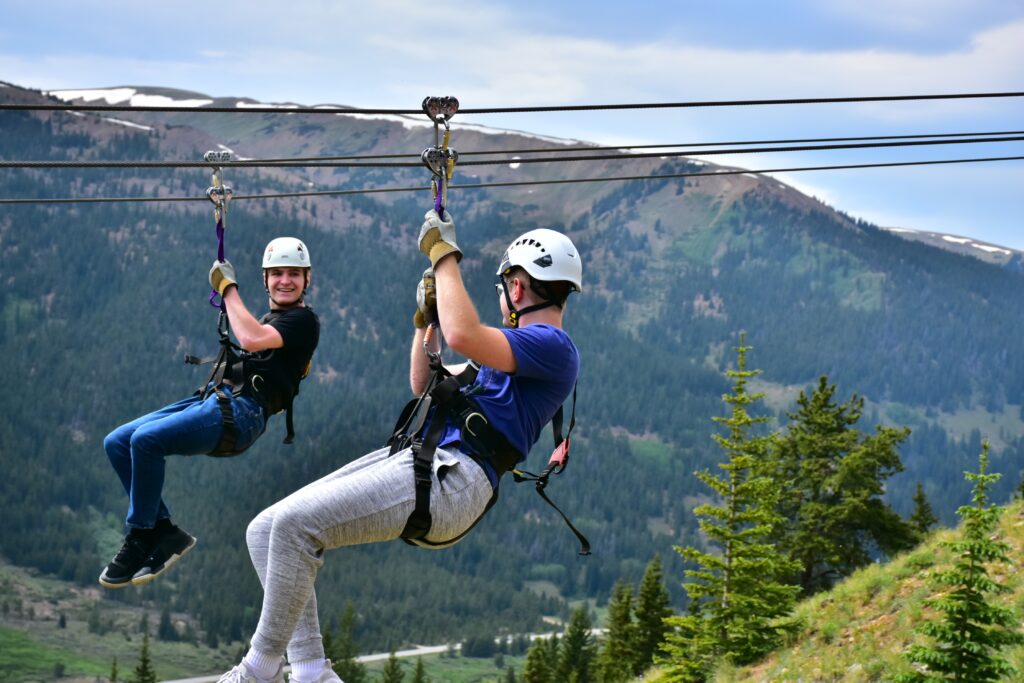 On many of our past trips, we focused more on national parks, and it was fun this time to do something really different, while still being in beautiful landscapes. I might prefer to experience those landscapes with a slow hike instead of a tumultuous rafting trip or a speedy slide down a zip line. But, this trip was about giving the boys more choice in the activities. I'm glad we did!
Wrap Up
If you want to read my full review and see more photos of Sun Outdoors Rocky Mountains, you can find that here. I've also shared a campground review of Mary's Lake Campground in Estes Park and shared tips for planning a Rocky Mountain National Park trip on previous episodes. Check them out if you are heading to the Colorado Rockies!
Thank you to Kerri for this guest post!
See you at the campground,
Jeremy + Stephanie
Podcast: Play in new window | Download