Choosing the PERFECT campground in Estes Park, Colorado, can be a bit difficult since there's not a clear standout. However, we hope this campground review of the Estes Park Campground at Mary's Lake will reassure you that it is a great choice, as long as you adjust your expectations.
This campground review is a part of a series of podcasts we are doing with Kerri Cox of Travels with Birdy. If you are staying in Estes Park, be sure to check out the paired episode, which is a trip planning guide for Rocky Mountain National Park.
To hear more of this campground review of the Estes Park Campground at Mary's Lake, click play on the media player above or look for The RV Atlas wherever you find your favorite podcasts.
Campground Selection in Estes Park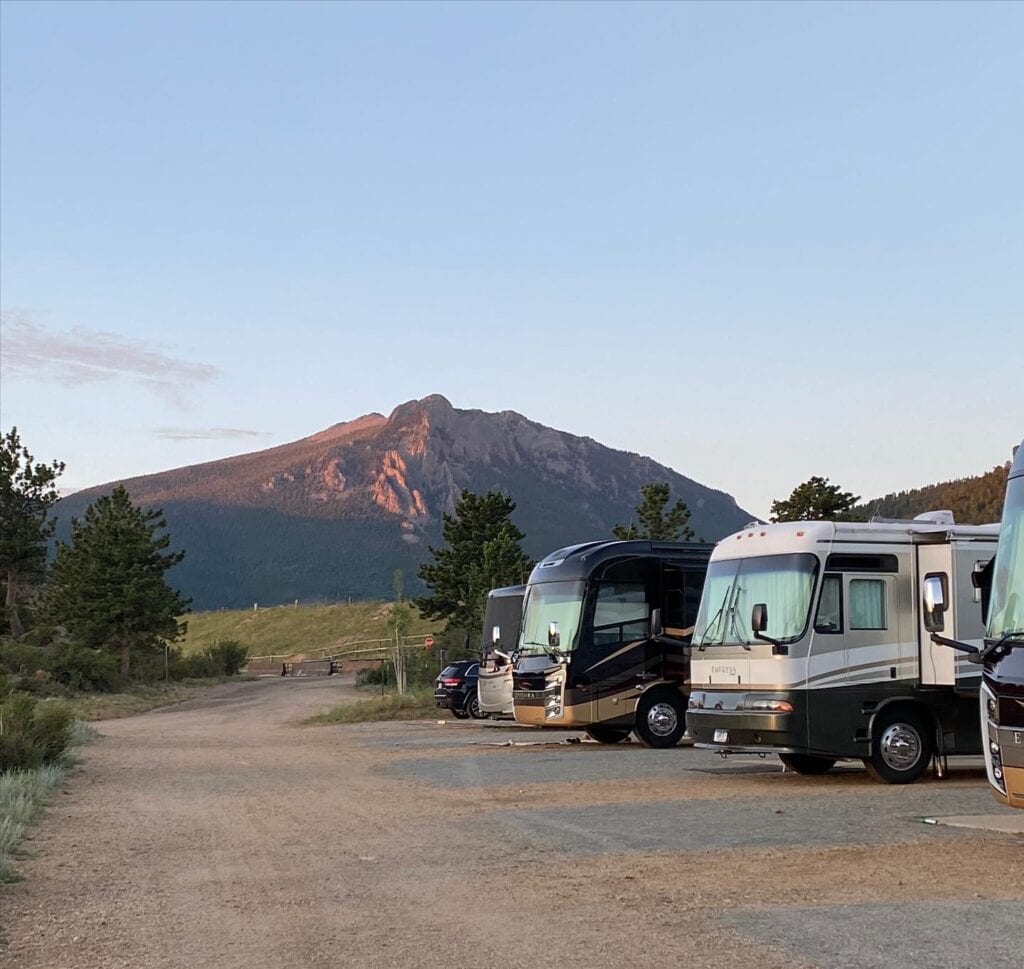 Estes Park is a super popular summertime vacation spot thanks to its beauty and easy proximity to Rocky Mountain National Park. You would think there would be an amazing selection of parks in this amazing location, but unfortunately, they each have pros and cons to balance.
Many of the most beautiful campgrounds are found right in RMNP. Unfortunately, you will not find hookups, not even electric, which was a dealbreaker for Kerri's family. If you can dry camp, definitely put these parks on your list!
Most of the private parks in town get mixed reviews. Some have very strict cancellation policies and will keep your full payment if you cancel fewer than 30 days out. Be sure to read each park's policies very carefully. Other parks get complaints about the management, tight campsites, or rundown facilities.
Kerri noted that the Jellystone Park of Estes Park (which was reviewed on our show here) and Estes Park KOA both have more trees onsite and are actually built into the mountainside. The interior roads and sites are a little tighter. Kerri worried about getting cell signal at Jellystone due to its location.
Location of Estes Park Campground at Mary's Lake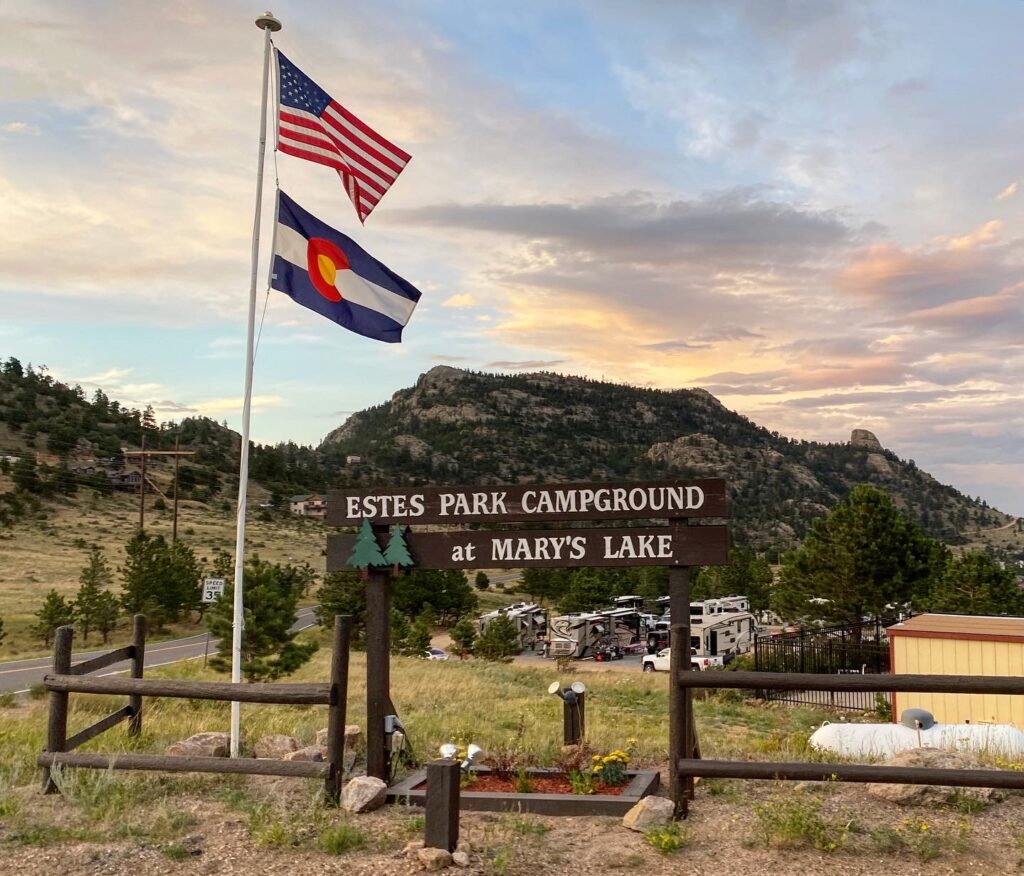 The Estes Park Campground at Mary's Lake is located right in Estes Park, just minutes from the gates of Rocky Mountain National Park. It is located at 8,000 feet in elevation, which makes for cooler weather in the summer. It has views of the Twin Sisters Peaks
Estes Park is a popular gateway community for RMNP, known for its cheery downtown section, with stores and restaurants. It does has all of the tourist favorites (t-shirt shops, fudge), with more of an outdoorsy vibe, too.
Campground Details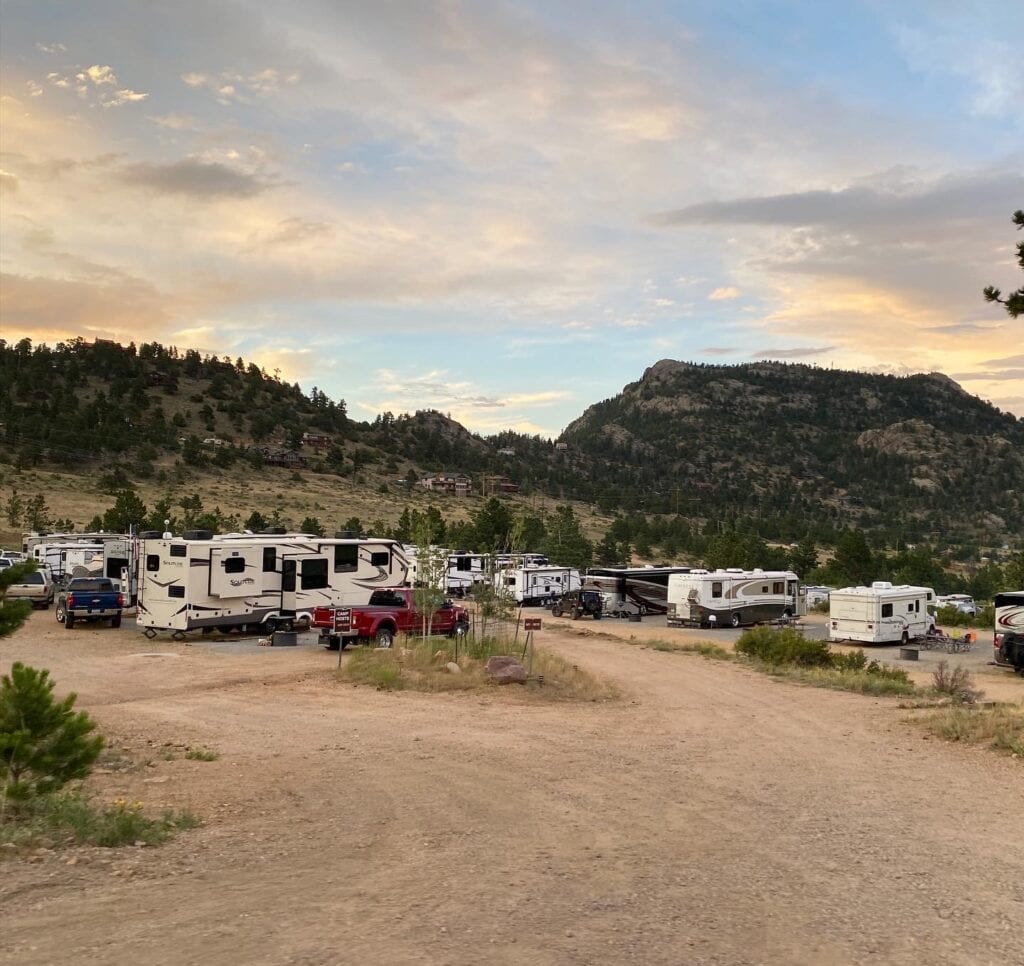 The Estes Park Campground at Mary's Lake is a public park, but it's not a state or national park. Instead, it is managed by the Estes Valley Park and Recreation District, which oversees the campground at Mary's Lake, as well as the East Portal Campground, which has small sites for tents and RVs up to 22 feet in length.
You'll find 130 campsites. Over half are suitable for RVs, while the rest are tent sites
Physical Appearance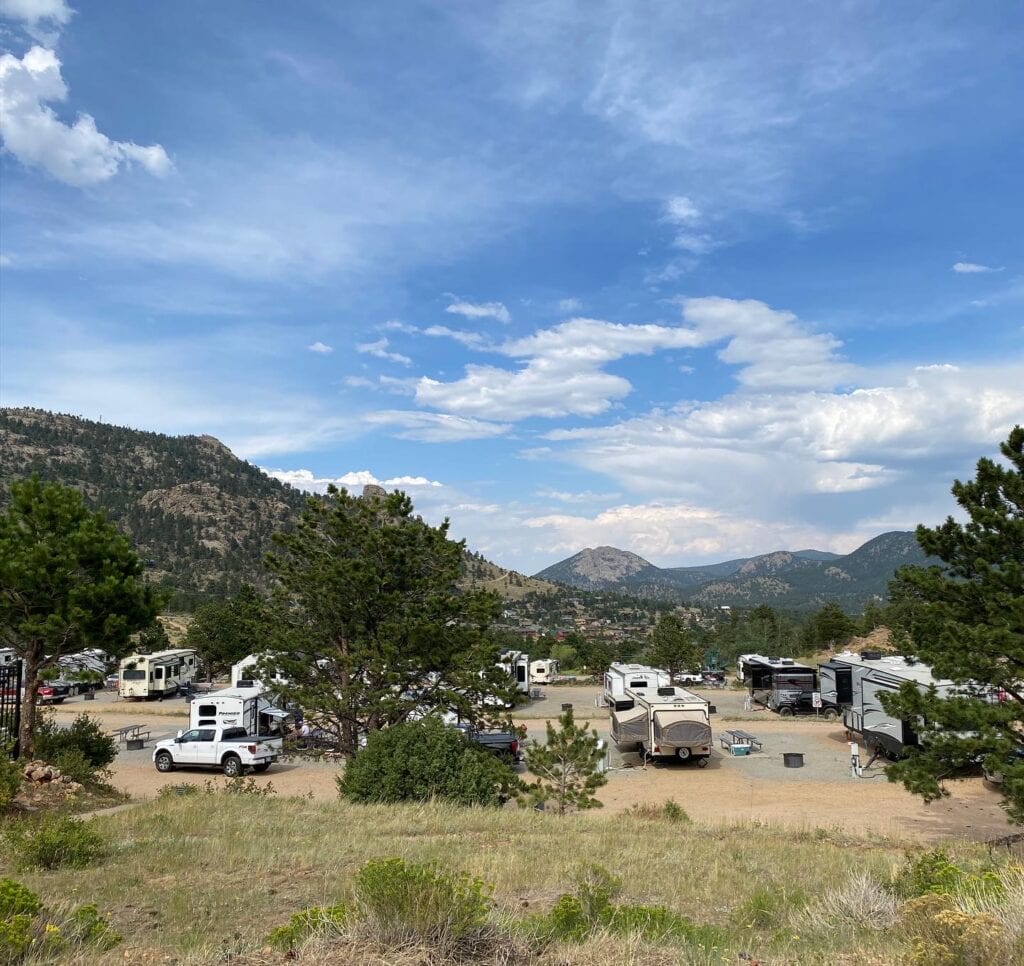 The Estes Park Campground at Mary's Lake is mostly situated in a large flat area with wide open views of the surrounding mountains. Some of the bad reviews that the park gets is for the fact that the campground itself isn't particularly scenic. The full hookup sites are all in a large parking area, with no atmosphere at your campsite. However, the whole park looks out at the mountain views, which IS scenic.
The park has no shade in the full hookup area, which can get very sunny in the daytime. During Kerri's stay, daytime temps never got above 85 degrees, so she had no trouble keeping her trailer cool enough (and this was in July).
The campsites are all gravel, and some people complain about the amount of dust. The good thing is that the roads are nice and wide.
Price Range and Ease of Booking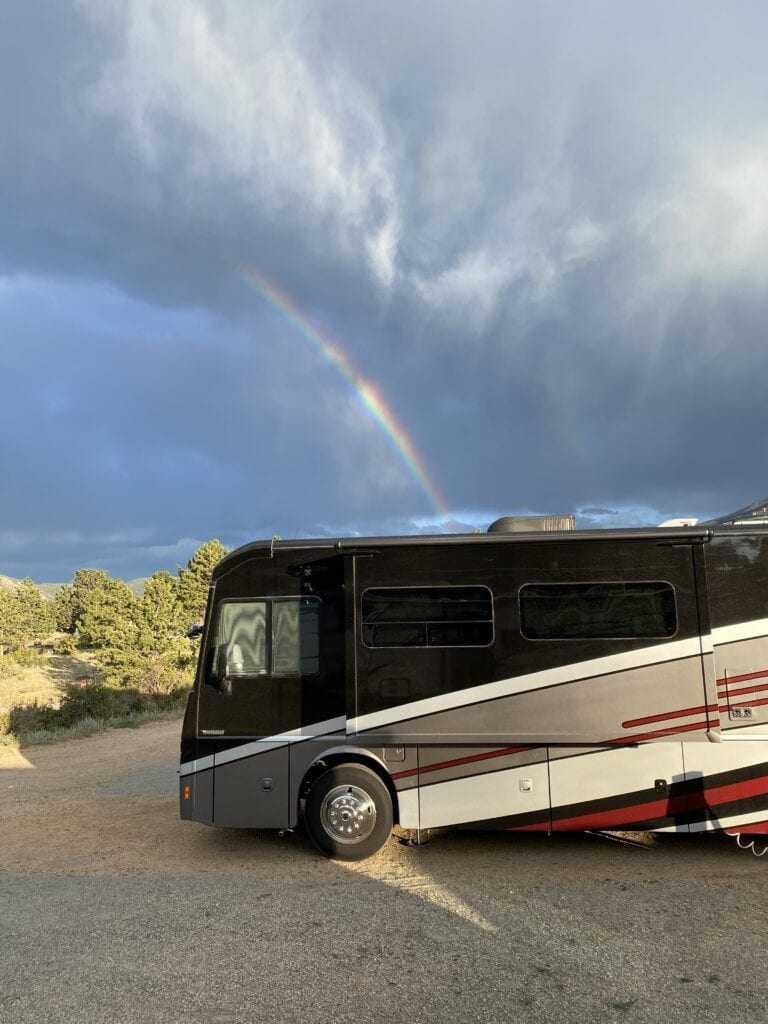 Expect to pay $55 for water/electric sites and $60-65 for full hookup.
Book early! Estes Park is quite popular. You'll make reservations through the Reserve America site. A few sites are set aside for walk-ins, but Kerri never quite figured out the exact rules of getting those (once you get one, can you stay several nights?).
Site Details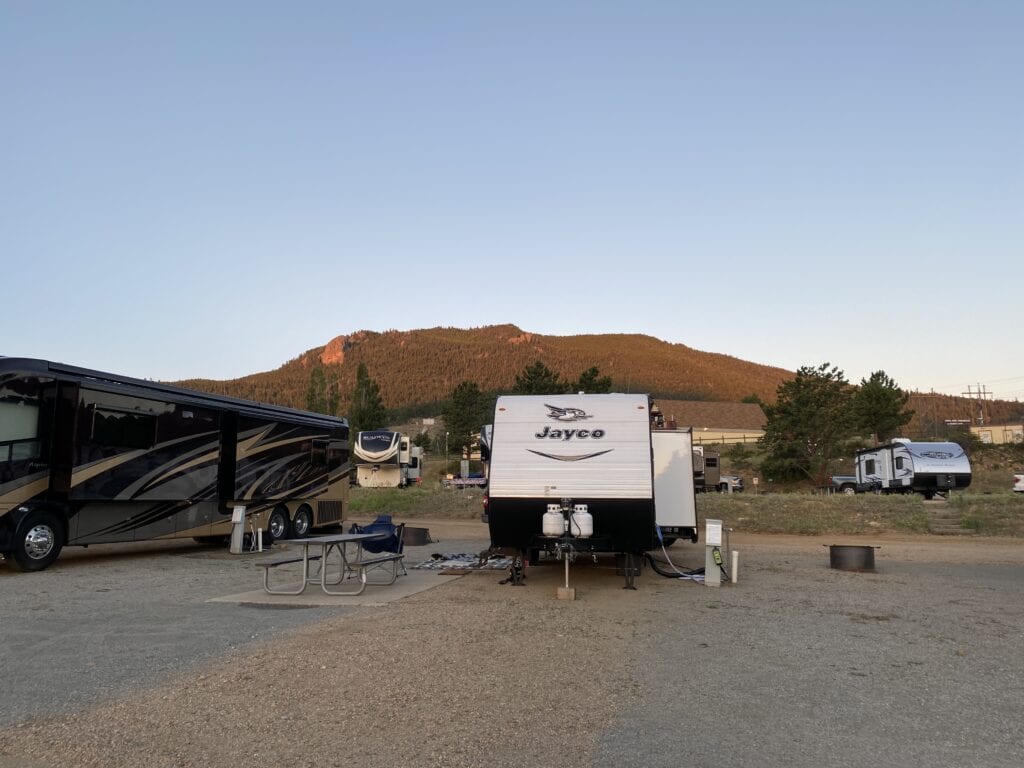 Here's a map of the Estes Park Campground at Mary's Lake. Sites 1-47 are full hookup with 50/30 amp. Of these, 1-22 are pull-thru sites, which are much better than the back-ins. The pull-thrus are extra wide. There's room to park your vehicle beside the RV. The back-in sites aren't quite as wide and seem more clustered since you have someone else's picnic table right behind/in front of yours.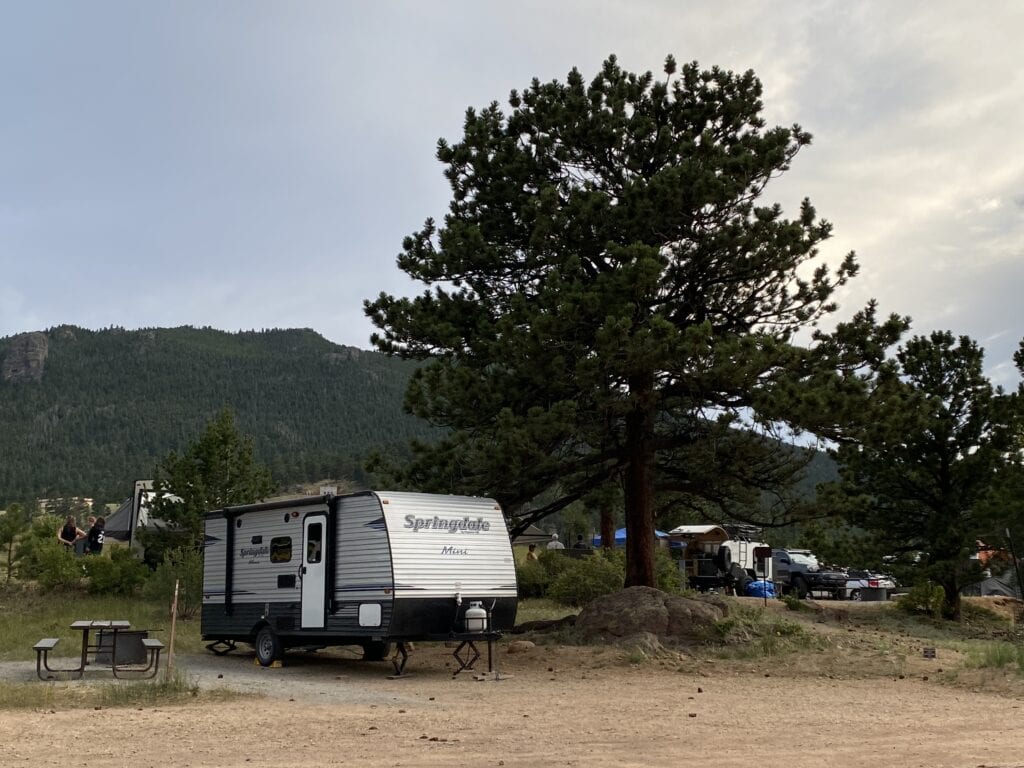 Sites 102-166 are back-in with water/electric only. Some of these have shade and very nice views (105-110ish). They are shorter, so long trailers will not fit in this area.
The rest are a mix of non-electric and tent sites scattered across the area.
Amenities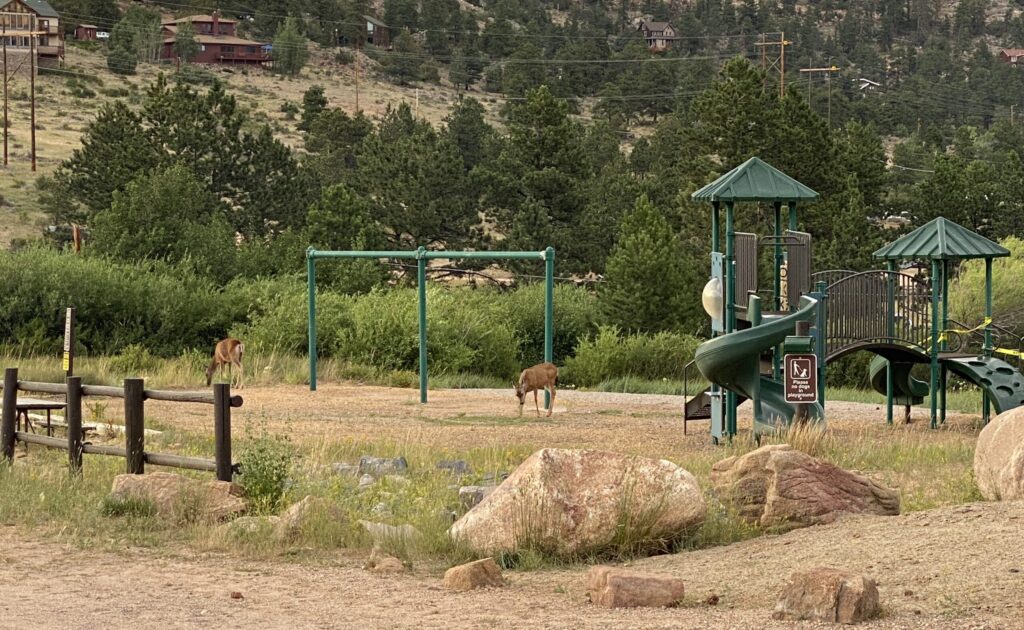 There is not a lot to do onsite at the Estes Park Campground at Mary's Lake. You will primarily use this as a basecamp for exploring RMNP.
Kids can enjoy the small pool. It wasn't opened while Kerri was there due to COVID-19. The weather is often below 60 degrees at night. The playground was also closed, but kids were having fun scrambling on nearby rocks while deer enjoyed the grass in the playground.
You can walk across the street to Mary's Lake, which offers fishing, but no swimming or boating.
There is a clean shower houses, but be sure to take some quarters. It costs $2.00 for a 5-6 minute shower.
There is a nice camp store onsite, with good gifts, some necessities, and a laundry room. The workers were nice about enforcing the COVID-19 protocols to keep numbers limited inside the store.
The campground doesn't offer WiFi, but Kerri had a very good Verizon signal. Part of the reason she picked this park is that some of the other Estes Park campgrounds do not have cell signal, which she needed for work.
Insider Details about the Estes Park Campground at Mary's Lake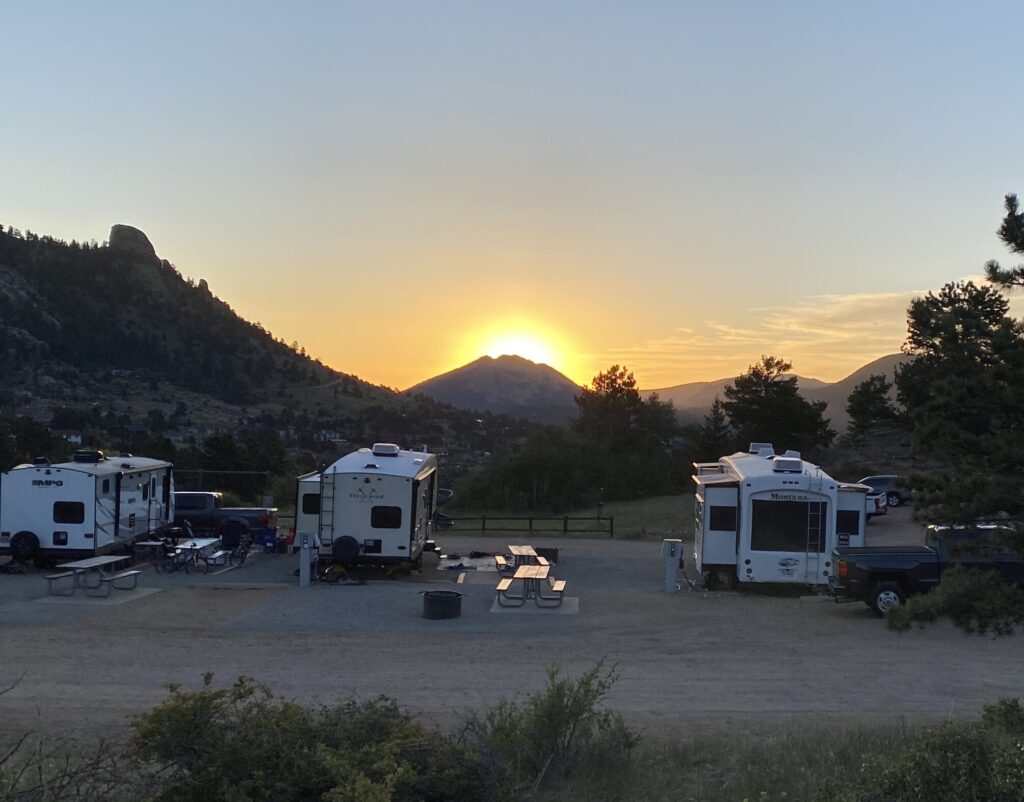 Kerri recommends getting up to watch the sunrise at least once! It's spectacular to see it come over the mountain ridge and to cast the morning light on the mountains behind the campground
Regional Highlights near the Estes Park Campground at Mary's Lake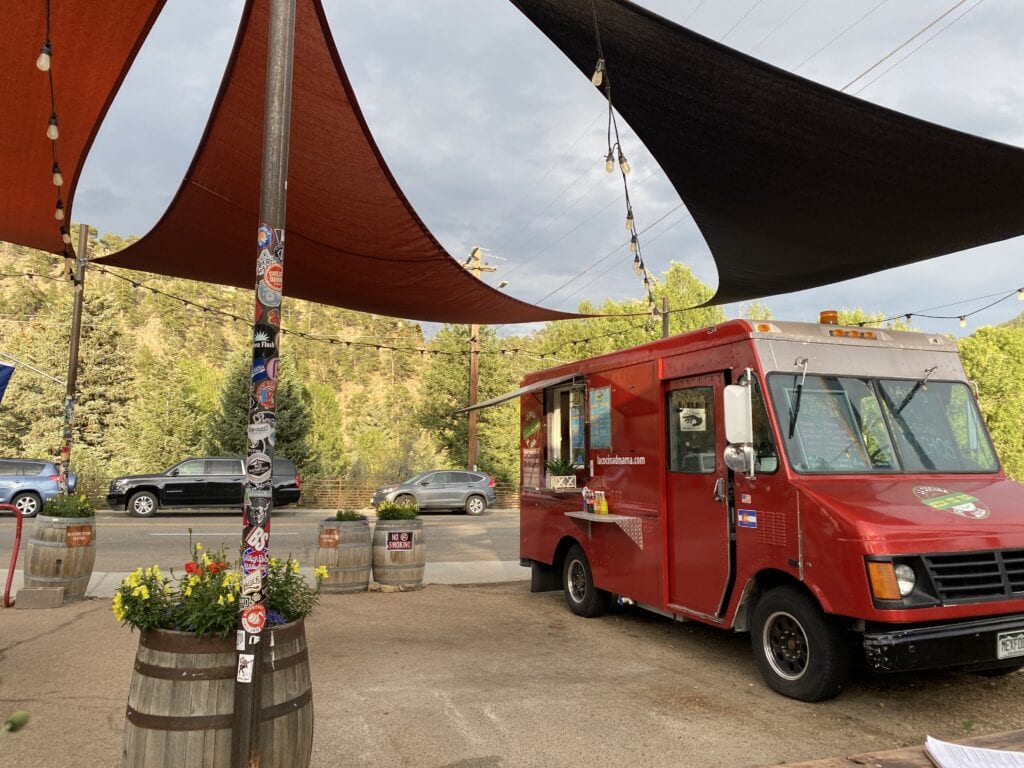 Of course, most visitors spend their time exploring RMNP and all of the surrounding natural beauty. The town of Estes Park is a cute place to do some shopping and strolling.
Kerri had not planned to eat out so much due to the pandemic; however, these great options lured her in with their open-air seating or to-go options:
We want to thank Kerri for this awesome campground review of the Estes Park Campground at Mary's Lake! If you'd like to take a walking tour of the park, she shared one on our Facebook group. Check it out here!
You can follow Kerri's RV adventures over on her Instagram feed or her website Travels with Birdy. Look for her work on Trailer Life, the Good Sam Blog, Togo RV, and more.
See You at the Campground,
Stephanie + Jeremy
Podcast: Play in new window | Download