Dreaming of mountains and stunningly clear alpine lakes? How about summertime breezes that are cool and crisp? If so, you may be dreaming of planning a trip to Rocky Mountain National Park! RMNP is the third most visited national park in the nation–for good reason!
Today, Kerri Cox of Travels with Birdy is here to tell us about her recent trip to RMNP and to help you plan a trip of your own. While Kerri didn't grow up enjoying the outdoors, a trip to RMNP sparked a new appreciation of nature within her. She has dreamed of returning ever since! This trip did not disappoint.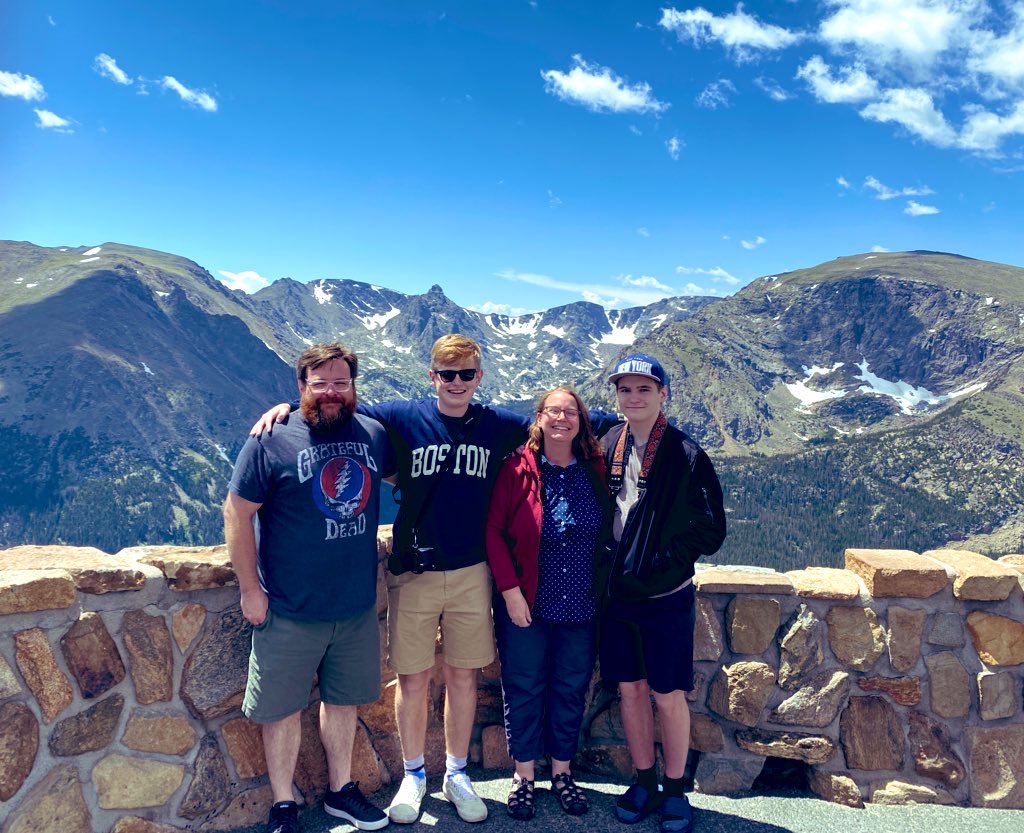 Since RMNP is smaller than some of the other big national parks, it is not quite as overwhelming. Families can easily get in some major touring and a few hikes or other activities with a 3-4 day visit. Plan more days if you'd like to do longer hikes or have time for activities like fishing, horseback riding, or biking.
If you'd like to hear more of our tips for planning a trip to Rocky Mountain National Park, click play on the media player above or look for The RV Atlas wherever you find your favorite podcasts.
Rocky Mountain National Park COVID-19 Protocols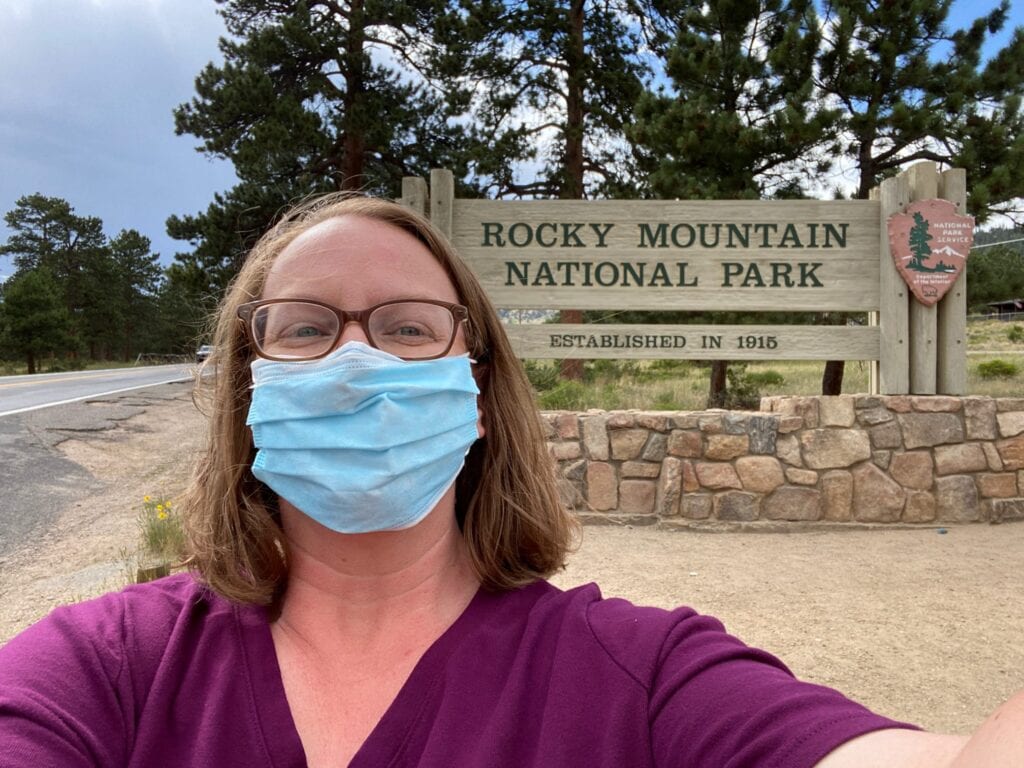 As the date of her visit approached, Kerri anxiously watched the COVID-19 news, not knowing whether the park would reopen in time, and if so, she didn't know what to expect. Luckily, RMNP reopened this summer in plenty of time for her trip. The park has implemented new safety protocols in response to the virus.
Most important, RMNP is requiring reservations for entrance into the park. Since this park is super busy in the summer, the goal is to reduce crowding midday by reducing the number of overall visitors and by spreading those visitors out more throughout the day.
To enter the park, you will make a reservation for a specific 2-hour window to come in, and you can leave and return any time throughout the day after entering during your window. These passes sell out well in advance, though a few are released at the last minute.  Be sure to plan ahead and reserve passes as soon as you know your dates.
If you find yourself without reservations or want to avoid the hassle, you may also enter the park before 6 am or after 5 pm without reservations. You may find long lines right at 5 pm as lots of people try to enter.
Currently, masking is required indoors per a Colorado state mandate. Masks are even required on the shuttle buses. Lots of people are even masking on trails when they were more crowded. Kerri felt very safe in the park and truly appreciated all of the extra planning and protocols that went into place to keep the park open to visitors–safely.
To make your reservations for Rocky Mountain National Park or to find more information, check out the NPS website. Also, we recognize that you may be reading this well after the COVID-19 pandemic has ended, so this may not apply to you. If so, celebrate that!
Bear Lake Area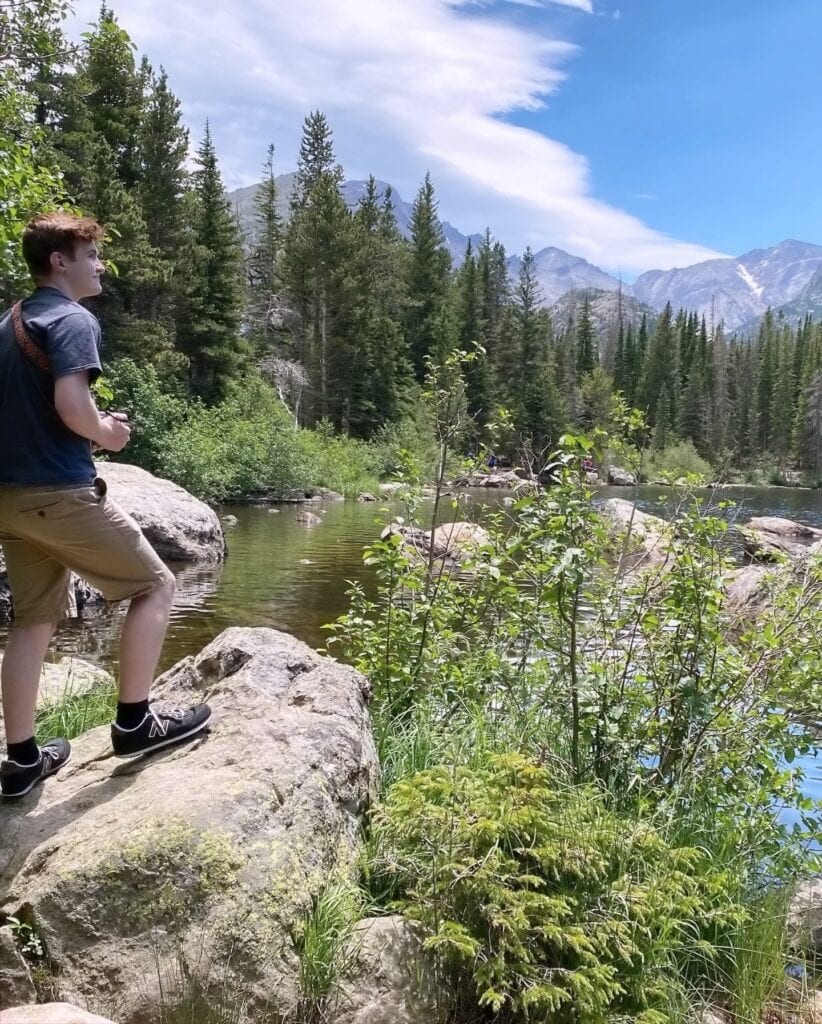 If you only have a day or two in the park, Bear Lake is the spot to get a taste of it. This beautiful lake is surrounded by mountains. The trail around the lake is only 1 mile, mostly level, and well maintained for accessibility, making it a popular pick for families with young kids and for people of all ages.
Bear Lake is a fantastic spot for a picnic. You will find nice benches spaced around the lake, each offering a different viewpoint. If this view looks familiar, you may be thinking of the Colorado state quarter.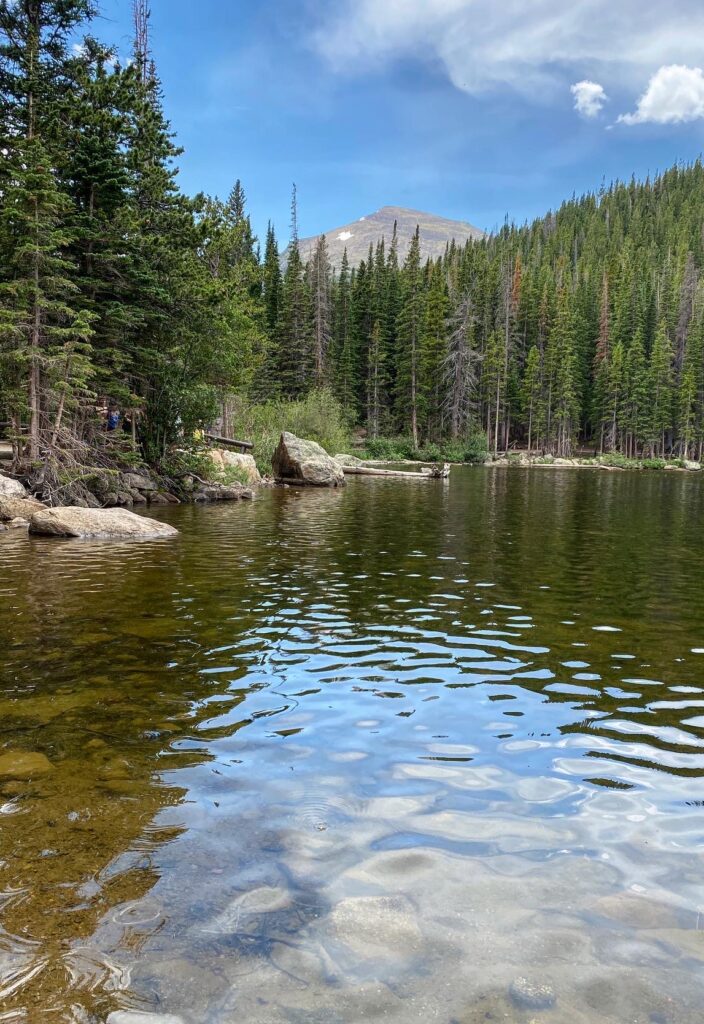 Bear Lake is a primary connecting point for other trails, so the small parking lot fills quickly. Usually, you'll need to use the park shuttle to reach this area. Kerri said they had no trouble using the shuttles, even with reduced capacity due to COVID-19. There were plenty of parking spots at the park-and-ride lots, and buses arrived quickly.
Trail Ridge Road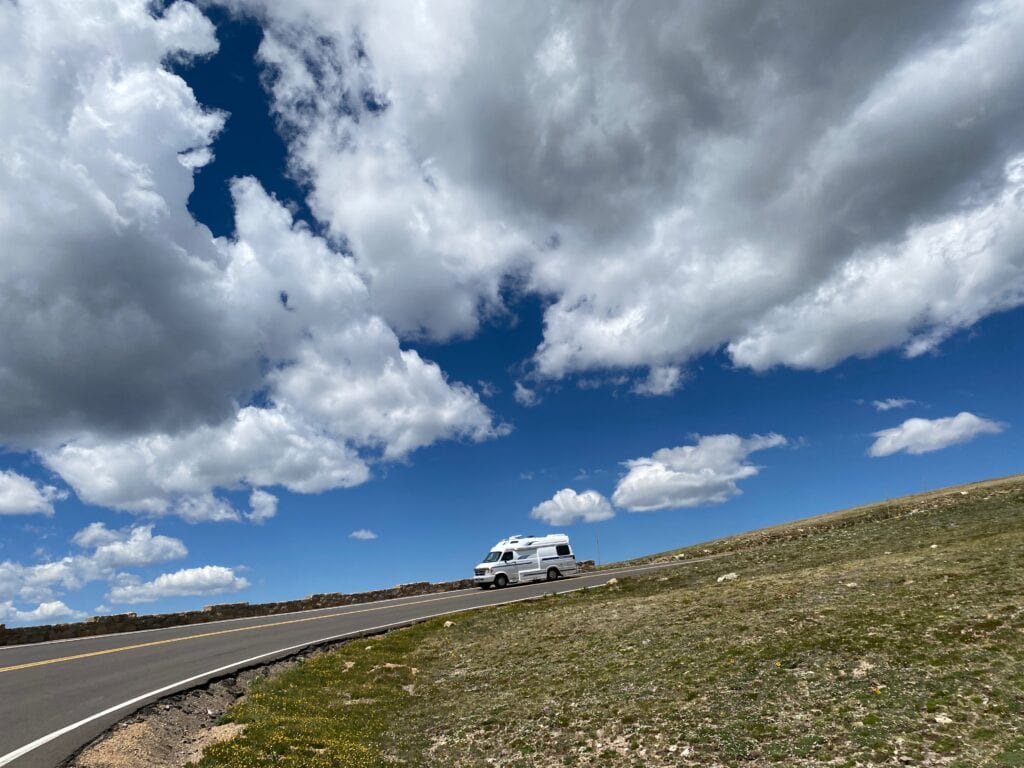 Trail Ridge Road is the highest continuously-paved road in the US, and it reaches elevations of 11,000 feet at the Alpine Visitor Center. It connects the towns of Estes Park and Grand Lake and provides epic scenery along each bend in the road. It's the RMNP equivalent of Going-to-the-Sun Road.
People often ask if you can drive an RV on Trail Ride Road. People do! Kerri saw a lot of motorhomes, ranging from small Class Bs to huge Class As. While the road itself is nice and smooth, there are some drop offs that may be nerve-wracking. Kerri also thought the high winds could lead to some white knuckles. Luckily, you won't find many hairpin turns or overwhelming elevation grades.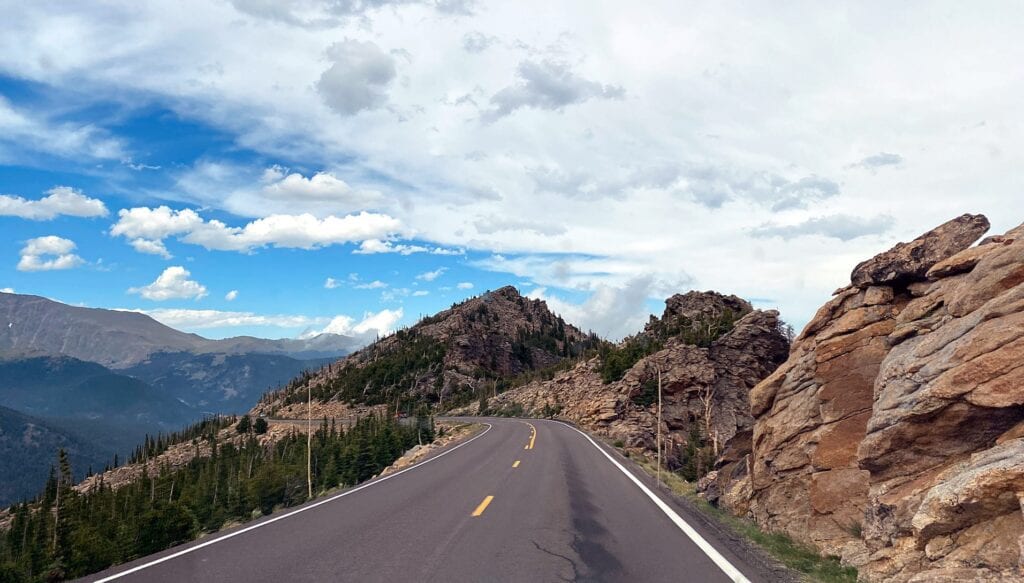 Kerri recommends taking a day trip along Trail Ridge Road. Pack your drinks and snacks and take your time, stopping at the many scenic overlooks along the 50-mile route. On the other side of the Continental Divide, you'll find the town of Grand Lake, another regional favorite. The town is located along a beautiful lake and seems more relaxed than Estes Park. It's a great spot for spotting moose.
Another option is to take Old Fall River Road while driving west and then Trail Ridge Road while driving east. Old Fall River Road used to be the main road across the park. It is very skinny and it is not paved. Traffic is now only one way on this route, which was the original roadway carved through the mountain passes in 1920. It has more scenery and adventure, but it can be nerve-wracking, bumpy, and slower than Trail Ridge Road. Since Kerri isn't a fan of mountain roads, she didn't tell her adventurous husband and sons about this option. Maybe next time!
The visitor centers sell a $2.00 booklet that describes the different sites and overlooks along the route. Kerri recommends picking one up!
Alpine Visitor Center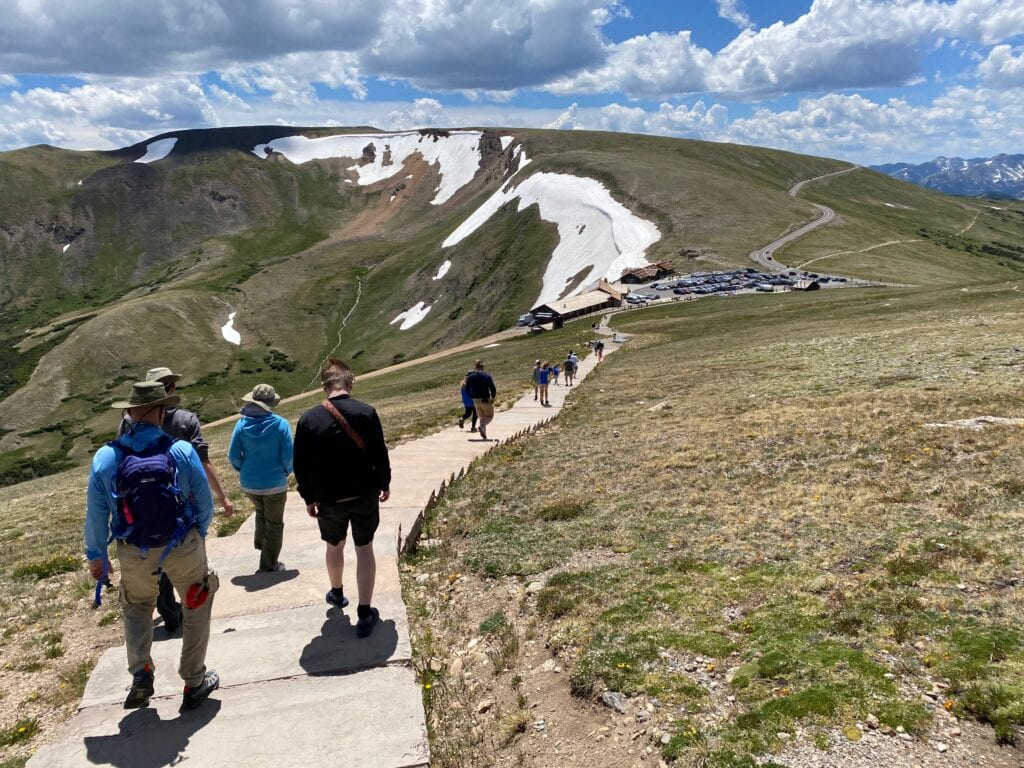 One of the most popular spots along Trail Ridge Road is the Alpine Visitor Center, which is located above the tree line at almost 12,000 feet in elevation. This is a great spot for getting refreshed on your Trail Ridge Road journey, offering a gift store, cafe, and coffee shop. While not everything was open during Kerri's visit, they did grab a delicious coffee.
One must do at the Alpine Visitor Center is the hike up Huffers Hill. This trail is only .6 miles long, but it is straight uphill. You'll find 225 steps to conquer and face almost 700 feet in elevation gain! Of course, your body probably won't be adjusted to the elevation, so you may find yourself huffing and puffing. It's worth it, though. You can see alpine tundra and see the snow on nearby ridges. Kerri even spotted elk on on the tundra.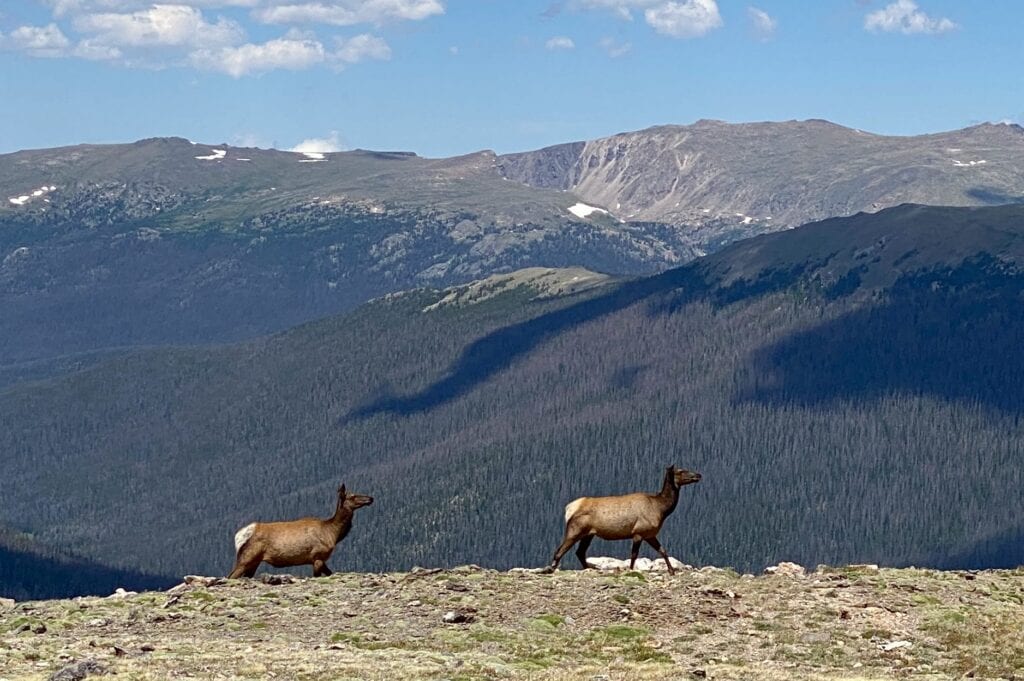 Nymph/Dream/Emerald Lake Trail
One popular hike at RMNP is one that leads to three lakes, The Nymph/Dream/Emerald Lake Trail is 3.6 miles round trip. Kerri's family just did the portion to Dream Lake because rain and storms seemed to be moving in. It was 2.2 miles roundtrip and had 450 feet in elevation gain.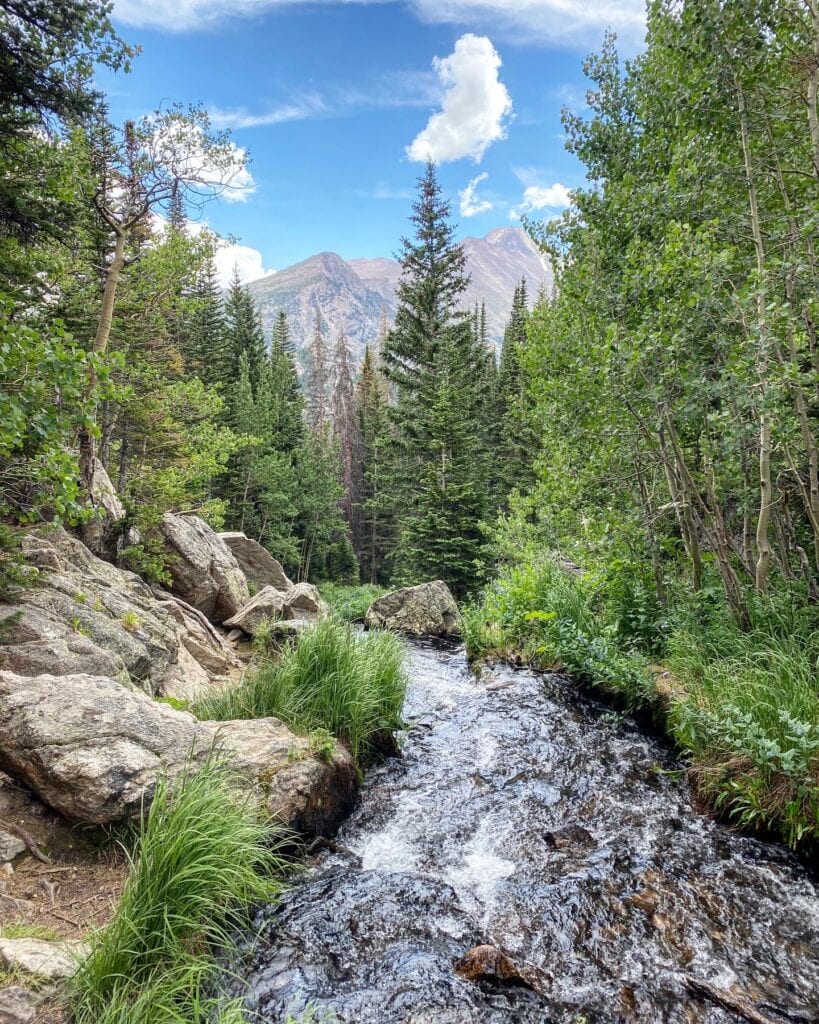 Kerri really enjoyed the beautiful creek crossings and many open viewpoints along the way. Nymph Lake has lily pads and is a pretty little lake, but Dream Lake is worth the extra mileage. It's one of the iconic sights in RMNP. This is another great spot to enjoy a picnic!
Dream Lake is a good spot to try your hand at fishing. It's notable for its clear waters. Some brave souls had even trekked the trail with inflatable paddle boards during Kerri's visit, which looked like great fun (other than the part where you have to carry them in and out).
Alberta Falls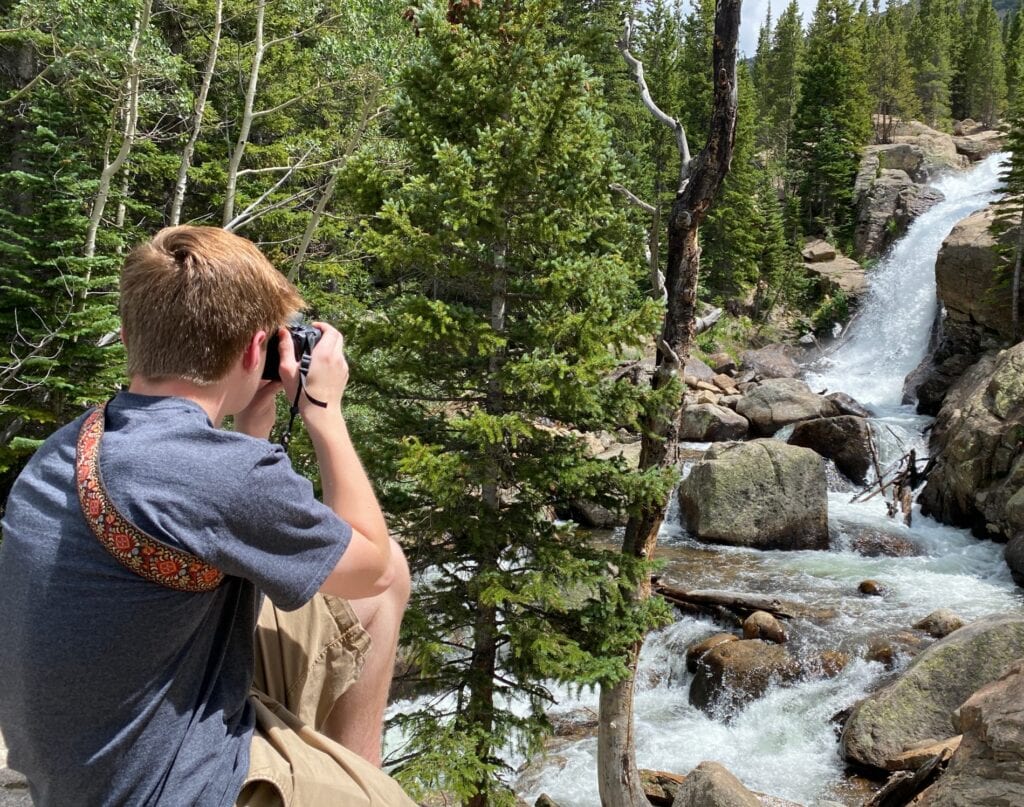 Alberta Falls is a 30-foot tall waterfall. You'll hike 1.7 miles round trip to reach it, with a 200-foot elevation gain. Along the way, the trail passes through groves of pines and aspens. Kerri said this trail will be especially scenic in the fall when the aspen trees turn bright golden.
It can be a little hard to get a good view of the waterfalls without climbing around on some rocks, especially if the easier outcroppings are full of people, but if you wait or root around, you'll find a good view all your own.
Lily Lake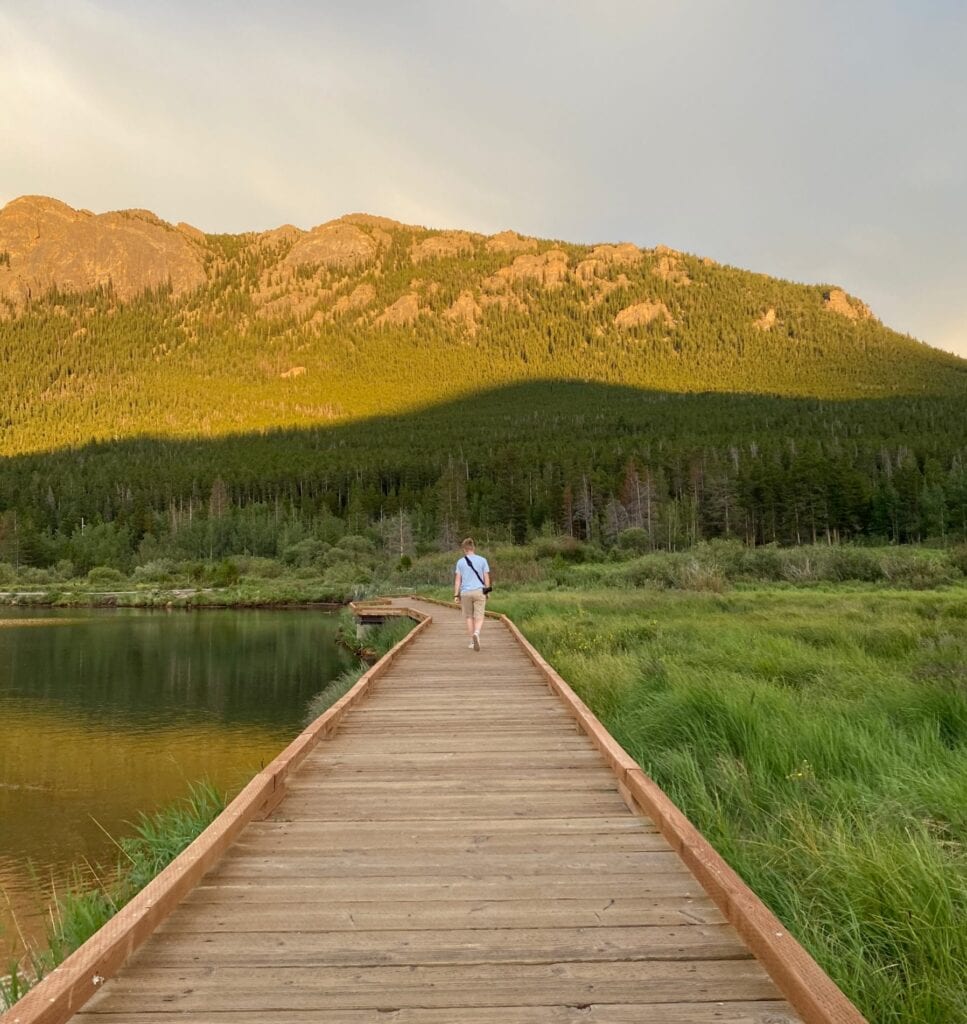 Lilly Lake is one of the few great sites to explore outside of the park gates. So, even if you cannot get reservations in RMNP, you may access this trail. There's a very easy .82 mile loop trail that goes around the trail. It is mostly flat and should be mostly accessible.
Kerri recommends going at sunset, when you'll have the trail all to yourself. Look closely at the rock outcroppings, and you may even spot tiny rock climbers. While this looks like a good spot for fishing, sadly, the population died out a few years ago in a cold freeze.
Tips for Planning a Trip Rocky Mountain National Park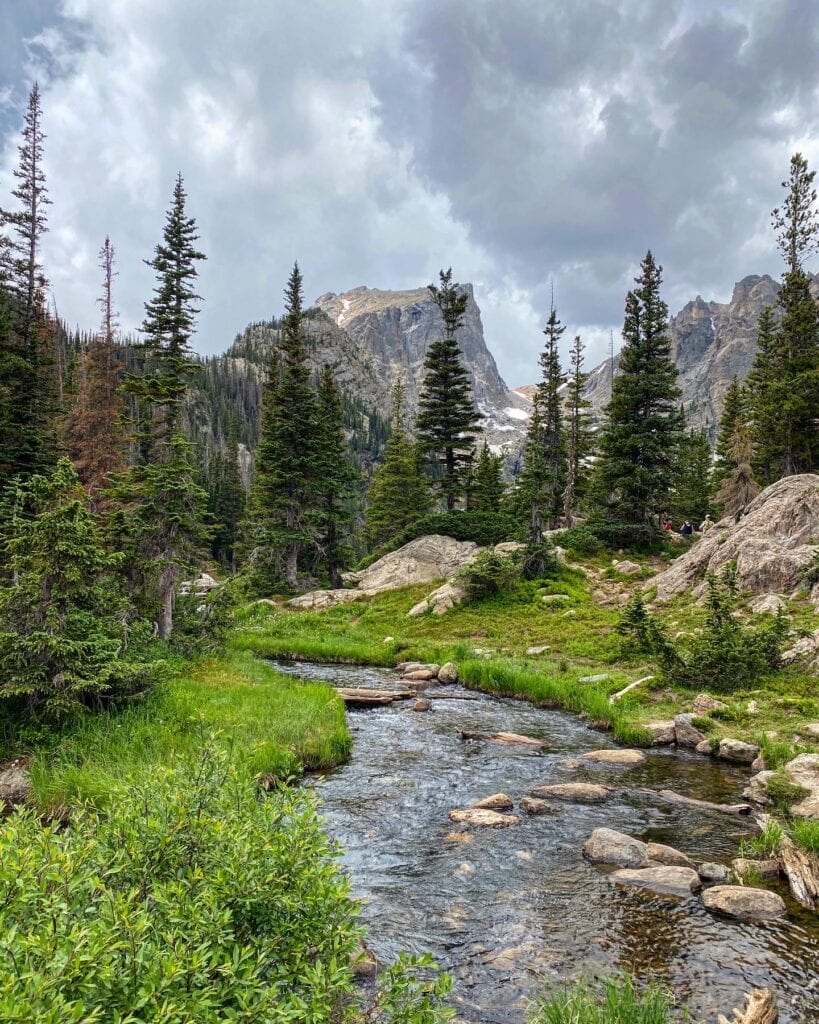 If you are planning a trip to Rocky Mountain National Park, Kerri recommends keeping these tips in mind:
Make your reservations as soon as possible if the reservation system is still in place during your visit. It costs $25 for a day pass plus $2 for each reservation. You may buy a 7-day pass or use an America the Beautiful pass, but you still have to pay the fee. You may show a printed ticket or your phone. There are spots where cellular data is not accessible, so Kerri recommends accessing your tickets before you arrive. The Reserve America app works great for keeping track of all of your reservations and has an easy interface for saving and displaying the QR code tickets.
Take layers of clothing. Kerri's family visited in July when temperatures were in the 70s-80s during the day, but they quickly dropped during the evenings and with the rise in elevation. Jackets were appreciated on the hike up Huffers Hill!
Carry food and drink into the park. You won't find many facilities in RMNP. The Alpine Visitor Center has the most, and there is a small snack counter at Bear Lake. There's plenty of great restaurant options in Estes Park and Grand Lake.
Note that Trail Ridge Road is not open year round. During the winter, several feet of snow buries the road. The park will scrape it in early summer in order to open this popular road, and the park announces when the road opens for the summer season. You may get hit with bursts of snow even in June and July.
Use the Moon Rocky Mountain National Park Travel Guide. Kerri relied on this for trail information and recommendations for what to see and do.
We want to thank Kerri for sharing these great tips for planning a trip to Rocky Mountain National Park with us! You can follow Kerri's RV adventures over on her Instagram feed or her website Travels with Birdy. Look for her work on Trailer Life, the Good Sam Blog, Togo RV, and more.
See You at the Campground,
Jeremy + Stephanie
Podcast: Play in new window | Download