Jeremy Shakes Down the Ember Overland Series 191MDB
For years Stephanie and I have been advising RV owners to take their first "shakedown trips" at campgrounds that are close to home. Plenty of people like to pick up a new RV and head out on a big adventure. But getting a new RV can bring the most seasoned RV owners to their knees! There are new systems to learn, and there are almost always unexpected issues to deal with.
So taking a long road trip and camping in unfamiliar territory has its risks. If you stick close to home you can always just go back if there is a problem. Or you can run to your local big box store if you forget something. Camping close to home when you get a new rig is just a smart thing to do. But just like Stephanie did with her Airstream Basecamp–I disregarded our own good advice. Instead of staying close to home I went 4.5 hours away for a shakedown trip in the Ember Overland Series 191MDB.
Picking Up the Ember Overland Series 191MDB at White Horse RV Center
My new Ember Overland Series 191MDB was ready for pickup at Monday at 2pm in south Jersey.  I had a beachfront reservation at Assateague Island National Seashore for the next day. I live in central New Jersey. So I had a decision to make. I could drive 1.5 hours to my dealer, White Horse RV Center, in south Jersey and then drive the rig back home 1.5 hours for the night and then leave for Assateague Island the next day. Assateague is over 4 hours away from my house. This seemed like a lot of senseless driving to me.
So I went with another option. I decided to pick up the Ember Overland Series 191MDB in south Jersey and head straight to Lums Pond State Park in Delaware for Monday night. However, I would need to pack up EVERYTHING to outfit the new rig in the back of my truck. Then I would need to unload the truck at Lums Pond. I thought it would still be preferable to driving back home and then retracing my footsteps the next day. I left at around 12pm Monday morning with all of my stuff in the truck, and Maggie the camping dog by my side. It was exciting to get back out on the open road, and I was very excited to pick up the new rig.
To listen to Jeremy and Stephanie talk about his shakedown trip in the Ember 191MDB, click on the media player above–or subscribe to the RV Atlas wherever you get your shows.
Lums Pond State Park, Delaware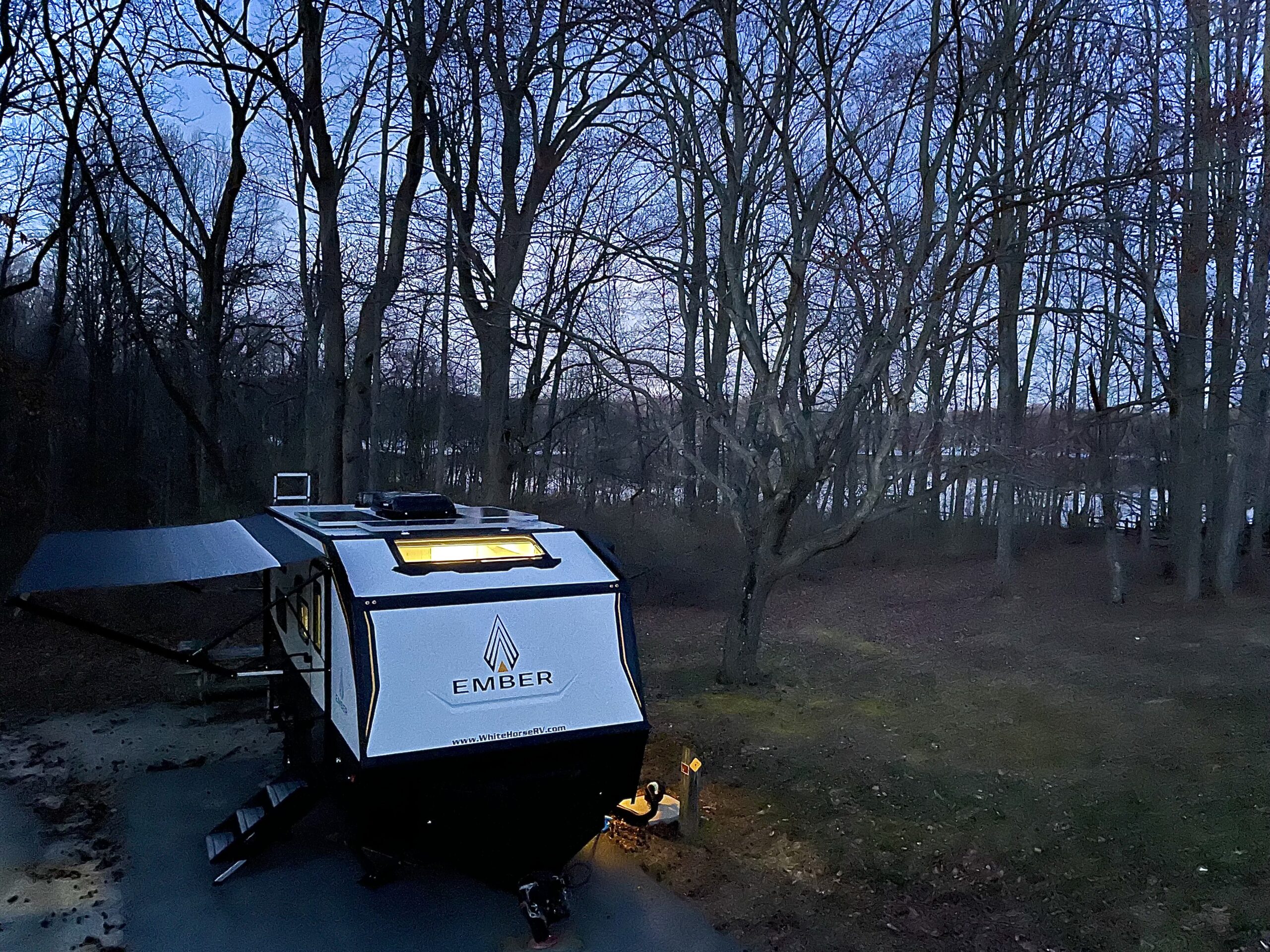 Lums Pond State Park ended up being the perfect place for an overnight stop. It was less than 1.5 hours away from my dealer, and then it would be an easy two hour tow down through Delaware to Assateague. Lums was really beautiful and it offers full hookups at state park prices. I pulled in an hour or two before dark and got everything out of the truck and into the Ember Overland 191MDB. My site was also really nice with lots of space on either side.
I picked a site next to tent camping spots because I knew there wouldn't be tent campers there in March during the week. It was a good strategy because it felt like I had a massive site. I could see the water through the trees as well. Maggie also enjoyed a nice evening walk on the trails right behind my site.
A Quiet and Peaceful Night in the New Rig
After I unpacked the truck and got the RV set up I realized that it was 9pm and I was completely starved. Unfortunately the around Lums Pond State Park is pretty quiet at night. I couldn't find something close by for dinner. So I grabbed a sub at Wawa and called it a night! I was really exhausted after a long day, and I slept like a baby in the new rig. A good sign considering that I am very sensitive to noise in RV's. The Ember Overland 191MDB is packed with tech. But it is pretty darn quiet for sleeping. For that I am very thankful!
Onwards to Assateague
I spent some time in the rig the next morning just getting myself situated, and then headed south to Assateague. It was a really easy day of towing and I arrived at Assateague well before dark. I was really hoping that I would be able to see the ocean from my site, and when I pulled in I could! It was absolutely magical. Somehow I think I ended up with the single best site at the campground. Stephanie and I have been camping at Assateague State Park since we were teenagers. Stephanie has also tent camped at the National Seashore. But I have only day tripped there. So I was super pumped to camp at the National Seashore for the first time and compare and contrast these two amazing camping options. I will review the campground at Assateague Island National Seashore in a future episode of The RV Atlas podcast.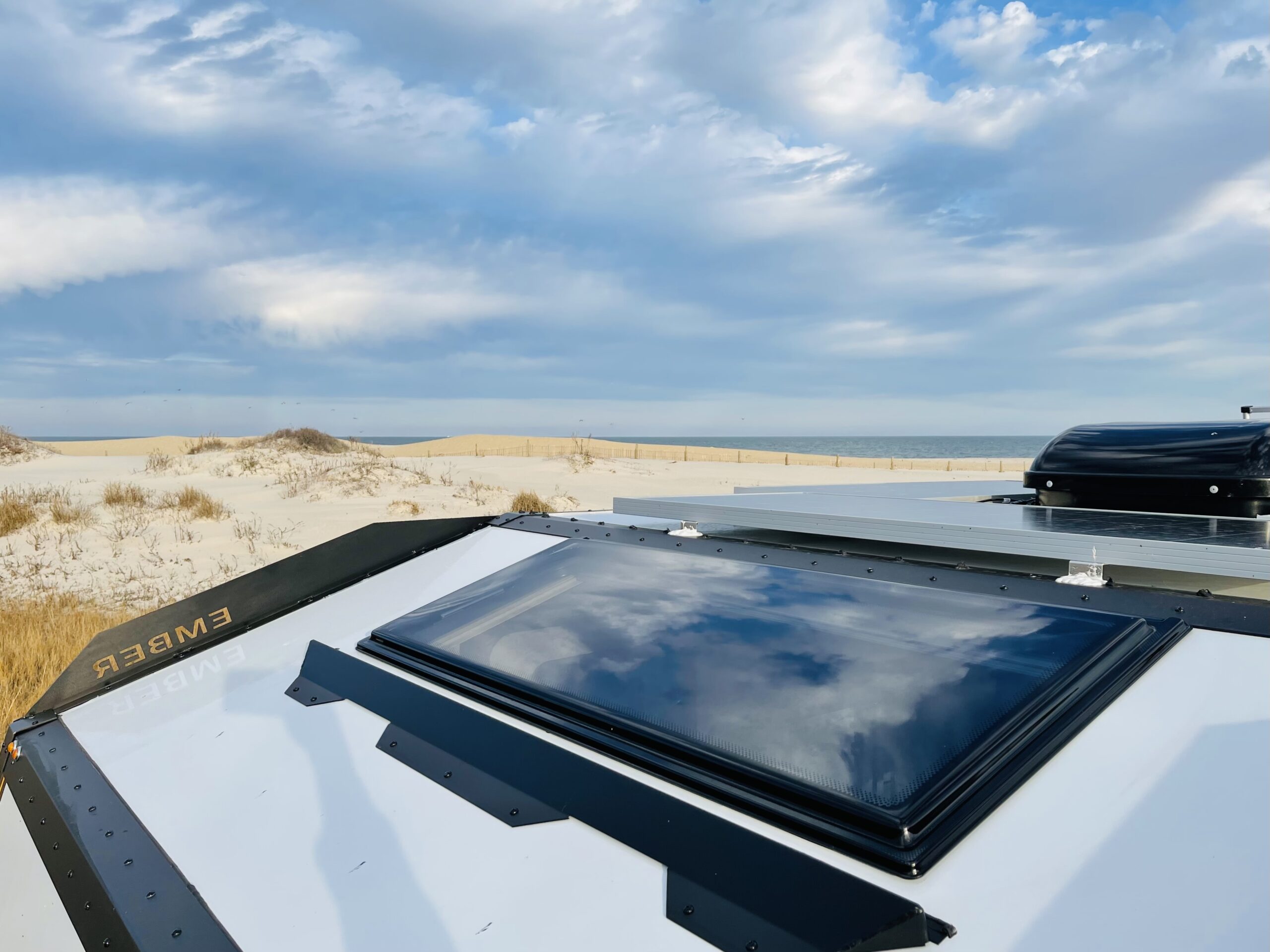 I grabbed as many photos of the new rig as I could. Then I settled in to make street tacos for dinner. My cousin and his dog Kaia were on their way in to meet me and hang for the next few days. We were hoping to SUP and spend some quality time together.  Kevin also wanted to surf. He is super interested in getting a van and camping more, so this would be a cool little trip for him to get a taste of RV life. Kevin arrived after dark and we were both pretty pumped to have a day of great weather ahead of us.
We both slept comfortably in the Ember Overland 191MDB. I slept on the Murphy bed with Maggie, and Kevin slept on one of the bunks with Kaia. I was pleasantly surprised by how comfortable the mattress was and had another restful night of sleep in the Ember.
Sunrise at Assateague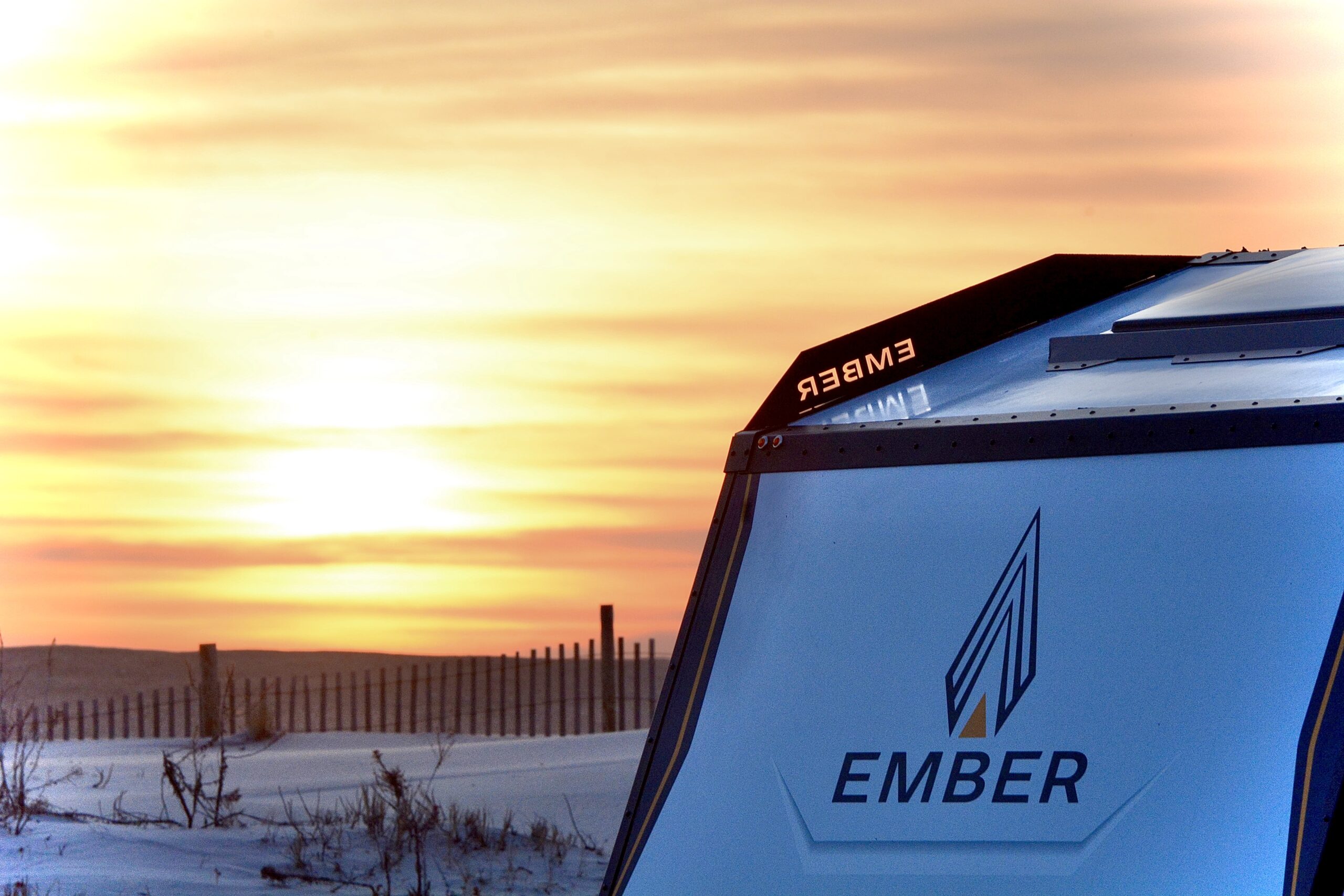 I always wake up for sunrise at Assateague, and it almost never disappoints. It is a heavenly place for photographers. The sunrise on this particular morning was stunning. I enjoyed getting some good photos while sipping a hot mug of coffee. Temps at Assateague ended up being about 60 degrees that day, but the morning weather was brisk.
A Perfect Day at Assateague
Kevin and I ended up having a perfect day of camping at Assateague. The new Ember Overland 191MDB has Ember's "max solar package" on it, and the rig performed like it was plugged in, even though we were dry camping. I made coffee several times using an electric kettle for hot water, and I will not be using that next time I dry camp. It used up a good bit of battery. Next time I will bring an old fashioned kettle and use the stovetop burner to make hot water for my French Press.My last rig spoiled me a little because it had an onboard generator, which I used to make coffee in the mornings. The generator would always charge the batteries up in the morning and keep them topped off while dry camping.
After I grabbed some photos we both climbed up on the roof to check the waves. Not a bad perch to soak up the ocean views. Kevin went surfing while I got some work done. After lunch we both went to the Bayside campground loop and launched our SUP's and went for a long paddle. Conditions were perfect. When we came back it was fun to use one of the outdoor hose ports on the Ember Overland 191MDB to rinse off the SUP's. This is a really good rig for outdoor adventures in more ways than one.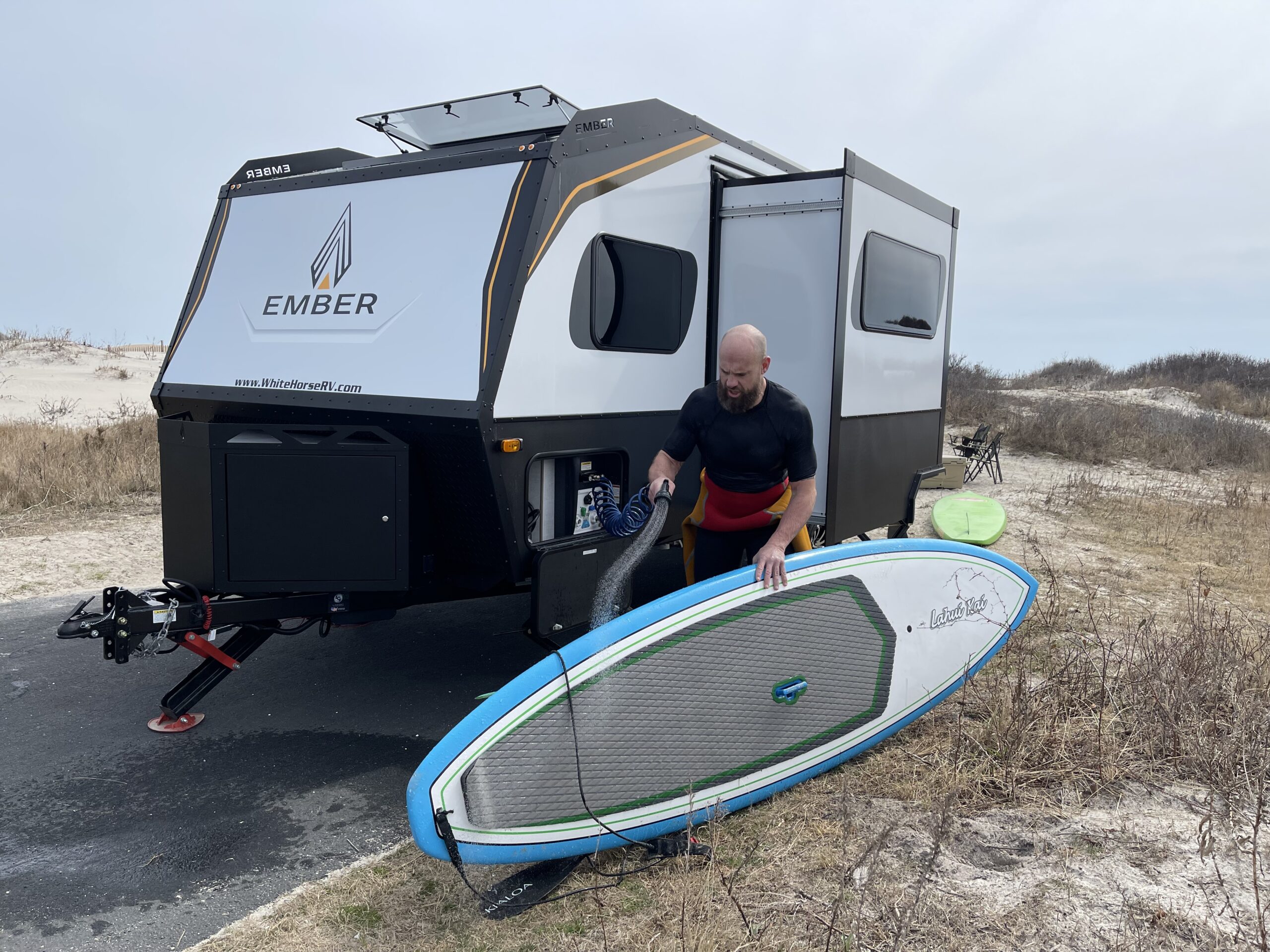 Our trip was a relatively short one, but it felt great to test the new rig out and hang with cousin. I also met some RV Atlas fans at the campground, which is always fun for me. The coolest part of the trip may have been watching Maggie and Kaia hang out together. Maggie is an all-star at the campground. Kaia is too. I think they each have a new best friend. They got along so nicely and shared space in the rig with no issue. I hope they both get to go camping together again soon.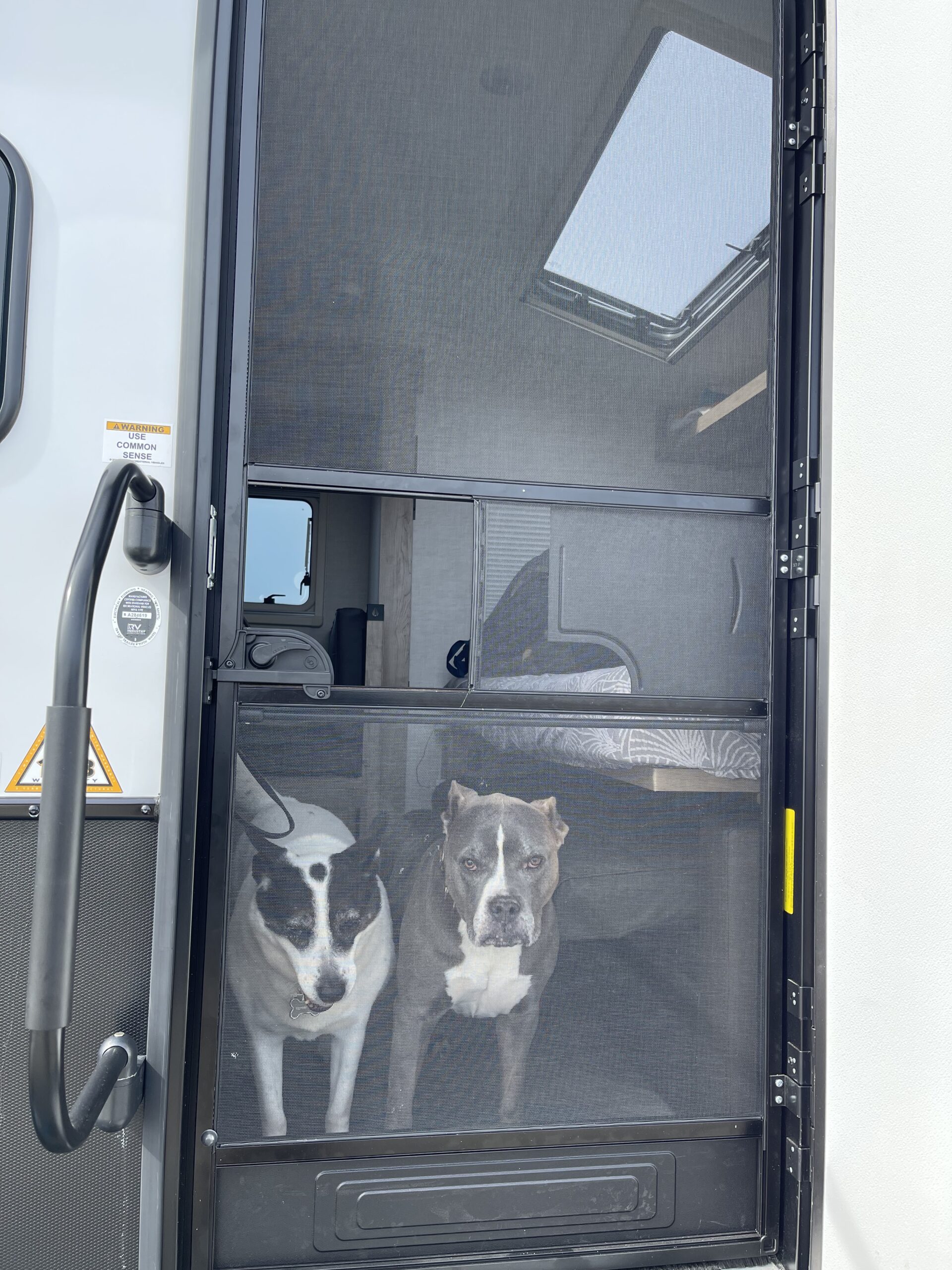 See You at the Campground!
-Jeremy
Podcast: Play in new window | Download