Zion National Park is one of those magical places that people describe as a spiritual experience. The stunning beauty is just unmatched, with deep canyons, red rock formations, and unbelievable ranges of colors. Plus, this national park is pretty accessible, meaning you don't have to put a ton of time into planning in order to enjoy it.
That's good news for us since we are planning our own trip to Zion in August, and we are behind in our planning. Luckily, Lauren Eber was willing to share all of the details with us. Lauren previously came on the show to tell us all about how her family travels in a converted Mercedes Sprinter van. She is #vanlife in motion!
Hear more about Lauren's rig and her family's adventures by checking out the post where she told us all about van life with kids. Be sure to also follow her on Instagram, where she share her journeys as @afamwithavan. Get a full tour of their van, nicknamed Yayho, by watching this awesome video.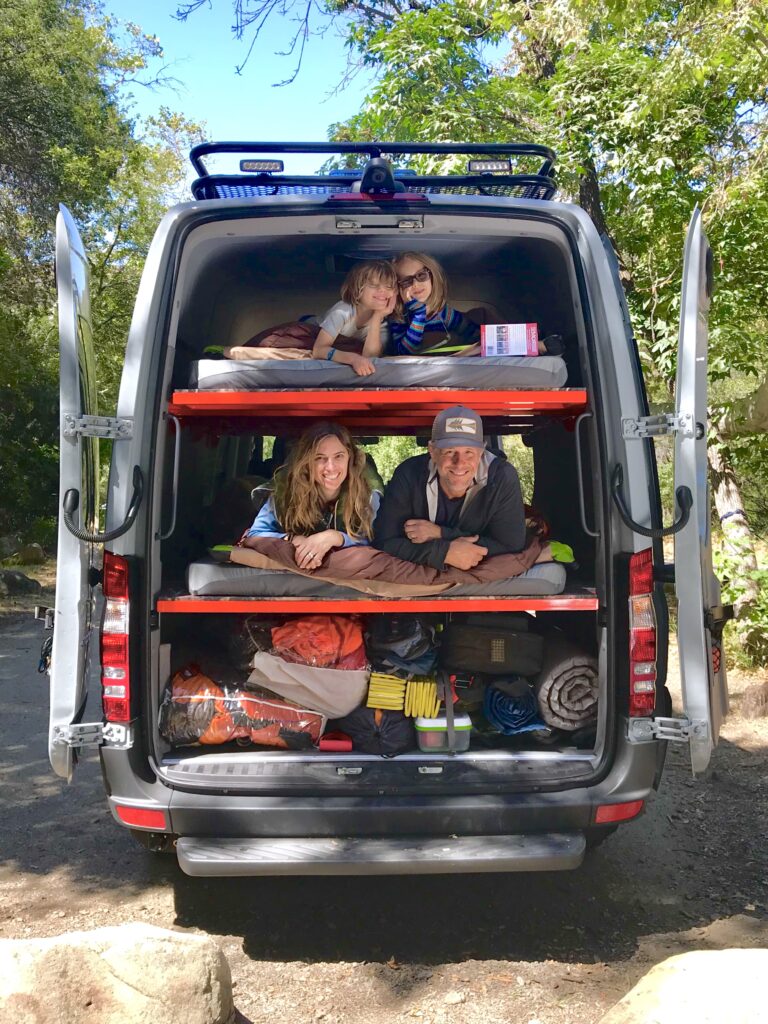 Welcome to Zion National Park
Zion National Park can be enjoyed as a stand-alone trip or as part of a journey through Utah's "Mighty Five" or "Big Five" national parks. Nearby, you'll also find Bryce Canyon, Arches, Capitol Reef, and Canyonlands. The Grand Canyon is just about five hours away. The nearby getaway town of Springdale is a good option for finding amenities close to Zion.
When should you go to Zion? You can visit throughout the year. March/April through around October is the busy season. While Zion is enjoyable in the winter, it is not always accessible, so you have to watch for road closures and etc.
Spring and fall are the best times to visit Zion, weather wise, thanks to the cooler temperatures. Unfortunately, the water is running really high and fast in the spring, which means the Narrows hike may not be open (more on this iconic hike later). During the summer, the Narrows is more accessible; however, you will encounter hot weather.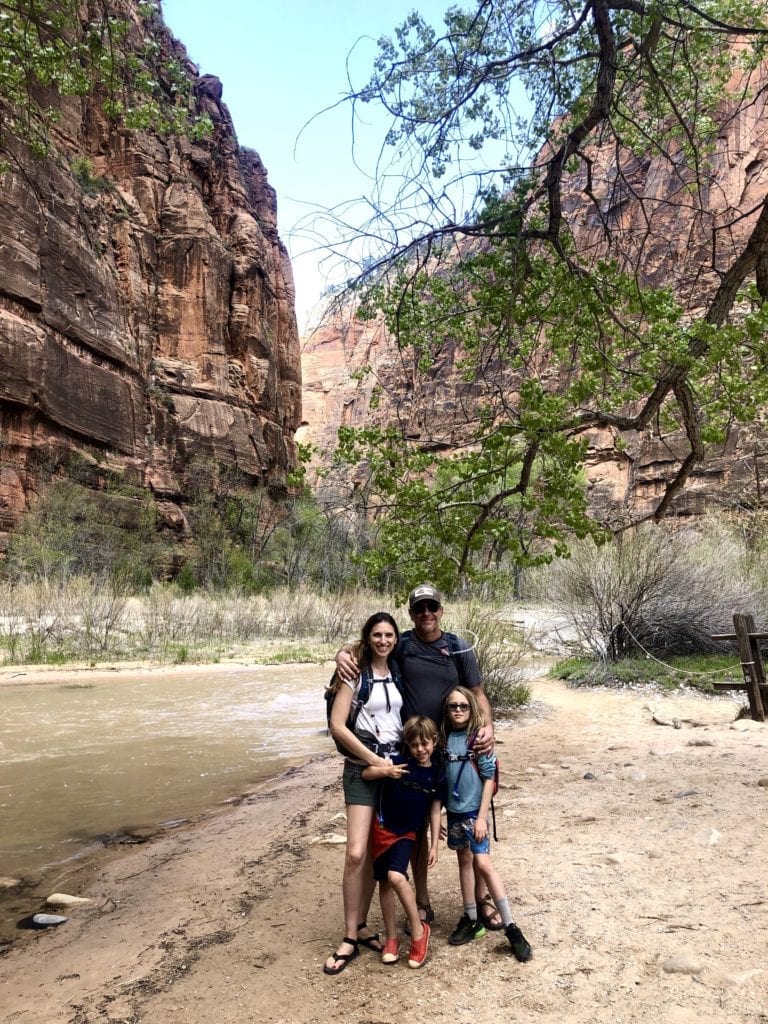 Hear all about Lauren's family's adventures in Zion National Park by clicking play on the media player above or by looking for The RV Atlas wherever you find your favorite podcasts.
Getting Around Zion
Zion is a tremendously popular park. In order to handle the crowds and lack of parking and to protect the vegetation, the NPS runs a robust shuttle service. While some shuttle systems are a real drag, Lauren says Zion's are really wonderful, with shuttles arriving every seven minutes or so. Plus, they stop at all of the highlights, making it really easy to navigate the whole park.
Lauren's family enjoyed using the shuttle like the "hop on/hop off" tourist buses found in big cities. In fact, she says there are certain times when rangers are stationed on the shuttles, providing commentary on everything you are passing by. It's a great way to get the lay of the land and to enjoy the scenery.
In addition to the shuttle that runs through the park, there is another loop that runs out to Springdale, which means you don't even need a car to reach the park from some campgrounds. This is perfect for those in motorhomes. If you are staying in one of the communities not directly on the official shuttle line, there are services that charge a small fee to transport you to a shuttle stop. Or, if you have a car, you can drive to Springdale and park.
You'll receive a map and more information about the shuttle system at the park gate, but Lauren recommends checking it out ahead of your trip. You can even download the map to your phone, making it easy to carry along. Find more info and maps here.
Zion National Park Visitor Center
Start your journey to Zion with a stop at the visitor center. The Zion Canyon Visitor Center is a great place to get information. Since conditions in the park are always changing, it's good to check on trail closures, water flow, rock slides, and more before heading out. Be sure to pick up the information sheet and the complete map and guide to get all of the up-to-date info about wildlife, trails, and special events. You might encounter a line at the ranger's station, but it is worth it. Don't miss the Junior Ranger program info if you are traveling with kids!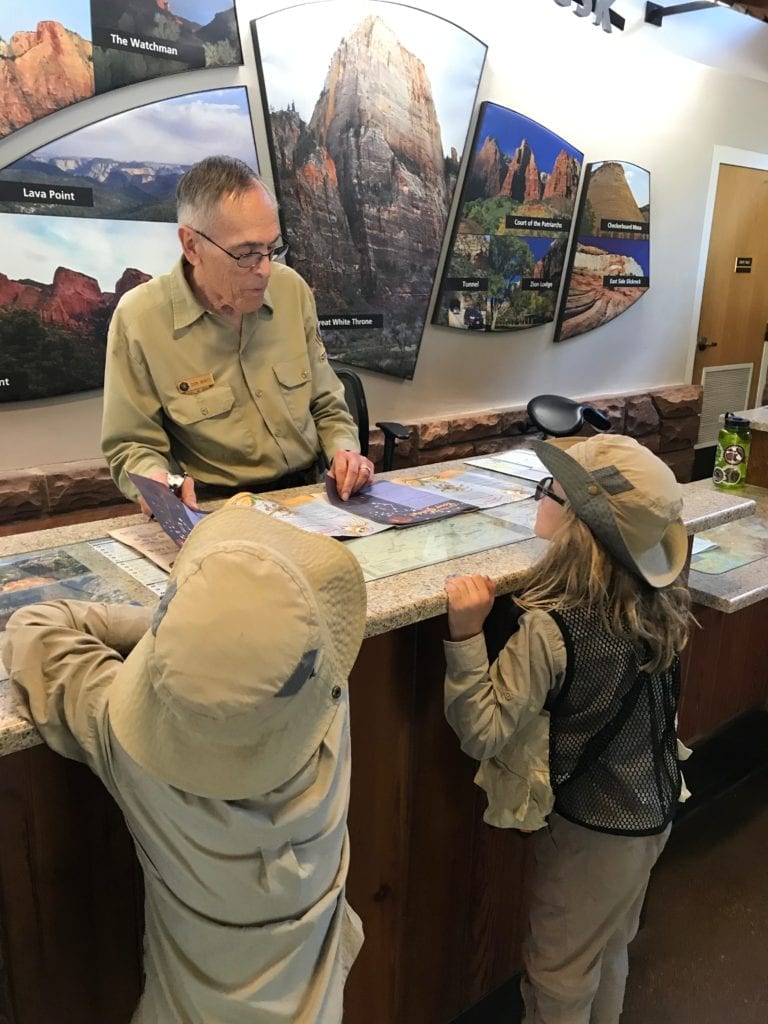 Do note that this visitor center doesn't have a full slate of services. While you can enjoy some shopping at the cute gift shop, you won't find a full-service cafe. Lauren was surprised by this on their first visit. Dining options are found at the lodge. Or, you can walk to Springdale to find restaurants and stores. It's a five-minute walk outside of the park gate, so plan accordingly.
Best Hikes in Zion National Park
Angels Landing: Angels Landing is one of the most famous–or notorious–hikes in all of Zion. This trail starts with a series of pretty typical switchbacks before taking you high up on a narrow ridge of rocks. The skinny trail is open to the depths below, with only a chain to help anchor you on the steep incline. This is harrowing and absolutely not for the faint of point.
Once you reach the point called Angels Landing, you are treated to 360-degree views of all of Zion. Lauren did this hike in her pre-kid days and says upfront that this is not a kid-friendly hike. If you have older tweens or teens, check with the rangers to see what they recommend. If you do not have a fear of heights, this hike promises to be one of the most memorable you'll ever experience.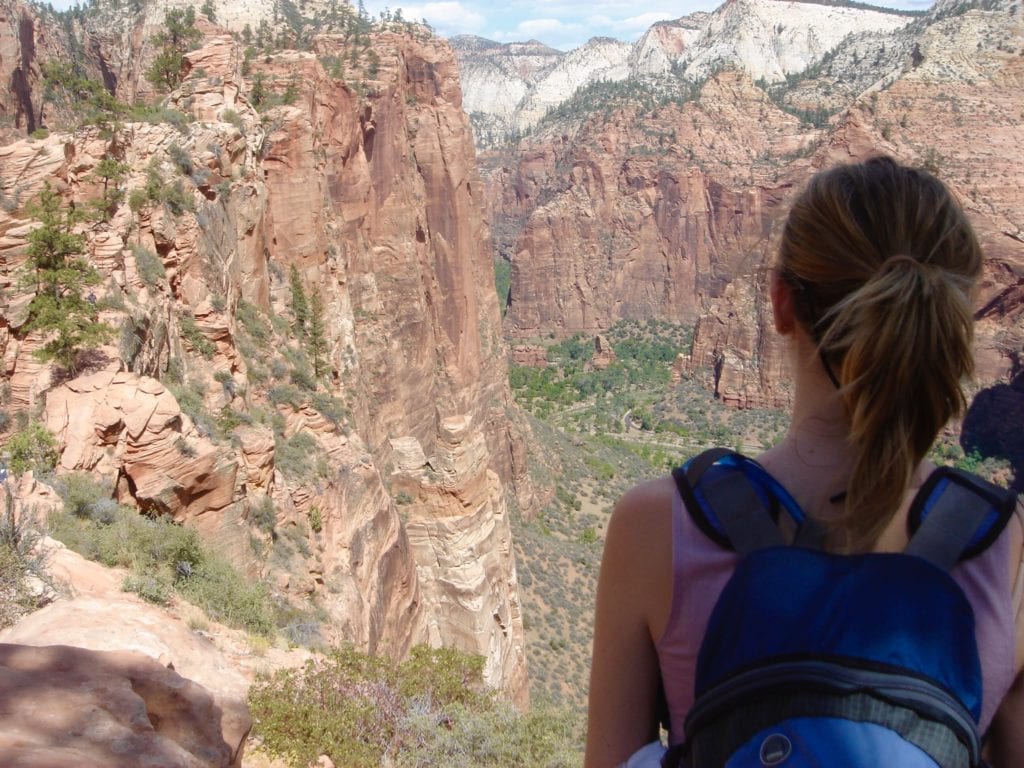 The Narrows: If you've ever seen pictures of Zion, chances are, you've seen pictures of the Narrows. This hike takes you though the narrowest (appropriately enough) section of Zion Canyon, where the rim walls rise a thousand feet overhead. To do the whole trail, you'll actually have to wade upstream through the Virgin River.
As Lauren has noted, conditions vary greatly in Zion, including the river depth. If you plan to hike the Narrows, you really need to do your research so you go at a good time of year and take appropriate gear. Then, once you arrive in the park, visit with the rangers. Flash flooding is a source of danger on this hike. So, you don't want to attempt it without consulting an expert before heading out.
If you don't want to get wet or if the rest of the hike is closed due to the conditions, just do the Riverside Walk. This paved trail runs one mile and offers a family-friendly way to get a taste of the Narrows.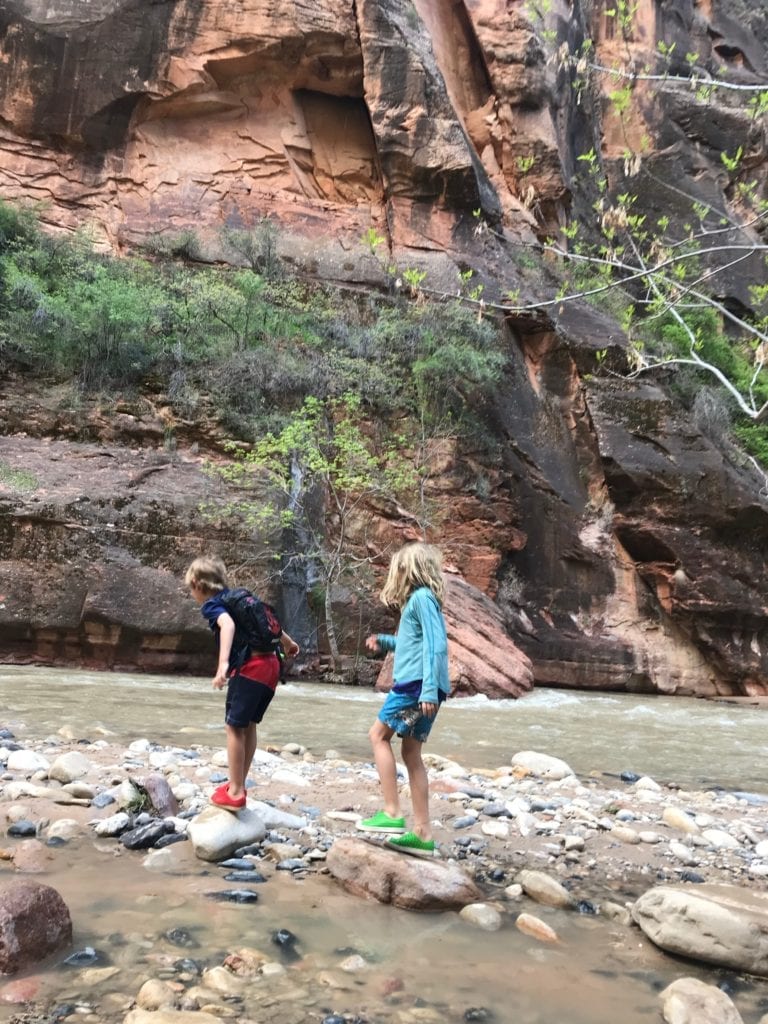 More Options: While these are two of the better-known hikes in Zion, they aren't the only trails. You'll find tons, with options for all comfort levels and age levels. The shuttle stops take you to most of the trailheads. Just watch for closures for maintenance and rock slides. Lauren recommends the Canyon Overlook Trail. It's a 1-mile, family-friendly trail. She also recommends the Watchman Trail as a moderate option, at 3.3 miles.
More Activities in Zion National Park
Aside from putting your feet on the trail, you can also enjoy Zion by bike. Lauren's family stayed at the Watchmen Campground (more on this in the next post). It was close enough for them to bike into the park. They really enjoyed the great path that starts at the visitor center and runs along the Virgin River to the science museum.
Hear all about Lauren's family's adventures in Zion National Park by clicking play on the media player above or by looking for The RV Atlas wherever you find your favorite podcasts.
Handling the Heat in Zion National Park
If you are visiting in the summer, don't plan strenuous hikes midday. Instead, try to cool off by the river. There are lots of beautiful picnic spots to take in the views.
If you aren't a morning person, you can still enjoy Zion. Lauren's family took advantage of the early evening hours and found the park to be much emptier. Just make sure to allow time to get off the trail before dark.
Camping in Zion National Park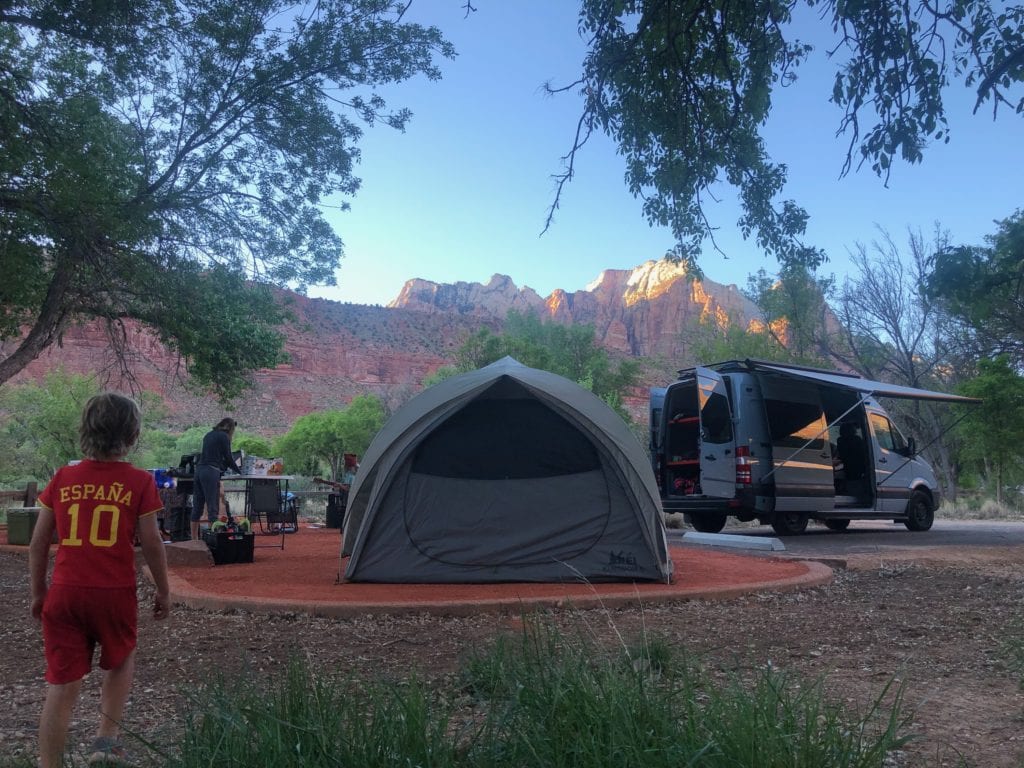 There are three campgrounds actually in Zion and many more in the neighboring towns. Lauren will be telling us about two of them in our next two posts, so don't miss them. Within the park, you can pick from Watchmen, South, or Lava Point Campgrounds. Watchmen and South are located in the canyon, while Lava Point is further out.
Watchmen is Lauren's first pick because it is really beautiful. It has some nice shade and upgraded facilities. South is just a little scrubbier; however, Lauren says it's still a great option. Watchmen is super popular, so you must book well in advance.
There's also a terrific lodge option, the Zion Lodge. They offer hotel rooms, suites, and cabins. This is a popular option for people who fly into Vegas and take the 3-hour drive to Zion. Even if you aren't staying at the lodge, you can visit it to find food. You'll find a casual option and a sit-down restaurant.
Gateway Towns Near Zion
The small town of Springdale is just outside of the park gates near the south entrance. It has anything you might need to enjoy your time in Zion. You'll find a small shopping area with firewood, camping supplies, groceries, and more. A larger grocery store is nearby.
Springdale has great dining options, too. Lauren's family loved the Zion Brewery. As she mentioned, ice cream is very motivating on those hot days, and you'll find lots of choices close to the park gates.
The town of Virgin is another good stop. Lauren recommends Fort Zion Restaurant. There's a fun area for the kids to explore outside: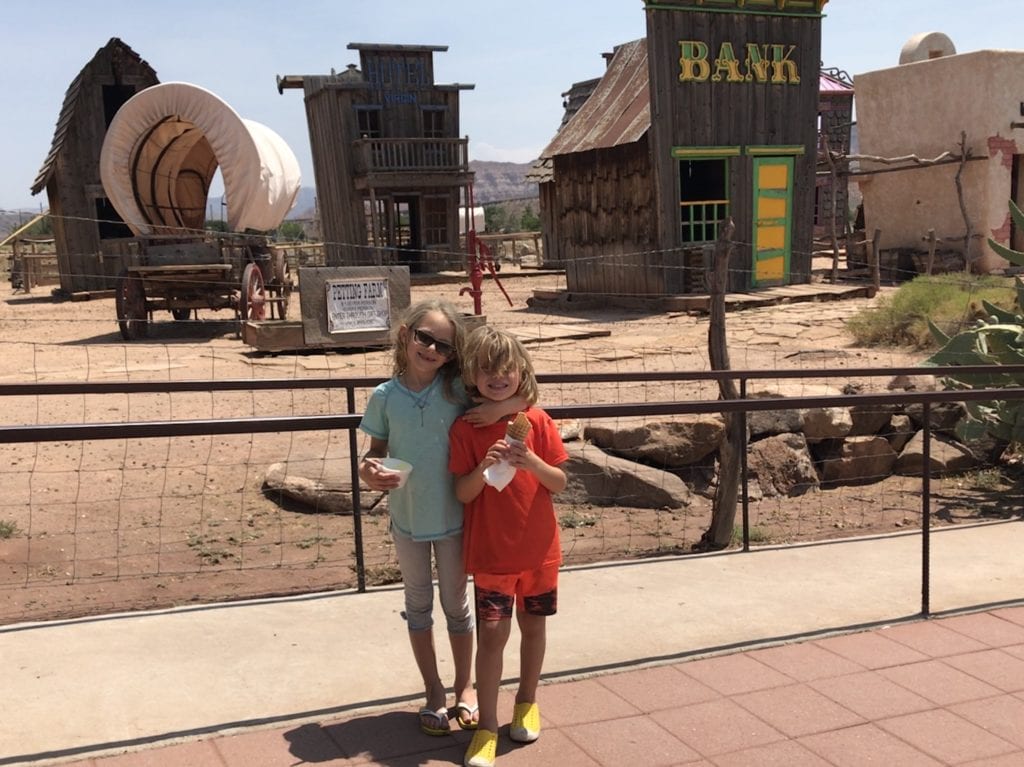 Final Tips
For more information on Zion, Lauren recommends getting Fodor's The Complete Guide to the National Parks of the West and Utah's Big Five National Parks: Adventuring with Kids guidebooks.
While Lauren admits to having 5-10 favorite national parks, Zion is definitely in that list. We can't wait to explore it for ourselves!
See you at the campground,
Stephanie + Jeremy
Podcast: Play in new window | Download