What takes us to Disney again and again? We never necessarily thought we'd become those people, but here we are! We love the dining. And, we love the new experiences we find each year–including this year's new Star Wars Galaxy's Edge. Today, we will give you our best tips for enjoy this brand spanking new land. It's completely out of this world!
This is the third episode of our official Disney Week. Check out our post about using DVC rental points for our accommodations HERE and our post comparing Fort Wilderness and Wilderness lodge HERE).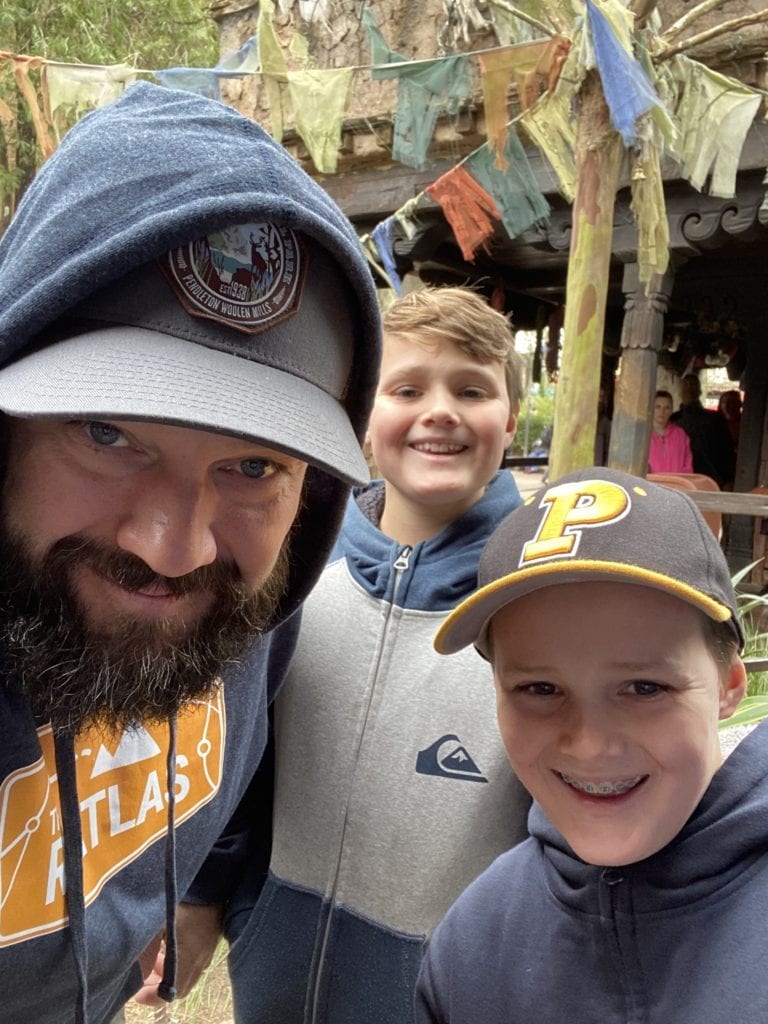 To hear more about our Disney World highlights, including Galaxy's Edge, click PLAY on the media player above or look for The RV Atlas wherever you find your favorite podcasts.
Dining at Disney
What we love about Disney goes far beyond the rides, the characters, and the atmosphere. One of our surprising pleasures is dining at Disney. There are so many options, with many offering unique culinary experiences. Here are some of our highlights from this year:
Whispering Canyon Cafe: Located in Wilderness Lodge, this restaurant has an Old West theme. They make the best family-style skillets! They are all you can eat, and really, what beats that? While not a character dinner, the waiters and waitresses still have *character.* They do a funny thing where they are extra snarky. If you have tween boys, this will be right up their alley.
Ohana: This restaurant has a Hawaiian theme and is located at the Polynesian Resort. We lucked into the very best table and had a great view of the Magic Kingdom firework show as we celebrated Stephanie's birthday. We all loved the food (minus our picky eater, but in traditional Disney magic, Ohana brought out a great plate of kid-friendly fare within minutes of us asking). Servers provide entertainment and deliver all kinds of amazing Hawaiian foods. The bread pudding is not to be missed!
Tusker House Restaurant: Head to Animal Kingdom for this amazing African buffet. We reserved a midday character meal, which is a nice way to take a break after a busy morning. Tusker House is like a little oasis, and the cuisine was delicious. This was one of our very best meals! Plus, all of the Disney "big wig" characters were there, and you have plenty of time to take pictures with them.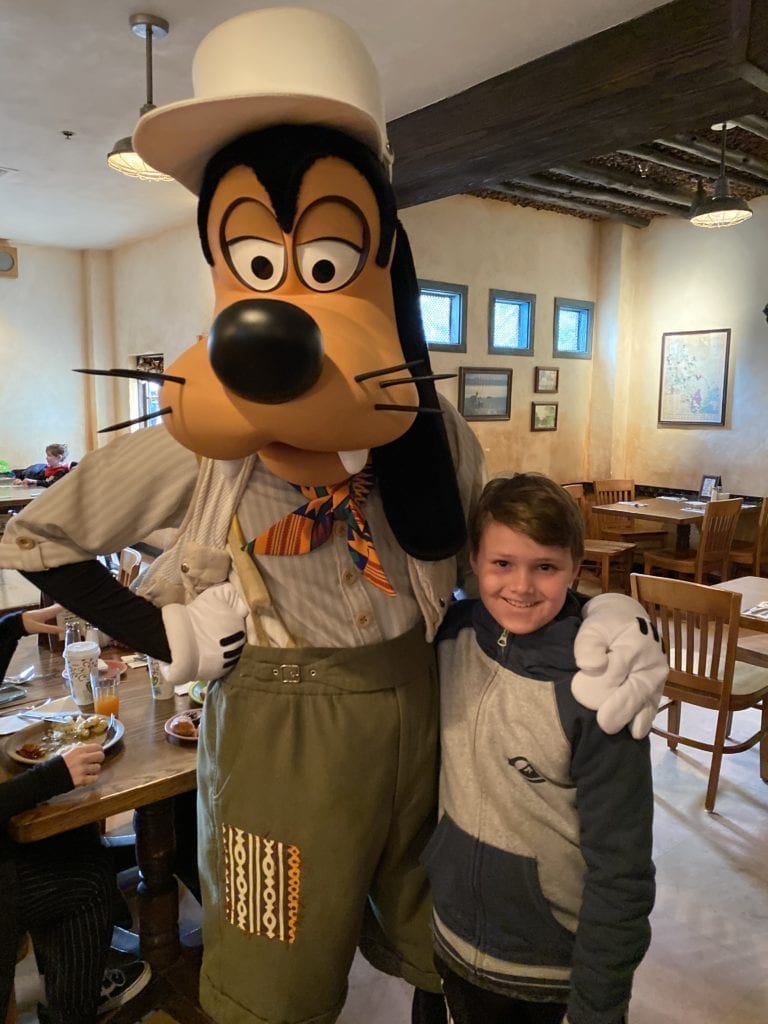 Rose & Crown Dining Room: Another favorite this year was our fireworks dinner we did at Rose & Crown in Epcot. We had an amazing waterside table with a full view of the show. The food was so good, and even better than we expected. It is pricy, but again, you are paying for the whole experience. While we ate outside, the inside is such a cool authentic-looking British pub.
Geyser Point Bar and Grill: This is another Wilderness Lodge favorite. Great place to go as a couple or as a family. The food is great, and the price points are very reasonable.
We happened to be there during Epcot's International Festival of the Arts, and we noticed they had special tasting menus at many of the restaurants in various countries. So, we spent one afternoon meandering around eating our way around the world. It was a fun way to experience all kinds of cuisines thanks to the "quick bites" they had.
Magic Kingdom Highlights
This was the first year we did four straight days of parks, and we did a theme park a day. While we survived, it was definitely exhausting. We start early when we go to the parks because we have learned they are so much less crowded. Plus, you can do "rope drop" for the high-traffic rides before lines form.
There was nothing new there for us, but we enjoyed our old favorites, including Big Thunder Mountain and Space Mountain. We did 10-12 rides, which might be a new record for one day.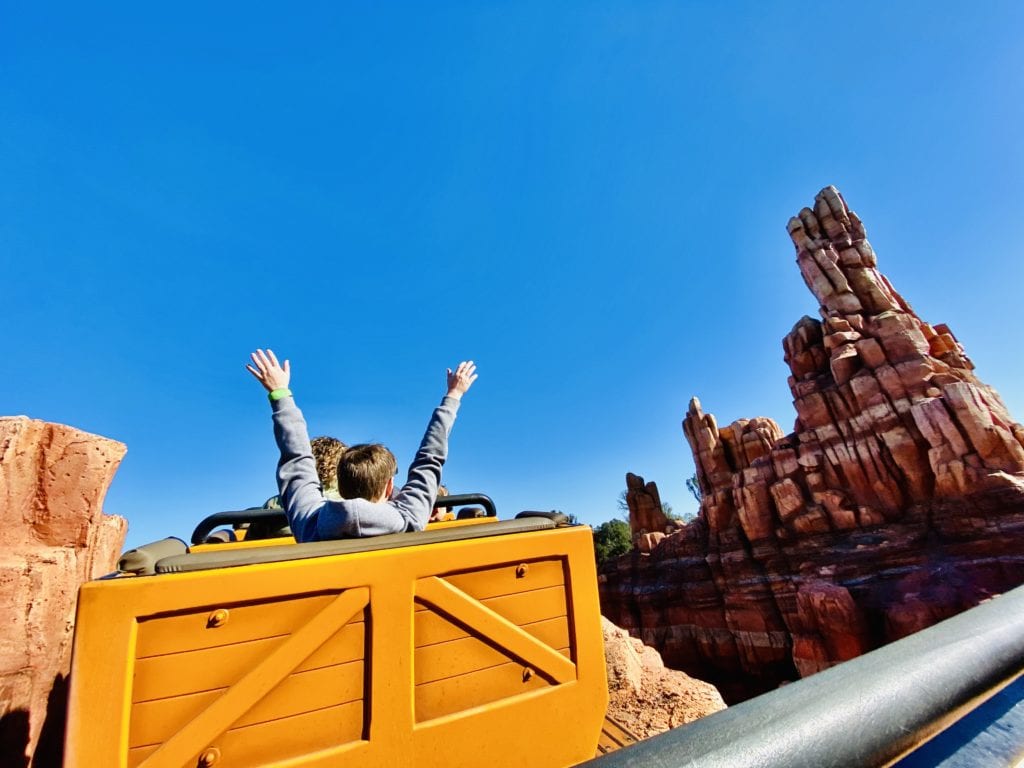 Animal Kingdom Highlights
Until this year, Magic Kingdom was always our favorite, but this year, Animal Kingdom just might have edged it out. We are all huge fans of the Everest roller coaster–so much so that we rode it FIVE times this year! (Big tip: Do the single rider option since that line moves so much faster–literally, we waited 8 minutes while the other line took an hour.)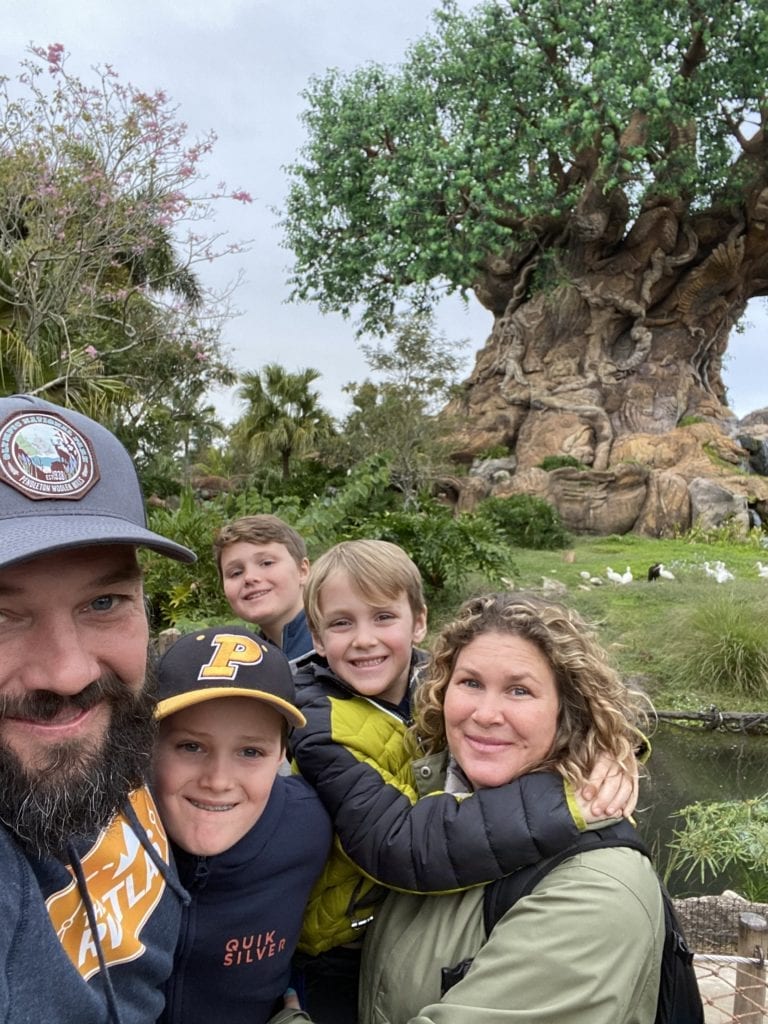 At Animal Kingdom, we also consider the Avatar ride, Flight of Passage, another HUGE favorite. It is an experience, for sure. We also love the animals, the Lion King show, and so much more. The music and street performers really make the atmosphere so special: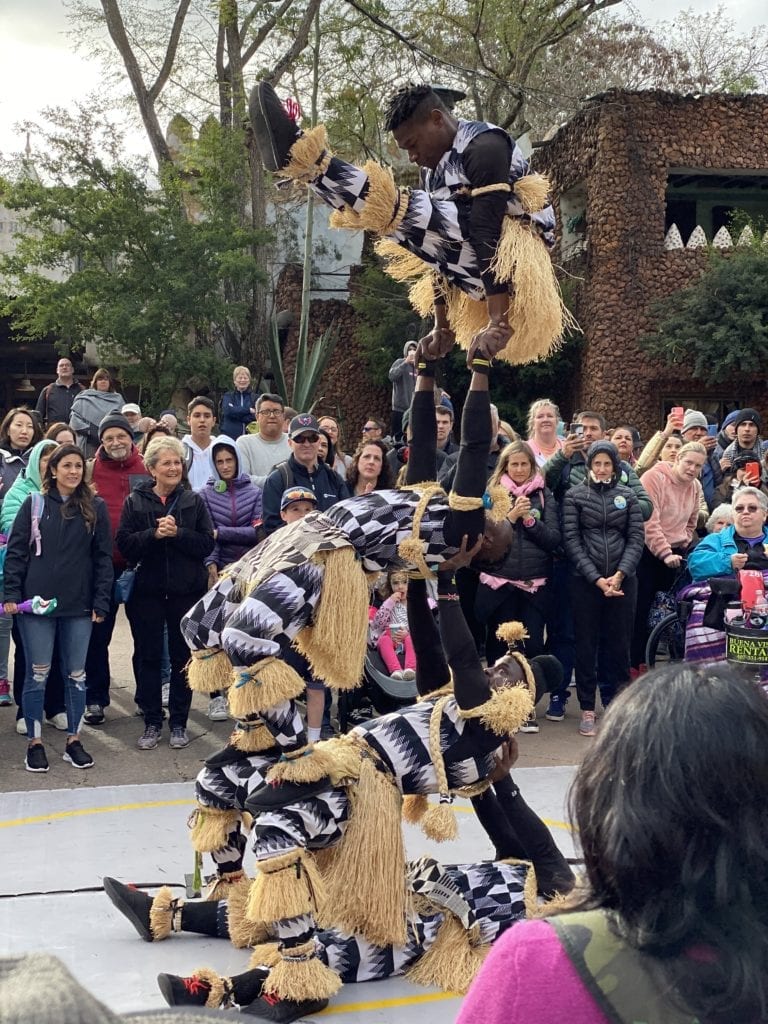 Epcot Highlights
Aside from eating our way through Epcot, we also just enjoy strolling through the countries. Aside from riding Soarin' twice, there weren't any other ride highlights since Test Track was closed. This was our shortest day, but since we were doing four parks in four days, it was kind of nice to not feel like we had to get a lot in.
Hollywood Studios Highlights
Originally, we weren't even planning to go to Hollywood Studios even though the huge new Galaxy's Edge park was there. We had hear the lines were crazy, and we really don't like waiting in line. Plus, they don't have Fast Pass for the big Star Wars rides, and they made the Fast Pass system more complicated for the other rides.
Ultimately, we came up with a strategy to get to the park at 6:20 a.m. and in the park by 6:45 a.m. in order to even have a chance of riding Rise of the Resistance. (We only knew this because we had done our research. Don't go to Disney without doing yours!) We told the boys we had to follow this plan or skip Galaxy'd Edge altogether. And, they decided to do it!
So, we set the alarm for 5:30. Thanks to a great tip from a bus driver, we booked a Lyft for 5:45/6:00 am since he said the first bus isn't always on time. Due to an alarm snafu, we ended up waking up with only 5 minutes to get out the door. We hurry, hurry, hurry to get ourselves and three boys ready. At some point, we somehow lose our youngest child! Seriously, you have to listen to this episode to hear all about this. Click play on the media player above!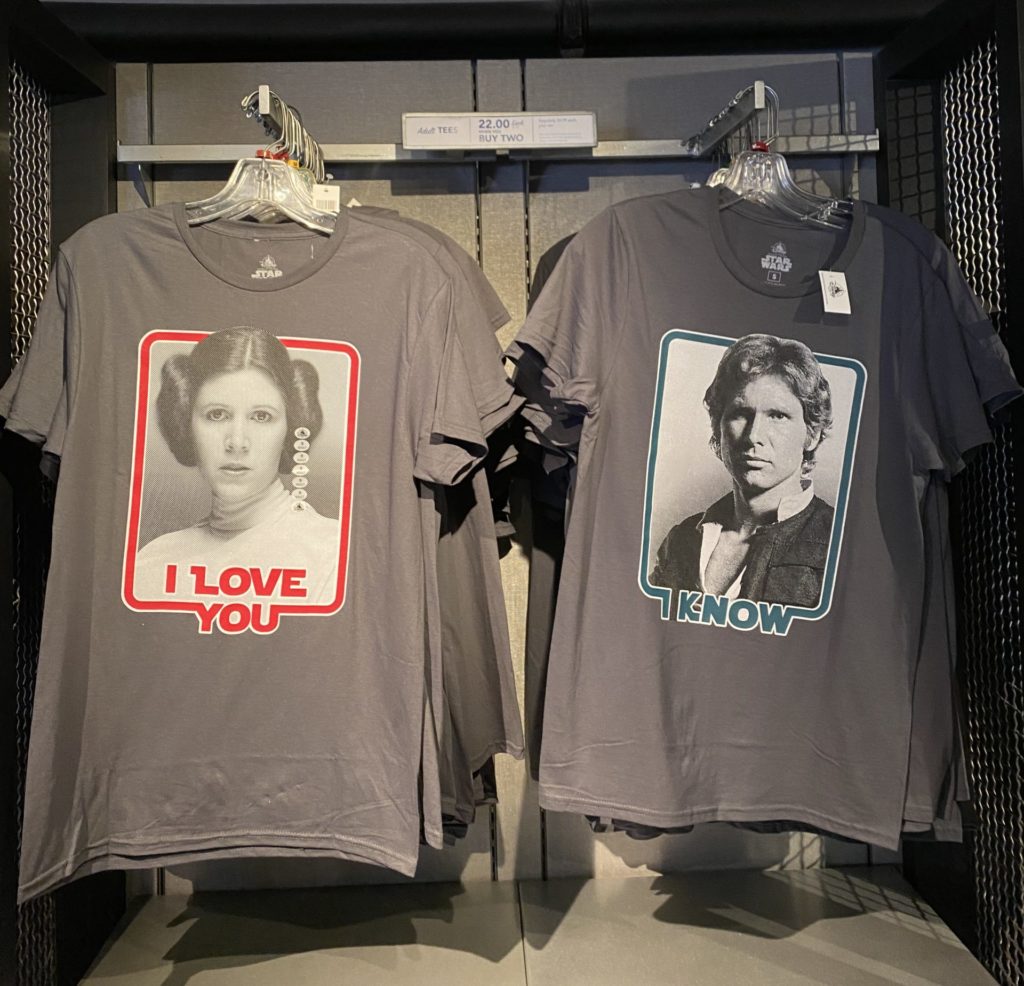 Did We Make it In Time?
Thanks to our awesome Lyft driver, we made it to Hollywood Studio just a few minutes later than expected and encountered quick security lines, making it into the park before the rides opened at 7:00 am.
At the new Star Wars Galaxy's Edge area, the ride Rise of the Resistance is the star of the show. The process of getting on it, though, is pretty complicated. We had our Disney apps open on both of our phones before the ride even opened at 7:00 am.
As soon as the time hit the clock, voila, we could book our boarding group (after we hit refresh on our phones–don't miss that tip!). We got boarding group 21, which is ah-maz-ing!! Literally, this ride books up for the whole day or for hours later. So, we fully expected we would have to go back to the hotel room before our boarding time.
With our spot on Rise of the Resistance secured, we were then free to enjoy the rest of Hollywood Studios. We rushed to Slinky Dog Dash, a new roller coaster. It's the bomb! Then, we got the notice that it was time for us to head over for our boarding.
Entering Galaxy's Edge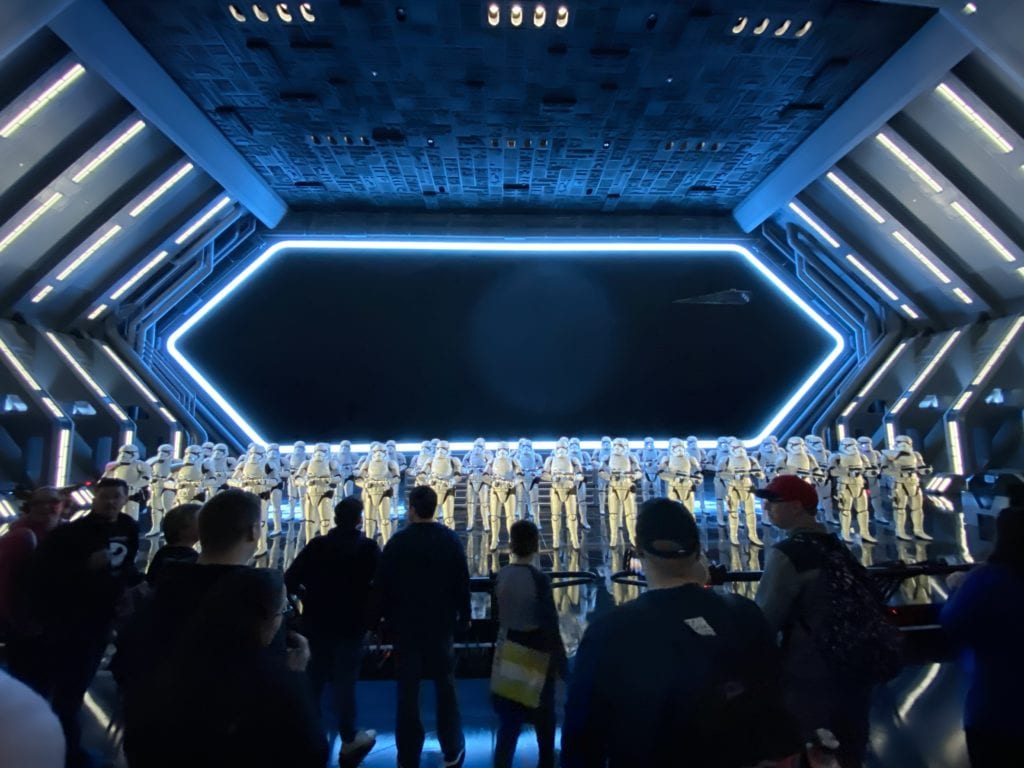 Meant to be an immersive experience, Galaxy's Edge is the all-new Stars Wars land. While the area opened in August of 2019, the Rise of the Resistance ride didn't open until December. So, when we visited in January, it was virtually brand new.
Rise of the Resistance really makes you feel like you are in the movie. It has the virtual reality aspect, like Flight of Passage, combined with live characters. It was like 3 rides in one!
The whole area is just fantastic. It reminds us a little of the Wizarding World of Harry Potter at Universal. You'll see Storm Troopers and Kylo Ren walking the streets. You can eat at Oga's Cantina (make a reservation!). You can get light saber souvenirs. Even small details hit it on the head. Our kids didn't care about any other rides or areas after this. They just wanted to hang out at Galaxy's Edge.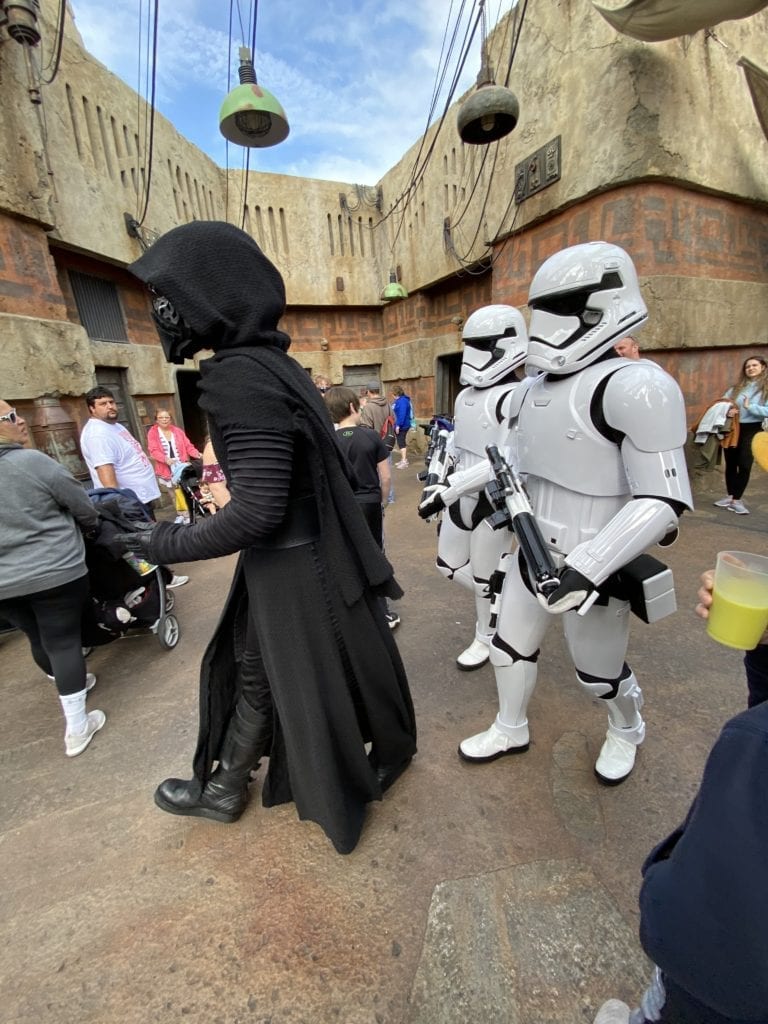 We ate at Docking Bay 7 Food and Cargo and had another great meal with a fun space theme. So, after our busy morning, we were exhausted and decided to take a break at the hotel. We had heard that Hollywood Studios gets less crowded in the evening because so many people hit it in the morning.
Sure enough, it was true! We returned that evening and found very short lines for Smugglers Run–another fun ride. We actually liked it almost as much as the Rise of the Resistance. Don't miss the Star Wars show, too!
Galaxy's Edge Tips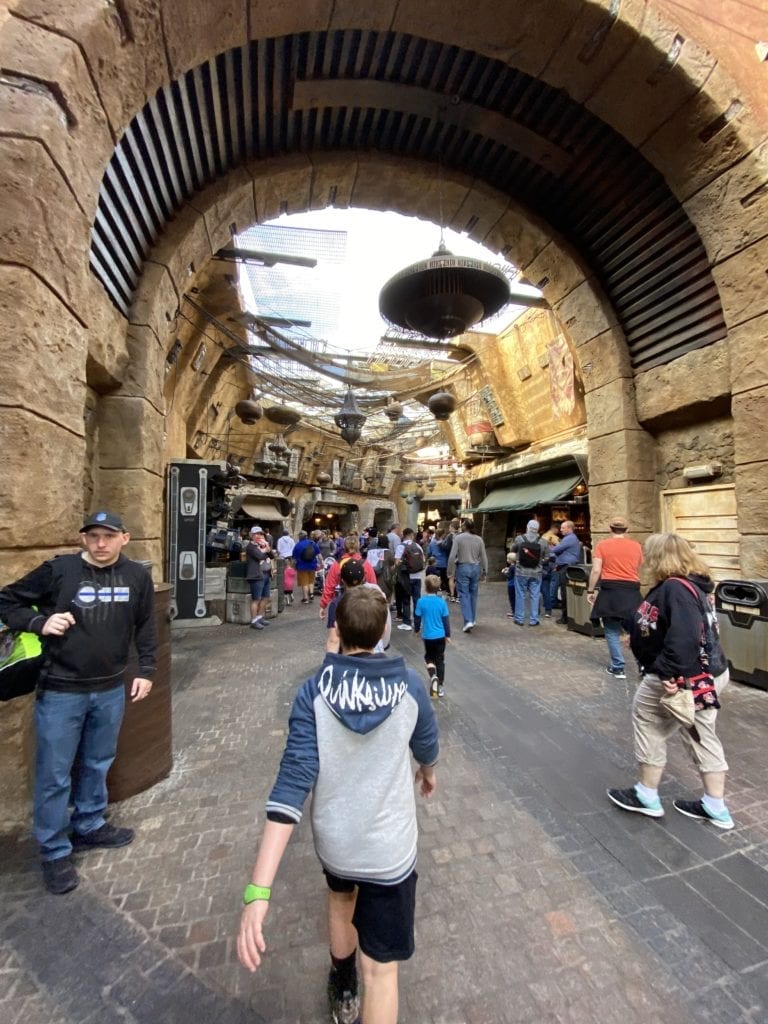 Don't take our word for the best strategies! Be sure to check the latest tips and tricks since crowd flows change.
Consider taking a Lyft to the park in the morning. This gets you there that much faster, so you can be sure to get a decent pass for Rise of the Resistance.
Take a midday break, even if you haven't done Rise of the Resistance yet. They'll give you a 2-hour notice before your boarding group's time, so even if you get your notice while you're away, you'll have time to return (as long as you are on property or very close). Morning and evening are the best times of day in this park
Pay attention to the new Fast Pass process. It's different from the other parks, so you'll have to have a different strategies.
We hope you enjoyed all of our Disney content this week! Next week, we are leaving Mickey behind and talking RVs again.
See you at the campground,
Jeremy + Stephanie
Podcast: Play in new window | Download