Zion National Park is a dreamy destination, but will you find a dreamy campground in the park? Yes, you will. Watchman Campground is a phenomenal choice. Since it's located right in Zion, it is super convenient. Plus, it offers great amenities and stunning views.
Lauren from @afamwithavan is here to give us her full review of one of her favorite national park campgrounds. This is part two of a three-part series with Lauren all about Zion National Park. Be sure to check out part one: Planning a Camping Trip to Zion National Park. And, check back for her review of Zion River Resort RV Park and Campground.
To hear more about Watchman Campground, click play on the media player above or look for The RV Atlas wherever you find your favorite podcasts.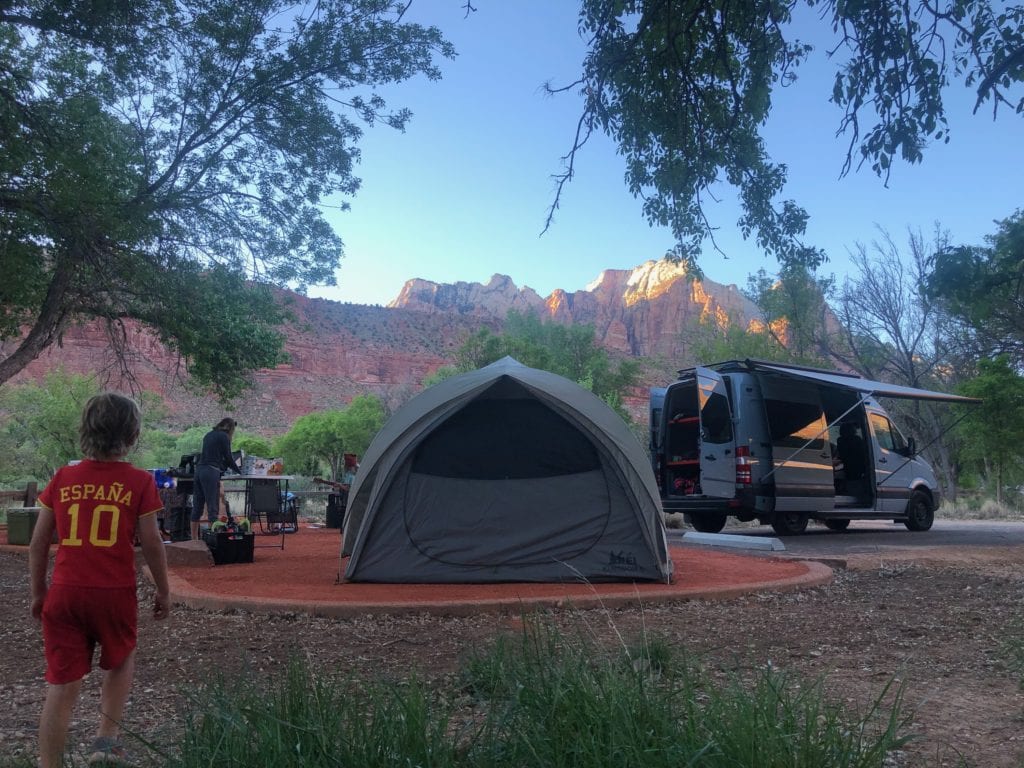 Overview of Watchman Campground
Lauren really loves Watchman Campground. What makes it so special? Lauren says that no matter where you are in the park, you are treated to beautiful views of the canyon, the mountains, and sometimes, even the river. You might even hear the magical sound of the Virgin River trickling by.
Watchman Campground is located right by the South Entrance of Zion. It's close to a shuttle stop and just a five-minute walk to the visitor center. Aside from this location being convenient to the park itself, the nice thing is that you are saved from having to enter through the park gates each day., where you could find a lengthy wait at the gate if you are arrive at the height of the season.
Amenities at Watchman Campground
Lauren points out that Watchman Campground was recently updated. The sites are level, and the amenities are well maintained. There are 190 sites, 7 wheelchair-accessible sites, and 6 group sites (which she says look really neat). You'll find both tent sites ($20 per night) and RV sites (electric only for $30 per night). Check out the park map here.
This campground does offer electricity, which you'll appreciate if you want to run the AC on a hot summer day. While water and sewer are not available at the campsites, there is potable water access and a dump station onsite.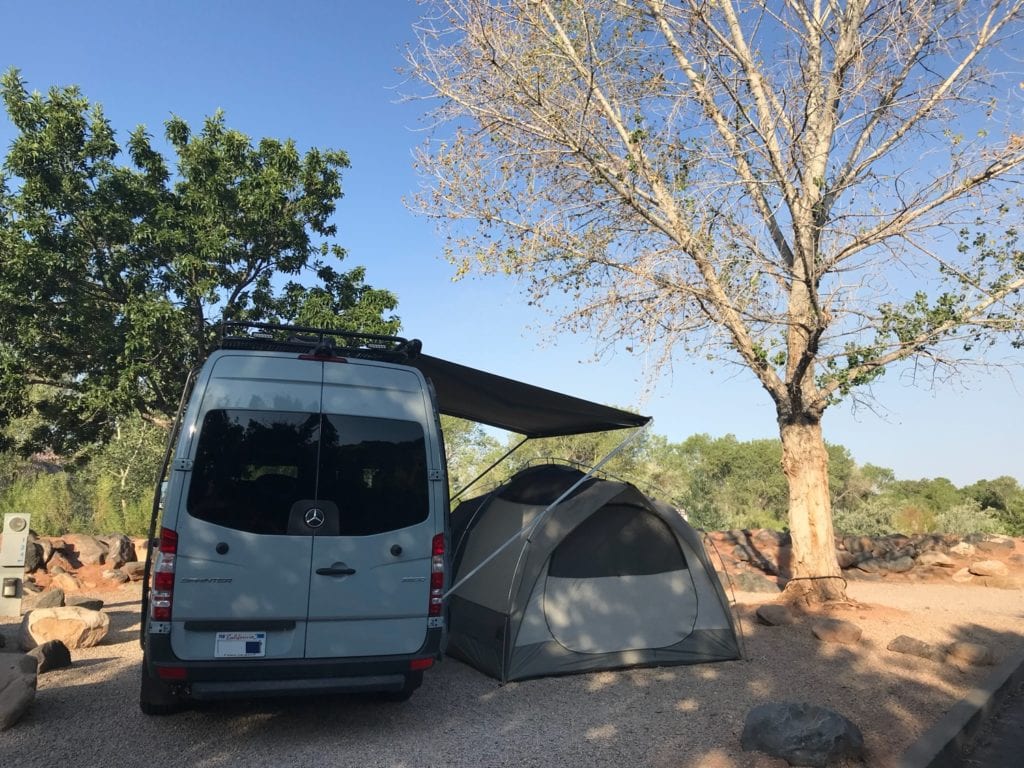 Recommended Sites at Watchman Campground
We love when we can give you super insider tips, like recommendations for the best sites at a campground. Lauren came through with the details for us.
First up, Lauren recommends getting a riverside spot, if you can. These are, of course, very popular and book up almost immediately. Reservations open up 6 months in advance to the day at 10 Eastern time.
While Lauren says you can't really go wrong with any site, here are a few that really stand out as above the rest:
B54 – big pull through with great river view
B52 – back in, but nice site, nice river view
B56 – great river view, big site
B50 – gorgeous, big pull-thru with river and meadow view
D31 – tent site with nice mountain view
C10 – tent site with nice mountain view
Another great tip from Lauren, check out the CampsitePhotos.com website to see actual pictures of each site.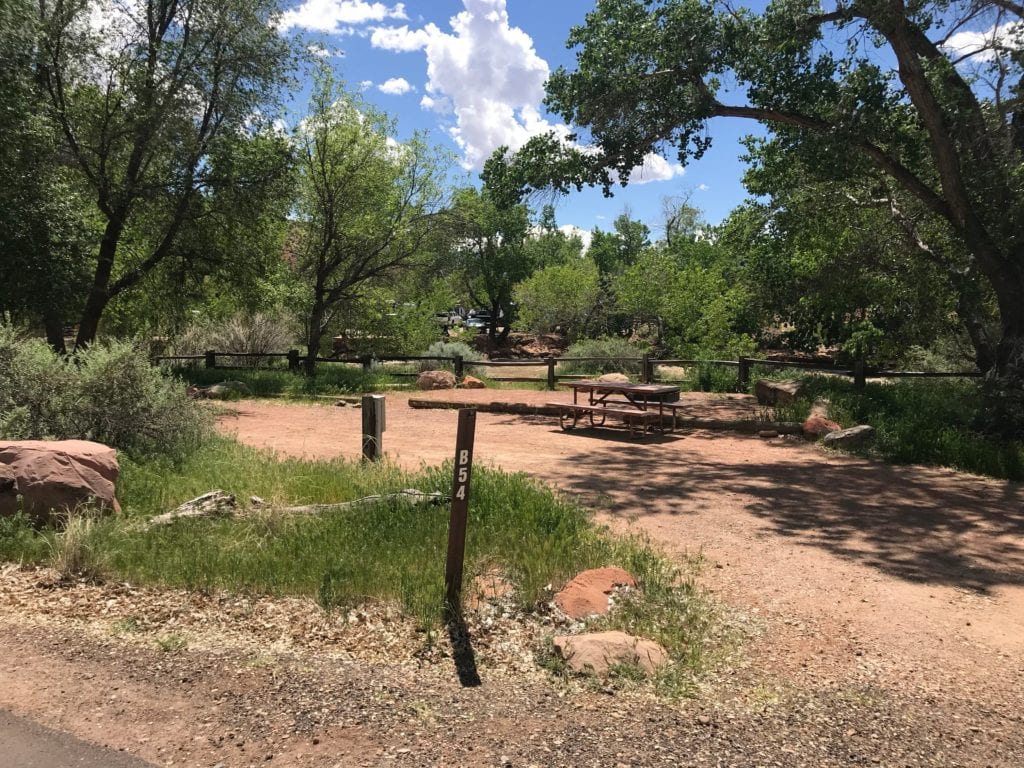 Other Useful Tips about Watchman Campground
On one visit, Lauren carefully scoped out a site and made sure it was a decent walk to the restrooms only to arrive to find the facilities closed due to budget cuts. Her family had to walk to a different loop to get access, which was an annoyance.
You'll find interesting foliage and wildlife in Watchman Campground. The cottonwood trees provide nice shade, but be forewarned that allergy sufferers may have trouble in late spring and early summer. Their family enjoyed watching the mule deer that came right through the campground and grazed.
Finally, if you don't want to take the vehicle out or don't have a toad, this campground has great access to the neighboring town of Springdale, which we talked about in the last post. As mentioned earlier, Watchman also has easy access to Zion's shuttle system.
Be sure to check back for more great Zion content! We are just loving having the chance to have a whole Zion National Park week!
See you at the campground,
Jeremy + Stephanie
Podcast: Play in new window | Download