We all know that #Vanlife is all the rage these days. If you are on Instagram, then you're used to seeing images of impeccably remodeled vans filled with only the coolest accessories like a Chemex, Mexican serape blanket,  and bikini-clad woman. What you don't see in these images are kids. #Vanlife with kids certainly seems like an oxymoron, but we know some people out there are loving it. Sure, their IG pictures might be a little more cluttered and messy. That's just kids for you…at home or on the road.
RV Atlas listener Lauren Eber has been keeping us posted over the last couple of years as she pursued her #vanlife dream. Lauren and her husband have two young kids, but that didn't deter them from believing that a van was the perfect RV for their lifestyle. When they couldn't find any manufactured Class B RVs that fit their needs or their budget, they started exploring the world of conversion vans.
The pieces all fell into place.
Now they have the perfect Camping Support Vehicle (their title) for taking their family of four on both quick weekend adventures and longer summer road trips.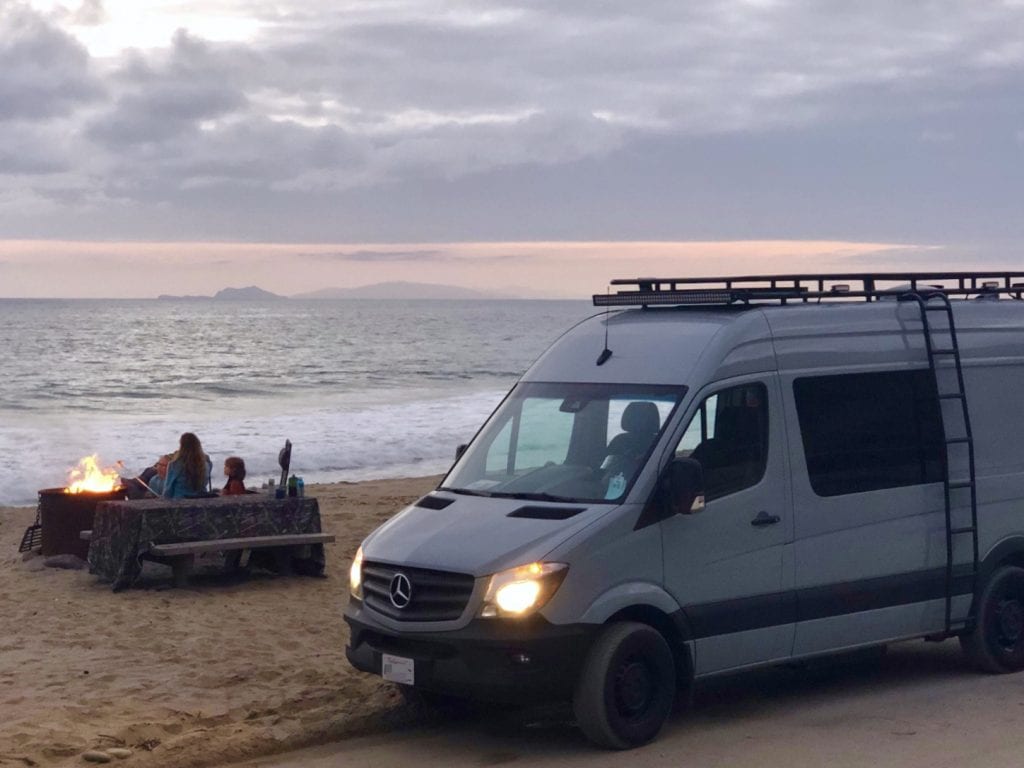 We watched this whole process unfold through Instagram and email, and knew that everyone else would enjoy hearing Lauren's story as much as we did. So we invited Lauren onto The RV Atlas podcast to share the details. You can listen to the complete interview on Apple Podcasts, Spotify, Google Play, or your favorite podcast app. Or you can just hit the play button above!
Think #Vanlife with kids is an impossible pipe dream? You won't by the time Lauren is done telling her story.
The Idea: #Vanlife with Kids
Lauren grew up tent camping, and she introduced her husband to her love of that lifestyle long before they had kids. Living in southern California, they were able to visit some pretty amazing places like Joshua Tree, Santa Barbara, Big Bear, and Malibu.
When Lauren and her husband had kids, they continued to tent camp. But one major roadblock kept getting in their way: time. It seemed no matter how hard they tried to plan and organize, it just took a ridiculous amount of time to get ready for a tent camping trip. Then there was the set up and break down at the campground. And the clean up once they were back at home.
All that work kept them from spending as much time camping with their kids as they would have liked.
Enter the RV dream. Their ultimate goal was to get an RV that would allow them to quickly and easily escape for quick weekend getaways. The RV would also take them on longer road trip advrntures during school breaks.
Lauren didn't start out dreaming of a conversion van purchase. She went through the usual shopping process of researching travel trailers and motor homes, hoping to find a good match. No matter how hard they looked, nothing seemed to be the right fit.
Why #Vanlife?
First of all: parking and storage. Lauren lives in an urban area in southern California. They simply do not have the space to store a large travel trailer or motorhome. And if they kept the RV in a remote storage facility, they would be blowing vacation money and spending valuable time on RV pickup and drop off.
Second issue? Safety. Lauren was not okay with the fact that Class C and Class A motorhomes did not offer crash-tested seats for passengers. She wouldn't be able to have a safety-rated latch system for her kids in those motorhomes.
So their attention shifted to Class B options. Class Bs are built on a van chassis, which means that passenger seating offers the safety features Lauren was looking for. Many Class B vans are also able to fit into regular parking spots.
Plus, the family had rented a camper van years earlier on an adventurous Hawaiian vacation. They definitely had some real life experience of traveling in a van with young kids…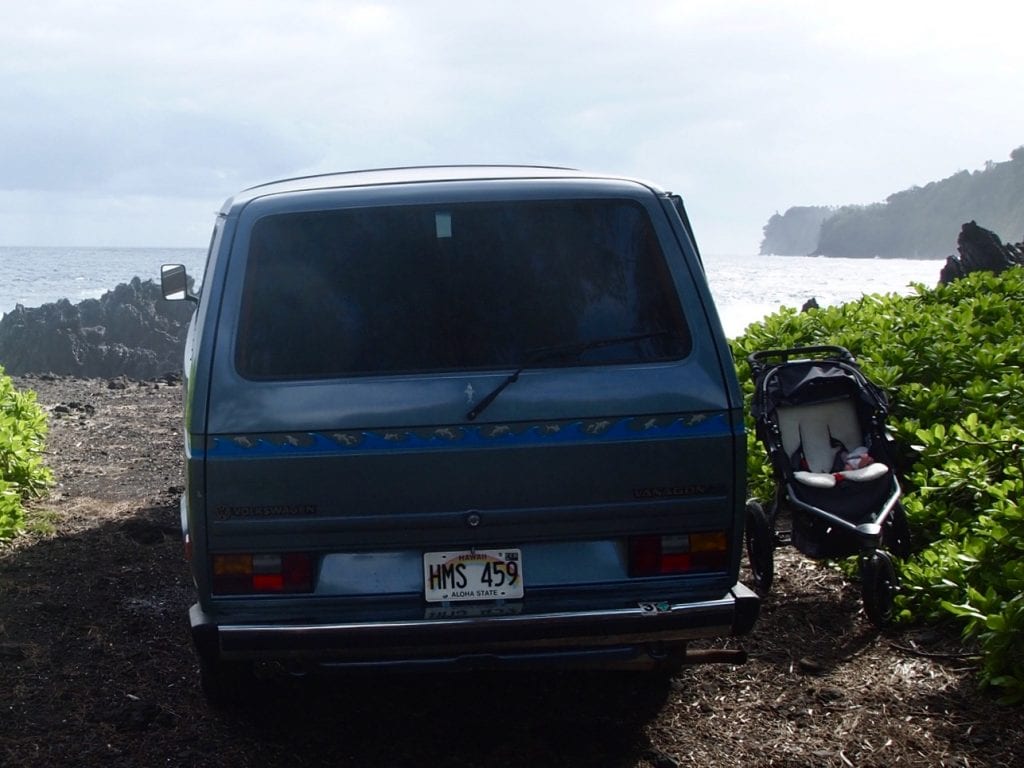 Lauren eventually became sold on the idea of a van, but quickly realized that RV manufacturers were making floor plans for solo and couple travelers. Not for families. That combined with the hefty price tags got her thinking about converting her own van. A conversion seemed to be the perfect way to jump into #vanlife with kids. They were off and running.
Designing the Perfect Van for #Vanlife with Kids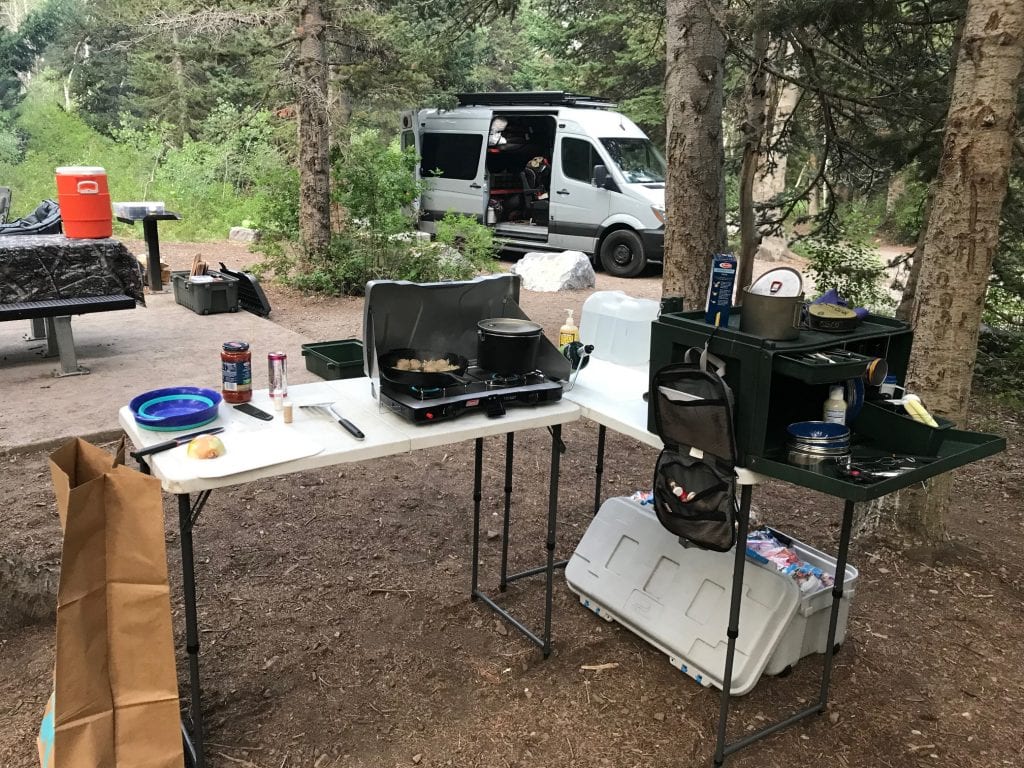 Lauren carefully thought through her family's needs and wish list for a van. Her list is probably different than what ours or yours would be, but it's so helpful to hear about her process. Lauren determined the most important features included:
lots of storage for their gear
room to store and use the outdoor camp kitchen
ability to store their sleeping mats without deflating
Basically, they want to build a minivan on steroids. Instead of replacing their wondering tent camping experiences, they would make them easier and more comfortable.
Buying a Van for #Vanlife with Kids
The very first thing Lauren had to do was find the van for her van conversion. There are three main options:
Dodge ProMaster
Ford Transit
Mercedes Sprinter
They decided on the Mercedes Sprinter Chassis because of the legendary diesel engine that is supposed to go on and on forever. This was a longterm investment for the Eber family, so they wanted to spend the extra money for longevity.
Take a listen to the episode if you want to hear Lauren discuss more details about deciding on a chassis and all the other decisions she had to make before purchase!
The next step was finding a dealer. Lauren actually called around to quite a few Mercedes dealerships before she found one that had a ton of expertise in van conversions. There are so many options, so the process can be very overwhelming. Make sure to find someone that is willing to guide you through the process. Mercedes Benz of Oxnard provided amazing service, and Lauren is happy to recommend them to anyone looking for a van.
They ended up purchasing a Crew Van with one passenger bench seat, windows next to the passenger seat, and a finished headliner.
One of the most important things to realize here is that the Eber family was operating on a budget, and they needed to make decisions that kept things lower cost at times. They passed on the 4×4, but did splurge on some safety features. All in all, the van ended up coming in at about $50,000 before the conversion process. When you consider the fact that many new tow vehicles cost more than that, this becomes a pretty interesting option.
Converting a Van for #Vanlife with Kids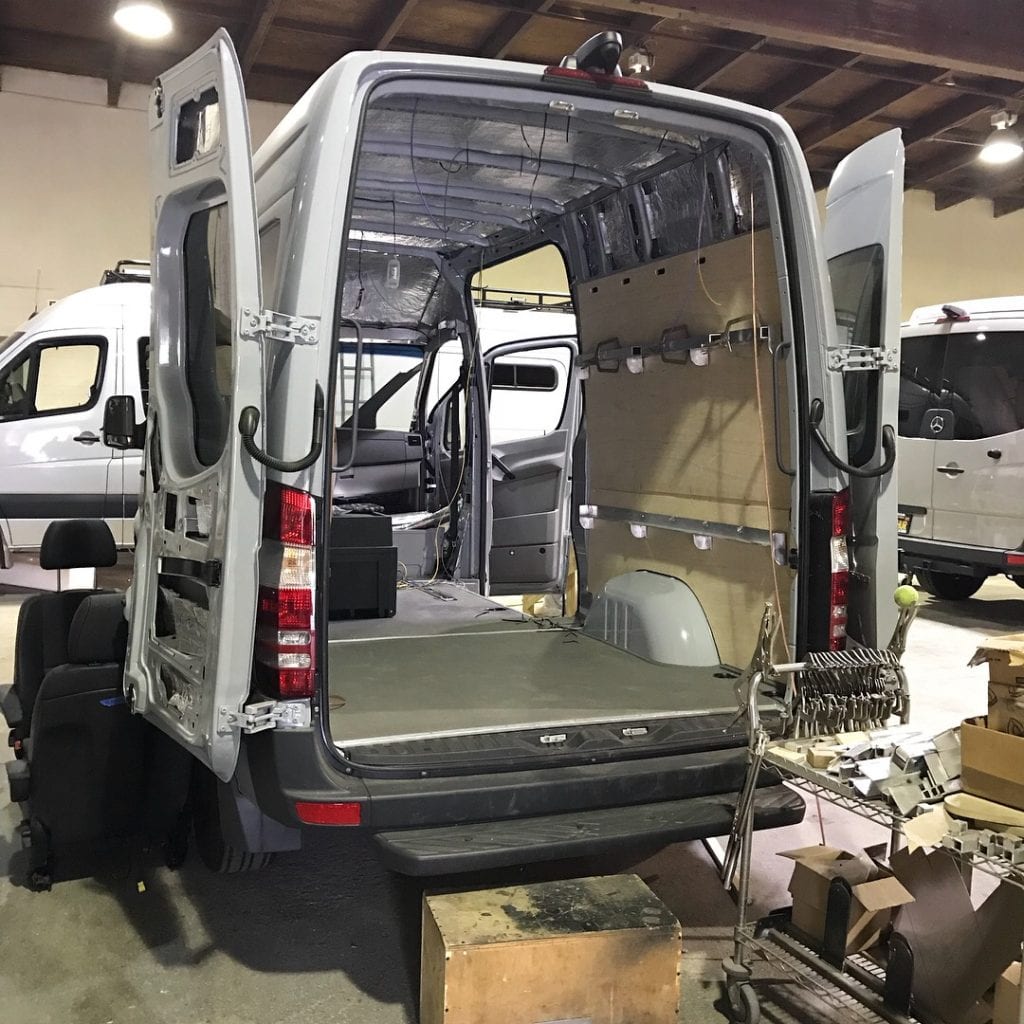 Lauren is also happy to recommend the upfitter that they worked with on this conversion. ADF Sprinters (Automotive Designs & Fabrication) was responsible for making her van life dreams come true…and they came through! Because ADF Sprinters is an official Mercedes Benz upfitter, Lauren was able to finance 50% of the conversion cost into her auto loan at a 0.9% interest rate. We had no idea that this kind of financing was available!
Overall, they spent roughly $25,000 on the conversion. This put the Eber family all in at about $75,000 on both the van and conversion. It's important to note that these van conversions are completely custom, so Lauren could have spent a lot more…or a lot less. They splurged on a satellite radio system and speakers, an awning, an upgraded fan, custom roof racks and solar panels, and an upgraded battery pack.
That price point is important for a couple of reasons. First of all, it places you in the same budget territory as many new manufactured Class Cs. Second, it comes in at around the same price as many tow vehicle/travel trailer combinations. The fact that RV shoppers could have a custom conversion van in this budget territory was pretty eye-opening for us. We suspect it might be for you as well.
#Vanlife with Kids? You Betcha!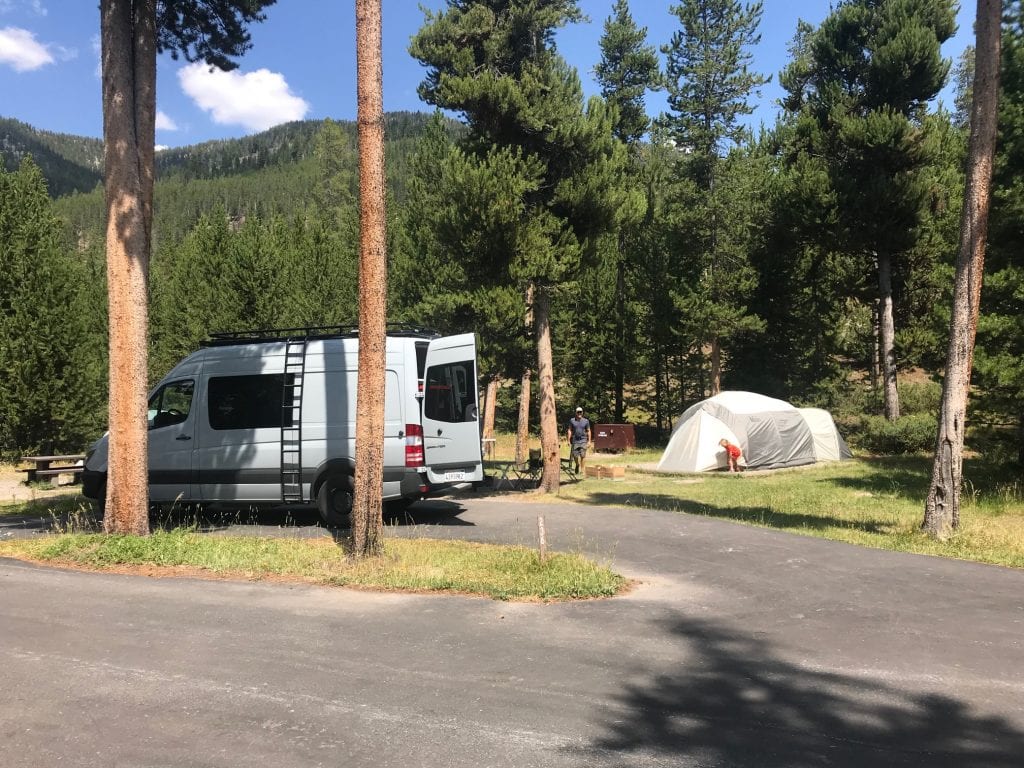 This podcast episode was so chock full of information about van conversion, and we are grateful to Lauren for sharing so many details (including pricing!).
But even more than that, this episode was really inspirational to us. Not everyone is going to want or need a van conversion. That's not the point. Lauren is a fantastic example of figuring out exactly what would work best for her family and going out and finding it. We always say there is no perfect RV out there. Everyone has to find the one that will suit them the best at each stage in life.
Lauren did that, and her family is having amazing adventures. Oh, and she's getting those amazing #vanlife Instagram posts:-)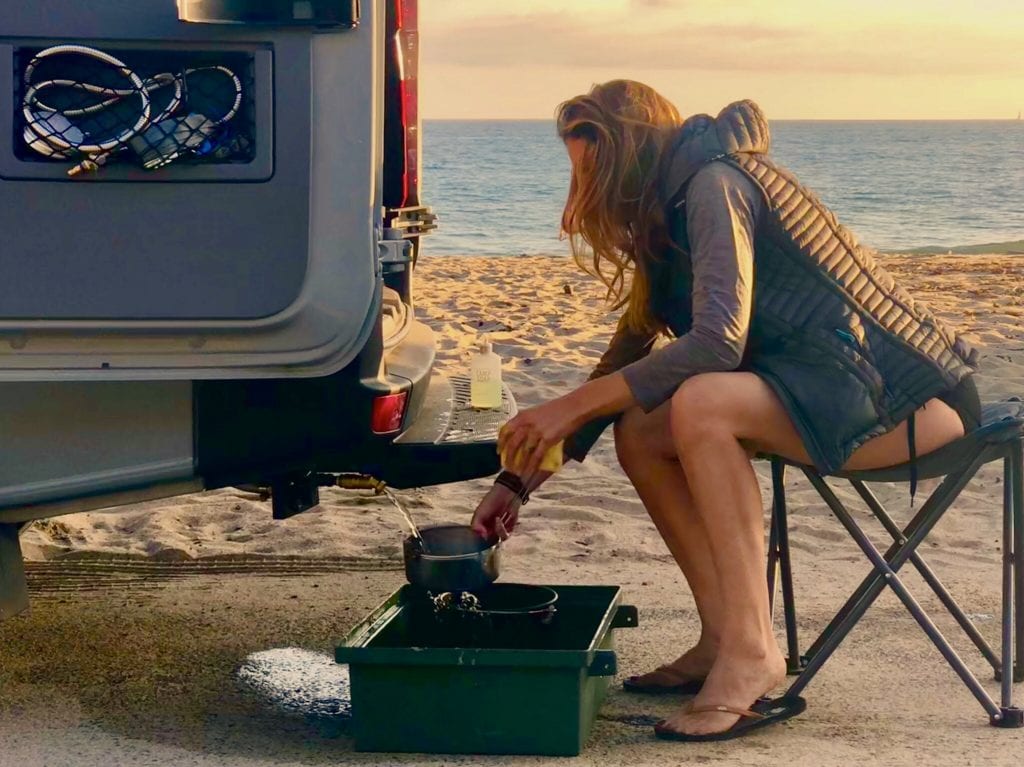 Make sure to go and follow them on Instagram at @afamwithavan. We sure do.
Want to hear from more folks that travel in Class Bs? Check out our RV Downsizing episode with Joe and Kait Russo! They tell a pretty good story about living full time in a van. Plus, you'll want to listen to our Pros and Cons of a Class B. On that episode, Russ Garfin from Winnebago talks about all the different options for manufactured Class Bs. Enjoy #vanlife!
See you at the campground,
Stephanie + Jeremy
Podcast: Play in new window | Download