We are huge pickleball fans here at RV Atlas headquarters. We keep a set of paddles and balls in our garage, and in our RV. But we are rank amateurs–to say the least. We have been playing quite a bit over the last two years, but we have not been following the official rules. In fact–we pretty much change the rules every time we play.
On today's episode of The RV Atlas podcast (and here on the blog) we are leveling up our game. We have wanted to do a podcast episode about pickleball at RV resorts for a long time–but didn't have the perfect guest to bring on the show–until now.
Julia Gallutia and Her Book Pickleball Points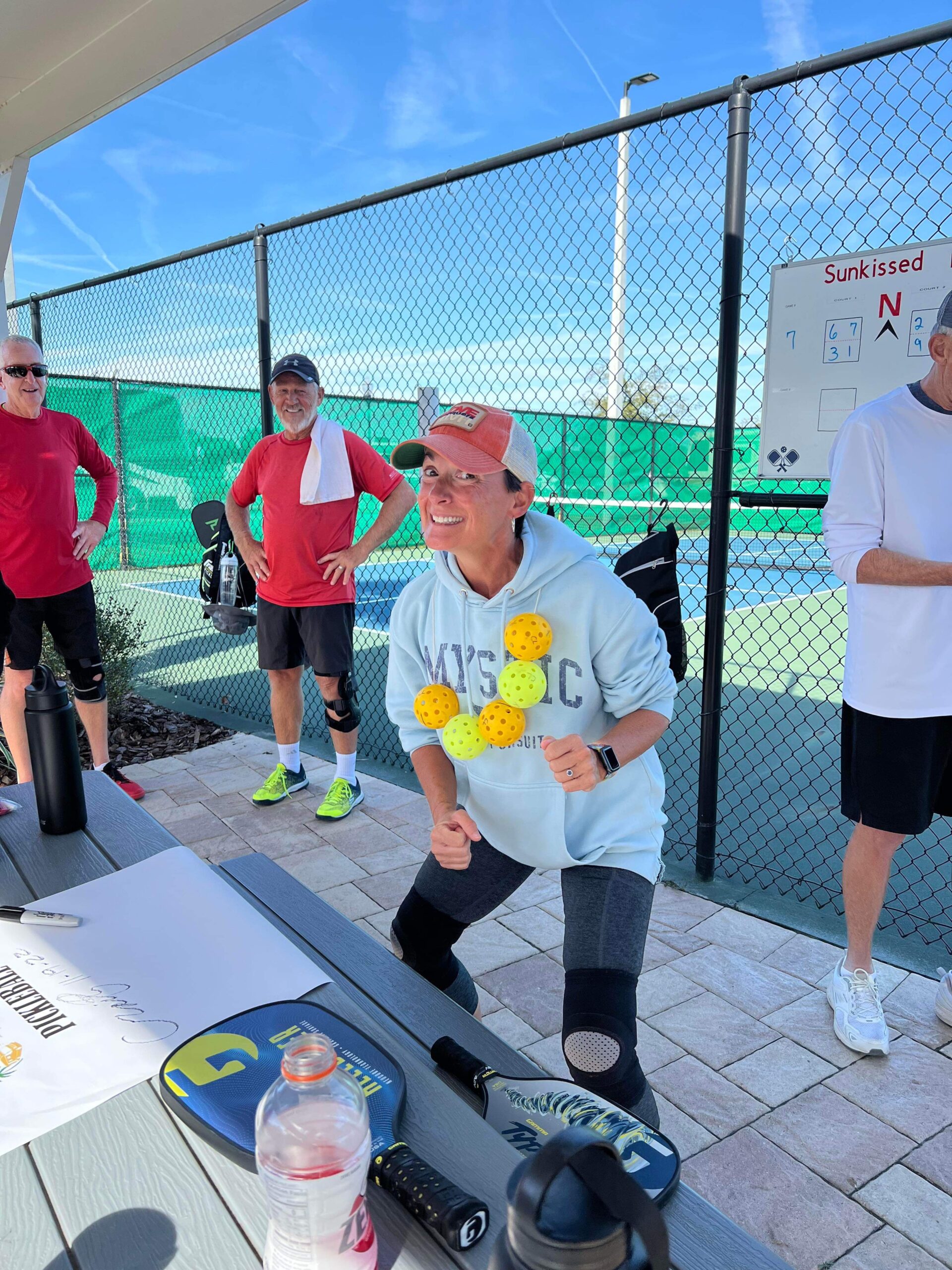 Julie Gallutia is the author of the brand new book PICKLEBALL POINTS: 125 Interesting and Fun Facts for the Pickleball Enthusiast and she has become a friend of The RV Atlas on social media over the last year. When we saw her post a picture of her new book we knew we needed to have her on the podcast STAT to give us a 101 style intro to the game of pickleball. Julie and her partner Katrina are full time RVers who are also avid and competitive pickleball players. In the podcast interview we talk a lot about RV life and culture and how it intertwines with pickleball. Julie truly was the perfect person to come on the show and talk about this rapidly growing sport–especially as it pertains to #rvlife. 
In this episode we cover three basic topics:
The Basic Rules of Pickleball

12 Interesting Facts about Pickleball from Julie's Book

Great Campgrounds That Have Pickleball
To listen to Jeremy interview Julie about all of the topics listed above, click on the media player at the top of this post or subscribe to The RV Atlas wherever you get your shows.
Or just read on for an excerpt from Julie's book! This small sample will leave you wanting more! So make sure to order a copy right here.
12 Interesting Facts from Pickleball Points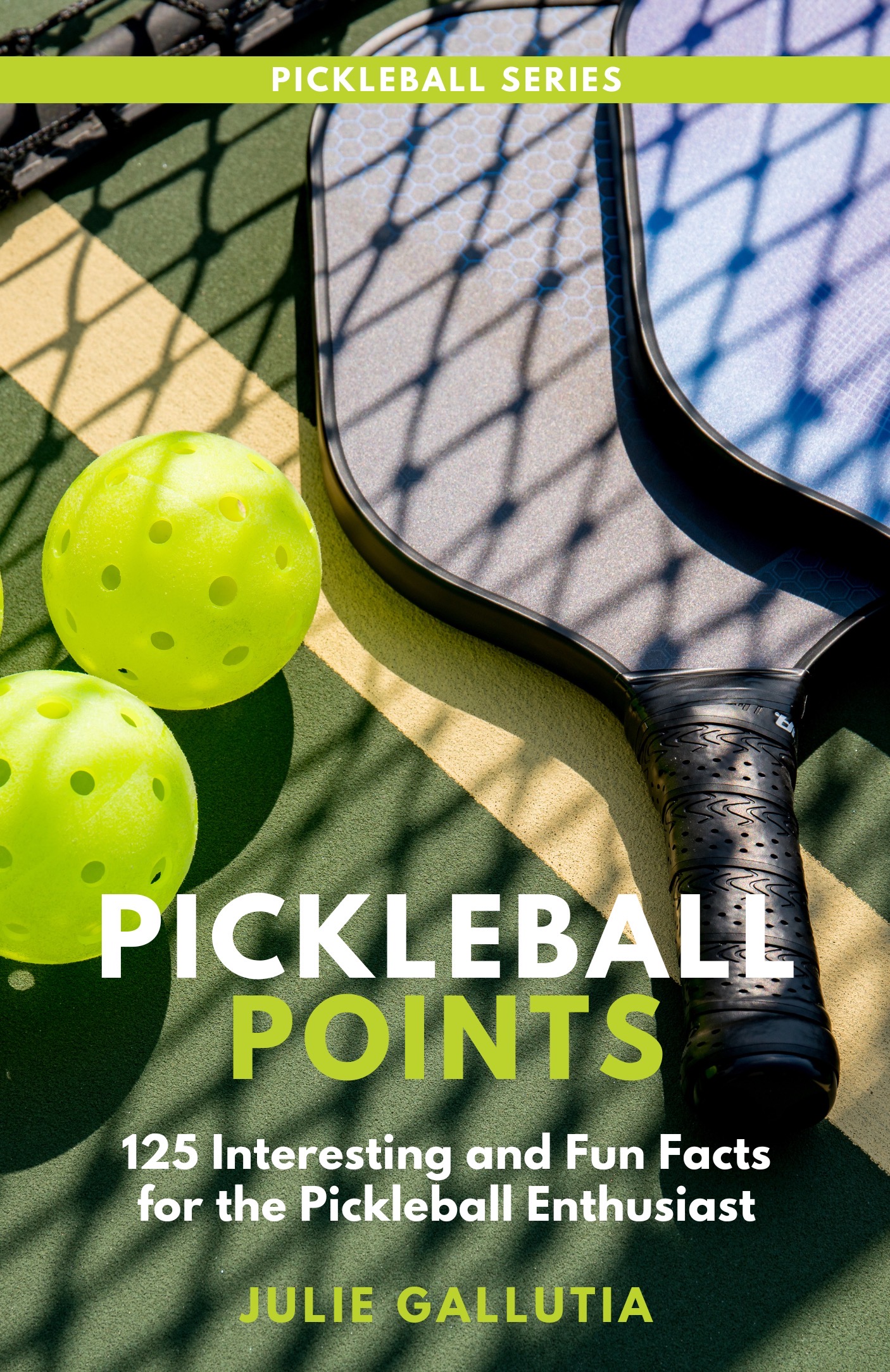 Pickleball is the fastest growing sport in the country.

Pickleball has been around since 1965 and was invented by 3 dads who wanted to entertain their bored children.

The first pickleball website, Pickleball Stuff was launched in 1999, and in 2003, listed 39 places to play in North America. The placestoplay.org website, which consolidated several 'places to play' websites' links, was released in 2005 and (when the book was published in 2023) listed 11,000+ locations where you can play pickleball.

The Pickleball Capital of the World is The Naples Pickleball Center of East Naples Community Park, which is located in Naples, FL.

The number one women's pickleball player in the world is 16-year-old Anna Leigh Waters. She is number one in all three women's divisions: women's singles, women's doubles, and women's mixed doubles.

Pickleball is noisier than tennis.

There are different pickleballs for indoor and outdoor play.

Wheelchair and standing participants can play on the court together.

You can only score a point on the serve.

It's good for the aging mind. It's recommended by doctors for people with Parkinson's.

A growing number of food and drink locations have pickleball courts.

The origin of the name is very controversial. Read more about that fascinating story right here.
Great Campgrounds That Have Pickleball Courts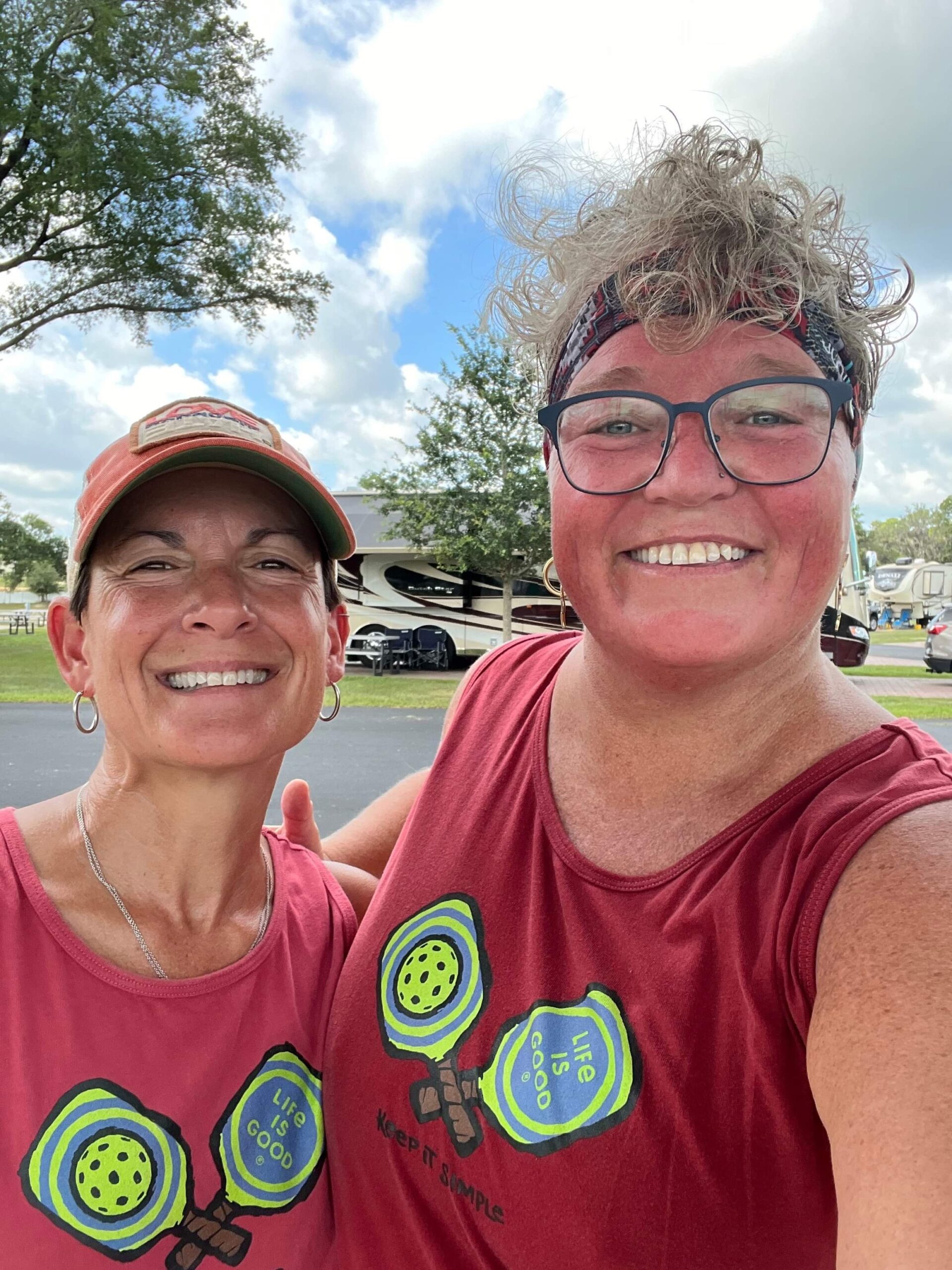 Julie was kind enough to provide us with a terrific list of great campgrounds that have pickleball courts. If you really want to take your next vacation at a campground that has pickleball this list should help you get started. There are so many great campgrounds here. Thanks Julie!
Bear Lake Venture Park – Garden City, UT

Camp Fimfo Texas Hill Country – New Braunfels, TX

Sun Outdoors Rocky Mountains – Granby, CO

Leaf Verde RV Resort – Buckeye, AZ

Tampa East RV Resort – Dover, FL

Sun-N-Fun RV Resort – Sarasota, FL

Camp Margaritaville – Pigeon Forge, TN

Palm Springs-Joshua Tree KOA – Desert Hot Springs, CA

Monte Vista RV Resort – Thousand Trails – Mesa, AZ

Sun Retreats Rock River – Hilldale, IL

Sun Outdoors Petoskey Bay Harbor – Petoskey, MI

Carolina Pines – Conway, SC

Madison Vines – Madison, VA

Sunkissed Village – Summerfield, FL (where we live)

Austin Lone Star – Austin, TX

Sun Outdoors Mystic – Old Mystic, CT (we stayed here last fall)

Sun Retreats Wild Acres – Old Orchard Beach, ME

Lake George RV Park – Lake George, NY

Danforth Bay Camping & RV Resort – Freedom, NH
Podcast: Play in new window | Download