Taos offers up a taste of the Southwest in a style all its own, mixing phenomenal natural landscapes with a notable arts scene. Smaller than its sister to the south, Santa Fe, Taos similarly offers a strong sense of place and culture. Here's everything you need to know about what to do, where to stay ( Taos Monte Bello ), and where to eat in Taos, NM!
Taos and Santa Fe are just 100 miles apart. Travelers can take the Low Road to Taos to follow the Rio Grande River gorge (which is what we did while towing) or take the High Road to Taos, which goes up in the mountains. Both offer spectacular scenery. We took the Low Road when moving from Santa Fe to Taos and did the High Road as a separate scenic drive.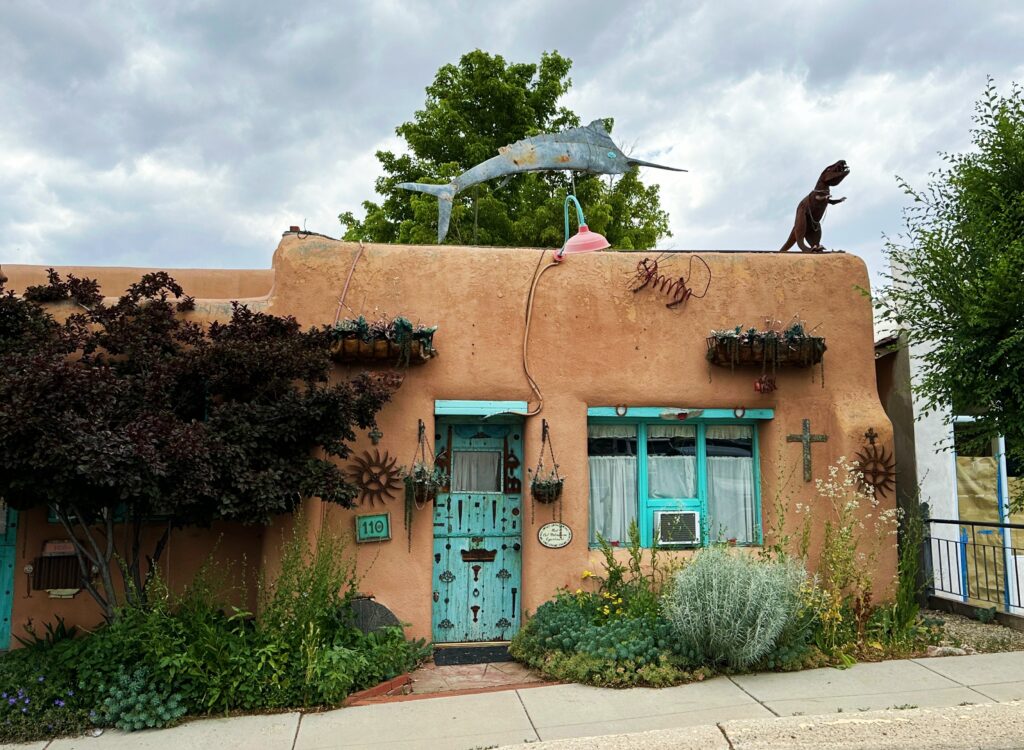 You might wonder if its worth moving your RV when Taos and Santa Fe are so close, close enough for an easy day trip, and I say YES. Each town has a lot to see and do, requiring more than a single day trip. Enjoy the drive and the awesome RV parks, including Santa Fe Skies, which was covered in the paired post about Santa Fe: New Mexico Road Trip Part 1.
This is a guest post by Kerri Cox from Travels with Birdy. To listen to Jeremy and Kerri talk about Taos and to hear a campground review of Taos Monte Bello, click on the media player above–or listen to the RV Atlas wherever you get your favorite podcasts.
To listen to part one of this two part New Mexico road trip series please click here.
What to See in Taos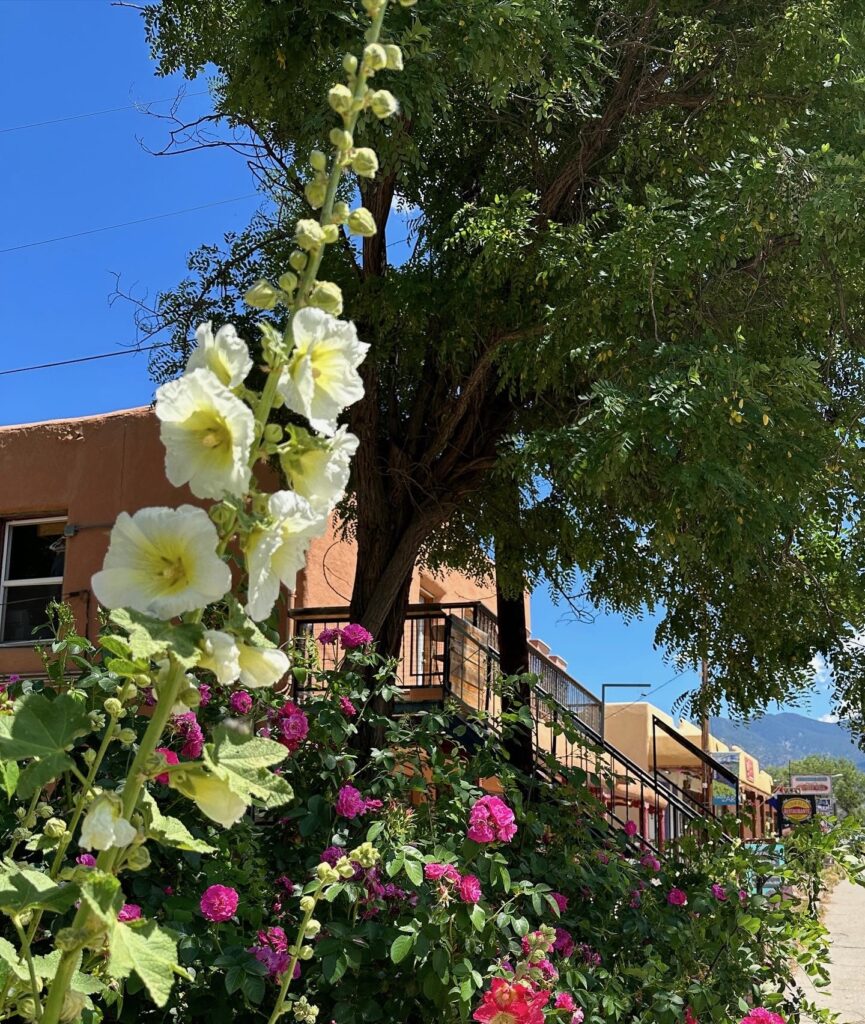 Taos Plaza: Downtown Taos has block after block of restaurants, shops, and art galleries centered around the downtown Plaza. Like Santa Fe, the architecture is all adobe. Taos's galleries were more relaxed, approachable, and quirkier, in my opinion. Though we didn't purchase any art (other than jewelry), I felt like I could.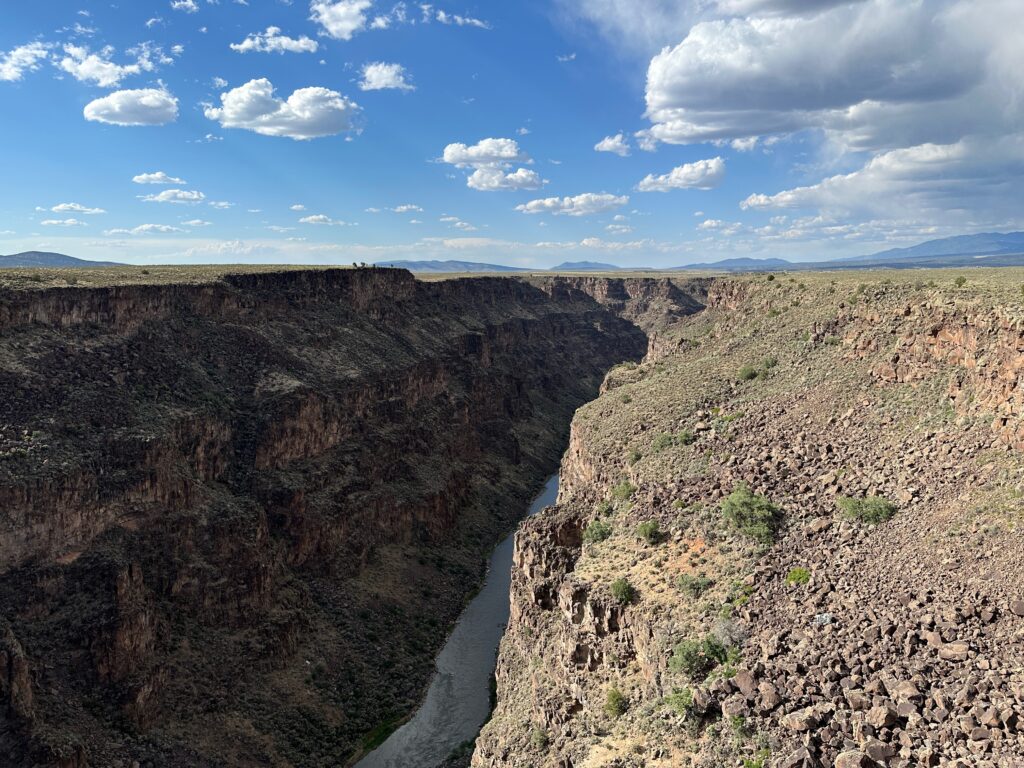 Rio Grande Gorge Bridge: This bridge over the Rio Grande is one of the highest bridges in the US and one of the highest highway spans, with a 650-foot drop. You only need 10-15 minutes to do the walk across the bridge and to the scenic overlooks, and it's worthwhile to marvel at the landscape and engineering! There are also trails to explore.
Taos Pueblo: This UNESCO World Heritage Site has been continuously inhabited over 1000 years. It is a living community, but it opens several times a week for visits. Merchants and artisans have shops open. You can also take a guided tour to learn about the Native American history and cultures.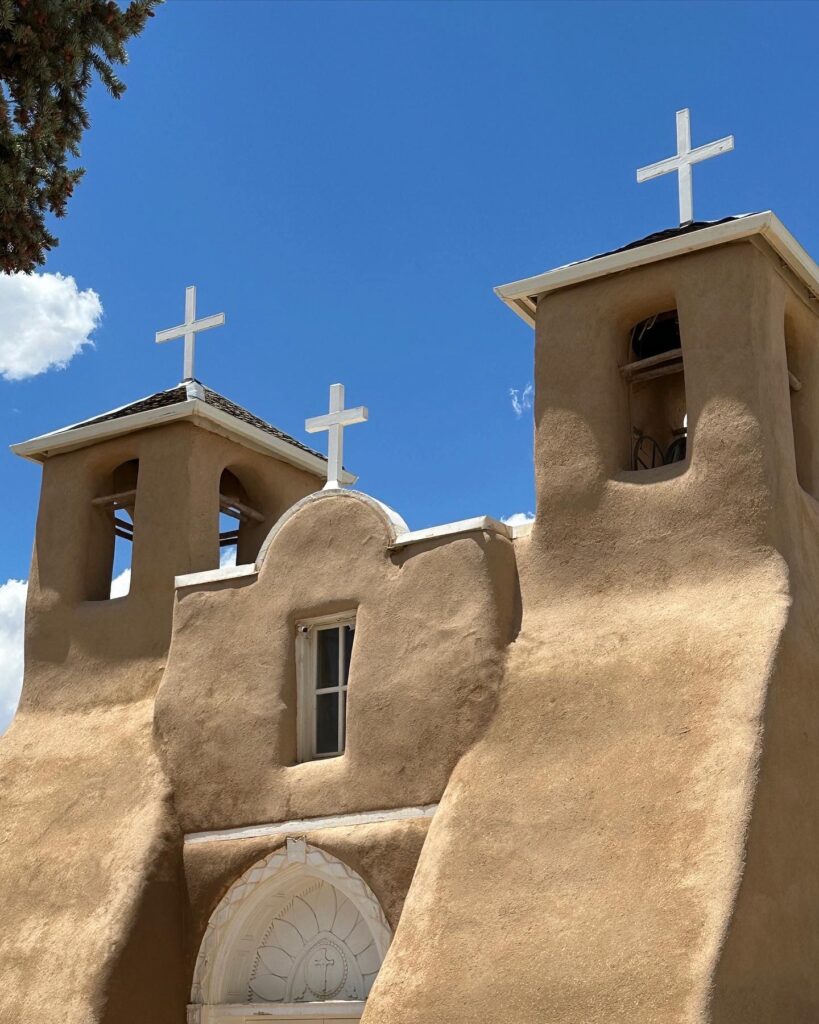 San Francisco de Assisi Mission Church: This National Historic Landmark was built in the 1700s and is one of the oldest buildings still standing in Taos. It has been famously photographed by Ansel Adams and painted by Georgia O'Keeffe. We were disappointed to find it being work on during our visit, but it ended up being really interesting because one of the craftsmen told us about the history and the adobe architecture.
What to See Near Taos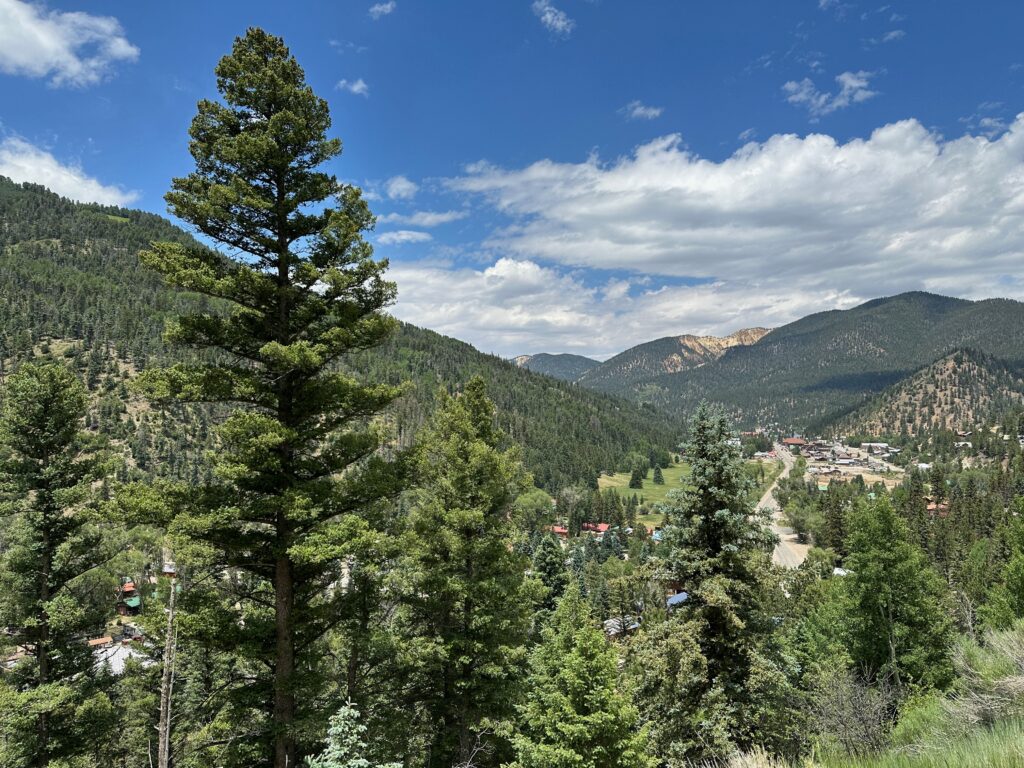 Enchanted Circle Drive: This was my favorite experience! This 80-mile scenic byway goes up into the Sangre de Christo mountains, following the Red River part of the way. It passes several cute towns and Eagle Nest Lake, making it easy to spend a half or full day doing the loop and making stops.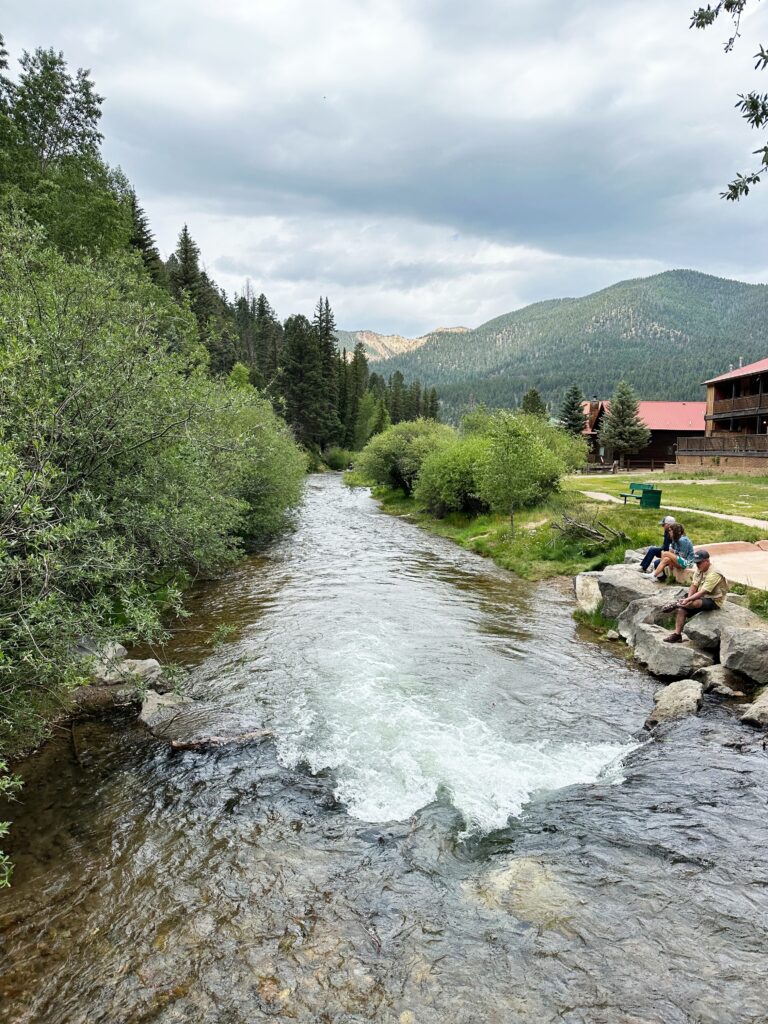 The highest elevation point is the town of Red River (at 8600 feet). It has totally different weather and landscapes than Taos and feels like a real mountain town. We walked a short trail through the woods along the river just off the town's main strip. Take fishing poles for trout fishing in the river, or go boating and paddling on Eagle Nest Lake.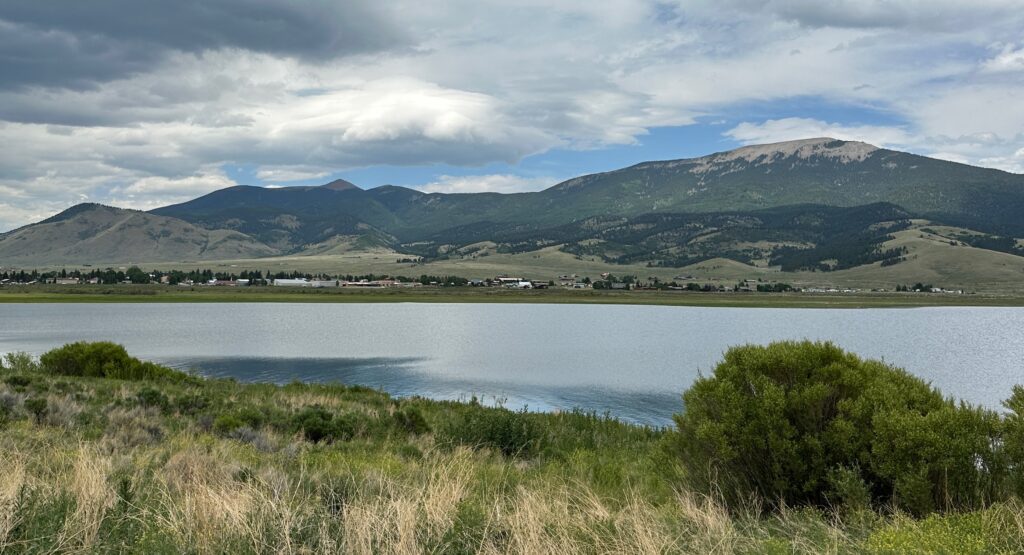 Wild Rivers Recreation Area: If you're looking for outdoor recreation, this is one spot to check out. The Rio Grande and Red River come together here. You'll find rugged trails, scenic drives, and locations for fishing.

Where to Stay in Taos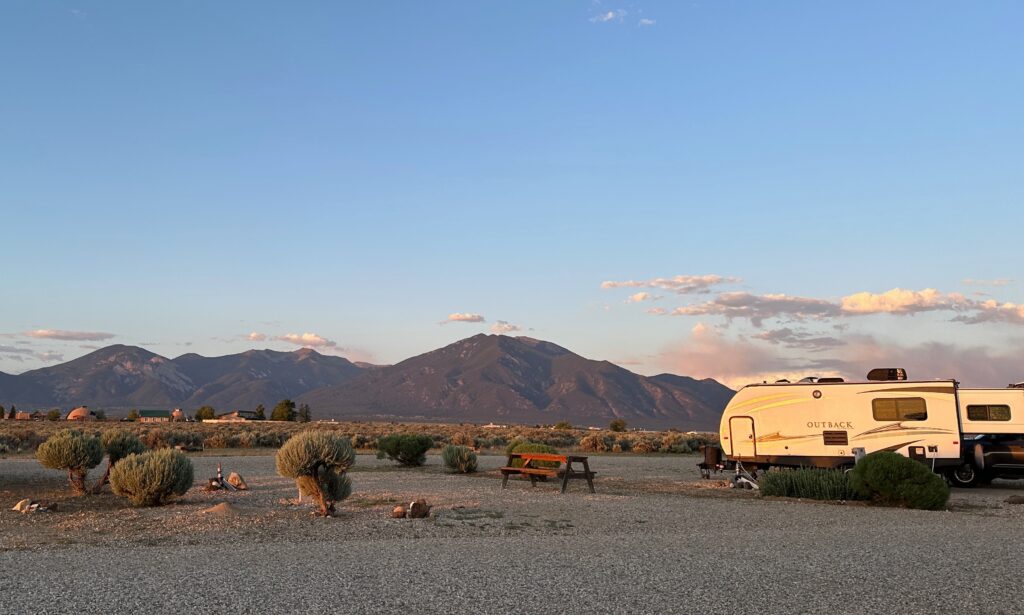 Since we had such a great stay at Santa Fe Skies, we were worried we wouldn't love our campground in Taos nearly as much. We opted to stay at Taos Monte Bello and could not have been more pleased! The name translates to "beautiful mountains," and that is a perfect name. This charming park is located just 15 minutes outside of Taos on the wide-open mesa. The owner personally greeted us and told us about the park and Taos.
Aside from the wonderful owner, the other most wonderful thing about Taos Monte Bello is the views. The Sangre de Christo Mountains line the horizon. Behind the park is a large field with walking trails. You have spectacular sunset views! As the sun sets, the mountains turn a reddish hue, giving them their name. The colors changed from minute to minute and from night to night.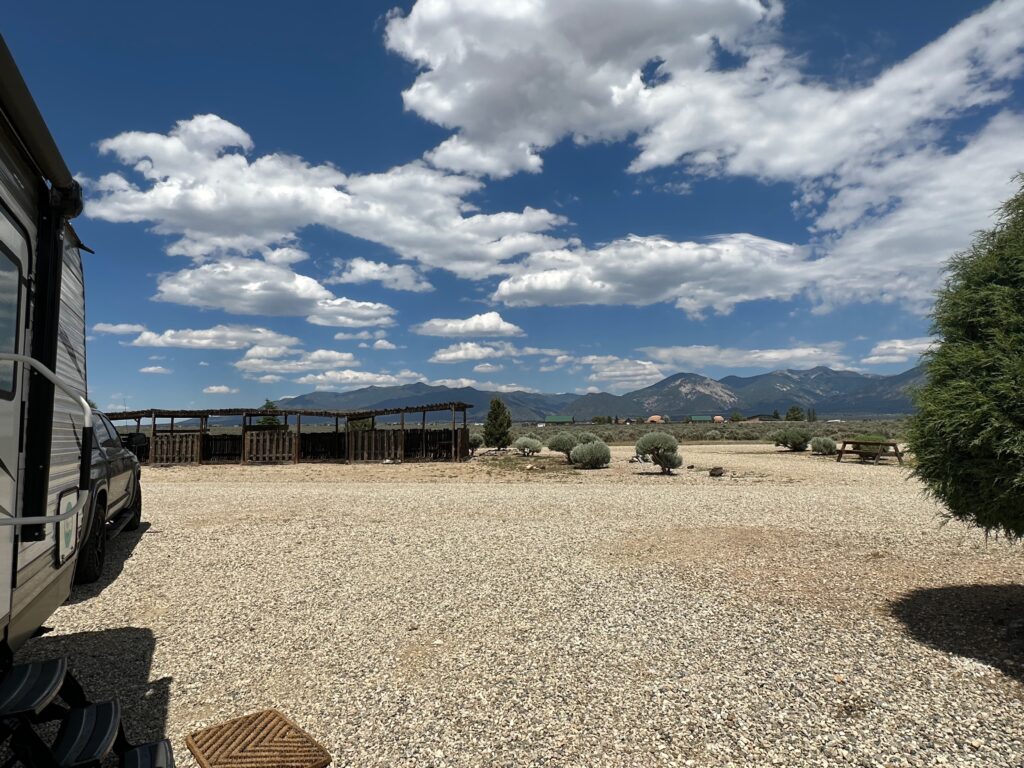 More features of Taos Monte Bello campground:
Most sites are full hookups with 30-50 amps

Sites are well spaced, around 70 feet long and decent widths

Cost $43-47 a night, which is a steal!

The walking trail is the main amenity, other than a small swing set

Nice pavilion for groups and rallies

One thing to note: the bathroom and laundry facilities are limited (2 bathrooms/showers, 1 washer, 1 dryer), so you may have to wait if they are in use
This is the exact kind of campground I love most because it has full hookups, a reasonable price, and awesome scenery. It really checks the boxes.
What to Eat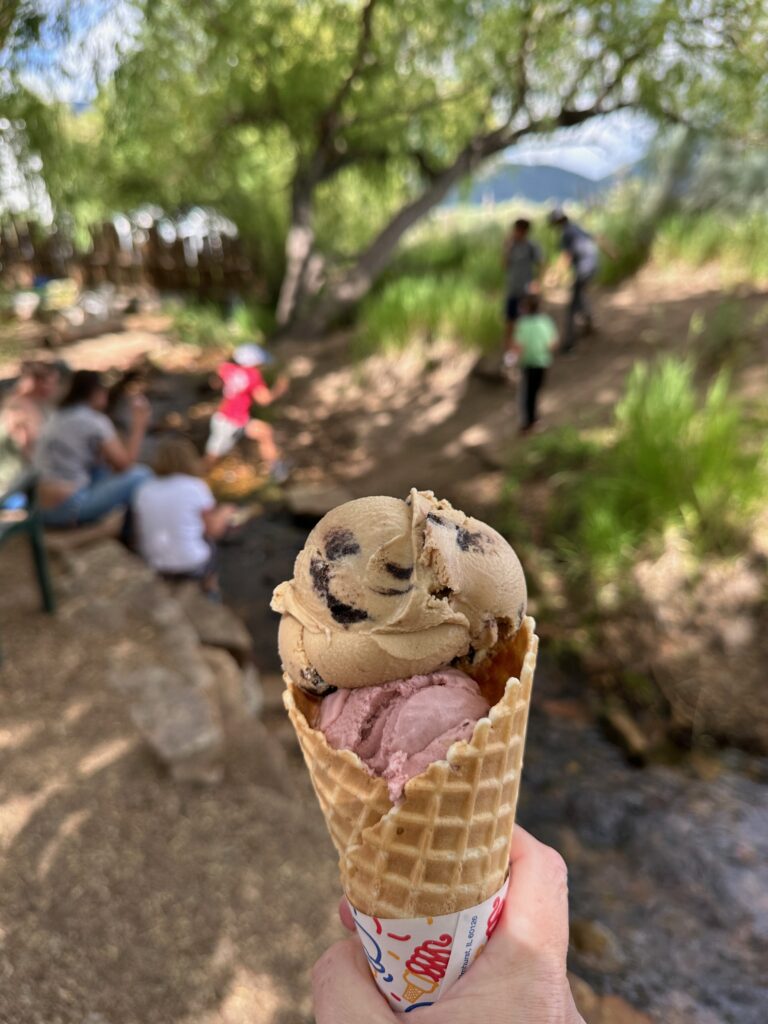 We tried not to stuff ourselves everyday on this trip, but it was hard because there was so much temptation! Here are a few of our favorites we tried in Taos:
Table Mesa Brewing: There are two locations, one near Taos Monte Bellow, which is a tap room, and the other near the Plaza, which has food, too. Everything on the menu sounded amazing, and we enjoyed the wood-fired pizza and beer flights (with tiny 2 oz. samples). The Baile Dulce Ginger Honey Beer is unique and tasty.
Sabor Real Restaurant Grill: This place felt very local and serves Mexican and New Mexican dishes. We were there at breakfast and enjoyed it all. The dessert case looked amazing!
Taos Cow: Is it even vacation if you don't have ice cream? Taos Cow is located in a charming nearby town, Arroyo Seco. It has unique, all-natural flavors. Behind the shop is a patio with tables overlooking a small creek under willow trees. We enjoyed eating our ice cream and watching all of the kids play. Very charming!
We thoroughly enjoyed our stay in Taos and would definitely visit again and just park ourselves in Taos Monte Bello park and spend more days eating and visiting galleries.
Don't forget to check out New Mexico Road Trip: Part 1 about Santa Fe, if you haven't yet!
This was a guest post by Kerri Cox from Travels with Birdy. To listen to Jeremy and Kerri talk about Taos and to hear a campground review of Taos Monte Bello, click on the media player above–or listen to the RV Atlas wherever you get your favorite podcasts.
Podcast: Play in new window | Download