If you are a first time RV shopper, you might be surprised–and a little overwhelmed–at how many options there are out there! Once you have settled on the type of RV you are looking for (travel trailer, fifth wheel, motorhome), you'll still have to decide the size and floor plan that will suit you best. Here's some of our best advice for finding the perfect RV model for your personal RVing style. If you are still trying to narrow down the type of RV to purchase, check out Part 1 of this series: Five Questions that will Help You Find Your Perfect RV. And if you don't even know the difference between a fifth wheel and a Class B, make sure to start with Which RV is Right for Me? If you want to hear us speak more in depth on each of the following tips, make sure to tune into The RV Atlas podcast episode, available in Apple Podcasts, Spotify, Stitcher, or whichever podcast app you prefer!
10 Tips for Finding the Perfect RV Model and Floor Plan 
Know Your Numbers.
 
Research your tow capacity and payload capacity if you are purchasing a towable. Don't take guesses or rely on social media for this information. Use your VIN to get the specs directly from your vehicle manufacturer. If you are buying a motorized RV, double and triple check the weight of any vehicle you are planning to tow behind the RV. These  are the first specs you should look at when shopping. Believe us, picking out an RV that doesn't work with your current vehicle situation can be expensive and unsafe.  For more expert information on matching tow vehicles to trailers, check out this post. Looking to tow with an SUV? Listen to this episode first.
Count the number of dedicated bed you'll need.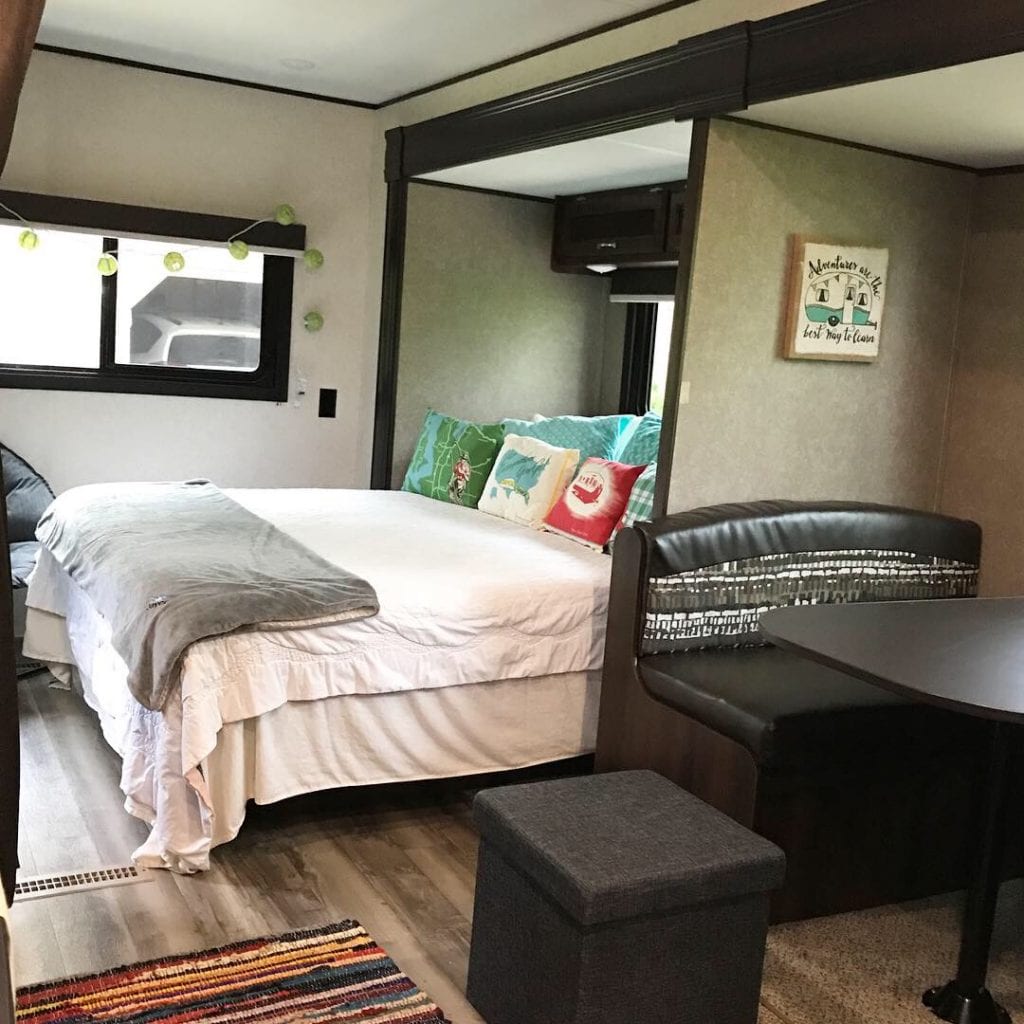 We highly recommend looking for RV floorplans that will provide a dedicated bed for anyone who will be sleeping in the rig most of the time. When shopping for their first RV, some folks think it's no big deal to make up the dinette or pull out the sleeper sofa every night. We know from experience that this gets frustrating in the long run.  Solo campers or couples who need just one bed will find tons of great options across every RV type. Families with one or two children will be happy to find bunk models in travel trailers and motorhomes. If you are traveling with more than two children, travel trailer and fifth wheels offer many bunkhouse floor plans with 3-4 beds in a separate sleeping area. If you are looking for a small towable that still offers dedicated beds for everyone in the family, check out the Murphy bed floor plan options. This latest trend has grown pretty popular over the past couple of years, so there are quite a few of these models out there!
Decide on a wet bath, dry bath, or no bath. 
Some shoppers love the idea of having a large, private bathroom no matter where they travel. Other folks are just fine with the idea of using campground comfort stations. This is a pretty important part of the RV experience, so make sure you get what you want in this department. Many smaller RV options like Class Bs, Travel Trailers, and Truck Campers only offer wet baths, bathrooms where there isn't a separate stall for the shower. Think hard about whether this will be a deal breaker for you. 
Decide if you'll want to boondock or camp all four seasons.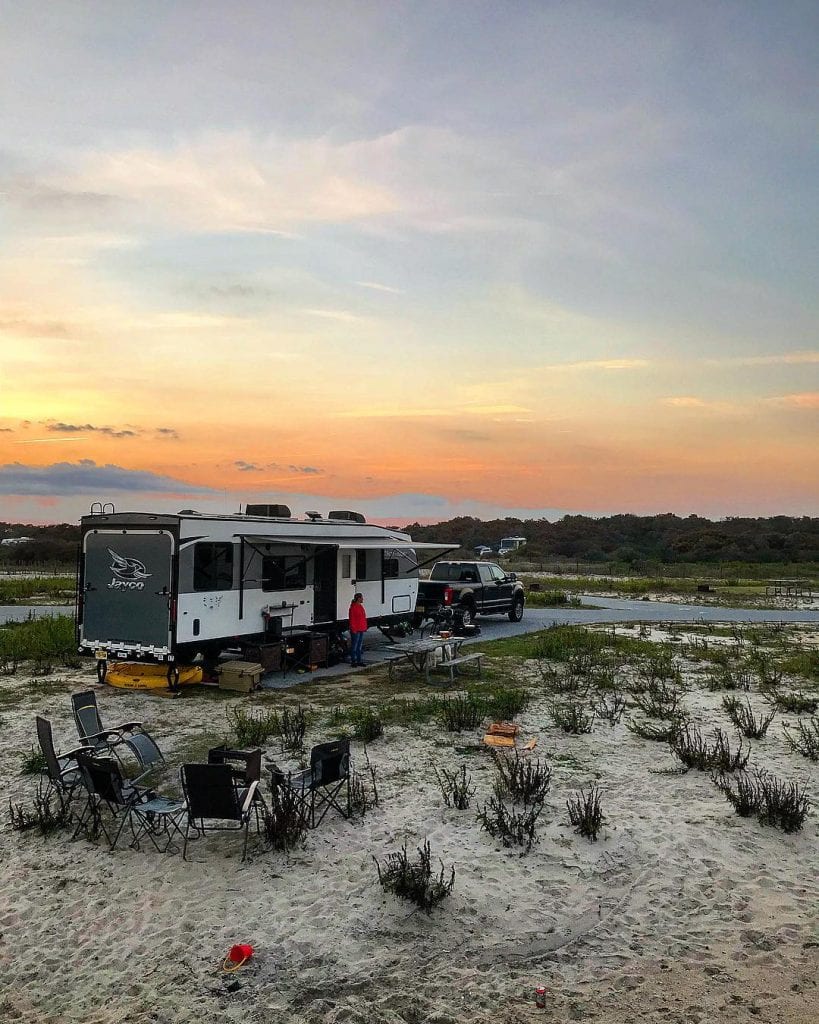 Another trend in the RV industry is more models that offer four season features like insulated walls and underbellies. If you want to camp year round, or at least in the cooler shoulder seasons, the perfect RV model will include these options. And if you are looking to boondock (dispersed camping in places without hookups), make sure to search for RVs with larger fresh water, gray water, and black tanks. Other attractive features for folks looking to get off the grid are on-board generators and solar prep.
Think about how much time do you plan on spending inside the RV.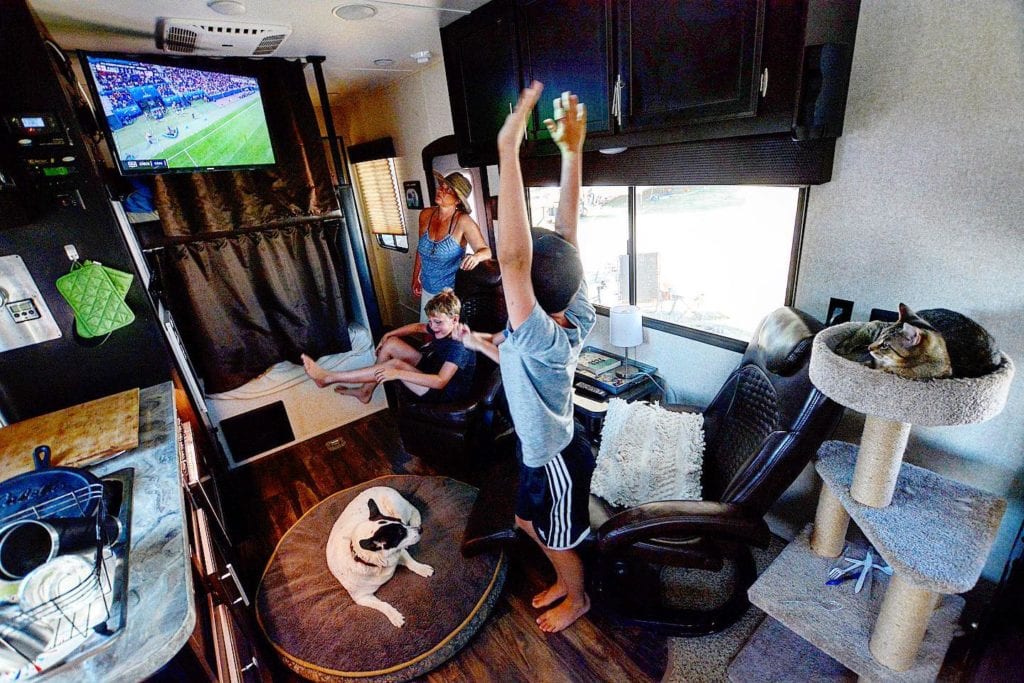 There's no right way to camp. Some people are shopping for an RV with a clean bathroom and comfortable beds that will keep them warm and cozy at night. Other campers are seeking a smaller version of their sticks and bricks house, with all the creature comforts of home. Will everyone be able to eat a meal, play a board game, or watch a movie? Think about how you want to live in the RV, and make sure the floor plan will support that dream. 
How much cooking do you plan on doing in (and out) of the RV? 
Once again, there is no right answer to the question of cooking in the RV. Some people use their RV kitchens all the time like us, and some people have never even turned on the oven. If the RV kitchen is a major draw for you, the perfect RV model will have storage, counter space, and a decent sized refrigerator. If you love to cook in the open air, check out all the amazing outdoor kitchen options. However, if you don't cook a lot while RVing, trade the outdoor kitchen for more interior space and storage. 
Will you need to work in the RV? 
The ability to work remotely leads a lot of people to check out the RV lifestyle. If you have to punch the clock, you might as well do it in a beautiful location, right? So if you're planning to work on the road, make sure you choose a floorplan with a spot for you to comfortably set up shop. Many people are using the flexible space in toy haulers to set up mobile offices. Another popular option right now are fifth wheel models with office space in the middle.
Visualize where all the stuff will go!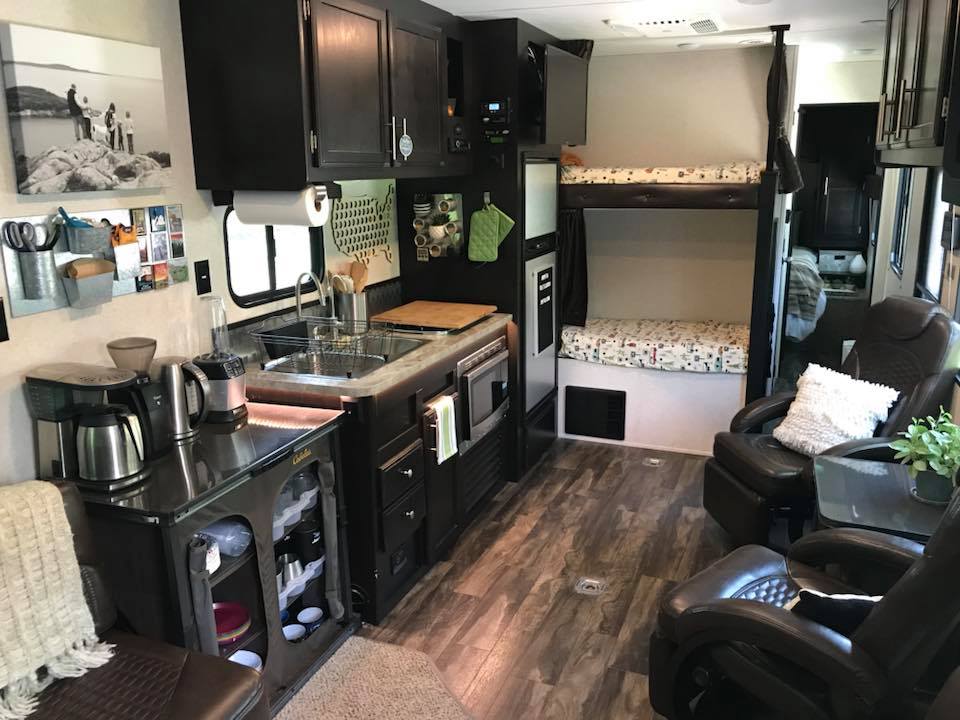 Storage varies drastically in different models and floor plans, so think specifically about the things you want to pack. From the big stuff like bikes, kayaks, and golf carts, to the little stuff like clothes, linens and towels, food, and kitchen supplies…actually imagine where all your stuff might go.
Can you access all the important features in "Travel Mode"? 
One of the greatest benefits of RV travel for our family is being able to use the bathroom and have a healthy lunch in our RV kitchen while at rest stops. If this is important to you also, make sure you can access everything you will need even with the slides in. Can you access the bathroom, open the refrigerator, and get into the bedroom? Don't be embarrassed to ask the salesperson to bring in the slides for you to double check!
Determine which extra features are truly important.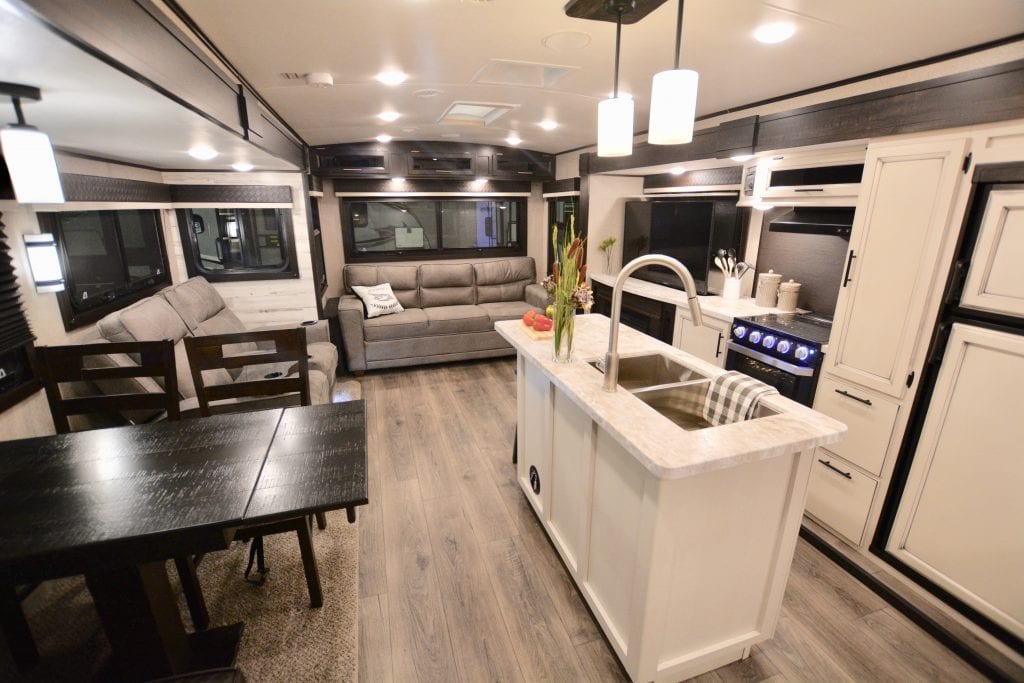 Every RV is a bit different than the next, and some options will be more important to you than others. The perfect RV model may include a few compromises. That's why it's important to have a list of "must haves" vs. "nice to haves" before you even start looking. Here are a few features that may or may not be on your list depending on your RV lifestyle:
Large awning

Exterior bathroom entrance

Outdoor shower

Power and automated systems for stability jacks, tongue jack, and levelers

Smart technology and outdoor entertainment
Take your time and have fun with this part of the RV shopping experience. There are so many great RVs out there right now, so make sure to find the perfect RV model for you. Check out this Facebook Live from Go RVing where we talked more in depth about many of these tips…
We'll see you at the campground,
Stephanie + Jeremy P.S. Once you find that RV, make sure to check out our Complete RV Stock up List!!!
Podcast: Play in new window | Download