This guest post about large bunkhouse models was written by our friend Kerri Cox from Travels with Birdy. To listen to Kerri and Jeremy discuss this topic click on the media player above, or subscribe to The RV Atlas wherever you get your podcasts! 
We started this bunkhouse roundup series to share inspiration for family-friendly trailers. We started with small trailers back in May of 2020 and continued with midsize trailers in February of 2021. Kerri has roughly categorized trailers under 23 feet as small, those 24-29 feet as medium, and those over 30 as large. We are finally wrapping up this project!
All photos in this post are from the manufacturers' websites.
'Do you want your own bedroom? A bedroom for the kids? An extra bathroom? A couch AND a dinette? An outdoor kitchen? And more?? You will probably need a large bunkhouse. 
When we previously talked about small and midsize bunkhouses, each time, we had to take a look at the limitations in the floor plan. There's only so much a manufacturer can pack into 200 square feet! If you don't want any of those limitations, a large bunkhouse is for you. 
What Features Will You Find in Large Bunkhouse Trailers?
May be able to tow them with half-ton pickups, but often need to bump up to the three-quarter ton pickups (F-250s, Ram 2500) to handle the weight and hitch weight

A ton of floor space and configuration options! 

Usually have a dinette AND a couch (which is harder to find in the midsize bunkhouse category)

Usually have a private main bedroom AND, possibly, a private bunk room

May even find a second bathroom or "bath and a half" options
What are the Drawbacks of Large Bunkhouse Trailers?
Definitely more challenging to tow due to length, height, width, and weight

May find limited campsite options, especially in public parks

May feel like you are taking the whole house with you, which will not feel like "camping" to some people
Let's take a look at 8 great large bunkhouse models.
Grand Design Transcend Xplor 265BH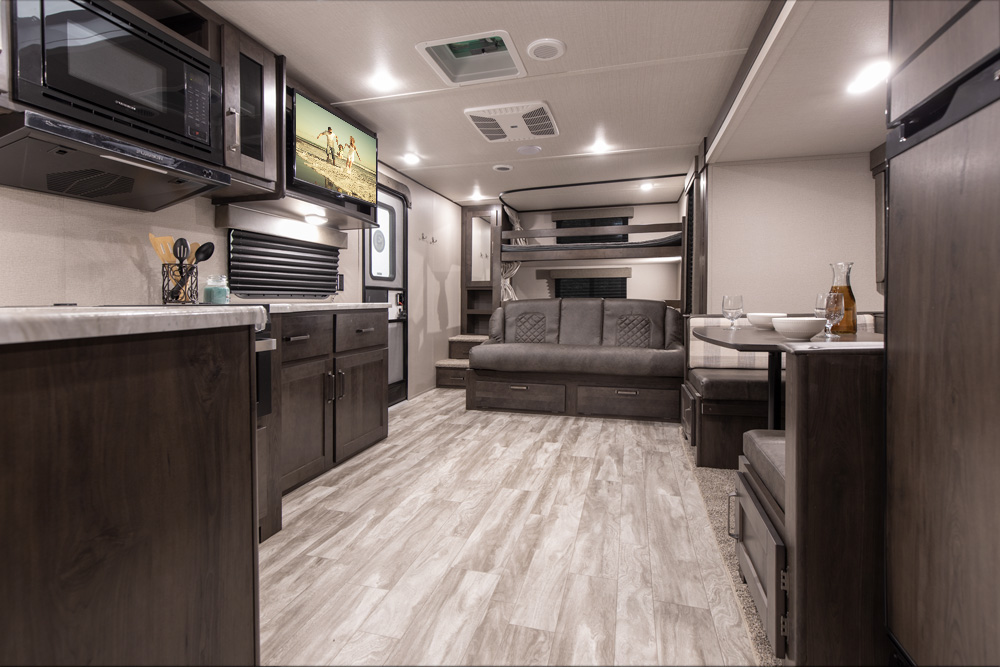 Grand Design has some innovative bunkhouse floor plans, especially at the lower end of the length range. The Transcend Xplor 265BH is a great example of this!
Main specs:
Length: 32'9"

Weight: 6300 lbs. (unloaded) to 8000 lbs. (fully loaded)

Rear double-over-double bunks go across east-west wall and are open to living space

Have super cool steps leading up to bunks, with built-in storage; easy access for little ones

Jackknife sofa is essentially in front of bunks and makes an L with the dinette–this is nice because people seated on sofa and dinette can easily converse
Transcend Xplor is Grand Design's lightweight, aluminum-clad line, which means it is less expensive, as well. Parents will still have their own private space, even if the kids don't, and the living room is perfect for family interaction.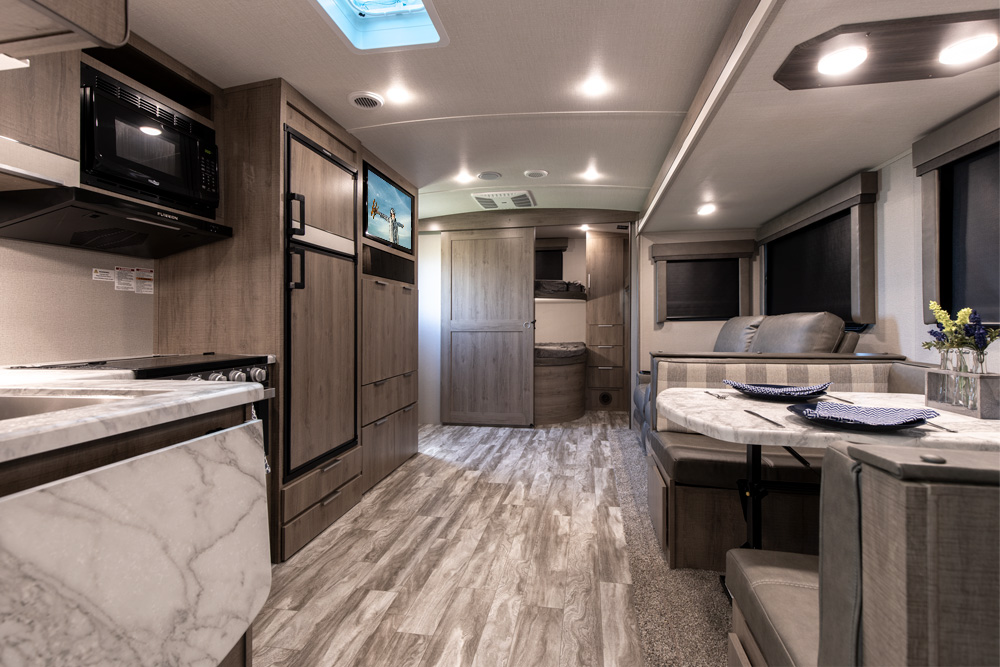 The Grand Design Imagine 2910BH is pretty similar to the Xplor 265BH, except that the bunks are tucked away behind a sliding barn door. Imagine is Grand Design's higher-end line, and you'll really notice upgraded cabinetry and other features.
Main specs:
Length: 33'11"

Weight: 7100 lbs. (unloaded) to 9000 lbs. (fully loaded)

While the bunks are not in a true "room," there is enough space behind the barn door for kids to stand and change, and they have a nice storage wardrobe of their own.

Nice pantry/storage

L-shaped kitchen with countertop extender

U-shaped dinette has removable ottoman to create traditional bench seats

Sofa can be replaced with theater seating

Outside kitchen
Again, this is a great bunkhouse that has a lot packed into a smaller footprint than some of the other trailers on this list.
Jayco White Hawk 29BH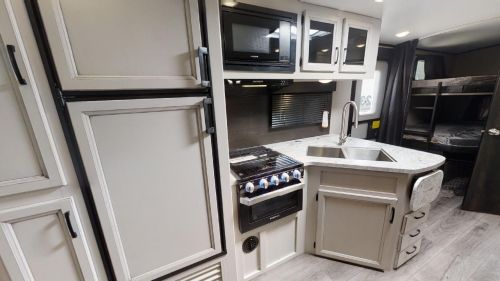 The Jayco White Hawk 29BH is a classic large bunkhouse floor plan! You can find similar models across manufacturers. But, what makes the Jayco version stand out is the quality in this White Hawk, as well as the beautiful Modern Farmhouse interior design package.
Main specs:
Length: 34'9"

Weight: 7180 lbs. (dry) to 8500 lbs. (fully loaded) 

D

ouble-over-double corner bunks (open to trailer)

Bottom bunk flips up for extra storage

Dinette and sofa, with options for freestanding table and chairs or theater seating

Theater seating option looks really cool with flip-up trays

Private main bedroom with queen bed (you can even upgrade to a king)

Main bedroom has its own entrance, which is nice because you can open the door to let in a breeze and to take in the views

Entertainment center with corner fireplace

Outside kitchen
The Jayco Eagle 284BHOK is very similar but has upgraded finishings and some slight differences. The Winnebago Voyage 3033BH is also very similar. I know lots of families that LOVE this floor plan. 
Jayco Jay Flight SLX 8 294QBS

The Jayco Jay Flight SLX 8 294QBS is the Jayco bunkhouse you'll want if you have a large family and want plenty of beds for the kids.
Main specs:
Length: 35'7"

Weight: 6700 lbs. (dry) to 8200 lbs. (fully loaded)

QUAD bunk model, with a private bunk room

Good storage for the kids

U-dinette and sofa on a side slide

Nice coat/shoe drop area by the front door = GREAT for family

Great walk-in shower

Outdoor kitchen
Here, you're really starting to add some length by having that private bunk room, but if you can handle it, parents and kids will really appreciate having their own separate spaces.
Coachmen Freedom Express 326BHDSLE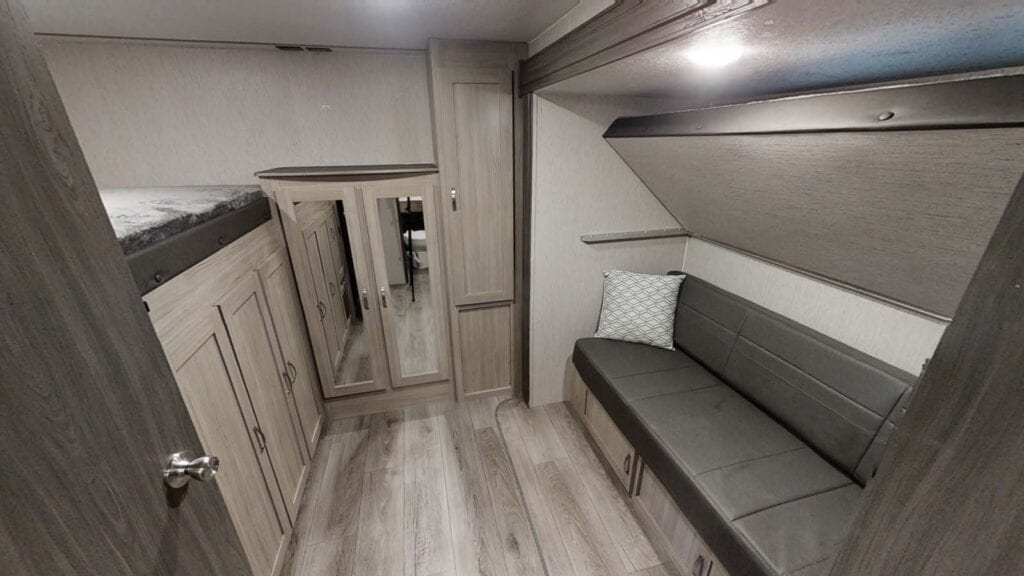 The Coachmen Freedom Express 326BHDSLE has a lot of smart features, starting with a separate half bathroom for the kids and guests! This trailer comes up again and again on lists of the best bunkhouses.
Main specs:
Length: 36'10"

Weight: 8094 lbs. (dry) to 10,500 lbs. (fully loaded)

Bunkhouse has 1 elevated bunk with storage underneath, 1 couch that converts to a bed, and 1 flip-up top bunk. The kids would definitely enjoying hanging out in this space and switching it up frequently.

The 2020 models are pretty cool because they have a rock climbing wall to reach the elevated bed! Some prior models also have a mini convertible dinette/J cube sofa on the bottom instead of the flip sofa.

Bunk room is on a slide, which adds lots of floor space

L-shaped kitchen 

Traditional dinette and sofa

Outdoor kitchen
"Liberty Edition" is Coachmen's heavier line, so you can expect to find lots of upgraded features and options throughout this fun bunkhouse. (Seriously, though, if you have little kids, you HAVE to track down one with a rock climbing wall.)
Venture Sporttrek 343VIB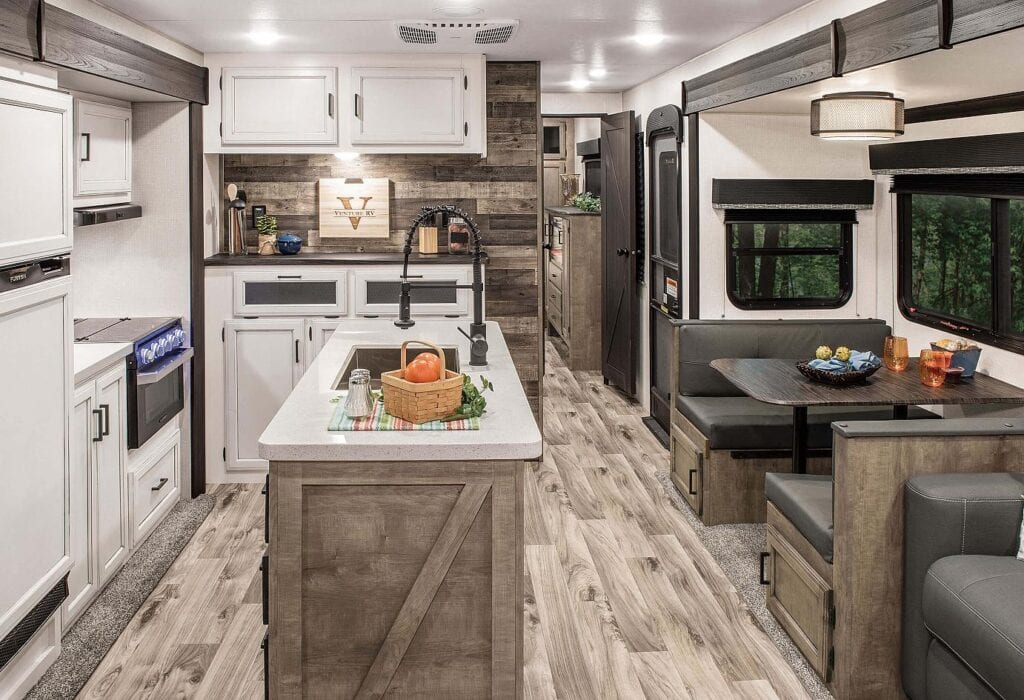 The Venture Sporttrek 343VIB was named RV Business's 2021 "Must See RV." And, the reasons are clear. This is one seriously cool trailer! It's super versatile. If you plan to go full travel–with or without kids–this one is worth a look.
Main specs:
Length: 38'2"

Weight: 8700 lbs.(dry) to 11,000 pounds (fully loaded)

Check out this amazing bunk room!

 

Quad bunks are standard setup

One bottom bunk flips up to creates a desk for working/schooling on road; a stowaway chair is even included.

This is also a great spot to store pet crates or a pack-n-play crib.

You can put in a platform to create a massive bed that goes from wall to wall, while still having upper bunks, which is g

reat for sleepovers or for adults/teens who do not fit well in a standard bunk.
Main living area has slides on both sides, which creates room for a kitchen island

Living area has dinette, reclining chairs

Perfectly nails the modern farmhouse interior, with barn doors, contrasting dark/cream woods

Main bedroom has an adorable window seat. This would be perfect if you have littles who still need to sleep close to parents. Great spot for reading!

Washer/dryer hookups –somewhat hard to find in travel trailers
I have to say that I love this trailer! From the decor to the versatility, everything is just super impressive.
Keystone Passport 3401QD GT
The Keystone Passport 3401QD GT has the industry's first quad double-over-double bunks…can you imagine the sleepovers?!
Main specs:
Specs not released yet for the 2021 model, but this replaces the 2020 3400QD, which was 38'11" and weighed 7500 pounds, up to 9,600 pounds loaded

Back to the bunks…you can easily sleep 4-8 kids (or more) in this mega-bunk system! 

Bunkhouse has storage and entertainment center and ITS OWN ENTRY DOOR…nice way to keep kids from tracking their messes through the trailer; also has coat hangers and shoe storage right there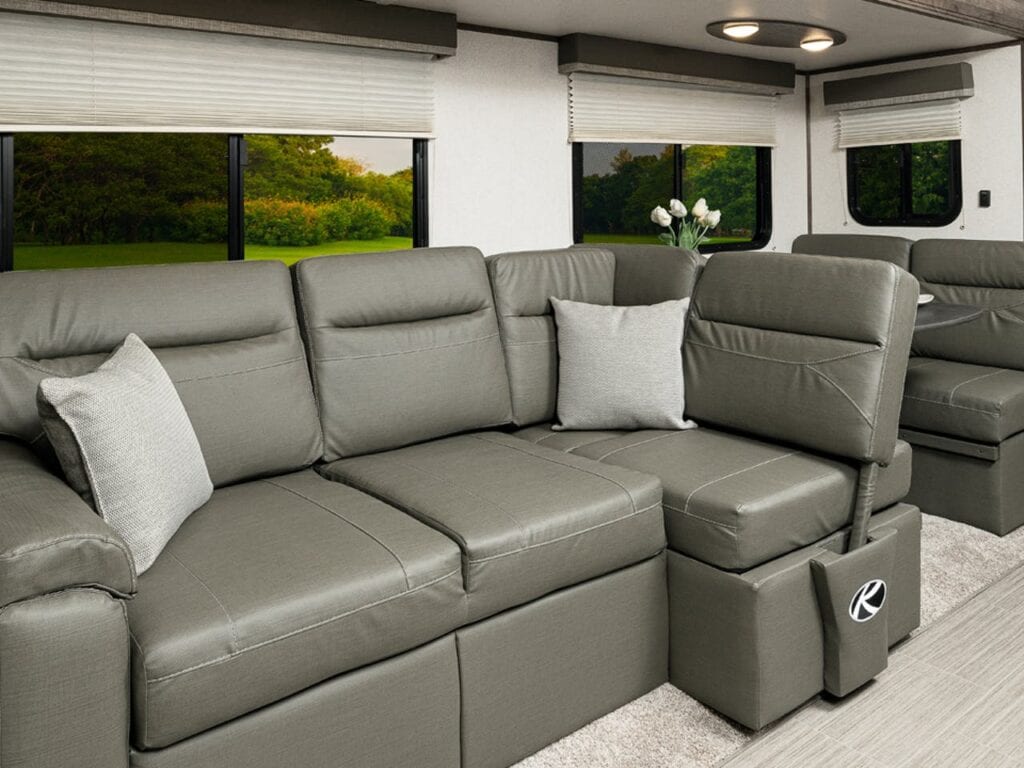 The rest of the trailer is nice, too. The U-dinette and sofa can be upgraded to Keystone's new Pivot furniture, which has one back of the dinette that allows seating at the dinette or slides to converts the sofa into a L-shaped lounger (see photo above)

Step-in pantry –you are seeing more and more of these!

Main bedroom has queen bed
If you want to impress the kids, this is the trailer to get. What kid wouldn't want that mega bed?
Palomino Puma 32RBFQ2
The Palomino Puma 32RBFQ2 kind of breaks the rules of this bunkhouse roundup since it's not technically a bunkhouse, but I believe in breaking the rules when there's a good reason. This trailer has two private bedrooms with queen beds.
This layout is great for families with one kid, families where the kids will nicely share a bed, and families with teens or young adults. You can also use this if you frequently travel with other adults who need their own space (grandparents, friends, etc.).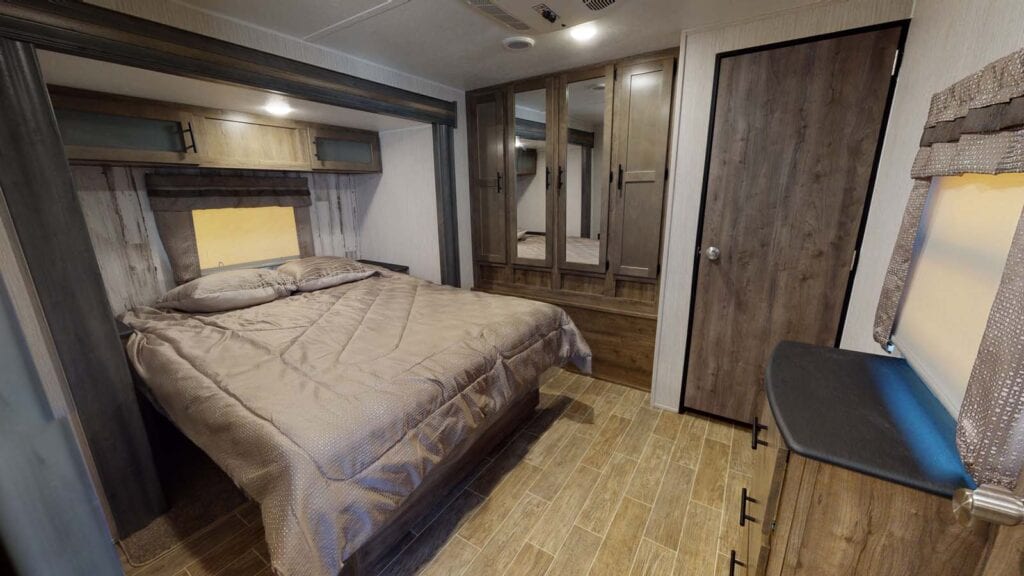 Main specs:
Length: 36'11"

Weight:

9000 lbs. (dry) to 10,500 pounds (fully loaded)

2 queen bedrooms (one is a short queen; one is a residential queen)

Both bedrooms generous storage; the main bedroom has the kind of closet more typical of a Class A

Also has a washer/dryer hookup in a closet 

Decor is a little rustic/country with a modern edge

Living room with U-dinette and sofa

Does NOT have an outdoor kitchen
While you don't see many models with two private bedrooms that have queens instead of bunks, I really think this outside-of-the-box solution can fit the needs of many families.
Final Thoughts?
Which trailer is the pick of the bunch?? That Venture Sporttrek 343VIB is what I would pick! As someone who works from the road and as someone who eventually plans to live in an RV, I love that multifunction bunk room!
I hope you've enjoyed checking out all of these different large bunkhouse trailers as much as I enjoyed researching them! Be sure to check out several more of my model previews over on Trailer Life, where I had a regular feature all about family-friendly bunkhouses.
Thanks to Kerri for walking us through some great large bunkhouse choices!  You can find more of her writing on her blog Travels with Birdy, on Togo RV, and in the new RV Magazine (which replaces Trailer Life and Motorhome magazines). 
Podcast: Play in new window | Download