The 2,000 mile Airstream Basecamp Shakedown Trip
She did what she would NEVER recommend anyone else doing.
She went on her first trip with the 2018 Airstream Basecamp 16 down to Florida and back. A 2000 miles round trip road trip. It was one heck of a shakedown trip, to say the least.  For years we have recommended taking a close-to-home shakedown trip when you purchase a new RV. Just to make sure that all systems are go and that everything is working right. This way, if you find something broken or if you forget something, you are on familiar turf and can get help, (or a can opener) more easily.
So why did Stephanie decide to pack up her Airstream and head south on an epic 8 day road trip to Florida and back? Because duty called, and she responded. Her company was doing a video production project down in Live Oak, Florida and she had a new Airstream sitting in the driveway. So she outfitted her new rig in record time and hit the open road instead of flying.
Her team at Roadpass loved getting to see the new Airstream Basecamp in person, and Stephanie ended up getting a really useful crash course in using her new rig.
To listen to Jeremy interview Stephanie about her 8 day shakedown roadtrip to Live Oak, Florida, click on the media player above, or subscribe to The RV Atlas wherever you get your shows.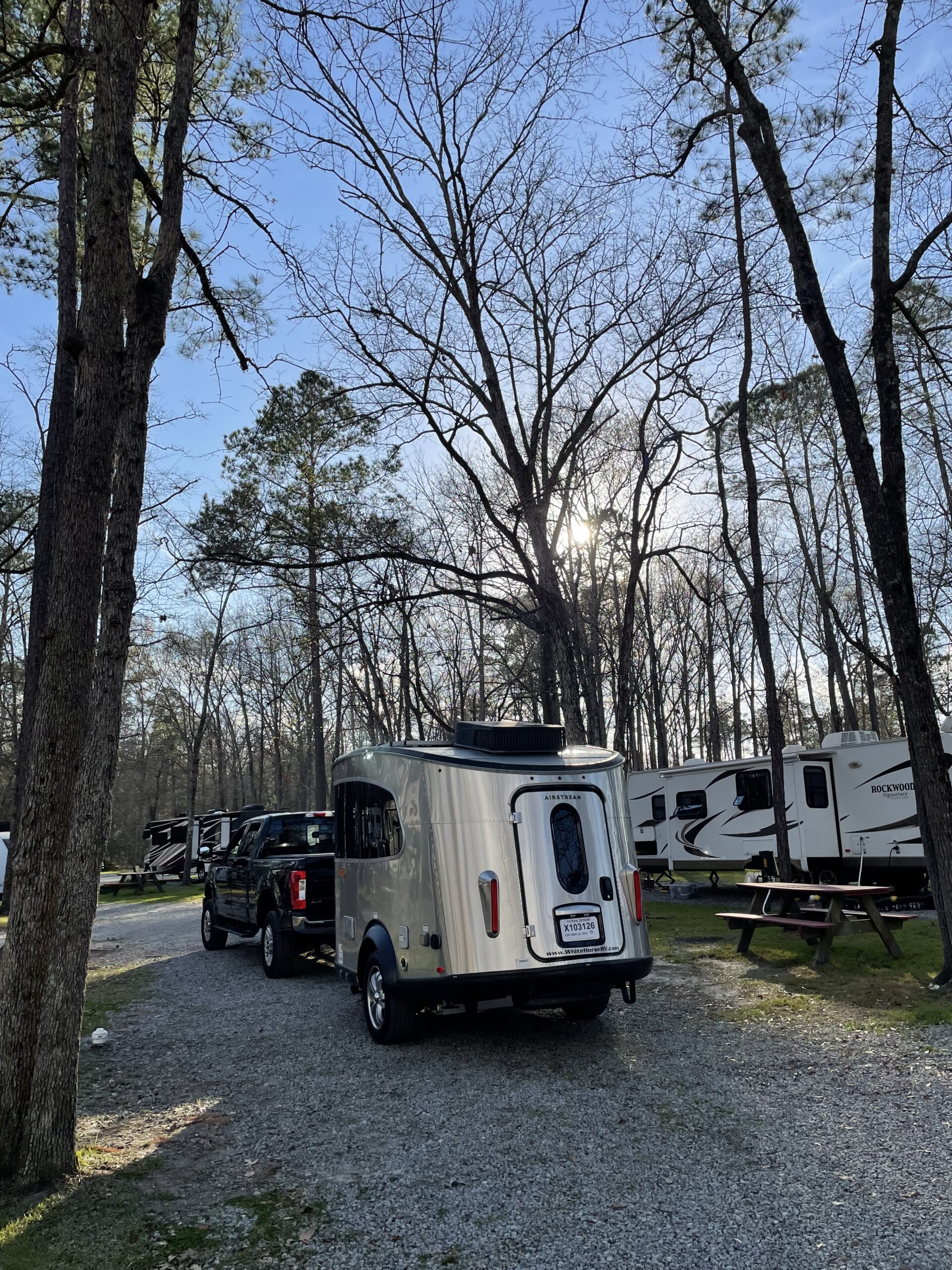 Airstream Basecamp Impressions and Trip Details
Stephanie really feels like her Airstream Basecamp is an incredible solo camper. So simple and so comfortable. Period. It has everything she needs in terms of space and functionality, and nothing that she doesn't. She may want to add an inverter to have some 110 capacity while traveling and dry camping, but it doesn't seem to be an urgent need or a must-have–more of a nice to have.
Thankfully, though preparations for the trip were rushed, Stephanie decided to take the driving somewhat slow. Live Oak, Florida is about 1,000 miles from our home at the Jersey Shore, and she broke it up into a bit over 300 miles each day. She didn't want to push herself while towing the Airstream Basecamp, (which she does when she drives without towing). So she stopped at two places on the way down (Americamps RV Resort near Richmond, and Point South KOA in South Carolina) and two places on the way back up (Santee Lakes KOA and Americamps again.) Americamps is an old RV Atlas favorite stopover for trips down south. Basically, she wanted all of her stops to be very close to 95. She also wanted them to have pull throughs that allowed her to stay hitched up. Each stop worked close to perfectly. Here are her quick thoughts on each of these campgrounds, followed by some thoughts and lessons from the road.
Campground Stops on the Way to Florida and Back
Americamps RV Resort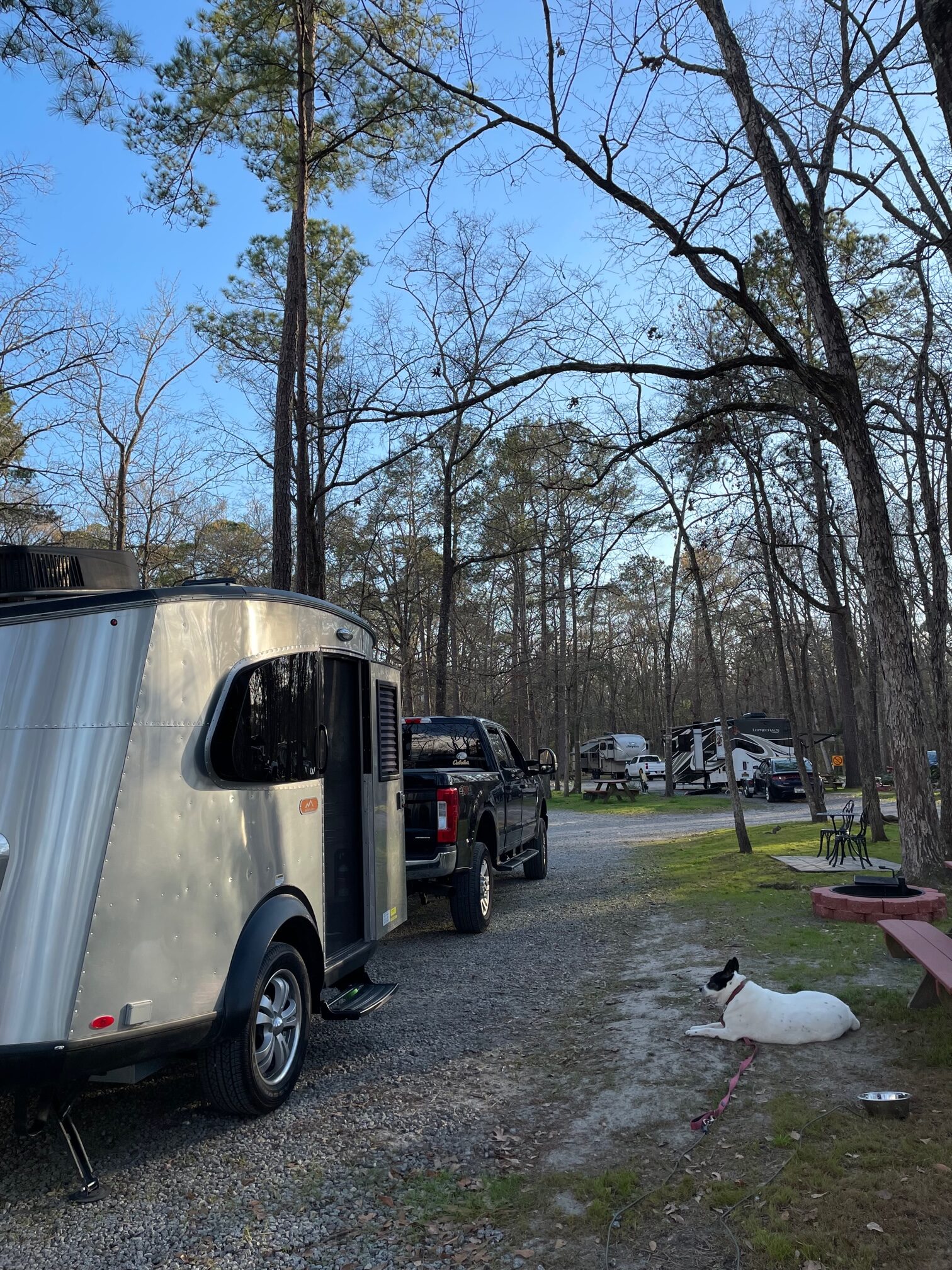 We think it is a stretch calling Americamps a "resort" but it is a solid, dependable campground for overnight stops near Richmond, Virginia that we have utilized for years. Stephanie stopped here on her way down to Florida, and then again on her way back. It is conveniently located near Interstate 95, and they offer long pull through sites that are great for overnight stops because you don't need to unhitch your RV and reposition your tow vehicle to fit into the spot.
Point South/Yemassee KOA Holiday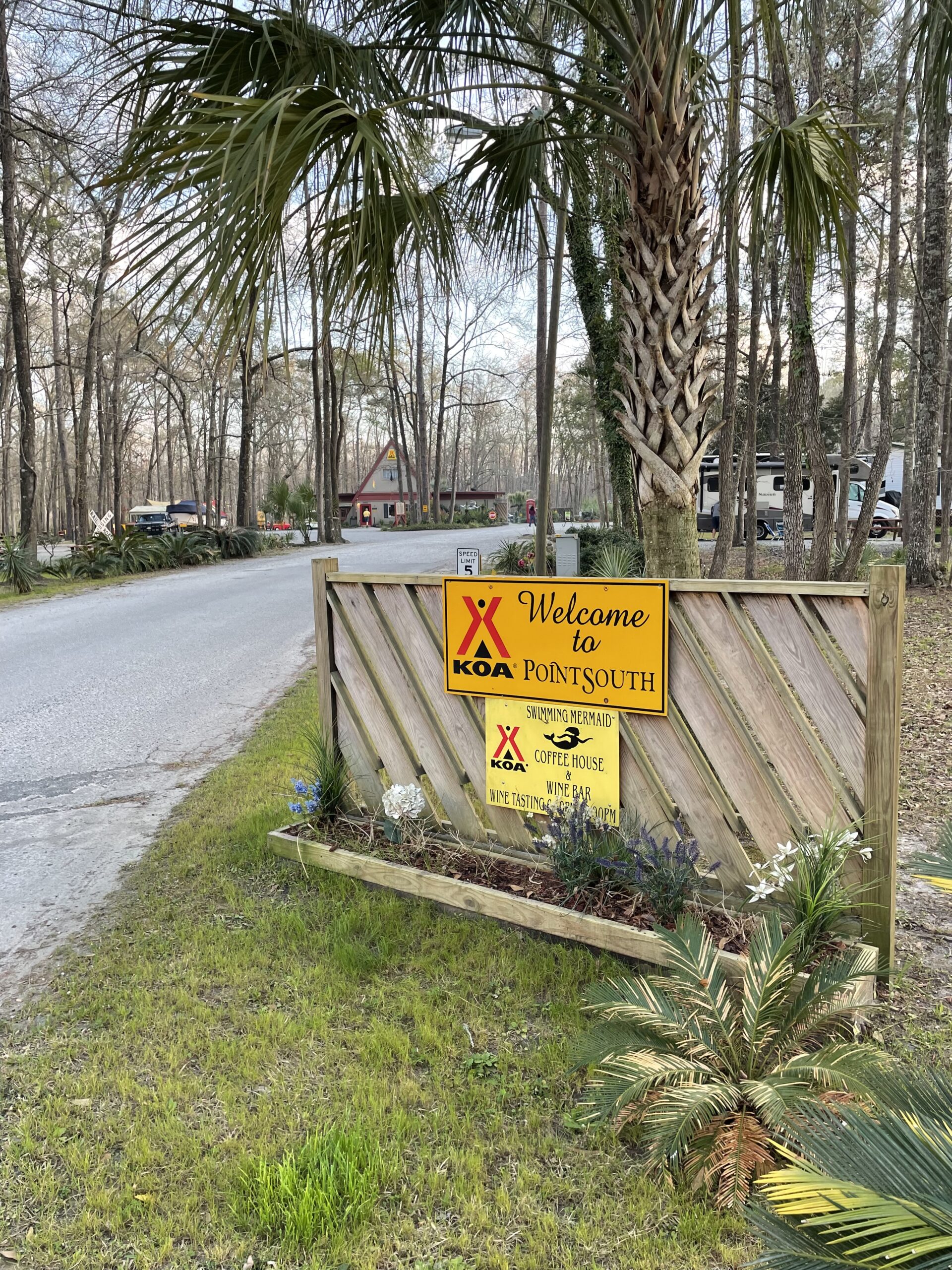 Stephanie loved the Point South KOA. They had nice level pull through sites and a convenient location near the interstate. an excellent coffee house and wine bar, and craft beer on tap. This is the perfect overnight stop for anyone heading down south or up north along 95. Customer service was also excellent. This KOA has an excellent reputation, and it was easy to see why.
Santee Lakes KOA Journey
Stephanie stopped at the The Santee Lakes KOA Journey on the way home from Florida and also found it to be a nice, convenient place to stay for an overnight. She did find that many of the sites were unlevel–so bring your leveling blocks if you stay here. There was.a really good restaurant right next to the campground as well. Stephanie had a nice meal there after a long day on the road. Overall, it was a solid place for an overnight stop, but not spectacular.
Stephanie's Stay in Florida at the Spirit of the Suwannee Music Park and Campground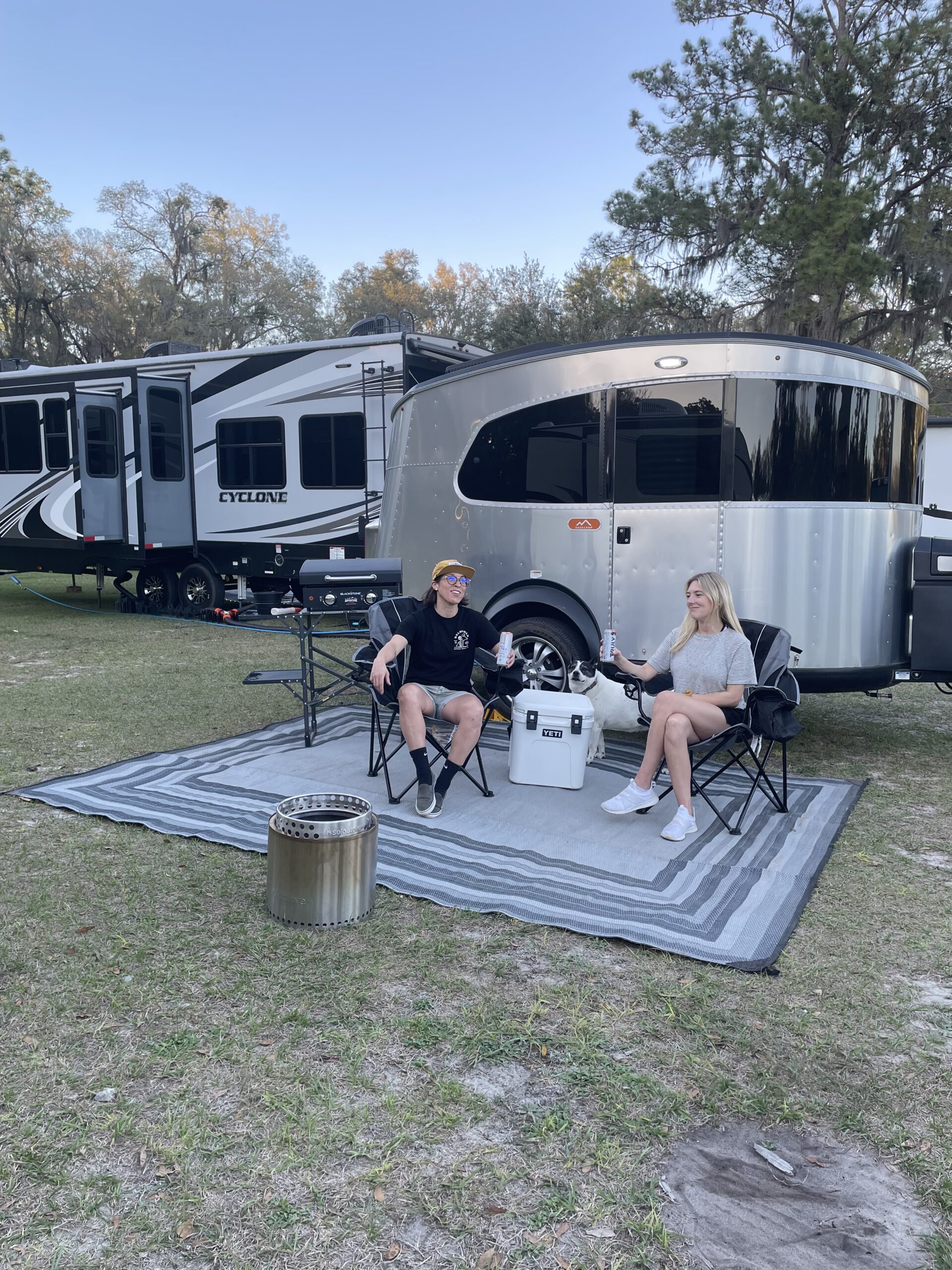 The Spirit of the Suwannee Music Park and Campground was perfect for shooting videos in the middle of nowhere for Stephanie's company. She did think of it more as a place for rallies and music festivals and not really as a traditional campground. Their filming location was also right next to a smelly bat house and everyone left with tons of insect bites. Yikes!
Stephanie's Lessons/Thoughts from the Airstream Basecamp Shakedown Trip
Overtowing is really a blessing. She could tow with a much smaller vehicle but she realized watching other people towing that she was so lucky to be in total control of the Airstream Basecamp with the F-250.

Stephanie "flippin'" loves manual stuff. We have had more and more bells and whistles over the years, and she really appreciated some of those luxuries (endless hot water! inverter! auto leveling!) but it is soooo nice to set up and break down an RV in minutes. Literally minutes. It took her five minutes to hitch up. 

Checklists are way more important when traveling alone. They are always important if you want to avoid those user error moments, but when you don't have a second set of eyes, they are crucial.

Focusing on trusting your gut and putting safety first is not being wimpy–it is being smart. 

Always put safety first when determining your towing distances. Stephanie capped out at about six hours when she could have easily driven 11 hours straight through when not towing.

The Solo Stove and Blackstone are trendy items that truly wow people in person. Stephanie's company had a crew of about 10 people and everyone was in awe.

Maggie is the best camp dog ever. 
We were all so glad when Stephanie made it home safe and sound after a full week in Florida. But when she pulled into our driveway in New Jersey it was snowing. What a welcome home!!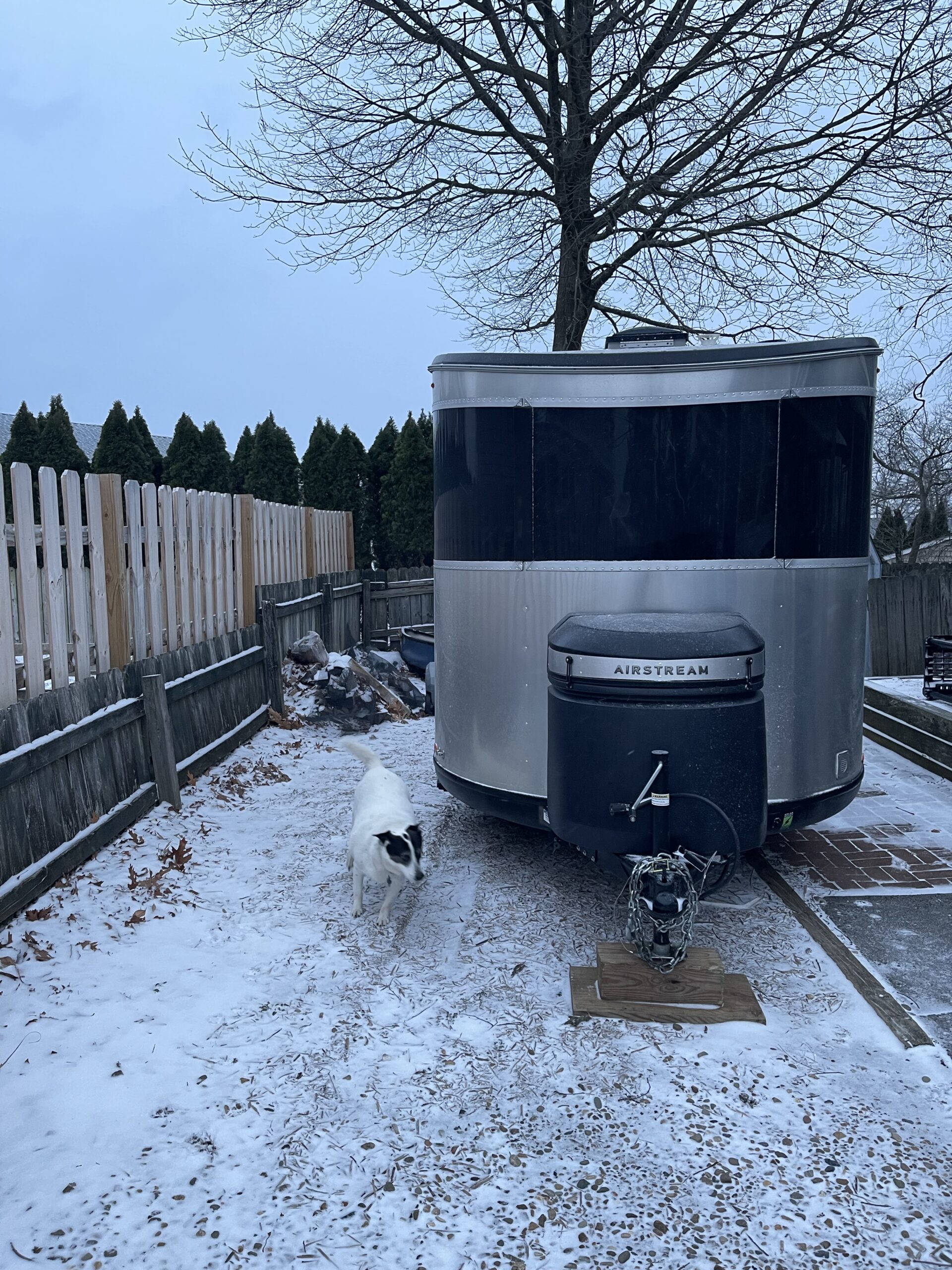 Overall, it was a pretty epic shakedown trip for a new rig. The Basecamp performed admirably and everything worked just as it should. We think it is fair to say that Stephanie's first trip in the Basecamp was an absolute success. Now it is parked safe and sound in the back of the driveway and ready to be used as her office on a daily basis.
But it won't be long before she hitches up for another adventure. This Basecamp is always ready to roll. And so is she.
Podcast: Play in new window | Download