Have you ever dreamed about owning an Airstream and hitting the open road? I certainly have. Most RV owners probably do at some point. When Stephanie and I went on our first tent camping trip together (back when we were dating) a beautiful Airstream pulled up next to us while I struggled to set up our tent. The silver haired couple in the Airstream were sipping cocktails in their camp chairs about 30 minutes later. At that point I was still struggling with our tent. I have been dreaming about owning an Airstream ever since. But I find the thought of owning an Airstream to be intimidating. I know my RV's really well at this point. But Airstream seems to occupy a space of its own. And, when it comes to travel trailers, they certainly occupy a price point of their own. So on this week's episode of The RV Atlas podcast, and here on the blog, we are talking about how to buy an Airstream.
Patrick from New Jersey Outdoor Adventures
There is probably no better person in the country to talk to about how to buy an Airstream than Patrick Botticelli. Patrick is the host of the New Jersey Outdoor Adventures YouTube channel and he has a vast and detailed knowledge of Airstream's past and present–and he is dialed in to their future plans as well. Patrick owns a vintage Airstream Bambi that he is currently restoring, and an Airstream van that he uses just about every day. His advice about how to buy an Airstream on this episode of the podcast, and here on the blog is gleaned from years of personal experience.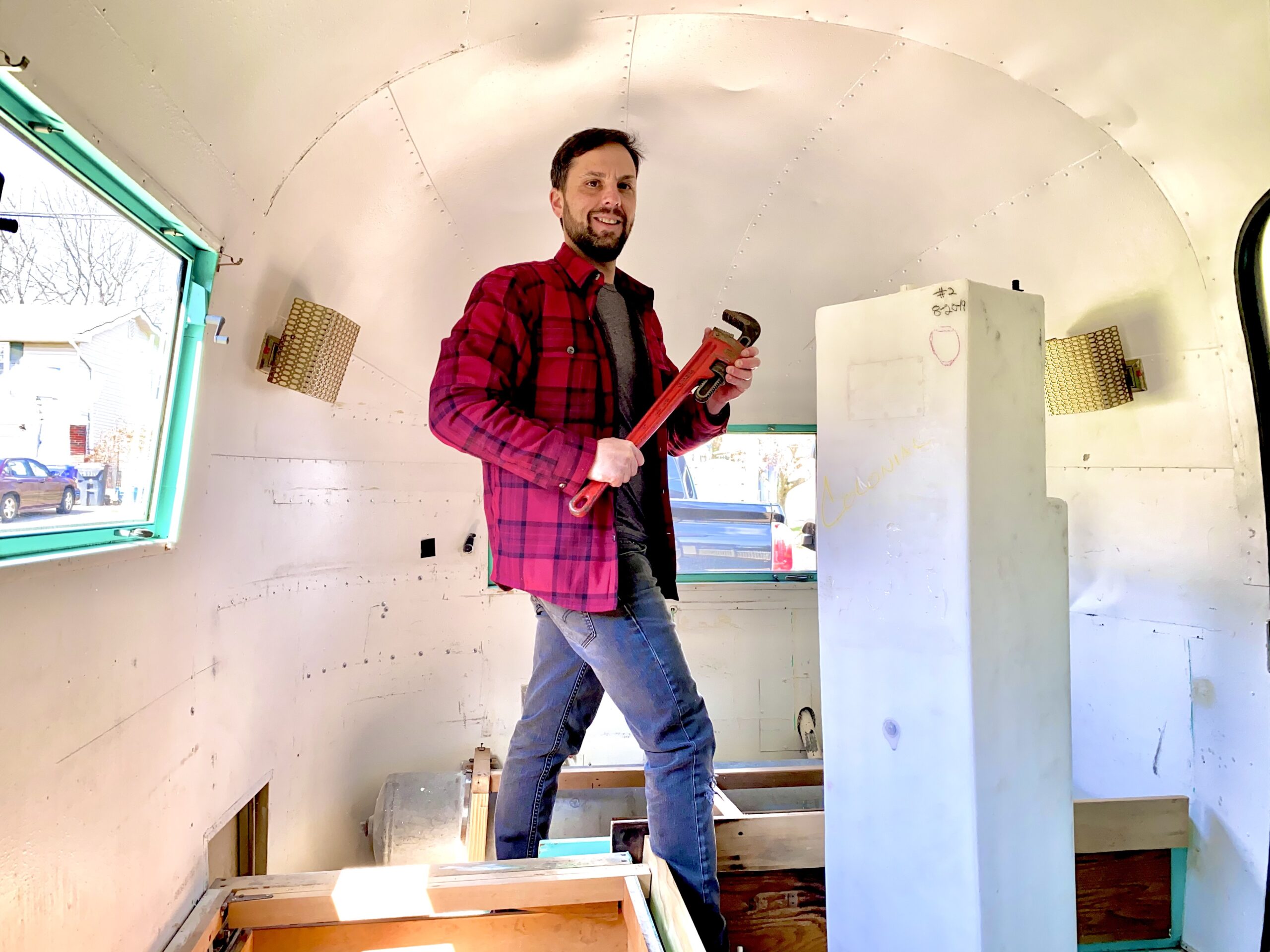 To listen to this episode of the RV Atlas click on the media player above. Or subscribe to the RV Atlas wherever you get your podcasts!
For an overview of Patrick's best advice–read on!
Why is Airstream Such an Iconic Brand?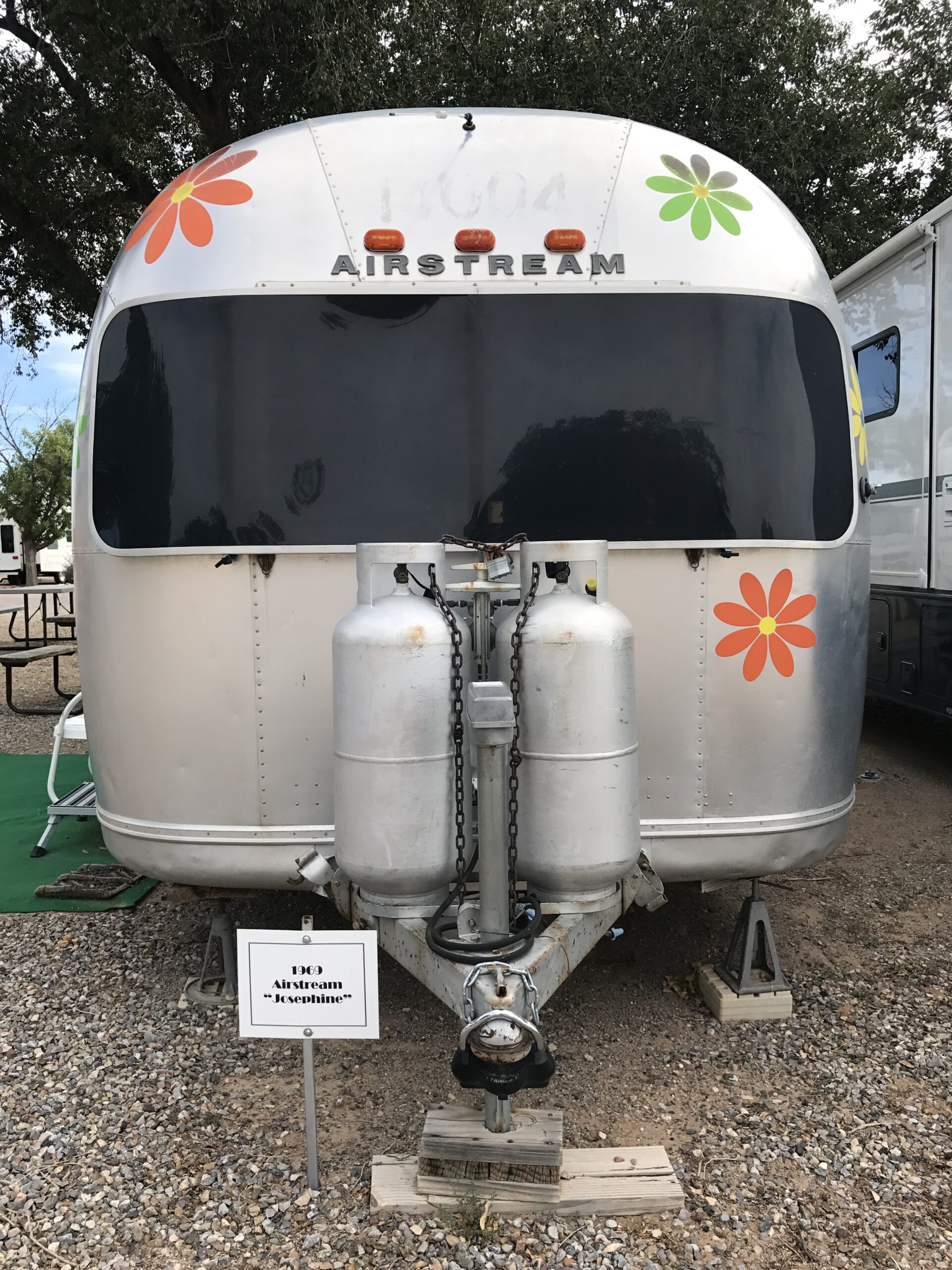 In our interview Patrick points out that Airstream has been around for 90 years and part of its iconic status is connected directly to its longevity. He also suggests that many people fall in love with its stylish and streamlined look before they even fall in love with the camping lifestyle. The aesthetic look and appeal of the Airstream's exterior has not changed much over the past 90 years. That consistency of the aesthetic ties the present to the past in a powerful way. Just about everyone knows what an Airstream looks like. Even people who have no interest in RVing. Patrick knows people who have put pictures of an Airstream on their desks as a reminder of their main retirement goal. The allure is just that powerful. Excellent towability and strong resale value also add to the mythology.
Choosing an Airstream Model…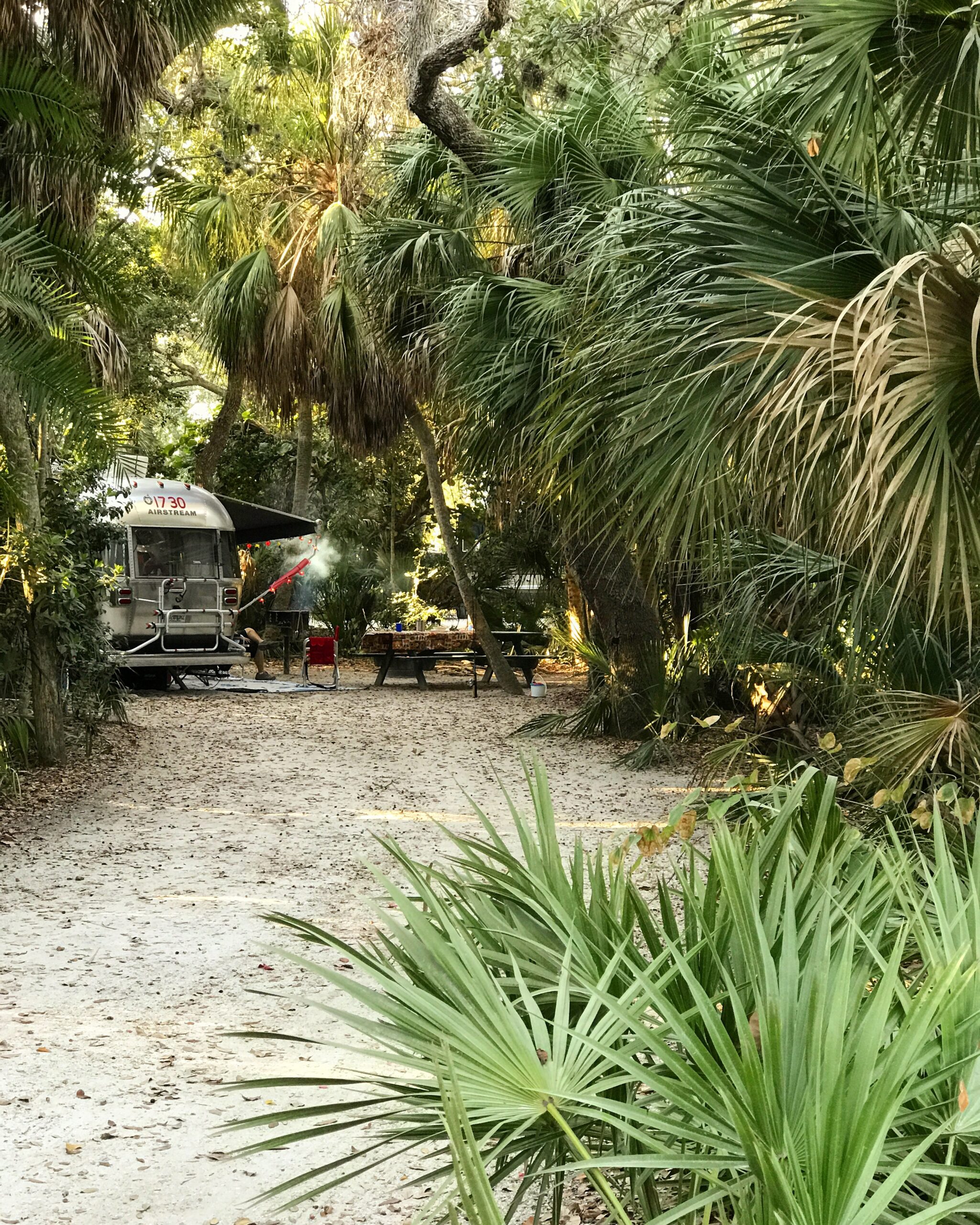 Patrick points out that many people enter an Airstream dealership and they really have no idea what kind of Airstream they want. They just know they want an Airstream. So the first thing you need to do is figure out what kind of Airstream you want. On the outside it may look like a complicated decision. But Patrick thinks that Airstream's product lineup makes a whole lot of sense once you take a closer look.
The Basecamp Series
Patrick thinks that the Basecamp series is an excellent choice for those that want a rugged RV that is ready for adventure. Basecamp comes in 16′ and 20′ floorpans. Patrick says they are rugged and outdoorsy and not as "plush" as other Airstream models. They have higher ground clearance and would make a great option for boondockers and those who like to camp in off-the-beaten-track destinations. Basecamp has an an aesthetic design appeal that makes it unique in the Airstream lineup. But it still definitely looks like an Airstream. Starting MSRP for Basecamp is about $46,000. With options it can increase to the upper $50's.
The Airstream Bambi
Those looking for a traditional Airstream travel trailer at an "entry level" price (for Airstream) will want to take a look at the Bambi. Bambi comes in 16′, 19′, 20′ and 22′ foot models that each have a different floorplan.  The Bambi is lightweight and well-appointed. It appeals to many first time Airstream buyers who are still somewhat price-point conscious. The Bambi comes with a comfortable bed and a dinette that can be converted into an extra bed. Other standard features include heat and A/C and a user friendly kitchen with a stove and microwave.
The Airstream Caravel
The Airstream Caravel comes in the same four floorpans as the Bambi. But it is packed with extra features and costs an additional $13,000. The interior is fancier, and it comes with ducted air conditioning, a rear back bumper, heavy duty rock guards, and an electric tongue jack. It has over 70 different features that the Bambi does not have. If you have the money the extra features are well worth the cost.
Because of their smaller size, both the Bambi and Caravel might be great choices for weekend warriors who like to head out for short escapes and weeklong vacations.
Patrick appeared on The RV Atlas podcast to discuss the Bambi and Caravel in detail when they were relaunched in 2019. Click here to find out more about these two models and listen to that episode.
The Airstream Flying Cloud
The Flying Cloud name has been associated with Airstream since the 1950's. It is, according to Patrick, Airstream's most popular series. It also offers the widest variety of floorpans ranging from 23′ to 30′ feet. They weigh from 6,000 pounds to 8,800 pounds and come with one decor.
The Airstream International
The Airstream International offers the most popular floorpans from the Flying Cloud series and offers a twist on the decor. It has a coastal cove beach themed interior. The International also has some extra features like a power awning. It costs $7,000 more.
The Airstream Globetrotter
The Airstream Globetrotter offers an even more select series of "Flying Cloud" floorpans than the International does. It also cranks up the luxurious appointments and extra features. Patrick says it has power stabilizer jacks (among other features)and it has a European yacht interior.
The Airstream Classic
The Airstream Classic is geared towards the real enthusiast who plans on spending lots of time on the road. Heating and cooling are elite and so are all of the appointments and interior style choices.
So Which Airstream Model Should You Choose?
Patrick thinks you need to ask a few key questions to narrow down your choices. How many people will be traveling with you? If it's just two people you might look at a Basecamp, a Bambi, or a Caravel. Those wanting to tow with an SUV you might also want to look at those models. If you are traveling with 3-6 people you might want to jump up and look at the Flying Cloud and go from there.
If you are using it for weekends and short vacations you might choose a model at a "lower" price point. But if you are going to live in your Airstream you might spring for all of the luxuries and amenities and go with a Globetrotter or Classic.
If you want to camp at a state park or national park campground you might choose a floorplan that is a bit shorter. But if you plan on visiting RV resorts you will do just fine in a longer model.
Patrick thinks that just about any Airstream can be outfitted for boon docking–so the model may not matter as much.
He also thinks that you need to consider whether you want your bedroom in the back or the front of the RV. Some people like the bedroom in the back so it is more private and quiet. Others want a dinette in the back so you can enjoy peaceful views behind your campsite. Patrick also suggests thinking about whether you want the majority of windows on the door side, or the hookup side. If you have kids playing out on your site, then having windows on the door side could be clutch!
Is There A Right Time To Buy An Airstream?
Patrick doesn't think that there is a "right" time to buy an Airstream. Particularly due to Covid and the surge in sales. But he does think that RV Shows (when they come back again) provide a great opportunity to buy an Airstreams because there can be factory discounts.
My Airstream dream is probably on the back burner until all three of my kids are out of the house. And I still might choose a motorhome over an Airstream when it comes time to get my dream rig. But if and when I do decide to live riveted, I'm gonna make sure to listen to this podcast again to refresh my memory with all of Patrick's tips about how to buy an Airstream.
Podcast: Play in new window | Download